Duong Lam Ancient Village – The hidden beauty in the heart of the capital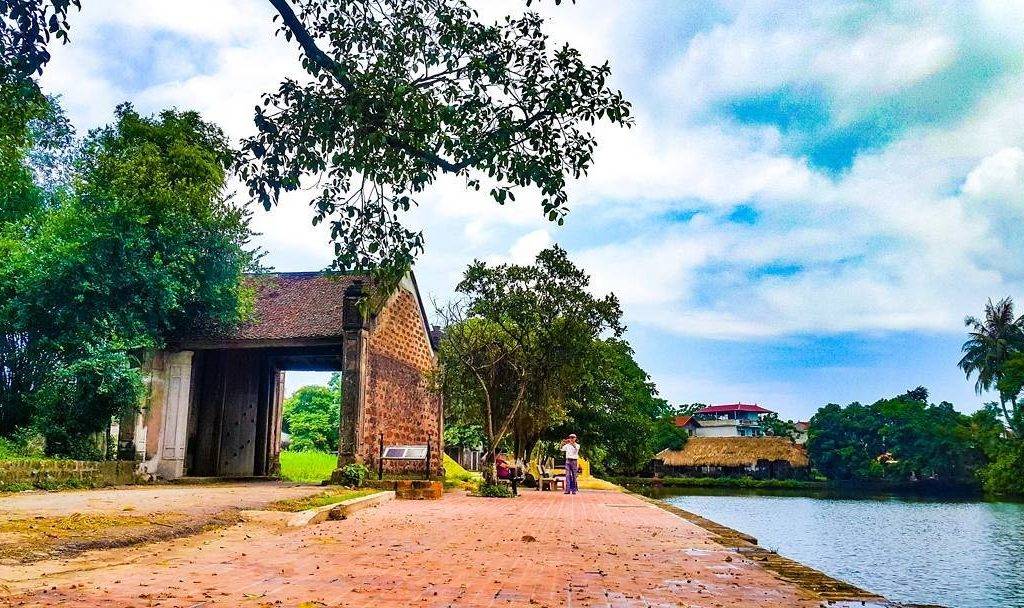 In the midst of a noisy Hanoi city appears a peaceful village with winding alleys and golden-brown laterite walls – that is Duong Lam Ancient Village. The place has been through hundreds of years of history but still retains old artistic value, which also makes Duong Lam Ancient Village become an extremely attractive tourist destination in Hanoi.
1. About Duong Lam Ancient Village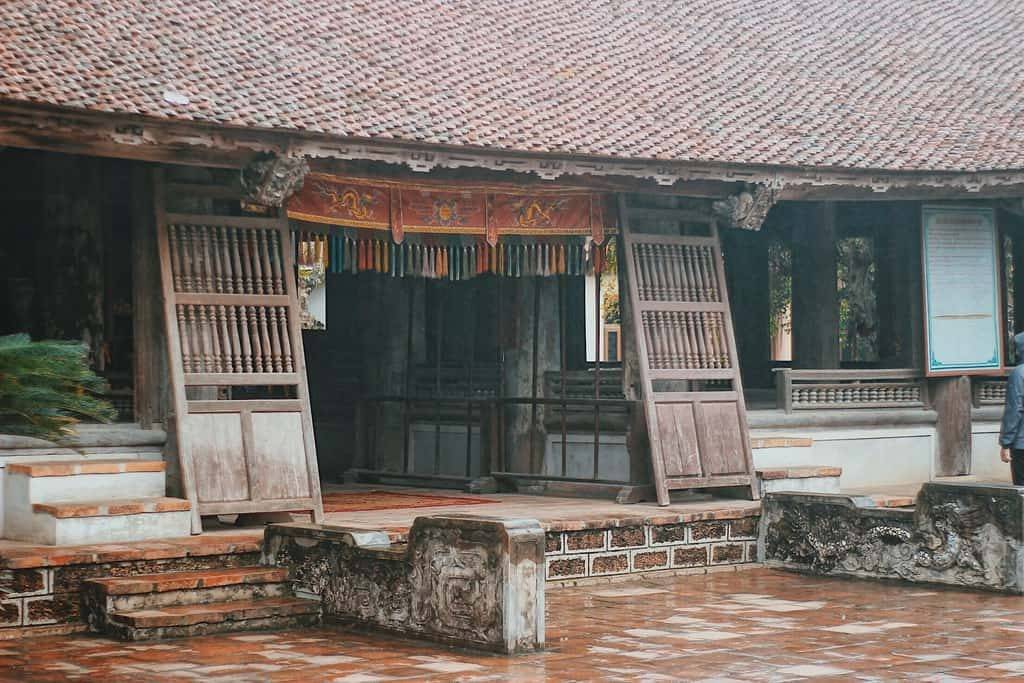 Duong Lam Ancient Village is located in Son Tay district, around 50km from Hanoi and 5km from the center of Son Tay town. This is one of a few villages that still retains the characteristics of a pure Vietnamese village. With countless ancient houses, communal houses associated with the farmer's life for centuries, Duong Lam Ancient Village is only behind Hoi An Ancient Town and Hanoi Old Town in terms of scale and artistic value.
This location is also considered as a sacred land with extraordinary people, in particular, it is the birthplace of King Phung Hung and King Ngo Quyen. Since the village is associated with historical and cultural relics of Confucianism, any visitor wants to visit once.
2. The ideal time to visit Duong Lam Ancient Village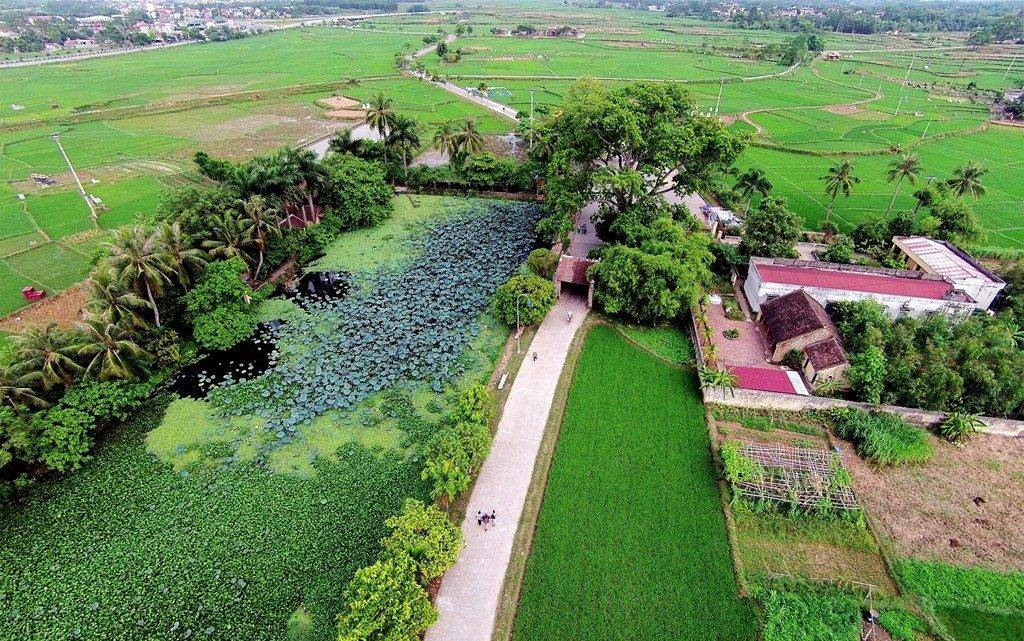 Tourists can visit Duong Lam Ancient Village at any season of the year. However, the rice season is the most perfect, as at that time, Duong Lam is surrounded by rice fields, making the ancient scene more poetic.
April (often in lunar March): This time is also known as the Festive season. Visitors can enjoy the traditional atmosphere with unique customs and dishes.
May – June: During these months rice is ripe all over the field. The green and soft rice fields embracing the place create a tranquil and relaxed traditional Vietnamese village scene.
3. How to get to Duong Lam Ancient Village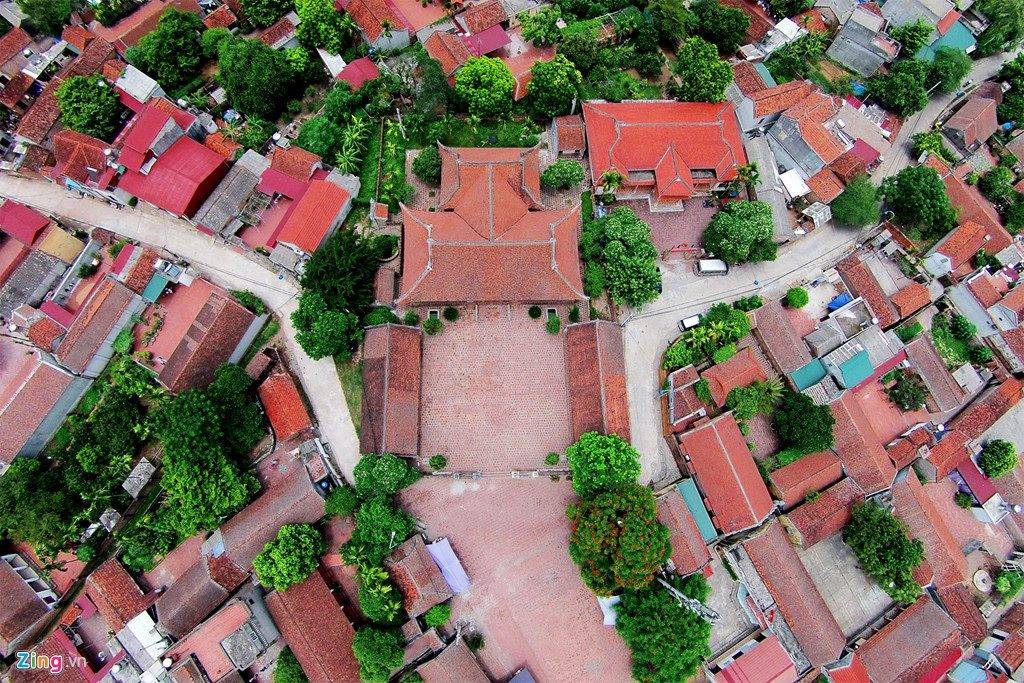 Duong Lam is not too far from Hanoi, so tourists can choose different means of transportation to get here.
Normally, people will choose cars and motorbikes, just because these means are convenient to travel in short distances.
– From Hanoi, follow Thang Long Avenue to Hoa Lac intersection, then turn right, follow Road 21, pass Son Loc to the intersection with Road 32, there is a signboard leading to Duong Lam Ancient Village.
– From Hanoi, go to Nhon, follow Road 32 to Son Tay town, then straight to the intersection with Road 21, there will be a turn to the gate of Duong Lam Village on the left side.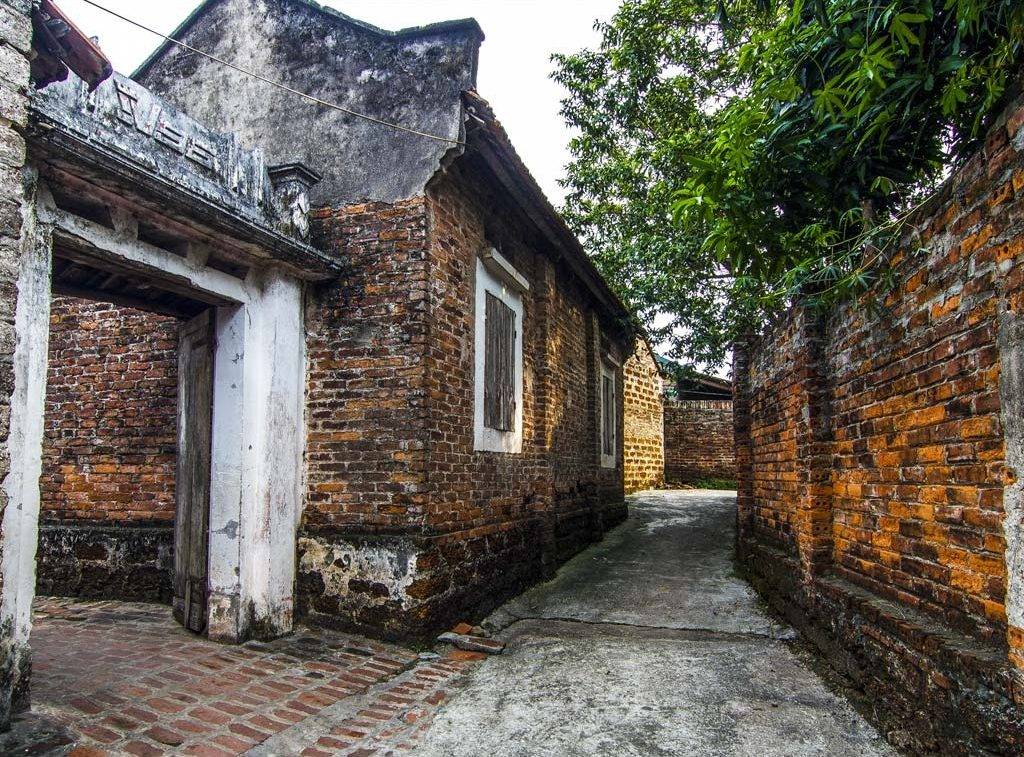 In addition to the two mentioned vehicles, to save costs, you can take the bus. There are numerous bus trips from Hanoi to Duong Lam:
– Route 71 from My Dinh bus station to Son Tay bus station. The ticket price is 20,000 VND
– Route 73 from My Dinh bus station to Thay pagoda. The ticket price is 10,000 VND
– Route 89 from Yen Nghia bus station to Son Tay bus station. The ticket price is 9000 VND
4. Vehicles in Duong Lam Ancient Village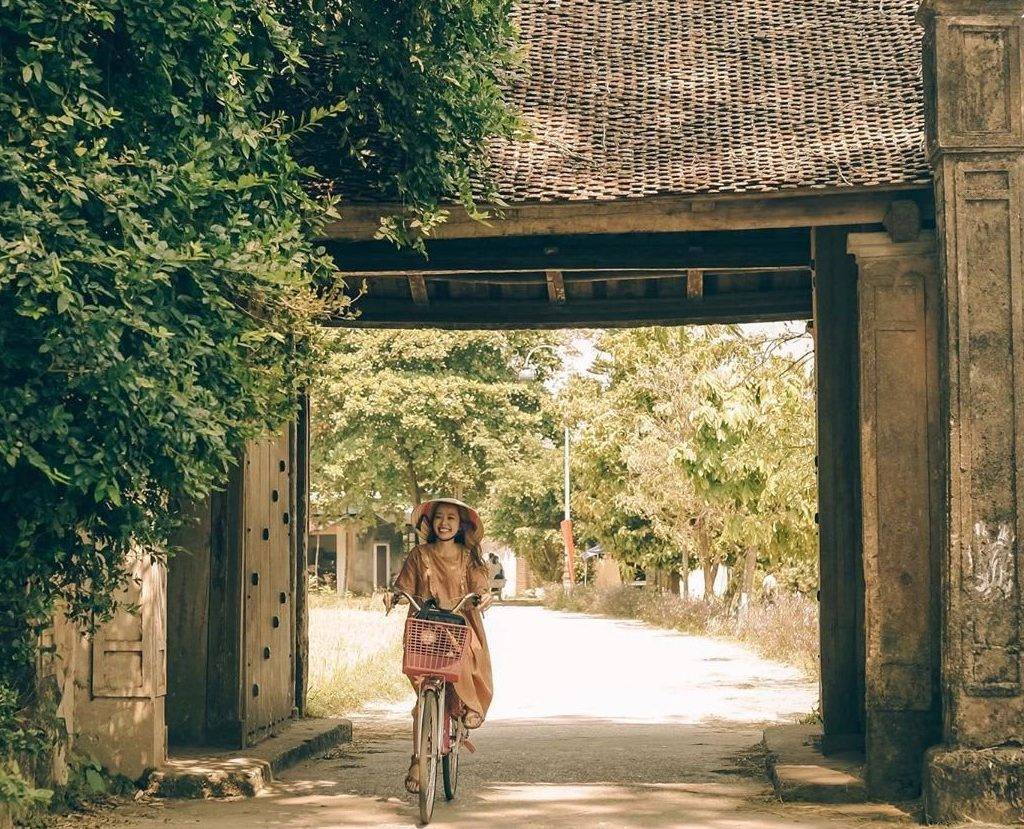 You can choose a motorbike, bicycle or walk to go around the old village. Due to the increasing demand of tourists, owners of old houses in Duong Lam offer the bicycle renting service. With a bicycle, they can travel around the village as well as other attractions nearby without spending too much time.
Bicycle rental prices here are quite cheap, only from 30,000 – 50,000 VND/each/ hour. In case you want to rent a whole day, the price is about 80,000 – 100,000 VND/each. Bicycles help you to leisurely admire the scenery here while not afraid of unsafe traffic.
5. What is attractive in Duong Lam?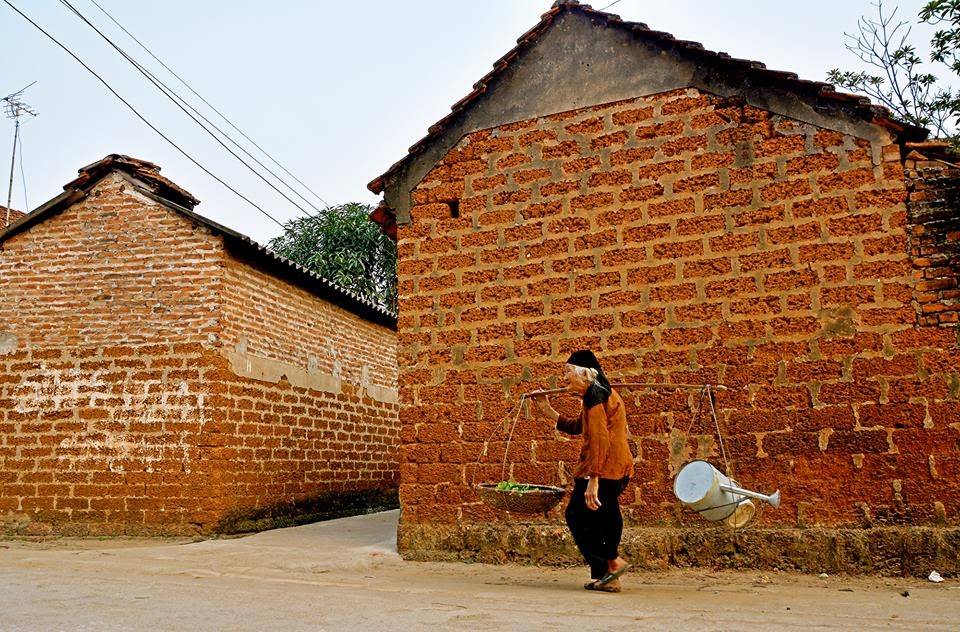 Duong Lam Ancient Village preserves cultural and historical relics for thousands of years: Phung Hung Temple, Ngo Quyen Temple, God Lady Mia Temple, Giang Van Minh Temple, etc. Besides, ancient houses with architecture from the seventeenth to eighteenth centuries, together with religious customs and festivals preserved for many generations also attract a lot of visitors.
Coming here, we will encounter familiar images of Vietnamese countryside such as village gates, banyan trees, water wells, communal yards, along with old houses.
The highlight in Duong Lam must be the old houses over 300 years old. These houses feature typical ancient architecture of the Northern countryside with details made of precious wood. The quintessential engravings from the late Le dynasty have been preserved through many ups and downs of history.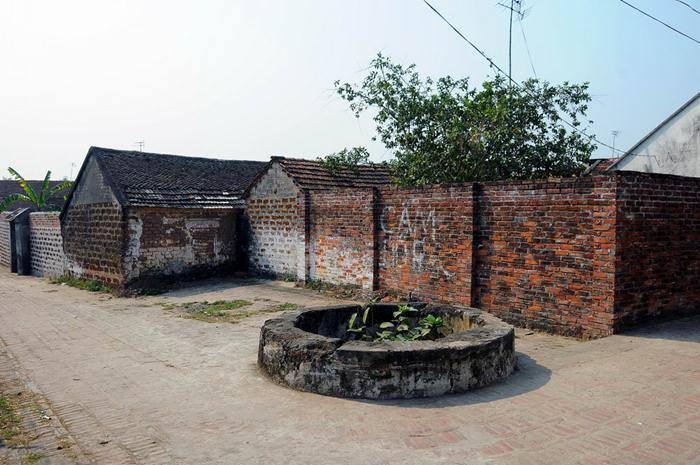 Especially, among all the ancient villages in Duong Lam, Mong Phu village has the oldest gate harmoniously combined with roads, banyan trees, water wells, ponds, green bamboo trees, and rice fields.
Regarding the old houses, there are 956 traditional houses in Duong Lam, in which Dong Sang, Mong Phu, and Cam Thinh have 441, 350, and 165 houses respectively. The characteristic of the traditional houses here is that all are built from laterite blocks.
Not only that, but Duong Lam Ancient Village is also famous for making soy sauce years ago. That explains why there are a few soy pots in the yard of every house. The sauce here is as delicious and famous as Hung Yen soy sauce or Cu Da – Thanh Oai soy sauce. The soy sauce is served with boiled water spinach, buffalo meat, beef, or even used to simmer fish. In addition, the pickled tomato and radish cured in this kind of soy sauce are also extremely savory.
6. What to eat at Duong Lam Ancient Village
Visiting Duong Lam is a good chance not only to admire the beauty of the Vietnamese cultural heritage but also to enjoy the extremely unique local dishes.
– Roasted meat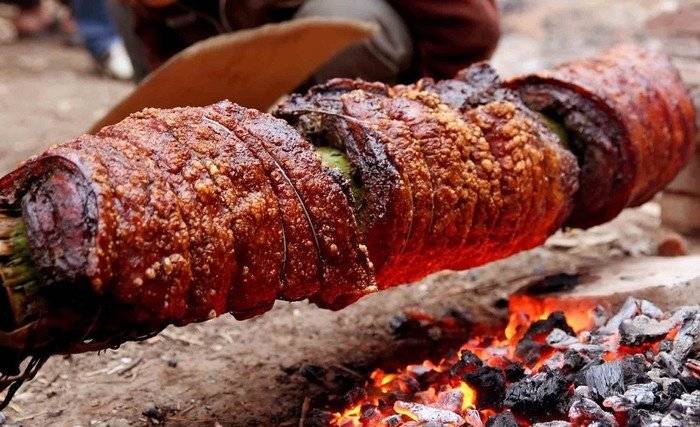 Duong Lam is famous for its flavor roasted meat. The meat to make this dish must be delicious, fresh with thick skin, not too fat. The process of marinating the meat is also very important, with enough spices of basil, pepper, onion, salt, and fish sauce.
One of the ingredients making the meat more attractive is the chopped young guava leaves that are marinated for about an hour. The marinated meat is wrapped neatly into a bamboo stick with the banana leaves inside. While roasting, the processor also needs to be really skillful to adjust the fire as well as the distance between the meat and the stove.
– Mia chicken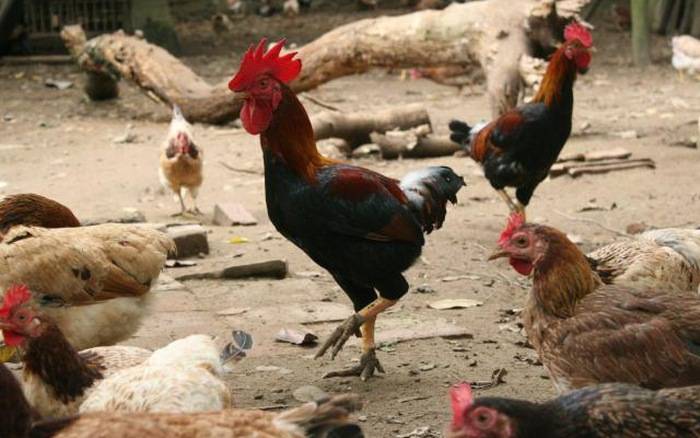 Mia chicken is fragrant, sweet, and chewy. The skin is very crispy, especially ones of castrated roosters. They are raised in the garden and fed with veggies, paddy, rice bran, mashed corn, minerals, vitamins, etc., to ensure health and deliciousness.
– Banh Te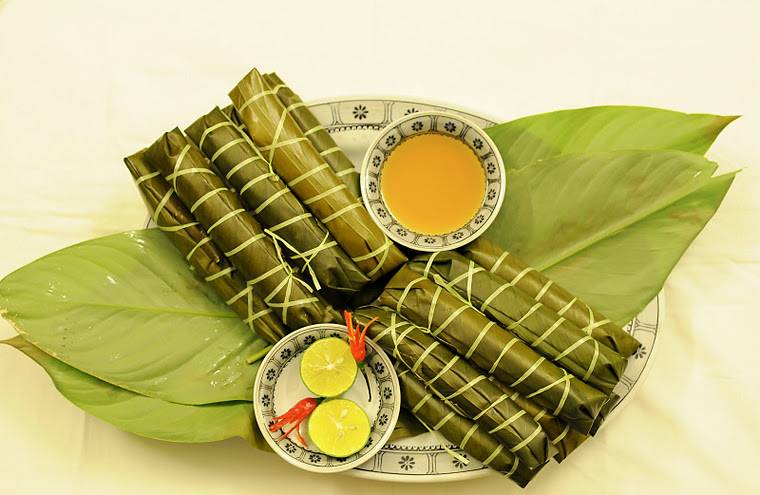 From the ingredients close to agricultural life like rice, pork, wood ear, onions, Dong leaves, banana leaves, people create Banh Te with a white and fragrant cover. The cake gradually becomes a popular specialty to buy as gifts. Banh Te is best served hot. The hot cake attracts diners with a harmonious scent of Dong leaves, cooked rice flour, and greasy fillings.
– Che Lam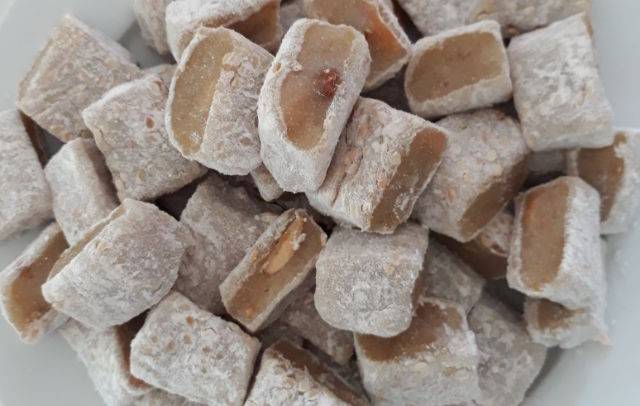 Che Lam is a bold traditional snack to eat in cold weather. Cooks in Duong Lam Village have their own secret ratios for mixing ingredients to create this special tasty dish.
In addition to Che Lam, Che Kho, which is usually displayed at wedding parties or festivals, is also popular here. The cake is molded, then wrapped with the outer layer of pink paper.
– Doi candy (Keo Doi)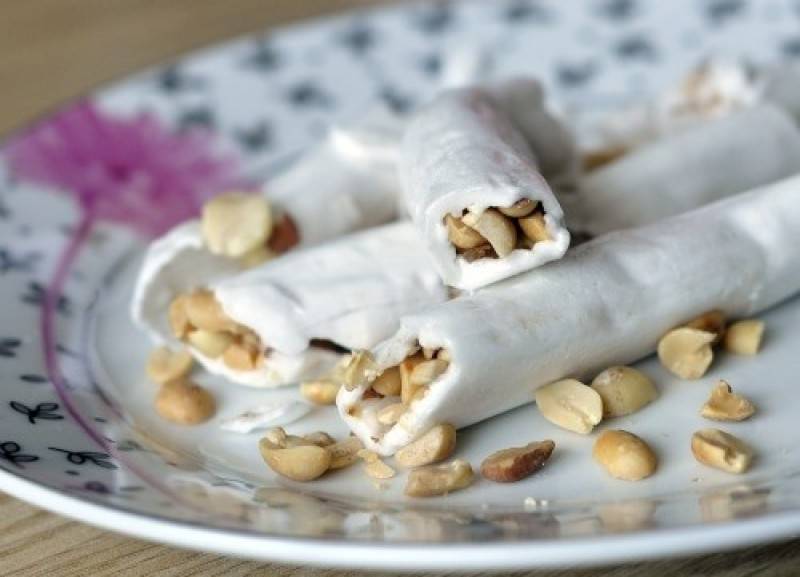 It will not be complete if you miss enjoying Doi candy at Duong Lam Ancient Village. The ingredients for making Doi candy are just malt, peanuts, and sugar. However, the processors are required to have good health and experience in making candy to bring the most delicious Doi candy to diners.
*How to order a traditional lunch at Duong Lam Ancient Village
Besides homestays and rustic restaurants, multiple families here also offer food processing services for tourists. Guests can order traditional standard lunches in the old houses cooked by the owner. The cost of meals varies from 50,000-100,000 VND/person. Note that before your arrival, you should book the meal in advance so that the owner can prepare most carefully.
7. Some notes when traveling to Duong Lam Ancient Village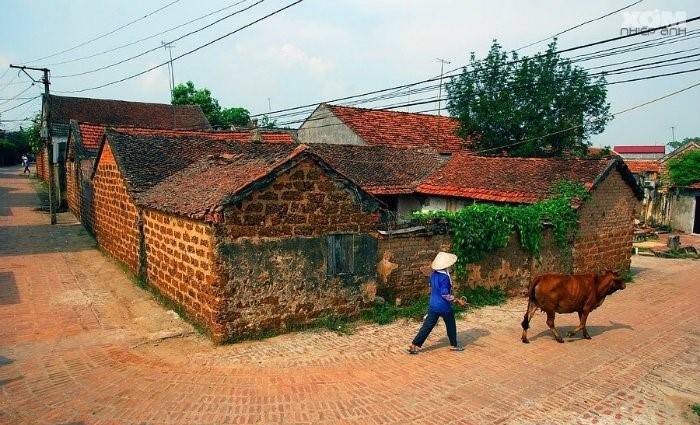 – The entrance ticket is 20,000 VND/person, which is sold at the gate of the village. Though the price is not much, it shows the responsibility of individuals to the relic areas.
– The most suitable means to get around Duong Lam are walking or cycling because visitors can go to every corner of the village without breaking the tranquility here.
– In some attractions, some people of relic management (wearing a card) will introduce the place to you. Tips are not required, but these old men are quite enthusiastic, so we should also respond to their work.
– When visiting the old houses, remember to greet family members, politely ask for permission. They will enthusiastically welcome you. If you want to buy something as a gift, you can buy it right from these families instead of in the market.