MUST-TRY DESSERTS IN HUE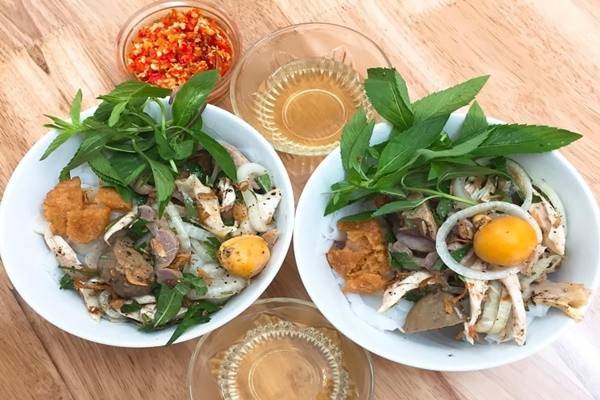 Hue is considered as the cultural and culinary center of Vietnam. Coming to Hue, you not only admire the beautiful natural landscapes but also enjoy the delicious and attractive local cuisine, including famous royal dishes, as well as street food very popular with tourists.
1. Fruit Bucket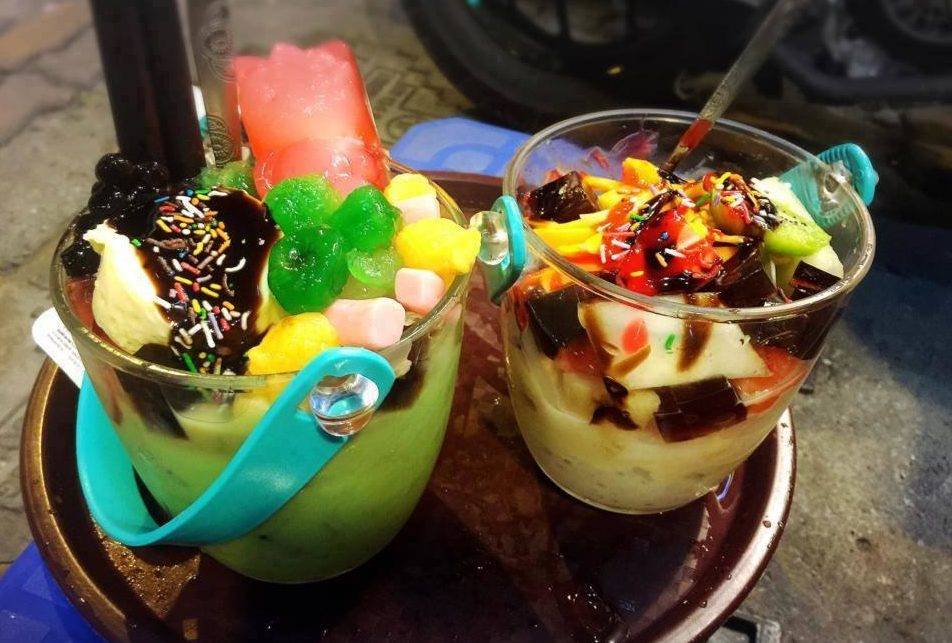 Bucket fruit is one of the well-known snacks, which is loved by many people, especially young people. This dish is made from a variety of fruits such as kiwi, strawberry, mango, jackfruit, jelly, ice, milk, marshmallows, etc.
All are put into a big bucket – as its name indicates. This desert is an easy-to-eat and non-fat food. Only about 20,000 VND (1 US dollar).
2. Xeo Cakes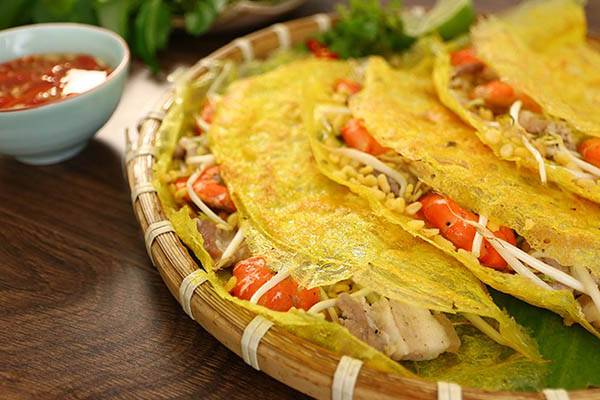 Xeo cakes are one of the desserts in Hue that tourists love the most. Although Xeo cakes are available in many different regions, the one in Hue has an exceptional flavor. The primary raw material for making the dish is flour. First, they put it in water, then pour it into the pot to steam. When the cakes are cooked, they will add shrimps, green onions, lard, vegetable oil. The clear white cake and red shrimp going with green onions make a perfect combination that attracts many visitors, even the strict ones.
Coming to Hue, you can enjoy this dish everywhere because many sidewalk shops selling this. The price is about 15,000VND to 20,000VND. (about 1 US dollar)
3. Mussel Rice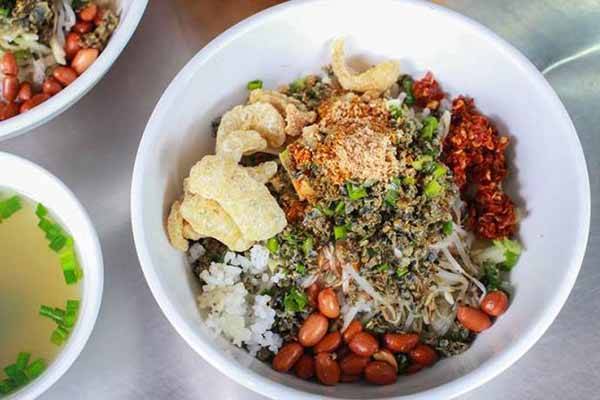 This is a culinary specialty in Hue. Mussel rice is an exquisite combination between Hue royal cuisine and traditional cuisine to create a dish that is unique and strange. Mussel rice is an ordinary dish, but its flavor is tasty.
The spicy taste of ginger and chili, the aroma of vegetables, together with the sweetness of mussel, get every guest to give a compliment. The price is only 15,000VND – 33,000VND. (about 1.5 US dollars)
4. Sweet Soup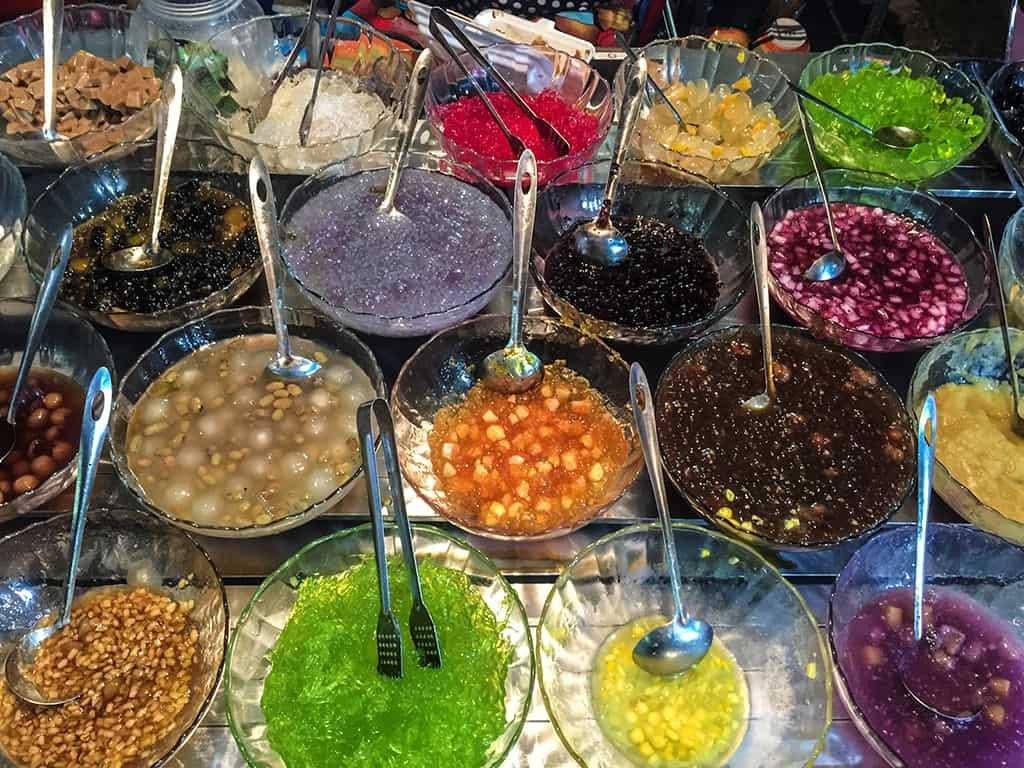 Sweet Soup is a Hue famous dessert that has reached many provinces and cities in Vietnam. If you have the opportunity to come here, you will encounter countless shops or street vendors selling this dish throughout the streets. Hue Sweet Soup has diverse types such as lotus, mixed sweet soup, pomelo, green bean, pumpkin, and roasted pork sweet soup, etc.
Both the materials and the cooking styles have shown the talent of Hue people. The price fluctuates from 15,000 to 30,000 VND (1.5 US dollars), depending on the type.
5. Banh Ep (Ep cake)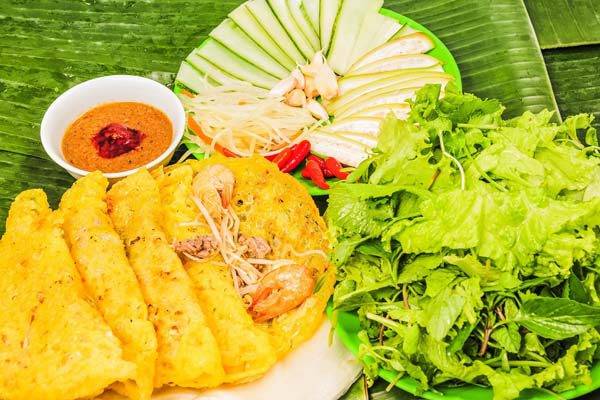 Perhaps not many visitors know about this dish. This dish is familiar and strange at the same time as it is a blend of Hue cuisine with other lands.
The cake is made from finest flour. This flour will be put into a cast-iron mold and baked on a charcoal stove. Then they add pate, meat, and eggs on top. This dish is often served with pickled papayas or cucumbers.
The sauce is also extraordinary. If you have a chance to go to Hue, you should call yourself "Banh Ep" with the price of only 2,000-5,000 VND / cake. Surely you will never forget the taste of this popular dish.
6. Banh Bot Loc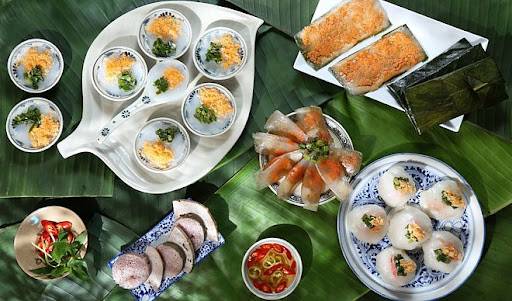 Banh Bot Loc is a typical dish in the North Central region, but in Hue, this dish is even more outstanding.
The cakes are made from finest flour, shrimps, and meat, wrapped in banana leaves, so when you enjoy it, you will feel the aroma of banana leaves blending inside cakes. The dish will win all the customers' hearts. The price is about 4,000 VND/cake.
7. Nem Lui
The main ingredient to make this food is ground pork with spices, wrapped outside a lemongrass skewer, then baked on a charcoal stove. When eating this, people often eat with fresh vegetables, rice papers, and fish sauce.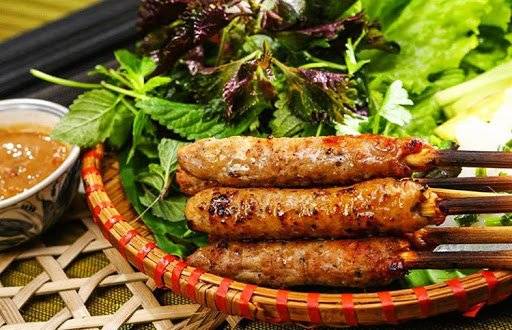 The sauce is essential to create the best Nem Lui. It must be made from delicious fish sauce, pork, pork liver, and roasted peanuts. All will be mixed into a thick and fleshy mixture. The price is about 6,000-10,000 VND/ skewer.
I hope this article provides you with exciting information on the journey to discover " the paradise of dessert " in the ancient capital. Do not hesitate any longer. Just carry your backpack and discover this unforgettable experience!