THIEN MU PAGODA – THE SACRED PLACE WITH LOTS OF SECRETS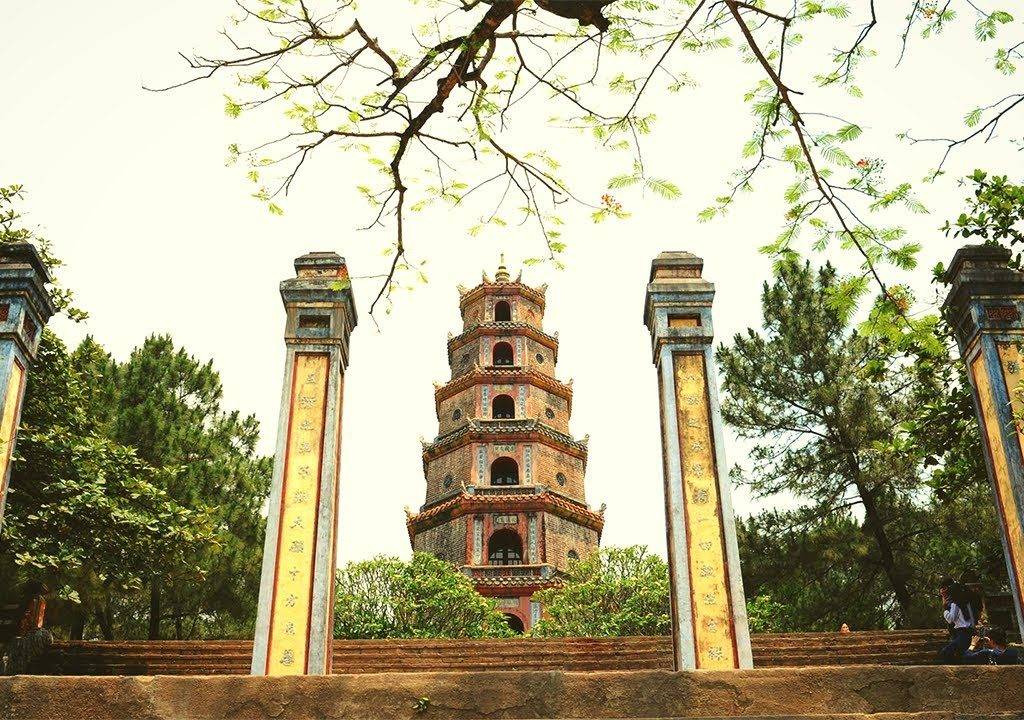 Thien Mu Pagoda has long been one of the ideal destinations for many people. This place is not only a magnificent architectural work but also the most sacred pagoda in Kinh Ky, attracting many tourists from all over the world.
1. Introduction about Thien Mu Pagoda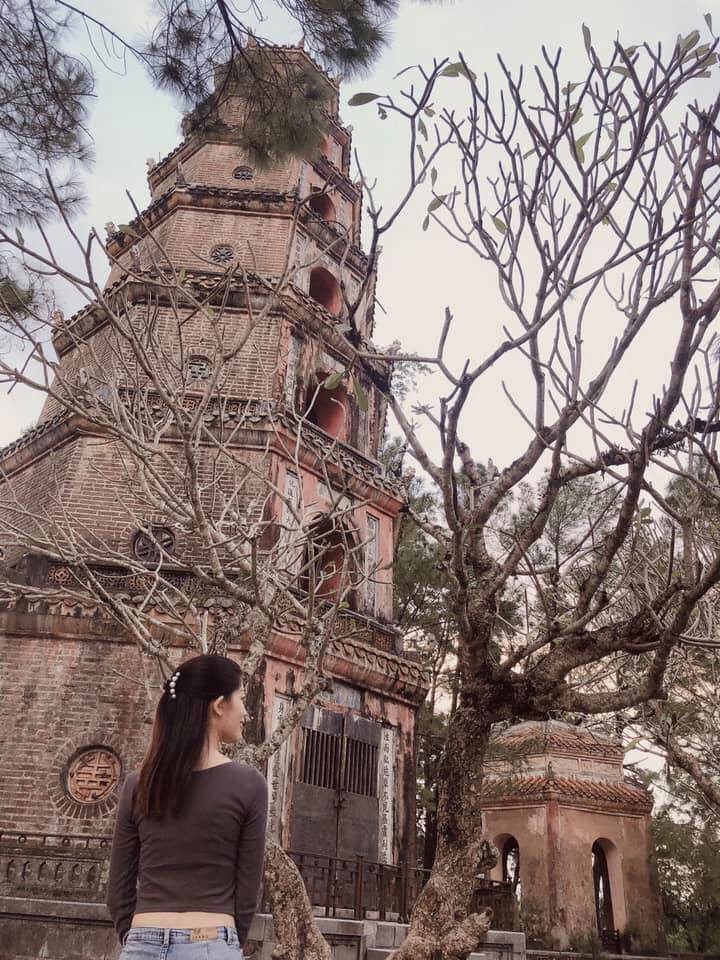 Many locals also know Thien Mu Pagoda with another familiar name, Linh Mu Pagoda. This place is located on Ha Khe hill with a view towards the poetic Huong River. Thien Mu Pagoda was built in 1601 during the reign of King Nguyen Hoang. Despite experiencing the events of history, so far, Thien Mu has always been the oldest pagoda in the ancient capital with works that retain the beauty from the beginning.
2. How to move to Thien Mu Pagoda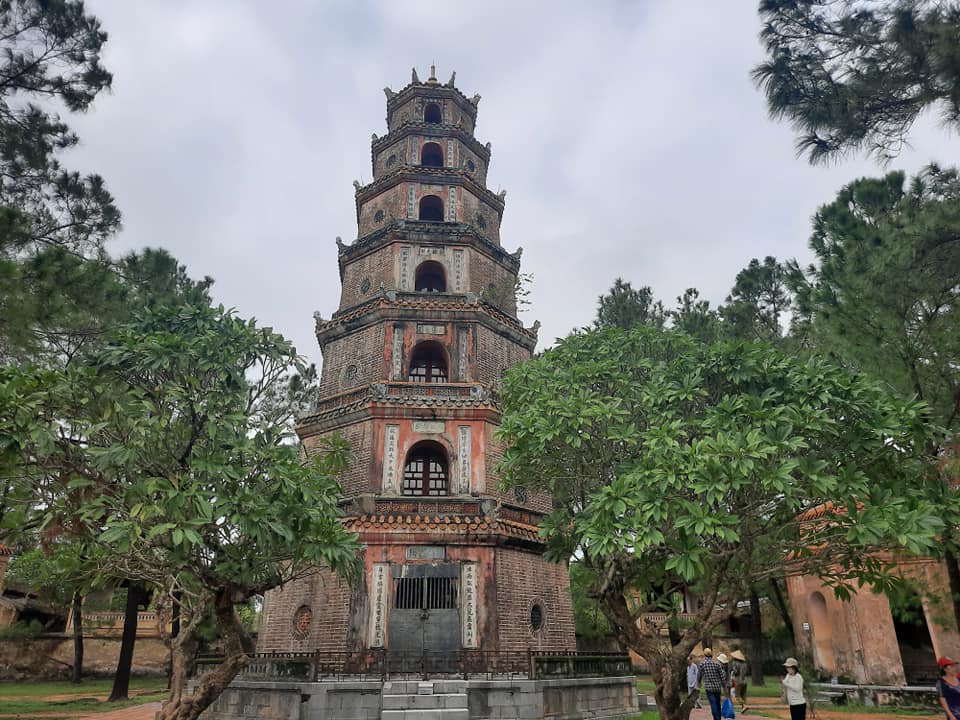 Thien Mu Pagoda Hue is located in Kim Long Ward, only 5km and 10 minutes to move from Hue City to the West. From Dai Noi Hue, you go to Dang Thai Than and turn left to Yet Kieu Street. Then, go a little further and turn left to Le Duan. Go to the roundabout, then turn right into Kim Long. From here, go about 2km to Thien Mu pagoda.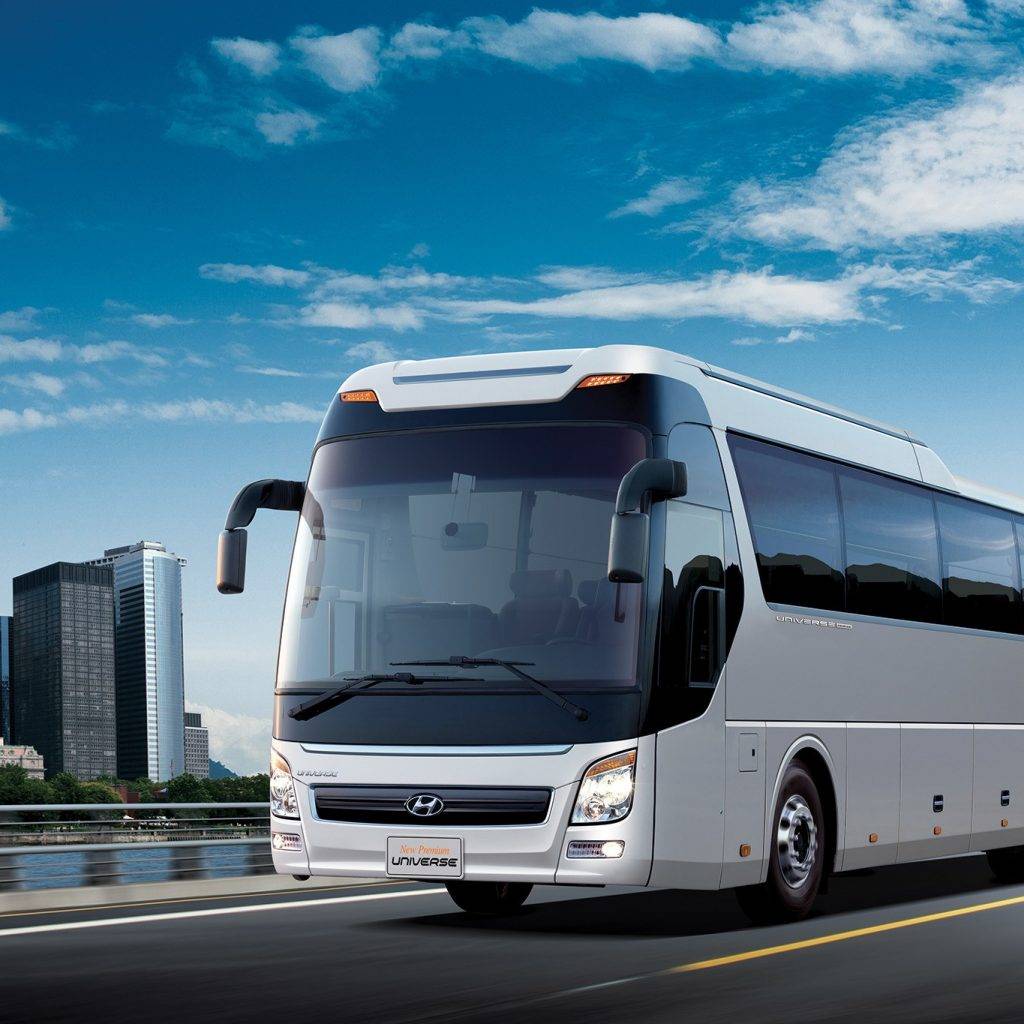 Besides choosing a motorbike or car to travel, visitors can also choose to travel by boat on the Perfume River. The train will depart from Trang Tien Bridge and pass through the sights and stop at Thien Mu Pagoda in about 2 hours.
3. What is attractive about Thien Mu Pagoda?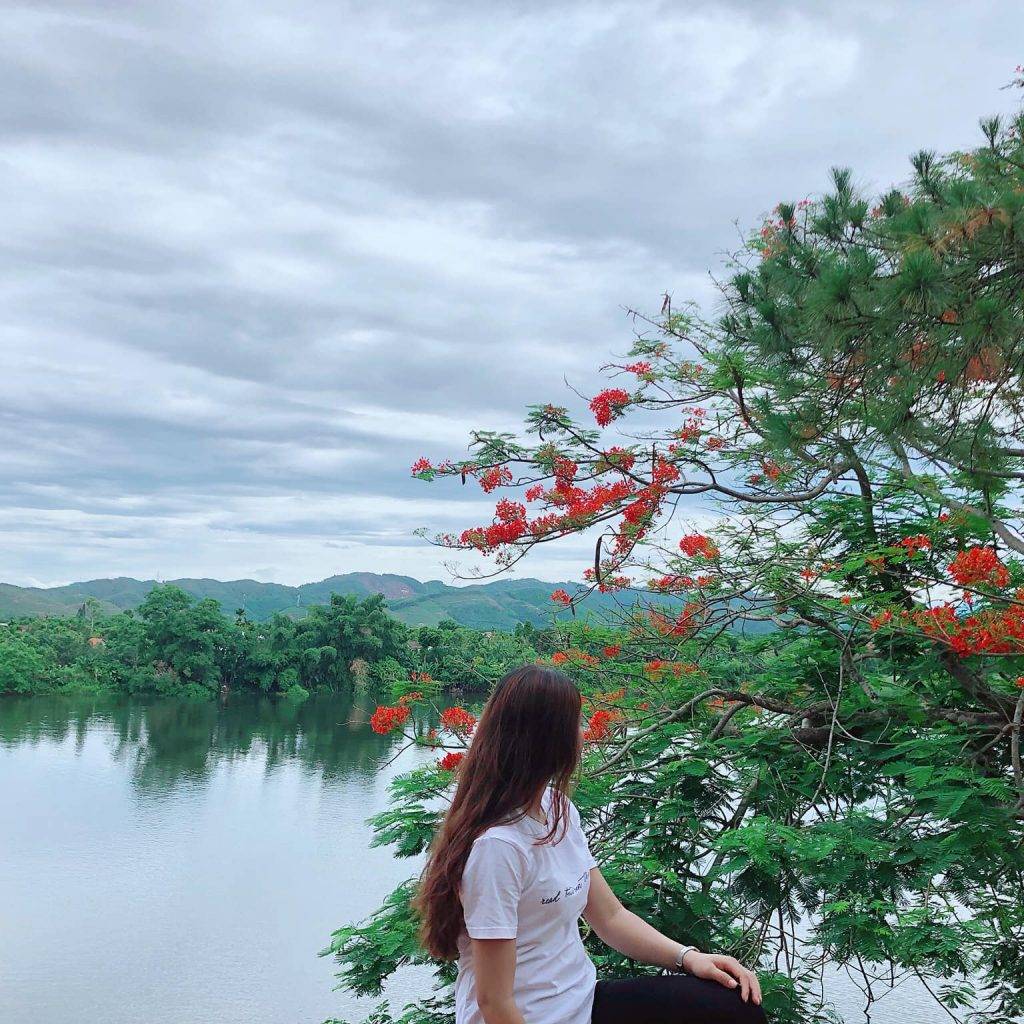 Right from arriving Thien Mu Pagoda in Hue, visitors will be overwhelmed by an incredibly peaceful "Hue" beauty. The most typical architectural work is the seven-storey octagonal tower with the name Phuoc Duyen. This tower was built in the middle of the 19th century under the reign of King Thieu Tri, and it is also the popular check-in point for many travelers when arriving in Thien Mu.
Next, after going through the three-door gate, you will see 12 giant temple guardian sculptures with fierce and somewhat scary faces. The unique thing is that all 12 sculptures are made from wood.
Inside is Dai Hung Palace – this is also the main sanctuary of Thien Mu Pagoda. Inside this sanctuary is a statue of Buddha with other impressive sculptures. The place displays the giant bell with a height of 2.5 meters and a weight of more than 2 tons. Visitors coming here will enjoy a peaceful space with aromatic smoke in the air. This is also the place where prayers take place.
4. Things to avoid when visiting Thien Mu Pagoda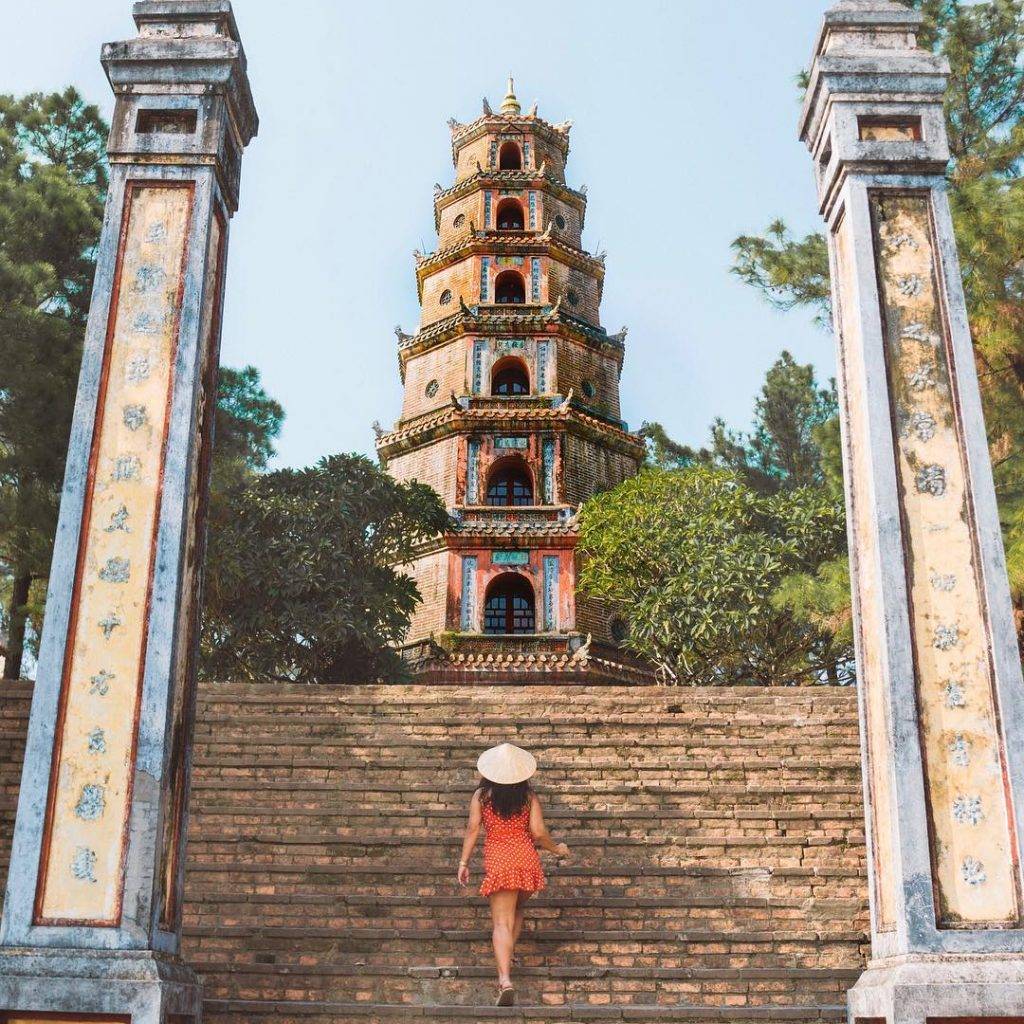 According to the oral narratives of the people here, in the olden days, there used to be the idea that children had to follow the arranged marriage. So, there was a couple who loved each other passionately but was forbidden by their families. So they both sank under the boat in front of Thien Mu Pagoda to commit suicide. Ironically, the boy died, and the girl washed ashore and was rescued. After returning to the family, the girl was forced to marry another rich man. The dead young man regretted his fate, and his spirit "entered" into Thien Mu Pagoda.
The story has become a curse that any couple coming here will break up. Therefore, many people often advise that, if you go with your lover and do things that are contrary to morals, affecting the tranquil place of the temple, you will encounter bad luck in life.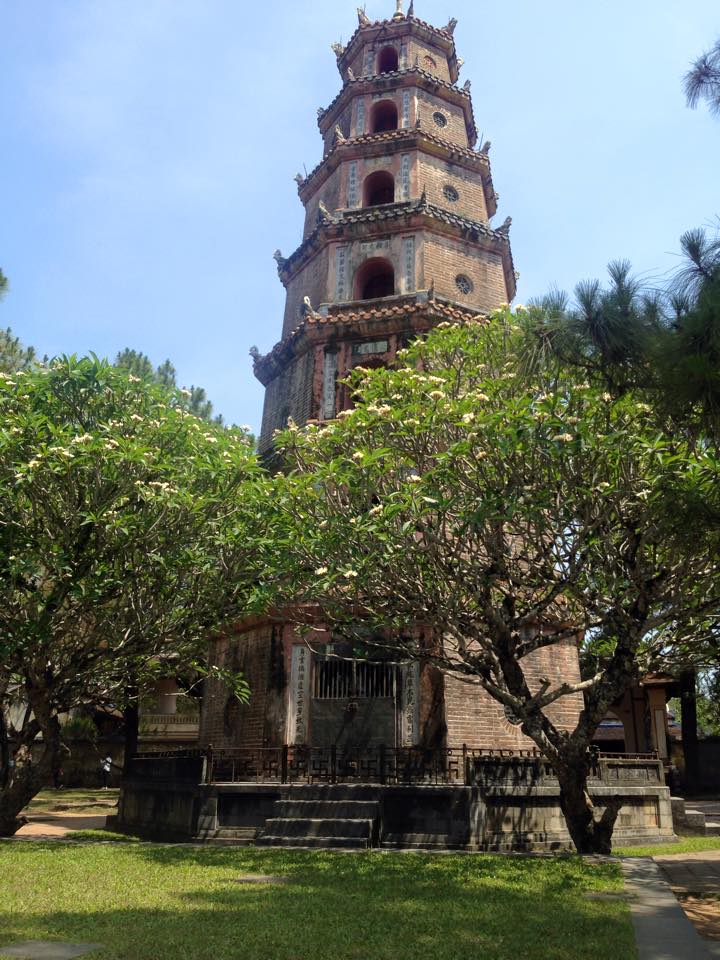 In addition, because it is a sacred location, so when you visit it, you should not wear revealing or impolite clothes. When visiting the pagoda landscape, you also should not talk too loud or say bad words.
Above are some experiences of traveling and visiting Thien Mu pagoda in Hue. Hopefully, the above information will help you to have a complete trip and many exciting experiences!