10 BEST RESTAURANTS IN HO CHI MINH CITY
It can be said that Ho Chi Minh City gathers the best culinary regions of Vietnam – the North, the Central and the South. You can easily find delicious Vietnamese restaurants, as well as restaurants specializing in Eurasian cuisine. Here are top 10 restaurants in Ho Chi Minh city with a variety of dishes that VNITOURIST picks for you:
1. An Nam Quan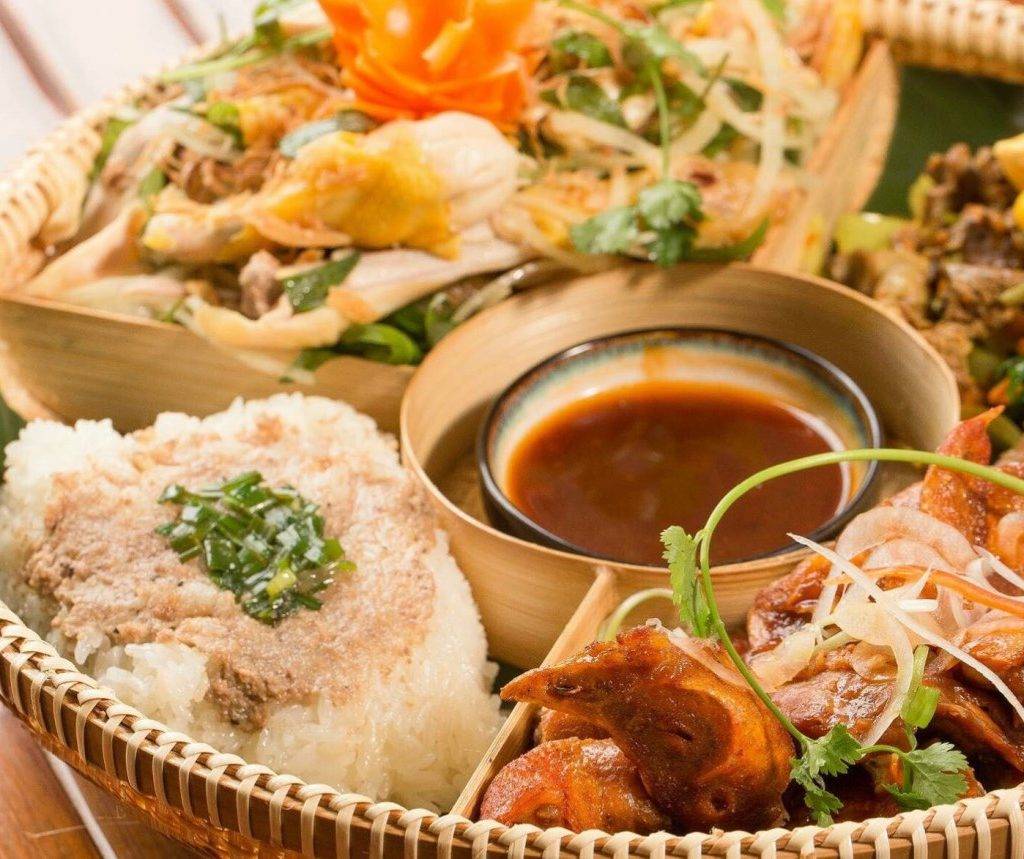 With a menu of over 80 Central dishes of which 60% are dishes from the paradise city – Da Nang, An Nam Quan deserves to be one of the top delicious restaurants in Ho Chi Minh city that you should not miss. The most attractive dish here is the special chicken dish on the tray. It includes boiled yellow chicken, roasted chicken, sauteed chicken turmeric, mixed chicken salad and delicious chicken sticky rice.
Address:
59 Nguyen Binh Khiem, Da Kao, District 1
51B Tu Xuong, Ward 7, District 3
2. Wrap & Roll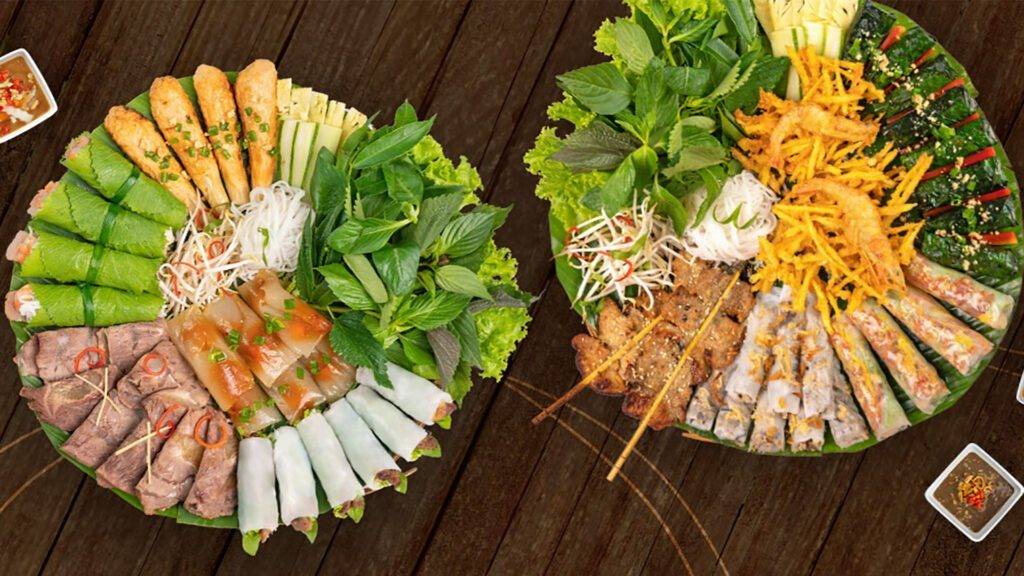 Each restaurant in the Wrap & Roll chain is located in luxurious and polite locations, so it always ensures an airy and clean space. The design of this store chain is not sophisticated but always minimalist to give diners the psychological as well as the most comfortable to enjoy the food here.
Focusing on the menu menu with special packages and flavors of all 3 regions, this restaurant chain has become a "familiar face to remember names" with diners in both Hanoi and Saigon. Besides, the rice dishes, vermicelli, pho, hotpot or accompanying dishes all bring delicious flavors that cannot be denied.
Address:
02 Hai Trieu St., Ben Nghe Ward, District 1
Ground floor, m Plaza, 39 Le Duan, Ben Nghe, District 1
62 Hai Ba Trung, P. Ben Nghe, Q. 1
3. Que Nha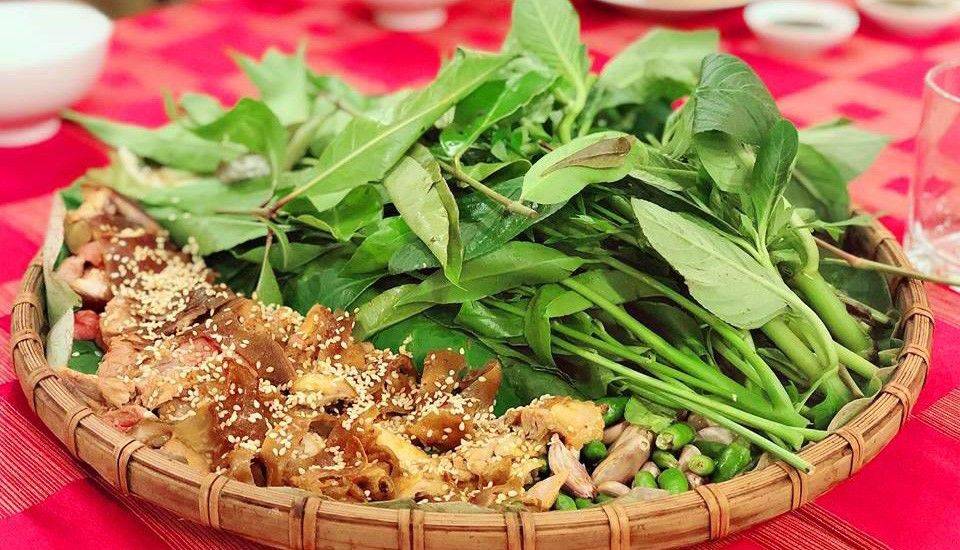 The location of the restaurant is quite convenient and easy to find, with quite nice scenery. The space is not too large but it is decorated quite beautifully, creating a feeling of both rustic and cozy and close.
Homeland is a familiar eating address of many Saigon people with a quite delicious and varied menu. This is a destination for those who are passionate about traditional Vietnamese cuisine with easy-to-eat and enjoy dishes.
Address: 28 Pham Ngoc Thach, Ward 6, District 3
4. Cuc Gach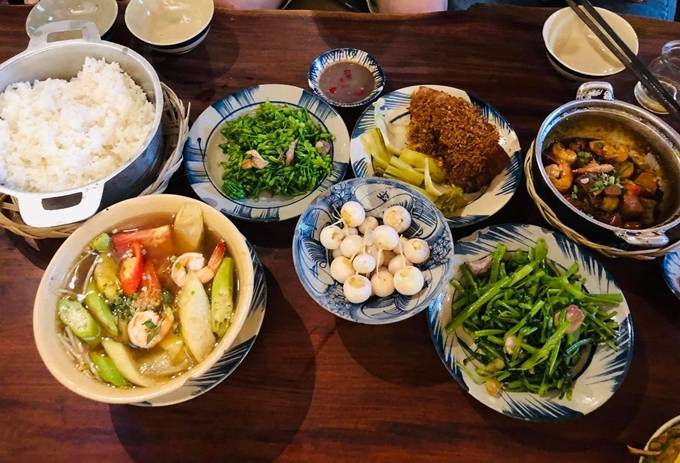 Cuc Gach is a restaurant that finds itself in most travel guides as a top 10 place to eat in Ho Chi Minh City. It gained even more popularity after Anjelina Jolie and Brad Pitt dined here during their visit to Vietnam. It's located in an old French colonial house that has been restored with recycled material. The quirky design, with its low doors, tasteful interior of antiques, mismatched and chipped china, plants and a nice little pond in the middle of the house creates a very friendly and intimate environment.
Address: 10 Dang Tat, Thao Dien, District 2
5. Shri Restaurant & Lounge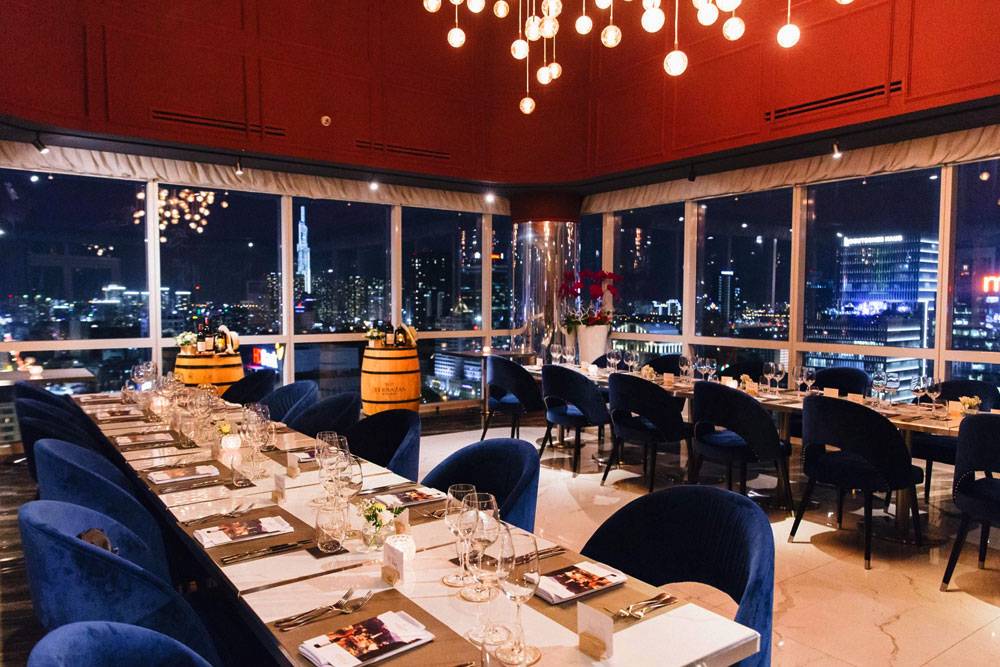 Shri Restaurant & Lounge is on the top of the Center Tower. With its ceiling-to-floor windows it offers unparalleled panoramic views from nearly every table. Frangipani trees, water features and the general open-air feel make for a perfect place to unwind after a long day exploring the city. The objective of Shri Restaurant & Lounge is simple: beautiful European food in a relaxing and ambient setting.
Address: 72 Nguyen Thi Minh Khai, District 3
6. Ut Ut Quan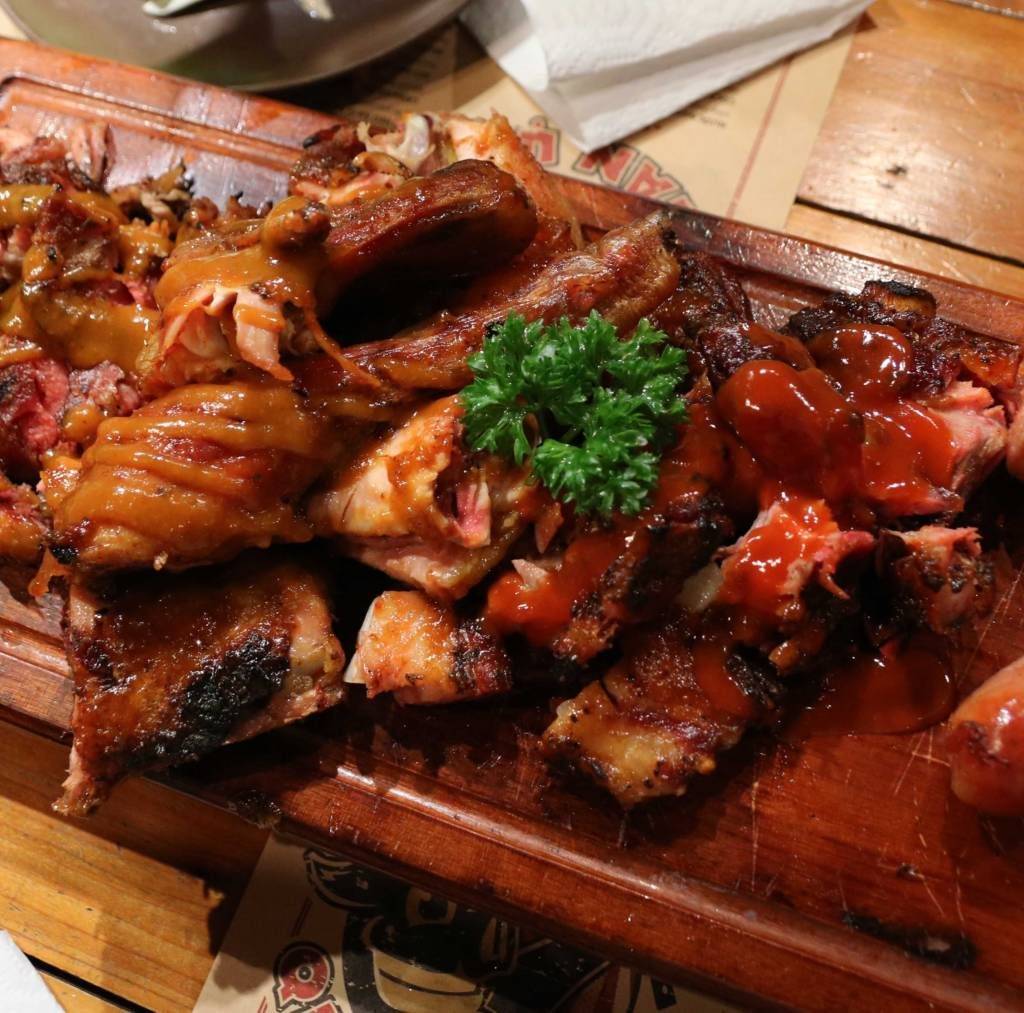 If you are a person who likes to enjoy street food with a unique way of processing, Ut Ut Quan the perfect choice. The restaurant is lovely from the name to the owners of the restaurant. They – 2 Western men – have creative processing of food as well as the liberal way of communicating. That's why they always receive a lot of love from customers. The most well-known Ut Ut Quan food must be the combo of barbecue with beer. It is fragrant grilled soft meat, served with cheese and vegetables.
Address: 168 Vo Van Kiet, Cau Ong Lanh Ward, District 1.
7. Ngon Restaurant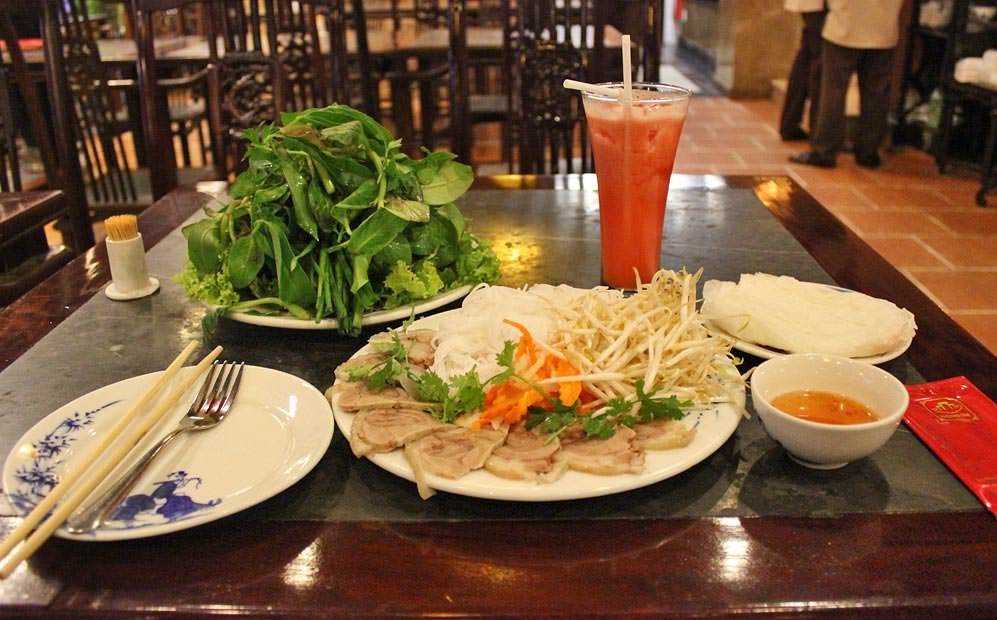 This is one of the most popular restaurants in Ho Chi Minh city, with a large range of the very best street food on offer in stylish surroundings across three levels. It's set in a leafy garden ringed by food stalls, with each cook serving a specialised traditional dish, ensuring an authentic taste of Vietnamese, Thai, Japanese, Chinese or Korean cuisine.
Address: 160 Pasteur, Ben Nghe, District 1.
8. Noir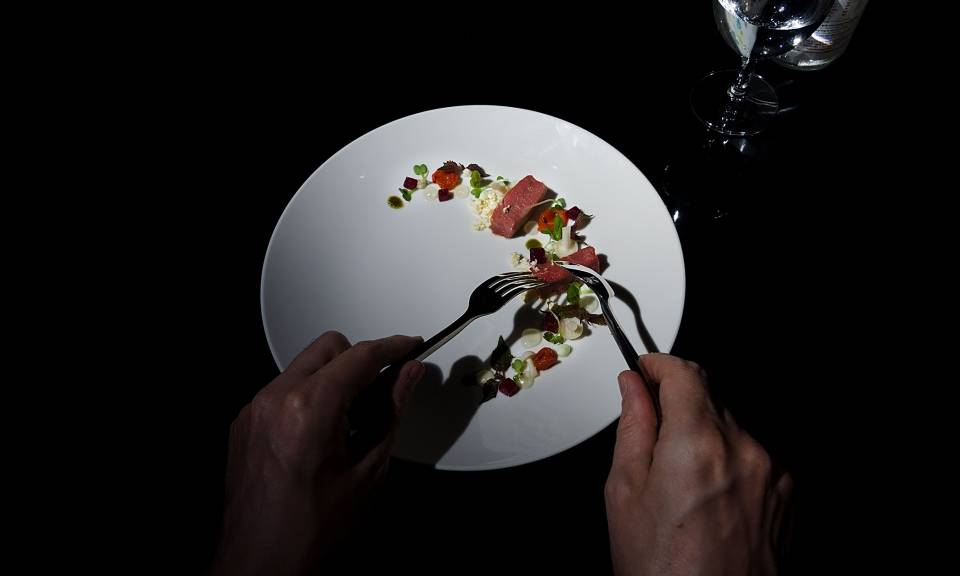 Looking for fine dining with a twist, you are where you need to be! It's easy to forget how much we depend on our senses until we challenge them. People said that 70% of a food taste comes from its smell, you eat with your nose first not your tongue. Wanna check if that's true? Come to Noir. When it freshly opened, Noir was all over the newspaper pages as the first restaurant to let you eat in the dark. The restaurant has the excellent review. Meanwhile, the staffs here are all disabled people. They also are well-trained and super attentive to your requests.
Address: Lane 178-180D Hai Ba Trung Street, Da Kao Ward, District 1.
9. Baba's kitchen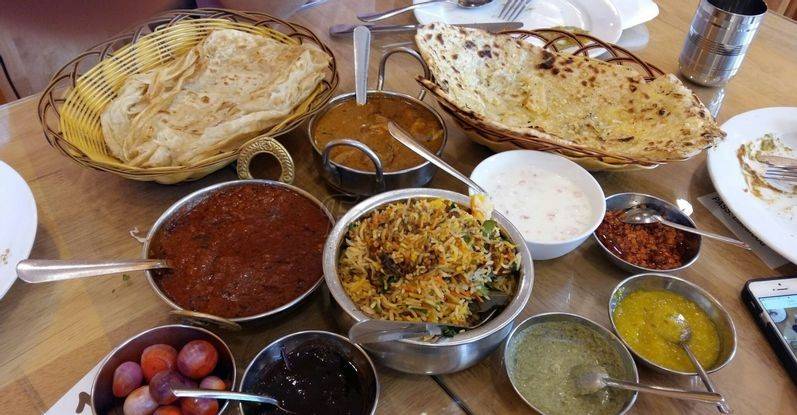 Baba's kitchen includes the fine flavours, aromas and spices of India. There's ample vegetarian choice and the atmosphere is as inviting as the cuisine is delectable. Highlights include delicious paneer kadai (Indian cheese, peppers and onion in a thick tomato sauce). Rather excellent service, too.
Address: 274 Bui Vien Pham Ngu Lao, District 1
10. Pizza 4P's
4P's impresses pizza lovers with a great combination of typical Italian cuisine with Japanese cuisine. Pizza is baked with charcoal. By just one bite, you will see the whole taste of the cake made by hand with the dedication of the baker. There are many types of special topping. Besides there are classic style pizzas like Margherita and Quattro Formaggi. In addition, it also serves pizza with Burrata cheese produced directly in Da Lat.
Address: 151B Hai Ba Trung, Ward 6, District 3.