10 MUST-VISIT DANANG TOURIST DESTINATIONS
Da Nang in Central Vietnam is one of those incredible backpacking destinations with amazing places to visit. Even for those that know about what to see in Da Nang, this hip and thriving Vietnamese city proves to have a lot going for it. All of Danang tourist destinations definitely deserve catching some of your time. Today, VNITOURIST presents you where tourists should go in this lively Danang city!
1. My Khe Beach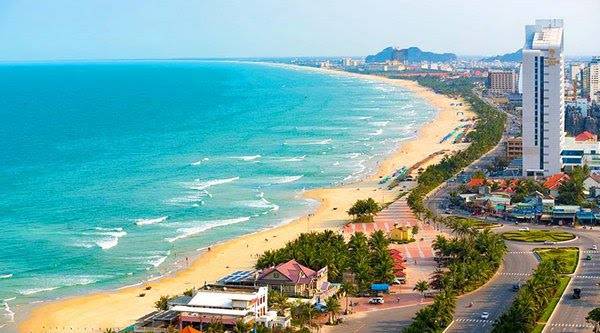 Voted as the most charming beautiful beach on the planet by American Forbes magazine, My Khe beach, only 3 km from the city center, attracts many tourists because of its pristine look with white sandy beaches, as well as gentle waves in a very cool and fresh atmosphere. The beach might be the most attractive spot among Danang tourist destinations.
Coming to Da Nang, visitors should come here once to experience early sparkling dawn and to immerse in cool water.
2. Son Tra Peninsula
Son Tra Peninsula is the only synthesis of the natural forest ecosystem associated with the sea in Vietnam, which is 10 km from the city center with 3 sides bordering the sea. The climate is very clean and pleasant. According to scientific research, every day the forest here recreates enough oxygen to supply 4 million people just like a huge green lung of the city.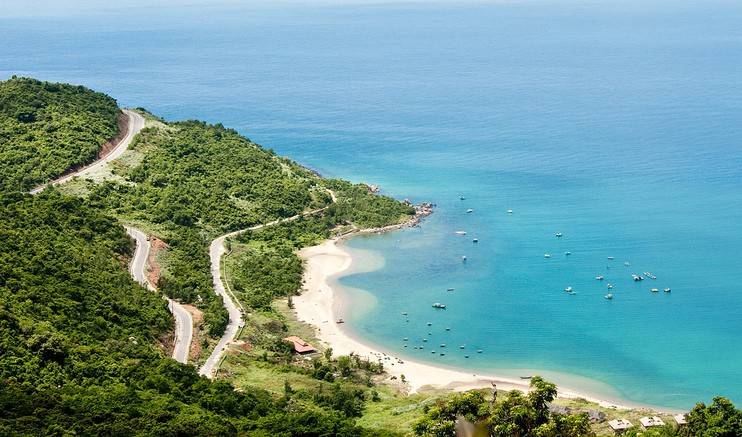 This is also the home of many animals with 22 rare and precious species named in the red book. The most prominent is the primate population with about 300-400 individuals.
3. Ngu Hanh Son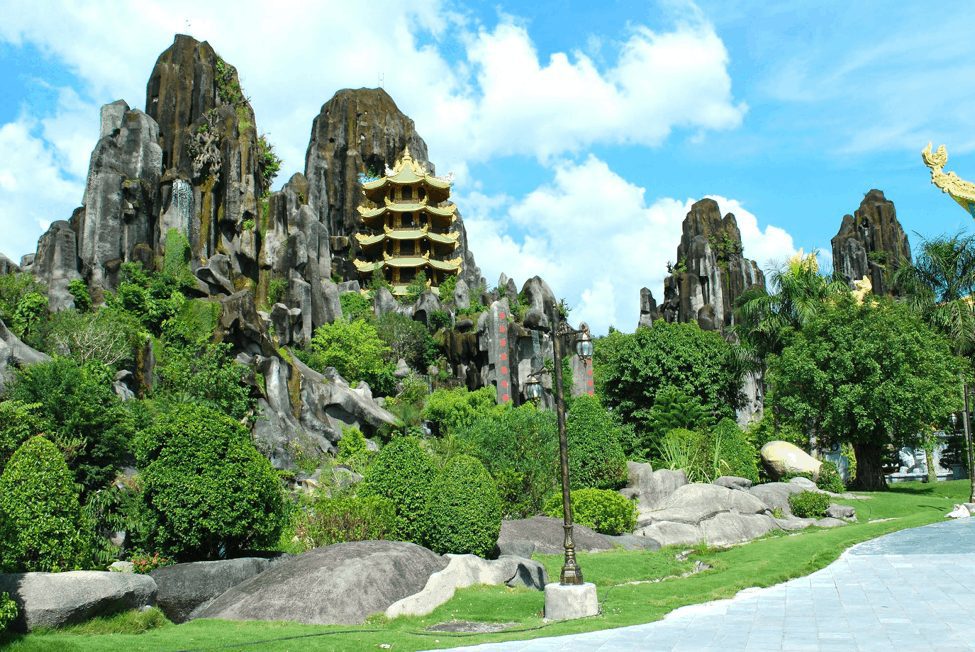 Ngu Hanh Son, also known as Non Nuoc Mountain, includes 5 limestone mountains on the sandy beach. This place is famous for Non Nuoc fine arts village producing many marble artifacts that are famous all over the country and even abroad. The historical records show that before the Vietnamese came here, the Cham people worshiped their gods in caves and shrines.
The Vietnamese immigrants brought Buddhist culture and beliefs here and built more temples and pagodas, making this place very diverse and harmonious in identity.
Location: Hoa Hai, Ngu Hanh Son, Danang
Opening hour: 07:00 am – 05:00 pm
Admission fee: 250,000 VND
Best visit time: 8:00 am – 11:00 am
4. Ba Na Hill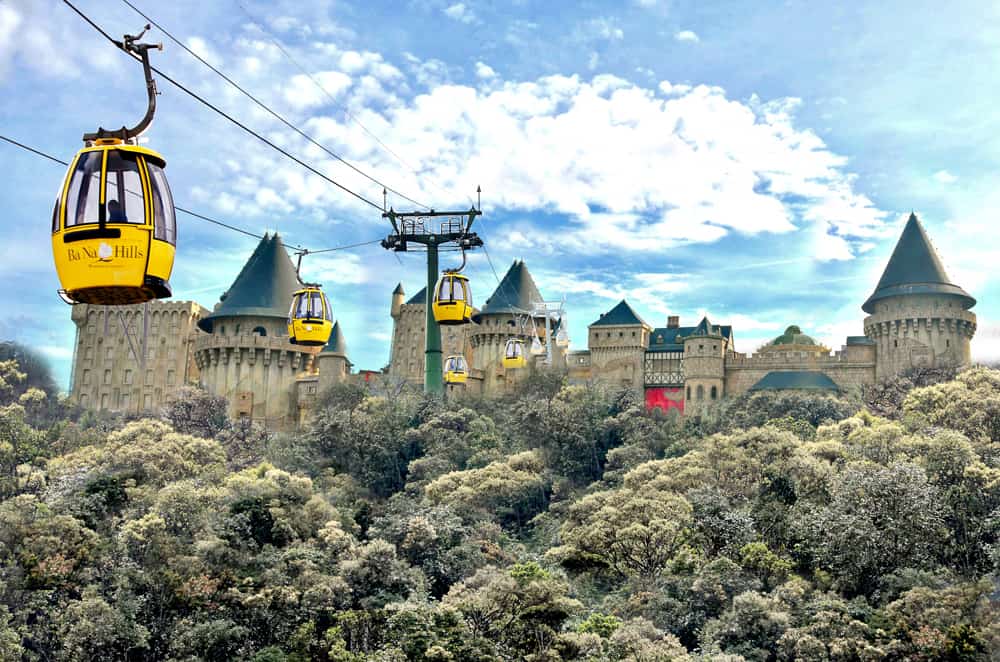 Far away from the city center, about 40 km to the Southwest, Ba Na hill has quite natural scenery. Especially, the weather in this area is extremely pleasant due to the high terrain (1487 km above sea level). Visitors might experience four seasons in a day, which is suitable for various resort activities.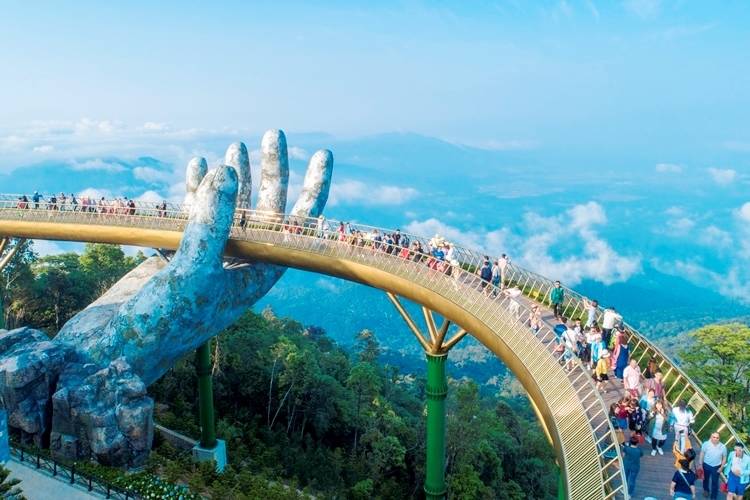 Inside this resort, there are many entertainment venues as well. If you travel to Ba Na hill by motorbike, you need to be careful because even though the road is easy, it is quite long and winding. Coming to Ba Na hill is more convenient nowadays since there is a bus with the reasonable fare of 136,000 VND/ person/ two ways. (about 6 US dollars/ 680 Japanese Yen)
Location: Hoa Hai, Ngu Hanh Son, Danang
Opening hour: 07:00 AM – 05:00 PM
Admission fee (2020):
+ Adult : 700,000 VND
+ Children (1m – 1.3m): 600,000 VND
Best visit time: 8:00am – 17:00am
5. Han River Bridge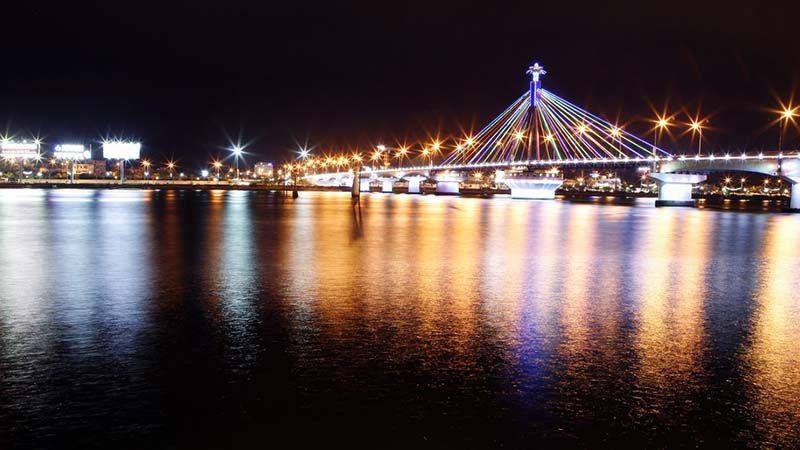 This is not only a symbol but also a pride of Da Nang residents. When the night falls, the bridge appears colorful and shimmering on the calm river. Every year, at this location, Danang will host an international cultural tourism event that is the Firework Festival, usually taken place on April 29-30.
This is a good opportunity for Da Nang tourism to attract a lot of domestic as well as foreign tourists to visit this beautiful city and admire spectacular themed fireworks as well. During this time, Da Nang city is extremely bustling and vibrant.
6. Dragon Bridge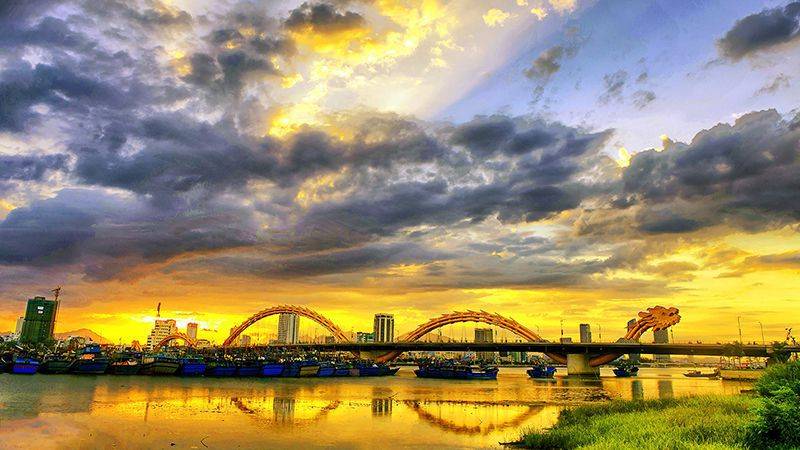 Despite not being as famous as Ba Na Hill, Ngu Hanh Son and other Danang tourist destinations, Dragon Bridge is still considered as a unique bridge in this beautiful city. This is the heaviest bridge in Vietnam with a strong dome structure and the specially-designed dragon fins made from 5 steel pipes. The bridge is also built quite elaborately when equipped with a lighting system consisting of 15,000 LED bulbs.
The most attractive thing about Dragon Bridge is there will be water and fire spraying performances every Saturday and Sunday or big holidays.
7. Love Lock Bridge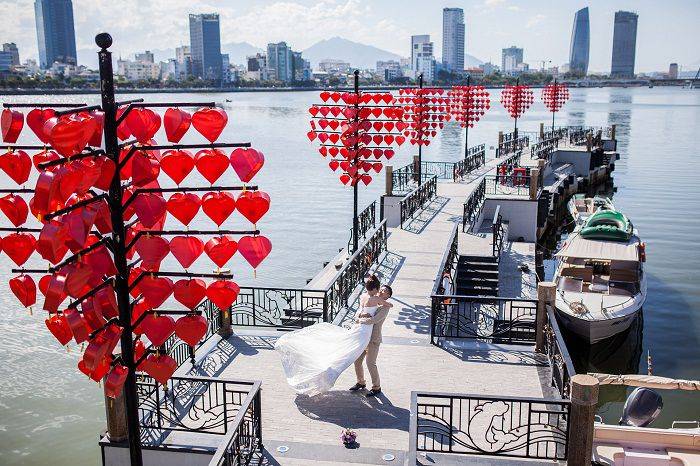 Located on Tran Hung Dao street, near the top of the Dragon Bridge and the Dragon Carp statue, the bridge is a stimulation of the famous Love Lock bridges in France and other European countries. This place is free for visitors. The bridge has an arc shape about 70 m long, 6m wide, facing the middle of the river with plenty of space to see the beauty of the Han river banks.
In the evening, hundreds of sparkling and fanciful red heart-shaped lanterns, creating a dreamy scenery. According to traditional beliefs, Love Lock bridge is the place where couples can "lock" their love to express eternity and faithfulness.
Location: Tran Hung Dao, Son Tra, Danang
Admission fee: Free
Best visit time: 4:00 pm – 5:00 pm
8. Sky 36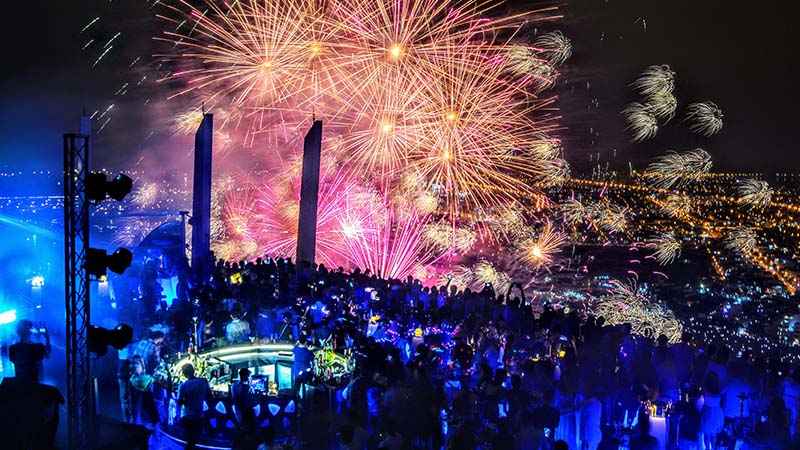 Sky36 is incidentally located on the 36th floor and at the house number of 36. From the Sky bar – also the highest floor of Danang Novotel hotel, you can see the whole city, rivers, mountains, sea, and the bright neon lights in the city at night. If you come to Da Nang, you should definitely experience the city view from above in this bar.
Location: Novotel Danang Premier Han River
Opening hour: Daily 18:00 – 02:00
9. Linh Ung Pagoda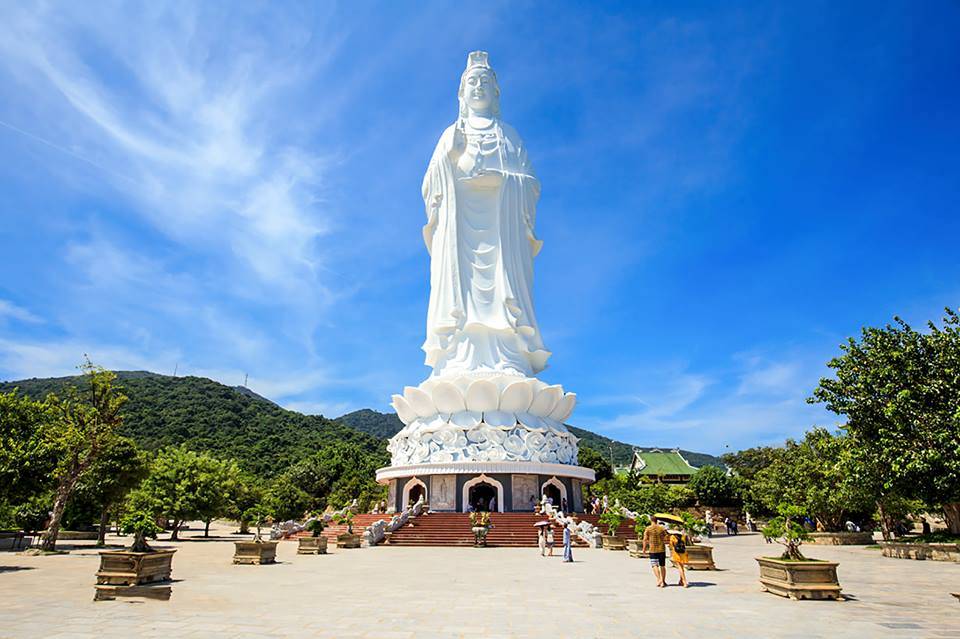 Just 9 km away from the city center, Linh Ung – Bai But pagoda is now considered as the largest pagoda in Da Nang City in both scale and art of architecture. The pagoda brings a contemporary style combined with inherent tradition of pagodas in Vietnam, with curved roof in dragon shape, the solid pillars surrounded by sophisticated sinuous dragons.
Especially, in Linh Ung – Bai But pagoda, there's an Lady Buddha statue which is considered as the tallest one in Vietnam (67m high, 35m lotus diameter, equivalent to a 30-storey building).
Location: Son Tra, Da Nang
Opening hour: All day
Admission fee: Free
Best visit time: 5:00 am
10. Da Nang Cathedral
The last spot of best Danang tourist destinations is The Da Nang Cathedral. It was built in the early 20th century and is famous for its architectural peculiarities. It has a weathercock-topped steeply and it has been painted in pink. This place was built by a French priest named Louis Vallet around 1923. You may or may not be a God-fearing person, but a trip to Da Nang Cathedral must feature in your itinerary. Stop by to take in the beauty and the ornate structure of this magnificent historical site.
Location: 156 Tran Phu, Hai Chau, Da Nang
Opening hour: 6:30 am – 4:30 pm
Admission fee: Free
Best visit time: 9:00 am