EXPLORE HON THOM – PHU QUOC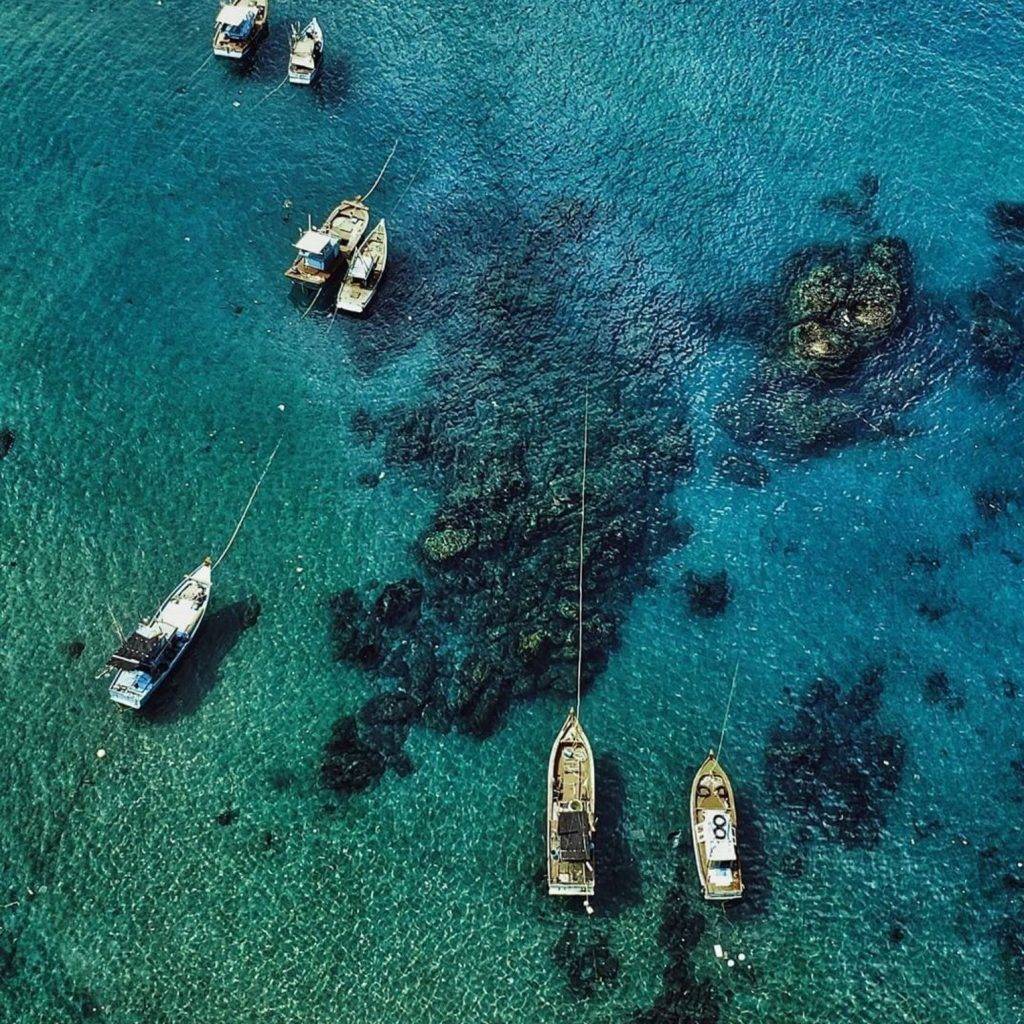 Hon Thom is located in the southern part of Phu Quoc Island, belonging to the An Thoi archipelago, which is considered as the most precious gem. This place possesses pristine beauty with the clear blue sea through the bottom, beautiful rock formations with fancy shapes, and the most abundant marine ecosystem in Vietnam. Therefore, if you miss Hon Thom, it will be a huge omission when traveling on Phu Quoc – the pearl island.
1. The ideal time to visit Hon Thom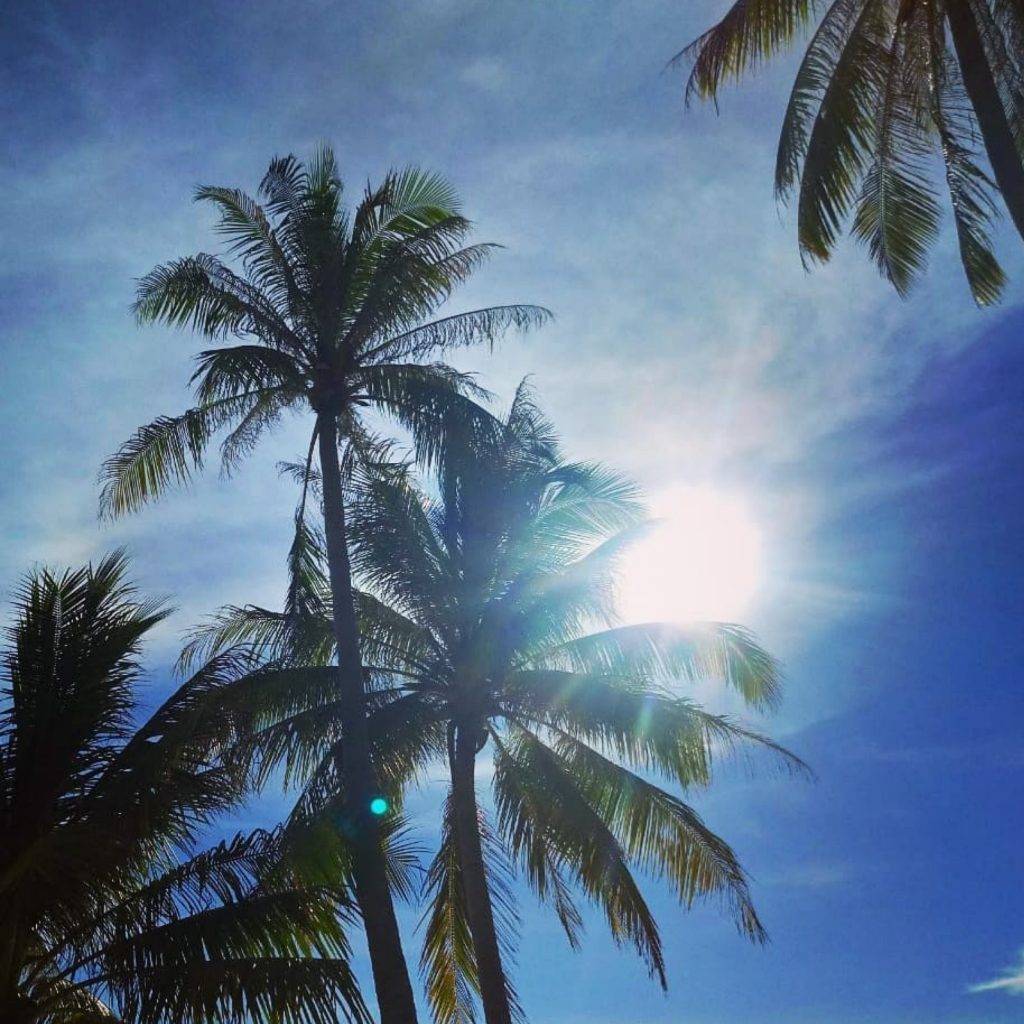 Although it is a famous destination in Phu Quoc, the time for each trip here depends on the climate. Therefore, the ideal time to visit Hon Thom in particular and Phu Quoc, in general, will start from January to the end of July. This time, traveling to Phu Quoc by ship or plane will be very convenient. So, if you come to Phu Quoc, you should go during this time.
2. How to go to Hon Thom
There are two ways to go to Hon Thom.
After arriving in Phu Quoc, you can take a motorbike or taxi, from the center of Duong Dong (about 25km) to go straight to An Thoi the red land, or use Hon Thom cable car.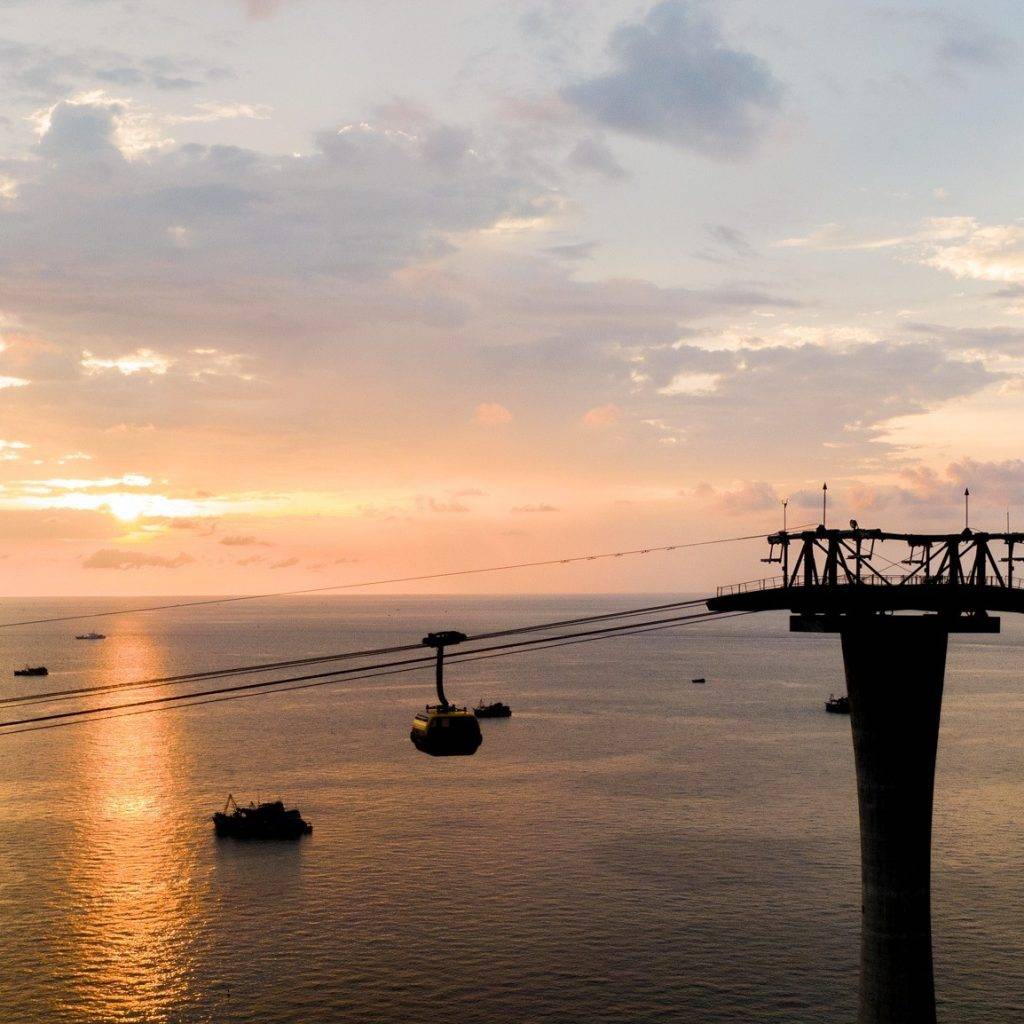 – Boat/Canoe: From An Thoi Port, you can choose a boat/canoe to reach Hon Thom, which takes about 30 minutes. If you want to go faster, you can take a high-speed train. It only takes 15 minutes and costs more expensive, about 200.000-300.000 VND/ person / one way (about 9.5 – 25 US dollars/ 1000-1500 yen).
– Cable car: Now, you can reach Hon Thom by cable car, connecting An Thoi station with Hon Thom island. This is a less time-consuming way to travel than by train, only about 15 minutes. Above all, in this way, you can enjoy the whole space below of Phu Quoc Island. The price for the cable car is 500.000 VND / adult (about 24 US dollars/ 2500 yen), 350.000 VND / child (about 17 US dollars/1750 yen).
3. What to do at Hon Thom
Hon Thom, although now being exploited for tourism, has not been completed yet, so it still has untouched beauty and not too many services. But there are still some interesting activities to do here.
– Check-in at Cable Car Station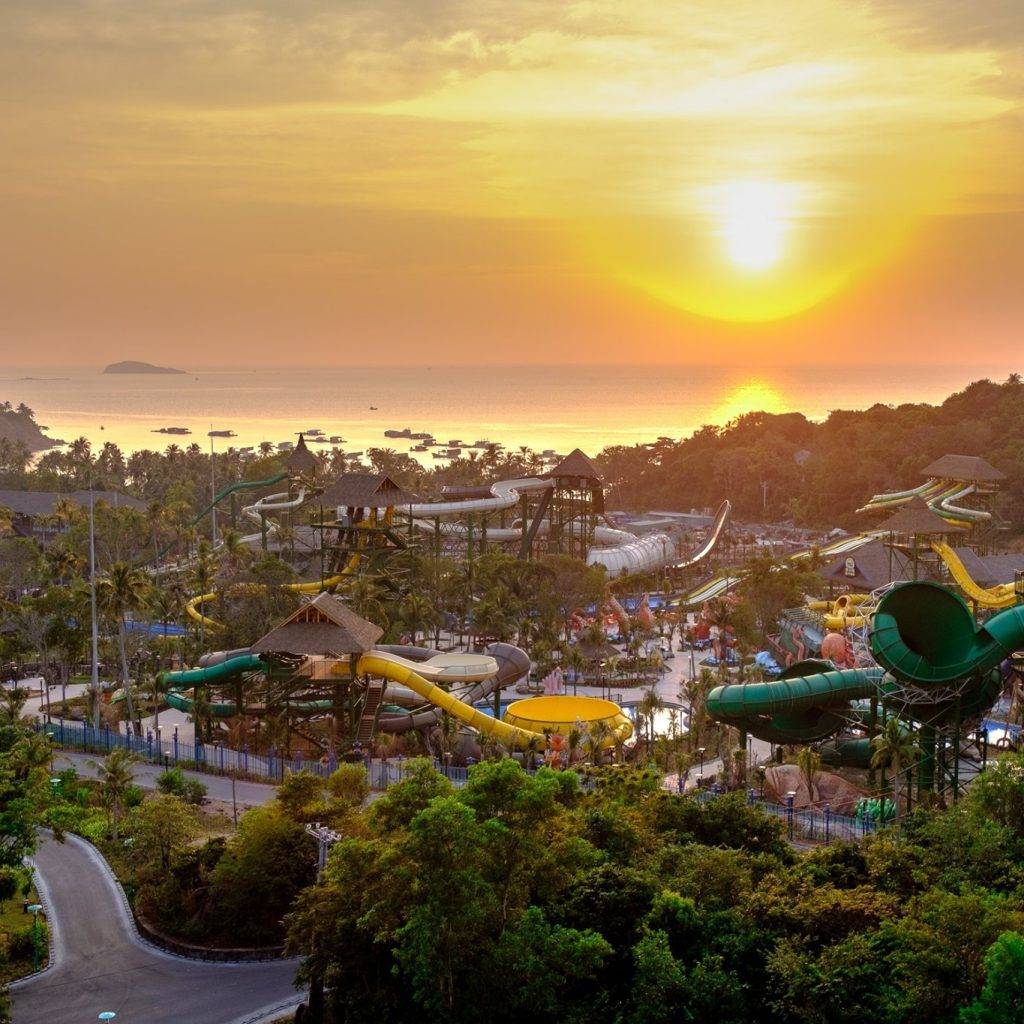 The complex of Hon Thom Cable Car – Sun World Hon Thom Nature Park will bring you a trip to discover the vibrant pearl island Phu Quoc by the Hon Thom longest three-rope cable car crossing the sea in the world with a length of 7,899.9m.
– Admire the beauty of Phu Quoc island from above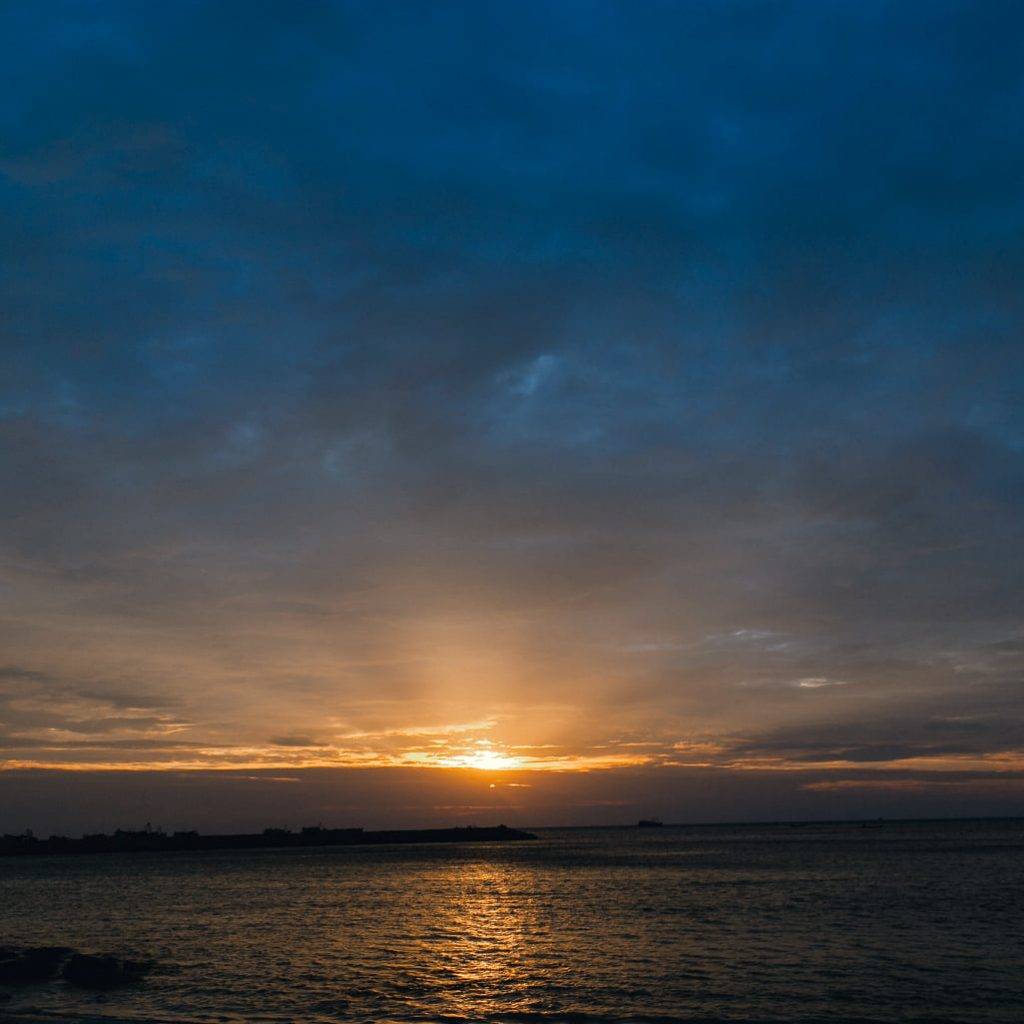 In addition to the cable car, the highlight is the Hon Thom cable car station, also known as An Thoi station. This location is designed in the style of ancient Roman architecture, then you will feel like stepping into a true Roman arena in the West region. You will be entirely overwhelmed by the massive ancient citadels, the beige-tiled walls, the arches, and the ruined scenes through time. This is absolutely a great place to take some snaps.
– Go to the beach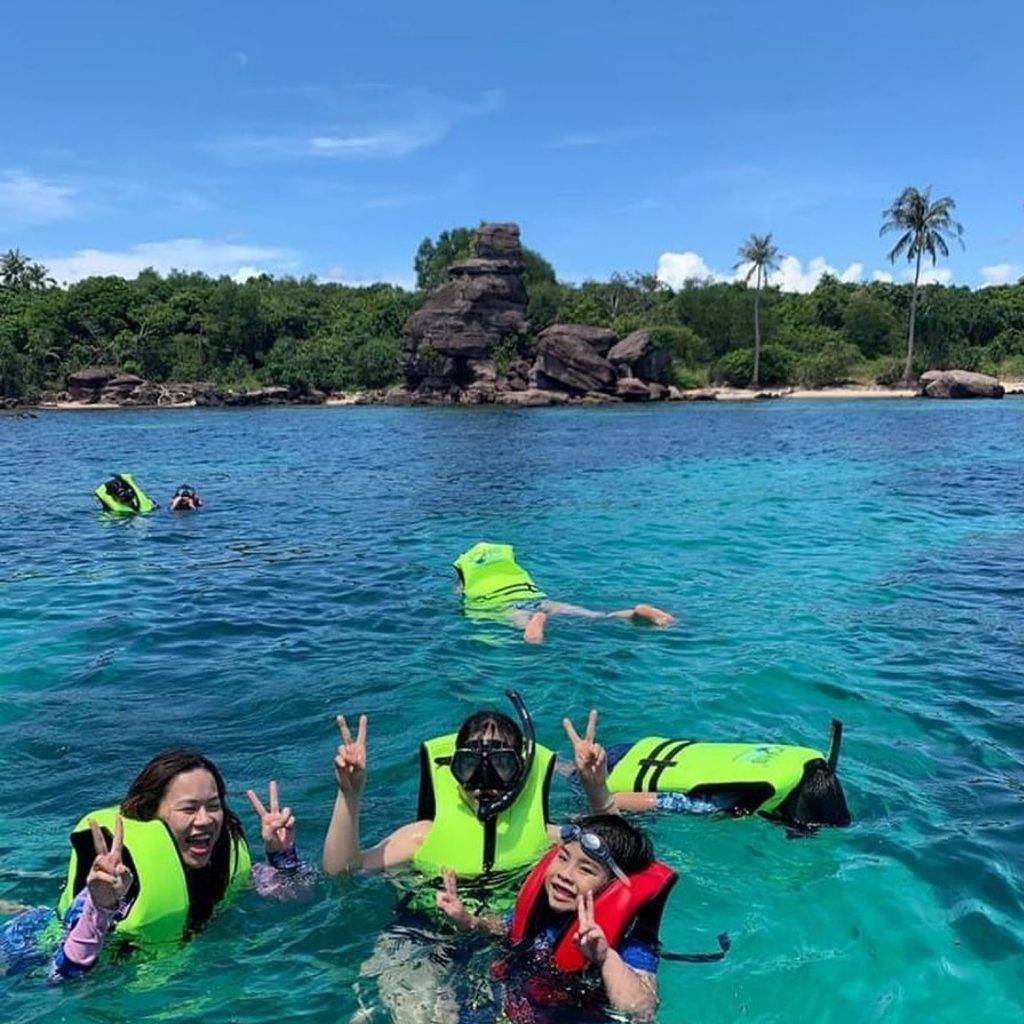 Hon Thom is famous for its clear blue sea through the bottom. So, coming here without swimming is a big omission. Some beautiful beaches, such as Bai Nom, Bai Nam, Bai Chuong and Bai Trao with rows of coconuts tilting themselves on the smooth white sand, will be the perfect places for you to walk leisurely and feel the breath of the sea, as well as the coolness of the water softly patting the bare feet and fine sand creeping through each leg. That feeling is incredibly peaceful that nothing can compare to it. Especially, when buying cable car tickets, you will enjoy the free services included shuttle bus to the beach, closet, bathing, beach chairs, swings, life jackets, floating houses, etc.
– Dive and see the coral
In Hon Thom, there are quite a lot of aquaculture areas and pearl farmings. You can rent a boat to explore the neighboring islands, too. If you want to dive to see the coral, you can ask the owner of the boat to rent diving equipment. There are 2 popular diving forms:
+ Snorkeling: The sea in Hon Thom is very green and clear, so you can quickly discover coral reefs at the level of 1-2m.
+ Scuba-diving: if you want to explore the deeper ocean, you can choose scuba diving with a depth of 5-10m. Even if you do not know how to swim, you can join because there is always a guide to accompany.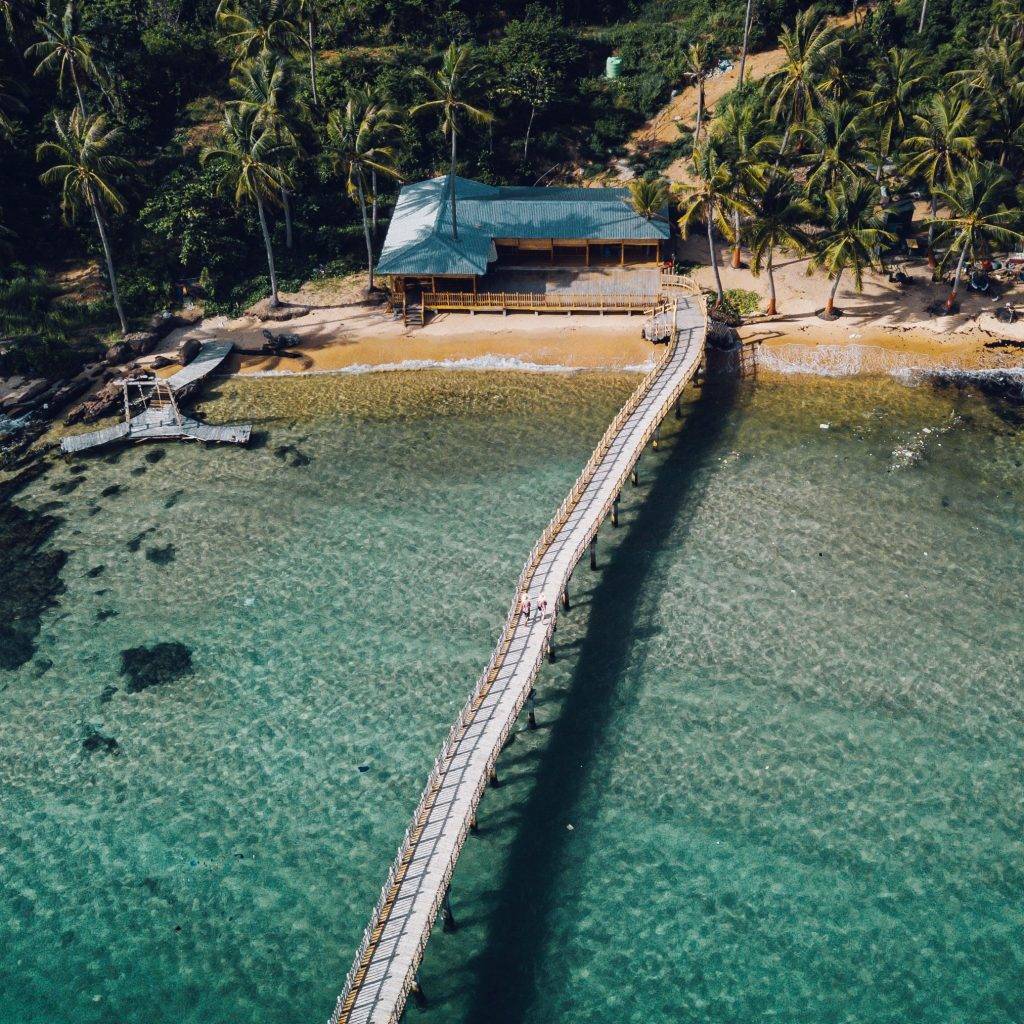 Or, you can refer to canoe diving trips to see coral. This activity costs about 2 million VND / group of 1 to 5 people (about 10 US dollars/ 10,000 yen). They will take you to visit the inner and outer May island as well as Mong Tay islands, then to the diving point to see coral, or go fishing, etc.
The diving experience will help you see all the beauty of the sea, sparkle coral reefs with many different shapes. If you have come to Hon Thom, you definitely cannot miss this activity because this place is known as one of the most beautiful scuba-diving spots in Phu Quoc. Also, if you stay in Hon Thom 2-3 days, you can join the squid fishing tour with fishermen at night and dawn.
– Join thrilling games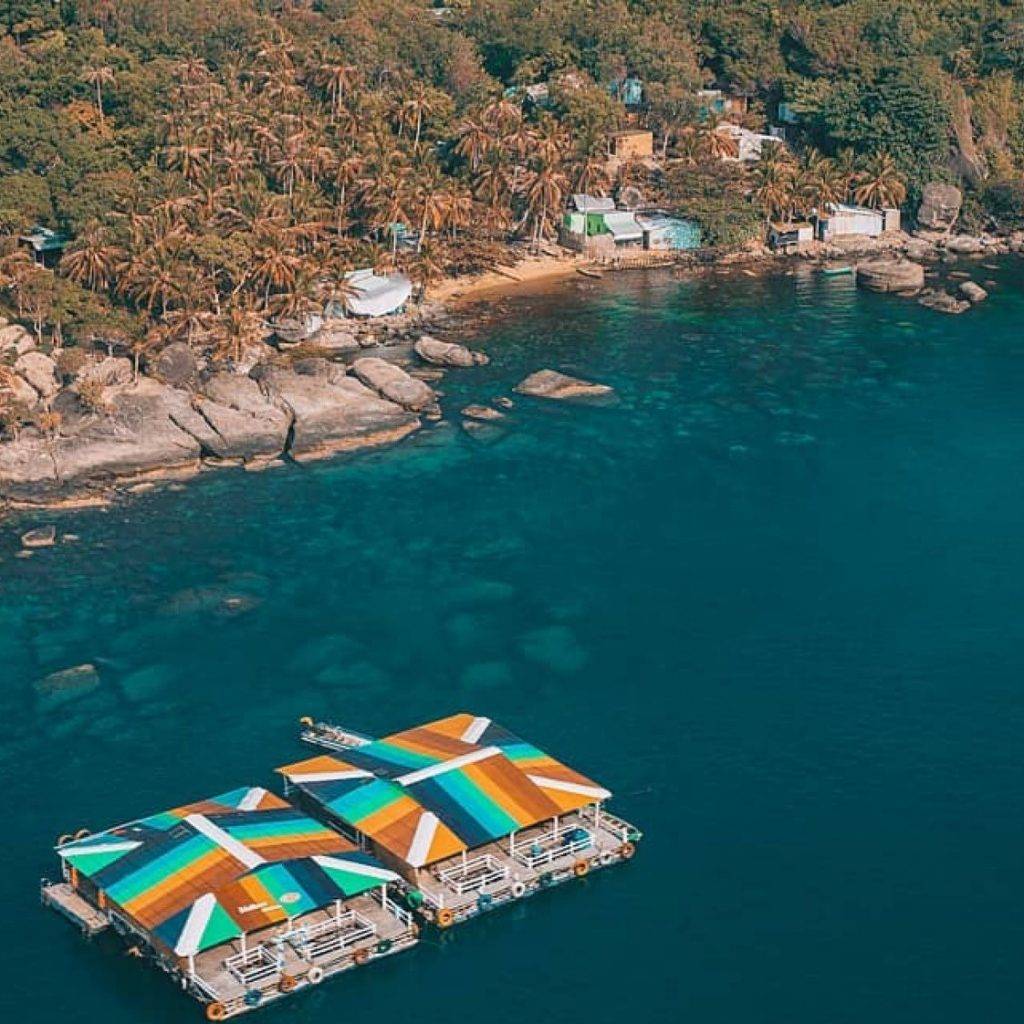 + Paragliding: up to 2 people per flight, depending on the wind situation.
You will see Hon Thom from above with an immense blue sea. The price is about 800.000 VND / person (about 40 US dollars/ 4000 yen) for 5-10 minutes of flying.
+ Experience the thrilling Paragliding at Hon Thom.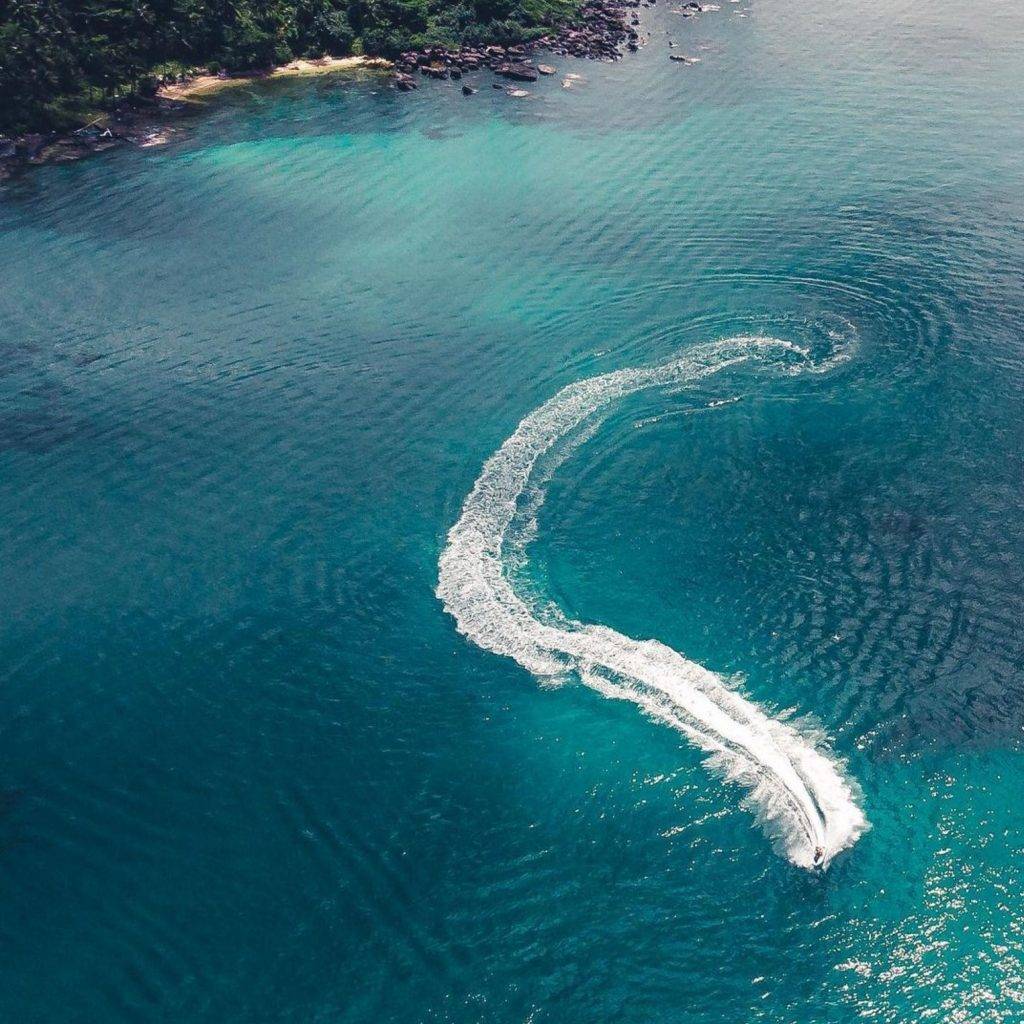 Water Motorcycle: this game is for those who love speed to surf on waves. You can throttle and launch comfortably on the surface of the sea like a professional racer. It costs around 550.000 VND (about 25 US dollars/ 2750 yen) for 10 minutes to play.
+ Professional riders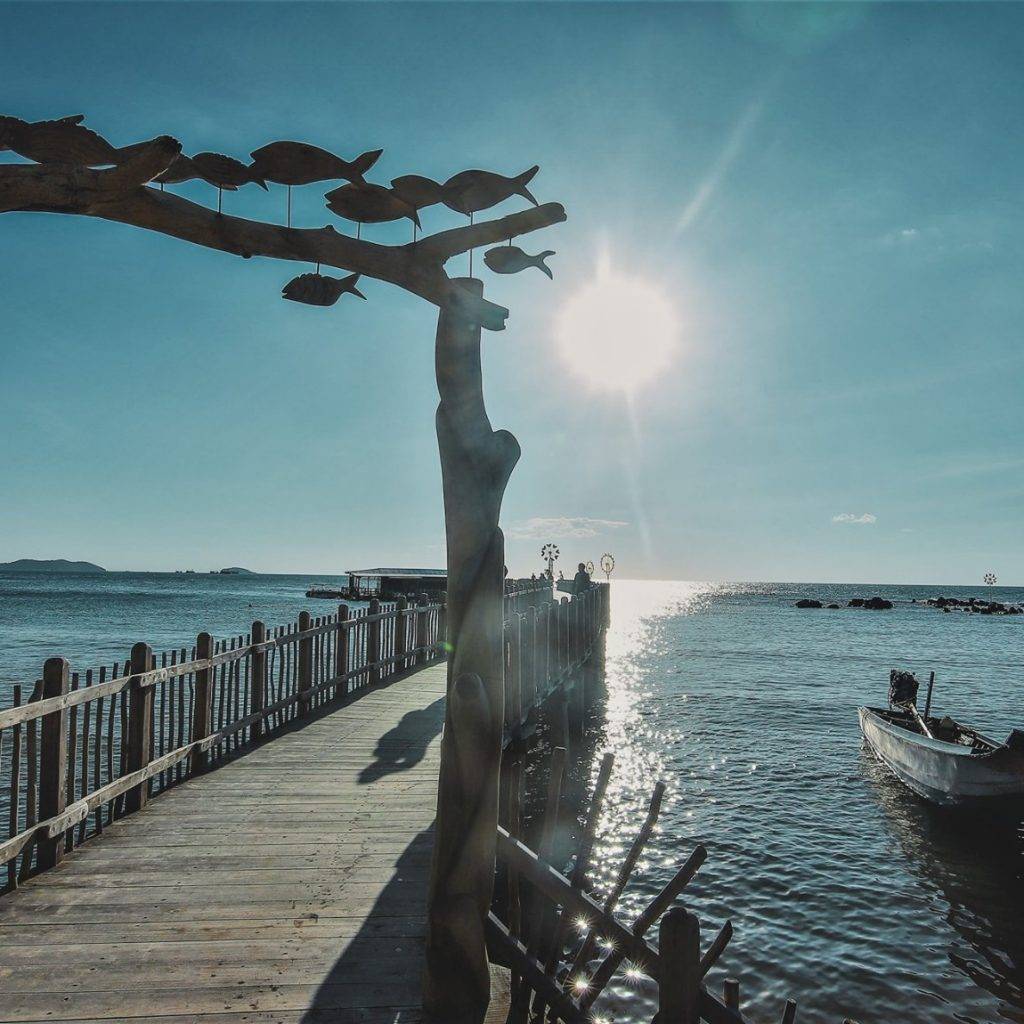 If you go in a large group, you can join the canoe pulling a zebec banana boat or a skateboard. The price ranges from 800-1.100.000 VND/game. (around 400 – 500 US dollars/ 4000-5500 yen)
Besides, at Hon Thom, you can choose a 3-region buffet and a meal for one person costing about 205,000 VND (about 9.5 US dollars/ 1025 yen).
In particular, seafood is an indispensable dish on the menu when you set foot on this island. You can enjoy seafood dishes: herring salad, grilled pen shell, echinus, and other fish dishes such as grilled grouper, shrimps, abalone, crabs, etc.
Although still pristine, Hon Thom has many exciting activities that you can participate in. If you've come to Phu Quoc, remember not to miss Hon Thom – one of the most beautiful islands. Above are some shared travel experiences. Wish you have a fun trip!