LET'S VISIT FIVE SAIGON SHOPS TO ENJOY THE RIGHT BUN CHA HA NOI
As a famous dish of the North as well as a specialty of Hanoi cuisine, it is not difficult to find a Bun cha restaurant in the heart of Hanoi. However, if you are in Saigon and remember the original taste of the dish, then you should visit these five addresses below.
1. Bun cha Tru Bat Gioi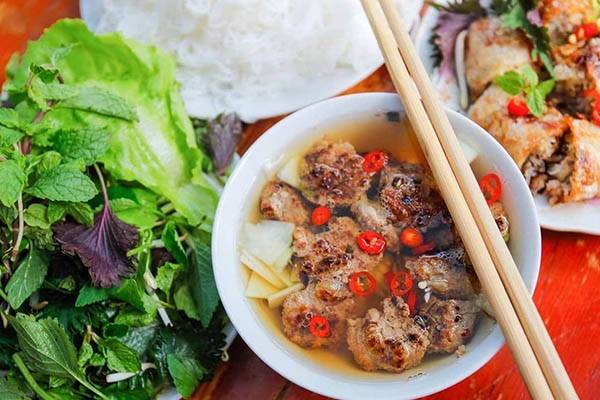 Tru Bat Gioi is a curbside restaurant with no fancy tables and chairs, but Hanoi Bun cha here is not inferior to anywhere. And the cost is also extremely reasonable. Besides, the restaurant serves fried spring rolls, but one set is not much, so you should order noodles to have a fuller meal.
Address: 72 Truong Quyen, district 3, Ho Chi Minh city
Opening hours: 10am – 3pm
Price: 25 thousand dong /set (about 1 US dollars / 125 yen)
2. Bun cha Pho Co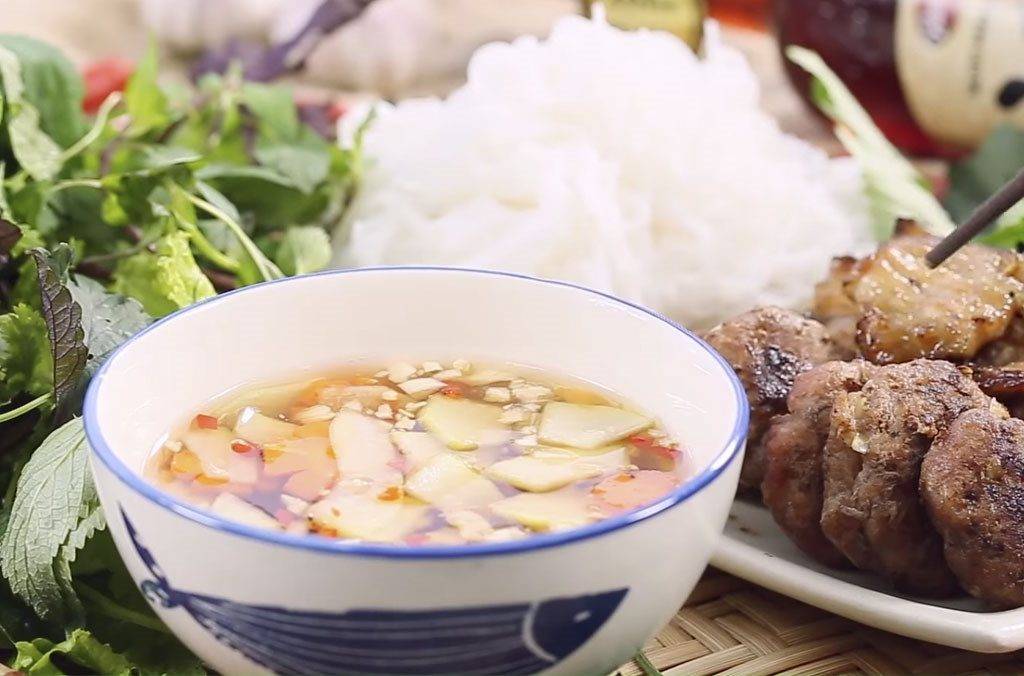 Speaking of the delicious Hanoi bun cha in Ho Chi Minh City, we must mention Pho Co. The full meal here includes well-marinated grilled bacon, grilled meatballs (grilled rolls), noodles, fresh vegetables. The sauce of the restaurant is thought of as a bit sweet, but if you add just a little more chili powder, chili vinegar, and crunchy papaya, carrots, the dish will become complete.
Address: 225 Phan Xich Long, Phu Nhuan District, Ho Chi Minh city
Opening hours: 7am – 10pm
Price: 39 thousand dong /set. (about 1.5 US dollars / 195 yen)
3. Bun cha Anh Hong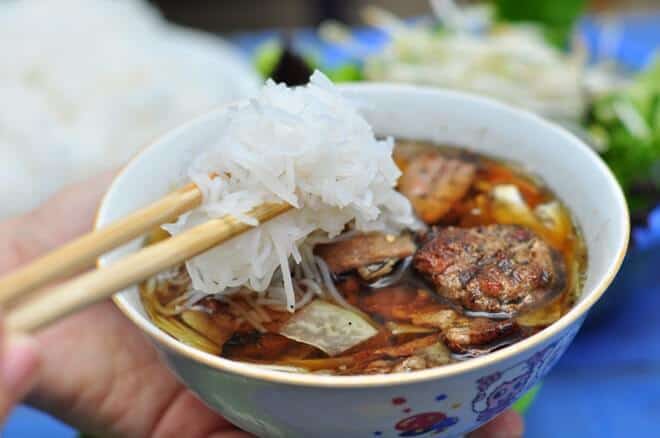 As one of the first addresses to bring Hanoi Bun cha to Saigon diners, up to now, this Bun cha restaurant retains the characteristic taste of this traditional dish. Although the price is a little higher than in other shops, the quality of the food here is quite good. Many people believe that the meat is medium tough and greasy, the grilled rolls are flavored, and the sweet and sour sauce is just right. It is even much better when served with noodles and vegetables.
Address: 140B Ly Chinh Thang, District 3, Ho Chi Minh city
Opening hours: 7am – 8pm
Price: 44 thousand dong /set. (about 2 US dollars / 220 yen)
4. Bun Cha Ho Guom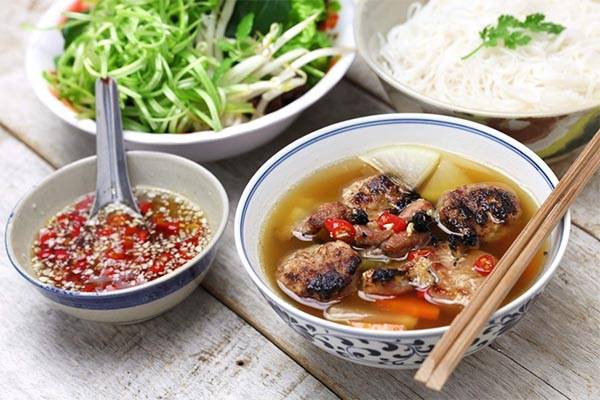 Located on Vo Van Tan Street, District 3, this restaurant is spacious, airy, and ideal for groups of friends in Ho Chi Minh City to enjoy Bun cha. Also, because space is somewhat more luxurious with professional service, Bun cha here has a higher price than in other places. The light yellow broth with the sweet and sour taste, the aroma fish sauce, just-cooked grilled pork, and the greasy meat patties here make a perfect combination.
Address: 135 Vo Van Tan, District 3, Ho Chi Minh city
Opening hours: 7 am – 9 pm
Price: 47 thousand dong /set. (about 2 US dollars / 235 yen)
5. Bun Cha Xuan Tu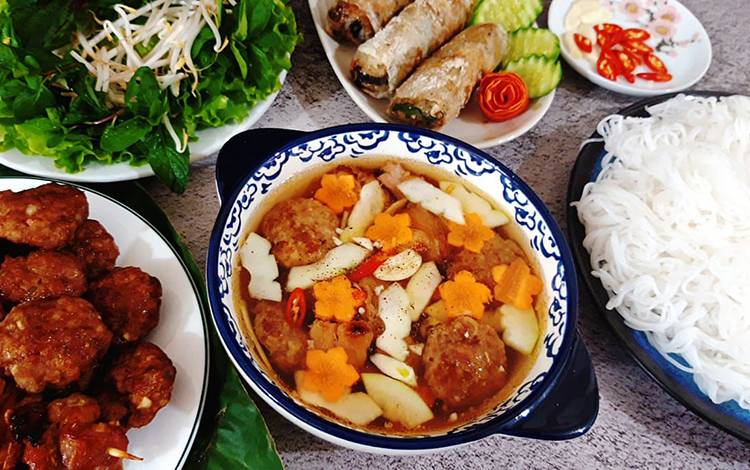 Among the oldest culinary addresses in Ho Chi Minh City, Xuan Tu is the most popular place for Bun Cha Ha Noi. According to many people, Xuan Tu holds up to 95% of Hanoi flavor, only a small variation to the taste of the South. The outside of the patties is shiny yellow, but the meat inside is sweet. The owner selects lean meat or pork armpits, then remove all skin and fat so that the meat will not dry out when grilled. This spacious restaurant is always crowded with guests. Coming to enjoy the dish here, diners also have the opportunity to exchange and talk about the culinary culture with the funny couple.
Address: 291A Hoang Van Thu, Ward 2, Tan Binh District, Ho Chi Minh city
Opening hours: 7:30 pm – 10 pm
Price: 48 thousand dong /set. (About 2.2 US dollars / 240 yen)