UNIQUE HOI AN TAILORS: SPEEDY AND EXCELLENT QUALITY
In addition to famous colorful lanterns and sophisticated potteries, Hoi An also stands out for its garment products. This profession originated since the formation of the silk route in the 16th- 17th centuries when many families have passed down the trade to their descendants until now.
Gradually, in response to the needs of tourists (who only had a little time in the city), locals created speedy tailors, which made custom-clothes within 3 or at least 24 hours. The profession is developed positively in terms of quality, price, and customer service, which make Hoi An tailors more and more popular and likely comparable with its predecessors in Hong Kong and Thailand.
Let's find out what makes Hoi An tailors so outstanding in this article!
More than 100 tailor shops in Hoi An
Along the streets, visitors effortlessly encounter numerous tailor shops, from big outlets to shophouses, displaying Hoi An famous silk products, clothes samples of suits, dresses, shirts, and even Vietnamese ao dai. You can just wander around to pick available items that suit your taste or have your own tailored-made outfits.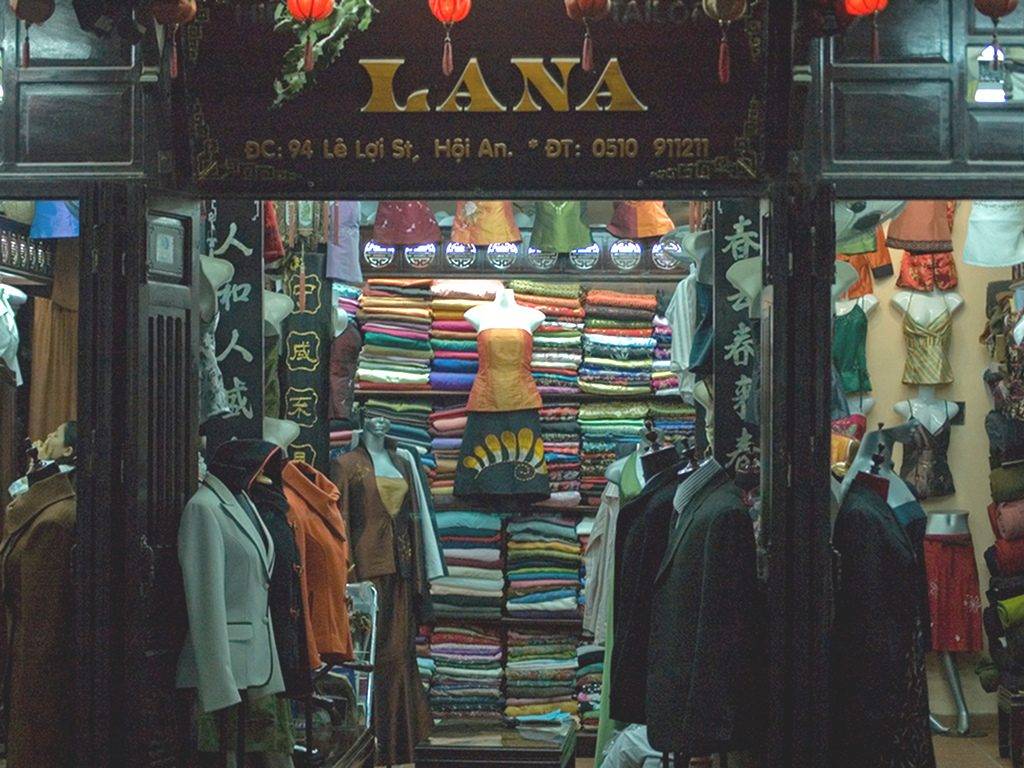 The abundant number of tailor shops possibly makes it hard to find the best one, therefore, before trusting a name, find the information of Hoi An tailor shops and read customer's feedback. The tailors with many good reviews should be your top choice.
On-site tailor service satisfies Hoi An tourists' shopping preferences
To meet the needs of visitors' shopping preferences, especially foreigners, the quick-tailoring shops have improved not only their product quality but also the services. The owners always have a charming smile when welcoming customers; they even know little English enough to communicate. Whether you opt for their service or not, they still keep a friendly attitude.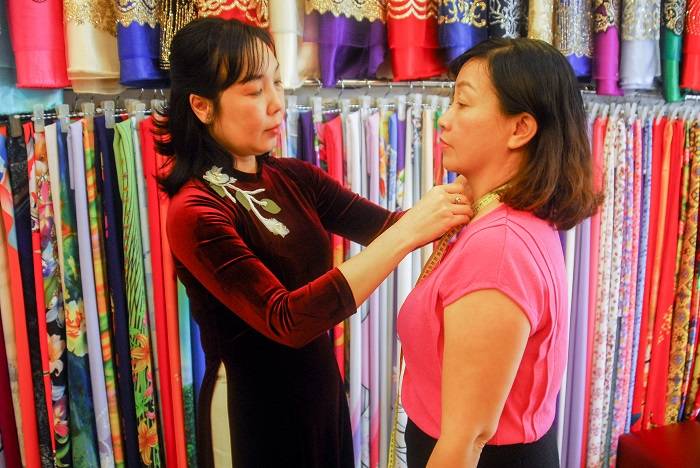 After choosing the designs as well as desired color, fabric, and pattern, the staff will take your measurements, then pass them to the professional tailors. It usually takes a few hours to a couple of days to finish the orders, depending on the type of clothes. The price varies from 150,000 VND – 300,000 VND for simple pants and T-shirts, while suits, shirts, and dresses range from 1,000,000 – 2,500,000 VND. Obviously, reputable shops are more expensive than smaller ones.
Despite the short-time making, quality and aesthetics are still ensured. Before paying money, customers always have at least two fittings, in which, if there are errors, you can tell the tailor to fix them right away.
Hoi An tailoring tips
– You should not buy the favorite items in the first store you stop by. Research different shops to compare prices and quality until you are satisfied. As mentioned above, it's not a problem if you leave without purchasing anything since Hoi An people are extremely hospitable.
– You can bargain but not too much. When you do the job, remember to ask nicely with a bright smile, which definitely helps you get what you want at a pleasant price to both sides.
– Choosing fabric quality carefully. Some stores have better quality than others, and you truly pay for what you have, so look for the best fabrics instead of the lowest prices.
– Bring a picture/ sketch or a sample of clothes in case you want something similar. Most tailor shops in Hoi An only have "the Catalog" for reference. If you want to make your clothes in another style, it's best to bring a photo or a piece of clothes to describe precisely what you want.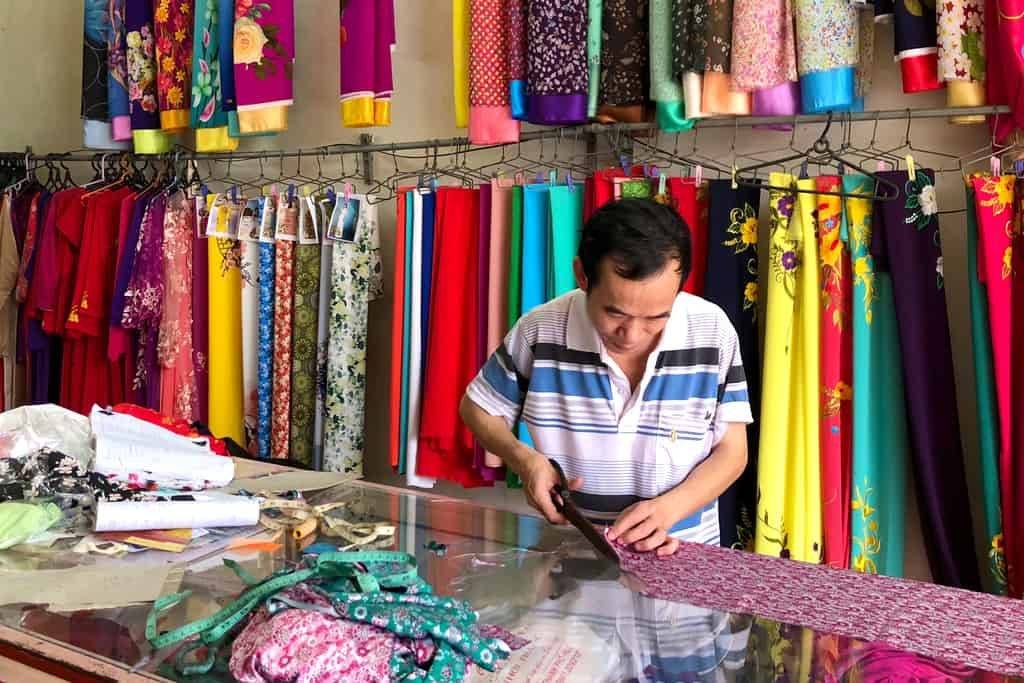 – Check meticulously before paying for the products. Make sure you and the tailor agree on the small details discussed; for example, the shape of the collar, how many buttons, with pockets or no pockets, etc.
Best Hoi An tailors for tourists
1. Yaly: 358 Nguyen Duy Hieu. Opening hours: 8:00-17:30.
2. A Dong Silk: 40 Le Loi. Opening hours: 8:00 – 21:30.
3. Lana: 130 Tran Phu. Opening hours: 8:00 – 21:30.
4. Bao Khanh Silk: 101 Tran Hung Dao. Opening hours: 8:00 – 21:00.
5. Thu Thuy: 60 Le Loi. Opening hours: 8:00 – 21:00.
6. Terran Silk: 23 Tran Phu. Opening hours: 8:00 – 20:00.