7 MOST ATTRACTIVE SPOTS IN HALONG BAY
Halong Bay – Vietnam is blessed with countless majestic landscapes, varying from mountains, outcrops, limestone caves to picturesque islands of different sizes and structures. As the UNESCO World Heritage Site, the place attracts millions of domestic and foreign tourists every year. Below are the top 7 tourist attractions in Halong bay to make your trip more complete!
1. Bai Tho Mountain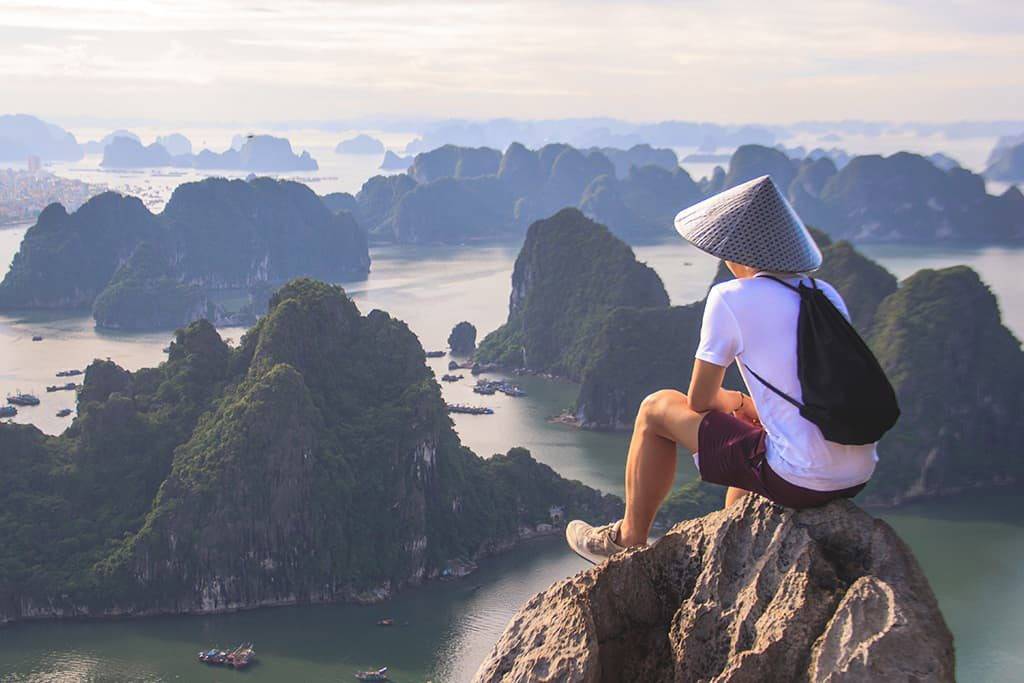 Only at 200 meters height , Bai Tho Mountain is considered an easy-to-climb mountain that takes travelers less than 1 hour to conquer the top. However, the view from there is extremely splendid. Based on what your eyes can see, you can understand the concepts of why Halong Bay is called Descending Dragon.
The current name of the mountain, Bai Tho (Poem), comes from the story in 1468 when King Le Thanh Tong went through and rested here. The beautiful landscapes touched his heart, so the King decided to make a poem and carve it on the mountain. There are two paths leading to the mountain, one is at 104a Le Thanh Thong street and the other is near the pagoda in Long Tien street.
Read more: Ha Long tourism by yacht – Interesting and memorable experience.
2. Tuan Chau Island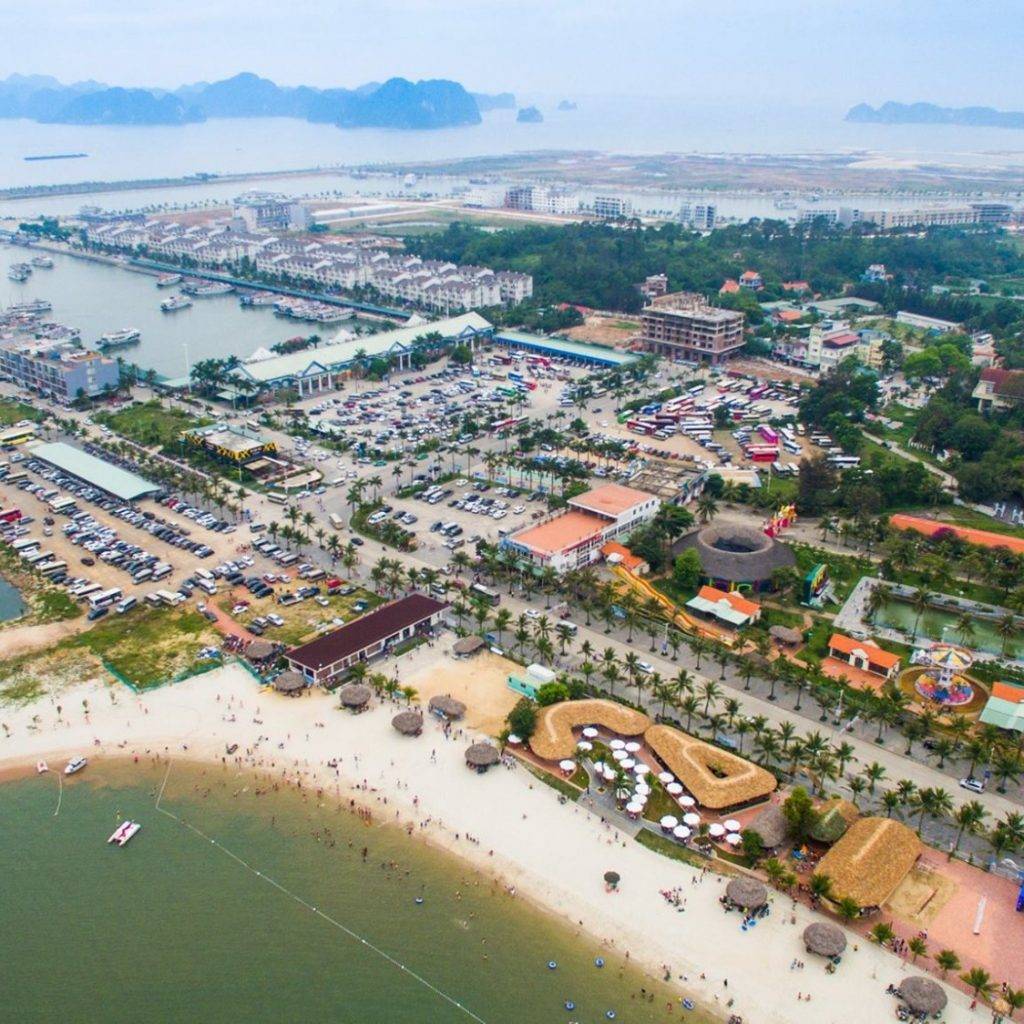 Tuan Chau Island, 8km from the city center to the southwest of the Bay, has an area of 2.2 km2 with numerous sloping hills. This is the most beautiful among Halong Bay's 1.969 islands, also the only one with inhabitants. Interestingly, researchers have found the remains of ancient people back then about 3,500-5000 years ago.
Besides green mountains ideal for a hike, tourists can also comfortably swim between the 2-kilometer artificial beach. Moreover, the entertainment area, Tuan Chau Park has recently been formed with a center for music, water, and light performances. Coming here, visitors can participate in sports activities such as jet-skiing, windsurfing, fishing, and boating or join underwater shows with skillful acrobatics from dolphins and sea lions.
Admission: 200,000 VND / person
Opening hours: 8:00 – 22:00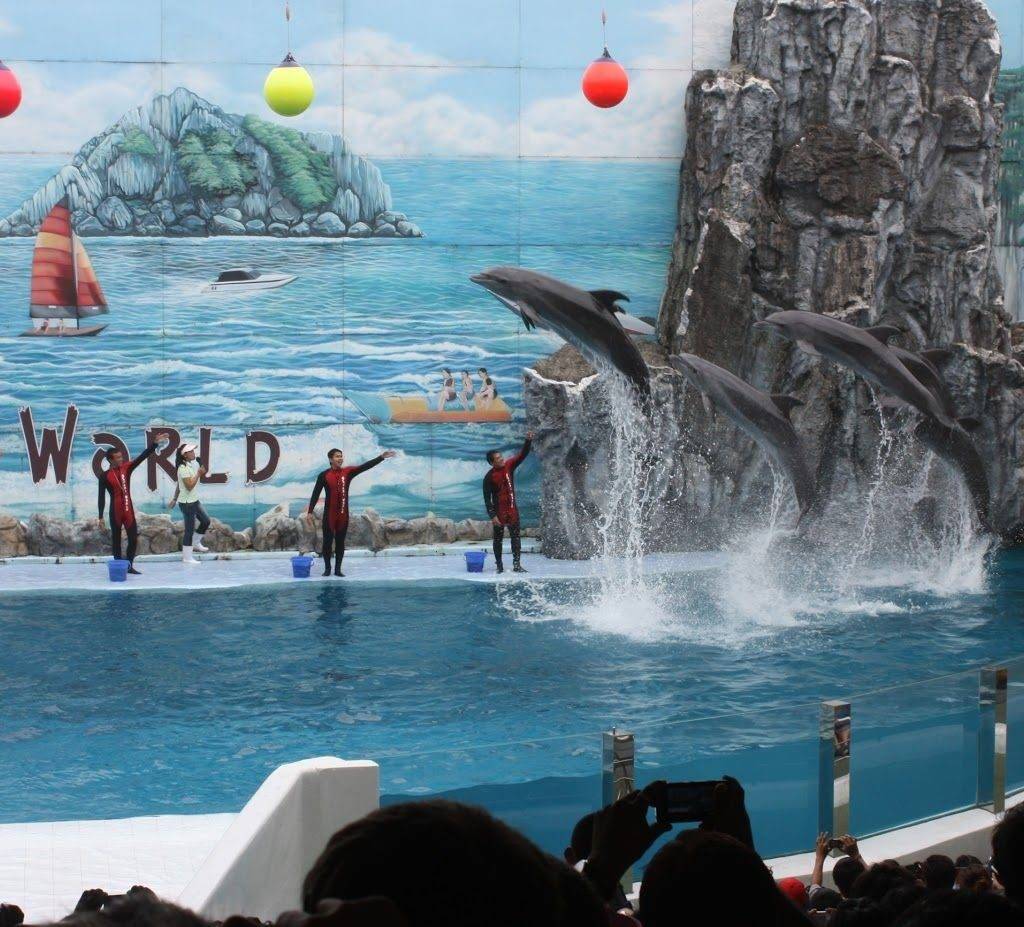 3. Yen Tu Relic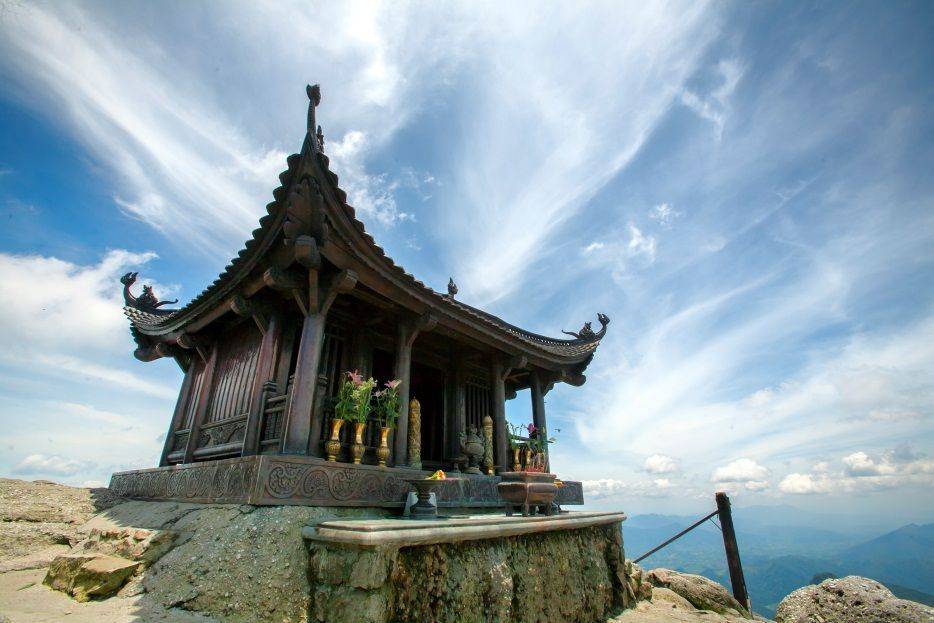 Another inspiring mountain to visit in your Halong Bay travel is Yen Tu. With an altitude of 1068m, Yen Tu, also Bach Van Son, is the highest peak of Dong Trieu Mountains in Uong Bi city, about 50 kilometers from Halong Bay. It is known as a relic combining harmoniously and attractively by two sides: historical depth and mysterious beauty of nature.
Every corner in Yen Tu still recalls the story of a King who turned into a Buddha. At the end of the 13th century, King Tran Nhan Tong left his throne and came here to study Buddhism, then he also became the first Buddhist of the Truc Lam Zen sect. After that, Yen Tu has become an important place in Vietnamese Buddhism. Over time, Yen Tu relics remain 11 pagodas and hundreds of temples, towers, gravestones, and statues carrying bold Vietnamese architecture at the time.
The way to Bronze Pagoda at the top of the mountain brings a feeling like walking to heaven with clouds hovering around. Once there, visitors will admire the spectacular view of green vegetation, mixed in the blue water and white clouds of the Northeast.
Read more: 7 MOST ATTRACTIVE SPOTS IN HALONG BAY
4. Sung Sot Cave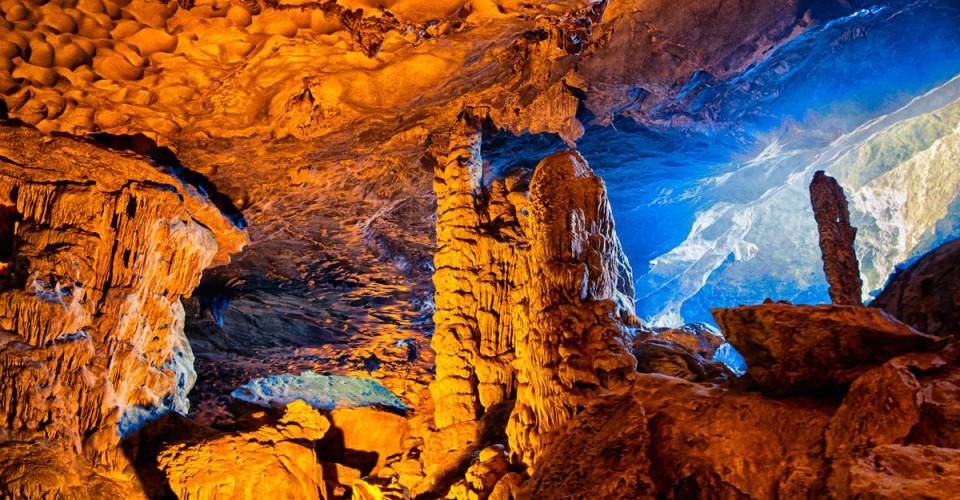 Being found in 1901, Sung Sot Cave (Surprising in English) is located on Bo Hon Island, about 8 km from Tuan Chau Wharf. This about 25-meter cave is considered as the center of Halong Bay and also the most magnificent in the complex. Tourists just need to conquer 140 stone steps to set foot on the cave's door.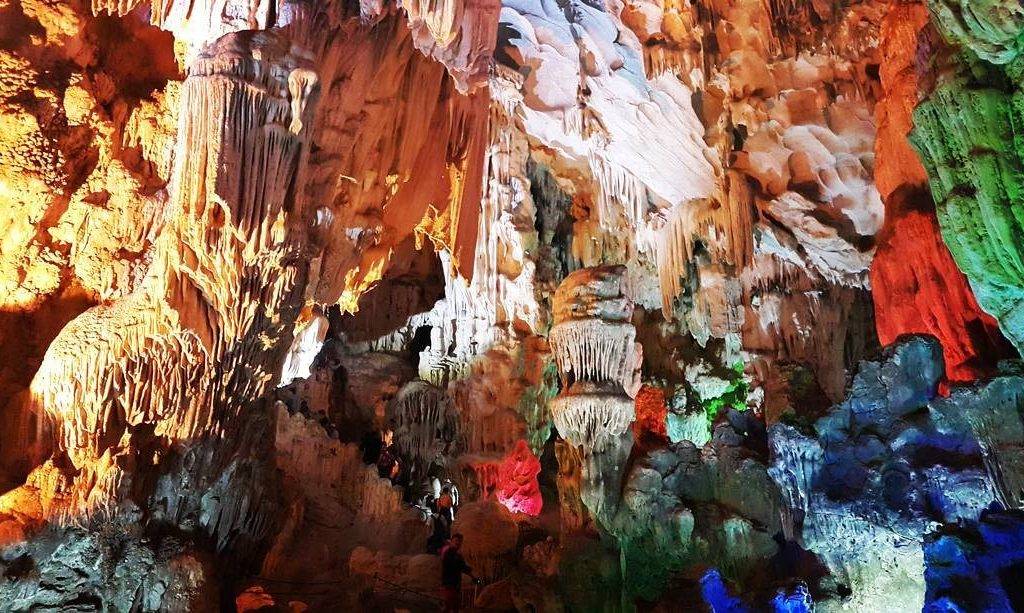 The cave is divided into two main chambers; the first area is like a spacious theater with a ceiling full of miraculous stalactite and stalagmite systems. Coming deeper inside, tourists will see an eye-catching horse-shaped rock formation with a long sword, which is related to the legendary Thanh Giong. After defeating invaders to protect the residents, Thanh Giong ascended to heaven, leaving his horse and sword on Earth.
While in the second chamber, the ceiling is extremely high with multiple interesting rocks in different shapes and sizes.
5. Thien Cung Cave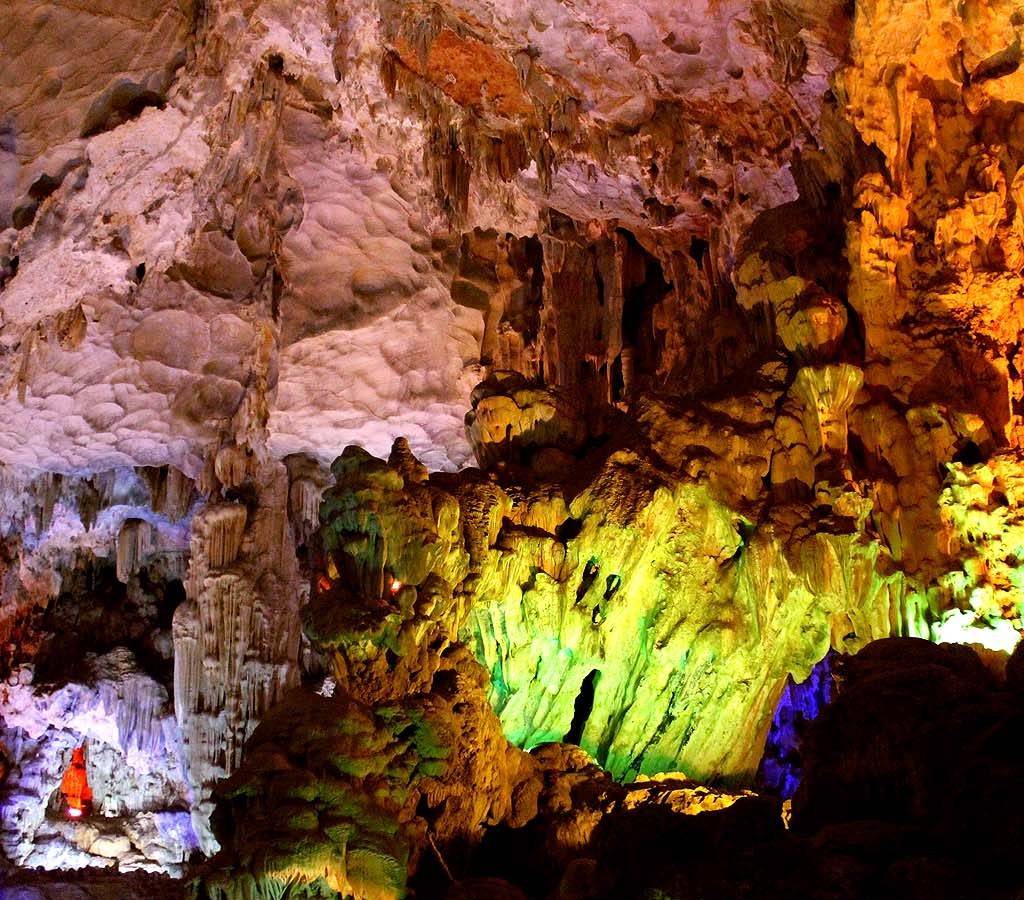 Thien Cung Cave is in the southwest of Halong Bay, 25 meters above sea level. The cave was accidentally discovered by a fisherman in 1993. The road to the cave, which is not easy to climb, curves along a cliff surrounded by diverse flora.
From the mouth of the cave, visitors will have an amazing panoramic view of the bay and karsts around. Meanwhile, the space inside is dry and full of complex rock formations and stalactite systems reminding us of the Vietnamese mythical The Dragon – The Fairy. The deeper you go, the more astonishing rock shapes you will see.
6. Dinh Huong Island
Not really a place to entertain much, but Dinh Huong Islet is an iconic image of Halong Bay which even is put on the back of the 200,000 dong bill. This islet is said to be a vital landmark to guide sailors around the area.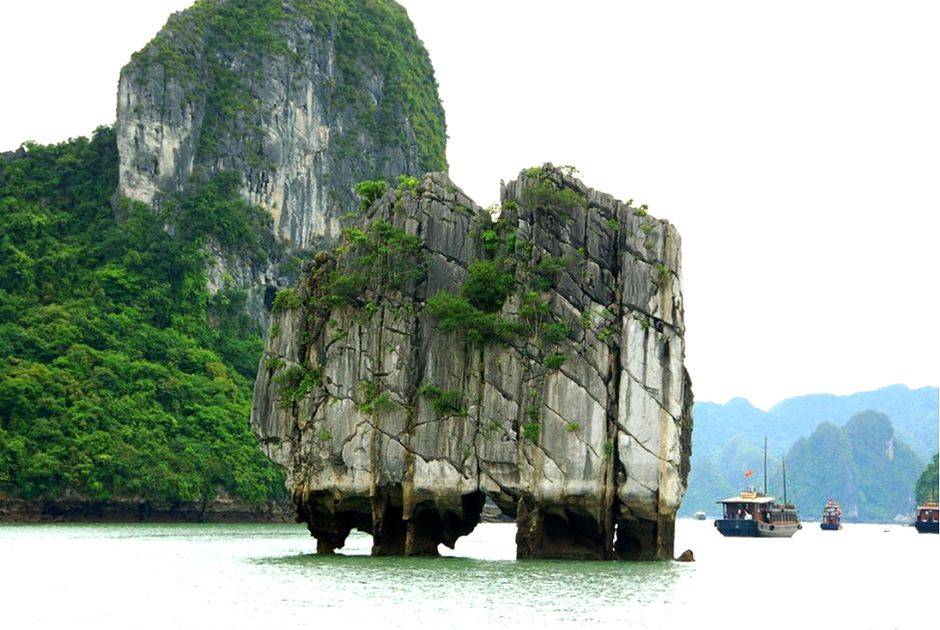 Dinh Huong Island bears the shape of a giant incense burner in the middle of the sea – to offer sacrifices to heaven and earth, to honor the sages who have protected the country, as well as to thanks the legendary dragon mother. At low tide, Dinh Huong islet reveals four meandering legs which are extremely steady.
To visit this sacred site, you can buy cruise ship tickets at the management board of Bai Chay tourist area.
7. Bo Hon Island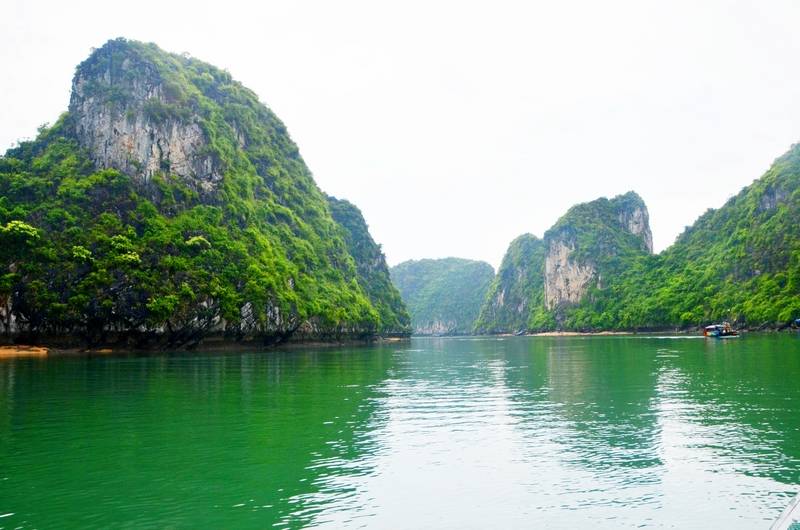 Bo Hon Island, about 20km from Tuan Chau Wharf, is a must-visit spot that every Halong Bay cruise tour will go through. The place is not only home to various endemic plants and animals but also the biggest island including magnificent islets and caves, such as Sung Sot cave, Ho Dong Tien cave, Luon cave, Trinh Nu cave, etc.
The island is truly a paradise for sightseeing; The cliffs stand up like adjacent walls, reflecting on the blue sea like a charming painting. It is not difficult to come across rare plants such as banyan trees, sago palms, orchids of thousand years, or animals such as monkeys, deers, chamois, etc.
Read more: HA LONG BAY – THE BEAUTY FROM THE LEGEND