Ha Long Bay, heavenly beauty of undulating rocky islands among waters
Located in the Western part of the Gulf of Tonkin, with a terrain of mostly islands, mountains alternating between sea valleys, and limestone cliffs, Ha Long Bay possesses a contrasting and harmonious charm between three elements – rock, water, and sky, recognized by UNESCO as a natural heritage of the world.
Besides 2000 rising limestone islets of different shapes and sizes, which make up its fame, the bay also offers visitors several sandy beaches, marvelous caves among picturesque seascapes, as well as pristine mountains with tropical biodiversity.
I. About Ha Long Bay
Ha Long Bay – Quang Ninh, 165 km from Hanoi, has an area of ​​about 1,553 km² including 1,969 islands, most of which are limestone islands with geological tectonic age from 250-280 million years ago, equally the result of the moving process from the continent to a sea basin along with the process of karst erosion and almost complete weathering.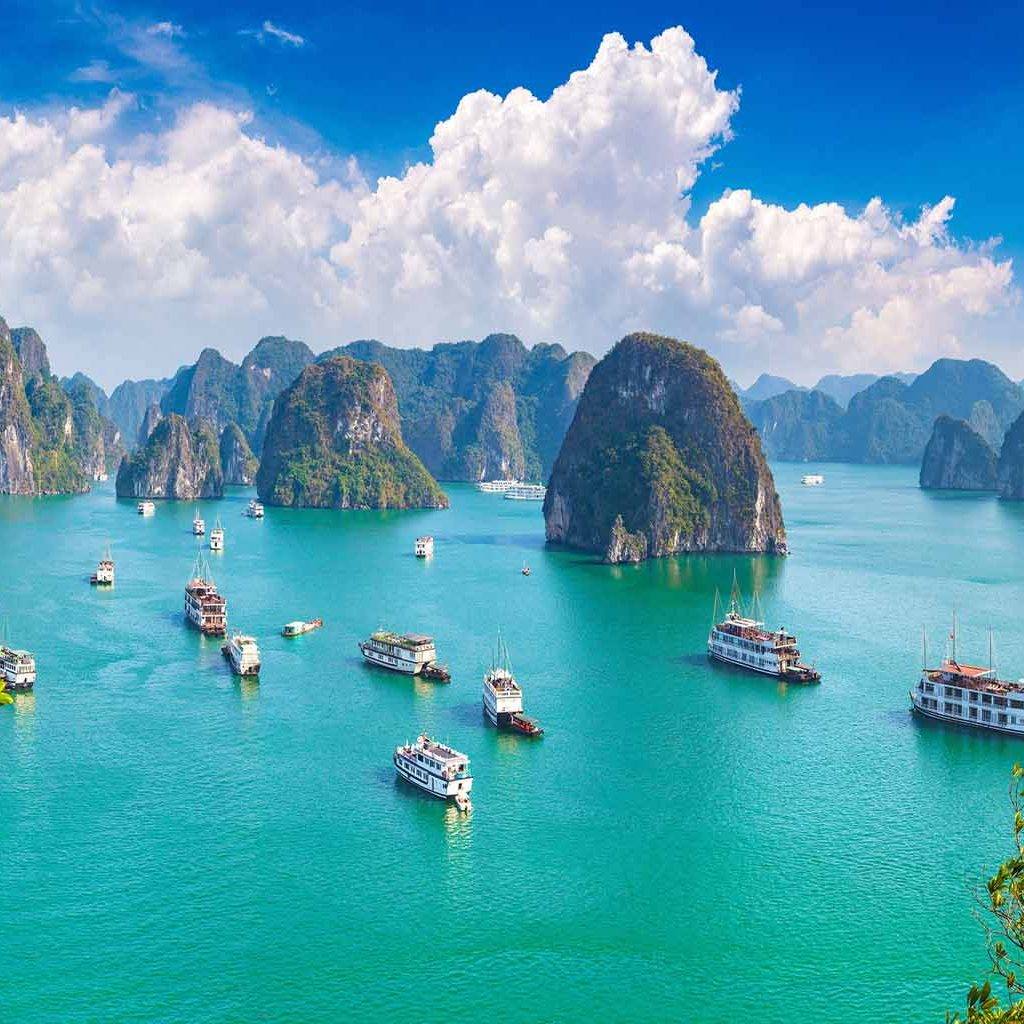 The islands in Ha Long Bay feature various shapes, absolutely distinctive from each other; some gather like they're stacked on top of each other, while other vertical and horizontal islands alternating form a line running for tens of kilometers like a city wall. Those are likened to living beings hidden in mythical stone forms and named according to what their appearances show – like Dua Islet, Canh Buom Islet, Dau Nguoi Islet, Lu Huong Islet, etc.
Read more: 7 MOST ATTRACTIVE SPOTS IN HALONG BAY
II. Best time to visit Ha Long Bay
Besides the dark blue rock islands rising on the azure water, visitors can also discover mysterious caves of Thien Cung, Dau Go, Sung Sot, Trinh Nu, and so on; Or, spend moments chilling at naturally deserted beaches such as Ngoc Vung, Quan Lan – if you want artificial big places yet crowded with more services, head to Tuan Chau beach and Bai Chay beach.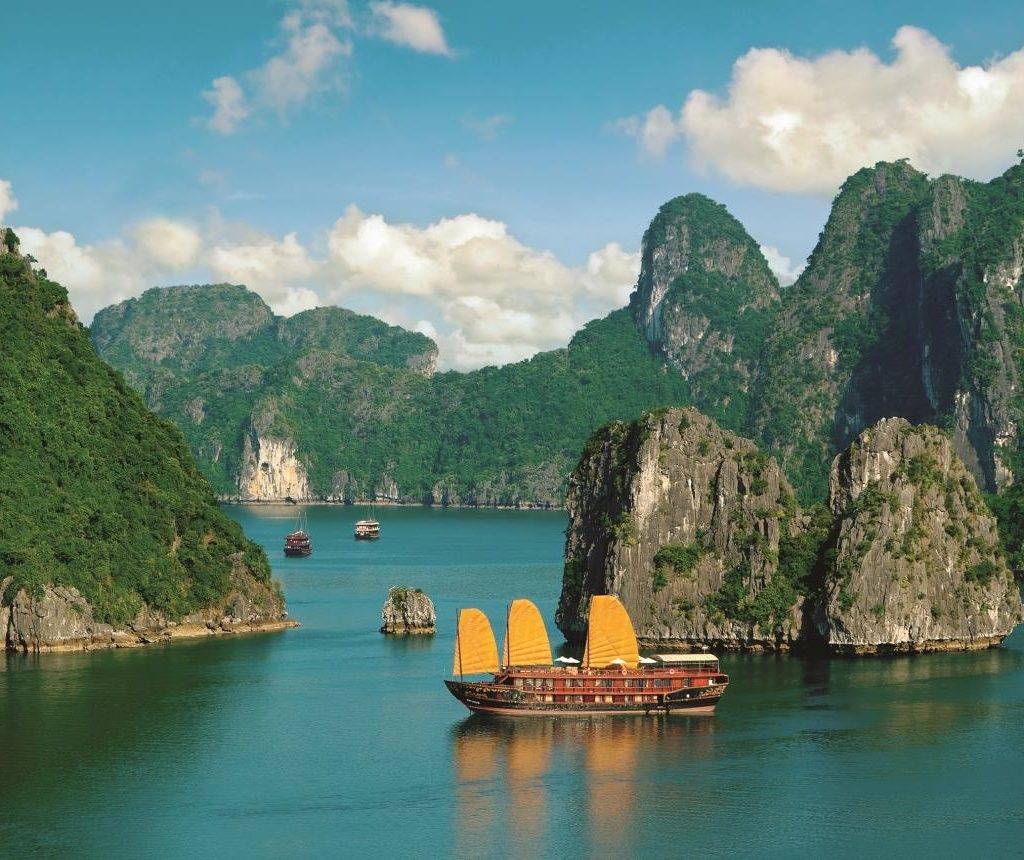 There are four distinct seasons in Ha Long Bay, and fortunately, the area is not affected much by heavy disasters, so it is always possible to travel here.
– March, April, May: The weather is rather cold, suitable for traveling combined with spiritual tourism because you can visit Yen Tu Pagoda, Long Tien Pagoda, Cua Ong Temple, etc.
– June and July: The weather is still sunny, yet with a few storms. This period is appropriate for families and children on their summer vacation.
– August, September, October: During these months, Ha Long Bay's weather is sunny with little rain. The Autumn romantic atmosphere is perfect for couples.
– From November to February next year: This is winter, not ideal for swimming, but the scenery here is still stunning. Therefore, you can opt for relaxing in inshore areas or resorts.
(Note: It is also the high season, then just expect the service's high prices)
III. How to travel to Ha Long Bay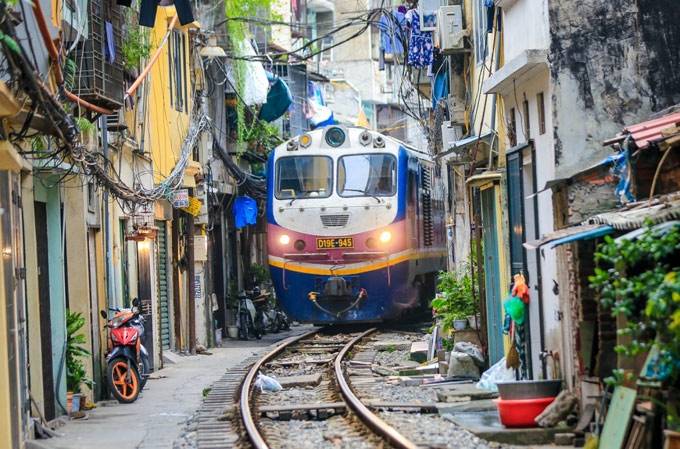 About 165km from Hanoi, the route Ha Long Bay might take you 4 hours of moving. Meanwhile, traveling by train will range from around 5 hours. Currently, there is the Halong Express tourist train departing from Gia Lam Station at 345.000VND/way for foreigners.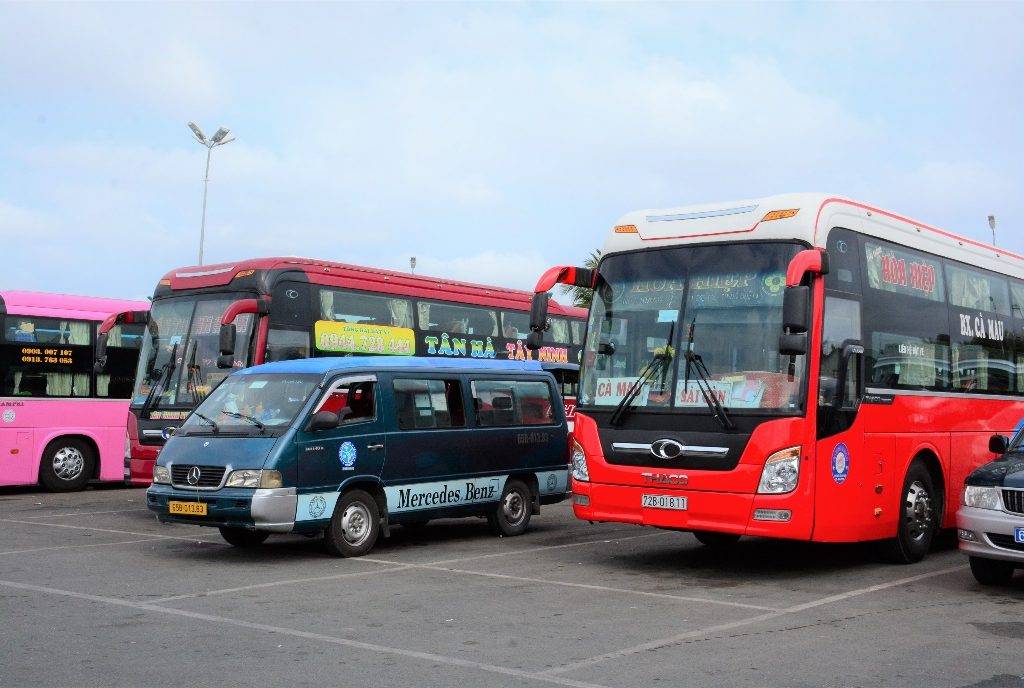 Additionally, you can catch a bus to Ha Long at all Hanoi's bus stations (My Dinh, Nuoc Ngam, Giap Bat). The fare for seats is 100,000 VND and for sleeping seats is 200,000 VND with a travel time of over 3 hours.
*Getting around the area
For those not using private means, you can prefer these taxi companies: Taxi 886 – Mong Cai (033. 886 886); Ha Long (033. 62 62 62); Hon Gai (033. 84 84 84); Mai Linh (033. 628 628).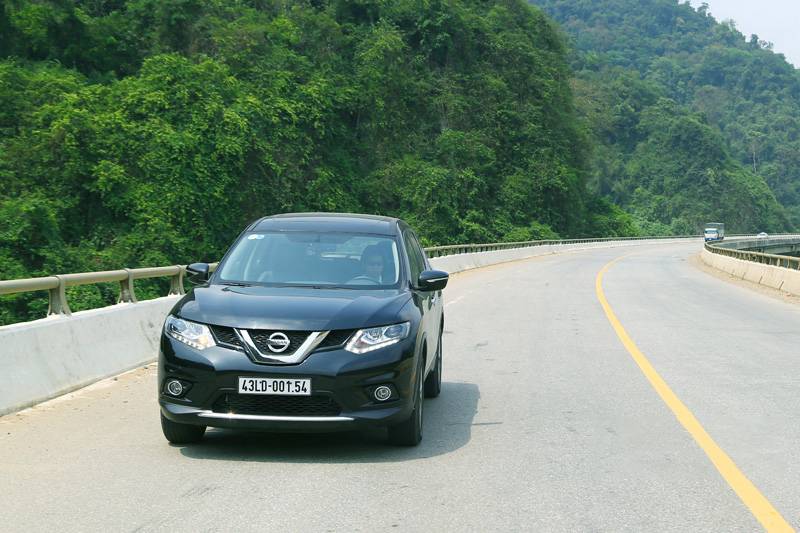 The best way to experience the magic of the bay is from the water. It's advisable to take a Ha Long Bay cruise tour at Bai Chay Port (033. 846 592); Ha Long tourist cruise (033. 847 481); Duong Hai Company (033. 845 042); Halong Bay Service Center (033. 844 631); or Hai Au Company (033. 824 779). A two days one night tour is priced at 2.500.000 VND and more, including accommodation, meals, other entertainment activities, and English-speaking tour guide.
If your time is quite limited, try a day trip by seaplane — which only happens less than 1 hour for about 2.000.000 VND – but what you earn is a whole breathtaking view of the bay from above.
Read more: Ha Long tourism by yacht – Interesting and memorable experience.
IV. Where to stay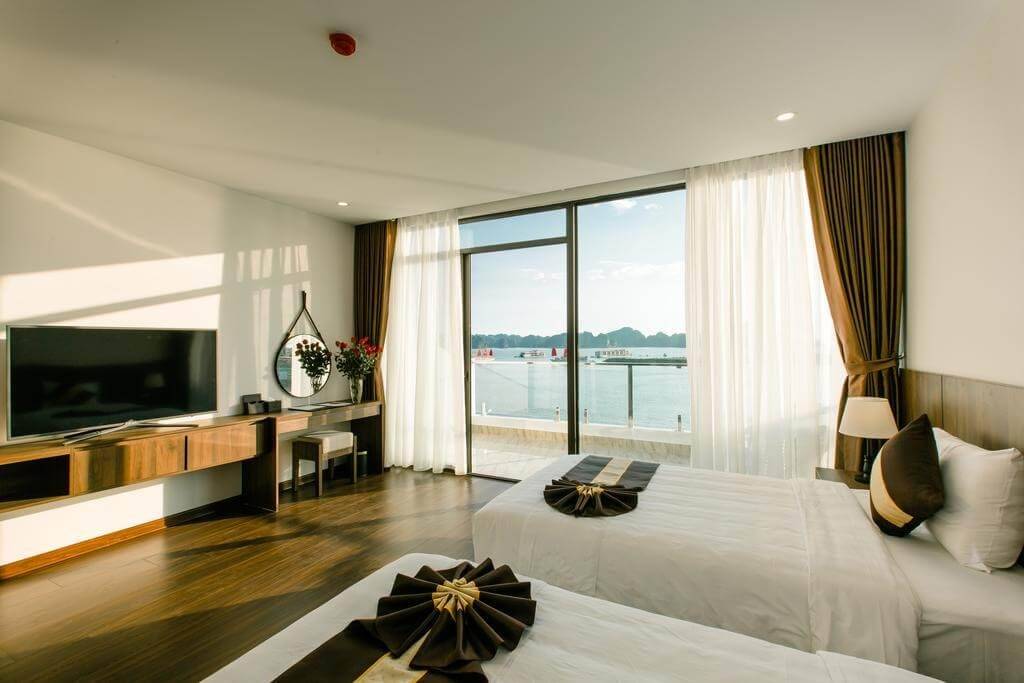 Most Ha Long hotels are located in the tourist area. To be more convenient for traveling and eating, you had better rent a hotel in the areas of Bai Chay or Vuon Dao, with room rates from 250,000 VND or more. Also, try to set your trip at the beginning of the week or midweek since, at the weekend, the room rates will be very high.
*Below are some suggestions:
– Van Nam Hotel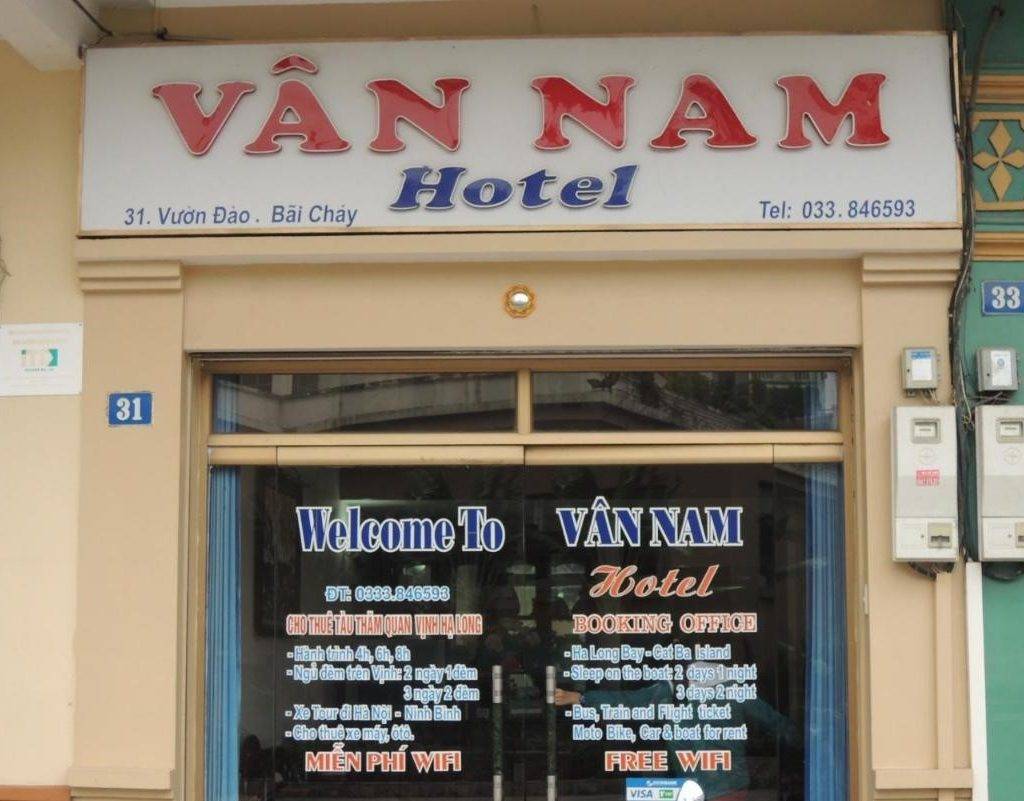 +Address: Vuon Dao, Ha Long
+ Price: about 230.000 VND
It is an excellent budget choice with a beautiful location near the beach and friendly staff.
– Alex (Hai Ninh) hotel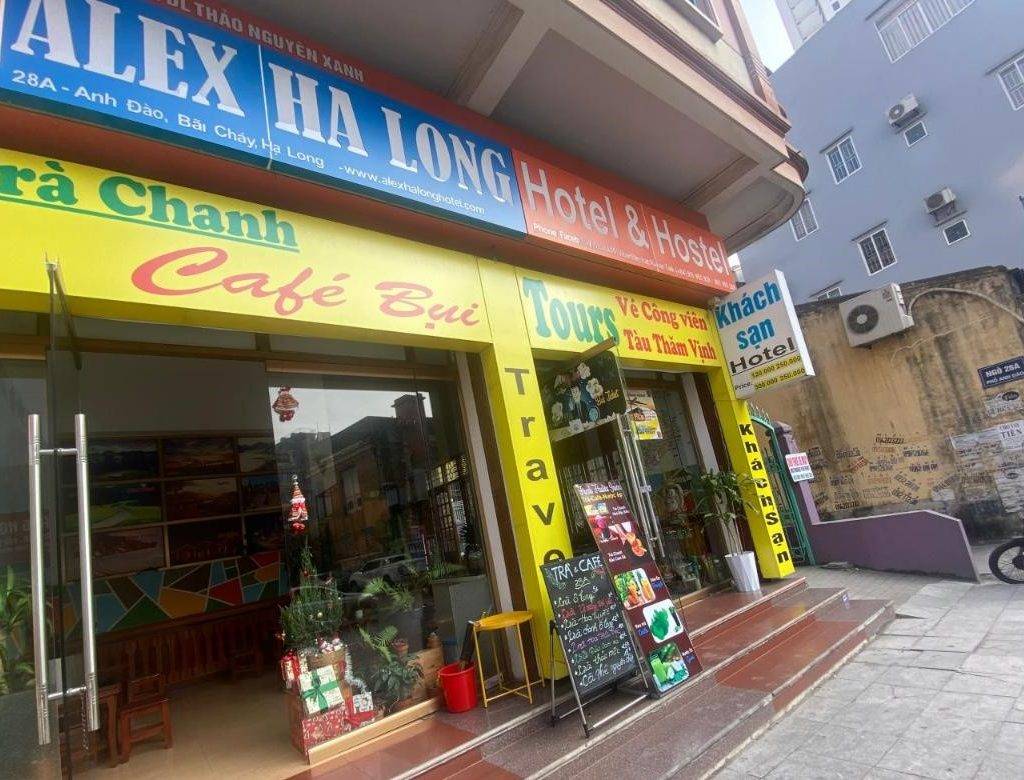 + Address: 28 Anh Dao Street
+ Price: from 184.000 to 230.000VND
The location is a bit further, but the furniture is still in good condition.
– Saigon Ha Long Hotel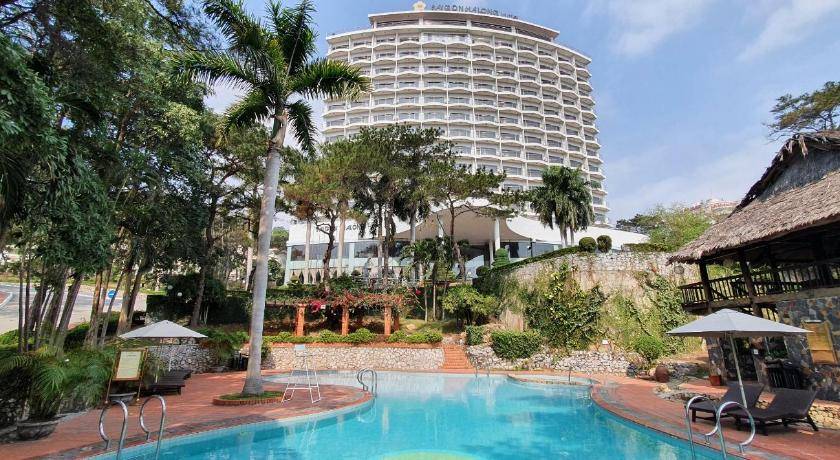 + Address: Ha Long Street
+ Price: from 690,000 VND
This is a top reasonable mid-ranged hotel that is comfortable, beautiful, and quality. Sometimes, they offer many promotions of up to 30%, 40%. The hotel's facilities are equivalent to many four-star hotels: an on-site golf course, swimming pool, spa, massage, sauna, tennis, gym, and even a private children's pool.
– Palace Hotel Ha Long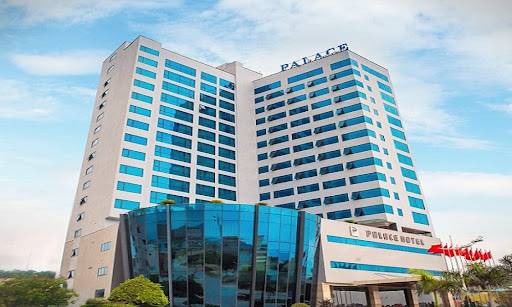 + Address: Halong Street
+ Price: about 1,150,000 VND
Similar to the above hotel, this place also has a great location with big and luxurious rooms, as well as a large and clean swimming pool, gym, and garden.
– Novotel Ha Long Hotel
+ Address: 160 Ha Long Street
+ Price: about 2,300,000 VND
The hotel not only features an extremely nice location but also a modern and luxurious interior, together with a system of cafes, restaurants, souvenirs, bars, spas, a swimming pool, a garden, and a gym.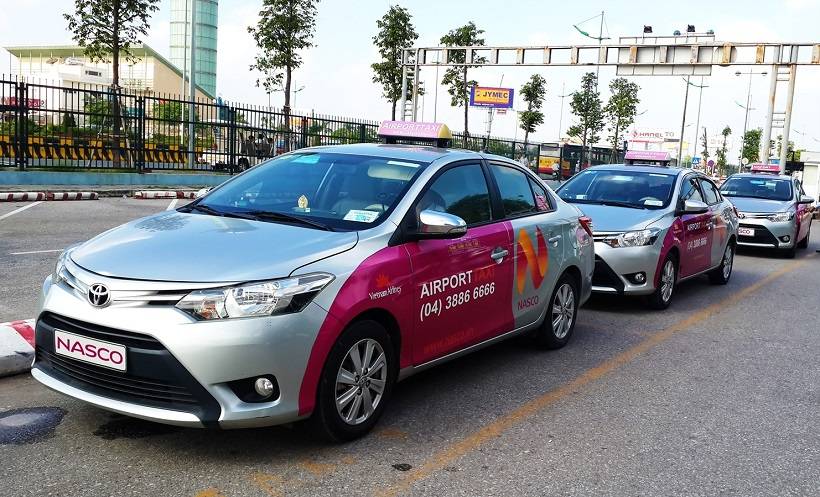 V. What to do in Ha Long Bay
1. Take a cruise trip throughout the bay
This is the main activity drawing tourists to Ha Long, which also gives you a chance to admire the bay closer up. Not only that, but you can discover countless islets, beaches, caves, and villages at a very comfortable pace.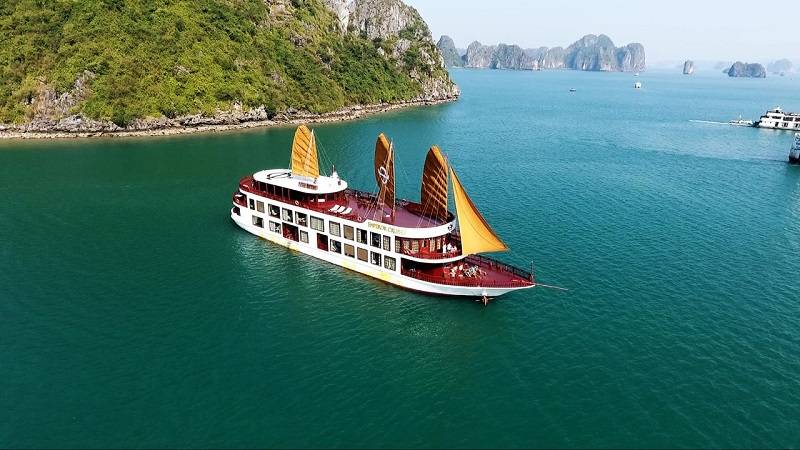 There are various cruise tour trips to choose from: half-day, full-day, two-day-one-night, or longer. It's obvious that the longer the tour is, the better experience you will have since these overnight ships take you to both top Ha Long Bay attractions and less touristy spots.
2. Enjoy multiple water-based activities
Long sandy beaches and clear blue water have created more than 21 places near the sea, both artificial and natural, to stop for a range of fun marine activities – like swimming, snorkeling, and kayaking.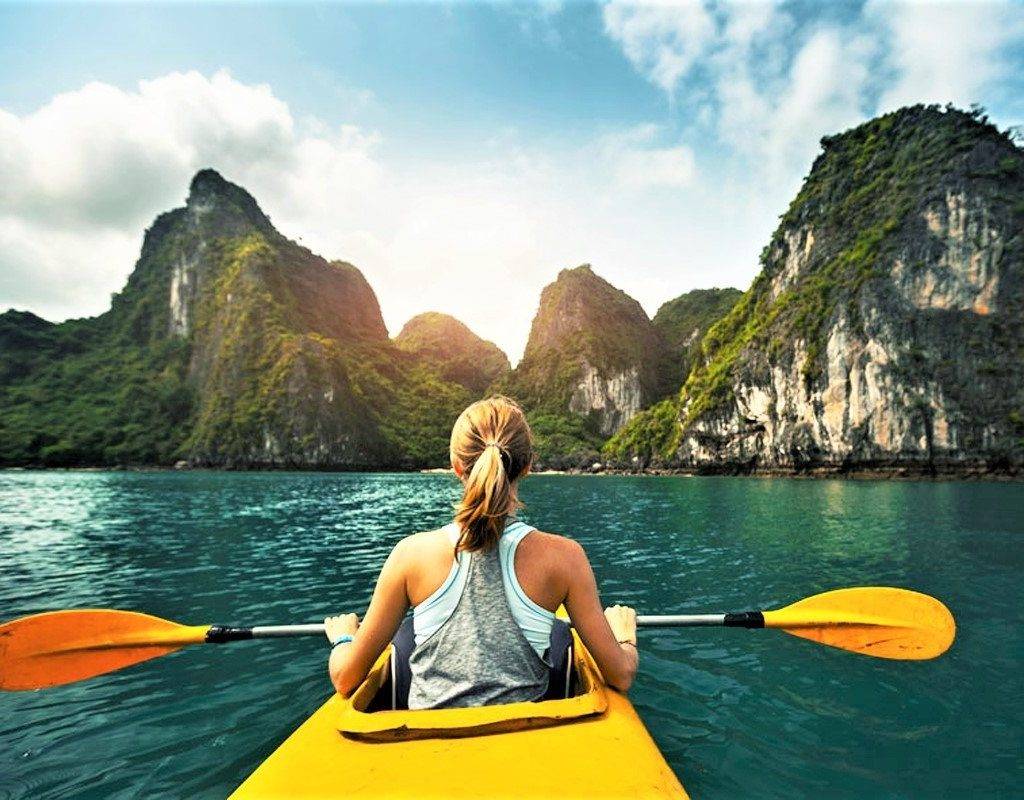 The ideal beaches for swimming should be Tuan Chau beach, Bai Chay beach, Ngoc Vung beach, and Quan Lan beach. Besides, the areas with the most coral concentration are Luon cave and Lan Ha bay, where the sea level is quite shallow and the water is transparent enough to see the bottom. Some of the popular kayaking spots in Ha Long Bay are Luon cave, Ba Trai Dao, Ba Ham, Dau Be, Co cave, etc. Kayak rental is from 50,000 VND, however, cruise tours often include the above activities, so ask your guide for more details.
3. Visit mysterious caves
Due to the extremely special geological structure, many beautiful and mysterious caves stand on Ha Long Bay's islands. Some extremely famous places worth a visit are Sung Sot Cave, Dau Go Cave, Trong Cave, Trinh Nu Cave, and hundreds of large and small ones scattered across the archipelago.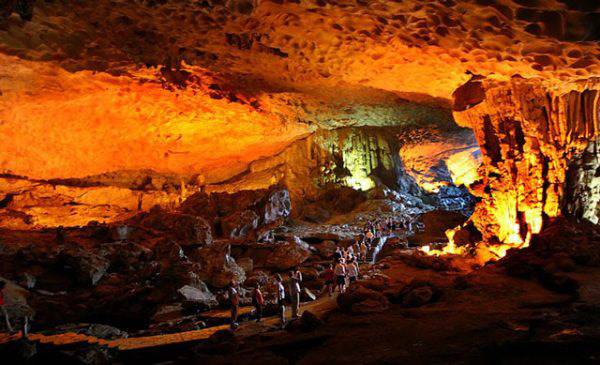 The caves here have undergone the process of weathering for millions of years, appearing in multiple types of stalactites with unique colors and shapes. Among those, some are highly historic; for example, Dau Go Cave used to be the place where Tran Hung Dao hid ironwood stakes for the battle on Bach Dang river against the Yuan – Mongol.
4. Explore local life at floating villages
The floating villages in Ha Long are great destinations to learn about local life. Fishing in this majestic bay has long been a way of living for the residents. Travelers can join them on squid fishing trips or simply immersing in the idyllic daily life at sea. The two floating villages you should visit are Cua Van and Vung Vieng.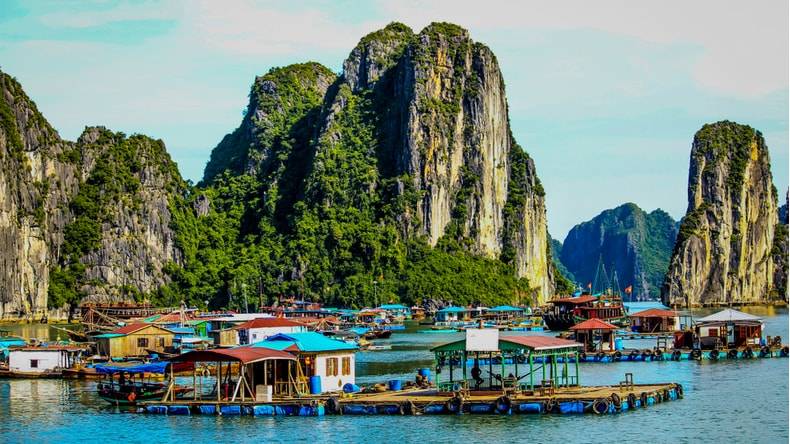 Cua Van Floating Village, located in the heart of Ha Long Bay, about 20km from Tuan Chau Port, is an ideal area for ships to anchor to avoid storms. Thanks to the imposing limestone backdrop, the village is extremely tranquil and quite isolated from other areas in the bay, making it a perfect place for around 170 families living and fishing. Vung Vieng Floating Village lies in the center of Bai Tu Long Bay – a trade gateway between Vietnam and China. The village is more prosperous than Cua Van, people also focus on fishing and raising pearls. The road to Vung Vieng village is surrounded by two towering cliffs like two gates, which is also a shield that helps this place to avoid harsh winds and storms.
VI. Local cuisine
Ha Long waters bring out unique and delicious dishes from seafood, such as Sa Sung, Be Be, mussels, etc. Sa Sung The Van Don area is most famous for Sa Sung. Locals use various ways to make delicious dishes from this creature such as stir it with garlic and chayote, salads, salted grilled with chili. The price of Sa Sung is about 1,400.00 VND/kg.
1. Be Be noodles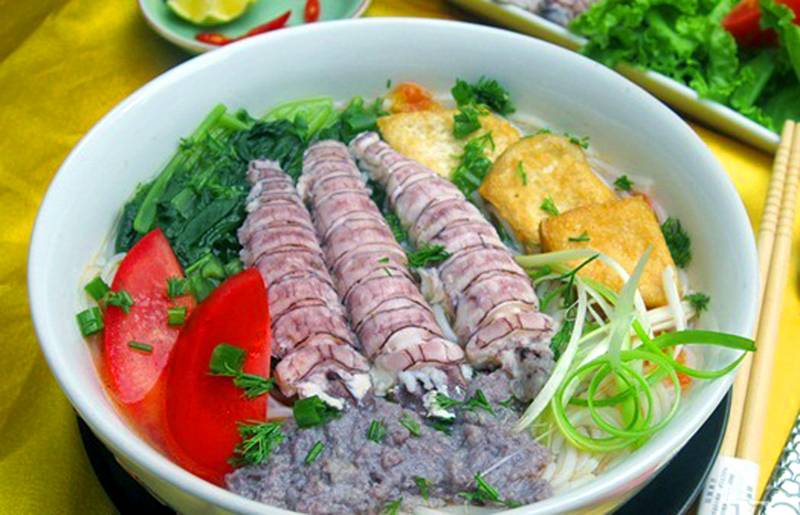 Be Be, or mantis shrimp, is abundant in the waters of Quang Ninh, having delicious, sweet, and nutritious meat. The residents often boil this kind of shrimp to make broth due to its savory taste. Be Be noodles are served as a breakfast, eaten with some fresh vegetables and taro. The price of a bowl is around 30,000-40,000 VND.
2. Sticky rice with squid paste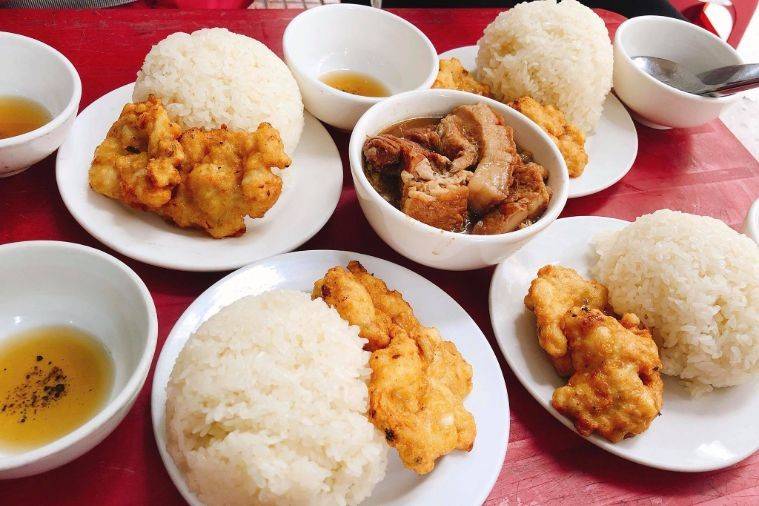 This can be both a nutritious breakfast or a great snack in the afternoon for typically from 15,000 to 20,000 VND/plate. People will serve sticky rice with fried squid paste and pepper fish sauce. You can also buy squid paste by weight for about 250,000 VND / kg.
3. Seafood noodles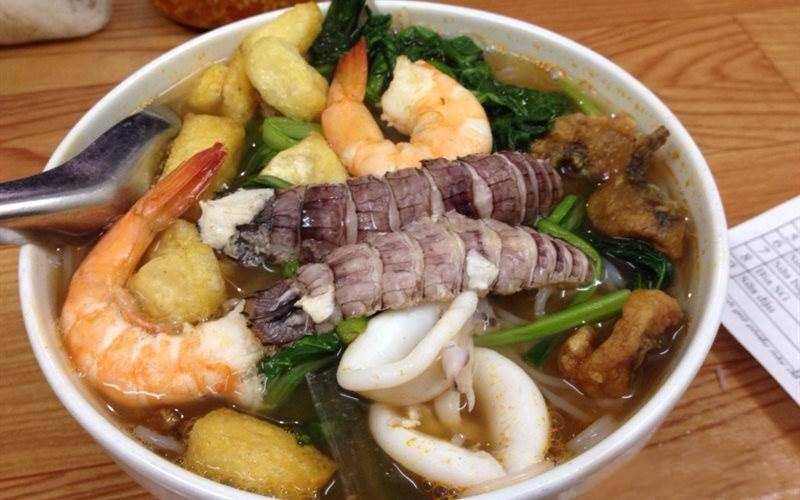 This kind of Ha Long food is another good option for breakfast. A bowl of seafood noodles, or Banh da, costs about 40,000 VND but is full of shrimp, crab, fish patties, and vegetables.
4. Mussel porridge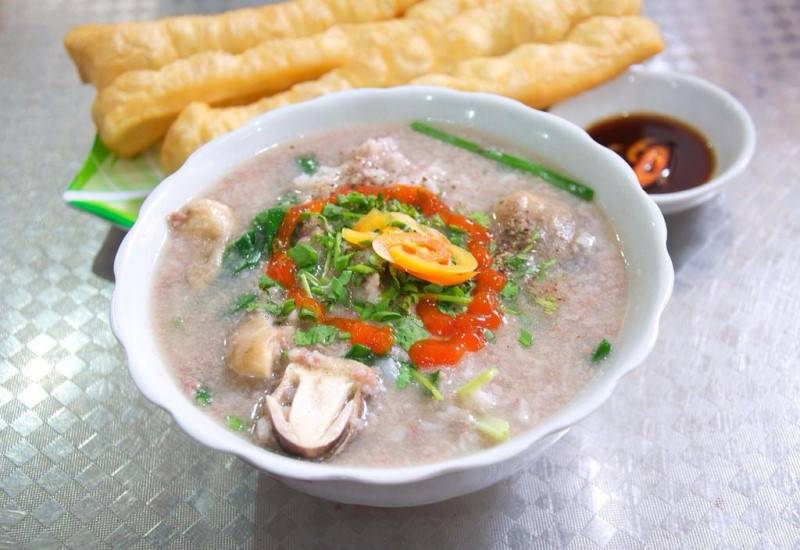 Mussel porridge is a famous snack in Ha Long, served with green onions, chopped cilantro, dry onions, and roasted (Vietnamese stick bread). The best place to eat the dish is in Ha Long market. The price of each bowl is about 15,000 – 20,000 VND.
5. Snails and clams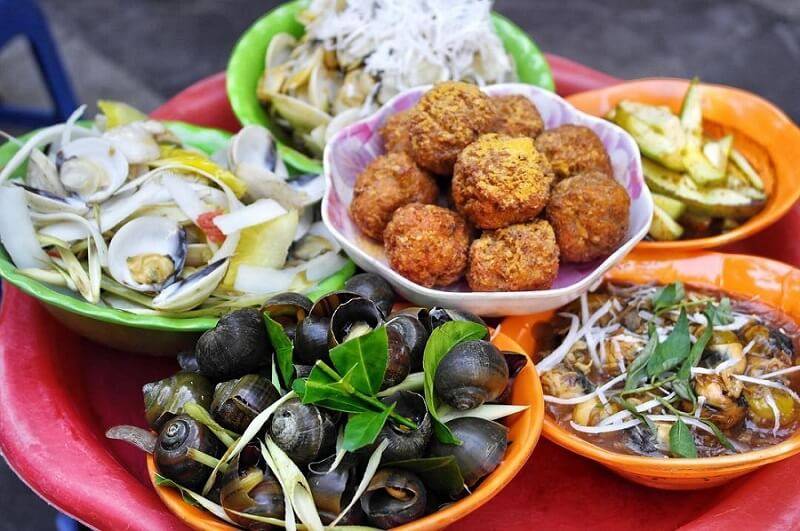 Most Ha Long seafood restaurants sell delicious dishes from snails and clams, especially stir-fried ones with soy sauce, lemongrass, tamarind sauce, and coconut. There is a range of snail types to pick: freshwater snails, razor clams, Chinese mystery snails, etc. The price of a stir-fried snail plate is 35,000 VND/plate.