Hoi An Cycling: Best way to tap into the countryside vibe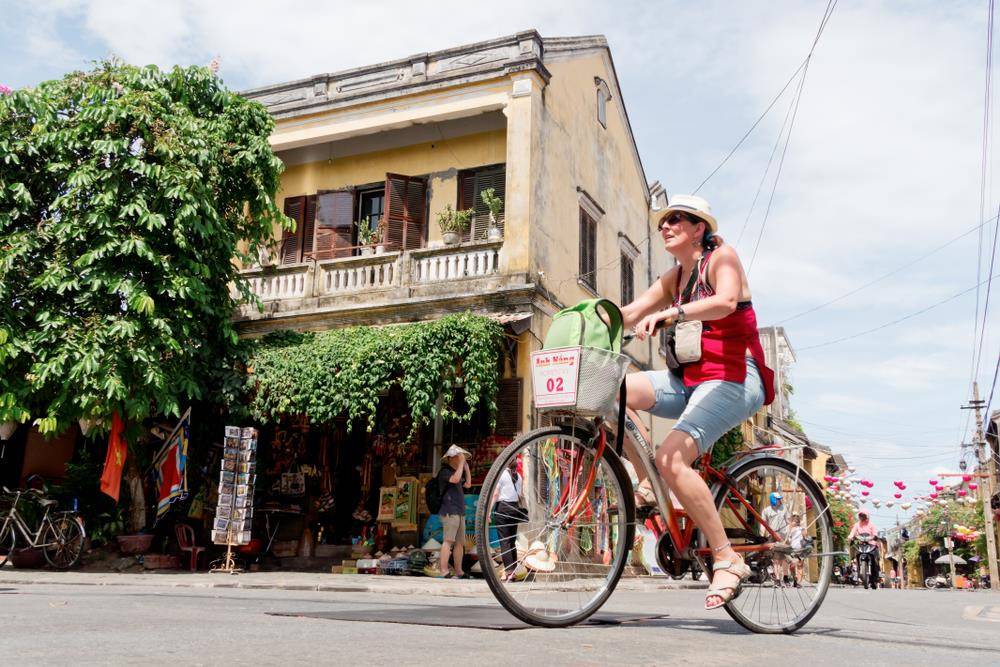 The tranquil slow-paced Hoi An is well-known as a paradise spot for cycling since the flat streets are closed to motorbikes and cars most of the day. Getting around the town by bicycle is very safe and convenient, you can easily wriggle through the alleys to discover numerous underground charms, or stop anywhere to shop and enjoy street food. Burning some calories on two wheels in Hoi An is also a great way to explore the sides of locals in their rustic farm life which are often missed.
Paddling yourself through rice paddles, big shady trees, straight to the beaches or traditional villages will give you a more exact Vietnam tourism experience.
1. Hoi An cycling guided tours and self-lead: Which one is better?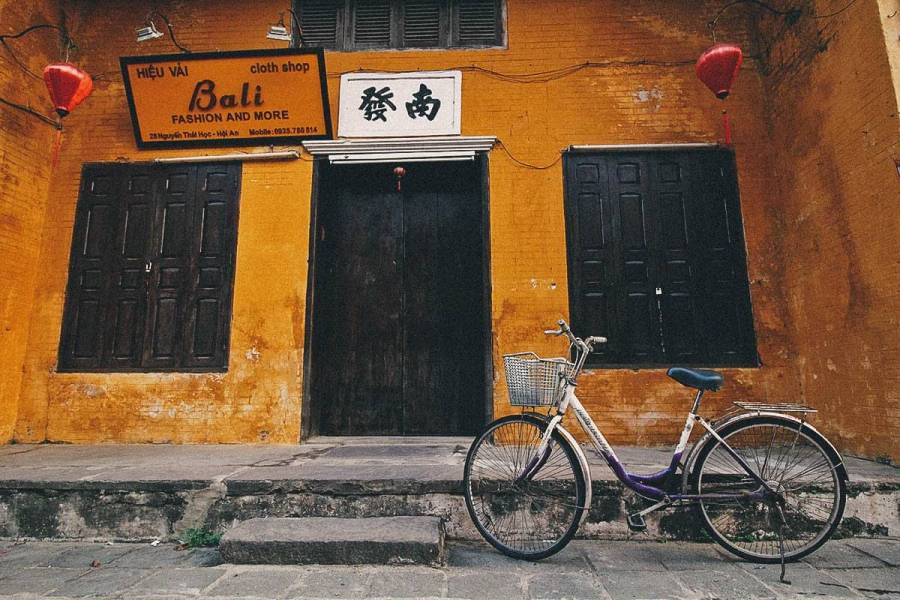 Visitors will have two options of cycling, self-sufficient and package tour. Each type targets different needs. If you like to explore freely without following a process, just grab a bike and a map, then get on the road. Meanwhile, a Hoi An bicycle tour will offer you proper routes, along with well-maintained bikes, English-speaking helpful tour guides, meals, drinks, and tickets to paid destinations on the way.
The duration of the bike ride depends on the route you take, but most Hoi An cycling trips around the Ancient Town and surrounding areas last about 4-5 hours.
Read more: Phung Hung Old House of over 240 years old in Hoi An
2. Recommended route for independent Hoi An cycling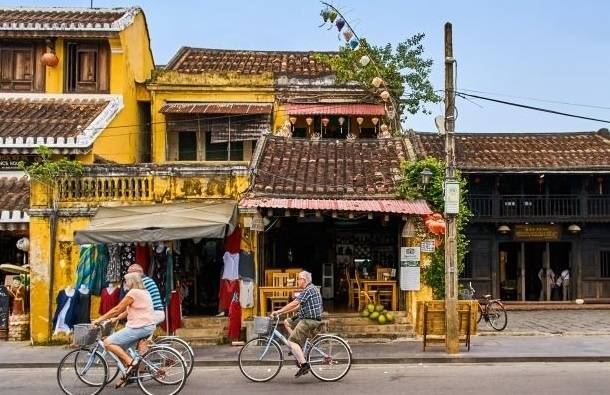 This way, you have to be in charge of everything, from renting a bike to designing your own route. Most homestays and hotels will have rental bicycles for free or for a very affordable fee – ranging from 25,000 – 30,000 VND/day. The bikes, both fixed gear and mountain bikes, are all in good condition, ensuring a safe ride.
For a relaxing ride to shop, eat, and look around, the Old Town is enough for you. Apart from small alleys to wriggle through the yellow houses with red tiles, there is no shortage of attractions to stop by. Don't forget to arrive at two famous streets Nguyen Thai Hoc and Tran Phu, which are known for the oldest house system of Quang Thang, Duc Anh, Tan Ky, and the Cantonese assembly. Additionally, visitors can go to the bordering road between Nguyen Thai Hoc and Nguyen Thi Minh Khai to admire the Japanese Covered Bridge- the pearl in the heart of the town.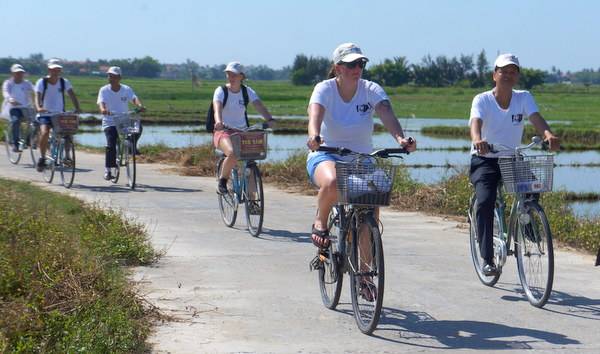 After visiting all the spots, continue the route a little out of Hoi An. From the town center, you paddle alongside the river to a small dirt street with rice paddies on two sides. Then, keep following the road left for a few more minutes to get to An Bang Beach, which is quiet and clean, great for a cool-off in the afternoon.
The best time to start the trip is early morning, around 6 am, or late afternoon, around 4 pm; this time the air is still cool without hot sun. Since this route is easy and kid-friendly, you can just use a standard bike. Here are some places with trusty bicycle rental services in Hoi An:
– Mr. Cuoc
Address: 79 Thai Phien
Phone: 0914 080 912
– Mrs. Yen
Address: 609 Hai Ba Trung
Phone: 0905 397 138
Read more: TOP 7 THINGS TO DO IN HOI AN
3. Top bicycle tours in Hoi An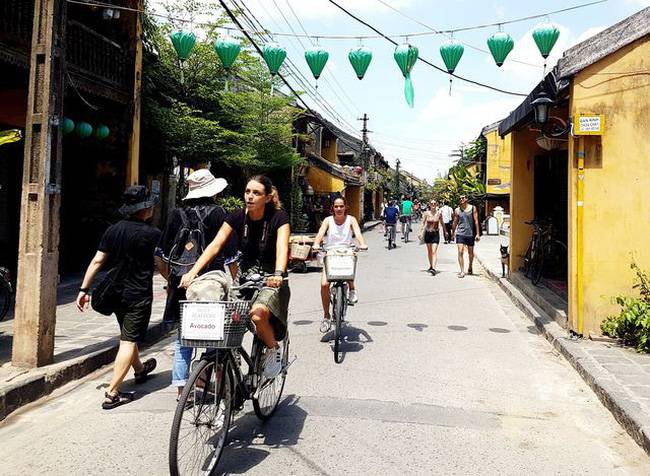 Some people find it a lot of fun when joining a group for a cycling tour in Hoi An. Indeed, this will help some of you overcome the fear of Vietnamese traffic as well as have peace of mind with a company going along.
Visitors can choose between full-day or half-day tours to major attractions around Hoi An such as Cham Island, My Son Sanctuary, My Lai village, beautiful caves at Marble Mountains, and Cham Museum; or to local craft villages, like Thanh Ha pottery village and Kim Bong woodcarving village. In addition, there are several eco-tours to the fishing village Cam Thanh and Tra Que vegetable village where you can learn how to grow local vegetables, irrigate and harvest crops, as well as try making rice paper.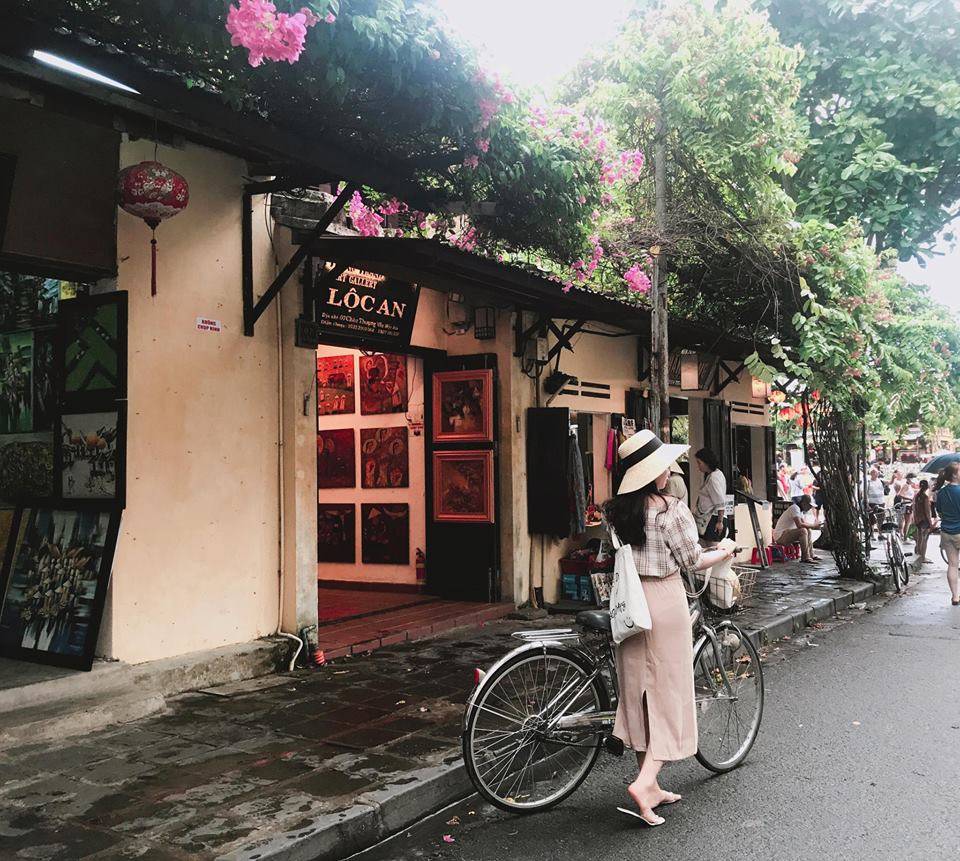 All the tour companies here have extensive experience and local knowledge to ensure every trip is informative and satisfying. No worries if you don't know how to ride a bike as the agency staff will teach you the easiest way to do that. In case you don't want to ride alone, you can still enjoy all the tours as a passenger sitting behind.
The tour price will fluctuate according to the length of time and destinations, from 500,000 – 600,000 VND/person for a half-day tour, while the day tour price will be 650,000 – 900,000 VND/person. Here are some popular Hoi An bicycle tours:
– Grasshopper Adventures
Address: 621/1 Hai Ba Trung, Minh An Ward, Hoi An
Phone: 093 203 42 86
– Heaven and Earth Bicycle Tours
Address: 61 Ngo Quyen, Minh An Ward, Hoi An, Quang Nam
Phone: 0768 422 260
– Hoi An Bike Tours
Address: 37 Ba Trieu, Hoi An
Phone: 093 550 20 78
Read more: HOI AN SHOPPING GUIDE: WHAT TO BUY WITH PRICE
4. Things to note before starting the two-wheel trip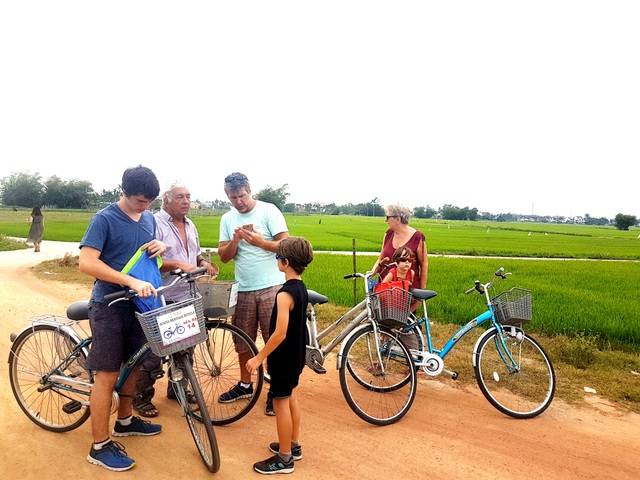 – Put on light clothing, hats, and glasses if you don't want to get burned under fierce sunlight.
– Prepare a map if you have the trip on your own.
– Make sure to bring plenty of water and some snacks with you.
– Avoid cycling in Hoi An at night due to the darkness and motorbikes are not using the headlights – that can be risky.
– Cover the seat when you're at the break, so when getting back to the bike, you won't regret it.
– Always leave your bike where you can see, or to make sure it won't disappear, use a bike lock.
Read more: HOI AN COOKING CLASSES: THE BEST EXPERIENCE EVER IN VIETNAM