BEST HOI AN CHICKEN RICE LOCAL RESTAURANTS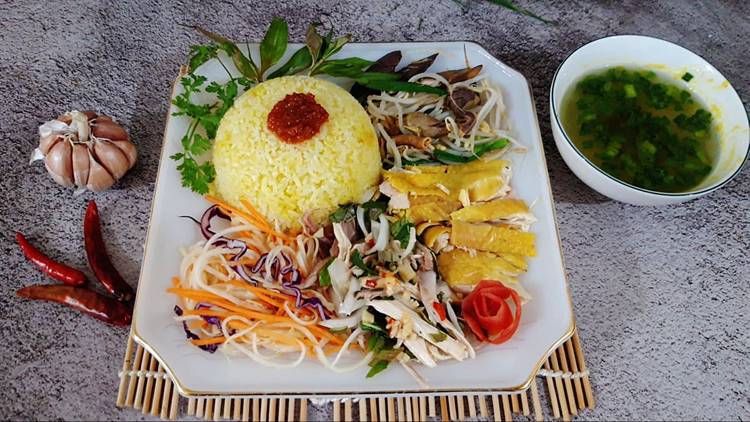 Referring to Hoi An, we cannot mention the distinctive cuisine. In addition to the famous Cao Lau, Quang noodles, Banh uot (wet rice cake), etc., Hoi An is also famous for chicken rice. Anyone who has been to the old town and once tried the dish will always remember the taste of this delicious dish. Wonder where to try it best? Today, we will introduce to you top local restaurants to eat the right Hoi An chicken rice!
Ba Buoi
Ba Buoi is a familiar address attracting numerous tourists near and far. This famous chicken rice shop has been present in Hoi An Ancient Town since the 50s of the twentieth century.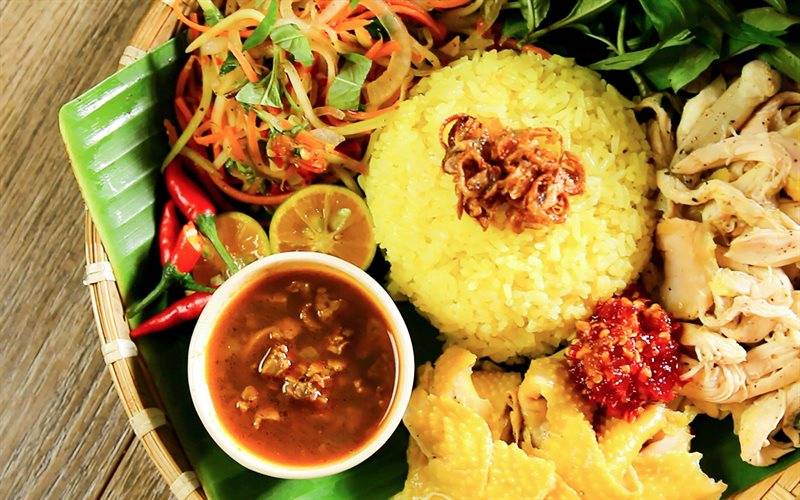 The restaurant space is quite small, therefore, during peak hours, customers have to wait in line for the table for 15-30 minutes. What makes the restaurant well-known is the strong combination of rice, chicken and vegetables. The rice here is evaluated as soft, smooth, fragrant, and the chicken is rich and quite fat. You can choose the topping, such as whole-piece chicken, shredded chicken, and stir-fried chicken heart, to serve with rice.
Address: 22 Phan Chu Trinh
Price: 35,000 – 55,000 VND
Opening hours: 11:00 – 19:00
Com Ga Xi
Com Ga Xi is one of the delicious and cheap Hoi An chicken rice shops. With only about 20,000 VND, you can enjoy a full plate of chicken rice. You can order more chicken drumstick salad and iced tea if you want. This restaurant is a bit difficult to find, so if you are a tourist, you should ask the locals for directions.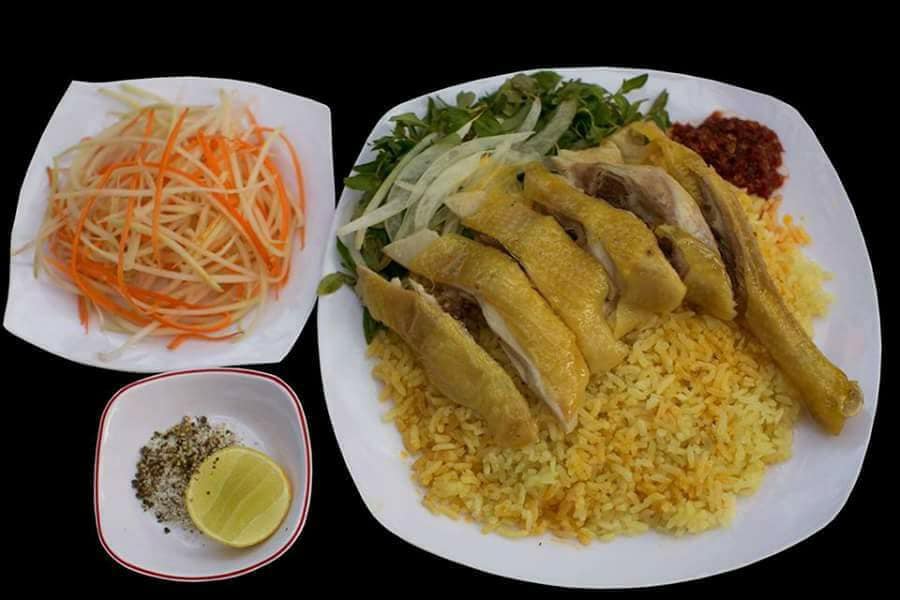 The chicken rice here is cooked from fragrant sticky rice and young chicken meat so it is extremely soft and sweet. In particular, the rice dish is also served with pickles, onions and some coriander, which are made according to the shop's secret recipe. Diners are also offered a small bowl of broth. Although the price is cheap, everything remains good quality.
Address: 47/2 Tran Hung Dao
Price: 20,000 – 50,000 VND
Opening hours: 09:00 – 22:30
Ba Nga
Also located on Phan Chu Trinh street, Ba Nga Chicken Rice shop is also a popular address for many diners. Like other chicken rice shops, Ba Nga Chicken Rice also has its own distinctive features. If Ba Buoi has a light and delicate taste, Ba Nga is attractive with the rich flavor, suitable for those who want to enjoy a well-marinated meal.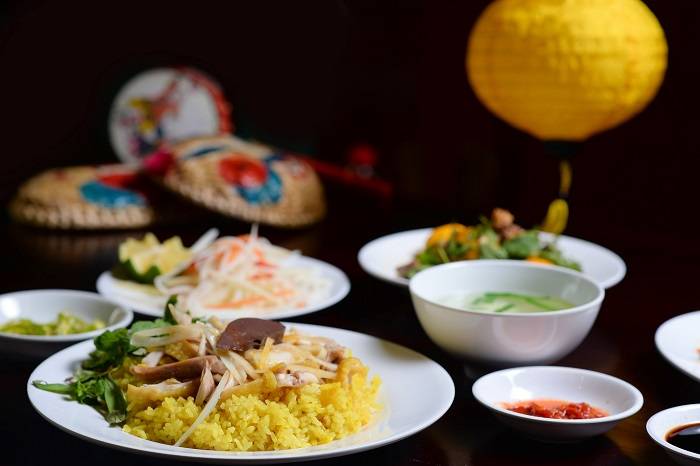 The most special thing about the chicken here is that the chef will marinate them with spicy and sour spices while still retaining the full aroma of the soft and firm chicken. Visitors can feel the sweetness of rice, the fat of the chicken, a little spicy from chili, sour from lemon juice with the aroma of crispy onions. All blend together to create a one-of-a-kind flavor.
Address: 8 Phan Chu Trinh
Price: 40,000 – 100,000 VND
Opening hours: 16:00 – 22:00
Com Ga Ty
Com Ga Ty is located in a small alley on Phan Chau Trinh street. From a short distance, we can notice the large "Com Ga TY" sign of the shop. There you'll find metal tables and plastic stools inside the family's home and seats also outside, lining the alley. With the seating situated out of the bustling road and the relaxing music coming from the neighbouring restaurant, it makes this spot a rare and peaceful gem within the city.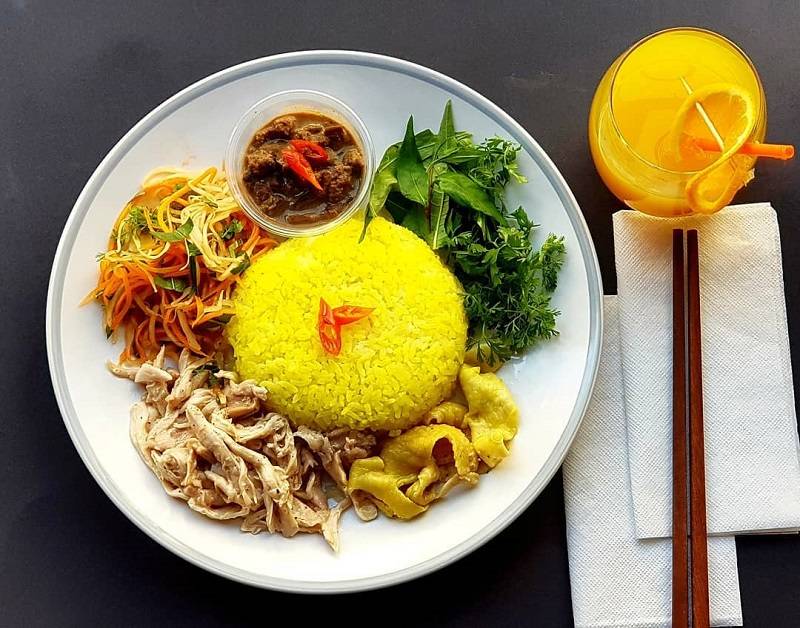 The plate served here offers a healthy mix of all of the components, along with a small soup that is rich and deep in flavour. It's worth mentioning that the soup here is local style and includes chicken giblets.
Address: 25 – 27 Phan Chau Trinh
Opening hours: 16:00 – 22:00
Reference price: 25,000 – 90,000 VND
Com Ga Huong
Unlike many Hoi An chicken rice shops, Com Ga Huong only opens in the evening. So, visit it after taking a walk around the old town till you're tired and hungry.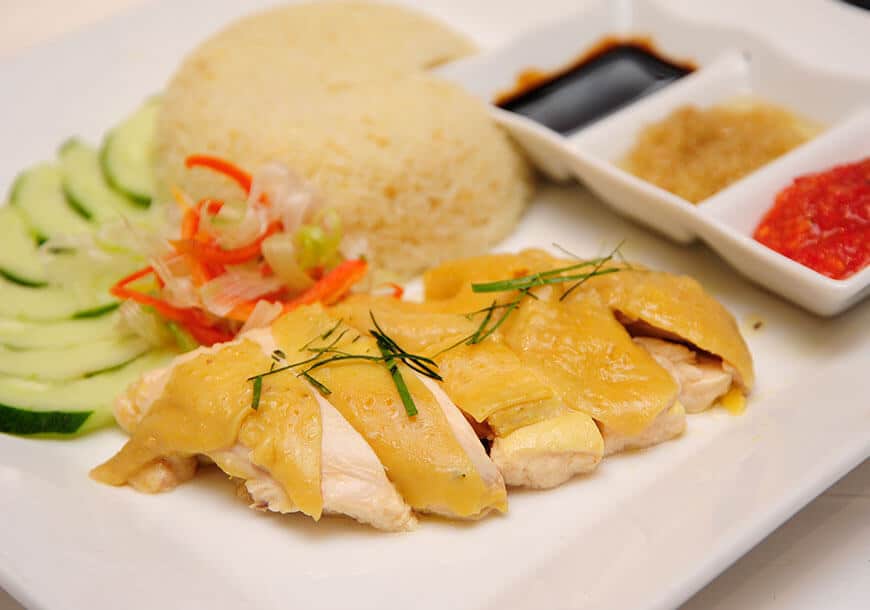 The rice at the restaurant is the high-quality one. After washing, the rice is cooked with chicken broth and pandan leaves on a wood stove to make it more fragrant and softer. Meanwhile, the firm and golden chicken meat is also from home-grown young chicken. The chef adds turmeric and gac to the broth to create color, making the dish even more attractive. Together with the papaya pickles, all of these make Com Ga Huong special than ever.
Address: 56 Le Loi
Reference price: 25,000 – 50,000 VND
Opening hours: 09:00 – 21:30