Dong Ho Painting Village – A folk wood carving village of Vietnamese soul
Dong Ho Painting Village, famous for folk craft paintings, has long been the most favorable tourist destination in Bac Ninh. Since ancient times, the Vietnamese in the Northern Delta have had the habit of buying Dong Ho paintings to decorate their homes on Tet holiday with the wish of happiness and well-being. The simple and rustic Dong Ho paintings not only depict cultural beauty but also become a pride and a Vietnamese national identity – which attracts thousands of tourists to admire and explore.
1. About Dong Ho Painting Village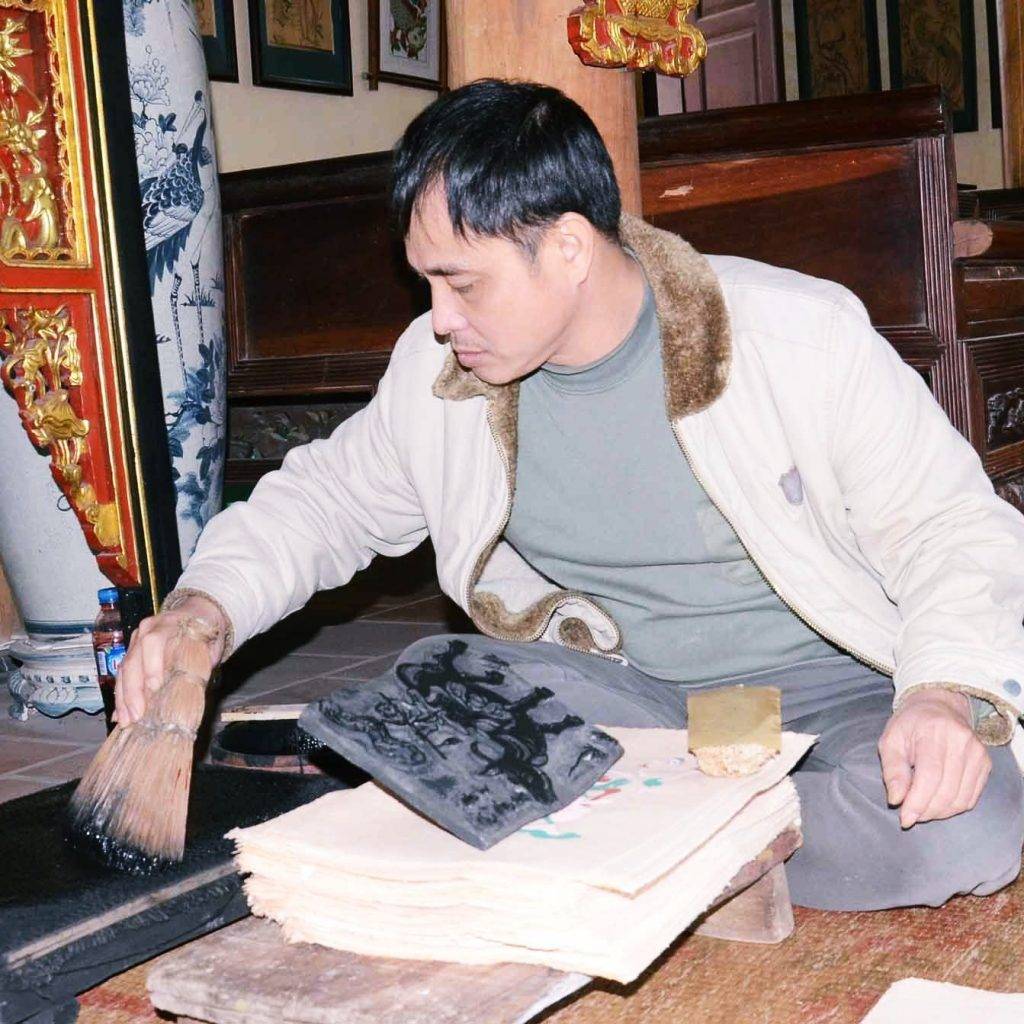 Dong Ho painting village is considered as the cradle of folk wood carvings that have gone through different generations of Vietnamese people. Foreign tourists are all interested in this place when first hearing about it; they come here to learn how to make paintings or buy paintings to decorate houses, hotels, restaurants, etc.
Dong Ho paintings originated in the 17th century in Dong Ho village, Song Ho commune, Thuan Thanh district, Bac Ninh province. Around 1945, the village had 17 families, all of whom made paintings. Through many ups and downs till now, only 2 families are keeping this traditional profession, which are the families of artisans Nguyen Huu Sam and Nguyen Dang Che. They have preserved more than 1000 woodblocks and restored 500 ancient pieces.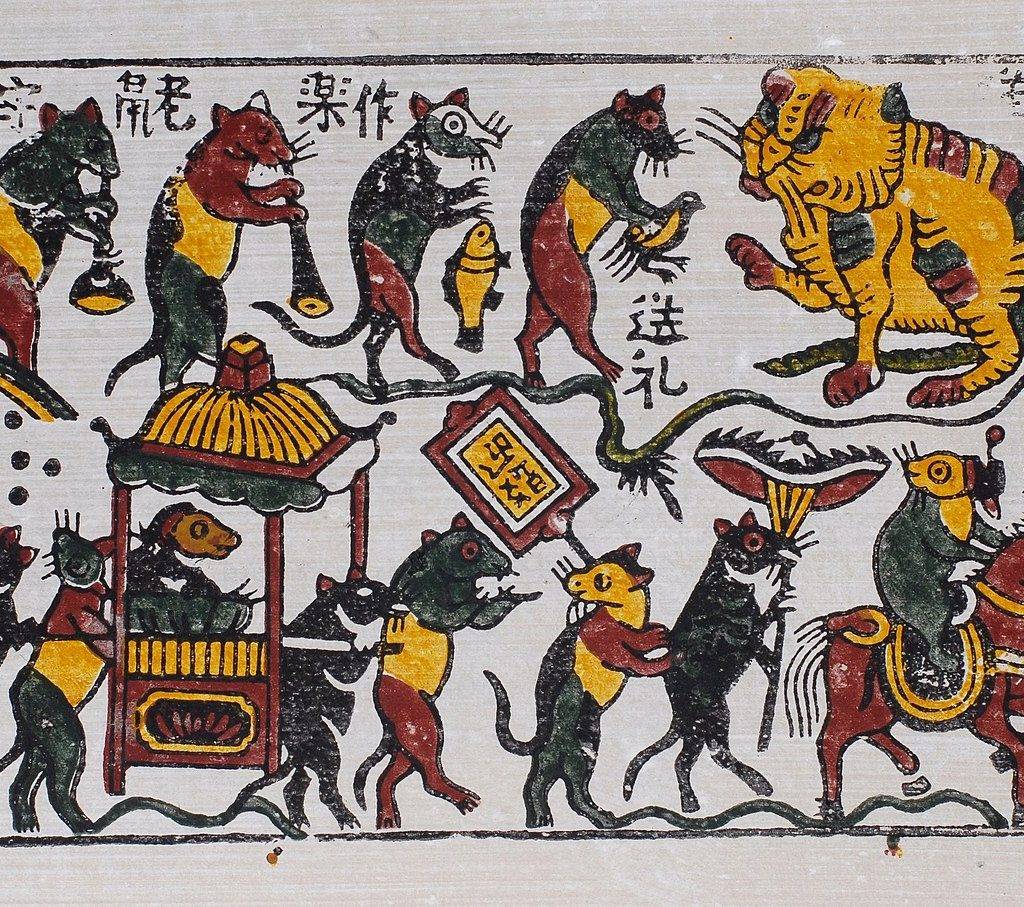 This painting village is home to more than 220 households; the residents are all associated with the profession of making paintings and joss paper, therefore, numerous ancient paintings are still preserved here. Dong Ho paintings are divided into more than 180 categories, in which 5 main categories are worshipping paintings, historical paintings, congratulatory paintings, living paintings, and comics. Each one is carefully made with the artisan's diligence and meticulousness in a certain period.
2. The best time to visit Dong Ho Painting Village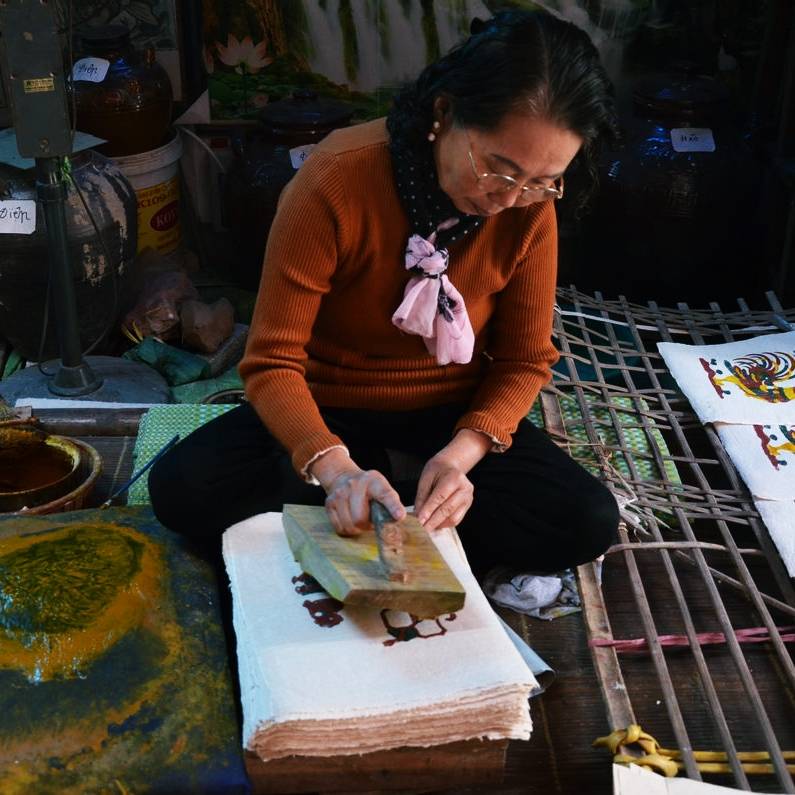 Tourists can come here at any time of the year as four seasons of the North will offer different interesting experiences. The weather in the early and last months of the year is both a bit cold, but it attracts the most visitors thanks to extremely attractive festivals.
3. How to go to Dong Ho Painting Village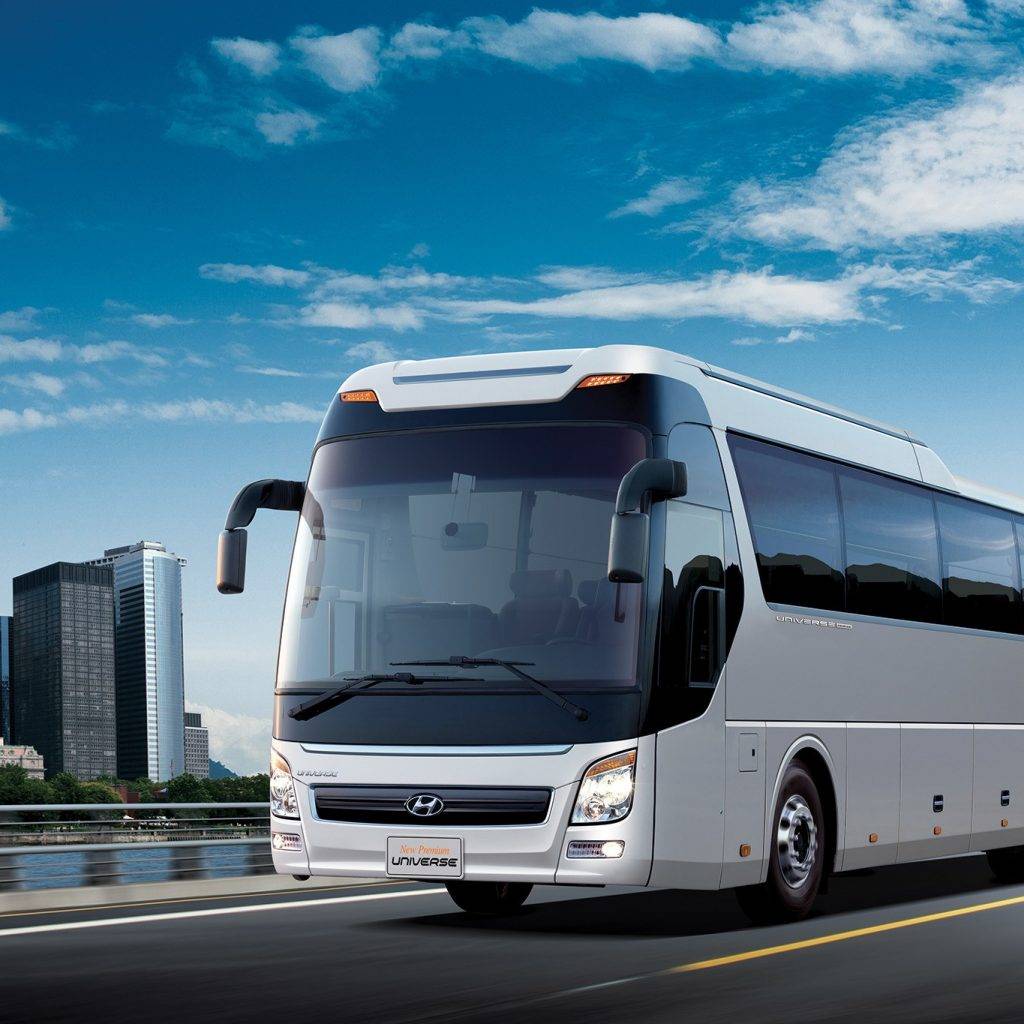 Dong Ho Painting Village is situated in Song Ho commune, Thuan Thanh district, Bac Ninh province, which is about 35km east of Hanoi city. Since the location is next to the dike of Duong river, the place is also called Ho Village. You may need just 1 day to explore the village to the fullest. If departing from Hanoi, you can easily choose multiple modes of transportation to travel.
– Motorbike, car: Highway 5 (Road 5) – Highway 18B – Sui street – Keo market – Dau market – turn left down the road along the dike – turn right 3 km – Dong Ho Painting Village.
Motorbike rental cost ranges 100.000-200.000 VND/day; meanwhile, car rental price is from 500.000-1.000.000 VND/day.
– Bus: To save travel costs, you can opt this means for 22.000 VND/ticket/round, with the estimated travel time of 60 minutes; in particular, pick route 204 (Hanoi – Thuan Thanh, Bac Ninh), go to the end of the station, then take a few kilometers to reach Dong Ho Painting Village.
Tourists should also present at the painting village around 9 am – 11 am or from 2 pm – 5 pm to have the best experience.
4. The beauty of Dong Ho Painting Village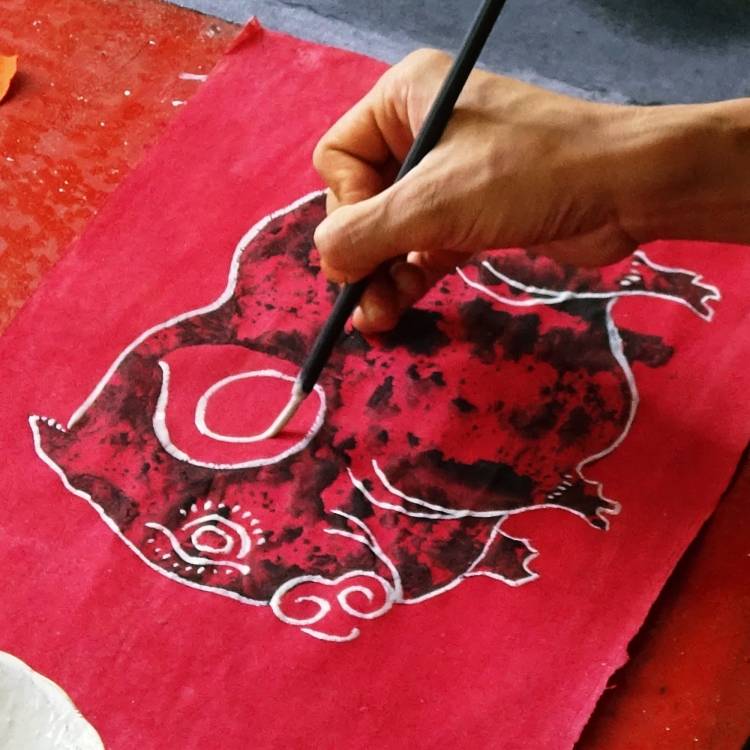 One of the great features you cannot ignore when coming here is the Dong Ho painting folk cultural exchange center, where you can interact with artisans, listen to the history of the village, and the process of making a painting as well as what it means. Each painting contains the traditional cultural elements of a certain historical period. And if you are lucky, you will be able to participate in making Dong Ho paintings with the artists.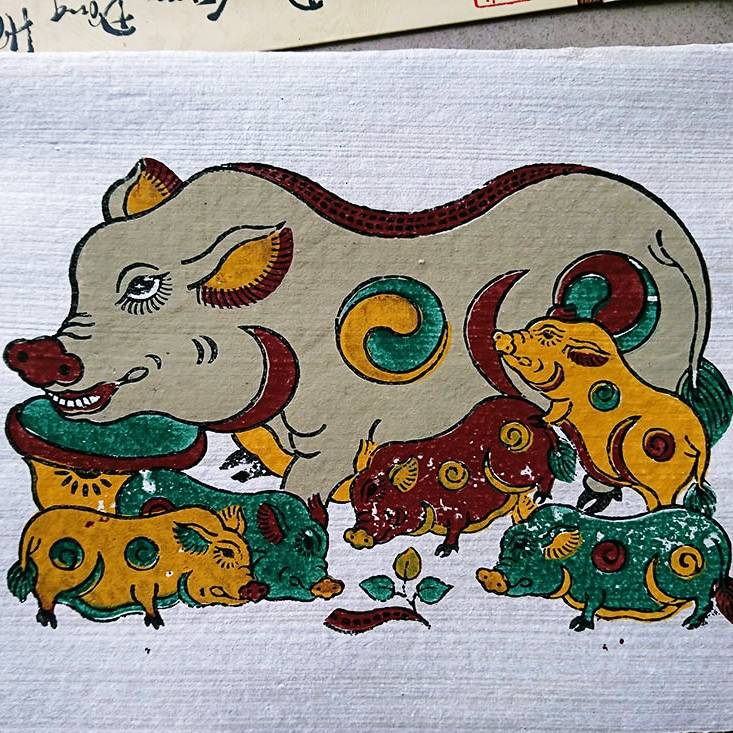 The paintings of all shapes, sizes, colors, and uses are carefully displayed in traditional tiled houses containing memories of the time. In addition to painting products, there are also related products on sale, such as Dong Ho painting stitching books, notebooks made of Diep paper, Diep papers, Dong Ho calendar, folding screens with Dong Ho paintings, etc.
You are totally assured of product quality because each painting is the quintessence and enthusiasm of the artisans here. A Dong Ho painting can remain like new for many years with the price ranging from 20.000 to 150.000 VND/painting.
5. What to eat around Dong Ho Painting Village
Bac Ninh is an ideal place to not only admire Vietnamese folk art but also enjoy the local cuisine.
– Diem Village Khúc Cake (Xoi Khúc)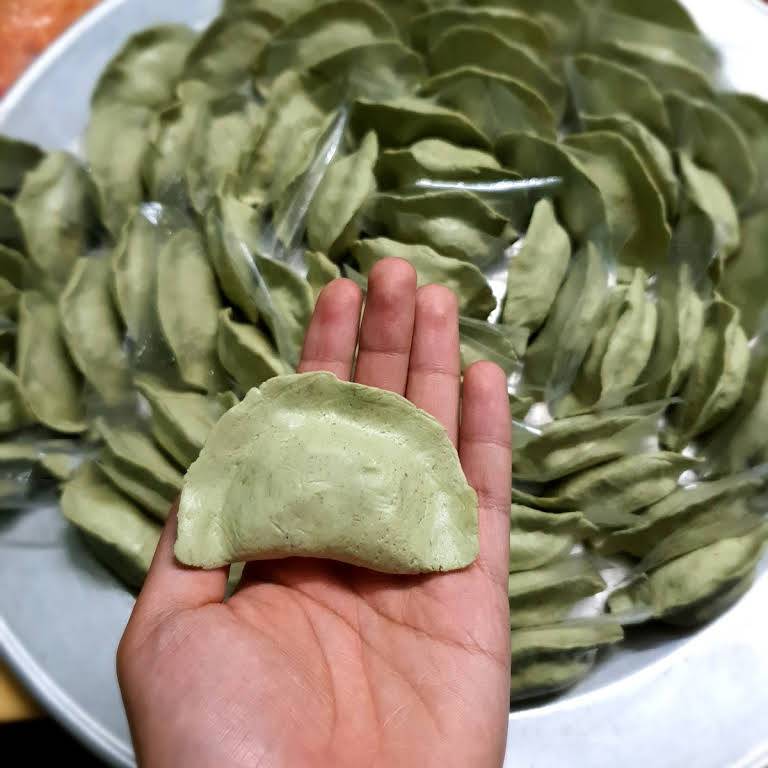 Khúc cake is a long-standing traditional dish in Bac Ninh, which is mainly made from raw vegetables (Cudweed – Khúc) collected from rice fields or riverside alluvial grounds. Khúc leaves are washed, chopped, and crushed together with non-glutinous rice until reaching a beautiful color and smoothest fineness, then people mold them into cakes with the filling of green beans and seasoned bacon. After steaming, we will have attractive Khuc cakes with hot steamy crusts that get us to blow while eating to feel the aroma of all ingredients. The Khúc cake prices are only from 10.000-15.000 VND/ piece.
– Dinh To sliced porridge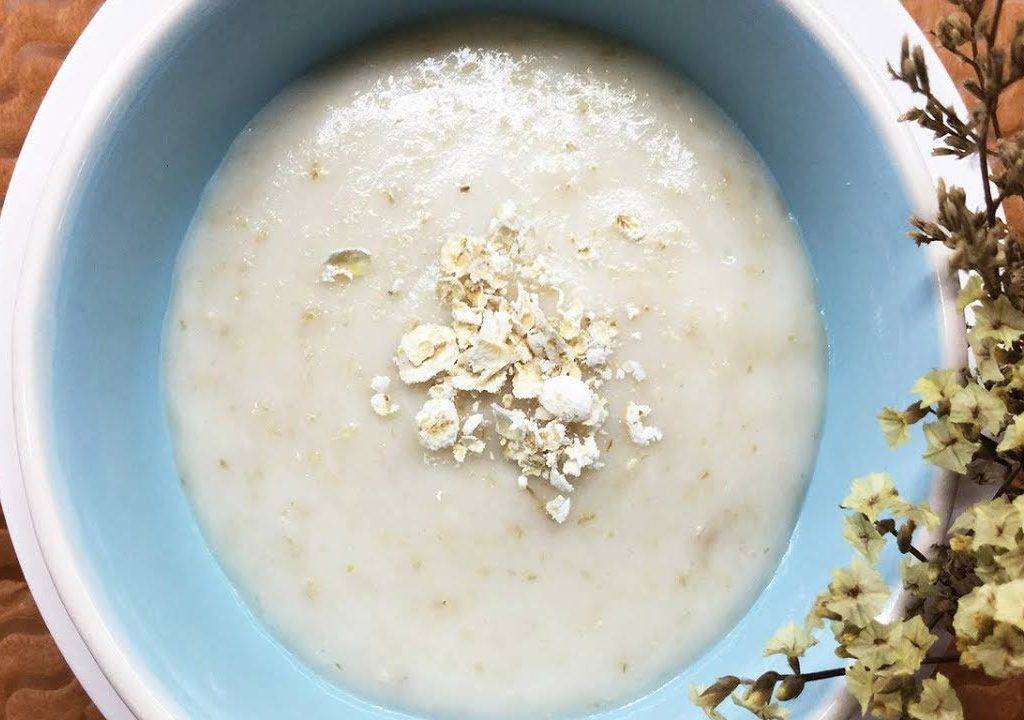 Sliced porridge is a dish that Bac Ninh people often cook at ceremonies to offer ancestors to express their gratitude. Sliced porridge is unlike any other porridge due to the extremely special cooking style. The rice is soaked until soft for half a day, then pureed and dried. When cooking, people will knead the dough with water; after that, they slice the dough into thin pieces, place them in a pot of boiling water and simmer with minced chicken and pork; finally, add little green onions and pepper every time you're ready to eat. A bowl of sliced porridge is only from 10.000 to 20.000 VND.
– Ninh Xa Nem Bùi (Spring Rolls)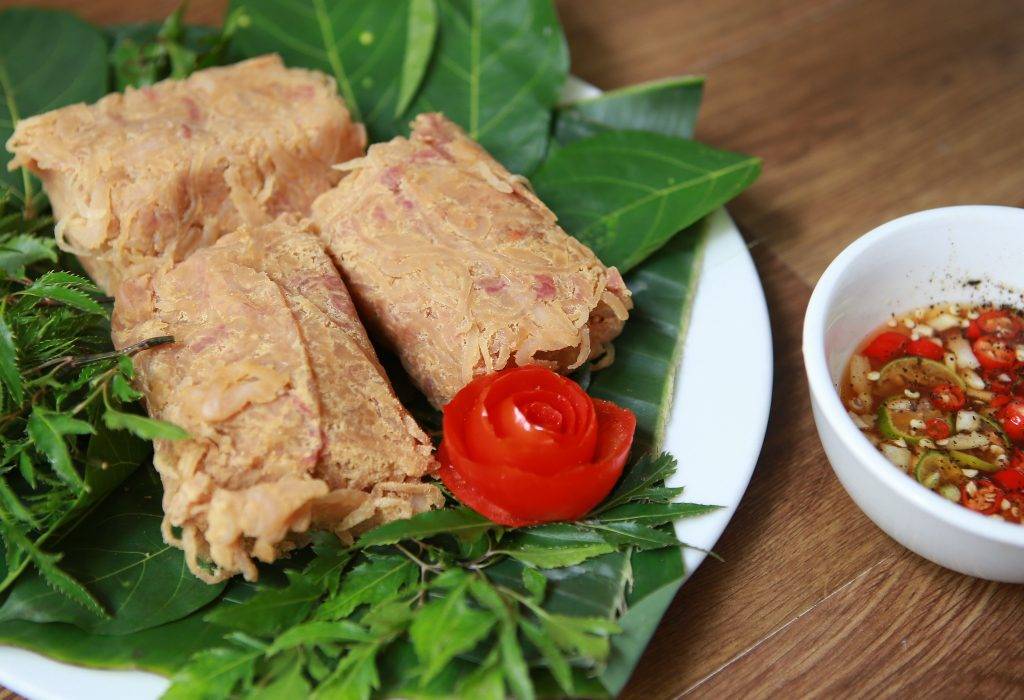 Many tourists visiting Bac Ninh want to rest and sip a cup of beer with hot and fresh Nem Bùi. Nem Bùi is made from minced pork and pork skin mixed with hot thính (roasted rice flour). The sweet and sour and sour taste of Nem Bùi attracts everyone so much that they have to buy some as gifts for relatives. The price of Nem bùi is about 40.000 VND/piece.
– Dinh To Tro cake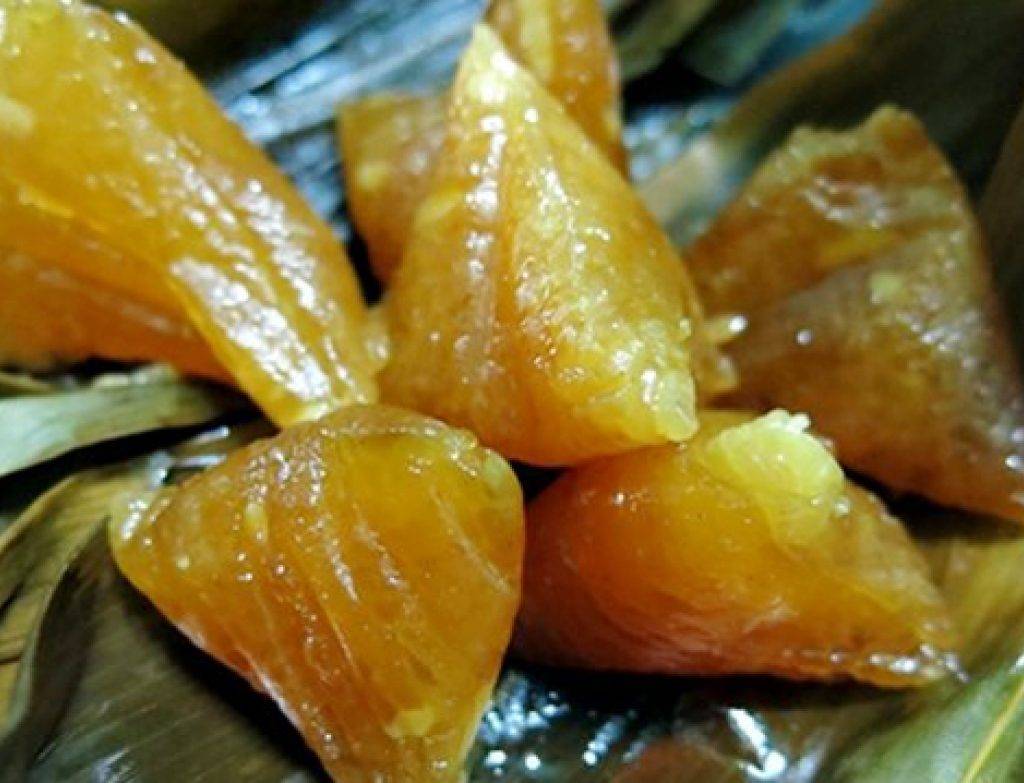 Made from yellow flower sticky rice powder soaked in Tro water (Alkaline water) from glutinous rice tree and lime water; then wrapped in banana leaves or dong leaves and brought to steam. Tro cakes are served with molasses, giving a cool, sweet taste that once eating, you will always remember. The price of Tro cake is about 55.000 VND/10 pcs.
– Ho chicken
Ho chicken is a rare breed in the Northern Delta region with a distinctive muscular body and delicious meat. It's so famous and rare that anyone visiting Bac Ninh has to enjoy this special dish; however, it's quite expensive costing about 1 million – 2 million dong/chicken.
– Da Ke Cake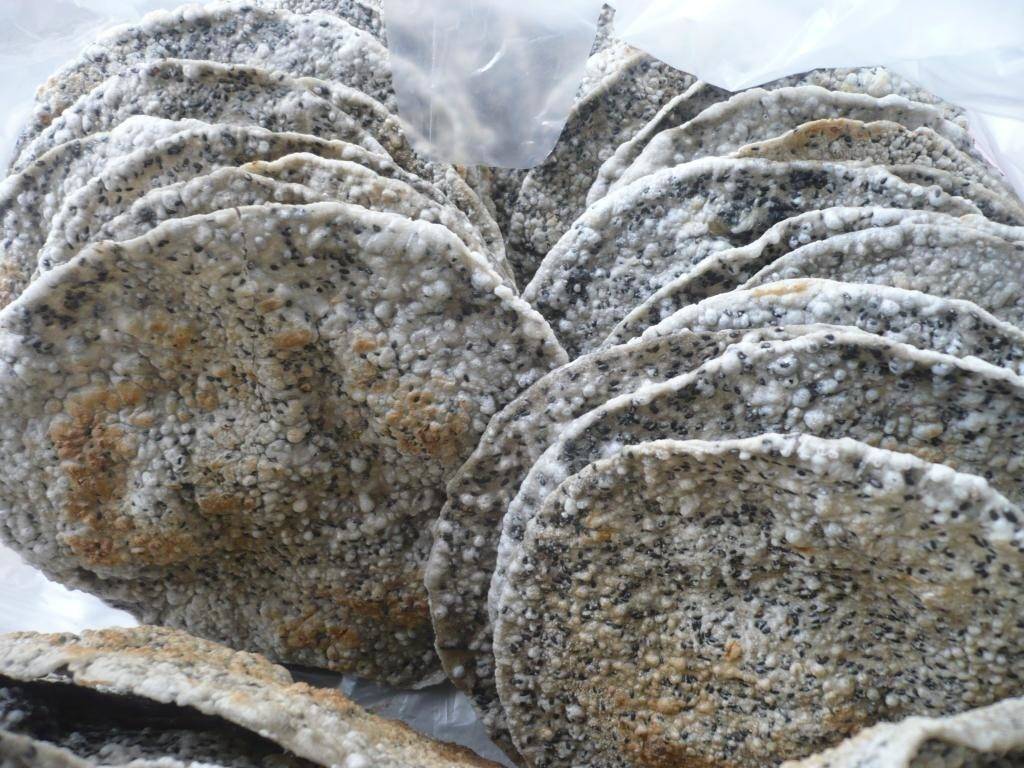 Da Ke Cake is a rustic dish containing bold flavors of Bac Ninh. The cakes, with shiny golden color, rich taste, and aromatic materials of peanuts, sesame, sweet potatoes, have become an indispensable gift for visitors to Bac Ninh. The price of Da Ke cakes is reasonable, only 10.000-15.000 VND/cake.
6. Notes when coming to Dong Ho Painting Village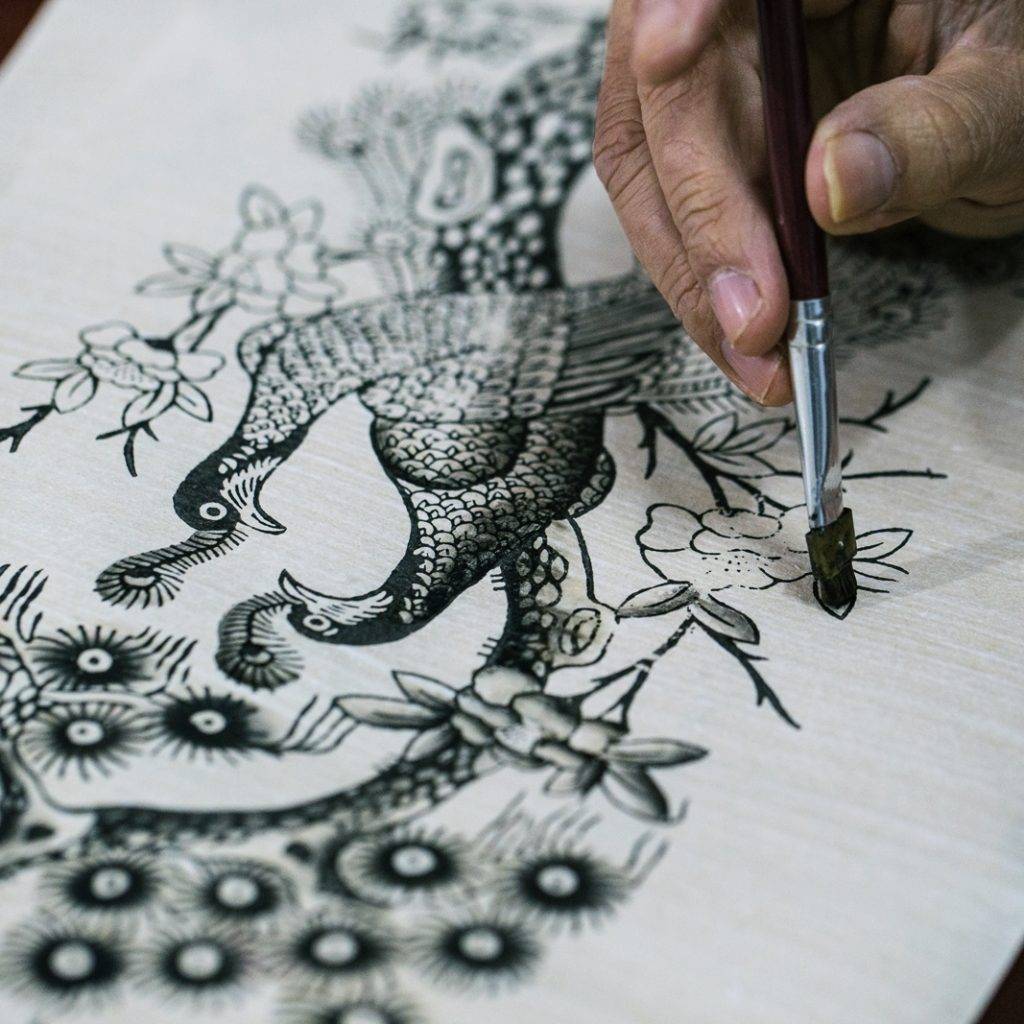 – Costumes: You should wear comfortable yet discreet clothes when visiting Ho village. Because Ho village tourism is combined with religious tourism, you also need to choose the most suitable outfit.
– If riding a motorbike, you should be careful while on the dike since serious traffic accidents often occur here.
– Ho village is peaceful and quite, exceedingly different from the noisy city, so if you are a fan of excitement, this is not a wise choice.
With a development history of nearly 500 years, Dong Ho Painting Village now brings along unique craft village features, creating a rich intangible cultural heritage treasure for the country. Dong Ho paintings strongly reflect the rustic and simple life associated with Vietnamese life, so it has a special attraction to innumerable generations of Vietnamese people as well as foreign tourists. Currently, Vietnam has submitted to UNESCO to include "Dong Ho folk painting profession" on the list of intangible cultural heritages that need urgent protection.