Explore Dak Nong with its newfound Geopark on red earth highlands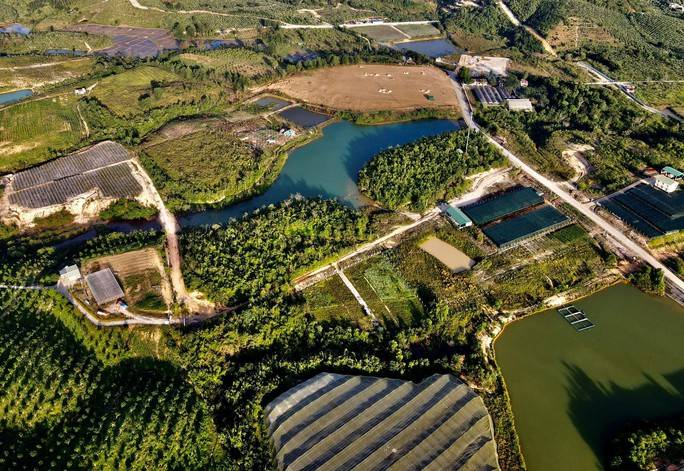 Situated entirely on the M'Nong plateau, with the climate and topographical characteristics quite similar to its neighbor – Da Lat, the young and wild Dak Nong province boasts as a rich basalt red soil land with diverse tropical forest ecosystem and vestiges of geological variation forming amazing craters and majestic waterfalls, along with signs of prehistoric human living. All the local biodiversity also create a wonderful UNESCO-recognized Dak Nong Geopark, which promises to be a worthy scientific and historical place for those who love off the beaten paths.
I. About Dak Nong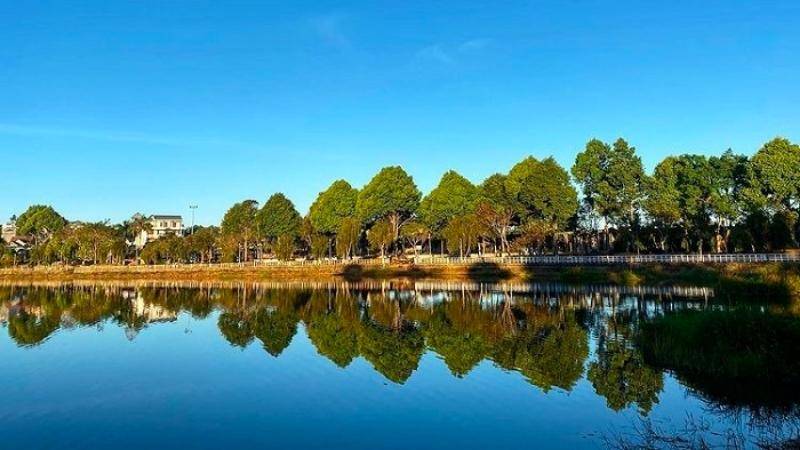 About 250 km south of Saigon and 120 km north of Ban Me Thuot city, bordering Laos to the west, Dak Nong has a quite diverse terrain alternating among valleys, plateaus, and high mountains with an average altitude of 600 – 800 m above sea level. The province has been home to various indigenous ethnic groups of Ma, M'nong, Ede, and some northern immigrants since the late 1970s.
The tropical weather and basalt red soil facilitate the cultivation of perennial cash crops, such as coffee, pepper, cashew, etc., which is also the main economic production activity of the locals.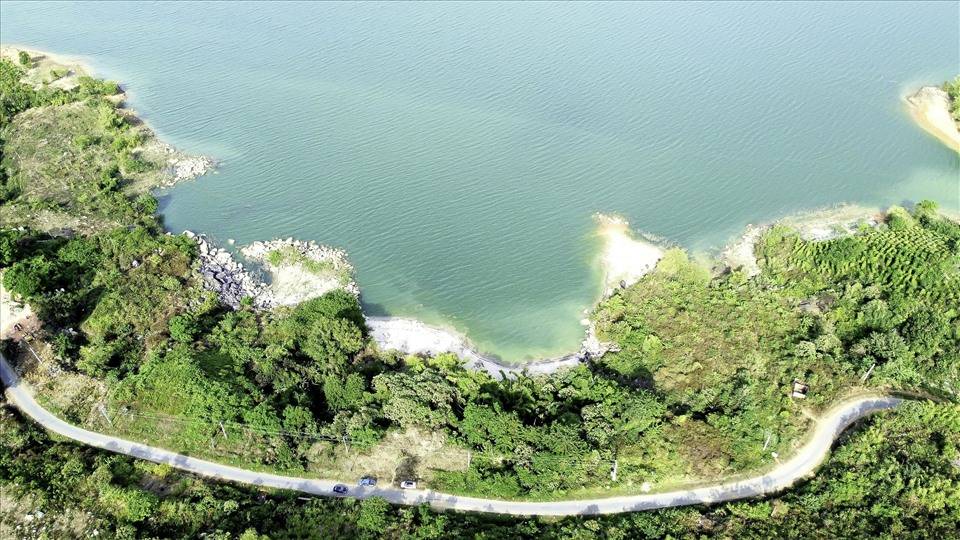 In December 2015, Dak Nong Global Geopark was established with an area of ​​4,7000 km2, with 65 geological heritage sites and 7 international geological heritage sites spreading over the area of ​​6 districts: Krong No, Cu Jut, Dak Mil, Dak Song, Dak Glong and Gia Nghia. To fully explore the park, you need to follow three specific routes – Rhapsody of Fire and Water (from Krong No to Gia Nghia), Wind of Change Concerto – (from Cu Jut to Gia Nghia), and South of the Earth (from Gia Nghia to Ta Dung).
The climate in Dak Nong is divided into two distinct seasons; the rainy season and the dry season. The rainy season is from May to October, while the dry season is from November to April next year. The best time for you to explore Dak Nong is from the end of October to March since the weather in these months is dry, chilly, and fresh for travel.
Read more: Adventurous off-road experiences by motorbike on Ho Chi Minh Highway
II. Highlight attractions in Dak Nong Geopark
1. Systems of volcanoes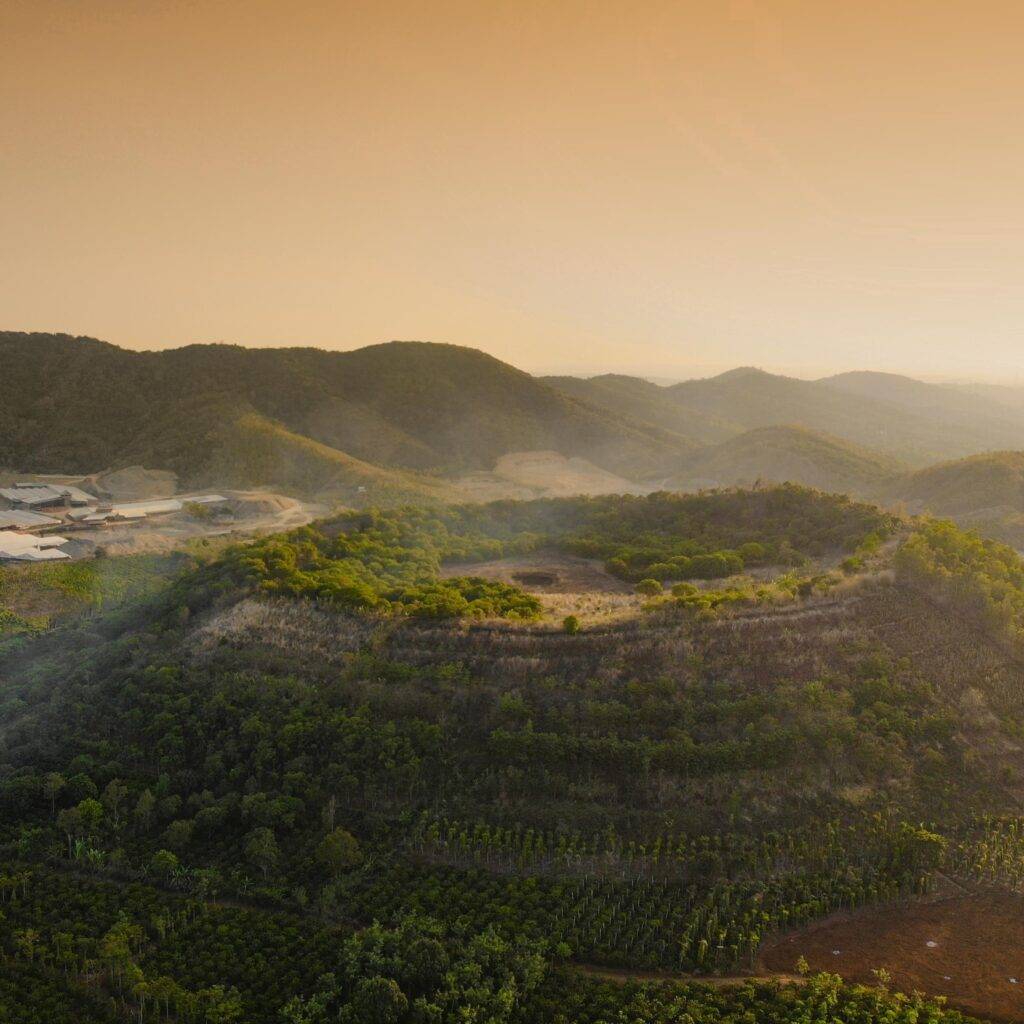 One of Dak Nong Geopark's great features is ancient volcanic clusters dating back millions of years. Some prominent names: Nam Blang, Bang Mo Nam Gle, Nam Kar, etc.
Nam Blang Volcano, or Chu R'luh, is one of the truncated volcanoes located in Krong No district that was active about 0.689 million to 0.199 million years ago. Nam Blang is the central eruption type and also the only volcano in the region, creating a system of 50 lava caves. In addition, the discovery of archaeological remains of prehistoric people living in this lava cave system has been an outstanding scientific value of this geological site.
Bang Mo Volcano, formerly known as Ea T'Linh, in Ea T'Linh town, Cu Jut district, is a young volcano of central eruption type, dating from 200,000-600,000 years ago. Around this area scatter slag, ash, rocks, and volcanic bombs. Climbing to the crater takes about 30 minutes. Since the slopes are gentle, it is suitable for tourists of all ages. From the top, visitors can zoom in on the whole space of a peaceful town.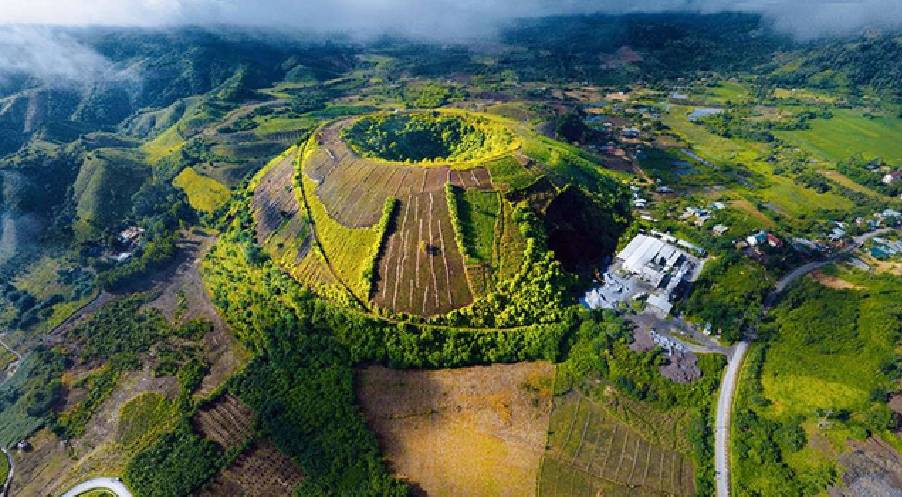 Nam Gle Volcano in Dak Mil district has a distinctive shape compared to the rest of the volcanoes in the Geopark. It features an oval shape extending into a narrow trough; the lowest part creates a long deep narrow trench. From above, this volcano looks like two pieces of mussels facing each other, which is a combination of fissure and explosive eruptions. Right next to the volcano stands a natural lake. According to the researchers, the formation mechanism of the lake may be related to this volcanic activity.
The Nam Kar crater group includes 1 main crater (M) and 2 auxiliary craters (S1, S2), located in Krong No district, adjacent to Dak Glong district. The activity of the Nam Kar volcano occurred 5.3 – 0.78 million years ago. Volcanoes have a truncated cone with a funnel-shaped mouth in the middle; the surrounding rim of the mouth is raised high, typical for the central eruption pattern. Despite its small scale, Nam Kar has unique "satellite volcanoes" in terms of formation, structure, and divergence.
2. Chu Bluk Volcanic Cave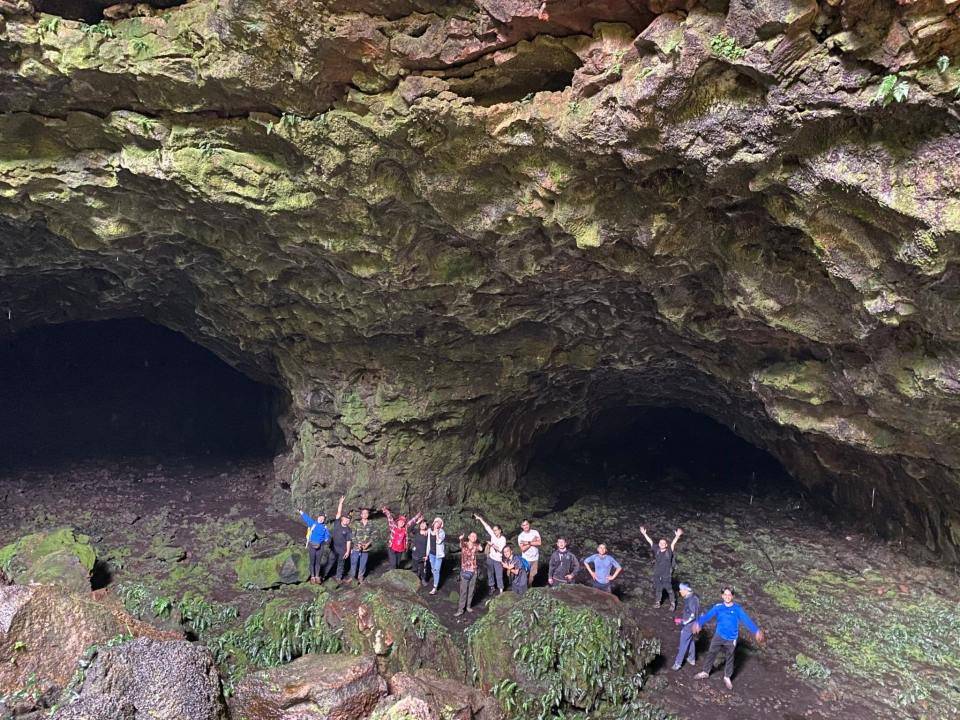 Chu Bluk cave complex is the longest volcanic cave in Southeast Asia, including 5 caves labeled C3, C7, A1, C8, C9 hidden in basalt. The system extends from the area of ​​Dray Sap waterfall to Buon Choah cave, in the Krong No district. The residents often call it Bat Cave as this is the real territory of this nocturnal animal. They also consider Chu Bluk Volcanic Cave not a top place to visit because of its wilderness, hard-to-find location, and undeveloped service. However, this has contributed to preserving the originality of the cave until now.
To get here, you need to trek through a 25km long forest hard road along the Se-re-pok river. Once reaching there, you will be surprised with the abundance of caves, some can be hundreds – thousands of meters long. If the outside is a dry, rough forest, the inside is a strong and diverse growth of green vegetation alternating between zigzag lava patterns. Additionally, in the middle of some caves are natural skylights to help sunlight shine and fresh air get in, making the inside space always airy, less stuffy, and cramped. Since the caves are rather dark, bear in mind to equip some flashlights, as well as, try to follow an experienced guide to make sure you will not get lost.
3. Majestic waterfalls
The division of the earth's crust has brought Dak Nong innumerable magnificent waterfalls hidden in primeval forests. Three famous waterfalls in the Geopark that you cannot miss are D'Ray Sap, Gia Long, and Lieng Nung.
As one of the clusters upstream of Se Re Pok River, D'Ray Sap is the most beautiful waterfall in Dak Nong with a height of 50m and a length of 100m. D'Ray Sap was created by the geological plate collapsing from ancient times, forming a large valley, cutting across a river, and creating a waterfall. To reach the waterfall, you have to go down a long stair, surrounded by a green forest – that is a paradise for photography. At the foot of the waterfall is a cool, clear spring where we can comfortably swim.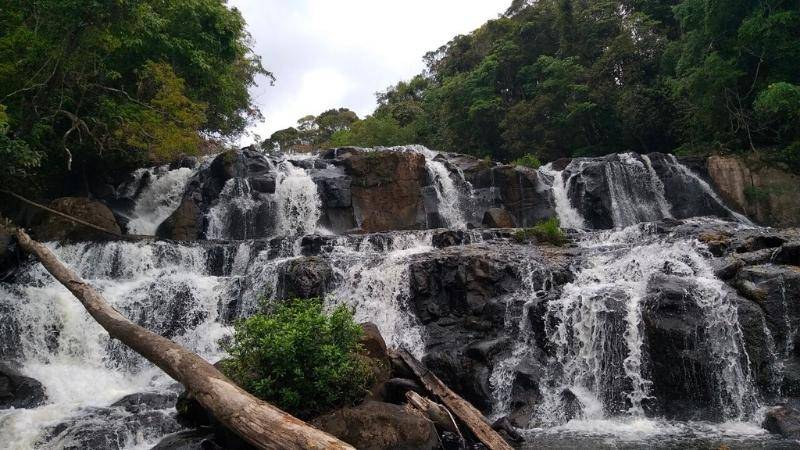 Although located in the tourist area of ​​D'Ray Sap, Gia Long is fairly deserted due to its remote location. The road from D'Ray Sap to Gia Long has been paved, so it is quite easy to go through even in the rainy season. There is an artificial tunnel connecting the surrounding roads, a suspension bridge abutment built by the French in the 30s, as well as the most beautiful flood-blocking stone embankments in Vietnam were also set up at the same time. The ecosystem around here is extremely rich. Throughout the waterfall are countless ancient forest trees, many of which are hundreds of years old. The primary forest is strictly conserved to retain its diversity.
The last name of the three is Lieng Nung Waterfall. The road down to the waterfall is noted by a small sign saying not to ride motorbikes down as the road is narrow, steep, and slippery, especially in the rainy season. It takes about 1km to walk on the concrete road straight to the waterfall. Along the way, you will pass the fields, lush bushes along the turbid Dak Nia stream. The waterfall has a very unique structure; the high cliff rests on a large cave, from which water flows down the stream. Inside the ceiling of the cave is a structure of hexagonal rock blocks close together like a giant honeycomb and diverse vegetation. Still, it will be difficult to reach the cave because the rocky area here is quite slippery.
Read more: 4 thrill-seeking activities to try in Datanla Waterfall
4. City of yellow flower – Gia Nghia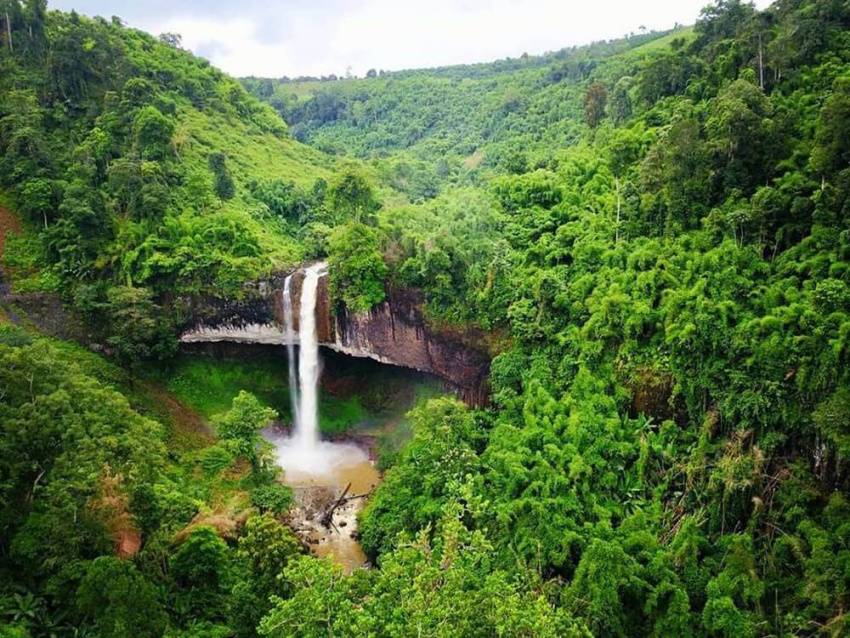 Gia Nghia is quite peaceful and simple without too much urbanization; as a result, there are still a lot of green trees, fresh pine hills, and undiscovered wonderful waterfalls. This is also the province's central location with various entertainment activities and services, connecting with other tourist destinations in the Dak Nong Geopark tourist routes.
The name "city of yellow flower" is derived from the successive seasons of bright yellow flowers blooming all year round. At the end of the wild sunflower season, the osaka flowers begin to bloom before the flamboyant flowers cover the landscapes in summer. At the end of the year, which is also the time of Osaka flowers, all roads are dyed with yellow, creating a very typical image for the youngest city in the Central Highlands.
5. Ta Dung Nature Reserve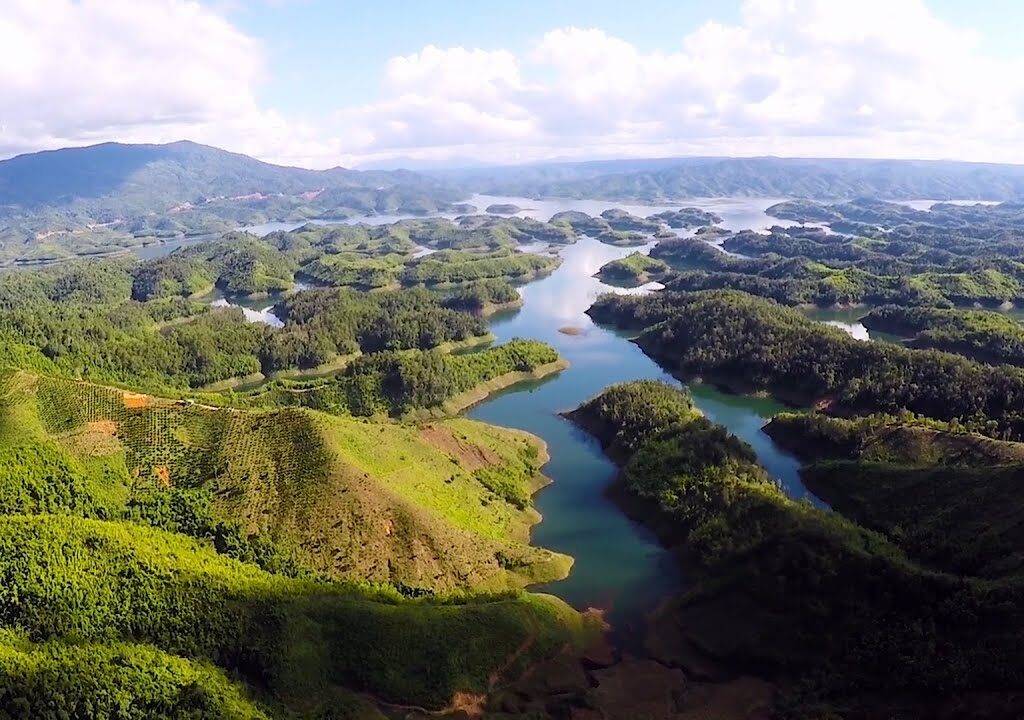 Ta Dung Nature Reserve covers an area of 22,103 ha, covered with green forest and many rare and precious species of flora and fauna, many of which have been recorded in the Red Book. This place includes Ta Dung Lake and the mountain of the same name, going deep inside the reserve you can also see Dak N'teng stream – the upstream of two very spectacular waterfalls.
The most special attraction here is still Ta Dung Lake, which was originally a valley on the side of Ta Dung mountain with the Da Dang River flowing through it. The Dong Nai 3 hydropower projects have turned this mountain valley into a vast lake, which perhaps the project planners did not expect about the beauty that it brings to Dak Nong landscapes. Nature here seems to grow and roam freely where it pleases. Without any rule or human influence, lakes, oases, and mountain peaks develop in the most pristine and wild way. Ta Dung is cool all year round, and the most beautiful time to visit the place is the dry season from October to December, when the bright sun covers during the day, while it will turn chilly at night and early in the morning.
III. How to get to Dak Nong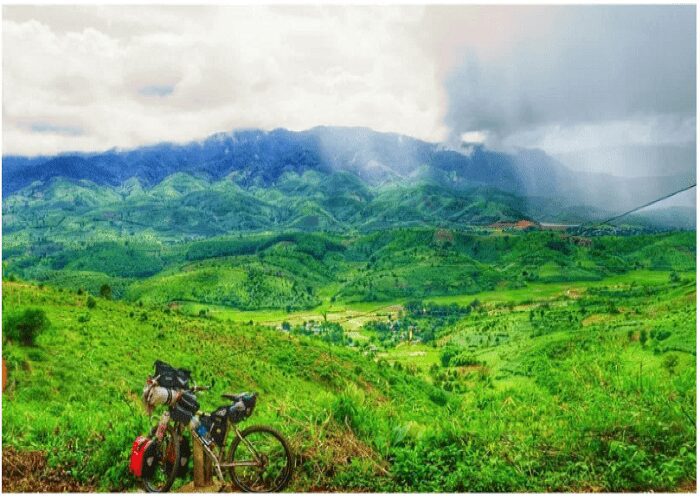 There is currently no airport available here; the nearest airport to the center of the province is in Buon Ma Thuot city with a distance of 120km. After landing at Buon Ma Thuot Airport, you can use buses or taxis to move to Gia Nghia city.
Currently, all airlines in Vietnam have flights to Buon Ma Thuot, departing from Hanoi, Hai Phong, Da Nang, and Saigon. The round trip airfare from Hanoi or Da Nang is about 1,500,000 – 2,000,000 VND, while from Saigon is about 1,000,000 -1,500,000 VND.
For tourists in Sai Gon, you can also catch buses of Duyen Ha, Hoang Long, Minh Tuan at Mien Dong Bus Station to get to Dak Nong for about 6-7 hours. Or, if you are passionate about conquering long routes by motorbike, get your two-wheels ready on this following route: Saigon > Binh Duong > So Khao junction > Chon Thanh intersection > Dong Xoai commune > Dong Xoai roundabout > Highway 14 > Gia Nghia.
*Getting around: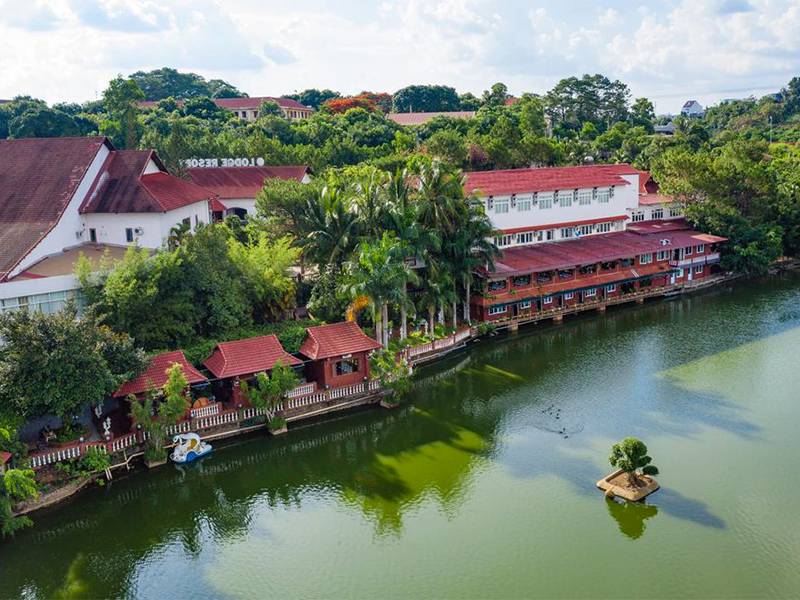 To move between Dak Nong districts, besides personal motorbikes, you can call a taxi as a means of transportation at 12,000 VND/km. However, try to negotiate a package price on travel time and distance with the driver to get the best deal.
Some taxi companies in Dak Nong:
Mai Linh Taxi: 0261 3 545 545
Gia Nghia Taxi: 0261 3 939393
Viet Duc Taxi: 0261 3 678 678
III. Accommodation
Although it is not a famous tourist destination, there are many hotels and motels in Dak Nong for you to choose to stay. It's recommended to choose Gia Nghia as the center to rest in due to its convenient location to reach other tourist attractions. Room rent ranges from 150,000 – 600,000 VND/day. The rest points also support motorbike rental at a relatively cheap price for your reference, only about 70,000 VND/car/day.
*Suggestions:
1. New Sunrise Hotel
Address: Dien Bien Phu Street, Nghia Trung Ward, Gia Nghia, Dak Nong
Phone: 0261 3717 777
2. Dak Nong Lodge Resort (three-star hotel)
Address: Zone 3, Nghia Trung Ward, Gia Nghia Town, Dak Nong
Phone: 090 548 71 72
3. Ta Dung TopView Homestay
Address: Hamlet 3, Dak Som, Dak Glong, Dak Nong
Phone: 097 350 02 32
4. Me Garden Homestay Daknong
Address: Church, Hamlet 8, Dak RLap, Dak Nong
Phone: 093 329 76 31