Dong Van Karst Plateau – The spectacular hill-tribe region in Ha Giang
Recognized as a UNESCO Global Geopark, Dong Van Karst Plateau – Ha Giang with an area of 2356.8 km2 attracts thousands of domestic and foreign visitors annually thanks to picturesque limestone ridges close to the Tropic of Cancer and valleys, rivers, streams much divided – those are the remains after many phases of forming the Earth's crust.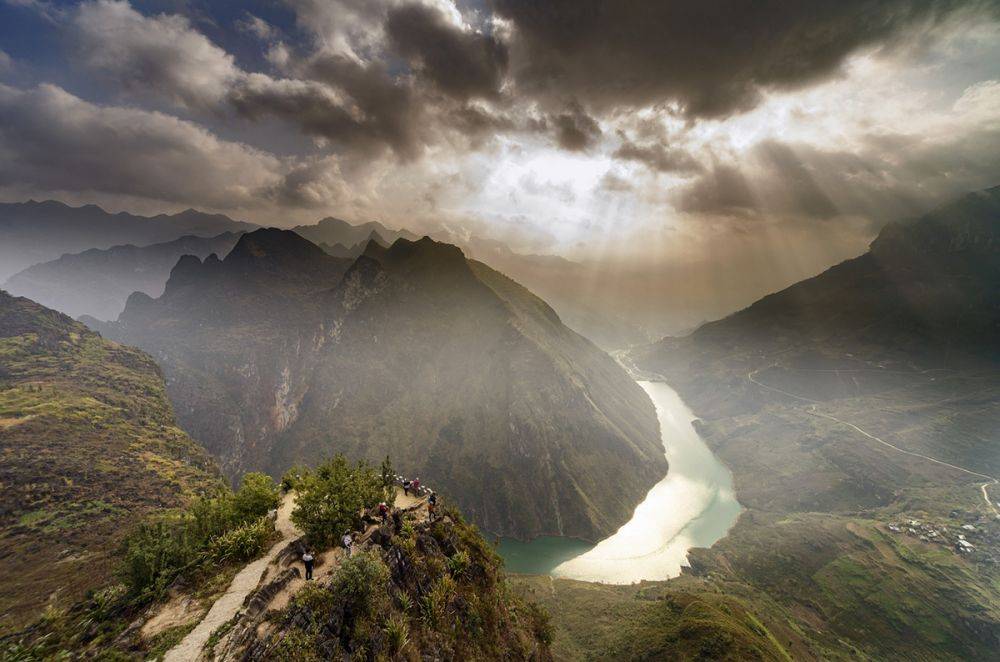 Additionally, the indigenous lifestyle of more than 17 ethnic groups here is also a highlight. Tourists can not only learn their interesting stone-hole farming techniques but also join weekend love markets, where you will enjoy traditional strange street food – like Thang Co, or shop handicraft items, from sparkling jewelry to colorful brocade customs and other cultural items of this karst region.
1. About Dong Van Karst Plateau
Located at an average altitude of 1400 – 1600m above sea level, Dong Van karst plateau, also the transition edge between the northern midlands of Vietnam and the Yunnan plateau (China), stretches across 4 Ha Giang districts, Quan Ba, Yen Minh, Meo Vac and Dong Van. This region is one of the rare areas retaining traces of the Earth formation from the Devonian to Pecmi periods, clearly shown through the exposed gray cat-ear rocks that occupy 80% of the area; therefore, Dong Van plateau is likened to the gray paradise of Ha Giang.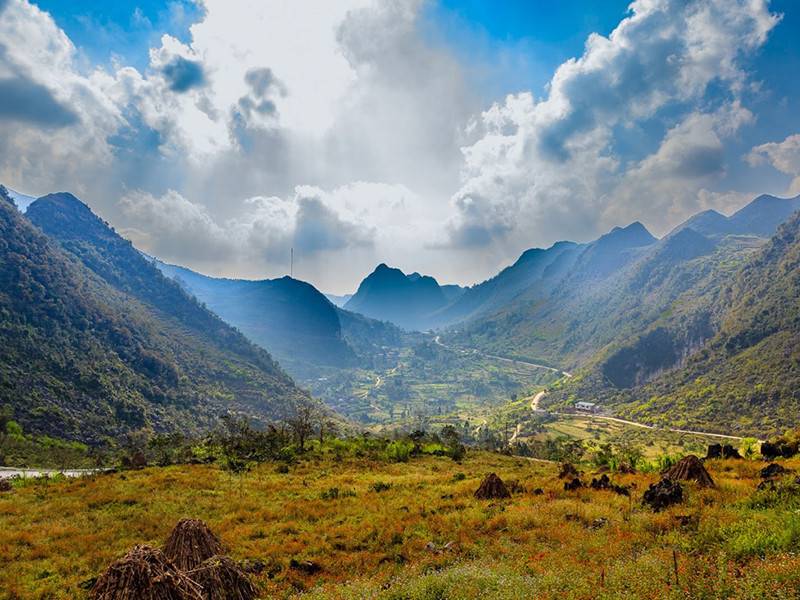 In addition to the geological and landscape values, Dong Van karst plateau contains the traditional cultural values of ethnic minorities, such as H'Mong (majority), Lo Lo, Pu Peo, Dao, etc.
Their distinctive culture is evident in tinh truong houses surrounded by solid rock fences. The talented family men carefully choose and arrange rough stones into a firm hedge without using cement or any other adhesive material. They believe that these fences show the man's thoughtfulness to his family; the more beautiful and hardened, the more wonderful the husband is.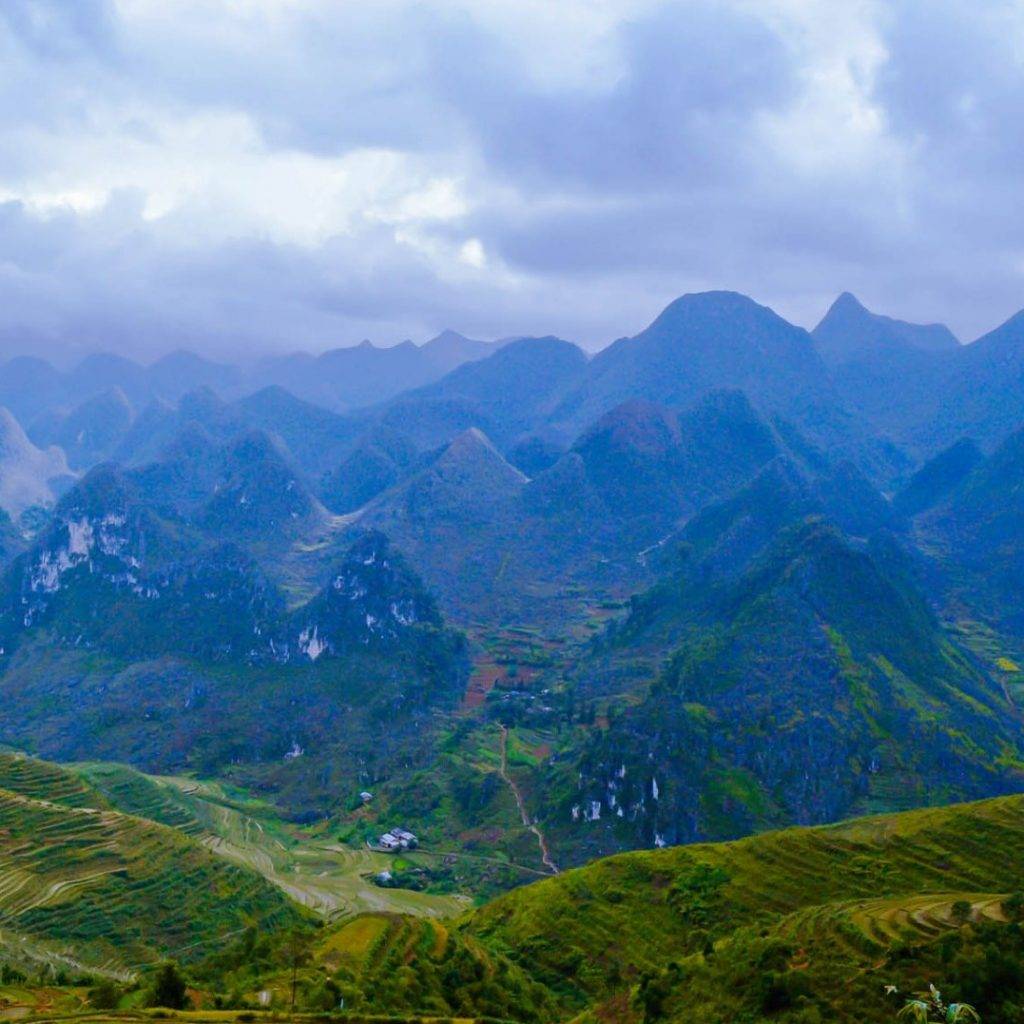 Due to the limestone mountain terrain, lack of arable land, the residents have to take advantage of each rock hole to cultivate. They farm on land mixed with rocks, put rocks around the land to prevent erosion; or pour soil into natural rock holes to make farming pits. This creative agricultural form not only helps local people adapt to special natural conditions but also protects the ecological environment in the area. Nowadays, to improve their lives, ethnic boys and girls here become tour guides to lead visitors to geological sites, historic places, and even to their homes to experience local people's daily life.
Speaking of their famous festivals, it is impossible not to mention Khau Vai Love Market (Meo Vac) in March of the lunar calendar every year. This fair is not for business, but for couples who love each other but can't be together to meet and share things in life. Also, they participate in numerous traditional sports activities, such as nem con, tug of war, pushing sticks, shooting crossbows, and dancing with Khen.
2. The best time to visit Dong Van Plateau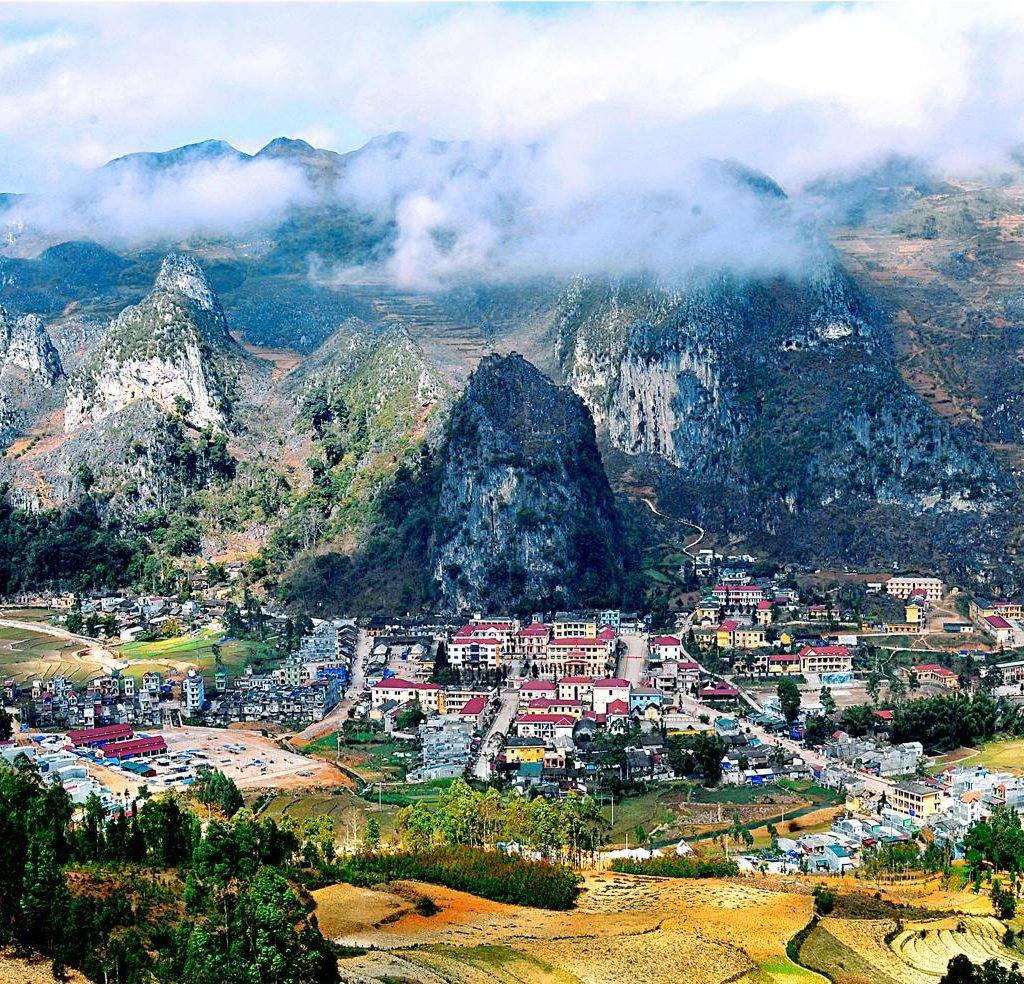 The weather in Dong Van Plateau is cool all year round; in winter, the temperature sometimes drops to 1ºC, but in summer, the hottest day is only about 24ºC.
At each time, the place has a different beauty with a typical flower. February is the time of cherry blossoms and plum blossoms; April-March is the season of brilliant red rice flowers; April-May is when rains appear; June-August is the time for cultivation; September-October is the season of ripe rice, and October-December is full of buckwheat flowers and yellow mustard flowers.
However, the most ideal time to come here is during the dry season (September-December) because the weather is not as cold as the winter, and the dry road will be more convenient for your trip.
3. How to get to Dong Van Karst Plateau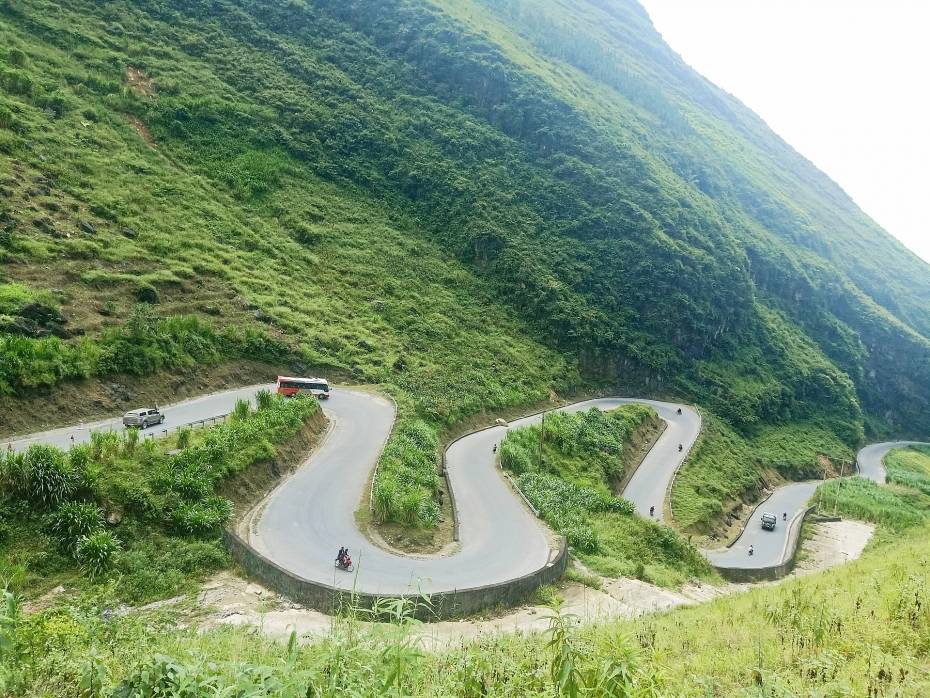 It's common to travel from Hanoi to Ha Giang, then move to Dong Van. The distance from Ha Giang city center to the plateau is about 130km. You can use motorbikes, cars, or buses along 4C Highway for 43km to Quan Ba, then continue on this road through Can Ty Pass to reach the karst plateau.
The mini buses take around 4-5 hours from Ha Giang to Dong Van and cost 120,000VND/seat, departing at 5:00 and 12:00. Meanwhile, the motorbike rental price is about 150,000 – 200,000 VND/day.
Since the road is rather dangerous with sharp turns, motorbikes are only suitable for experienced riders; plus, avoid using scooters and rainy days if possible. Another good option for those who are afraid of riding a motorbike or don't know how to drive is to hire a professional motorbike rider who acts equally as a tour guide. You will just sit behind them and enjoy the scenery while they are instructing you about the destinations.
4. Where to stay in Dong Van Plateau
Although there are no luxury hotels with mountain views or stuff, the accommodation in Dong Van town still provides you a good stay at a very reasonable price.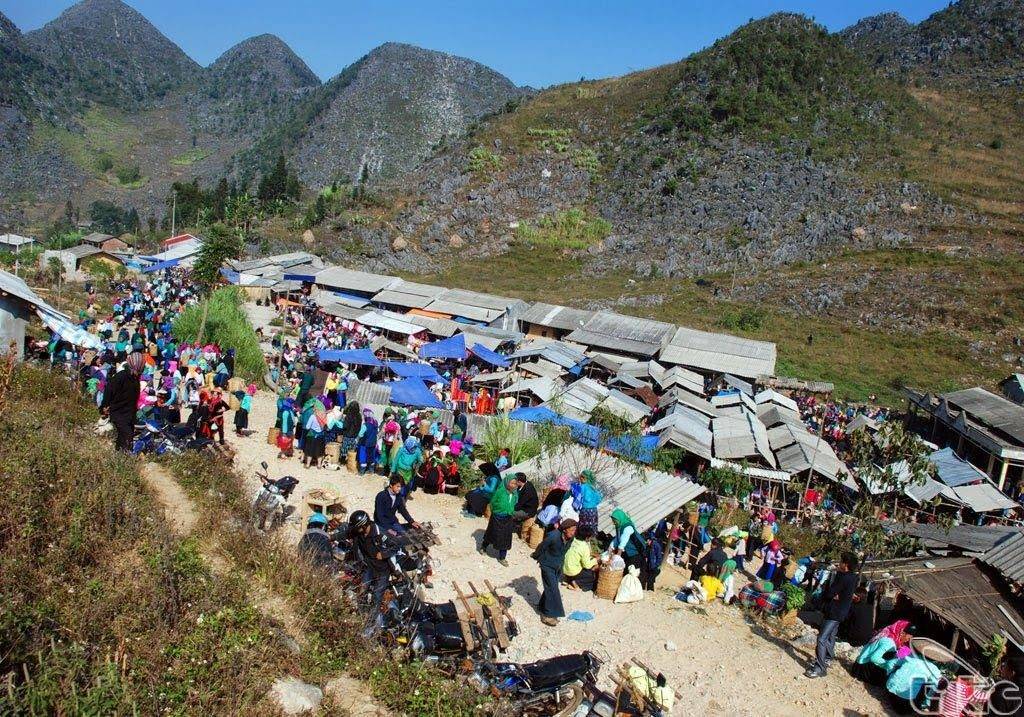 If you want to have a fully-equipped place with a comfortable bed, you can contact hotels, such as Cao Nguyen Da, Hoang Ngoc, Lien Hoa, Lung Cu, Khai Hoan with the price from 150,000-300,000 VND/room. On the contrary, staying in homestays which are basically old wooden stilt houses of local people is genuinely a good chance to experience their rustic life; you may sleep on the floor with flat mats but in return, be able to light a campfire, prepare traditional food and watch their daily activities. The homestay price in the village ranges from 70,000 to 90,000 VND/room.
5. Tourists attractions in Dong Van Karst Plateau
Dong Van Karst Plateau is home to multiple attractive tourist spots and national scenic relics that have been recognized, such as Vuong Family's Palace, Dong Van Old Quarter, Ma Pi Leng Pass, Mountain Quan Ba, etc.
Vuong Family's Palace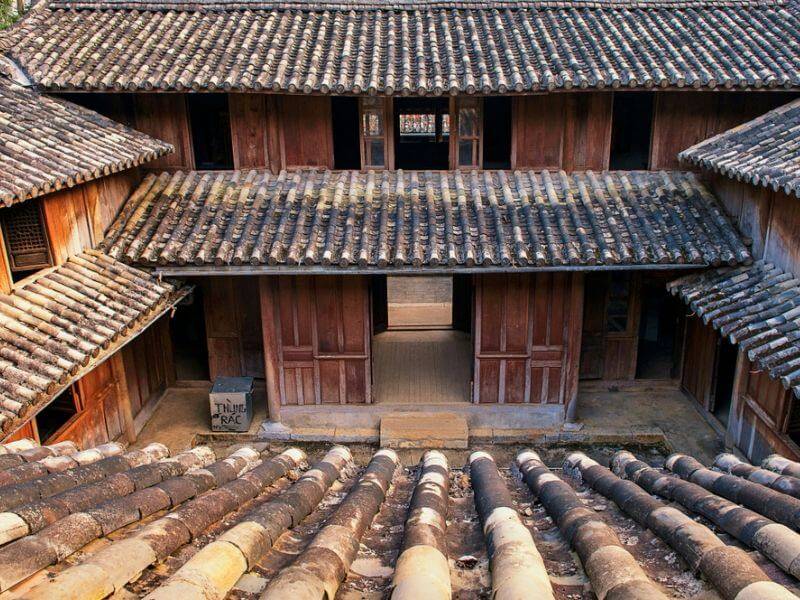 Vuong Family's palace, also known as Meo King's palace, is located in the valley of Xa Phin commune, about 24km from Dong Van town. This unique building in the early 20th century simulated the architectural style of the Manchu (China), built on a tortoise-shaped hill in the Sa Phin valley and surrounded by high mountains. The ancient people believed that building a house on the back of a tortoise would be a sign of wealthy life.
The palace occupies an area of ​​over 1000 square meters, including 10 houses. All the materials for the house are made from ancient precious wood and the roof is covered with tile. It took 5 years to finish the construction since all are built with human power, not using any means of machinery.
Dong Van Old Quarter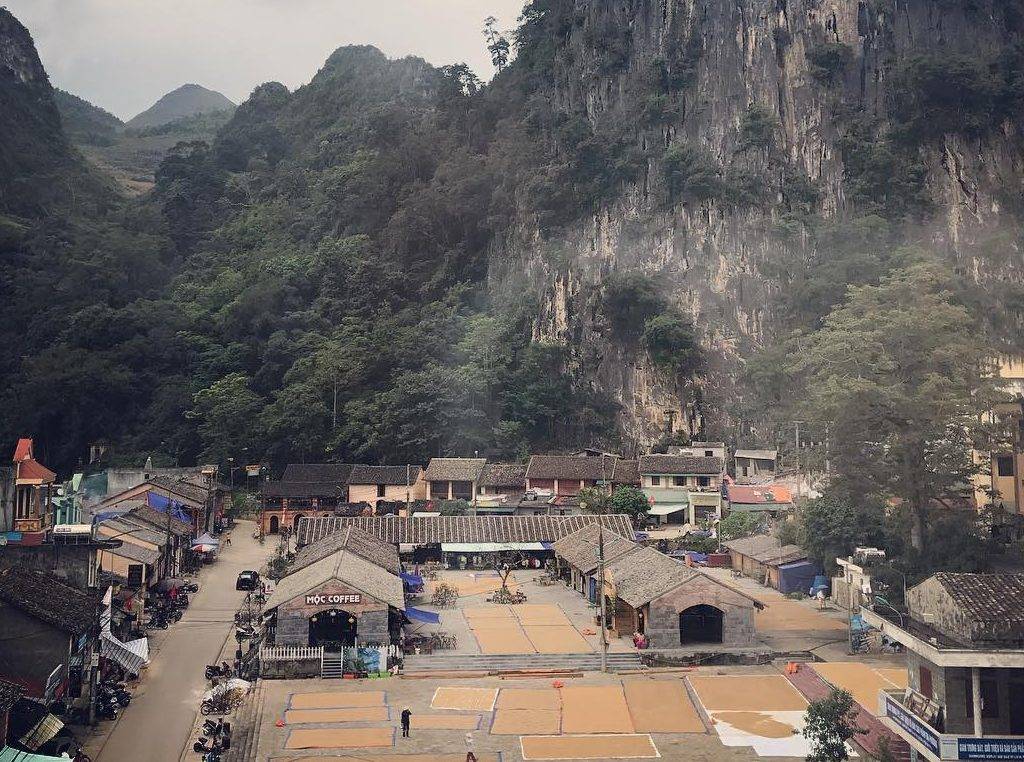 This old street stretching nearly 1km was formed in the 80s of the 19th century; at that time, the French arrived here and began to pave the way, as well as build houses close to the foot of the mountain. Gradually, a residential community was formed with families of H'mong, Tay, Chinese, etc.m, living by farming and hunting.
Most of the tuong trinh houses have the typical texture of frontier residents (solid columns, few windows) blending with ancient southern Chinese architecture (sweeping roofs, carved wood) and French architecture (stoves and chimneys). The combination of cultures, the climate and indigenous materials through different periods has created a unique old town.
Ma Pi Leng Pass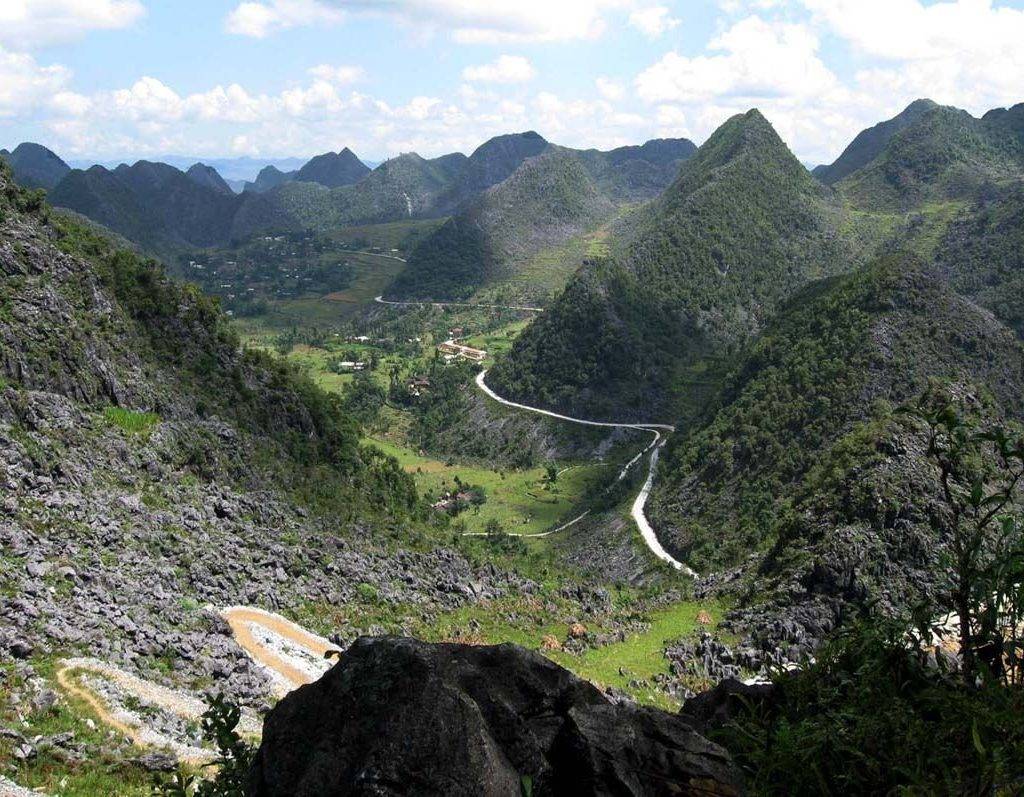 Rated as one of the ''four great mountain passes'' in the northern mountainous region of Vietnam, Ma Pi Leng Pass is a challenging 20-kilometer pass with steep, unexpected roads sometimes covered by thick fogs.
However, the awesome scenery awaits you after overcoming the bumpy road. From the top of Ma Pi Leng, the majestic mountain scenery with one side is a steep cliff; the other side is the deep Nho Que River with emerald green water; the North and Northeast are thousands of gray rocky mountains stretching.
Quan Ba Twin Mountains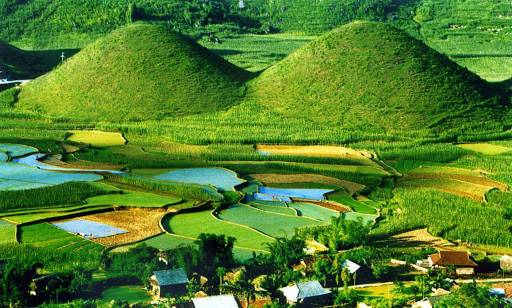 This destination is situated on National Highway 4C, about 40km from Ha Giang town, in Quan Ba district. The reason why people called it Nui Doi (twin mountains) is because two almost equal mountains lie parallel like a woman's breasts. The conical structure of these mountains comes from the weathering of dolomite rock. At the foot of the mountains are beautiful terraced fields and lush trees all year round.
Before leaving Quan Ba mountain to reach Dong Van Karst plateau, tourists should visit Quan Ba Heaven Gate where you can have an impressive panorama of Dong Van Global Geo-Park, immense rice terraces, and local villages.
6. What to eat in Dong Van Karst Plateau
Thang Co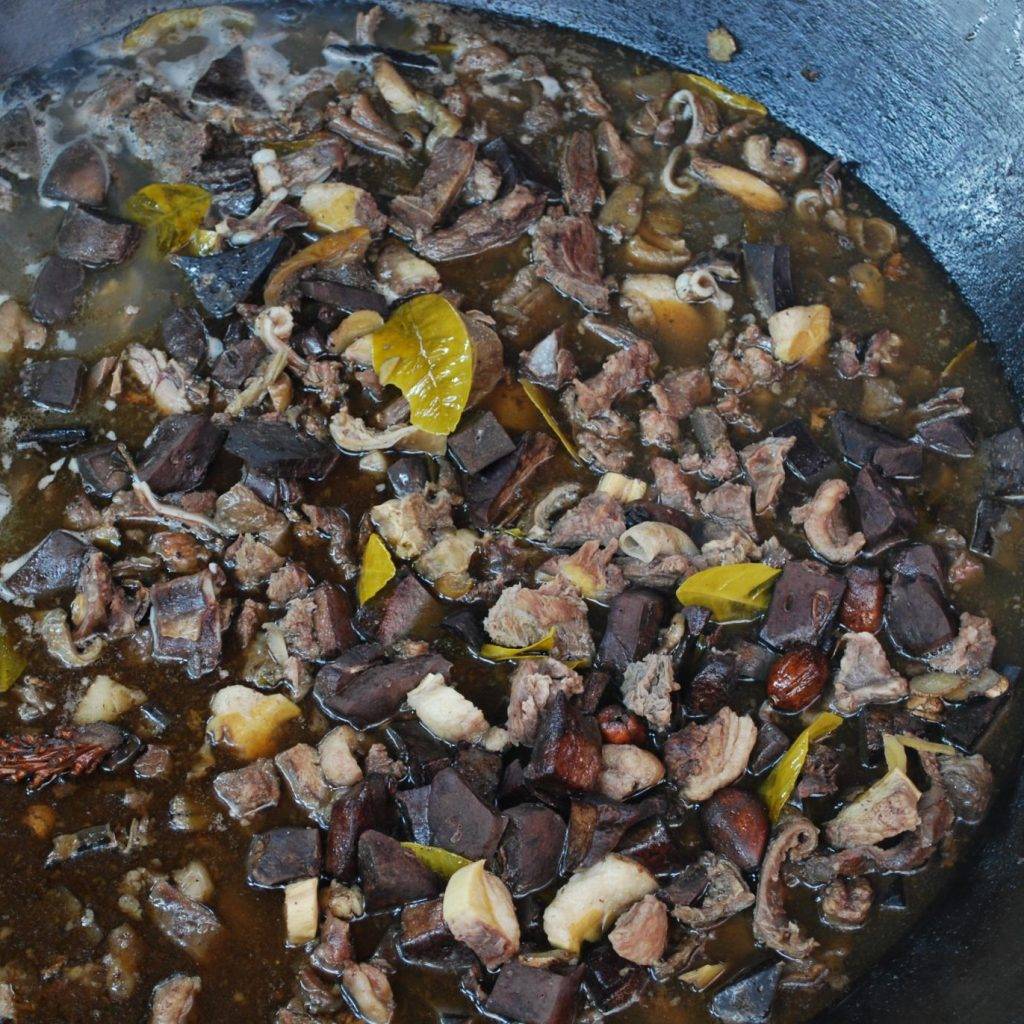 The main materials for Thang Co are horse meat and its entrails. After pre-processing, people season the meat with 12 different herbs, then stew in a large pot for 1 hour. In fact, Thang Co is not really easy to eat for most tourists but it has a totally special taste that makes diners unforgettable. A bowl of Thang Co has the price of about 20,000 – 30,000 VND, depending on the size.
Thang Den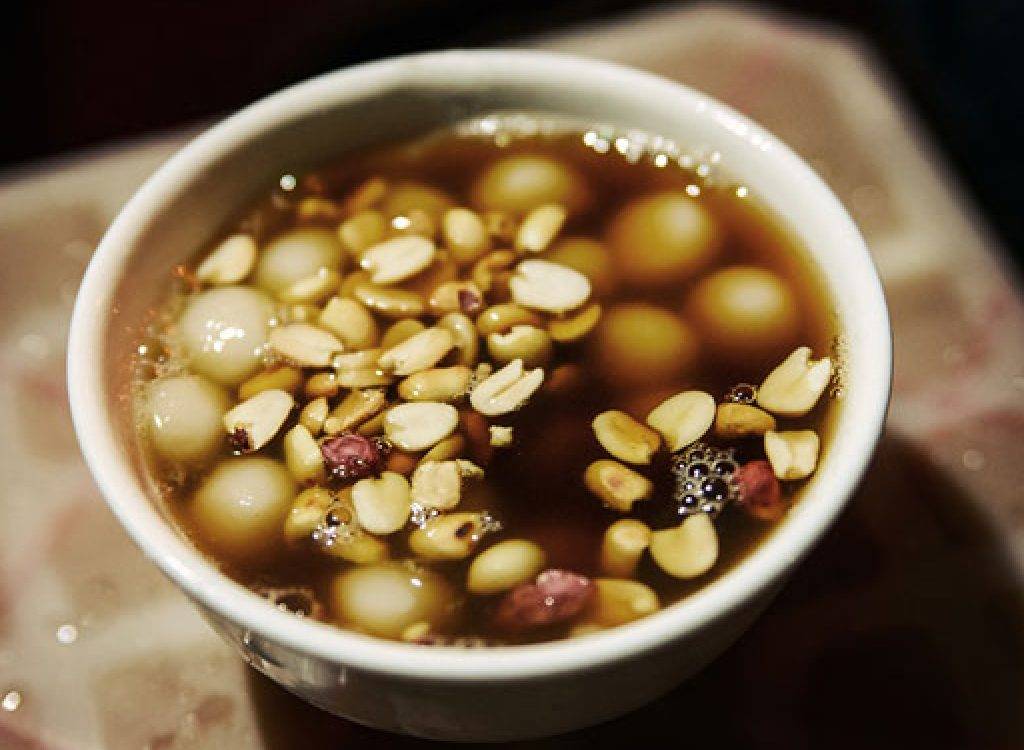 This dish is quite like Banh Troi Nuoc but the taste is rather different, and the price is also cheap, only 5,000 VND / bowl. Each piece of Thang Den cake made from glutinous rice is shaped in a circle, filled with beans, sesame, and coconut. The cake after being boiled will be eaten with water cooked from sugar and ginger.
Banh Cuon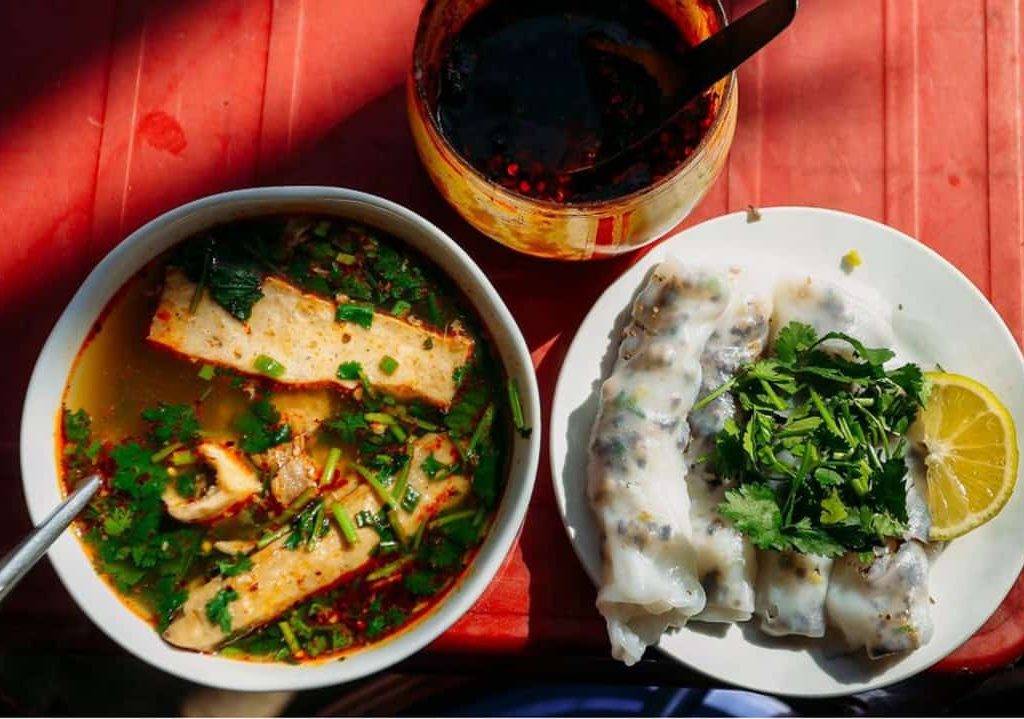 Banh Cuon (steamed rice rolls) in Dong Van are basically processed like other places; the crust is thinly coated with meat or eggs. Yet, the special feature here is that the cake is served with simmered bone sauce instead of the usual fish sauce. People here think that bone soup will warm your body more than fish sauce, suitable for the cold climate on the highlands. The price for a plate of Banh Cuon is from 20,000 VND.
Men Men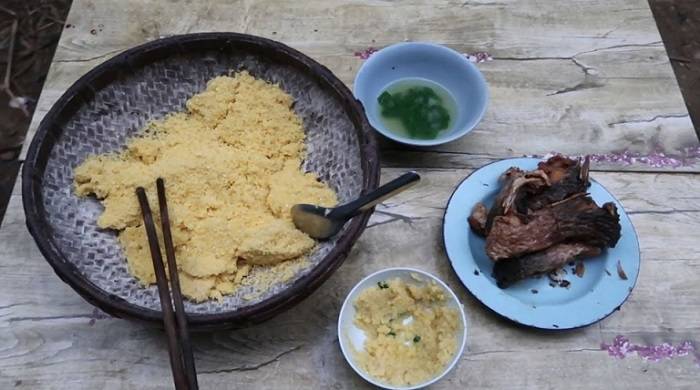 The name Men Men is derived from the Mandarin Chinese, meaning steamed cornstarch. The dish is made from dry cornstarch steamed and then placed in a pan of water to boil until fragrant. Men Men is often served with vegetable soup, pumpkin soup, or bean soup in H'Mong people's daily meal.
Tam Giac Mach cake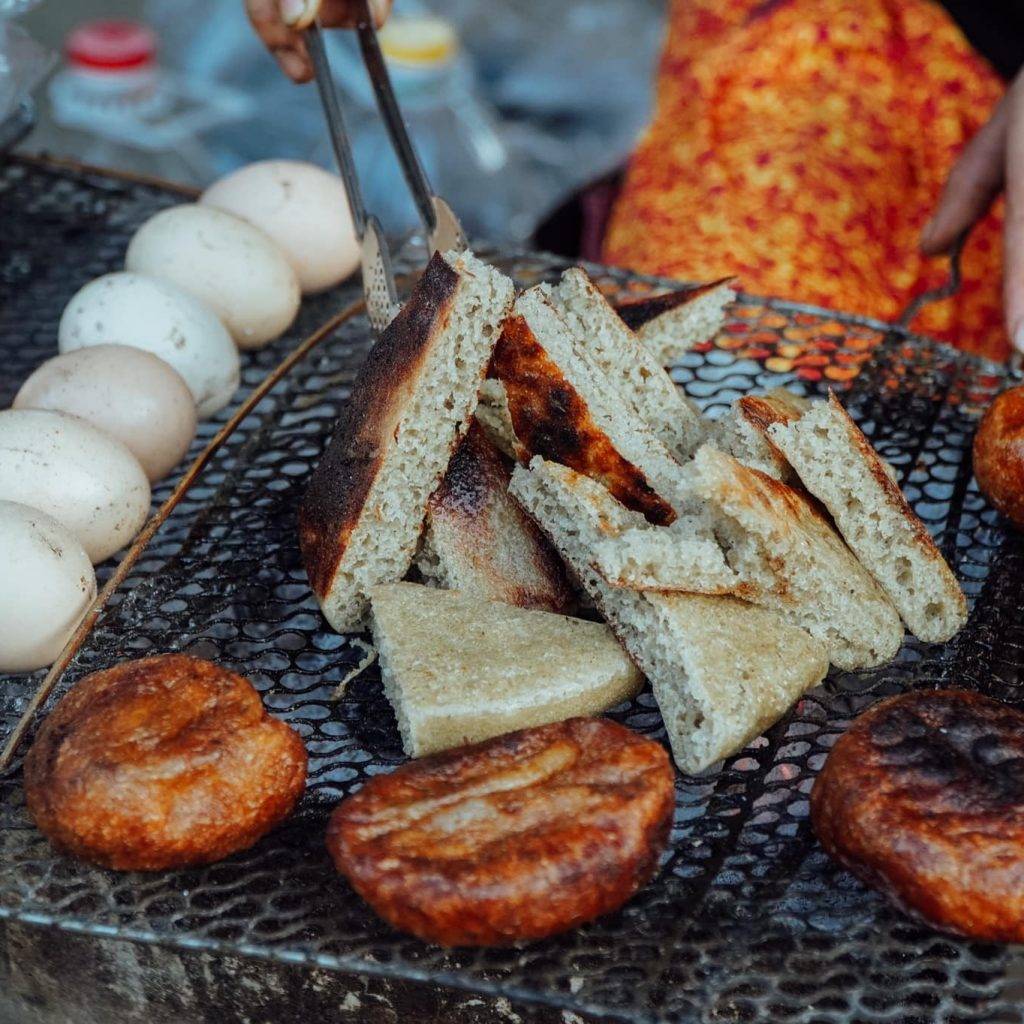 Buckwheat flowers are also used as a material for making cake. Its seeds will be dried first and then grinded by hand into a smooth batch of flour. Next, the dough is kneaded with water, molded and baked. The cost of the cake is 15,000 – 20,000 VND/piece.
The must-visit Dong Van Karst Plateau definitely provides you a rich experience, from crossing Ma Pi Leng pass to watching the Mong girls weaving by the loom. Coming here, you will contribute to the development of local tourism, giving the mountainous people and the Global Geopark here a sustainable economic development.