Hang Tau, the peaceful off-the-map steppe village in Moc Chau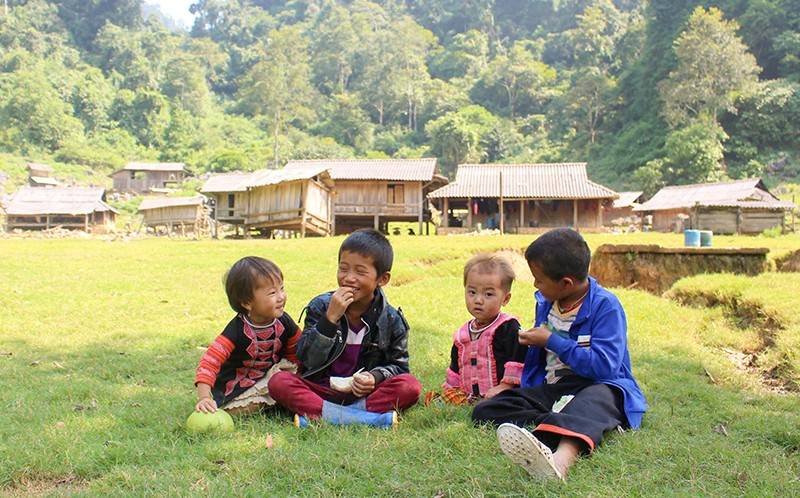 Besides the signature tourism destinations – green tea hills, Mount Pha Luong, Ngu Dong Ban On, and the indigenous Thai villages, Moc Chau is also a paradise of quirky and pristine places, including Hang Tau – a beautiful village hidden deep in the woods, peacefully and wildly, without a trace on Google Maps.
People even call it "the first primitive empire" based on what is going on here: a few wooden shacks on the green steppe, livestock that is free to graze, no modern services, like phone signals or electricity can reach, along with the gentle H'Mong locals working hard on rice fields and embroider as their naive children playing carefree; the life remote from the outside world goes on and one in tranquility and happiness.
1. About Hang Tau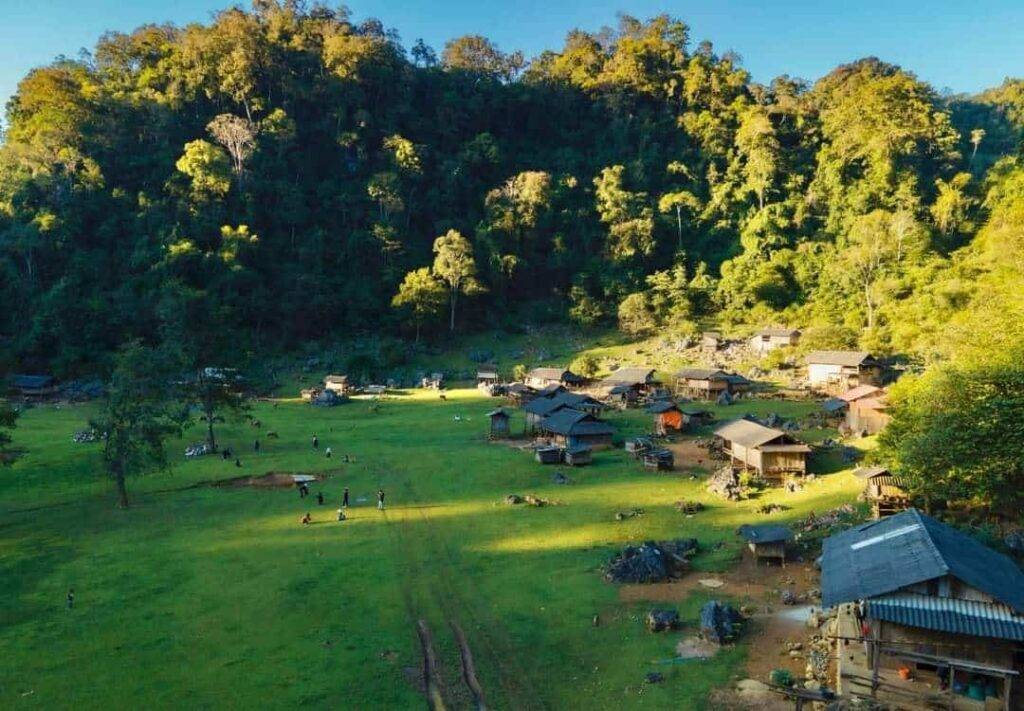 About 18 km from Moc Chau Town, Hang Tau belongs to Ta No 1 village, Chieng Hac commune, which is one of the most pristine places in Moc Chau plateau. This is actually a farming and agricultural production area of nearly one hectare with 20 simple wooden houses.
The H'Mong calls it Hang Tau, while the travelers give it a fun name "Nguyen Thuy Cave". Currently, the village has not been located on Google Maps, so to arrive here, visitors should ask the Moc Chau residents for directions.
2. The calming life pace in Hang Tau Village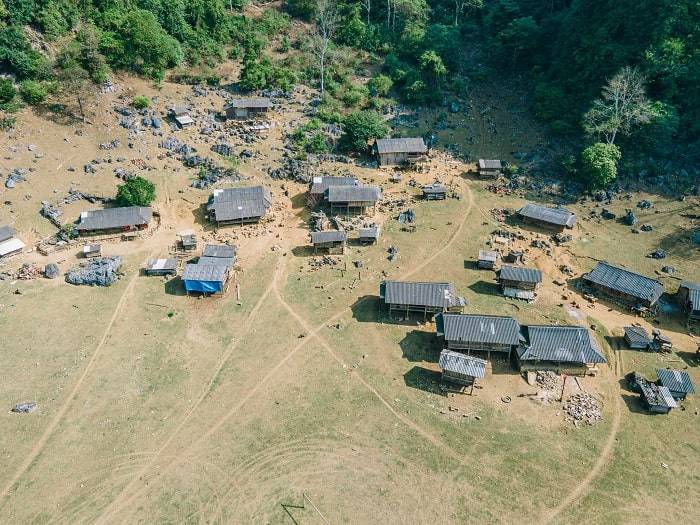 Hang Tau – Moc Chau is a village without electricity, phone signals, technological gadgets, and tourist services. The water for daily use is taken from natural water sources on the mountain. The inhabitants are mainly H'Mong ethnic people, who work in farming, shifting cultivation, and raising livestock all year round, they even barely use Kinh language (the official Vietnamese).
Since the distance from Ta No 1 Village to this area is fairly far, the residents build small wooden shacks to stay. Those shelters gather in clusters in the valley, leaning against the rocky mountains, surrounded by forests, orchards, and cornfields. The entrance to the village is fenced with timber slats to prevent animals from going out.
Travelers coming here can learn about the culture in the highlands of Moc Chau, together with these H'Mong villagers to experience farming, breeding, and embroidery. The children always play around on the lawn or help their parents to graze instead of staring at the phone like those in the city.
Sometimes under the shade of an ancient tree sit multiple women and children to embroider colorful brocade dresses. This is a job they do in their leisure time not only for extra income but also for daily use. Many girls, only 5-6 years old, have been taught how to this traditional culture by their mothers, sisters, and grandmothers.
When staying here past noon, you should either prepare your own food or ask the locals to help you cook lunch. They are utterly hospitable to chase after and catch a chicken to make a delicious meal for you. You may have to climb the corn hill to pick vegetables for the meals. In case there are no veggies, the host will serve you fragrant and chewy bamboo shoots, a dish that is always available in their house.
3. Best time to visit Hang Tau
It's ideal to visit Hang Tau in spring as the village turns into a poetic paradise with thousands of brilliant plum blossoms and peach blossoms in the fields. In contrast, traveling in the rainy season, around July – August, will be much more challenging, because the road to the village becomes muddy and quite slippery. Moreover, due to the limestone terrain and underground caves, the steppe will be flooded after rain.
4. Getting there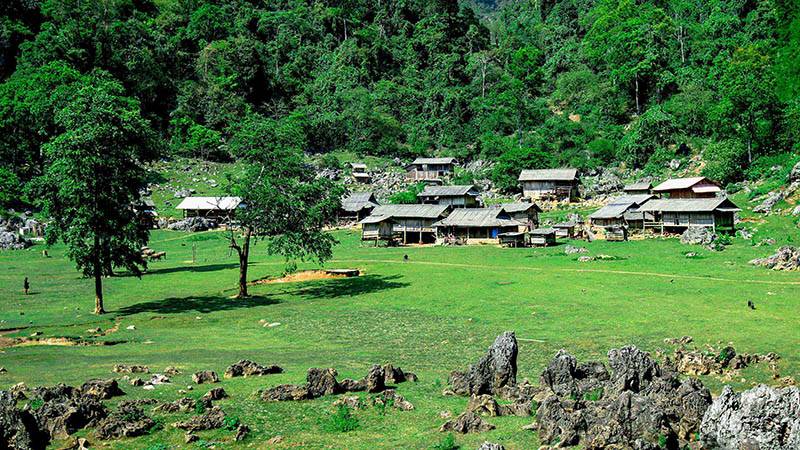 It only takes about 4-5 hours from Hanoi to Moc Chau, therefore, tourists can pick different vehicles: buses, motorbikes, cars, etc to get here.
From the center of Moc Chau town, go about 18km to Ta No 1 Village; then continue to follow a steep dirt road of about 7km, with several narrow sections just enough for a motorbike, as well as many parts that trees covered almost the entire path, to reach Hang Tau. Because of the rocky and bumpy road, you need to have excellent motorcycle skills. In case you are not confident to do that, rent a local to give you a ride.
5. Where to stay in Hang Tau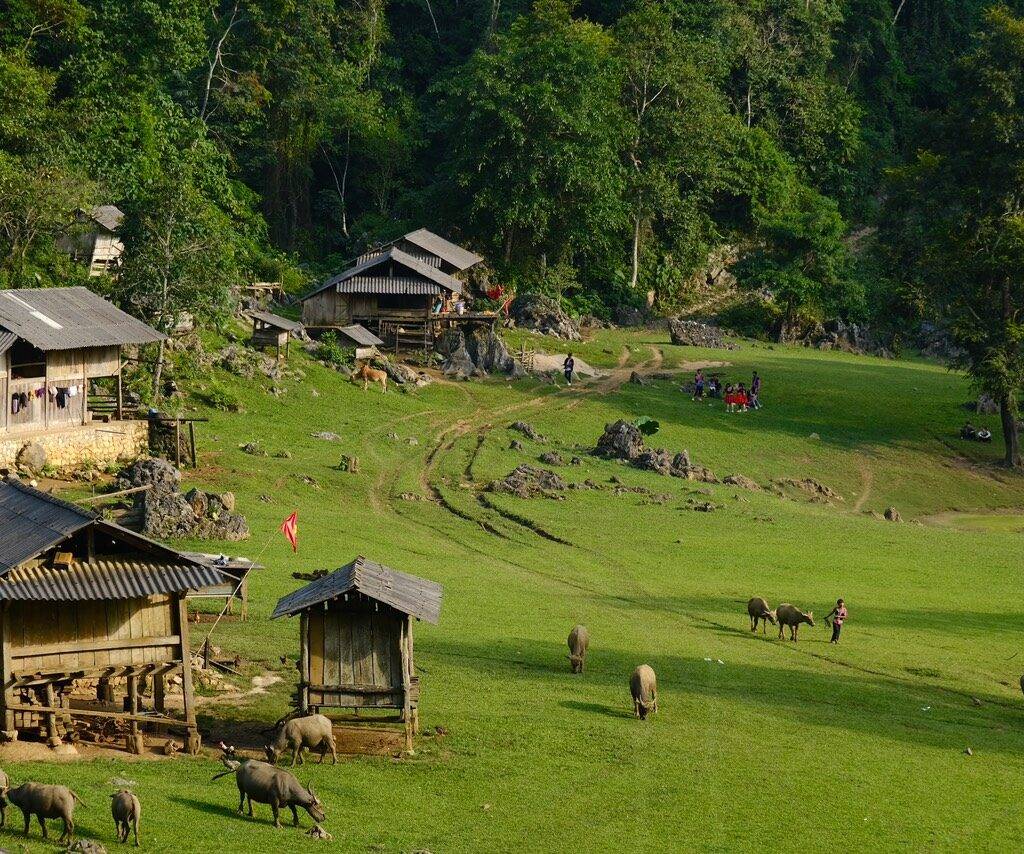 Bear in mind again that no tourist services nor modern equipment are available in the village. If you want to spend a night, ask the locals for help. The H'Mong people here are friendly and hospitable to willingly give you a place to sleep in their simple wooden house.
If this is only a day trip, book a hotel room in Moc Chau for easier access to other sites. The accommodating service in the town is quite plentiful, varying around 100,000 – 300,000 VND/person/night. Or, you can choose to stay in Thai people's old stilt houses, at the price of 50,000 VND per person.