Phu Quoc Tourism: A summary of where to stay and eat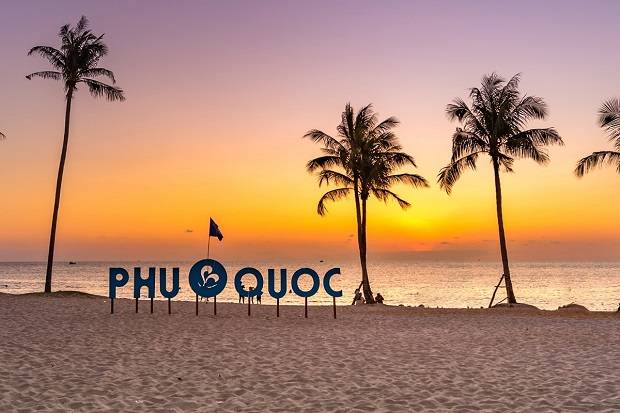 Phu Quoc Island, a cherished resort destination on the Southwest coast, gets more attention from couples, backpackers, or even families with kids, thanks to wild sapphire blue beaches winding along crescent white sands, together with evergreen perennial forests and hospitable fishermen. The period from November to next April is when the island goes through pleasant weather, which is also the peak time of foreign tourists. As Phu Quoc starts welcoming back travelers after the long lockdown, here is a complete note of the best places to eat and stay on your upcoming trip to this pearl island.
1. Notes for Phu Quoc Island Tourism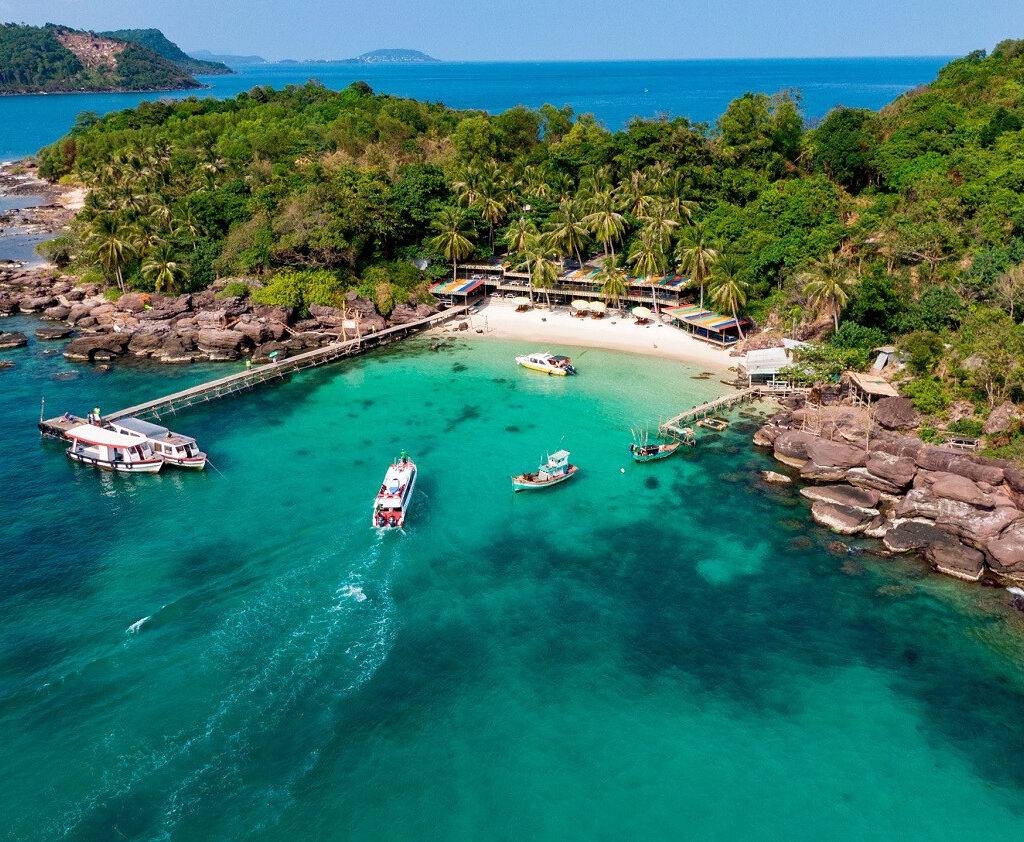 – If this is your first time going to Phu Quoc or a trip to treat yourself, you should go on a tour. The agency will take care of everything, from booking the hotels, meals, vehicles, and guides, so you don't have to waste much time on it.
– The airlines with direct daily flights from Hanoi or Ho Chi Minh City to Phu Quoc are Vietnam Airlines, Vietjet Air, and Bamboo Airways. The flight Hanoi – Phu Quoc lasts about 2 hours, while the one from Ho Chi Minh City – Phu Quoc is only about 50 minutes. The plane ticket ranges from 1,200,000 VND, depending on the airline.
– Tourists can choose speedy boats from Rach Gia to travel to Phu Quoc with a travel time of about 2.5 hours at 250,000 – 500,000 VND/adult, and 150,000 – 300,000 VND/children. Currently, three companies are operating the Rach Gia Phu Quoc route – Super Dong speedboat, Hoa Binh Ship speedboat, and Phu Quoc Express speedboat.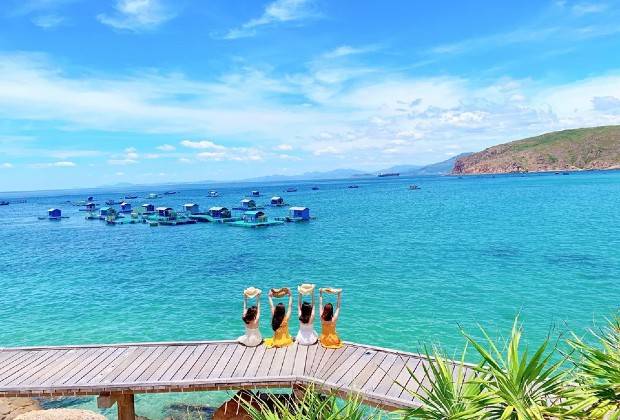 – The best vehicles to get around Phu Quoc Island are either motorbikes or taxis. Most motorbike rental services are located at Tran Hung Dao Street, Duong Dong Town, or right at your hotels. The rental price is around 100,000 VND per day or more, depending on the motorbike type.
– To ensure safe travel during the epidemic situation, passengers need confirmation of a negative test at least 72 hours before, a certificate showing that they have been fully vaccinated between 14 days and 12 months prior, or a certificate showing they have recovered from Covid-19 no more than six months earlier.
2. Where to stay in Phu Quoc Island
Popular accommodation in Phu Quoc is concentrated near the beach, which is convenient for tourists to swim and visit tourist attractions. The busiest areas and most rated to find a place to stay are Duong Dong Town (especially Tran Hung Dao street), Bai Sao Beach, Long Beach, Ong Lang Beach, and Vung Bau Beach in the North.
Aside from 4-5 star hotels and fancy resorts, there is a range of affordable hotels and homestays with ensured facilities. Most of the places also offer day-tours to different Phu Quoc's islets and numerous water-sport tours, like watching coral reefs, diving, windsurfing, canoeing, jet-skiing, and even mountain climbing options.
– Luxury resorts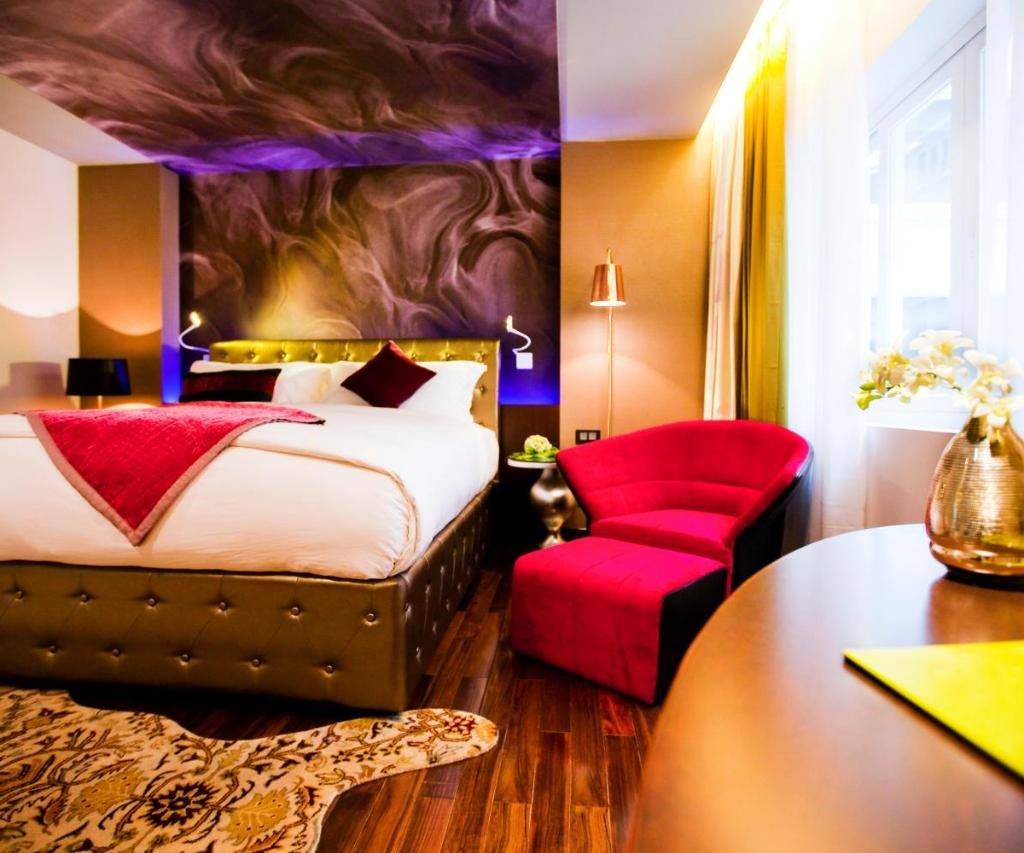 All luxury resorts in Phu Quoc are located close to the coast, featuring a beautiful private beach, a large swimming pool, a large premises with many green trees; Not only that, but they also include services of massage and spa. The room price is fairly high, especially on Tet holiday or the peak season, ranging from 2 million VND/room/night.
*Suggestions:
L'Azure Resort and Spa
Vinpearl Discovery Coastalland Phu Quoc
Vinpearl Resort Spa Phu Quoc
Salinda Premium Resort and Spa
La Mer Resort Phu Quoc
– Mid-range hotels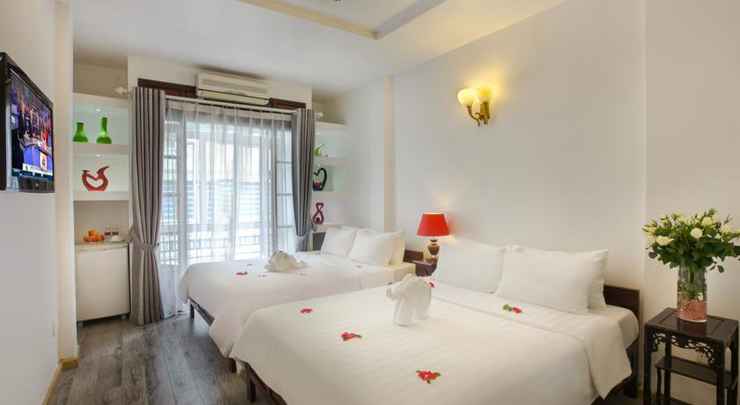 This accommodating segment includes three-star or fewer hotels without several outstanding facilities – large premises or private beaches. Still, their quality is relatively good. Prices range from 1 million to 2 million VND per night.
*Suggestions:
Varia Hotel
Hiep Thoai Hotel
Sunlight Bungalow Hotel
– Budget homestays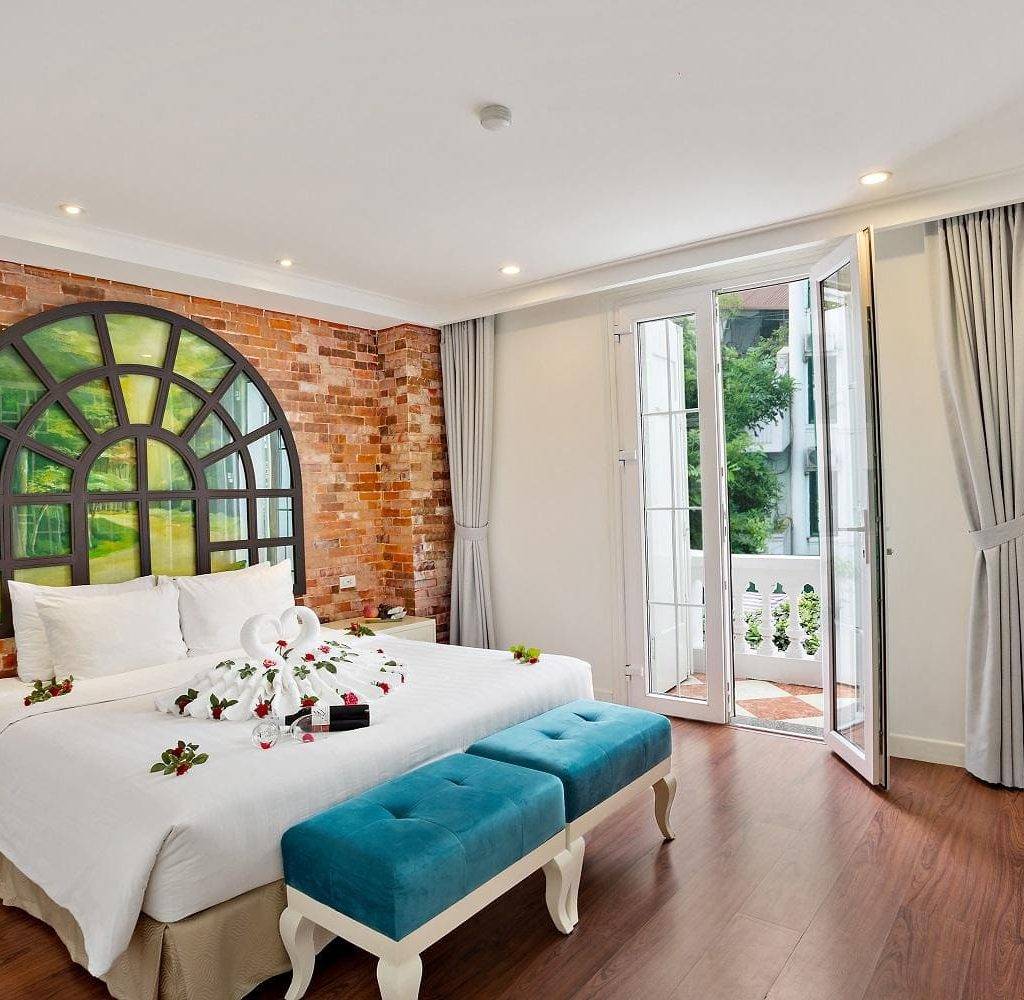 These places usually only meet basic staying needs and serve affordable meals, with the price going around 200,000 VND per night.
*Suggestions:
Banana Homestay
Hon Dam Island Hideaway
Dormstay Riverside Hostel
88 Hilltop Hostel
La Casa De Mi
Read more: HOW TO SAVE MONEY FOR PHU QUOC TRAVEL THAT YOU SHOULD KNOW
3. Must-try Phu Quoc food and where to eat them
The specialty foods of Phu Quoc that you should not miss are fresh seafood, herring salad, Ham Ninh crabs, fish noodle soups, etc. Here are a few suggested places for you to enjoy the above dishes to the fullest.
– Seafood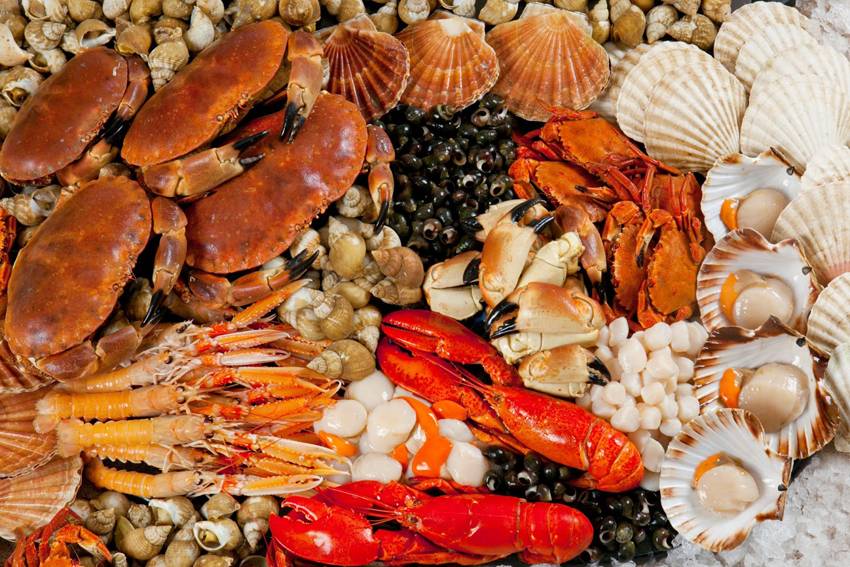 An Thoi Port is originally the fresh seafood area of Phu Quoc Island, where you can effortlessly buy shrimp, fish, and squid from small fisherman boats that have just returned from the ocean. Meanwhile, the best place to eat crabs in Phu Quoc is Ham Ninh Fishing Village, with prices ranging from 100,000 -150,000 VND/kg.
Dinh Cau Night Market attracts the most visitors in the evening for its bustling vibe. The market has more than 100 stalls stretching on both sides of Vo Thi Sau and Tran Hung Dao streets. Here, countless stalls display a table full of eye-catching seafood and some plastic tables and stools for in-place serve, yet customers can ask for takeaway serving as well. The price of each dish is quite affordable, from 60,000 – 200,000 VND.
The west of Ong Lang area is extremely busy with countless sea-front restaurants, most notably Mai Jo Refined restaurant, about 5 minutes walk from the beach. The place is famous for its delicious meat-stuffed squids besides popular Vietnamese meals from only 120,000 VND. The space is luxurious, cozy, and the staff is attentive and dedicated to making you feel most comfortable.
Quan Viet at 261 Nguyen Trung Truc, Duong Dong Town is an ideal place to enjoy delicious, cheap seafood. In addition to herring salad, the restaurant is also well-known for Melaleuca mushroom soup and crab fried rice. They offer family tables with spacious seating and air conditioning.
Xin Chao Restaurant near Phu Quoc Night Market is designed in delicate European architecture with a super charming sunset view overlooking the sea.
Trung Duong Marina Restaurant on 30/4 street, Duong Dong Town has a signature fish salad at 125,000 VND/plate. In addition, the restaurant also has seafood fried rice and Thai hot pots 190,000 VND/pot.
Bien Hai Quan at Group 1, Ganh Dau Hamlet, Ganh Dau Commune is the cheapest place to eat in the Ganh Dau Cape.
– Other dishes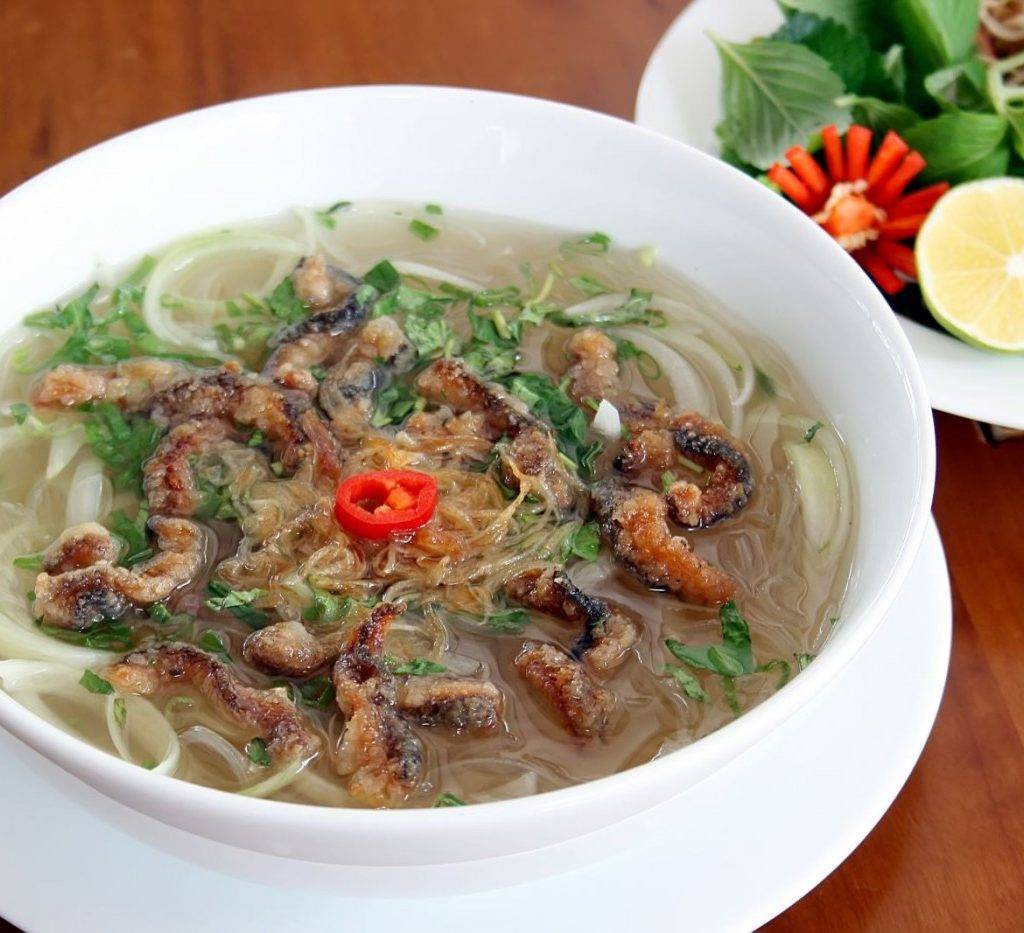 Ms. Ut Luom's at 30/4 Street, Duong Dong sells Bun Ken, which is a quirky noodle soup only available in Phu Quoc, with broth made from sea fish and coconut milk. The price of a bowl ranges from 25,000 – 30,000 VND.
If you want to enjoy the typical breakfast dishes of Phu Quoc, come to Ms. Le Giang's at 289 Tran Hung Dao, Duong Dong. The shop is renowned for various types of noodle soup such as Crab noodle soup and Hu Tieu, priced at only 30,000 VND/bowl.
Ms. Loc's Eel Porridge at 23 Chuong Duong or Ms. Phuong's Sweet Soup at 107 Nguyen Van Cu is also worth a try.
In the south of the island stands a few outstanding restaurants selling goat meat – for example De Ngon Restaurant at 447 Nguyen Van Cu, Quarter 6, An Thoi. The average price costs about 200,000 – 300,000 VND.
Read more: Specialties of Phu Quoc