Tu San, the abyss rocky gorge sheltering emerald green Nho Que river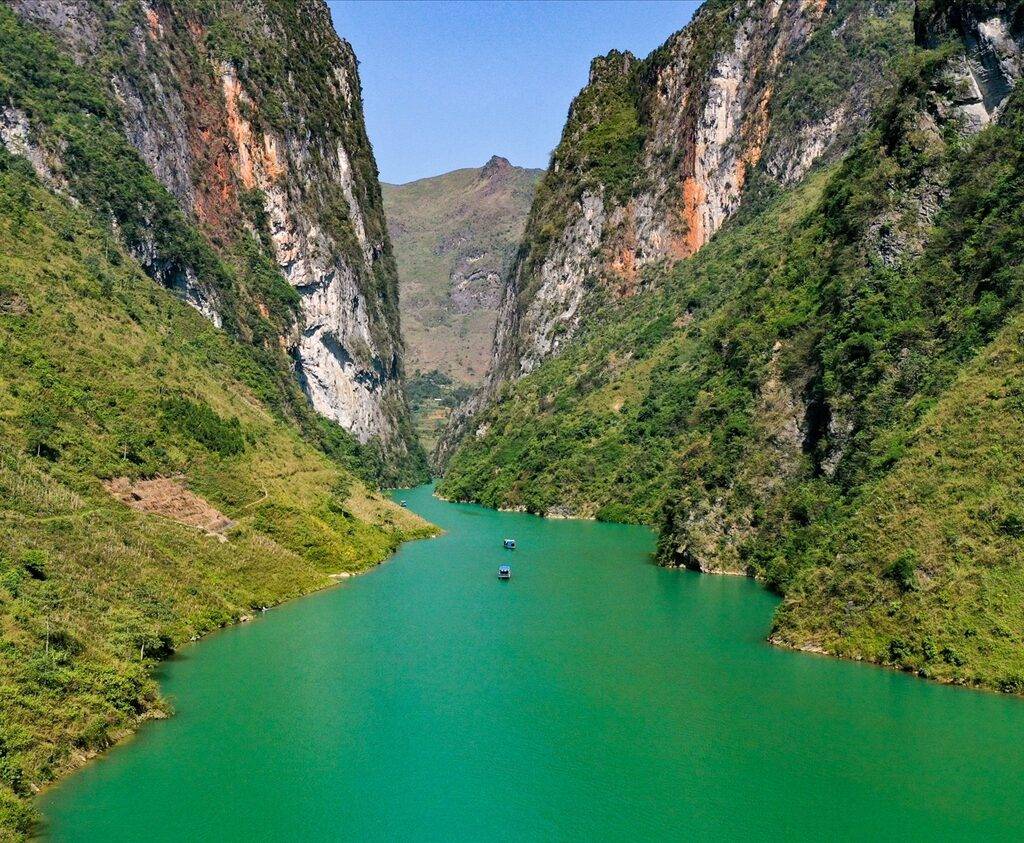 Right at the foot of Ma Pi Leng Pass stands the calming jade Nho Que River across Tu San Gorge, which are two imposing ravines of nearly 800m high, also the deepest canyon in SouthEast Asia. Tu San owns a majestic view among the Dong Van rock plateau. The very close distance of the two ravines, combined with the year-round green color of Nho Que River, creates a spectacular scene. Here, you can ride bamboo rafts or kayaks to travel around the area, as well as visit the villages of Giay and Hmong ethnic people.
I. About Tu San Gorge – Nho Que River
As a unique wonder in the Dong Van rocky plateau, Tu San Gorge features two cliffs at a height of up to 800m, a length of 1.7km, and a depth of nearly 1km, stretching in the area of 3 communes Pai Lung, Pa Vi, and Xin Cai, Meo Vac district, Ha Giang province. Tu San is also dubbed the deepest canyon in Southeast Asia, which was formed from miraculous tectonics millions of years ago, after the change of the Earth's crust.
Previously, when Nho Que River had not been blocked as a hydroelectric dam, people hardly had access to the dangerously steep Tu San cliff, so tourists could only see this wonder from Ma Pi Leng Pass. However, since the construction of the hydroelectric dam, Nho Que River became more peaceful and quiet, the residents started to use motorboats to shuttle visitors along this gorge.
Another interesting thing about Tu San is that this is home to approximately 40 moldy monkeys. They live on crags or hide in dense groves of trees, which protect them from hunting activities.
1. Best time for boating on Tu San Gorge – Nho Que River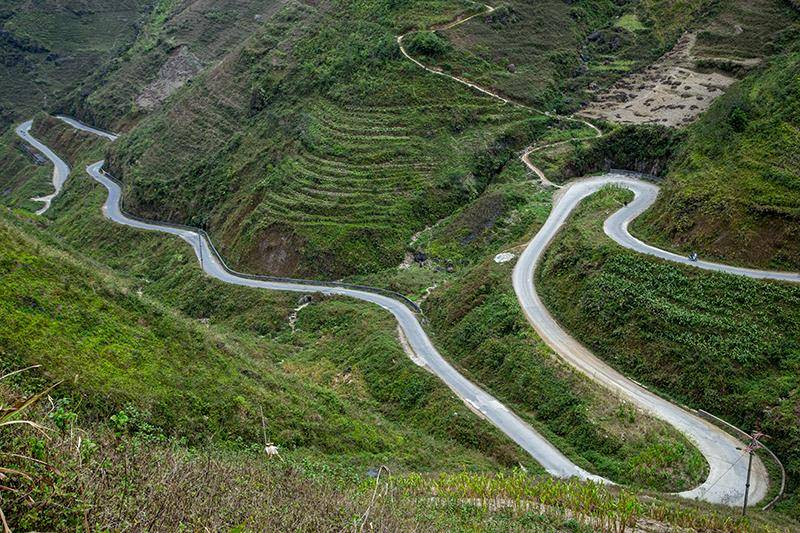 The most appropriate time to visit Tu San Gorge – Nho Que River is generally from September to March next year as this is the season of brightly terraced fields, blooming flowers, and also traditional festivals. Besides, the best months for adventure activities are September, October, November, and December. At this time, the weather is dry and a bit cold, perfect for terrain-conquering trips on curving passes and boat rides on calming water.
If you travel in February and March, you will admire the two banks of Nho Que River glowing with red rice flowers, mixed with turquoise water and quiet red soil between white limestone minerals, creating an extremely harmonious picture of mountains and rivers.
2. Getting there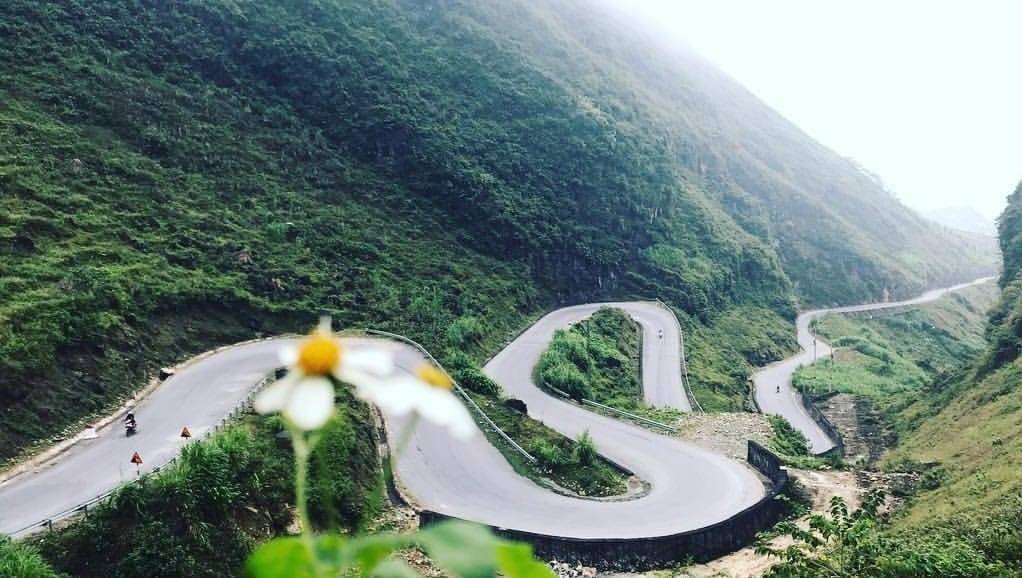 The distance from Hanoi to Ha Giang is about 300km, not too long nor too short, so visitors can travel by sleeper bus or motorbike.
There are daily Hanoi – Ha Giang buses departing from My Dinh Bus Station with a fare of only about 250.00 VND/person. For adventurers with good driving skills, motorbikes are the ideal means of transport: From the center of Hanoi, cross Thang Long Bridge and follow the DCT05 highway, then turn into the direction of National Highway 2B. Keep going straight to Tuyen Quang, through Ham Yen, Bac Quang, Vi Xuyen and you will arrive in Ha Giang.
From Ha Giang, continue to approach Nho Que River in the direction of Ma Pi Leng, 4 km from Dong Van. This pass will make you overwhelmed with 47 bends and a tiny road just enough for two motorbikes, one side is a steep cliff, the other is a deep abyss. The road from the end of Ma Pi Leng Pass down to Nho Que river is about 8km long; it's recommended to take a motorbike taxi for 150,000 VND/round trip to reach Ta Lang village, where you can rent a boat to trip along the river. Otherwise, you can opt for a nearly 2 km walk down to the cliff with steep steps.
II. What to expect in Tu San Gorge – Nho Que River
1. Boating or kayaking on Nho Que River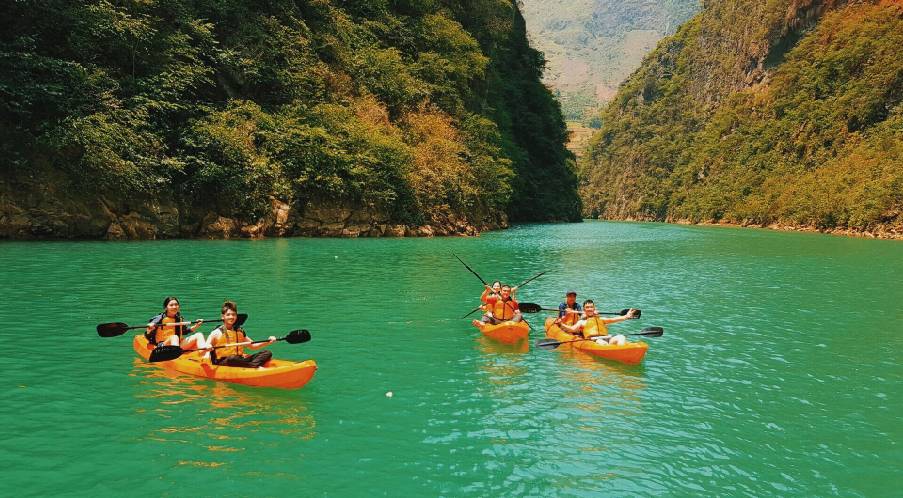 The must-try experience that you should not miss is rowing on the romantic Nho Que River to reach Tu San Canyon.
Visitors need to take a boat or canoe service about 20-30 minutes upstream of Nho Que. There are 23 tourist boats operating at the moment, wth a ticket price of about 100,000 VND per person. Interestingly, you can request the boat driver to stop at special photo spots along the way down Tu San Gorge to have amazing Instagram shots.
Besides, you can also rent a kayak to row yourself on the river. Currently, the fee for kayak rental is 100,000 – 150,000 VND/person/30 minutes. However, you need to contact the service at least one day before the arrival time.
Here are the addresses of kayak rental:
– Mr. Vang (038.2325.973)
– Mr. Long (0964426017)
– Mr. Diep (0865040992)
2. Spend your time in Ta Lang Village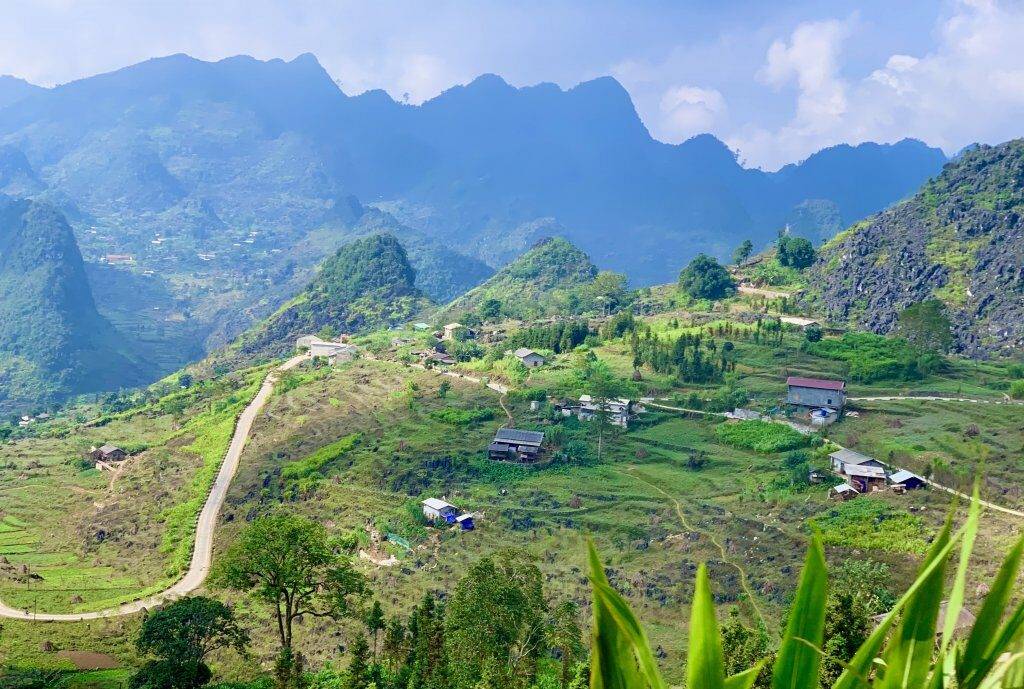 One of the best things in the paddling trip along Nho Que River is that you will stop at Ta Lang Village, where 39 households of the Day ethnic group live in rustic houses under the canopy of rice trees. They are gentle, hospitable, and willing to invite you to their traditional meals, although their living conditions are not good as this area is almost isolated from the outside world.
In the past, their livelihood depended mainly on catching shrimp and fish in the river and growing rice and corn on the river banks. Currently, thanks to registration as a passenger transport service, they have a more stable source of income.
3. Conquering the majestic Ma Pi Leng Pass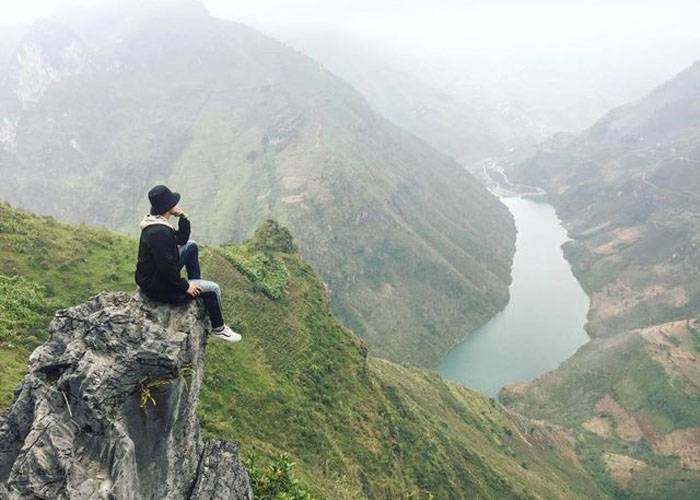 Ma Pi Leng is one of the four major passes of North Vietnam. It was first built by the Hmong, Dao, Tay, and Lolo ethnic minorities in the early '60s and named Con Duong Hanh Phuc (Happy Road). The 20 km long road is located on National Highway 4C at an altitude of 1500m above sea level, towering with high misty cliffs. The Nho Que river flowing below enhances the scenery of the pass
There are two accommodations in Ma Pi Leng pass, Panorama Hotel & Cafe and Ma Pi Leng Homestay, where you can stay overnight or just stop for a coffee and enjoy the wonderful view over Tu San Gorge.