BEST PLACES TO STAY IN HANOI OLD QUARTER THAT SUITS YOUR BUDGET
Hanoi Old Quarter with 36 streets is located in the central area of the city. It is not only a place where many Vietnamese generations gather but it also stands as a testimony to the traditional Vietnam that retains its own pace in the midst of the outside buzzing world. When coming to Hanoi, it's convenient to stay in this area since the famous tourist spots are near each other and you can also easily access to local restaurants . Here we have a diverse list of the best places to stay in Hanoi Old Quarter which suits your budget.
I. Budget hotels and hostels
1. Momento Boutique Hostel
Momento Boutique Hostel has only four rooms and each room is decorated in a distinctive look of a specific region of Vietnam. One room helps you blend into charming Hoi An, other lets you wander through 90s Hanoi Old Quarter, or you can even immerse yourself in the magnificent Sapa. The most special room is the fourth one. It's on the highest floor and called "Garden room on the rooftop" because it has a variety of green plants and beautiful flowers. Standing on the balcony, you will find sweeping views of authentic Hanoi.
Address: 48A Trang Thi, Hoan Kiem District, Hanoi
Price Range: from 21 USD
2. 3B Hotel Hanoi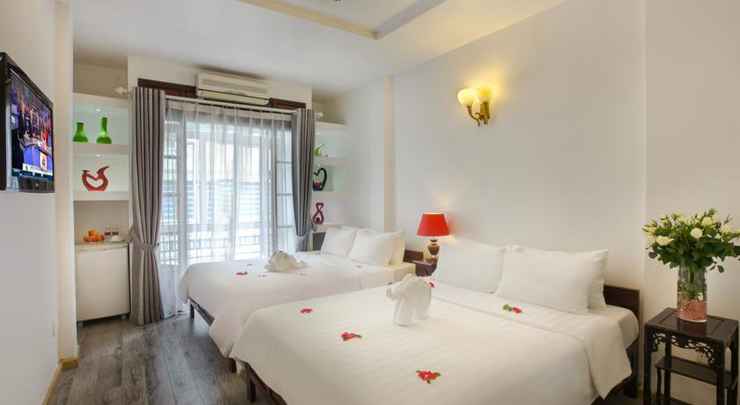 This art-deco inspired hotel lies a mere five-minute walk from peaceful Hoàn Kiếm Lake and its many surrounding bars and restaurants. Each room at 3B Hotel is spotlessly clean, with a trendy and edgy vibe not expected from a budget hotel. Traditional oriental furnishings blend well with modern amenities, giving guests the best of two worlds. Several rooms feature a balcony overlooking the romantic streets of the Old Quarter.
Address: 20 Hong Phuc st, Hanoi
Price Range: from 21 USD
3. Tu Linh Legend Hotel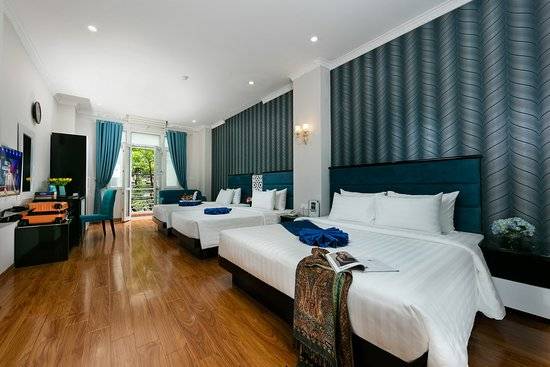 The Tu Linh Legend Hotel is centrally located in Hanoi's Old Quarter, with Hoàn Kiếm Lake, the Temple of Literature, and the Ho Chi Minh Mausoleum all within walking distance. The welcoming staff are helpful and accommodating, ensuring their guests are well looked after and even going above and beyond to assist with booking local tours and activities. Each of the hotel's spotless 32 rooms features a tasteful decor and warm.
Address: 459, Hang Cot st, Hanoi
Price Range: from 27 USD
4. An Hotel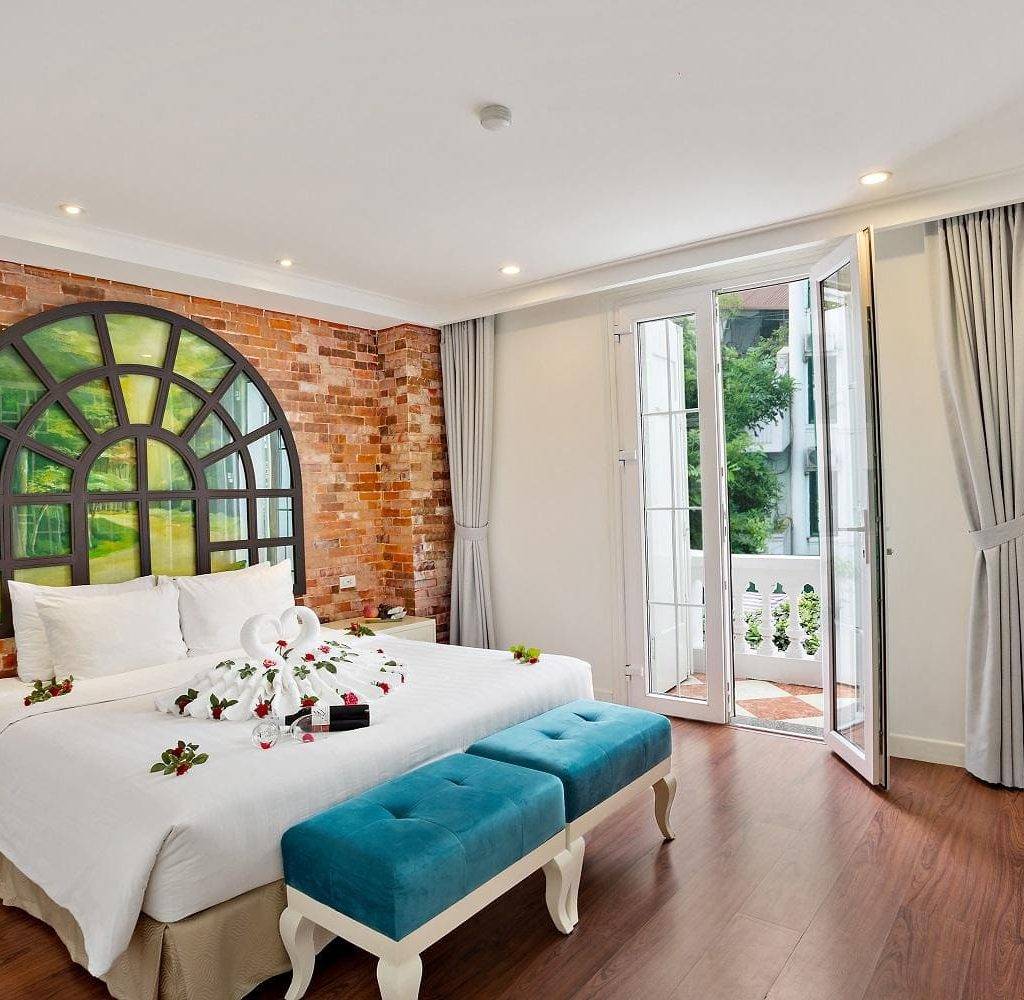 An Hotel is a cozy accommodation of exactly what you expect for a room with this price: clean, basic furniture, and good value with good WiFi. The hotel also serves continental breakfast, and its in-house restaurant opens up to panoramic views of the Old Quarter. It's only 200 meters from Dong Xuan Market to An Hotel. Meanwhile, the Old City Gate is 500 meters and Beer Street Ta Hien is 800 meters from this property. Address: 10 Hang Giay, Dong Xuan, Hoan Kiem district, Hanoi
Price Range: from 27 USD
II. High-quality and luxury hotels
1. Splendid Boutique Hotel
One thing that travelers love about Splendid Boutique Hotel is that it has a variety of rooms that'll please even the pickiest guests! One room, where daylight reaches dimly, is suitable for guests who need a day's sleep after a long flight, or for those of you who are not used to the new time zone. Meanwhile, the Deluxe Rooms receive the most sunlight from its large windows. The Deluxe Rooms are for travelers fond of the early pure dawn and the tranquility of the sunset.
Address: 13 Hang Chieu Street, Hoan Kiem District, Hoan Kiem, Hanoi, Vietnam
Price Range: from 35 USD
2. Maison d'Orient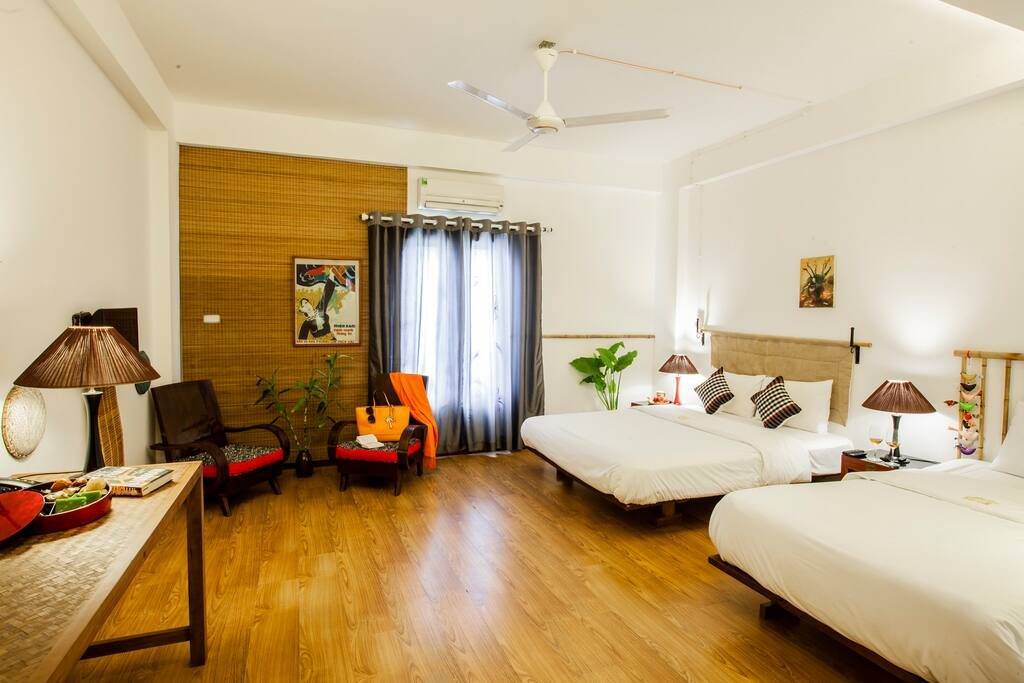 Hidden down a quiet alleyway in the heart of the Old Quarter, this design-forward gem is home to electic furniture, funky mosaic tiles, vintage prints and local artwork. The hotel's open-air terrace serves as a dining area with an east-meets-west feel, where wooden tables mingle with Asian plants and motifs. Each room has its own idiosyncratic charm, but all are awash with natural light and pretty bamboo touches. From the hotel, main attractions like St Joseph's Cathedral and Hoan Kiem Lake are just minutes away by foot.
Address: 26 Ngo Huyen, Hang Trong, Hoan Kiem, Hanoi
Price range: from 37 USD
3. Hotel de l'Opera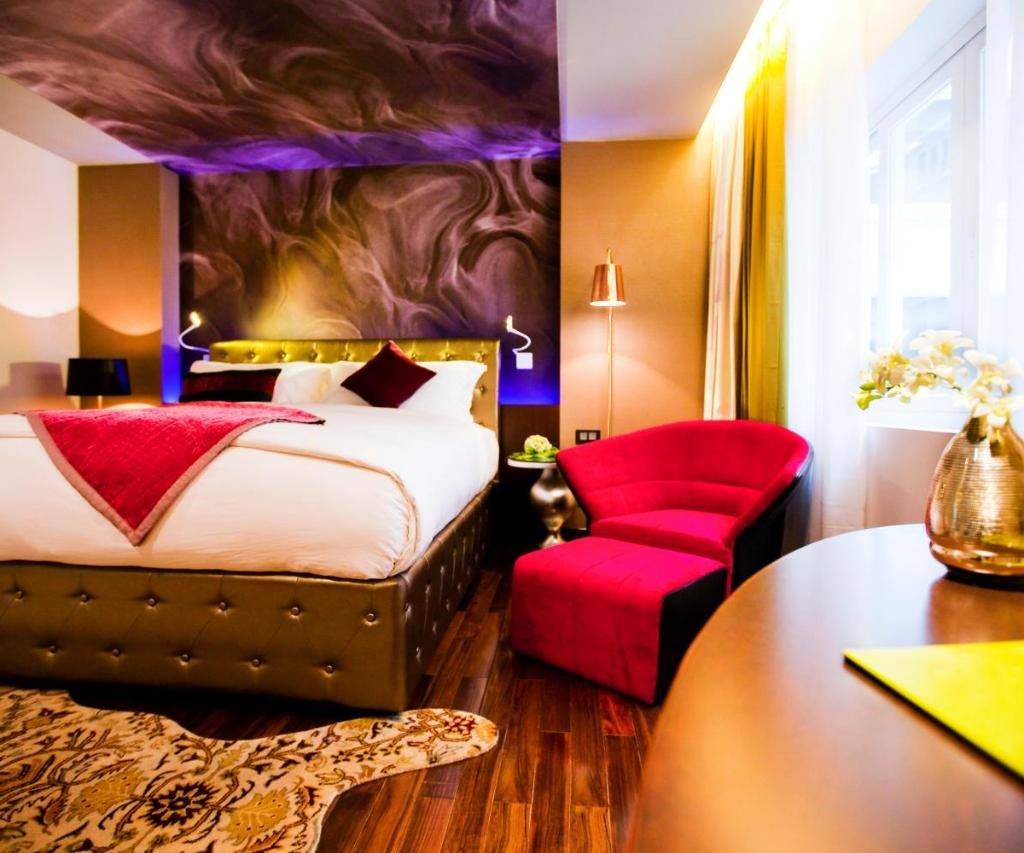 As its name suggests, Hotel de l'Opera is just a few steps from the beautiful Hanoi Opera House, which regularly hosts ballet, music and folk performances. The largest of its kind in Vietnam, the theater features a neo-classical French facade, imposing pillars and majestic interiors. On the same leafy boulevard, the 107-room Hotel de l'Opera is set in its own white colonial-era building. Each room has a slightly different layout and design. Rest assured, however, that all four l'Opera Grand Suites offer views of the Opera House. Within minutes of leaving the hotel, guests will discover the city's central lake, bustling Old Quarter, countless bars and restaurants.
Address: 29 Trang Tien Street, Hoan Kiem District, Hanoi
Price Range: from 66 USD
4. The Light Hotel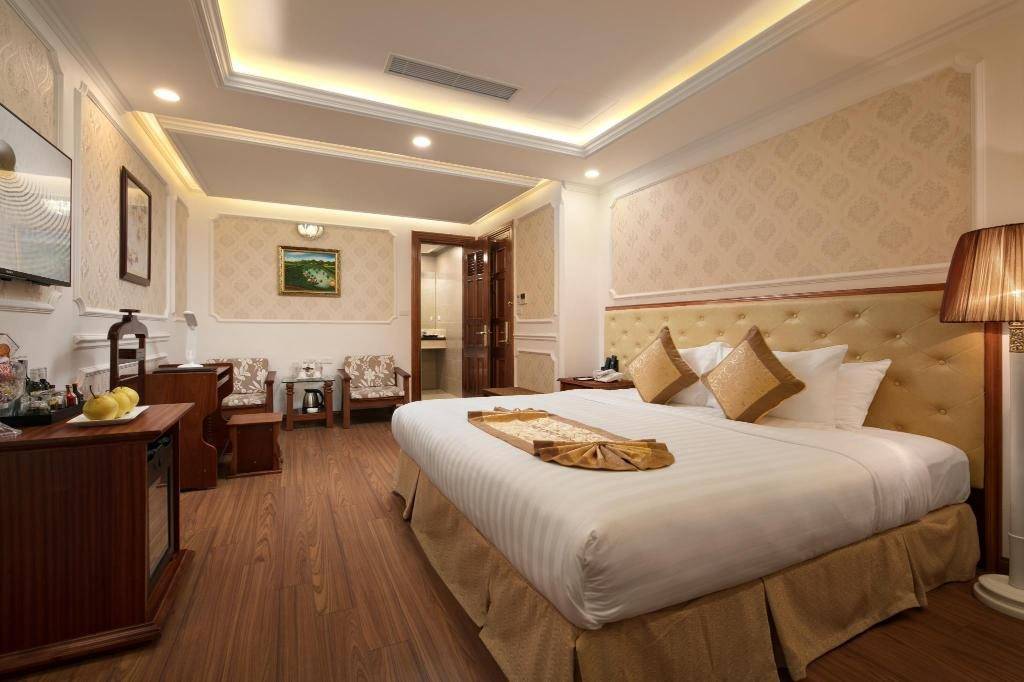 The Light Hotel is a 4 star hotel containing 89 fully furnished guest rooms with the most modernized European equipments. Conveniently, located in the heart of the Hanoi's Old Quarter, within walking distances, the Light Hotel connects to the most historical and famous places, such as: Hoan Kiem Lake, History Museum, Municipal Theatre, Trang Tien Plaza, Historical Dong Xuan Market, Old Quarter Shopping Areas, etc. The place includes a fantastic city view from outdoor swimming pool on the top of the building, a garden view cafeteria on the 9th floor, conference room, restaurant, spa and gyms. The Light Hotel is so much convenience for your stays in Hanoi city.
Address: 128-130 Hang Bong, Hoan Kiem District, Hanoi
Price Range: 40 USD
Hopefully with the list above, accommodation will not be a worry to you whenever coming to Hanoi Old Quarter. Thank you for reading!