HOI AN NIGHTLIFE:THE FINEST BARS AND PUBS
Whether morning or evening, Hoi An still has its own charm. If the rhythm of life is calm and gentle in the morning, when night falls, Hoi An comes into the most vibrant and bustling time. That is also the time when the bars and pubs here open, making Hoi An nightlife more diverse. So, let's check out the list of top bars and pubs worth visiting here!
1. Q Bar
Q Bar is one of the most beautiful bars in Hoi An that you should not miss. Q Bar owns a design with nostalgic lines but no less luxurious and elegant. This most beautiful bar is located in one of the most authentic Chinese houses in Hoi An.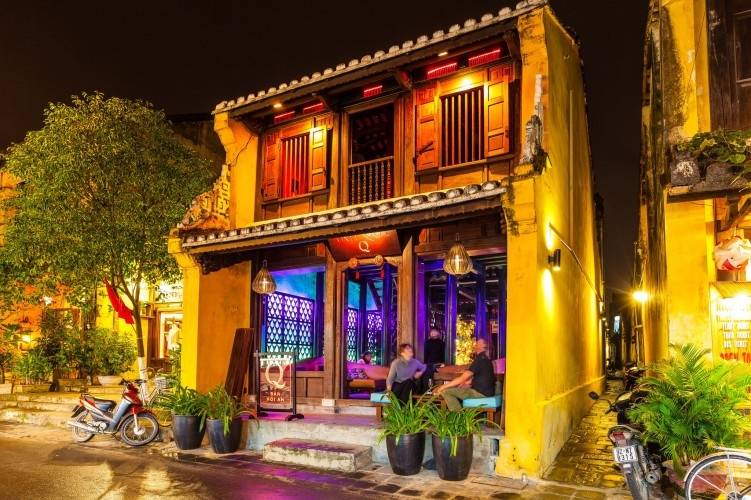 Q Bar gives visitors a full range of services for the best bars, such as an extensive list of unique cocktails, opulent interior, and upscale ambience. Coming to this beautiful spot, you can take off the old daily things to step into paradise with unique drinks, especially wine and cocktails. Q Bar is a favorite destination of both domestic and foreign tourists every time they have the opportunity to come to Hoi An.
Address: 94 Nguyen Thai Hoc, Hoi An, Quang Nam
Opening hours: 08:00 – 22:00
Price: 50,000 to 200,000 VND
2. Hoi An Sports Bar
If you want to try new feelings like enjoying a delicious drink while playing some games or sports, then Hoi An Sports Bar is the ideal point for your Hoi An nightlife activity.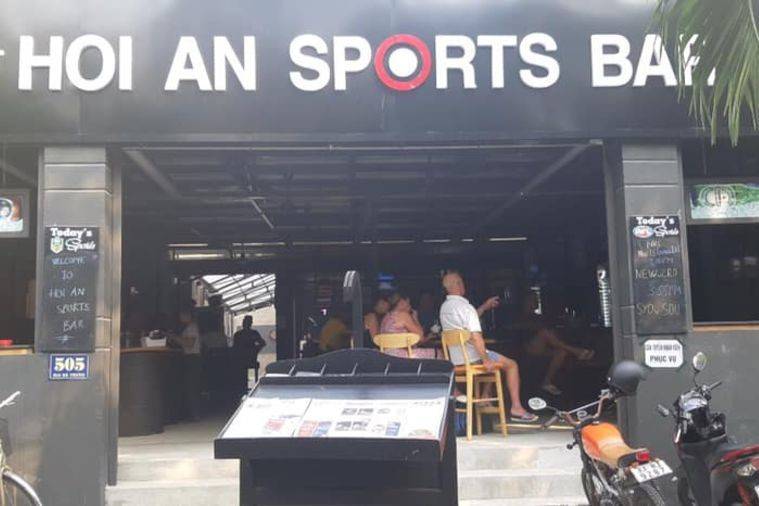 Here, you will be part of the crowd, enjoying live sporting events, like NRL, Super Rugby, AFL, Australian Open Tennis, and NBA. Besides, Hoi An Sports Bar also brings you interesting games right in the bar space, such as billiards, Xbox, board games, dart, etc. What could be more wonderful when you can chat, discuss sports and enjoy cocktails at the same time with your buddies or new friends.
Address: 61A Phan Chau Trinh, Minh An, Hoi An, Quang Nam
Opening hours: 07:00 – 23:00
Price: 65,000 to 300,000 VND
3. Moyo Beach Club
Moyo Beach Club is located along An Bang beach – one of the most beautiful beaches in the world. Moyo Beach Club is a complex entertainment area, blending the nostalgia of Hoi An with elegance, youthfulness. From every angle, you can overlook the sea.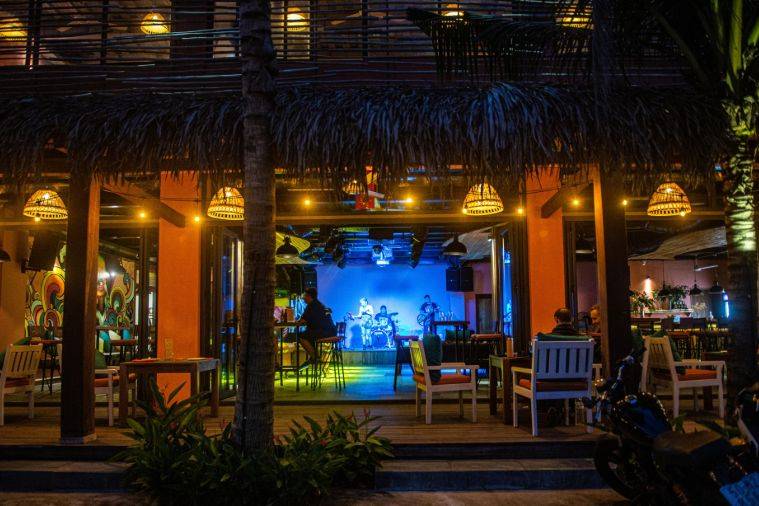 At night, Moyo Beach Club transforms into a vibrant, youthful, classy bar space. There are seats downstairs and a stage for live music. Upstairs is an impressive area with a small swimming pool and DJ booth. Especially on every Thursday and Friday, live music will be held for diners to enjoy.
Address: 22 Nguyen Phan Vinh, Cam An, Hoi An, Quang Nam
Opening hours: 10:00 – 01:45
Price: 30,000 VND – 390,000 VND
4. Before and Now Bar (Xua va Nay)
Before and Now Bar is where you can enjoy a panoramic view of Hoi An Ancient Town from above. This is one of the most beautiful bars in Hoi An that attracts visitors because of the extremely attractive promotional services in golden-hour promos, where you can get two drinks for the price of one between 18:00 and 21:00.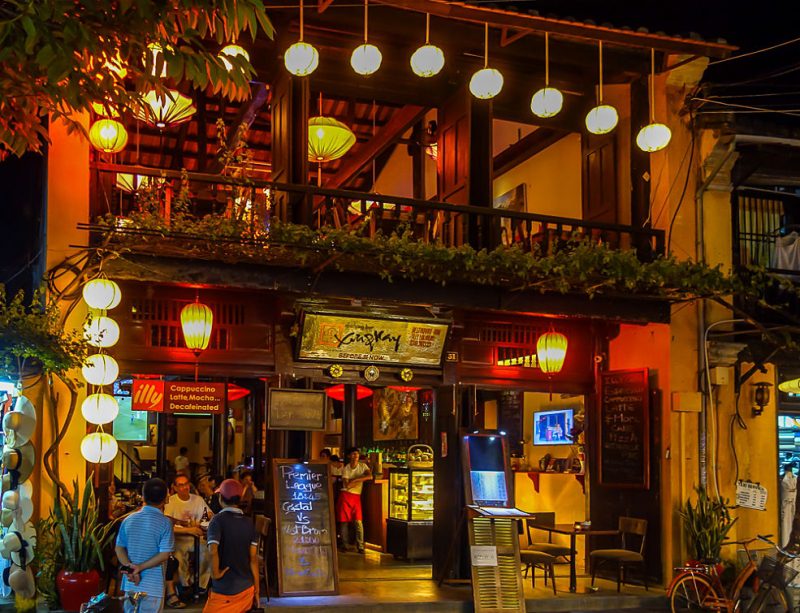 If you want to choose an ideal seat here, don't forget to drop by Before and Now Bar a little early. Moreover, friendly staff, delicious drinks and food are also bright plus points for this beautiful bar in Hoi An.
Address: 51 Le Loi, Hoi An, Quang Nam
Opening hours: 9:00 – 00:00
Price: 100,000 to 600,000 VND
5. Dive Bar
The beautiful Dive Bar is a lively pub with a swimming pool, garden and internet cafe. This is one of the nightlife spots in Hoi An that you should not miss. Dive Bar's drinks menu comprises imported beers, spirits, cocktails, and premium wines with a variety of Vietnamese and western pub grub.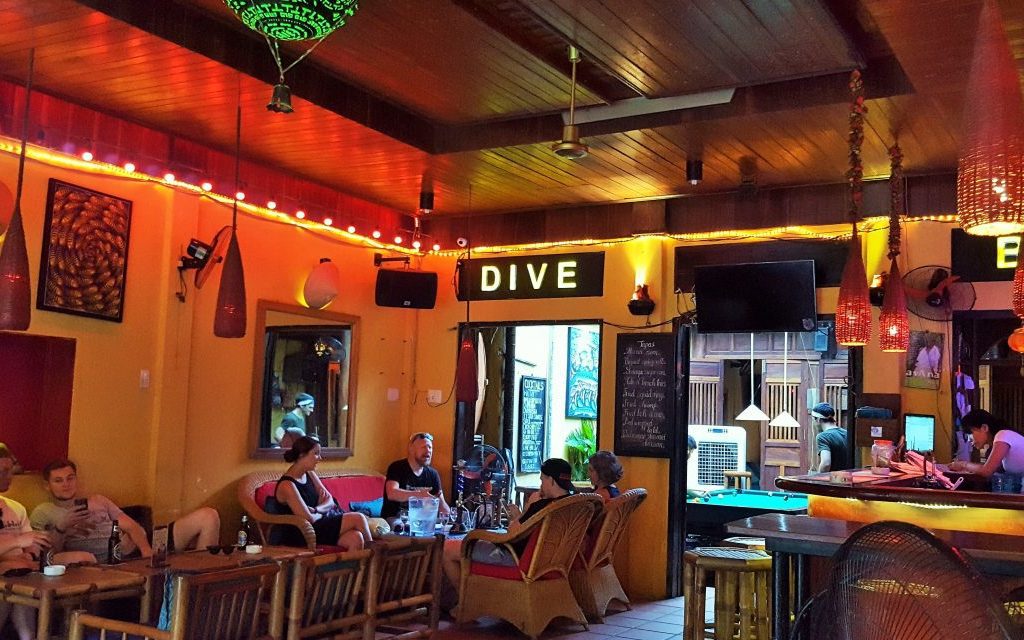 On Tuesday, Thursday and Saturday nights, guests can enjoy blues, reggae or euro-punk-disco-rock fusion music from local bands. A joyful, friendly and energetic live music space at Dive Bar will bring you wonderful moments of relaxation.
Address: 88 Nguyen Thai Hoc, Hoi An, Quang Nam
Opening hours: 10:00 – 00:00
Price: 70,000 to 150,000 VND