Moc Chau – The green plateau of Son La
Only around 200 km from Hanoi, Moc Chau Plateau is now one of the attractive destinations for a quick escape from the bustle and hustle city in a few days.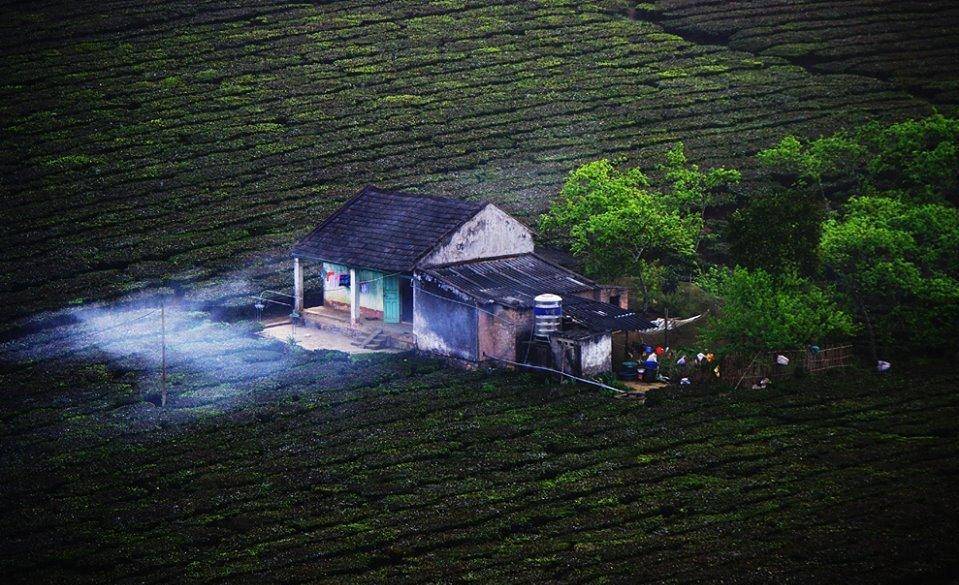 The land of 80km long and 25km wide is extremely ideal for ecotourism due to its greenery as well as the average cool temperature, 16-26 degrees Celsius. Numerous tourist activities have become a signature of this plateau, which includes conquering Mount Pha Luong to admire the natural border between Vietnam and Laos, exploring the hill with 5 primitive caves, or living with indigenous Thai people to experience their rustic life and many more; all are waiting for you to discover!
I. The best time to visit Moc Chau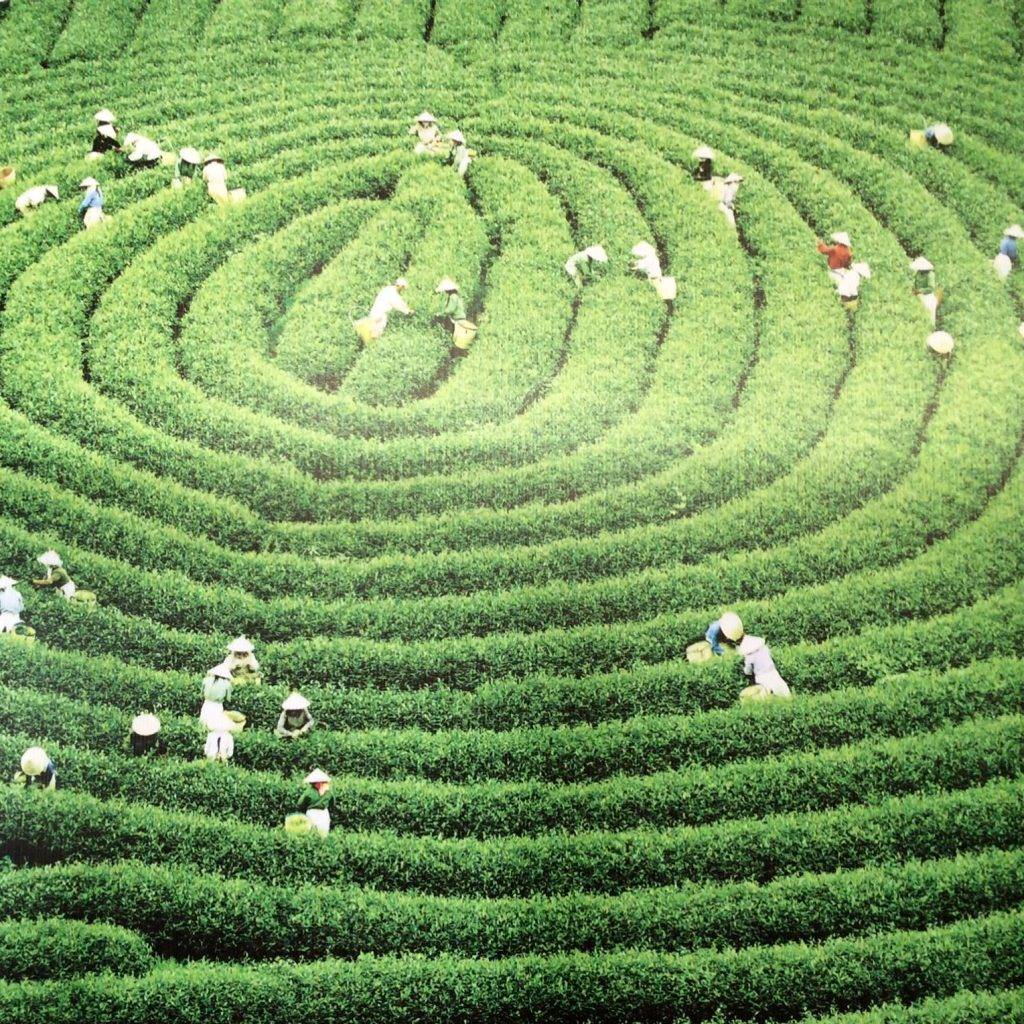 Moc Chau's climate is divided into two distinct seasons of rain (April – September) and dry (October – the next March). Due to its high altitude (1050 meters above sea level), with open bow topography towards wind direction, Moc Chau is deeply influenced by the northeast monsoon from Laos, resulting in a rather cold dry season with frequent frosts.
Based on the weather situation and activities around the lifestyle of local people, there are two ideal times to come to Moc Chau:
– From January to March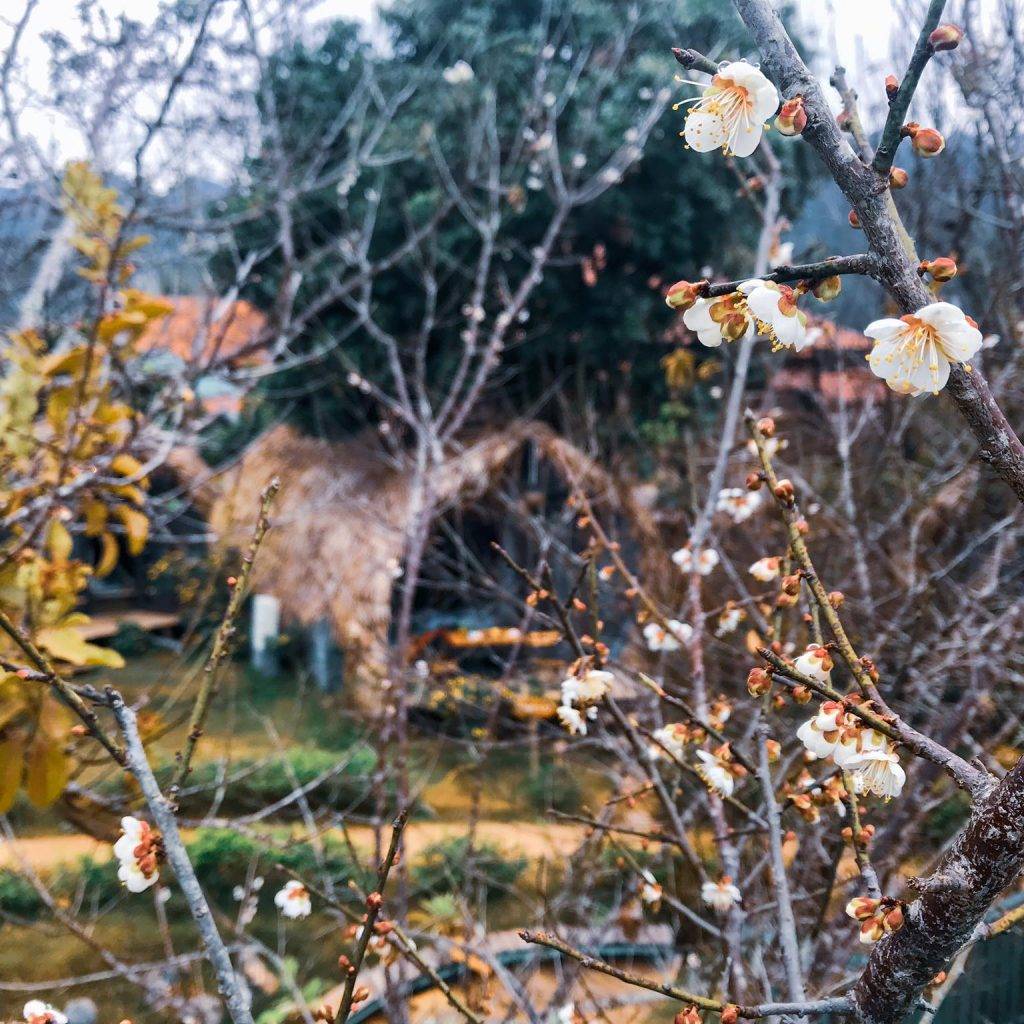 This is the end of winter, so it will be less cold, perfect for flower seasons of various species, such as plum blossoms, cherry blossoms, ban flowers, etc. Visitors will witness flora and fauna pictures spreading throughout the villages and mountains.
In addition, a spiritual-cultural festival of the Thai ethnic people – Het Cha festival, was also held in March to show the solidarity of the whole village, as well as their respect for the shamans who have cured them. During the festival, people play traditional folk games, dance around the Neu tree under the sound of drums and gongs, and perform witty pantomime repertoires; all to encourage good things in life and teach descendents to reclaim the land.
– From September to December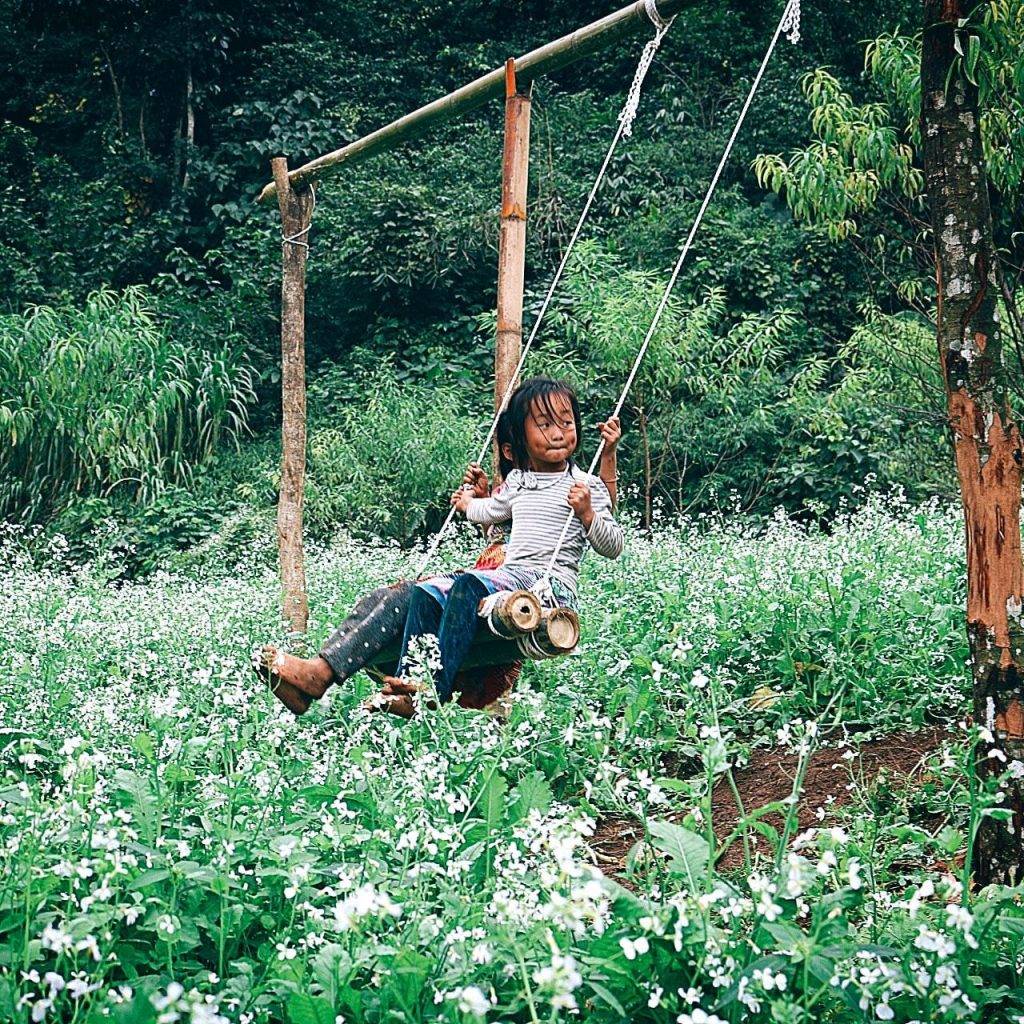 This is the most beautiful weather of the year with the clear, bright sky, cool and mild weather. This season, although sunny, is not too hot and sweltering like the lowland provinces. At night the temperature drops, it feels pretty cold. This is also the time when tea and cauliflower flowers cover the hillsides.
In this time, H'Mong people celebrate Independence Day on September 1st every year with the participation of multiple ethnic minorities in North Vietnam and from Laos. Following that, it's also the Moc Chau annual love market where girls and boys wear colorful costumes, sing traditional songs and date each other.
II. How to get to Moc Chau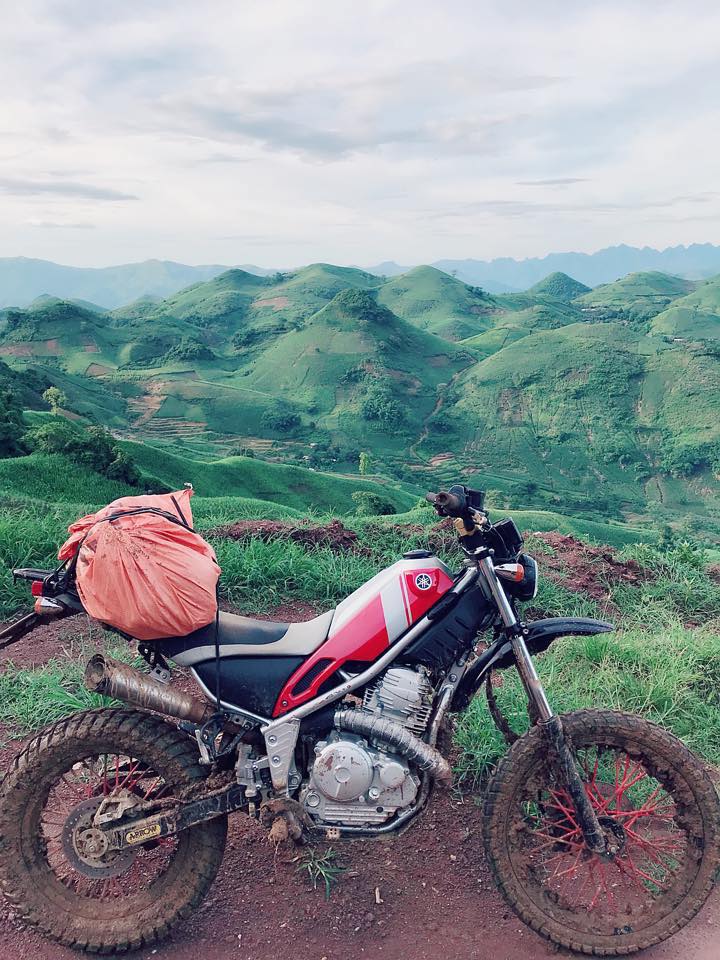 It only takes about 4-5 hours from Hanoi to Moc Chau, so you can choose different vehicles to get here, like buses, motorbikes, cars, etc.
Getting to Moc Chau by bus is very popular for its safety and affordable price without getting lost or encountering bad weather conditions. Visitors can catch the bus at My Dinh bus station or Yen Nghia bus station at any time of the day. The ticket prices range from 130,000 to 160,000 VND/person.
Some reliable car manufacturers: Hai Van, Bac Son, Hung Thanh.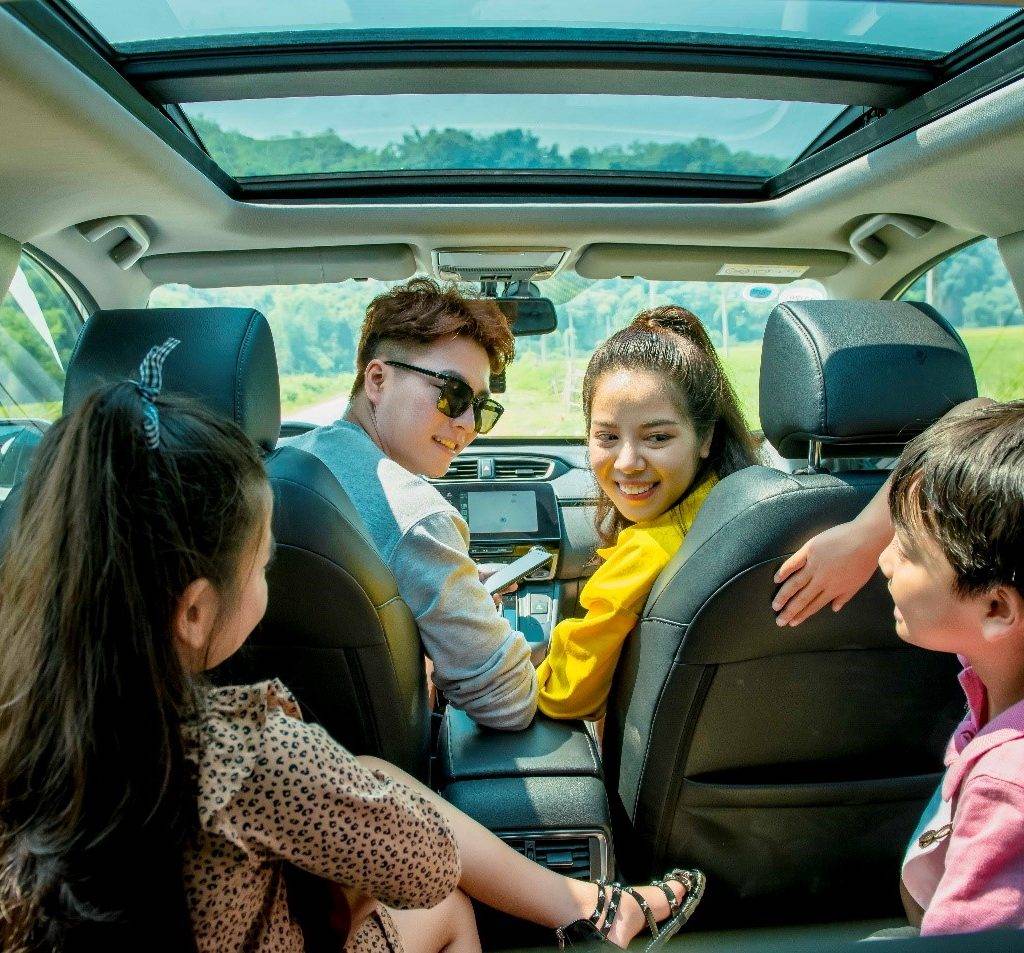 Meanwhile, if you are confident to ride a motorbike, coming to Moc Chau by this means is also an enjoyable experience. Despite the winding mountain pass, in return, you can stop any place to see the beautiful scenery.
It's safer to use a motorcycle in the dry season and depart before 6 pm to avoid dark and dense fog. On foggy days, drive at a moderate speed and keep the headlights on to notice other vehicles.
III. Where to stay in Moc Chau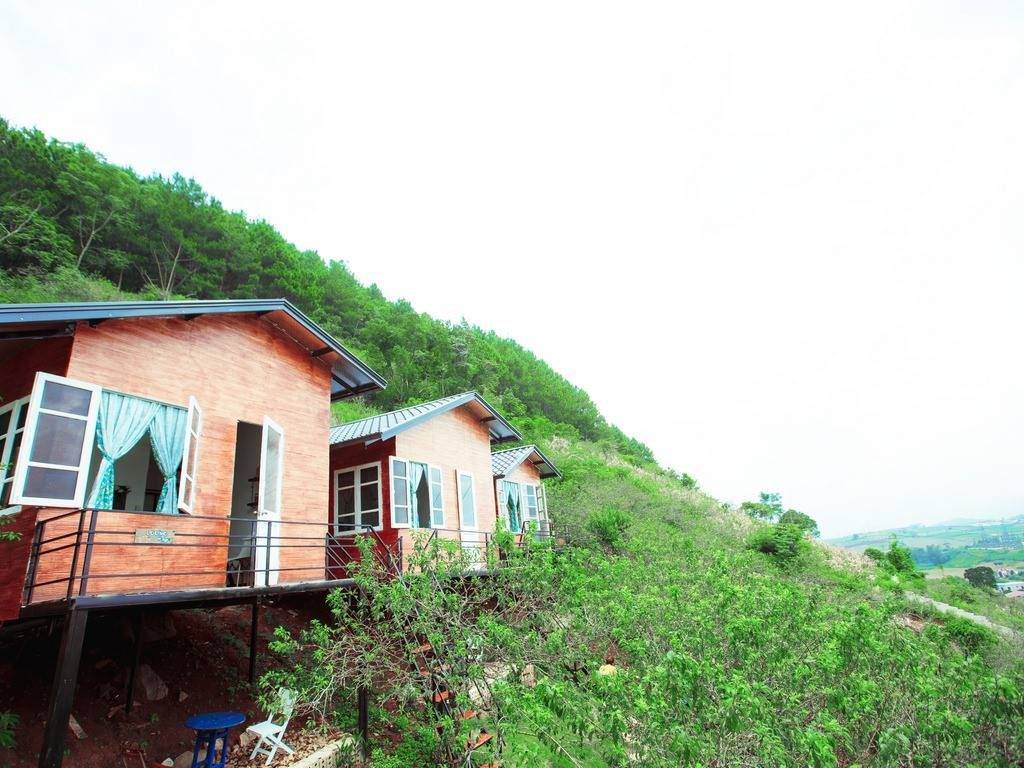 Accommodation in Moc Chau is quite plentiful, varying from resorts, homestays, hotels with the cost of around 100,000 – 300,000 VND/person/night.
However, the most interesting form is to stay with Thai people in their old stilt houses. At the price of 50,000 VND per person, visitors can experience the extremely authentic inhabitant life; shower without hot water, and enjoy delicious home-cooked dishes with organic ingredients grown by locals. The food prices range from 50,000 VND – 150,000 VND/plate.
IV. Top must-visit places in Moc Chau
1. Moc Chau tea hill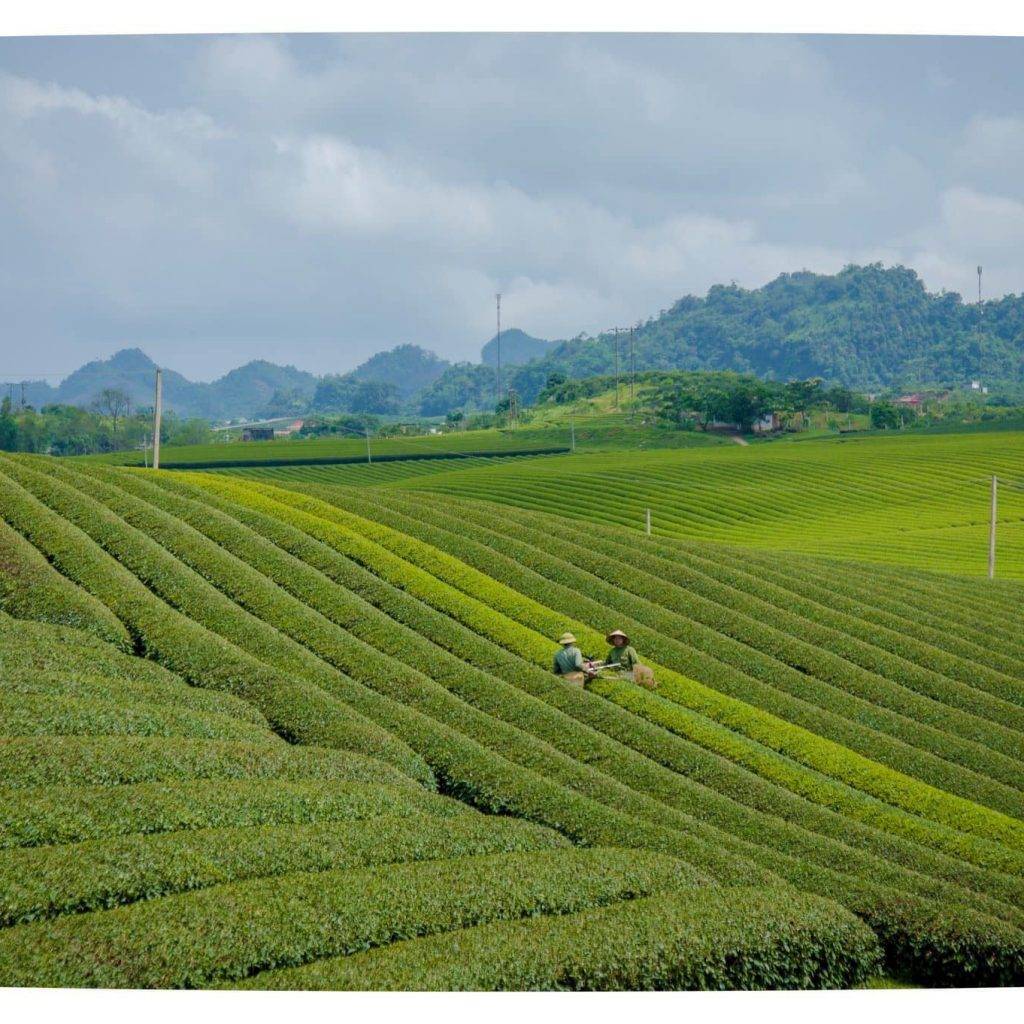 The geological and geographical movements in Moc Chau created red-brown frealite soil, which contains a lot of humus suitable for dry crops, especially tea. Plus the year-round cool weather, Moc Chau Plateau has become one of the best places to grow tea in Vietnam.
The tea hills here are gradually improved and formed in different interesting shapes to attract tourists. During the tea harvest season, the hospitable farmers here will invite tourists a cup of tea made from freshly picked tea buds, while talking about how they take care and harvest the tea most effectively.
2. Ngu Dong Ban On ( 30,000 VND /person)
Ngu Dong Ban On is a system of 5 magnificent caves likened to the five living elements of Kim, Moc, Thuy, and Hoa, which was discovered by the ethnic residents after the historic flood in 2006. Since the terrain here is quite dangerous, mostly narrow and winding dirt roads exploited by a few spontaneous people, this place is still unfamiliar to many visitors, but thanks to that, it still retains the pristine features, which attract those who want to explore and conquer Moc Chau nature most.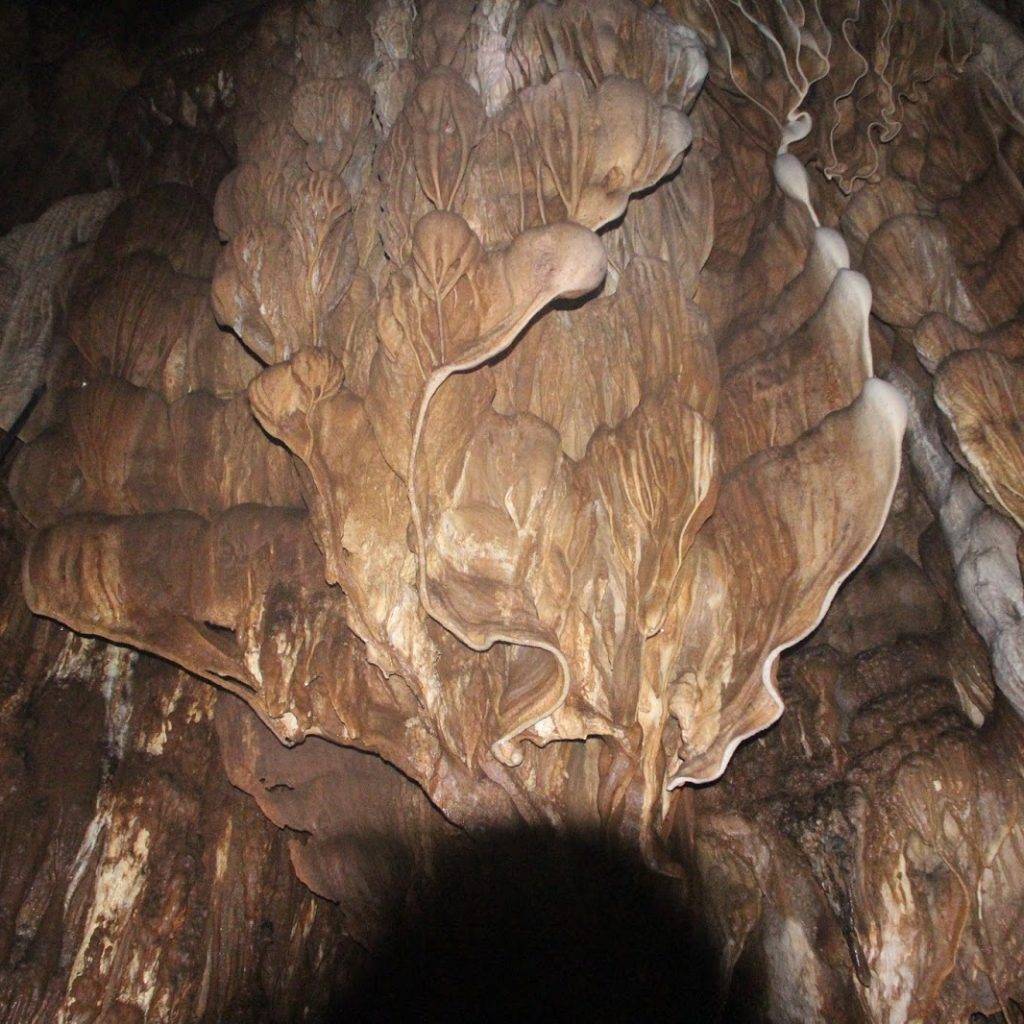 If other caves are usually situated deep in the great mountain peaks, the 5 caves are all on the same hill, making a long way to conquer this place to the fullest. As a reward for that, you will experience diverse natural landscapes along the way; green tea hills from the beginning of the road; followed by dreamy seasonal flower hills; and finally, you have to face small, steep roads along the primeval forest to reach those rare caves full of bright stalactites forming many years ago; just slightly knock to the stalactite, the melodious sounds will echo throughout the cave.
Due to the lack of investment, the electric light system in the caves is quite limited, mainly lit with an electric generator, making it difficult for visitors to see the sights. For this reason, without a guide, it turns out a bad experience in the dark. Moreover, to explore all this complex, you also need to spend a whole, along with well-cared health to conquer the harsh roads.
3. Ang Village (30,000 VND / person)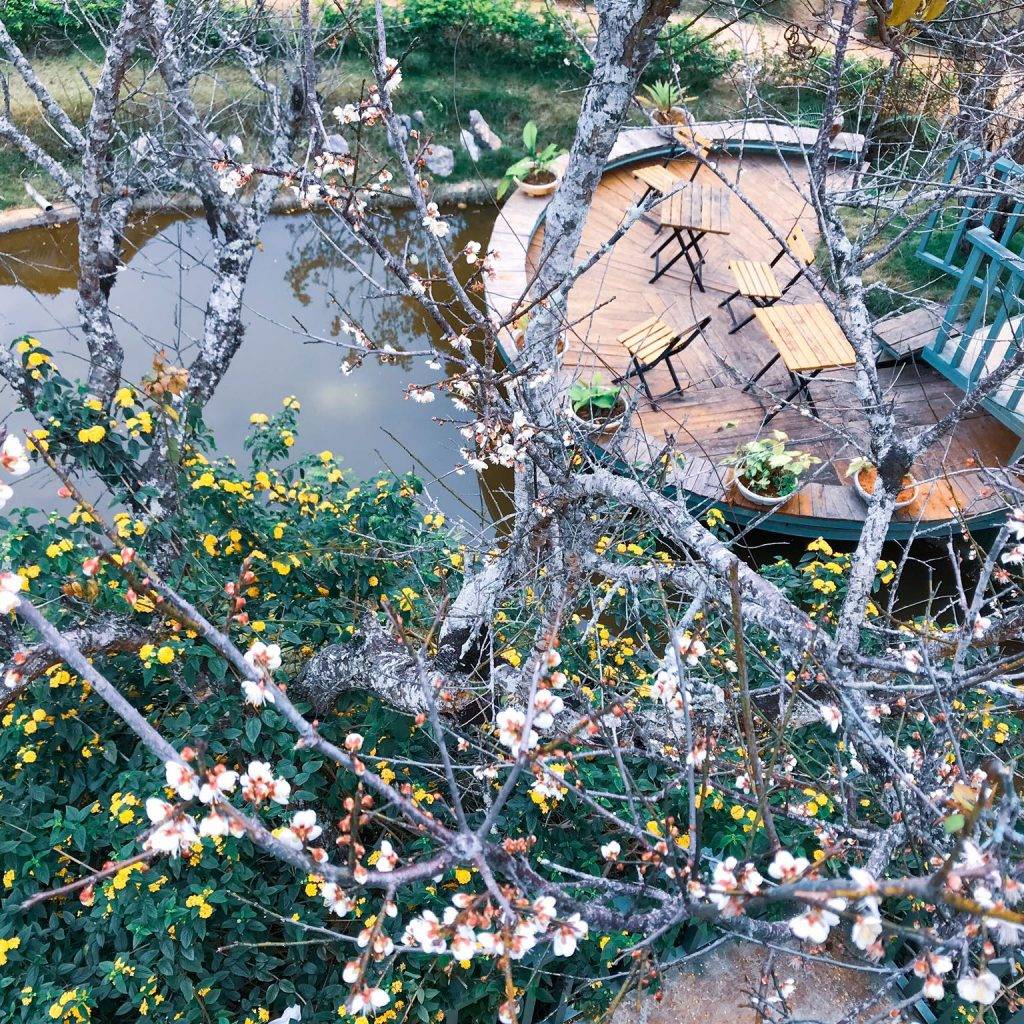 From Moc Chau farm town, along Highway 43 about 2km south, visitors will reach Ban Ang. Thanks to its location on the plateau, this place has a fresh climate with romantic scenery of a natural lake surrounded by green pine forests planted on reddish-brown feralit hills.
Ang village is the residence of the Thai ethnic group, who live mainly by cultivation (tea, cabbage, corn, rice), husbandry, and traditional handicrafts (brocade weaving, knitting, cotton cushioning). The people here still preserve their unique ethnic cultural identities in traditional stilt house architecture, genuine costumes, ancient folk tunes and games, and typical festivals, like Het Cha or New Rice celebration.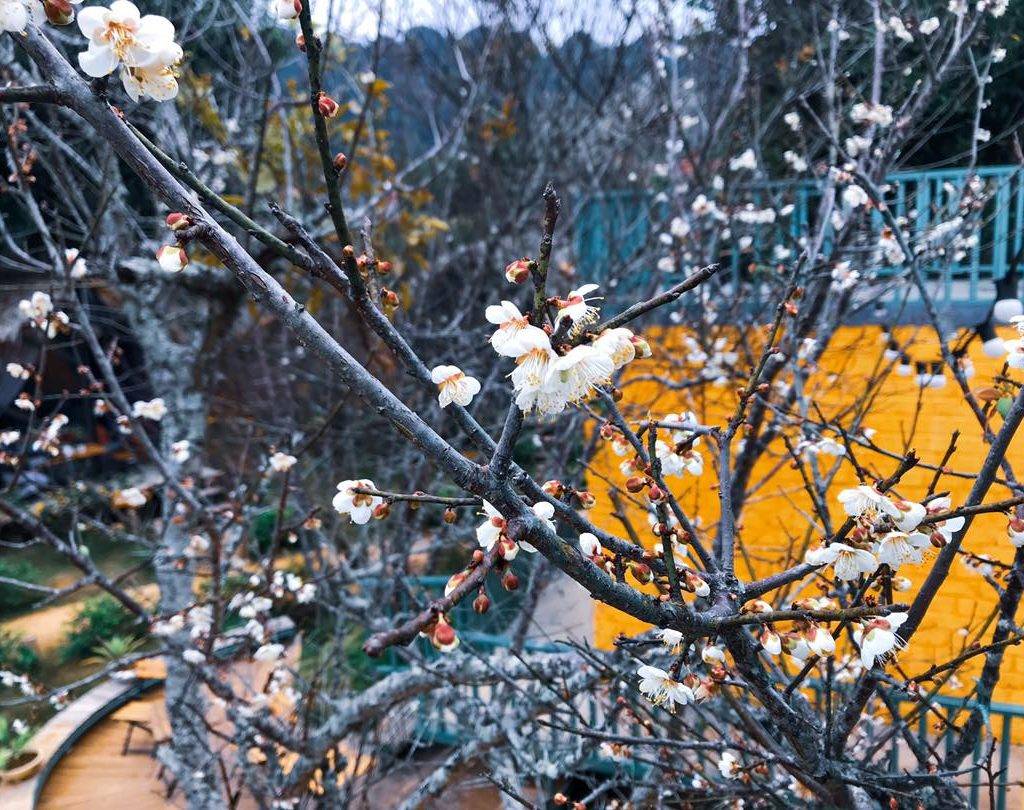 The locals have renovated their shabby houses into rustic homestays, offering visitors a stay while going through daily peasant activities, such as lying on rice cotton mats, picking tea, catching fish, especially riding a horse around the pine forest, and enjoying specialties like Can wine, Lam rice, and Pa Ping Top (grilled fish), Be Chao, wild vegetables, etc.
The villagers believe that the majority of tourists will prefer to stay in their "hotel-houses" because of both the clean living conditions and a great opportunity for tourists to better learn the Vietnamese ethnic minority's authentic culture.
4. Dai Yem Waterfall (50,000 VND /person; the parking ticket: 10,000VND)
Dai Yem waterfall is a historical landscape, associated with the Thai people in Muong Sang for a very long time. The name Dai Yem comes from a story about a young girl who uses a pink yem (a traditional Vietnamese women's camisole) to save her lover during a flood.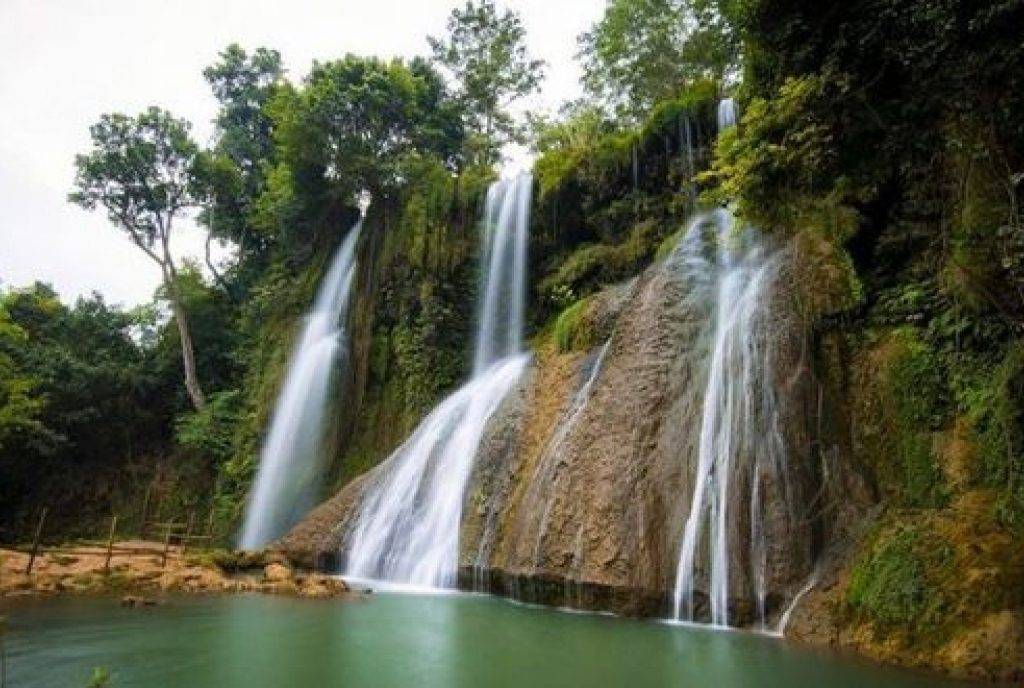 The time from April to September every year is the rainy season in Moc Chau, also when Dai Yem waterfall has the most water. The waterfall consists of two levels, the upper waterfall is more than 70m wide and has 9 floors; the other has 5 floors and is about 200 meters away. At the foot of the two waterfalls is a vast expanse of water with countless rocky tissues creating unexpected slope flows. Visitors can trek to the top of the second waterfall to explore the rich vegetation and have a panoramic view of Moc Chau mountain.
The area isn't really big, it might be pretty overwhelmed in peak season. Since more or less influenced by humans, besides newly-added convenient passways and toilets, there are a few unnecessary things for such natural landscapes, namely the glass staircase and the artificial park.
5. Mount Pha Luong (20,000 VND / person)
If you love conquering treacherous roads to set foot on high mountains for breathtaking sceneries, Pha Luong Peak is really an ideal name. About 30km from Moc Chau, located on the border between Vietnam and Laos with an altitude of nearly 2,000m, Pha Luong is a challenging mountain, requiring much stamina and courage.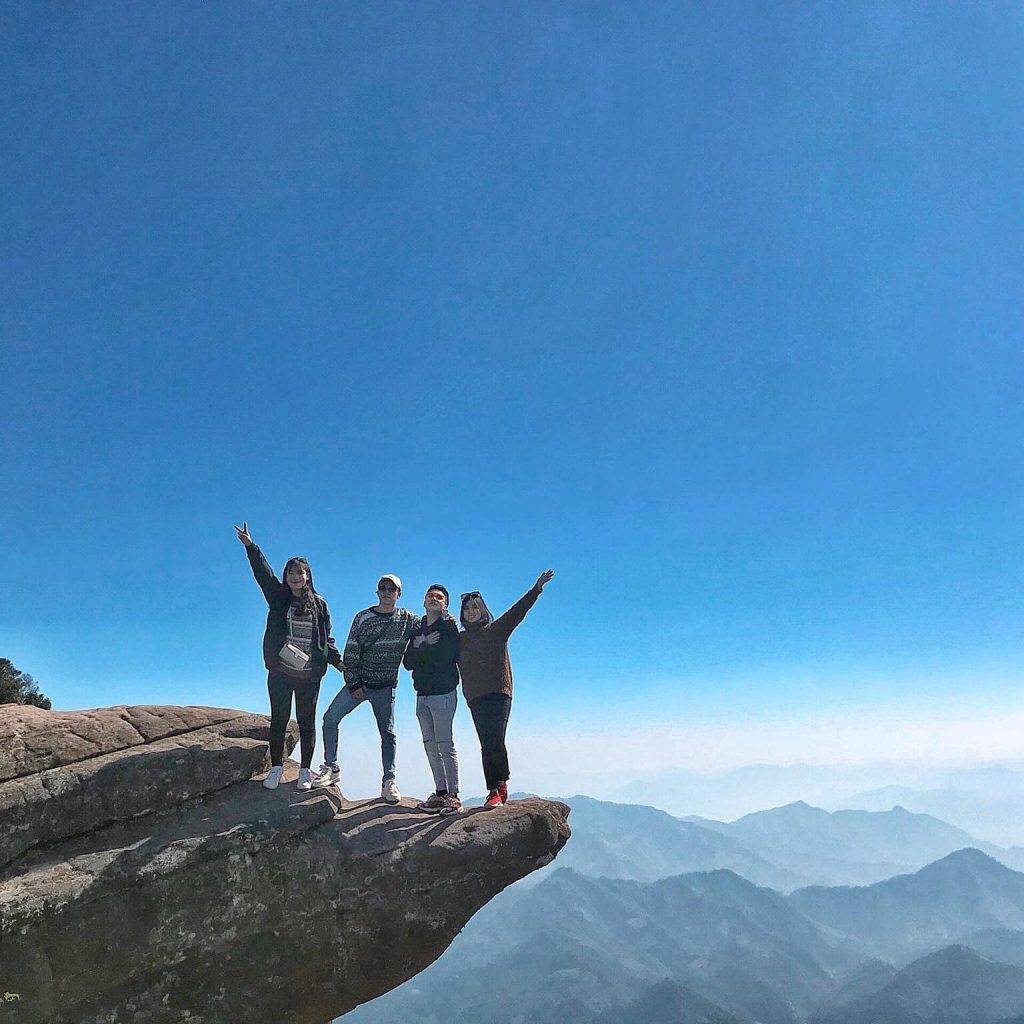 A border post permit is a prerequisite to begin the journey only on a day. Although the distance to the top of Pha Luong is only about 10 kilometers, taking at least 2-3 hours if it is dry and slow, the terrain is super varied. Visitors will experience changes in scenery along the way, which can be a moment of bowing under the rows of bamboo forests, then pass a path of tall maple trees, or step cautiously on unstructured slippery roads.
Hard work paid off; as soon as reaching the peak, you can not only see the majestic scenery but also the natural vegetation boundary between Laos and Vietnam. It's good to enjoy the fresh air here but remember to avoid the strong winds on the upper edge. Plus, prepare water and some snacks to avoid exhaustion during trekking!
6. Suoi Bang ghost cave (20,000 VND)
Suoi Bang commune is a famous destination for not only original beauty but also the mysterious existence of hanging coffins on the cliffs and relics dating back hundreds of years ago.
Curiously, these ancient coffins made of hollow tree trunks are only found in caves along craggy cliffs, facing east. According to the researchers, such locations would prevent other ethnic groups or wild beasts from damaging the coffin, as well as preserve them in the best condition thanks to a lot of wind and sunlight.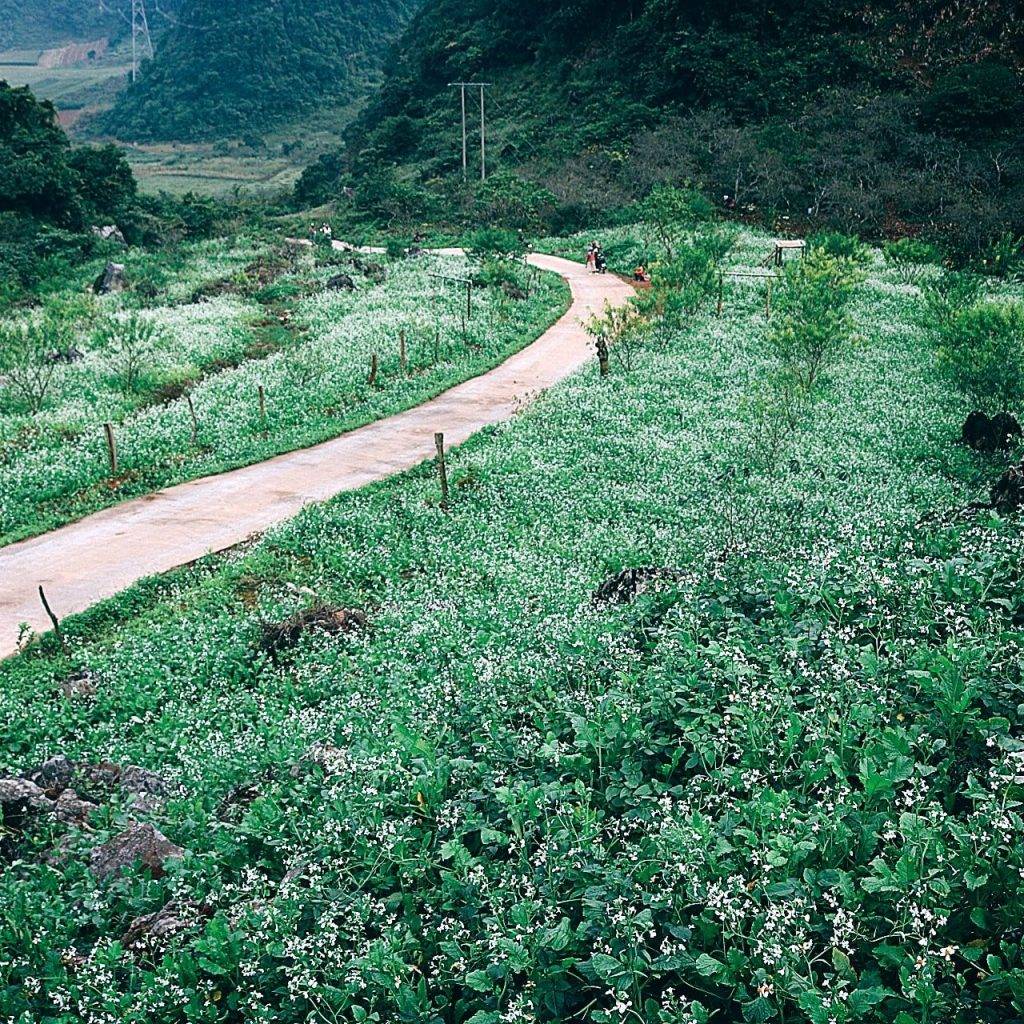 Legend has it that these are ancestral coffins hidden by the Xa people after they lost in the division of the territory with the Thai. Some other studies have suggested that the hanging coffins may have belonged to the ancient Dao in the upper reaches of the Da River, as they are proficient in both crafting and climbing.
To get to the ghost caves, you have to go through the tangled roots and vines. Inside are the aged coffins guarded on the tree branches, surprisingly dry and untouched, making tourists wonder why such large blocks of wood can be moved into the cave and lasted almost intact over thousands of years.
7. Bat Cave (10,000 VND/person)
Another attractive destination in Moc Chau is Doi cave (Son Moc Huong ), found in the limestone range in the Northeast, with an area of ​​more than 7000 square meters. The place contains a lot of historical value because it used to be inhabited by the ancient Vietnamese (more than 3000 years ago) and was the base of the Vietnamese army in the wars against France and America.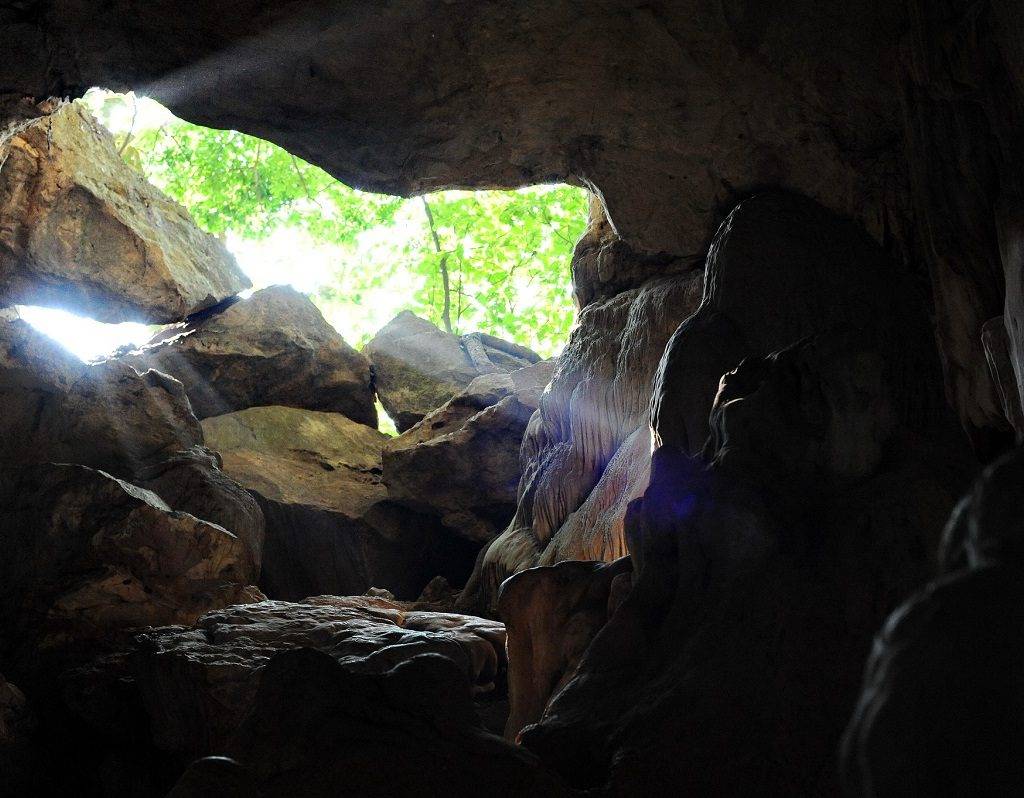 Bat Cave is made up of three main parts, which is likened to the three parts of a dragon, head – body – tail. The stalactites of all shapes and sizes drop to the ground, stimulating the imagination of visitors. Deep inside, at the ceiling, you may see many bats hanging – that's the reason for the name Bat cave. Water droplets on the cave's dome steadily create a non-stop gentle sound. There is a stalactite compared with mother's breast; people here think that if you patiently catch a drop of water, you will have good luck.
Although the cave is airy, a lot of spaces inside are still dark, therefore, you had better equip a flashlight to have a better view.
V. What to eat in Moc Chau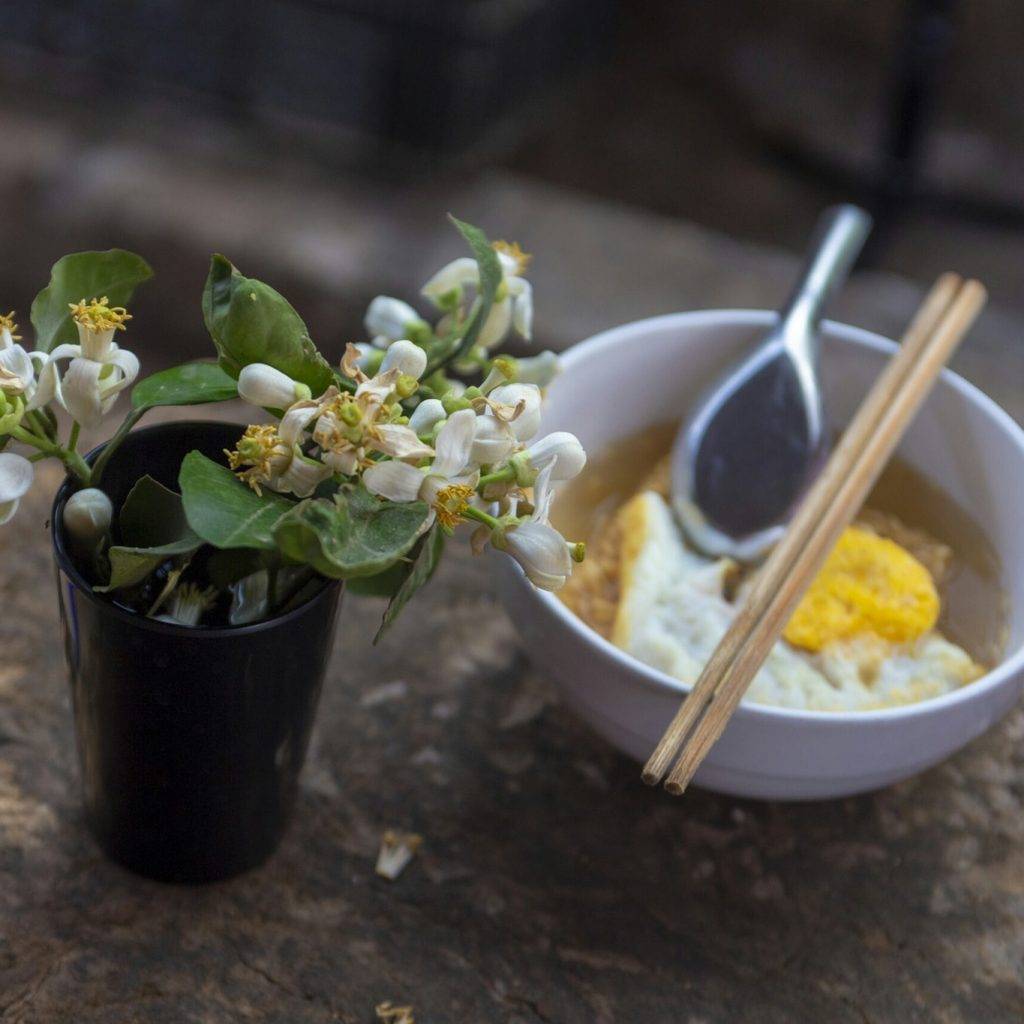 Being rustic from the landscape to the lifestyle of locals; as a result, Moc Chau specialties are also simple yet equally delicious.
1.Thit trau gac bep (Smoked buffalo meat)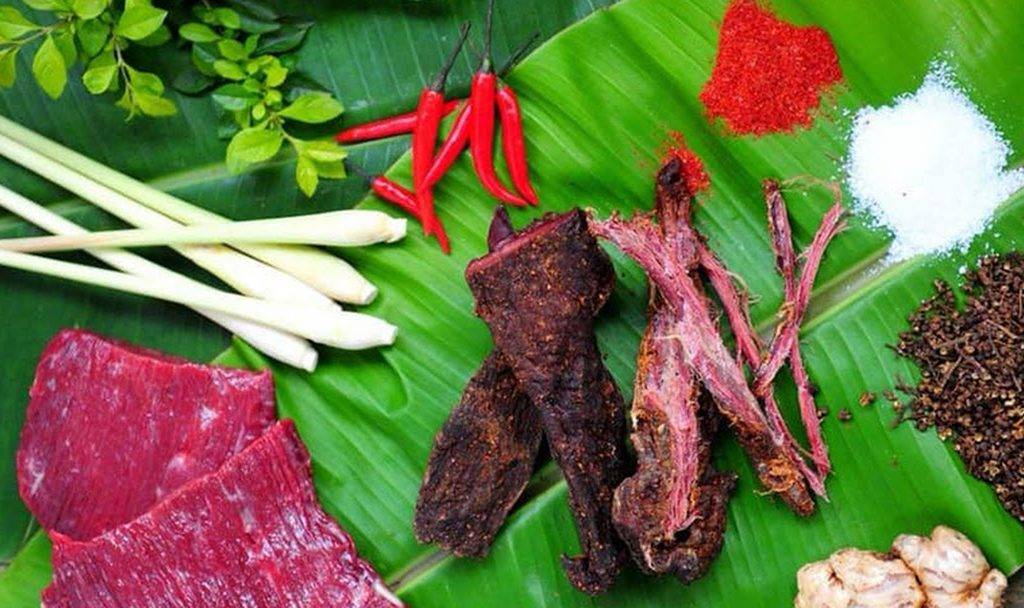 Thit trau gac bep is a handcrafted dish of Thai people, which requires a complicated cooking process; from filleting the meat into pieces to smoke above charcoal taken from the rocky mountains.
The standard thit trau gac bep will be dark brown outside, while the inside meat will be naturally red. When chewing, we can feel the sweetness of the meat mixed with the aroma of rock smoke and the pungency of wild pepper; all create an unforgettable dish for any visitor. The price of Moc Chau smoked buffalo meat is about 600,000 VND / 500gr.
2. Be Chao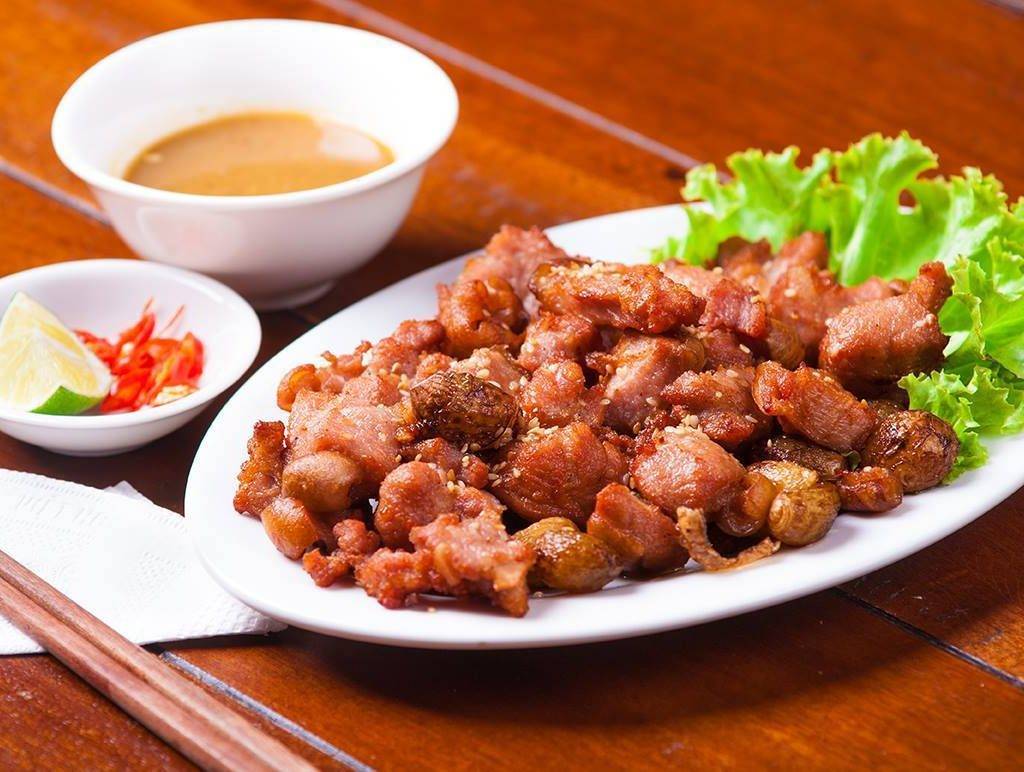 This dish is made from veal belly, thinly sliced, blanched in boiling water, then marinated with spices including ginger, pepper, lemongrass, chilly satay. Each soft and sweet calf when heated through boiling oil emits a strong aroma, stimulating the diner's appetite.
As one of the must-try specialties in Moc Chau, it is not difficult to come across the restaurants selling Be Chao on National Highway 6, especially in the Chieng Di area. The price is also quite affordable, from 100,000 VND to 150,000 VND for a small plate; and from 150,000 VND to 200,000 VND for a large plate of 4 people.
3. Grilled fish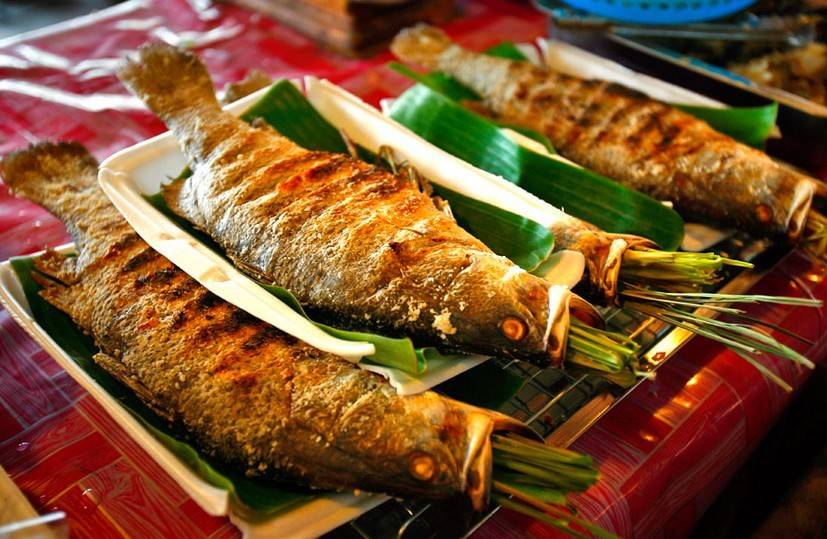 The fish are caught naturally in streams, not large, only the size of a finger or a knife, and exceptionally is not fishy. Although there are many different ways to prepare spring fish, Moc Chau grilled stream fish is still loved by many visitors because it retains the naturally sweet taste of fresh fish. The price of the item ranges from 80,000 VND to 100,000 VND for a plate.
3. Mustard green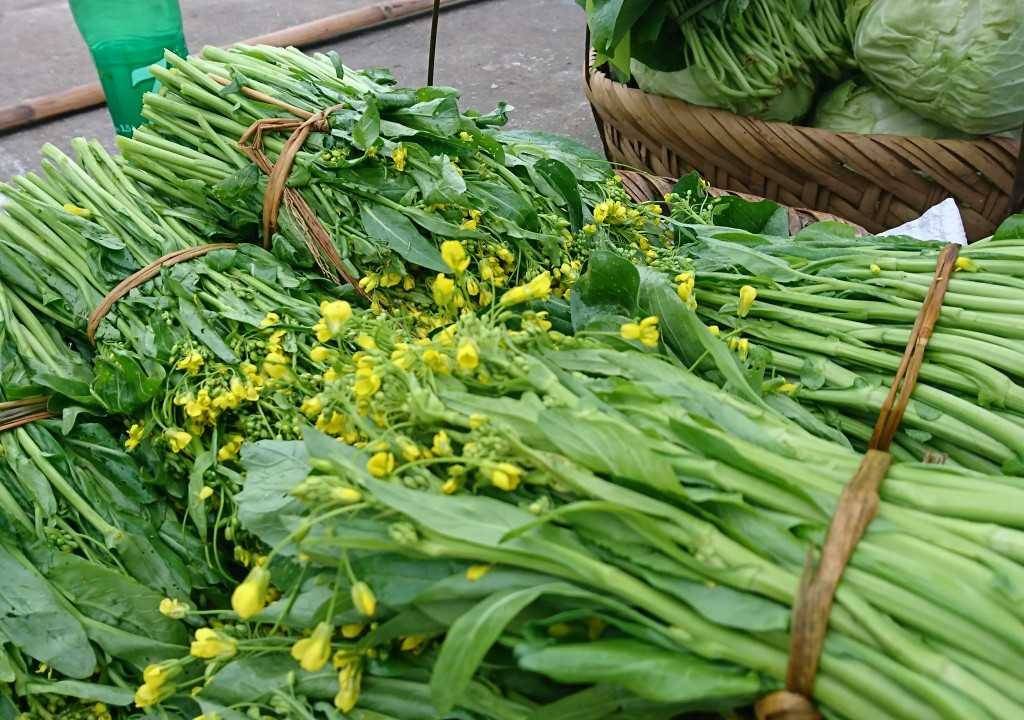 Moc Chau mustard green has a slightly bitter taste and is cooked into various dishes, such as boiled, stir-fried with beef, soup, or eaten with hotpot, etc. This veggie often appears in Thai people's daily meals.
Due to the suitable climate for the growth and development, Moc Chau mustard green only needs to be watered but still ensures freshness and quality. Its cost is from 15,000 VND – 25,000 VND/kg.
4. Suoi Bang snails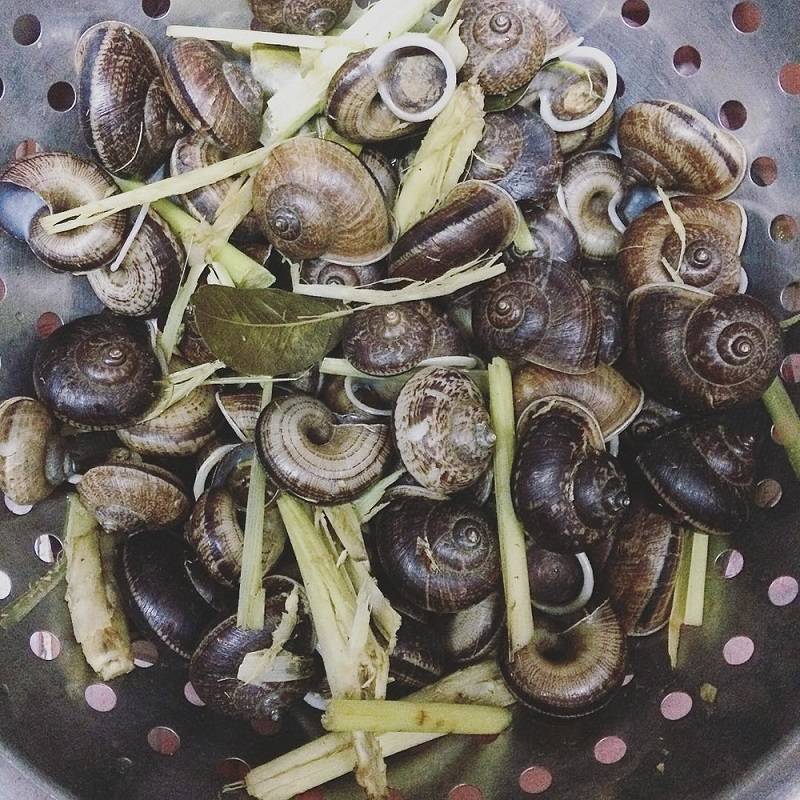 Dishes from Suoi Bang snails impress visitors with its distinctive savory flavor that is totally different from usual snails. We can steam the snails with lemongrass, or mix with mango salad and sour soup. The snail price ranges from 25,000 – 40,000 VND /serving.
5. Grilled pork with mac khen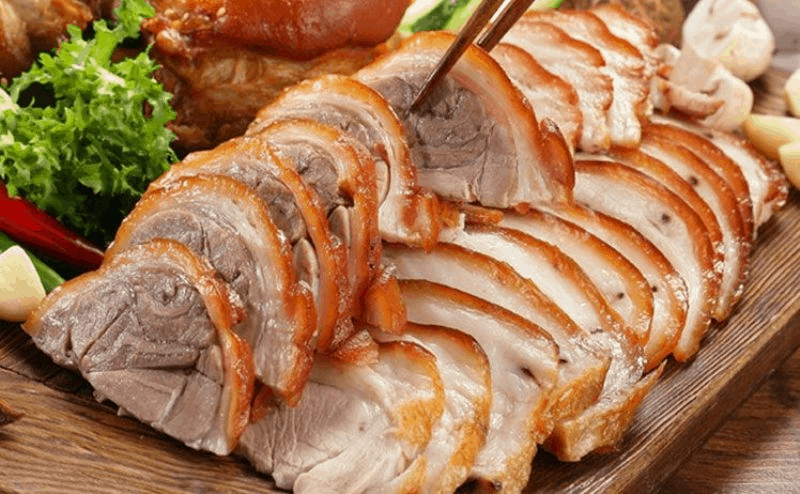 The pork here is firm and lean thanks to the way of raising freely that makes the pigs move a lot. After being sliced, the meat will be skewered and then added mac khen – the spice with a pungent aroma like anise and cinnamon. For all the good material, grilled pork with mac khen in Moc Chau has an irresistible taste. The dish costs from 900,000-1,200,000 VND / tray for 6 people.
6. Moc Chau Salmon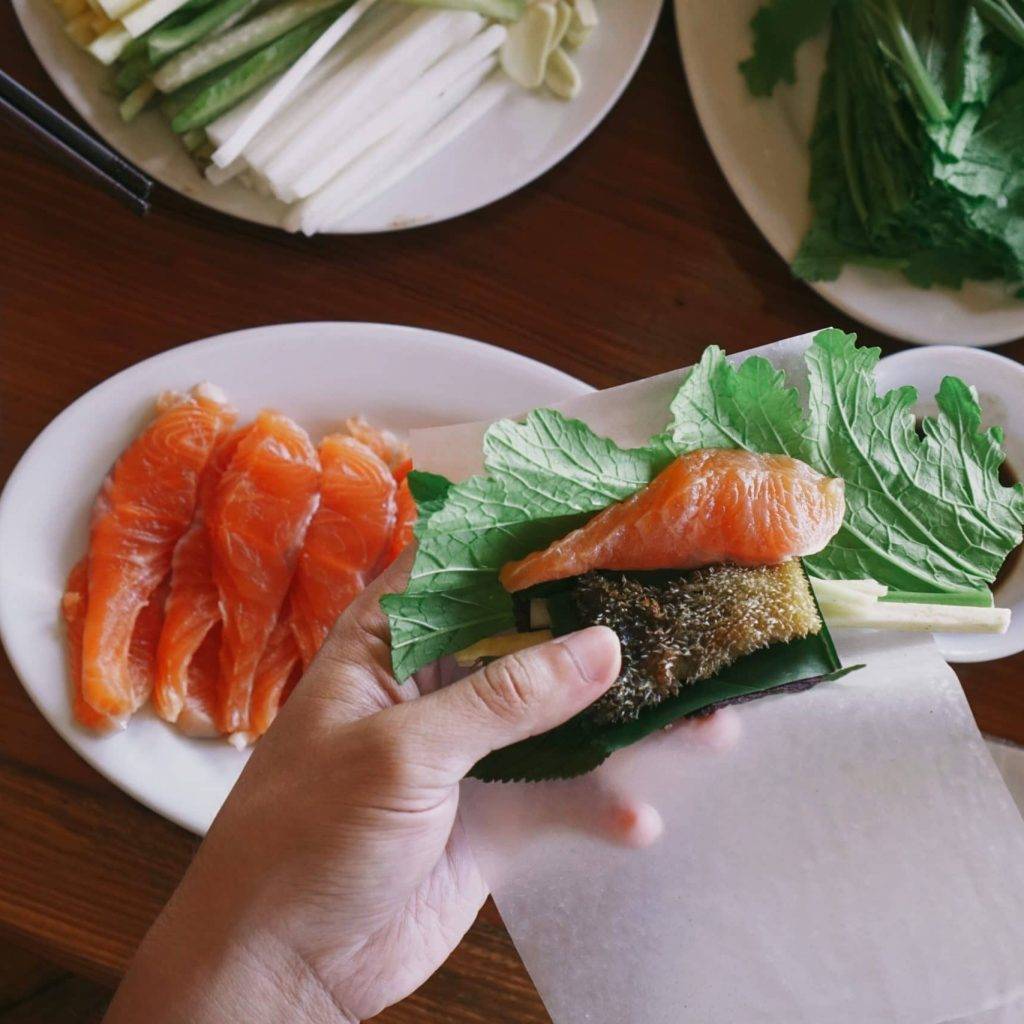 Salmon is also a prominent name in Moc Chau's specialties. Because being raised in cold water and processed in secret recipes, the salmon has a very special flavor. With only 200,000 VND, visitors can even have a meal with 6 luscious salmon dishes, like salmon salad, fried salmon skin, fried salmon meat, smoked salmon, hotpot, nutritious salmon porridge.
VI. Some notes when traveling to Moc Chau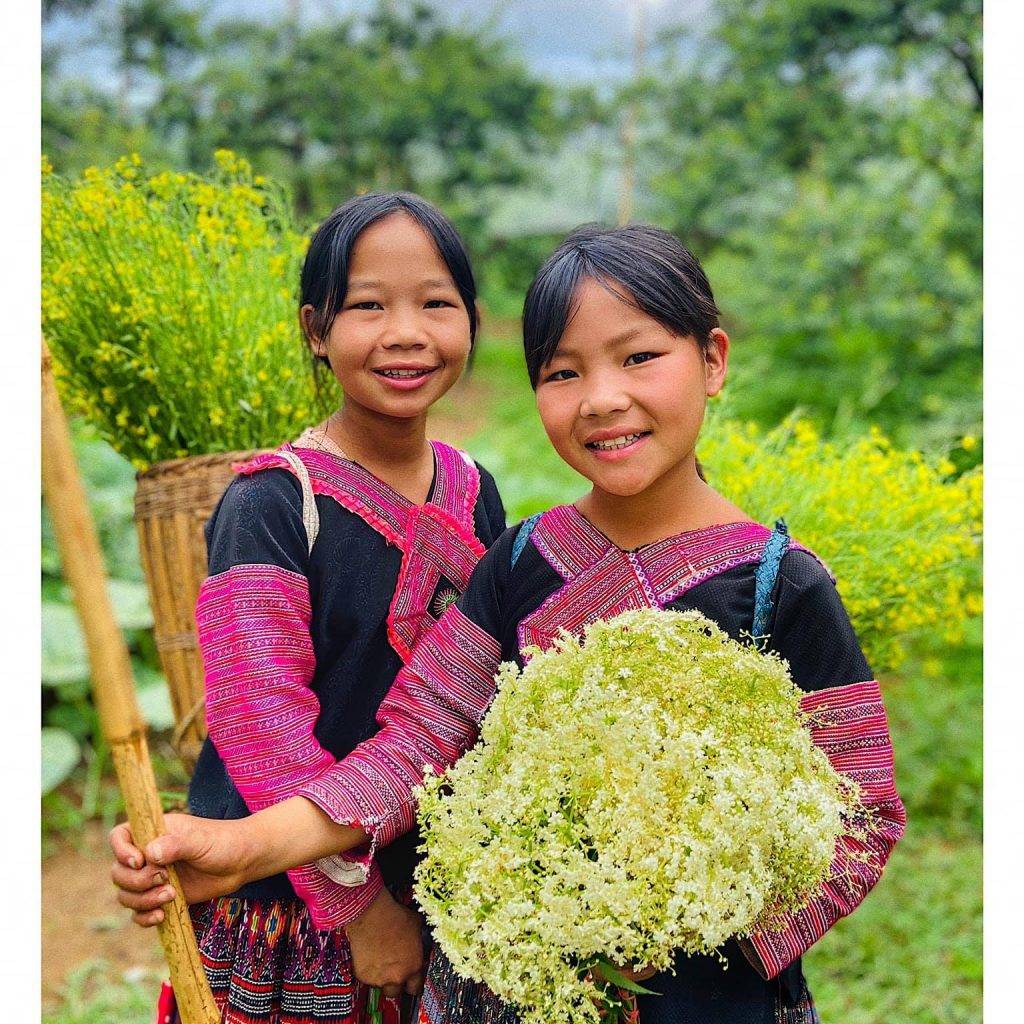 Clothing: Moc Chau has very special weather; there can be 4 seasons in a day. During the days of March-August, the daytime can be sunny, however, in the afternoon and at night, it's rather cold, so you should bring both winter outfits and cool clothes.
Shoes: You should consider choosing the footwear suitable for the terrain you will travel; for example, sneakers are the priority when climbing or trekking.
Personal belongings: If you want to stay outdoors or camping in Ban Ang pine hills, bring a tent and toiletries.
Medicine: Insect repellent is indispensable because the weather here is wet, there will be a lot of mosquitoes and insects. Also, try to bring medicine for stomach aches, flu, bandages, and gauze in case a bad situation occurs.
Money: Whether on a tour or self-guided, bring some cash along for accommodation and shopping needs here.