THE FOREIGN NEWSPAPER RECOMMENDS 10 BEST BUN BO HUE SHOPS
The famous chef Anthony Bourdain has recognized Bun Bo Hue (Hue beef noodle soup) as one of the most delicious dishes in the world. The noodle soup bowl is attractive with a strong, spicy broth and beef, pork legs, fresh vegetables inside. The food comes from Hue, but in Saigon, visitors can still try it at the 10 famous addresses below.
1. Bun Bo 31
Located on Mac Dinh Chi Street (District 10), the restaurant stands out thanks to its large red sign. At first glance, this space may look a bit old because it has existed for nearly 30 years. Here, diners can order a "special bowl including everything" for 44,000 VND (about 20 US dollars/ 220 yen). The tender pieces of meat, crispy and tough pork leg with the rich broth are the highlights of this address. Guests can even watch the chefs cooking behind the screen.
2. Bun Bo Uncle Ha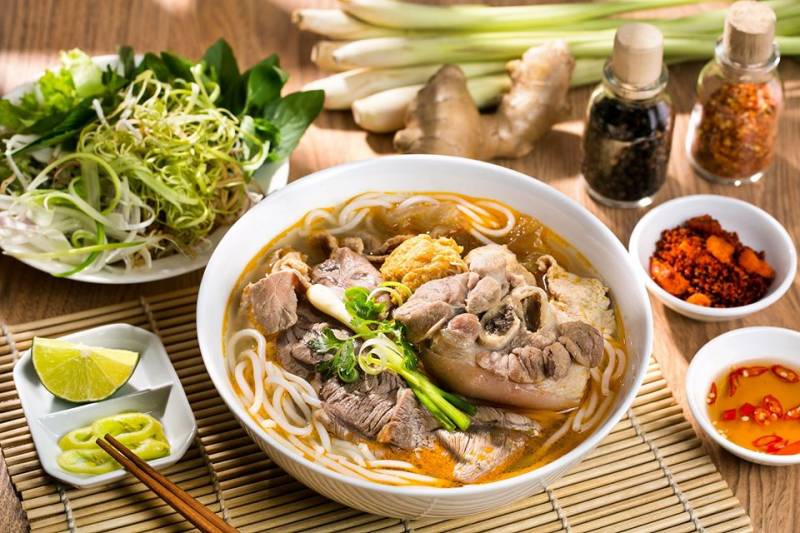 The shop is on Vo Van Tan Street (District 3), near the intersection with Nguyen Thuong Hien Street. Located in the middle of a row of houses on the street, the shop is characterized by a small stroller full of ingredients, covered by a glass. When a customer orders, the owner will blanch the noodles and put them in a bowl before placing ingredients such as spring rolls, beef, pork leg, etc., on top. No need to decorate, the bowl of Bun Bo here is attractive enough thanks to the broth. The owner combines Chinese cooking in a traditional dish of Hue people. The price for a meal here is about 60,000 VND (about 30 US dollars/ 300 yen).
3. Nam Giao Shop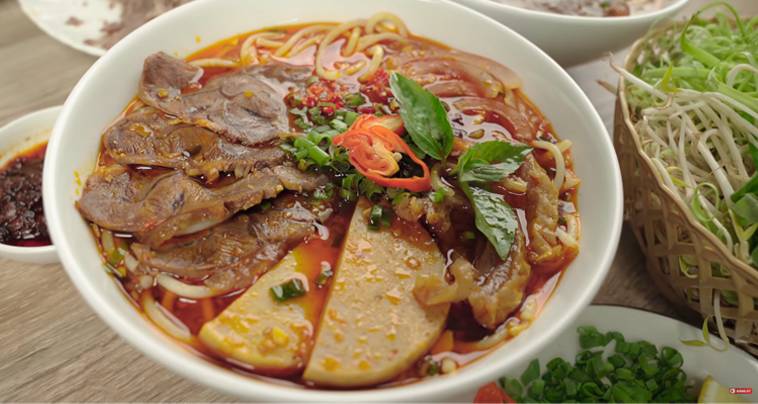 The shop is on Bui Vien Street, District 1, so it attracts many foreign customers. This address opened in the 1990s with the impression of using lemongrass and shrimp paste harmoniously. You will be served a variety of vegetables and spices to mix in your bowl manually. In addition to the delicious beef noodle soup, this place also serves Quang noodles and some Central specialties. Each bowl of beef noodle soup here is priced from 62,000 to 72,000 VND (about 3-3.5 US dollars/ 310-360 yen).
4. Dong Ba Shop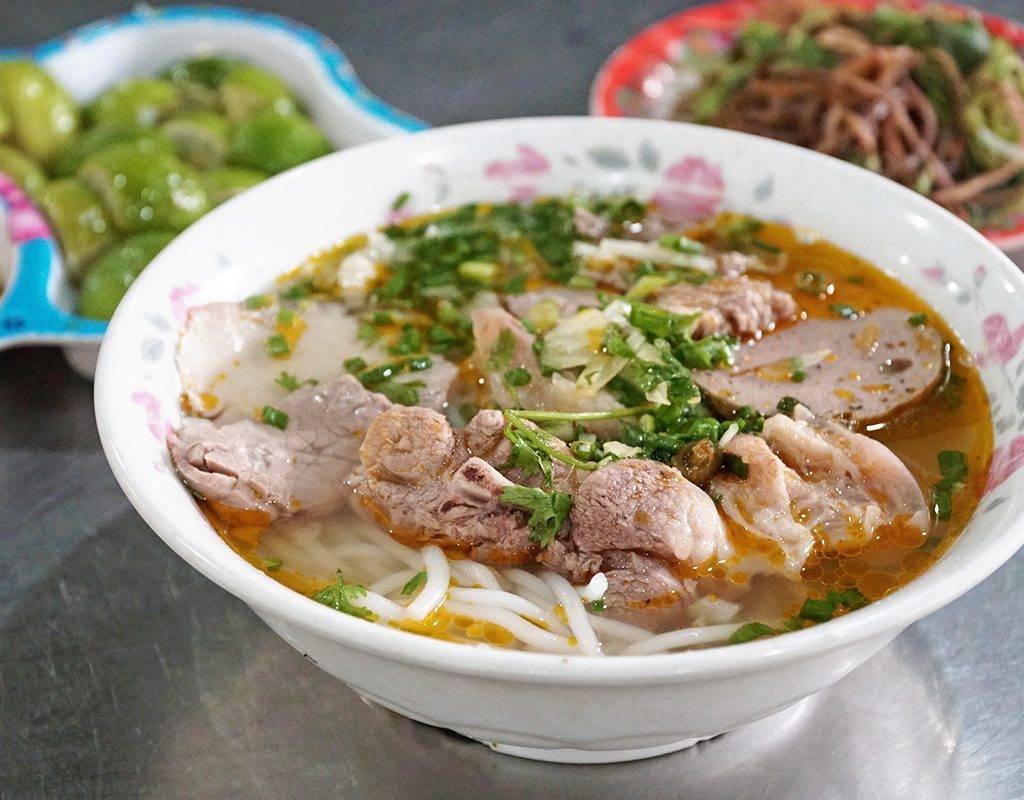 This is one of the oldest Hue beef noodle shops in Saigon, located on Nguyen Du Street (District 1). This address serves dishes prepared with an heirloom recipe. Most visitors to the shop are tourists. They often call a mixed bowl full of beef, pork ribs or lean meat, crab rolls, pork sausages, etc. The price of this meal is 75,000 VND (about 3.5 US dollars/ 375 yen).
5. Bun Bo Hem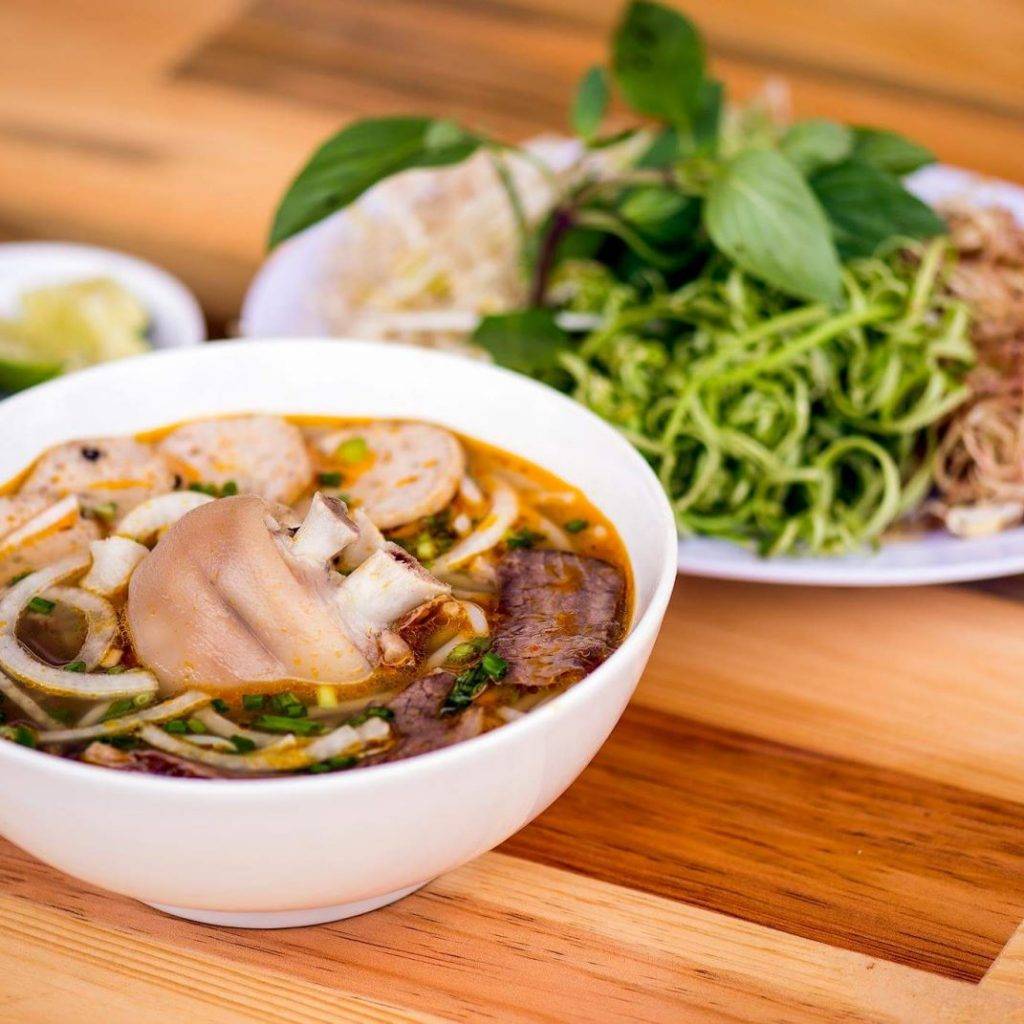 As the name implies, this restaurant is in an alley on Tran Quang Dieu Street, District 3. Once located on Ly Chinh Thang Street, District 3, the shop expanded and moved to a larger space. Visitors can come here to enjoy a bowl of beef noodle soup after exploring the tourist destinations in District 3. The dishes at the restaurant have been flavored to suit the taste of the Southern people. The price for each bowl is about 30,000 VND (about 1.5 US dollars/ 150 yen). In addition to beef noodle soups, you can find other Hue specialties on the menu.
6. Bun Bo Ut Hung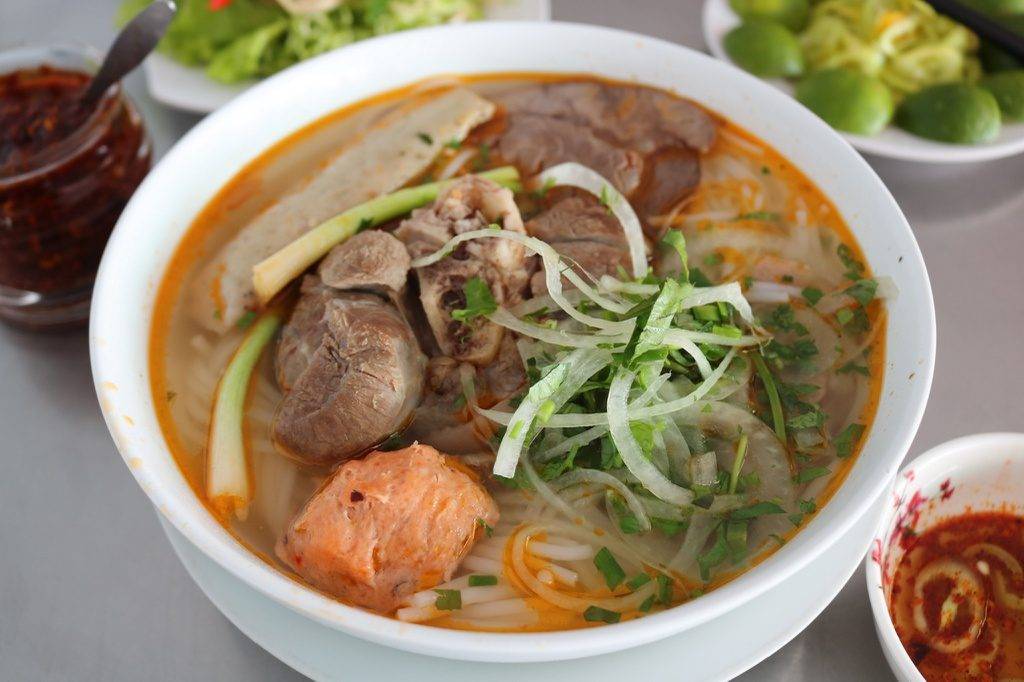 This is an address loved by many Saigons, which is always crowded during opening hours. Bun Bo here is made from a recipe from An Cuu, a village in Hue. The broth has the fragrance of beef with a characteristic red color. When enjoying, don't forget to add some chili and lemon slices. The price for a bowl is about 30,000 – 45,000 VND (about 1.5 – 2 US dollars/ 150-225 yen).
7. Bun Bo Hue Hanh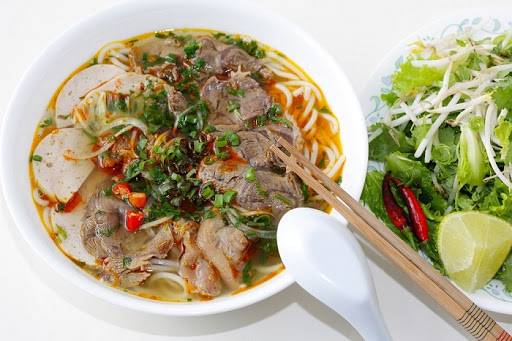 This is a famous beef noodle soup location on Banh Van Tran Street, Tan Binh district. The owner is originally from Hue, so the taste of beef noodle soup here is attractive to many guests. The noodles are small and soft, with the sweet broth stewed from bones. The attentive, quick service, as well as affordable prices and delicious taste made with fresh ingredients, are the plus points of the restaurant. The price for each bowl is 40,000 VND (about 2 US dollars/ 200 yen).
8. Bun Bo Xua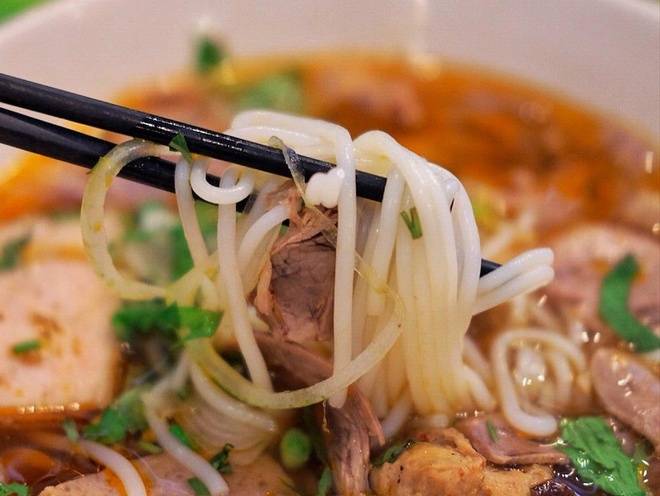 Guests can choose to enjoy beef noodle soup in a more upscale restaurant at this address. The shop is located on Cach Mang Thang 8 Street, District 3. The interior space is decorated like a house in rural Vietnam, in which tables and chairs are made of bamboo. Not only serving beef noodle soup, but the restaurant also has other Vietnamese dishes. The price for a bowl of beef noodle soup is about 30,000 – 45,000 VND (about 1.5-2 US dollars/150-225 yen).
9. Tay Loc Shop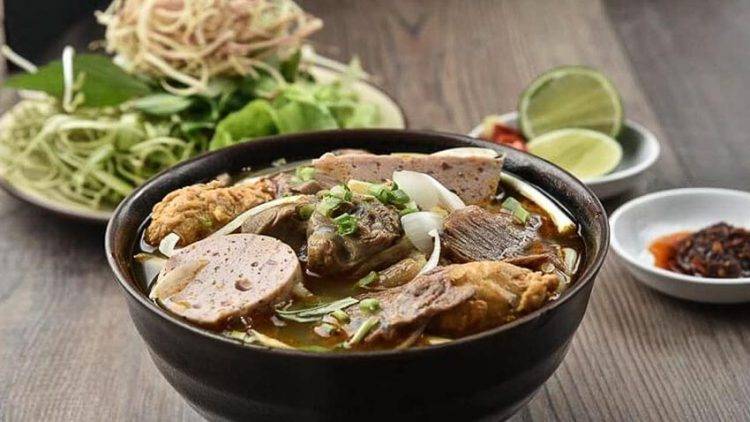 The owner is a Hue native, so when coming to this address, diners will have the opportunity to enjoy the delicious taste from the standard recipes. The shop is located on Nguyen Binh Khiem Street, District 1. Each bowl of beef noodle soup here has an average price of 48,000 VND (about 2 US dollars/ 240 yen), scored by a lot of food.
10. Song Huong Shop (Huong River)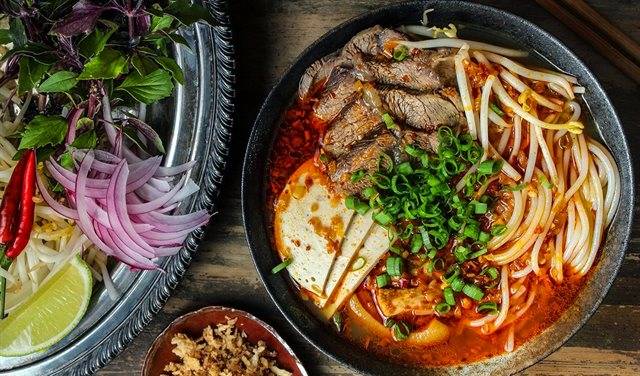 With 6 branches in Saigon, the shop is quite famous for people living in the city whenever they want to eat beef noodles soup. However, the flavor here is not very special, and space is like many other eateries in Vietnam with small tables and chairs, which are always neatly arranged. You should taste the broth before adding any other spices to the bowl. Each meal here costs an average of 40,000 VND (about 2 US dollars/ 200 yen).