The hundred-year-old kingdom of bricks in the SouthWest, Vietnam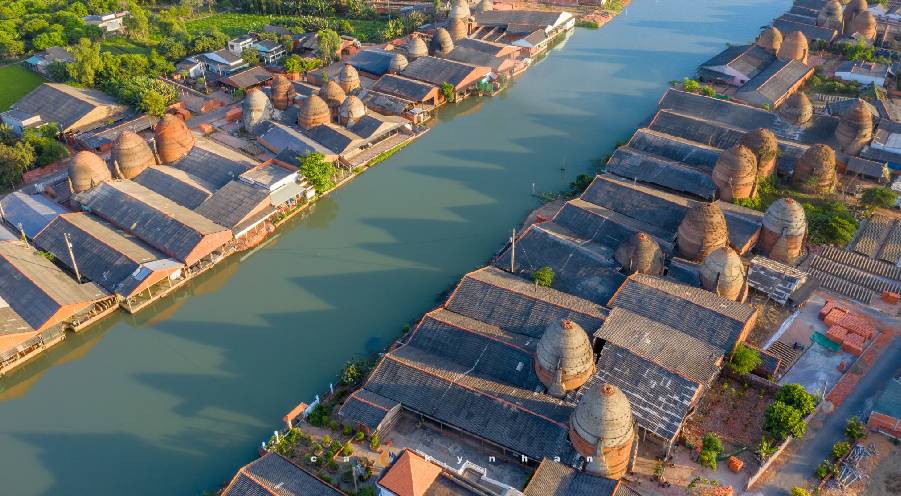 Mang Thit brick village in Vinh Long is a long-standing traditional craft location near a romantic river in the Southwest. The red kilns and rows of brick mixed with the sparkling natural landscape here have captivated thousands of visitors.
1. History of Mang Thit village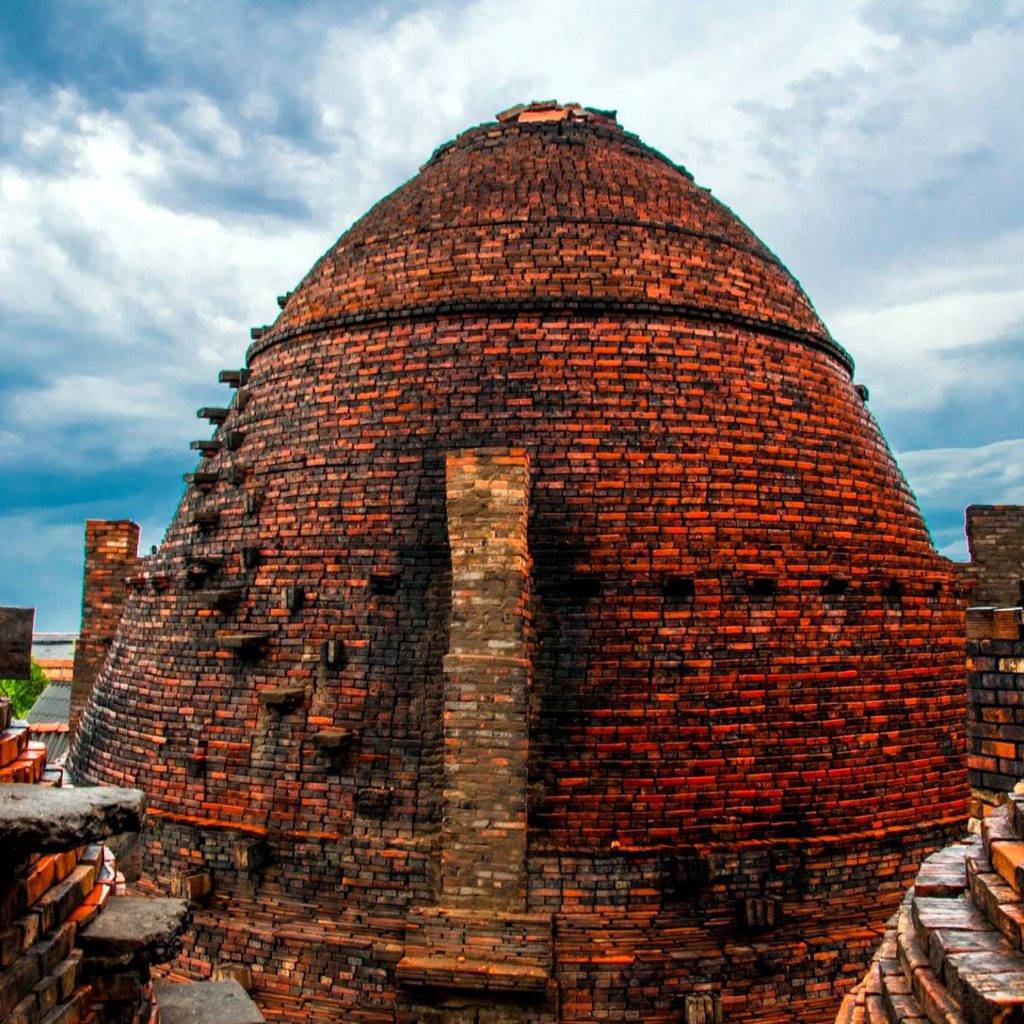 Mang Thit brick village, which stretches around 30km, is located in Vinh Long city, Long Ho district, and Mang Thit district, along Co Chien river – Thay Cai canal. The place used to be home to over 1,000 production facilities and 3,000 kilns in the golden year 1980s when the production cost was low due to the main use of coal and rice husks. According to local artisans, since the early 20th century, Mang Thit tile products have outperformed in quality thanks to natural clay sources and typical cooking techniques.
The lives of people here are associated with each red brick; many generations grow and develop with bricks and ceramics. Most of the products are transported by boat across the country, and also exported to some nations, such as Cambodia, Korea, and Thailand.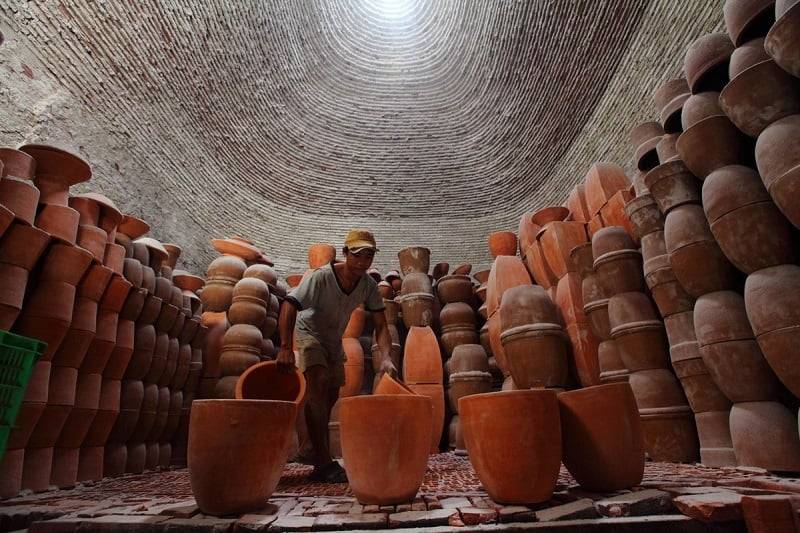 However, this "red brick kingdom" began to collapse in the 2000s because of high production costs and new consumer habits. Therefore, the orders have been reduced significantly, leading to the brick-burning profession has gradually declined. A lot of residents have to demolish their facilities, some even sold them, causing only over 1,000 kilns are in existence now.
A few households with a deep passion for the profession also leave their kiln non-operating so that sometimes those kilns remind them of a distant golden age. The whole land along the Co Chien River became quiet and glimmering.
2. How to go to Mang Thit brick village
– From Saigon to Vinh Long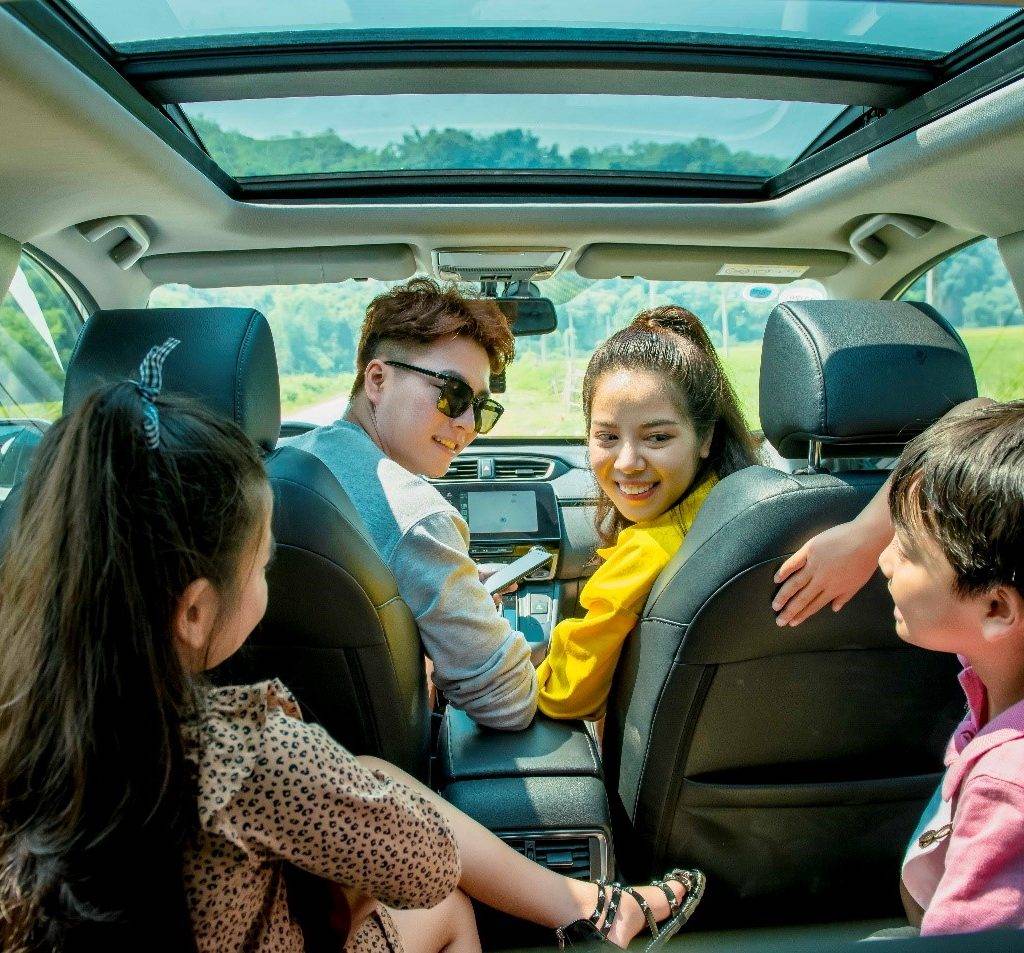 Vinh Long is not so far from Ho Chi Minh City, about 140km, therefore, the most convenient ways to travel are buses or motorbikes. Traveling by motorbike is not only economical but also suitable for admiring the scenery along the way.
The bus ticket price of companies like Phu Vinh Long, Phuong Trang, or Thanh Buoi ranges from 80,000 – 100,000 VND/ticket /one way.
If traveling by motorbike, you can refer to this route: Saigon -> follow National Highway 1A -> Binh Tri Dong A -> go to Tan Tao street -> Dem Market -> the direction of Ho Chi Minh – Trung Luong -> Vinh Long city.
– From Hanoi to Vinh Long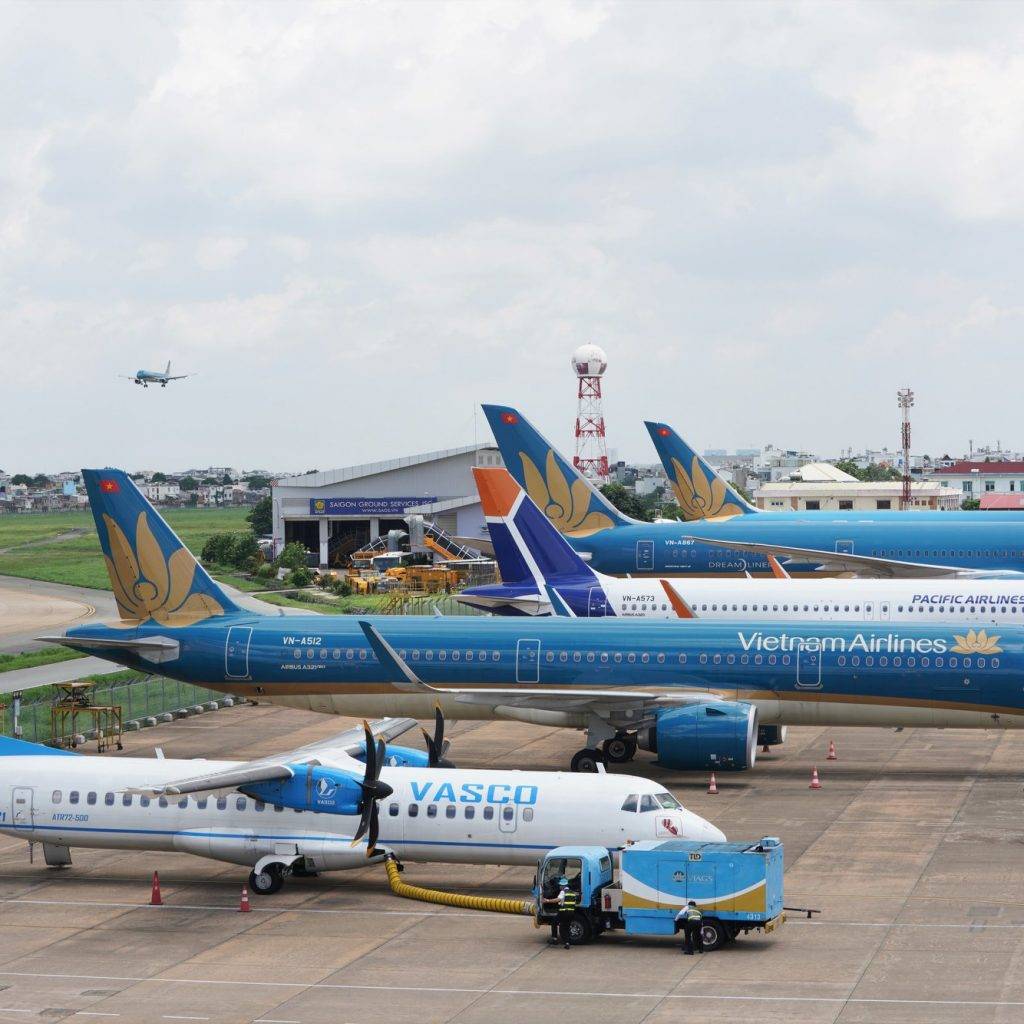 If you are in Hanoi, book a plane ticket or take a train to Ho Chi Minh City, then you can choose the next transportation to Vinh Long, depending on your preferences as well as health conditions. You can choose to travel to Vinh Long by bus with a ticket price of 120,000 VND / person or rent a motorbike.
– From Vinh Long to Mang Thit brick village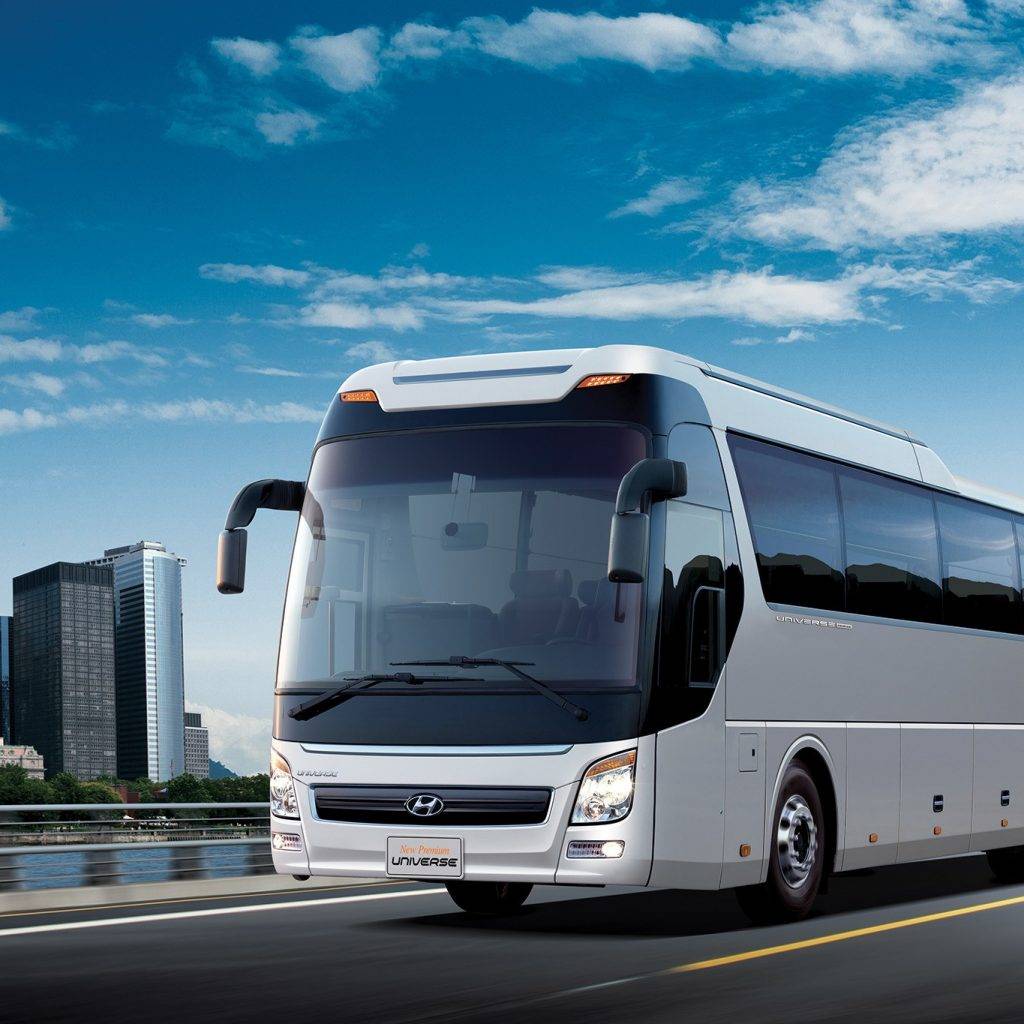 Mang Thit brick village is situated in the east of Vinh Long province, about 19km from the province center. You can follow the route from Pham Thai Buong street > Highway 53 > DT903 > DH 31B to Binh Phuoc.
The road to the red brick kingdom is quite easy to find then, only 10km from Dinh Khao ferry, opposite Phu Da islet. You follow Highway 53 and turn to DT903, go straight until seeing the junction to reach DT902 (along Co Chien River). Here, you can ask locals for more directions.
3. The beauty of Mang Thit brick village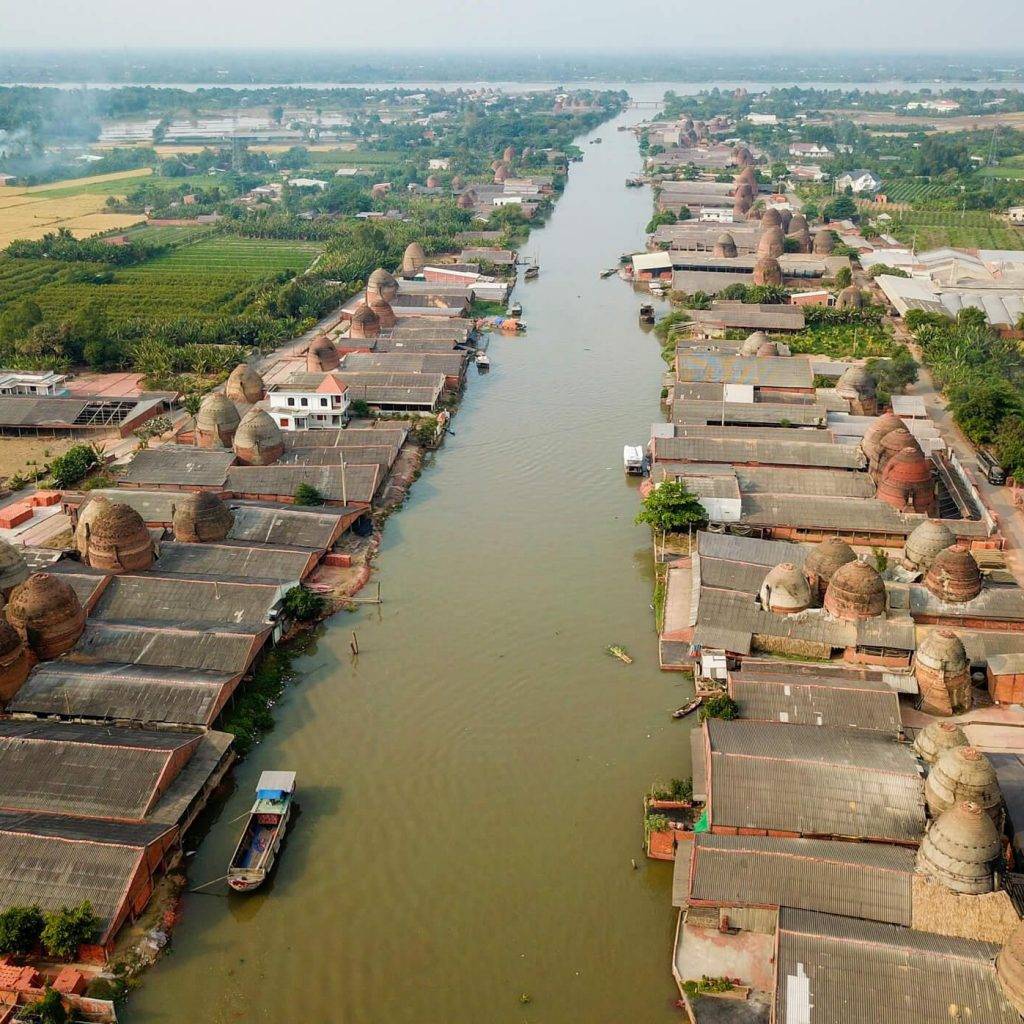 Cuu Long River is like an invaluable natural gift of the Southwestern region. It not only helps the soil fertile but also forms a large amount of alluvium creating precious clay mines. With this resource, Vinh Long people can make numerous quintessential pottery products.
To build a brick kiln of 12m high, it usually takes 5 days to load and unload bricks, 15 days for baking bricks as well as 10 days to build the kiln doors, then wait for the bricks to cool. Besides, the brick is fired with rice husks in a very careful process to ensure the proper stiffness. After about 1 month of burning, the finished product is about 120,000 standard red bricks. When transportation was not developed, bricks were transported all over the South by the river.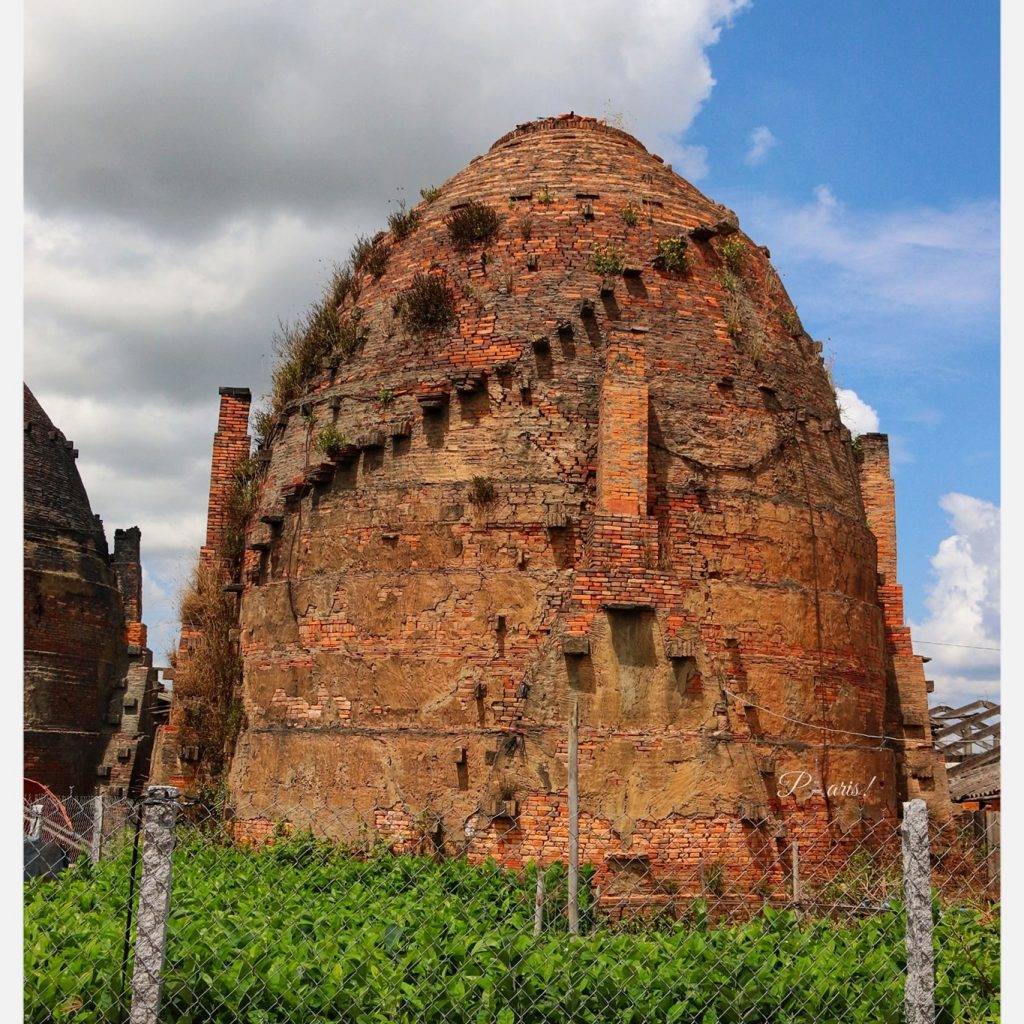 In the past, when the traditional brick-making profession was still prosperous, each house owned several kilns. When it comes to the high season, all of them are operated all day long emitting white smoke full of the sky. The brick kilns are close to each other as hundreds of small castles in a beautiful little emirate.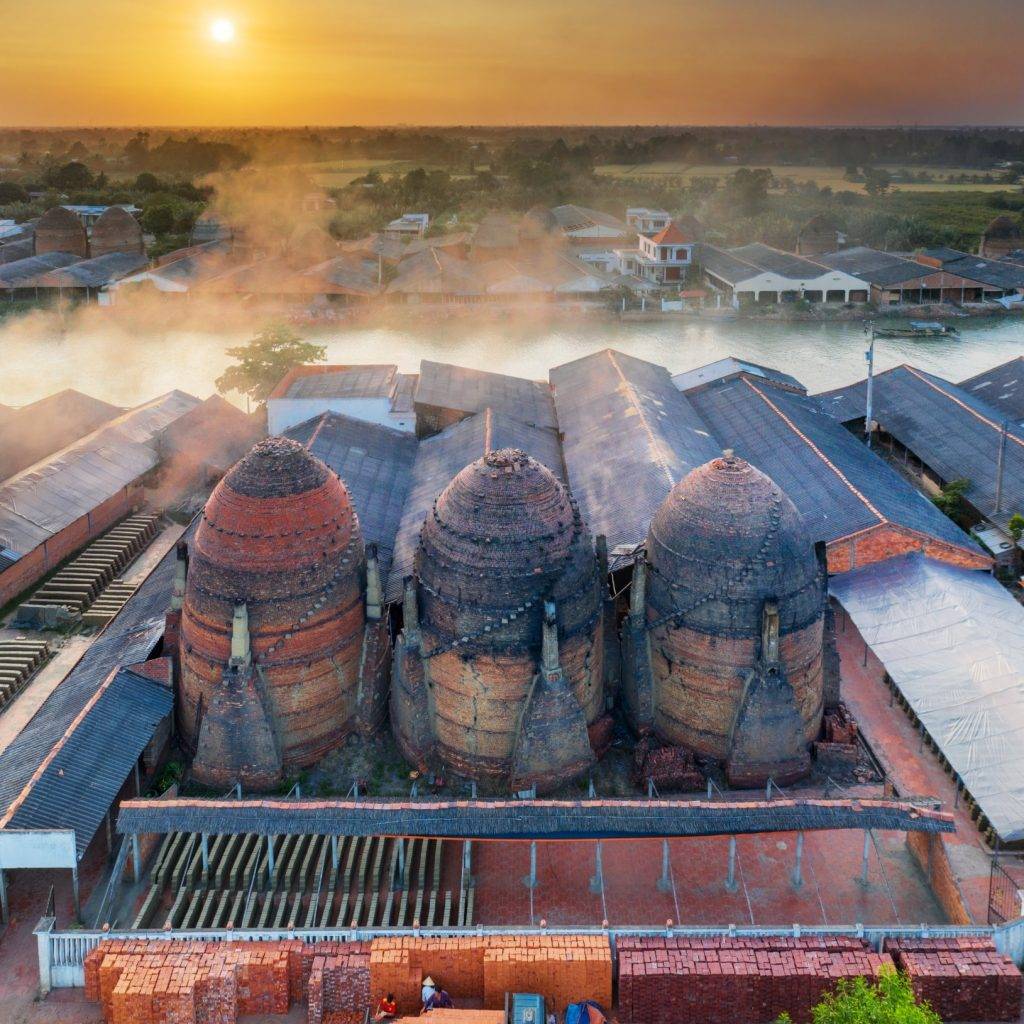 Everything has changed; there are only a few brick kilns working in the red brick kingdom now. As soon as the modern kiln system dominates, the traditional brick kiln of Vinh Long gradually falls into the past.
Along such rivers of Cai Chien, Mang Thit, Cai Nhum, Thay Cai canal, there are hundreds of remaining brick kilns, but all are full of moss and dust.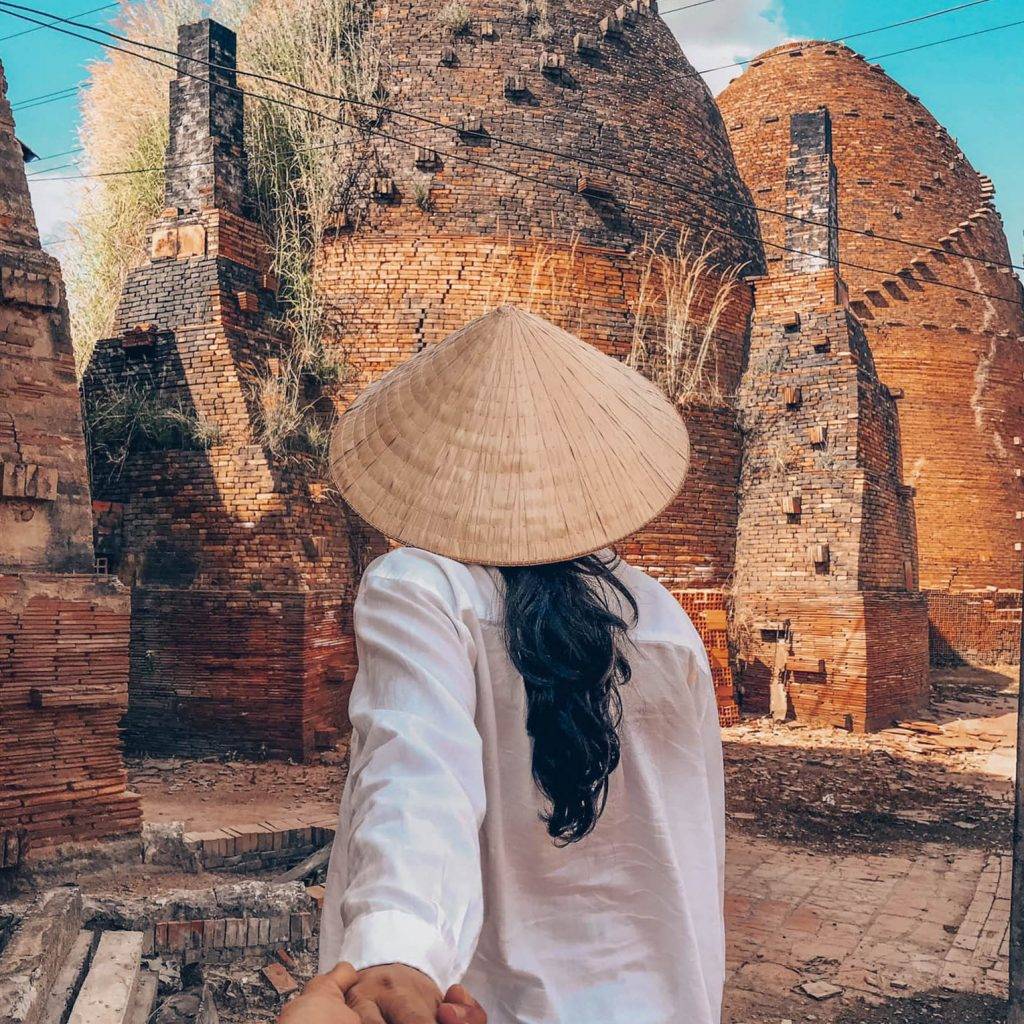 From a traditional craft village, now Vinh Long brick kilns have become an attractive tourist destination for both domestic and foreign visitors. Over time, the moss has replaced the old pink brick background, however, this place still keeps its inherent beauty.