TOP 7 PLACES TO EAT PHO IN HANOI (PART 1)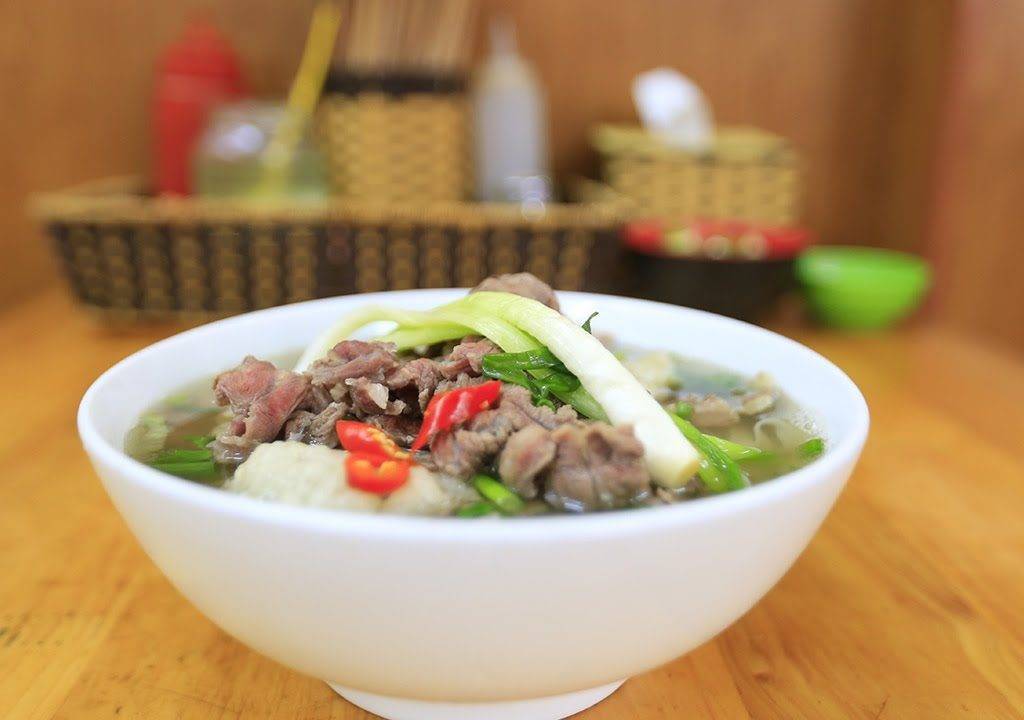 Hanoi is famous for many delicious dishes with various tastes such as Bun Cha, Bun Thang, Cha com, etc. But there is a traditional dish everyone must try at least once when coming here – that is Hanoi Pho. However, where to eat the best Pho in Hanoi is a confusing question, and the article below will tell you some famous delicious Pho restaurants in Hanoi that are worth a try.
Pho Bat Dan
– Address: 49 Bat Dan, Hoan Kiem, Hanoi
– Opening hours: 6:00 – 10:00 and 18:00 – 20:30
– Price: 30,000 – 55,000 VND ( 1 – 2 dollars)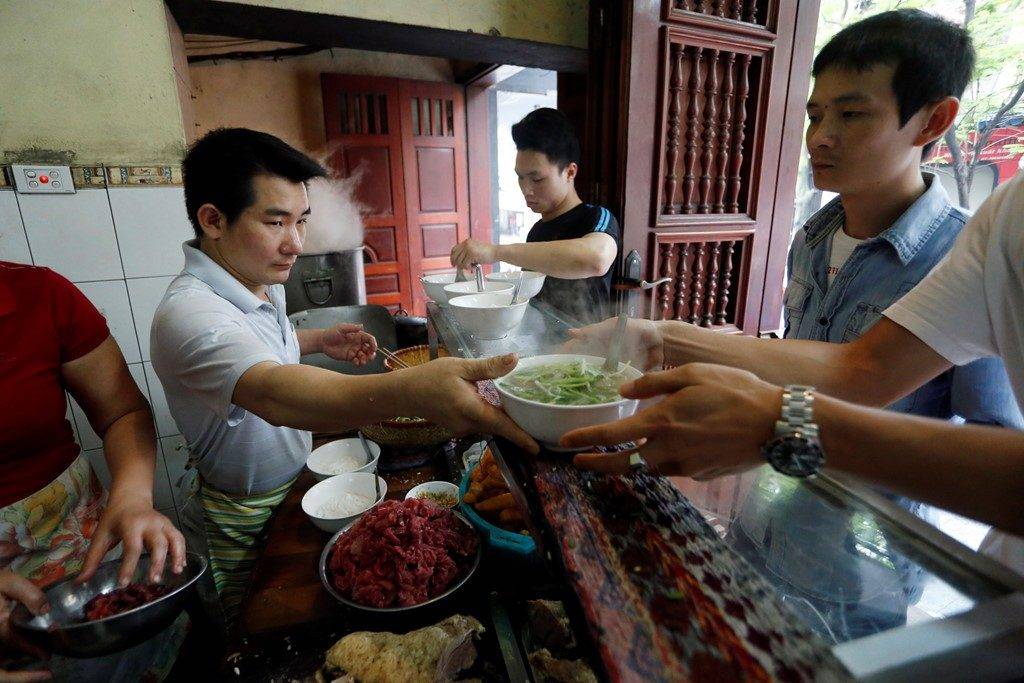 Referring to Hanoi Pho, we certainly mention Pho Bat Dan – a traditional Pho restaurant of Hanoi people. Currently, Pho Bat Dan has many addresses but two locations at 49 Bat Dan and Hoan Kiem are still the best.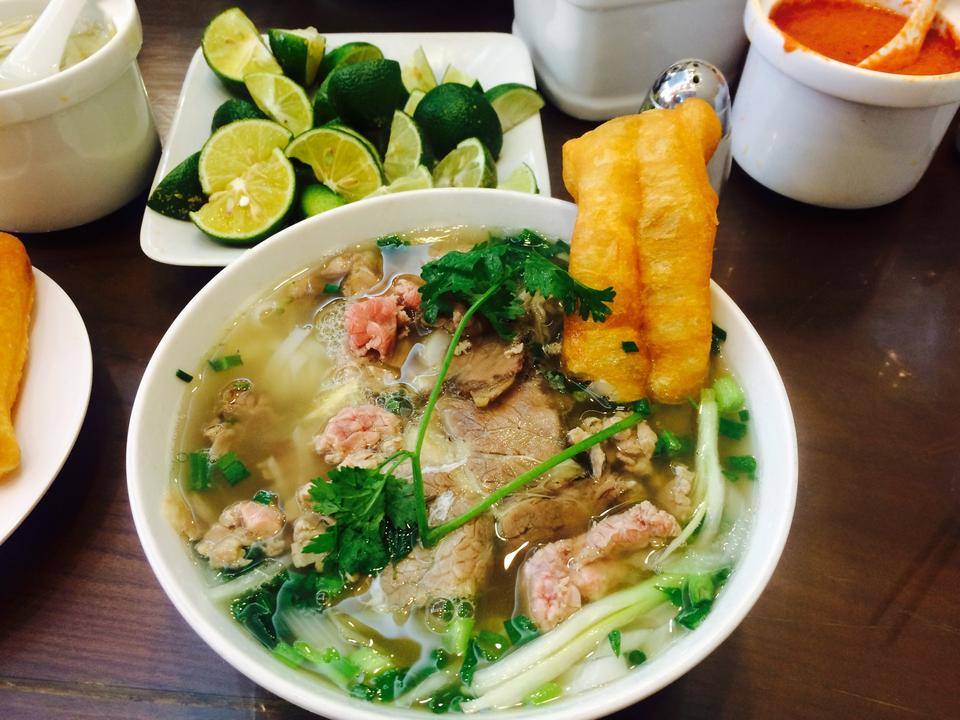 Pho 49 Bat Dan also has its own special broth stewed from bones with the original sweet and rich flavor, different from the MSG sweet taste like in many other shops. In addition, the soft and fresh noodles without borax are really safe to consume.
Pho Suong
– Address: 36B Mai Hac De, Hai Ba Trung, Hanoi
– Opening time: 6:30 – 22:00
-Price: 30,000 – 100,000 VND (1.5 – 4 dollars)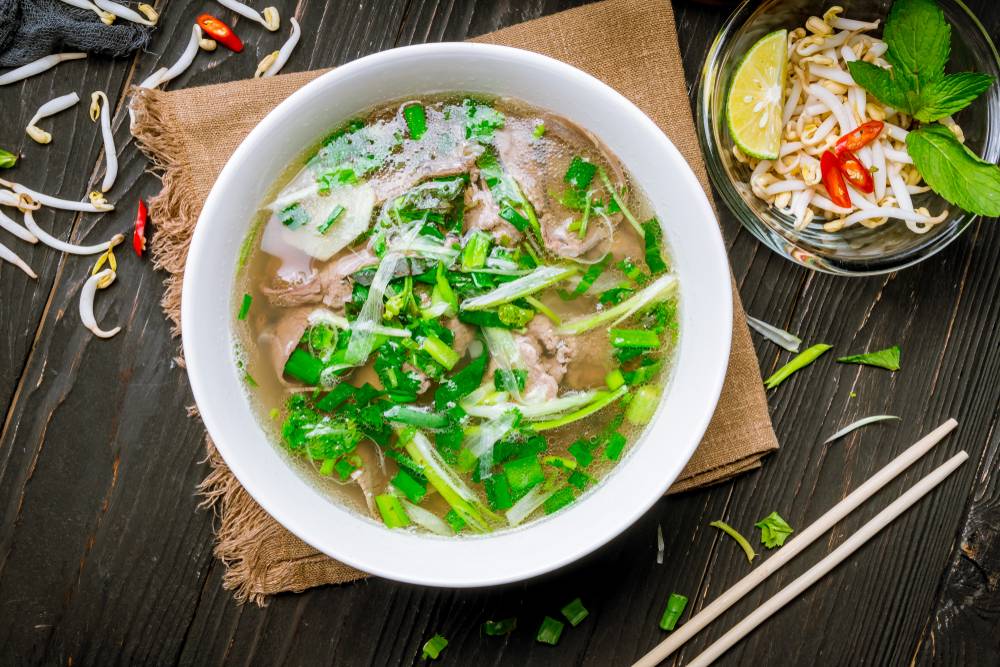 Pho Suong is one of the first and most famous Pho restaurants in Hanoi. This also contributes to making the "Hanoi Pho" brand and still retains the delicious taste of special traditional Pho.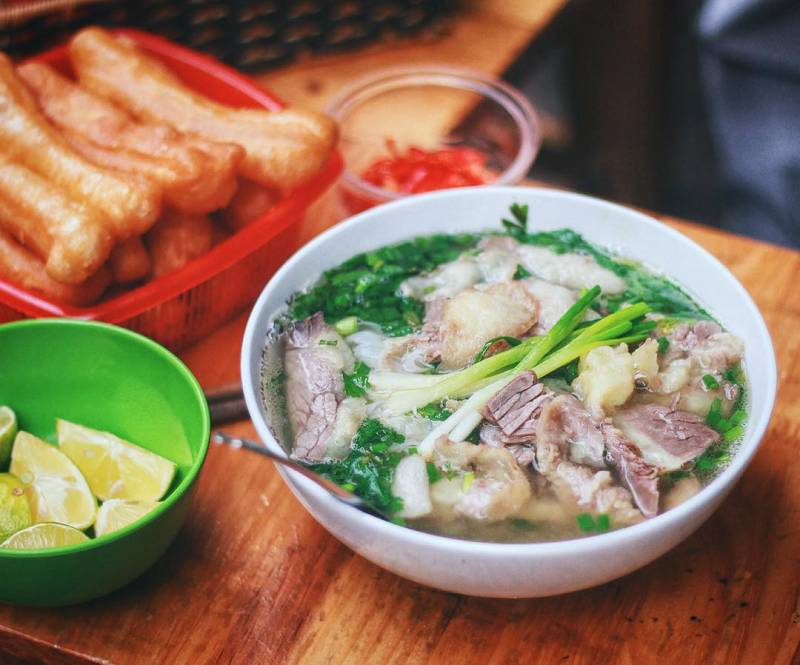 Pho Suong has a sweet taste with fragrant meat and stewed bones. The medium-cooked, as well as fragrant lean beef of Pho Suong, is also ranked the best in Hanoi.
Pho 10 Ly Quoc Su
– Address: No. 10 Ly Quoc Su, Hoan Kiem, Hanoi
– Opening time: 6h30 – 22h30
– Price: 50,000 – 70,000 VND (2-3 dollars)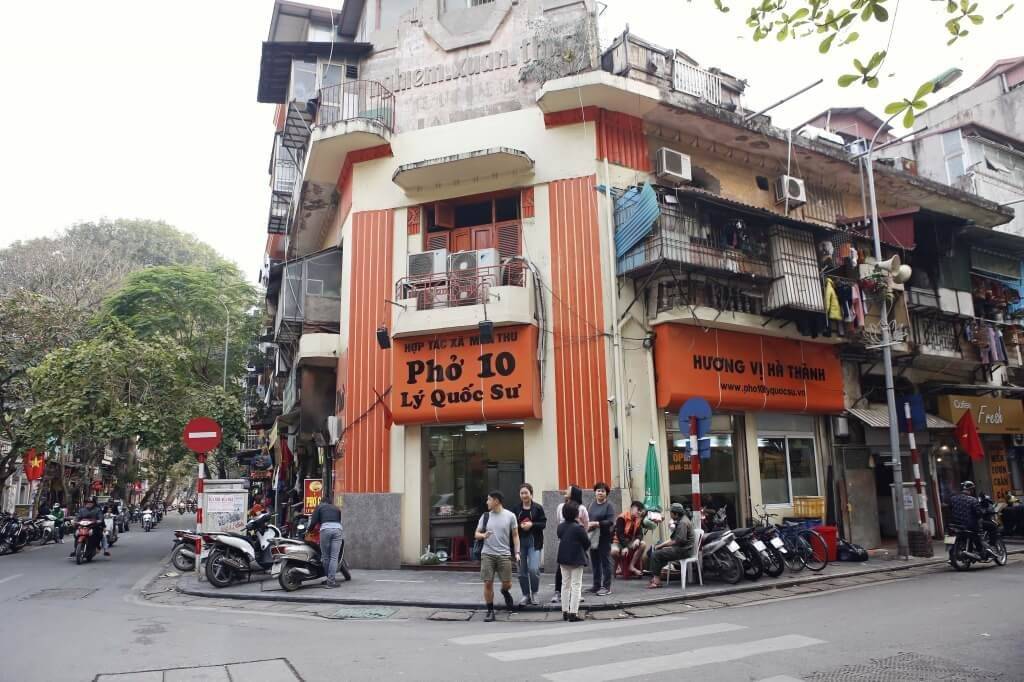 Pho 10 Ly Quoc Su has become a very famous place to eat Pho in Hanoi. The restaurant attracts a large number of local people as well as tourists, temporary residents and especially foreign tourists. Coming to Pho 10 Ly Quoc Su, you can choose many different types of Pho such as Pho tai, Pho nam, etc.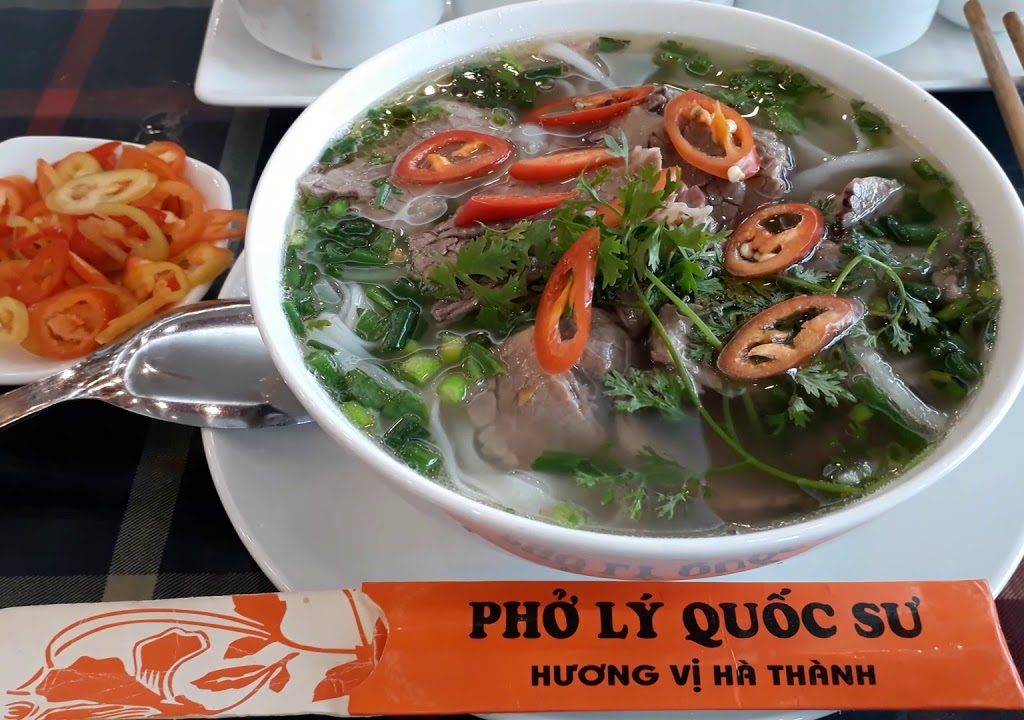 The Pho bowl here possesses a very typical flavor of a rich, fragrant and sweet home-made broth, especially without the unpleasant smell of cow. Moreover, you can enjoy Pho with a delicious crispy quay (Vietnamese doughnut) that is fried directly at the restaurant. This is definitely a must-try destination in Hanoi for Pho lovers – who fall in love with this special food of Kinh Ky.
Pho Vui
– Address: 25 Hang Giay, Hoan Kiem, Hanoi
– Opening hours: 7:00 – 22:00
– Price: 50,000 – 70,000 VND ( 2 – 3 dollars)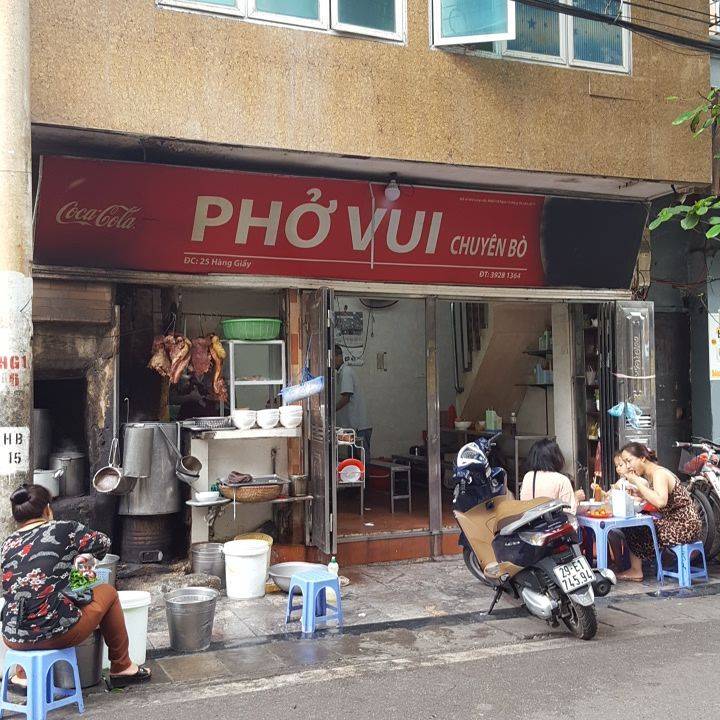 Another traditional Pho address in Hanoi that should be mentioned is Pho Vui. You have a variety of choices in the rich menu here such as Pho tai, Pho gau, Pho nam, etc. In addition, the shop serves some other traditional dishes like beef with wine sauce, blanched beef, blanched ribs, and pín.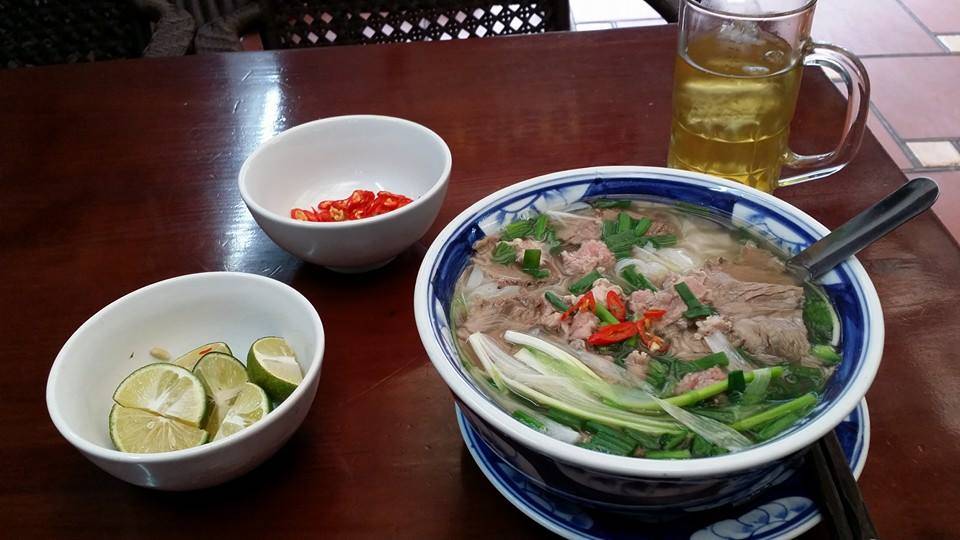 Coming to Pho Vui, everyone can enjoy the full bowl of Pho including soft and fresh noodles and meat that is hard for one person to finish all. The delicious Pho has its own typical flavor. The broth is rich, sweet and fragrant with little fatty taste. Thanks to that, the shop is always crowded from opening to closing time.
To be continue… 😀