Visit Mu Cang Chai with endless golden rice-terraced fields
Nearly 300km northwest of Hanoi, Mu Cang Chai is famous for its stretching terraced fields often reaching the very top of the mountains. That beauty has been ranked among the most beautiful mountain regions in the world by Insider (USA) with other famous names such as Rainbow Mountain in Peru, the Andes in Bolivia, or Mount Fuji in Japan.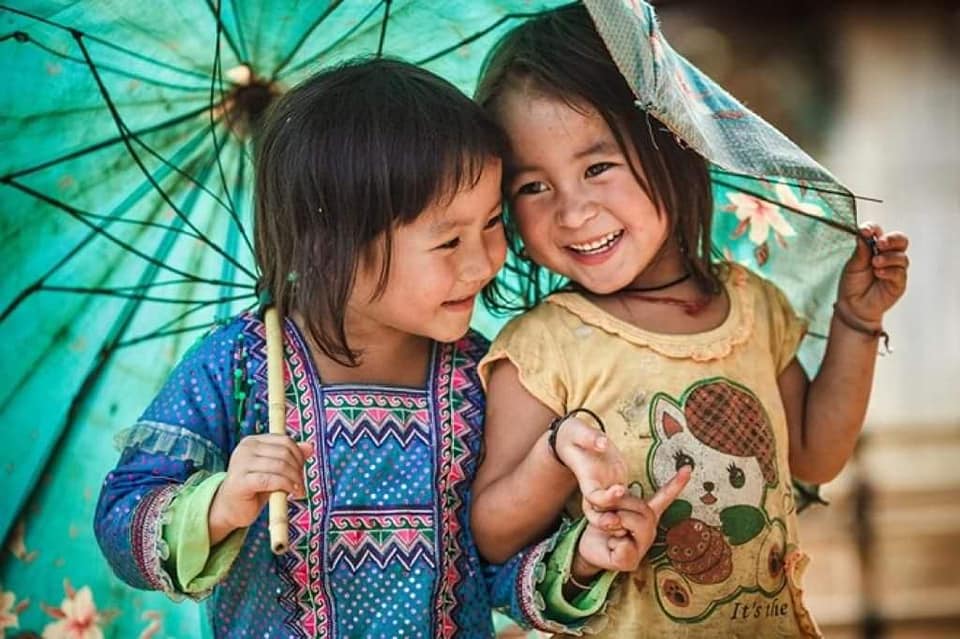 The constant cool weather also makes it a perfect location to trek around or easily travel by car or motorbike as well. Besides immersing yourselves in the beauty of the mesmerizing rice paddies, rugged mountains, and rushing rivers, tourists can also visit peaceful Thai and H'Mong ethnic minority villages.
1. About Mu Cang Chai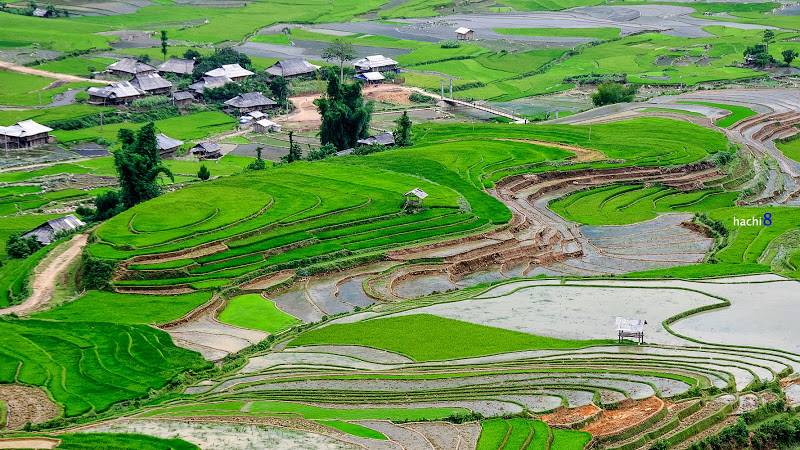 Mu Cang Chai is a western highland district of Yen Bai province, 180km from the center of Yen Bai city. This land is located at the foot of Hoang Lien Son mountain range, at an altitude of over 1,000m above sea level, so the weather here seems to have 4 seasons in a day.
Every area of this diverse topography will suit your exploration needs, from gentle winding roads to steep cliffs. Among all, the most beautiful road is between the towns of Mu Cang Chai and Tu Le through Khau Pha Pass – one of the top four Passes in the North.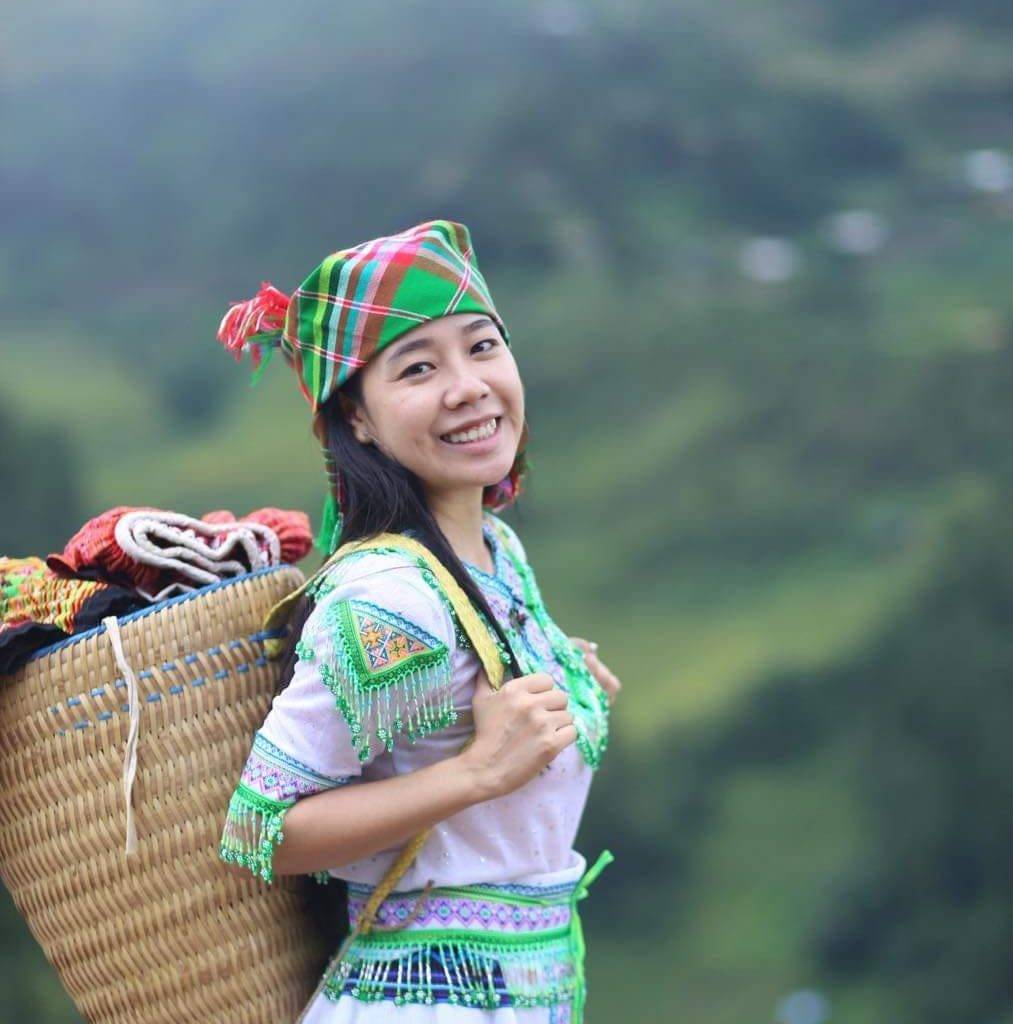 The most attractive thing in Mu Cang Chai is the population of the Terraced National Scenic Area (2007) with a total area of 330 hectares, distributed mainly in 3 communes Che Cu Nha, La Pan Tan, and Di Su Phinh. Each of the yellow curving terraces under dazzling sunlight is an artwork of the skillful Mong people's creativity. From a deserted dry land, those wonderful residents have cleverly manipulated each layer of soil into amazing rice steps, not only providing a source of food to feed the community but also adding a highlight on nature.
The ethnic groups living in the Mu Cang Chai are mainly H'Mong and Thai. Their lovely villages are scattered around the district, contributing to a rich authentic culture. In which, the textiles and garments of H'Mong people are extremely developed, reflecting through their traditional brocade outfits and bags they wear every day; H'Mong men often wear dark tunic and hats, while women wear a longer tunic with light-colored sleeves and sparkling belts.
2. The best time to visit Mu Cang Chai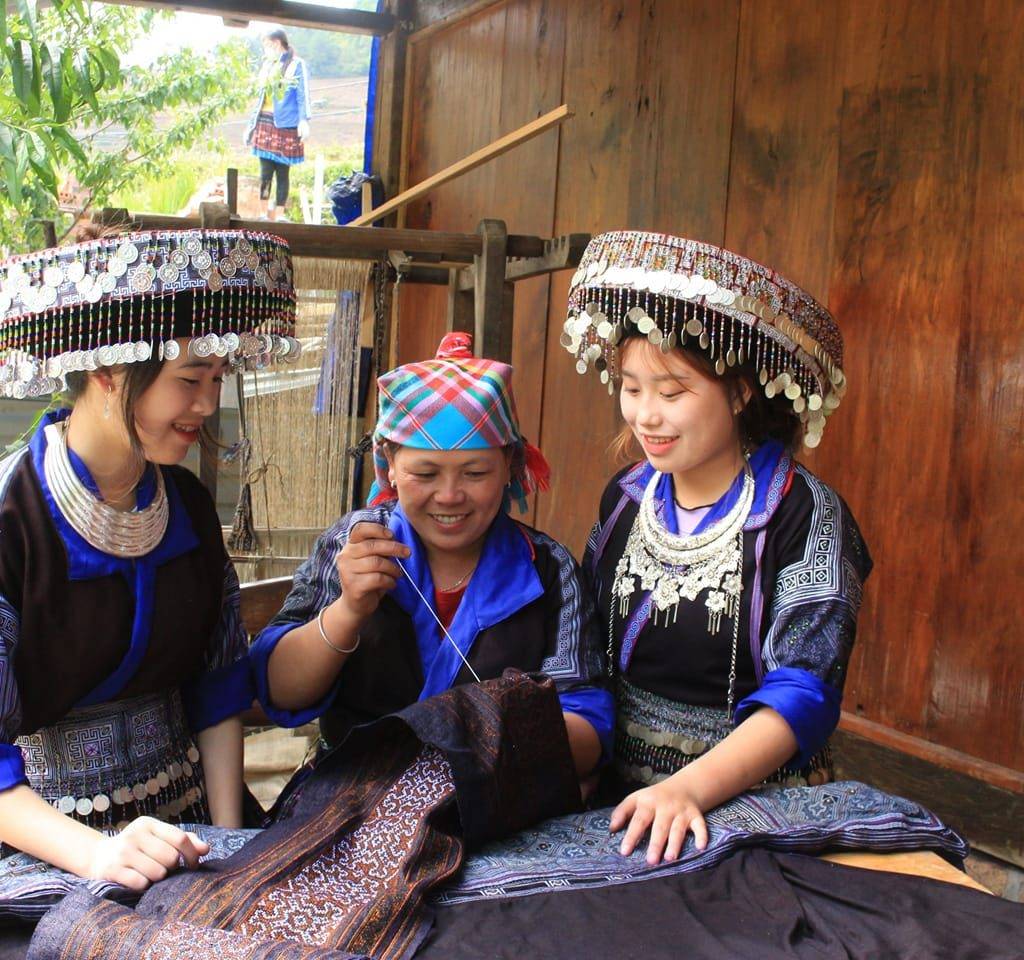 The climate of Mu Cang Chai is clearly subregional. The average temperature is 19 degrees Celsius, cool in summer and cold in winter. Additionally, the scenery here keeps changing throughout the year with different colors.
Saying that, anytime can be the right time to visit the area, depending on what you aim to watch; whether it is the start of new crops November – April when the terraces are barren with Hmong farmers in colorful clothes and buffaloes plowing the fields; Or, the seeding season from May to June with heavy raining and young green of the early growth. And, September onwards, the green turning to yellowish till early November is the peak of the harvesting season.
3. How to get to Mu Cang Chai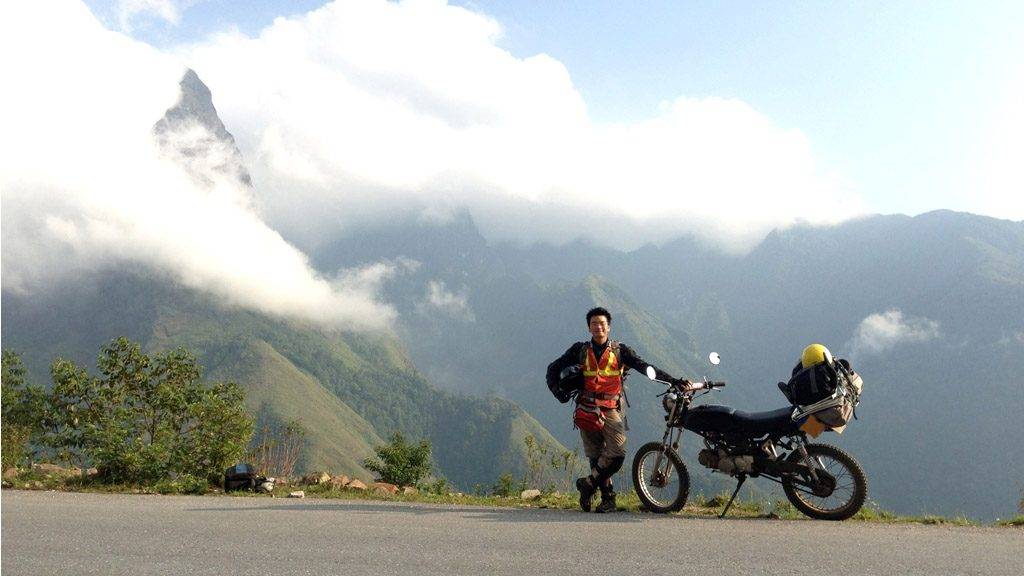 You can choose either motorbikes (7-8 hours) or private cars (5-6 hours) to move from Hanoi to Mu Cang Chai following the three routes below:
– Son Tay, Trung Ha, and Tam Nong bridges, go along the banks of the Red River to Van Phu Bridge, Yen Bai.
– Thang Long Bridge, NH2, Phuc Yen, Viet Tri, Doan Hung, straight to NH70, Yen Bai (this is the easiest and closest way).
– Thang Long Bridge, Phuc Yen, Vinh Yen, Lap Thach, Son Duong, NH37, Tuyen Quang, Yen Bai.
In addition, you can choose buses/coaches from Hanoi to Yen Bai, then from here continue to take the bus to Mu Cang Chai.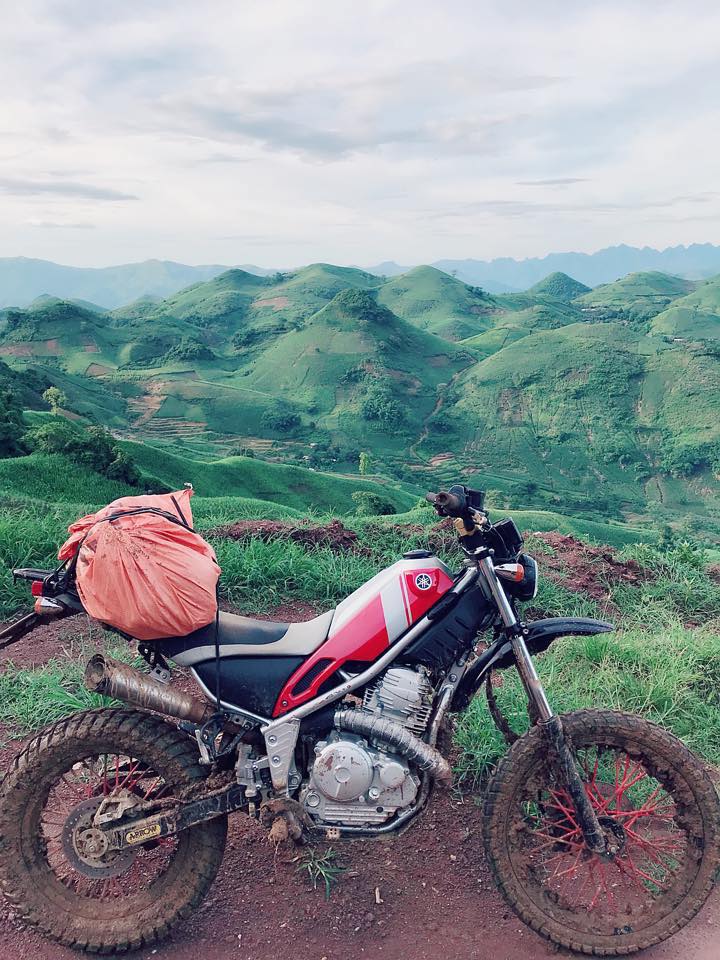 *Some routes from Yen Bai to Mu Cang Chai:
– Duc Huong
Departure time: Yen Bai 7:30 – Mu Cang Chai 13:30
Phone: 0982 404 999
– Chien Thanh
Departure time: Yen Bai 12h00 – Mu Cang Chai 6:30
Phone: 0944 046 596 – 0989 949 108
– Tuan Long
Departure time: Yen Bai 15:00 – Mu Cang Chai 8:00
Phone: 0963 247 766
If you go for this option, you have to rent a motorbike to move around Mu Cang Chai conveniently. The rental price ranges from 100,000 VND to 200,000 VND per day, depending on the time. During the festive season, the motorbike rental will be a little higher.
4. Accommodation in Mu Cang Chai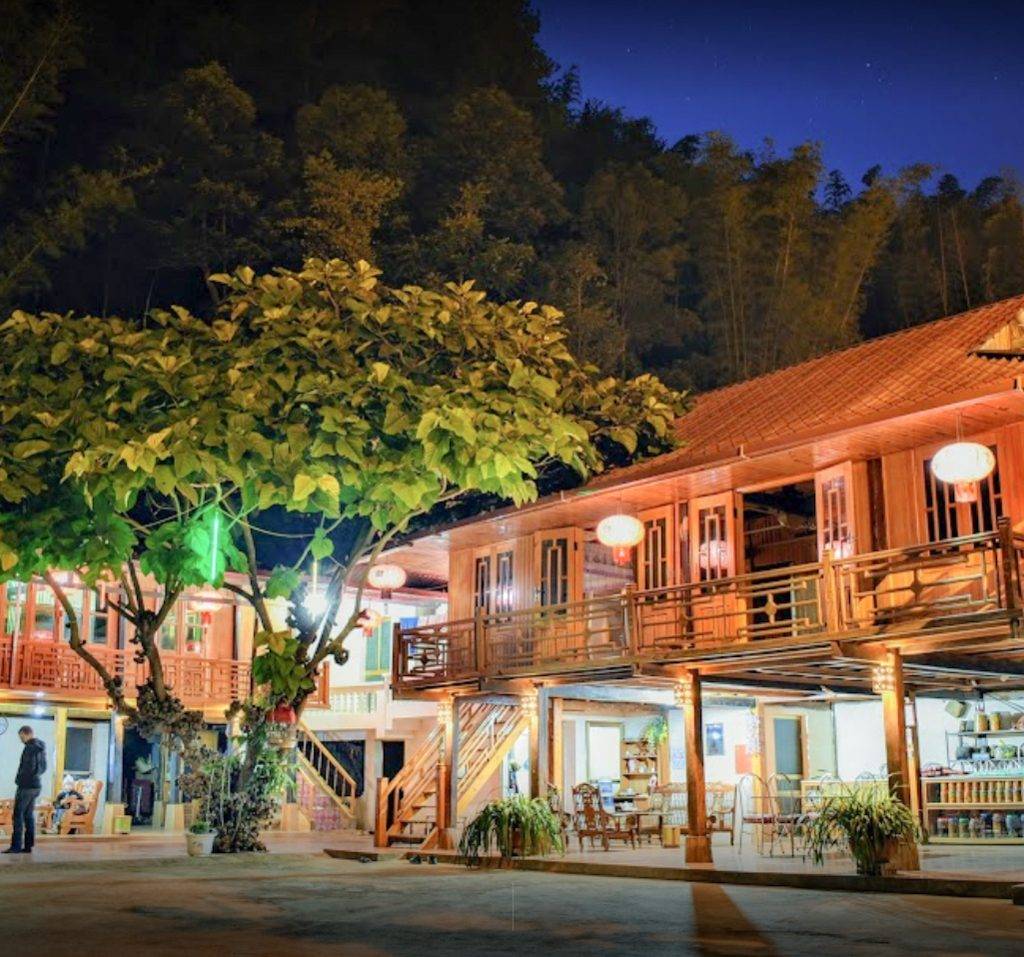 – Stilt-house homestays
This mainstream type with dormitory rooms for 10 to 30 people can be easily found around famous tourist spots: Ban Thai, La Pan Tan, Tu Le, etc. These homestays all have food services and groceries right at the foot of the house. The price is only 150,000 – 200,000 VND/night.
– Hotels
Hotels are mainly concentrated in Mu Cang Chai town, mainly budget types, from one star to three stars, with basic amenities for about 300,000-400,000 VND.
– Resorts
If you want a more luxurious stay, choose Mu Cang Chai Eco Lodge, Le Champ Tu Le, etc., with more advanced services at a cost of 1,200,000 – 2,000,000 VND.
– Sleep in a tent
Another choice is sleeping in private tents when camping for one night at Mam Xoi Hill. In addition, you can ask the owner of a small shop there for a sleepover (it's better to give them 50,000 VND and 60,000 VND/person). Nevertheless, this option is only suitable for those who like to camp without requiring much comfort, or having children and elderly people in the group.
5. Where to visit in Mu Cang Chai
– Tu Le Commune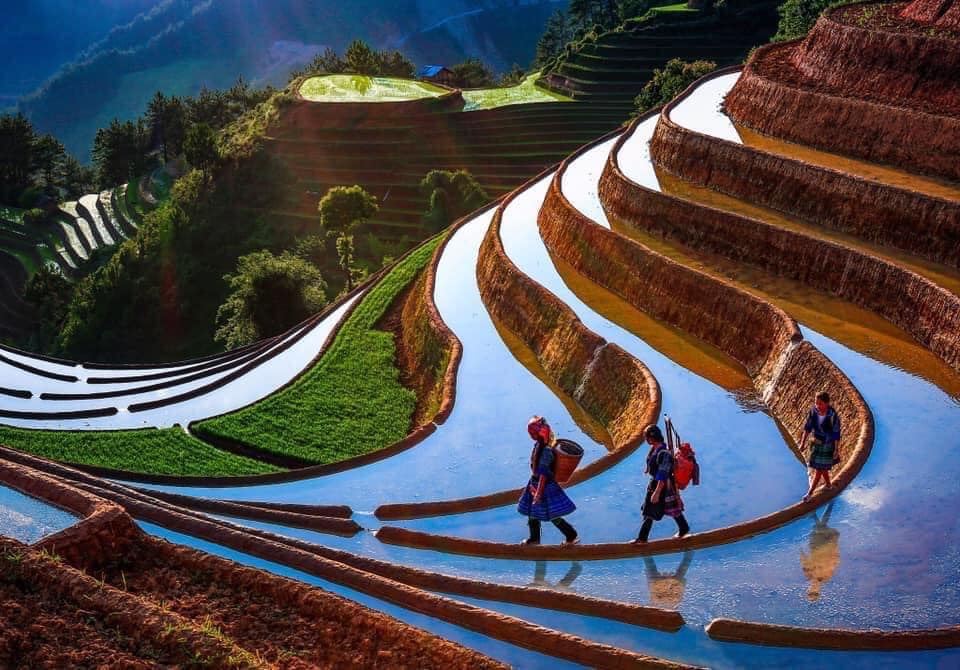 As a valley in Van Chan district, Tu Le is one of the favorite stops for tourists due to the picturesque terraced fields. During the rainy season, the fields filled with water look like infinity pools reflecting on the blue sky. There is also a natural hot stream in Tu Le. To keep the heat, the villagers have built a quite spacious swimming pool in the stream to serve locals and visitors.
Not only that, but Tu Le is also attractive by the culture of the Thai people, especially the traditional herb baths to release fatigue or naked bathing by the stream.
– Khau Pha Pass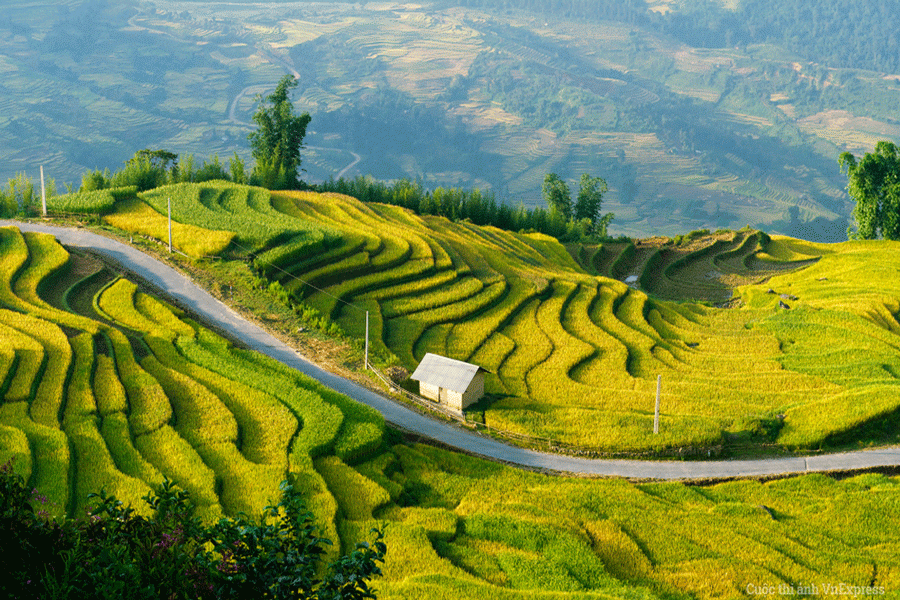 More than 30 km long and located at an altitude of 1,200 meters above sea level, Khau Pha Pass offers tourists an emotional winding pass conquest through multiple famous landmarks, such as Tu Le, La Pan Tan, etc. Along the way are old forests where numerous rare species of flora and fauna are preserved.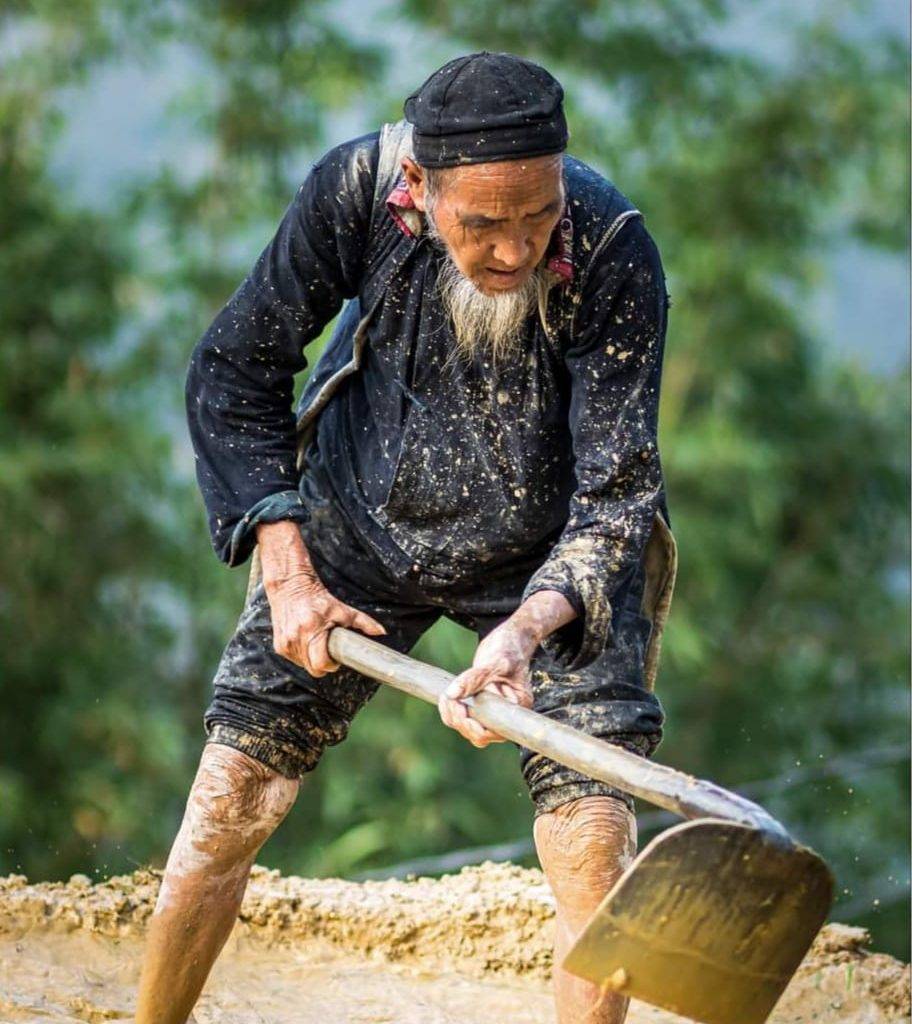 Thanks to its ideal height, Khau Pha Pass is the place for paragliding and skydiving; even if you have never had experience, there will be a guide flying with you. The price for the activity is about 1,700,000 – 2,100,000 VND/person, and you must register in advance through Vietwings Hanoi Club.
– Mam Xoi Hill – La Pan Tan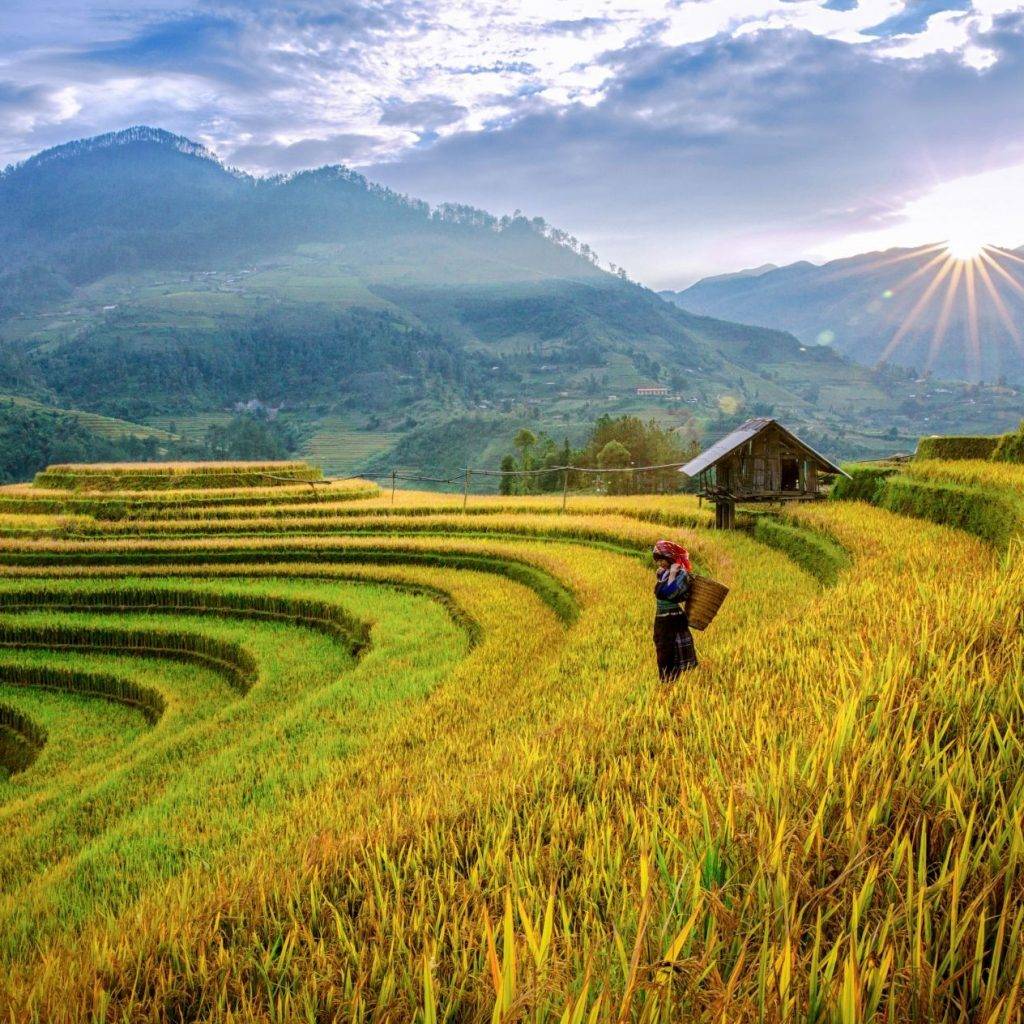 Mam Xoi Hill – La Pan Tan, about 10km from the district center, is the most perfect spot to see the full image of the ripe rice season in Mu Cang Chai. The hill has a natural elevation of 1000m – 1600m above sea level with a round shape, protruding like a tray full of sticky rice. The road here is quite hard and slippery, especially in the rainy season. Tourists can hire local motorbike taxi drivers to take you to the destination for 60,000 VND.
This is also a good place to get a glimpse into the lives of the Hmong in the harvesting period, which isn't nearly as tourist-driven as Sapa.
– Lim Mong – Lim Thai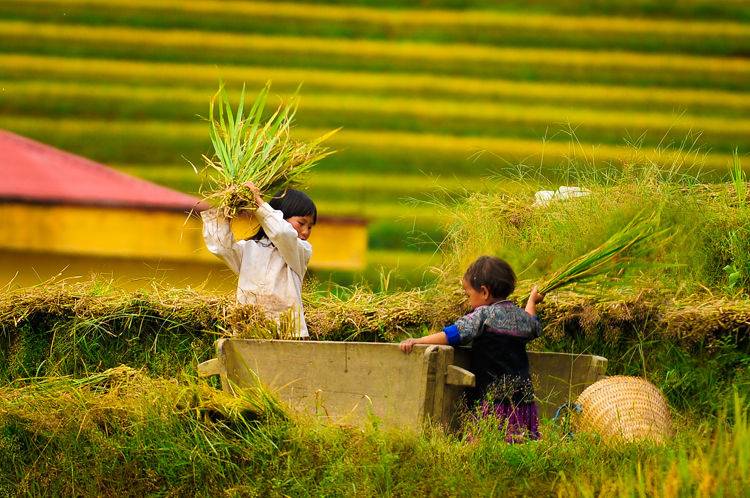 Situated in the Khau Pha valley, the small two villages are hidden among tranquil golden terraced hills.
Lim Mong village has been located on a high mountain for a long time with the concept of intertwined between heaven and earth. The road to Lim Mong is a slope with sharp corners that just make our bikes seem to slip back. Fortunately, nowadays, the horrible road is concreted to reduce difficulties in traveling.
Unlike Lim Mong at a high altitude, Lim Thai village is lying near water sources since Thai people have a tradition of building stilt houses on low ground.
6. What to eat in Mu Cang Chai
– Tu Le sticky rice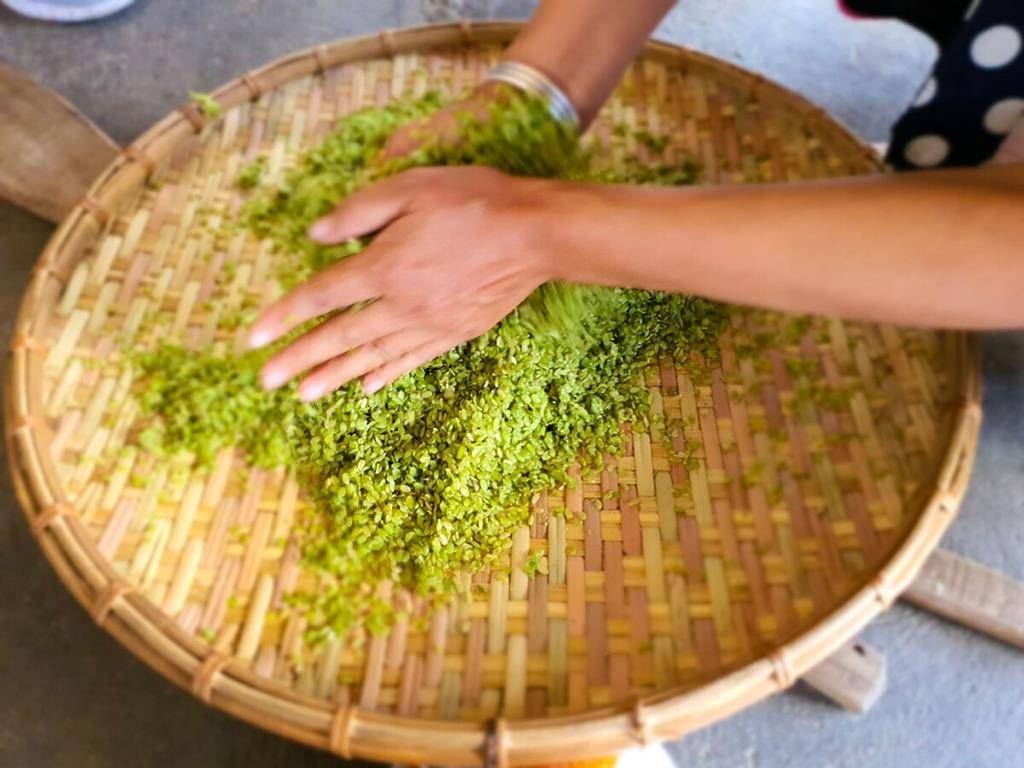 Like Hai Hau rice and Dien Bien sticky rice – the famous rice names representing the region, Tu Le sticky rice is no exception. As being located between the three mountains of Khau Pha, Khau Song, and Khau Than, the appropriate temperature makes the starch circuit (which determines the toughness of the rice) of Tu Le rice quite high and clean, resulting in a fragrant and sweet taste. Even when cooling down, it is still sticky.
– Thai minced pork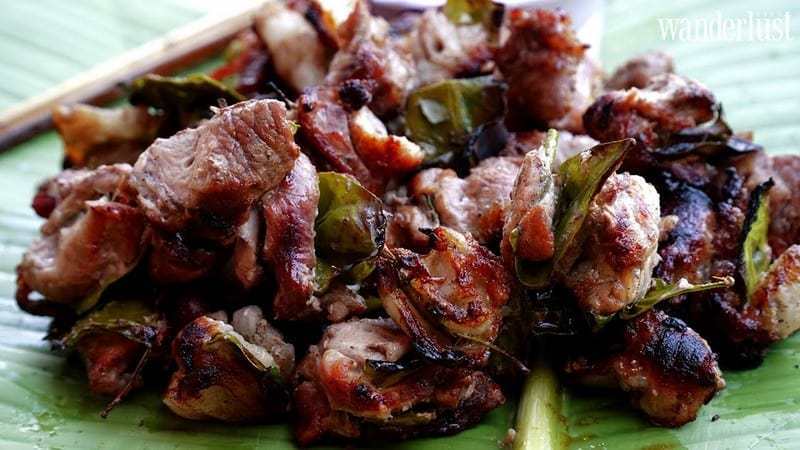 The grilled minced pork of the Thai people is very simple; the ingredients are just the shoulder meat chopped and marinated with wild pepper (mac ken), fresh onions, and dried onions just enough to taste. The marinated meat is then wrapped in dong leaves and grilled on a charcoal stove.
– Roasted grasshopper and salted crab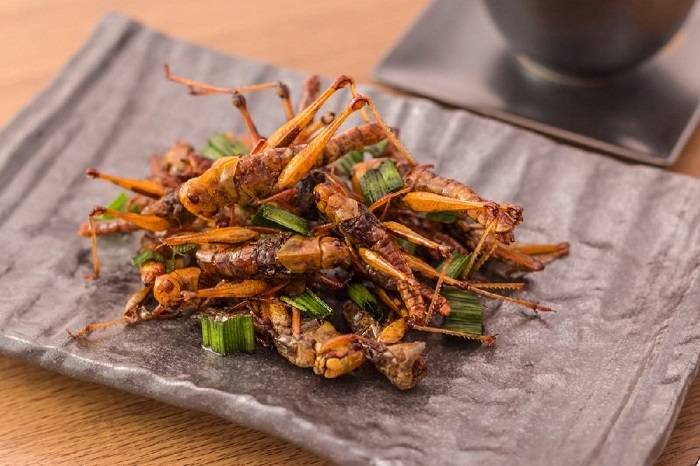 It might be a little strange yet roasted grasshoppers are extremely fragrant and delicious. The dish is available all year round.
Meanwhile, the salted crabs are made from ones caught in the upland streams, therefore, the crab meat is firm, fresh, and sweet at the same time.
The Northwest highlands long ago have become an attractive land for tourists with majestic nature, rich cultural identity, and friendly locals. Numerous small towns lying silent in the midst of mountains suddenly transform into a brand-new tourist destination, and Mu Cang Chai (Yen Bai) is such a place.
Read more: THE BEST PLACES TO CAMP IN VIETNAM