Adventurous off-road experiences by motorbike on Ho Chi Minh Highway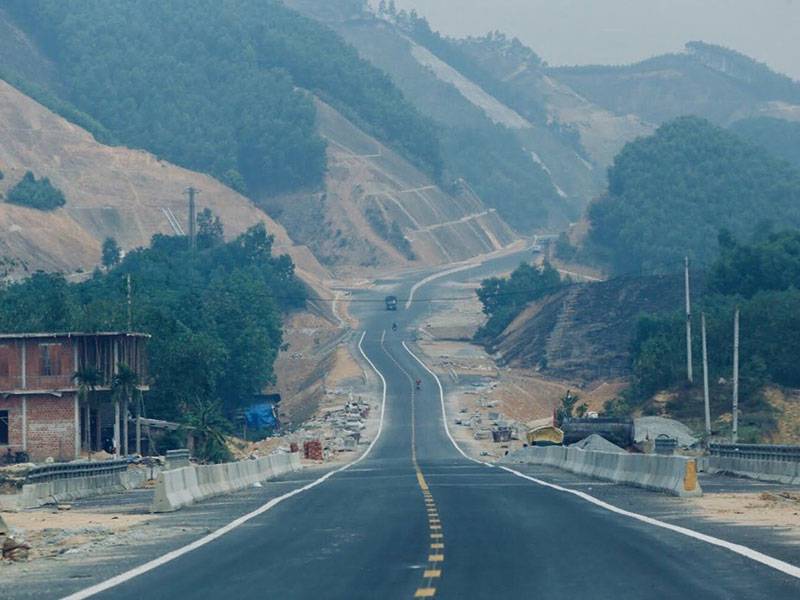 As a legendary path in the country's history, Ho Chi Minh Highway linking the North and the South offers travelers great chances to learn about the Vietnam War as well as breathtaking sceneries of lush greenery and authentic ethnic hill tribes changing throughout the way. Also, locals are a different story altogether, you will be astonished at the friendliness and hospitality of Vietnamese in all regions.
I. The history of Ho Chi Minh Highway
In the early years of the Vietnam War, nearly 500 soldiers were selected for the task of "Opening the Truong Son Route" to provide troops and weapons to the Viet Cong army fighting in the South region.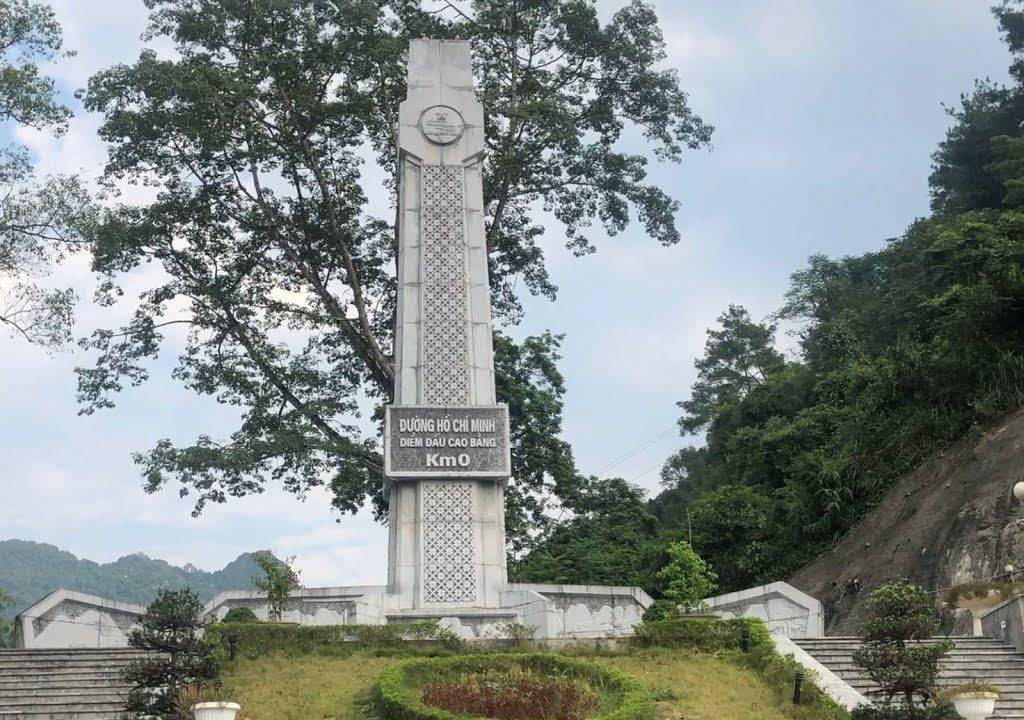 Until 2020, Politburo decided to build Ho Chi Minh Highway, aka. Ho Chi Minh Road, on the foundation of the old Truong Son Route, all along 30 north-south provinces with a total length of 3,167 km, from Pac Bo (Cao Bang) to Dat Mui (Ca Mau), west of National Route 1A to avoid traffic-clogged arteries.
The road crosses forested limestone mountains, follows rivers and immense rice fields. At each place, visitors will be surprised with welcoming residents who always warmly share their cultural lifestyle and cuisine.
II. Duration and Sections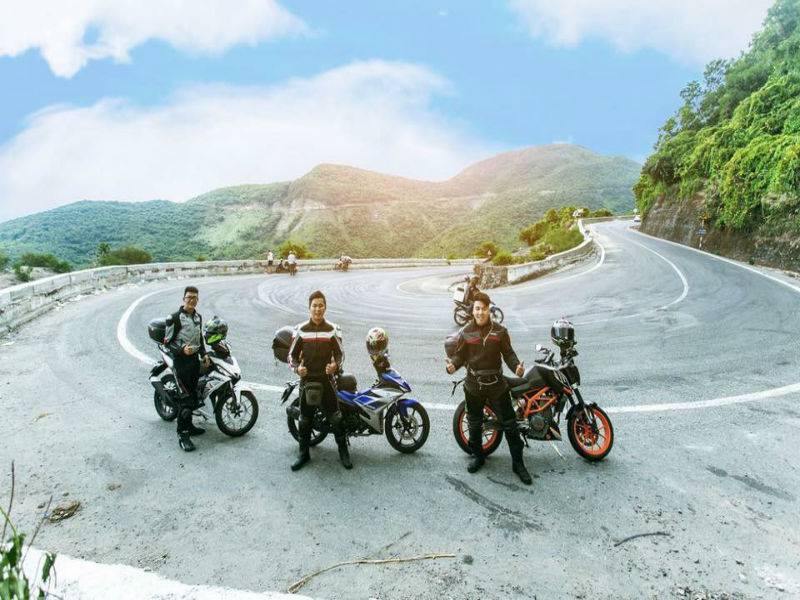 A Ho Chi Minh riding tour can last from 7 to 16 days, depending on how you want to plan your trip and how good your health is.
Here is an example section of the riding tour from Hanoi to Saigon for 15 days:
– Day 1: Hanoi – Tan Ky (290 km, 9 hours)
– Day 2: Tan Ky – Phong Nha (280 km, 8 hours)
– Day 3: Phong Nha – Dong Hoi (60 km, 2 hours)
– Day 4: Dong Hoi – Khe Sanh (200 km, 6 hours)
– Day 5: Khe Sanh – Hue (180 km, 7 hours)
– Day 6: Hue – Hoi An (145 km, 5 hours)
– Day 7: Hoi An – Da Nang
– Day 8: Da Nang- Kon Tum (250 km, 8 hours)
– Day 9: Kon Tum – Buon Ma Thuot (240 km, 8 hours)
– Day 10: Buon Ma Thuot – Nha Trang (190 km, 6 hours)
– Day 11: Nha Trang
– Day 12: Nha Trang – Da Lat (150 km, 4 hours)
– Day 13: Da Lat
– Day 14: Da Lat – Cat Tien National Park (190 km, 6 hours)
– Day 15: Cat Tien – Saigon (160 km, 5 hours)
Read more: BEST TRAVEL EXPERIENCE TO THE SOUTHWEST VIETNAM
III. The weather
In the north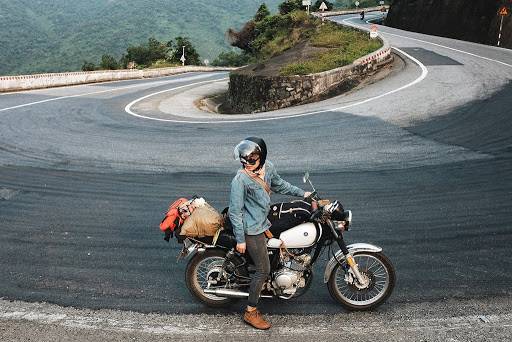 October – February: The weather in this period is rather cold, and you can even see snow in a few northern provinces.
March – May: This is the best time to go around the North due to the cool weather.
June – August: This time the weather is super uncomfortable, hot, humid, and rainy. Prepare rain gear if you travel during this period.
In the central and the south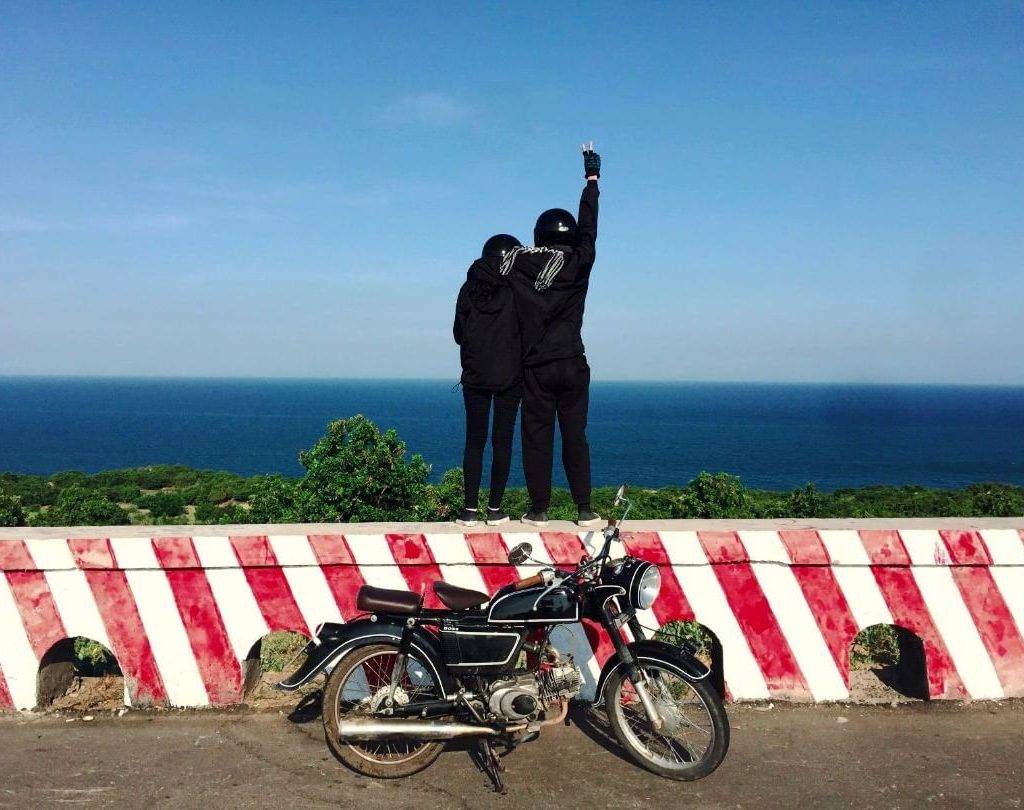 September – December: Season of rain, even storms (in the Central region).
January – May: The weather is very nice, cool and not so sunny.
June – August: These months are extremely hot and sunny; some areas will have rain. Remember to pack plenty of water and sunscreen on the way.
It's better to avoid the monsoon season since the roads can get dangerously wet and wash out. In contrast, traveling from November to April is a great idea.
IV. Highlight attractions along the way
1. Khe Sanh -Quang Tri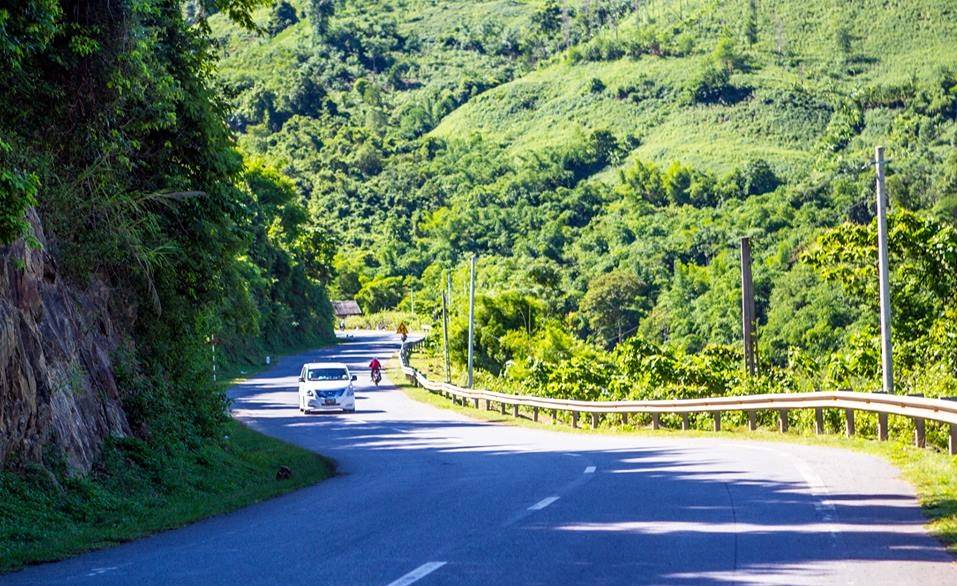 Khe Sanh is one of the largest strongholds in the line of defense of Route 9 and one of the three eyes of the McNamara electronic fence in 1965 – 1966. The early morning dew covering the high forest makes the scene here exceedingly poetic. Near the Lao Bao border gate is Khe Sanh museum, where you can look for preserved artillery aircraft from wartime.
Van Kieu ethnic people dominate the population here. They grow fruit trees, crops, industrial plants such as pepper, coffee, to earn a living. Near their villages are small wild streams, surrounded by mountains, where you can immerse in cool water and admire nature for a bit before continuing the trip.
2. Phong Nha Cave – Quang Binh
The territory of Quang Binh province on this route is considered the narrowest section as well as the most remote with dense jungles. However, its mysterious sceneries definitely fascinate you; one of those is Phong Nha – Ke Bang, a UNESCO World Natural Heritage site.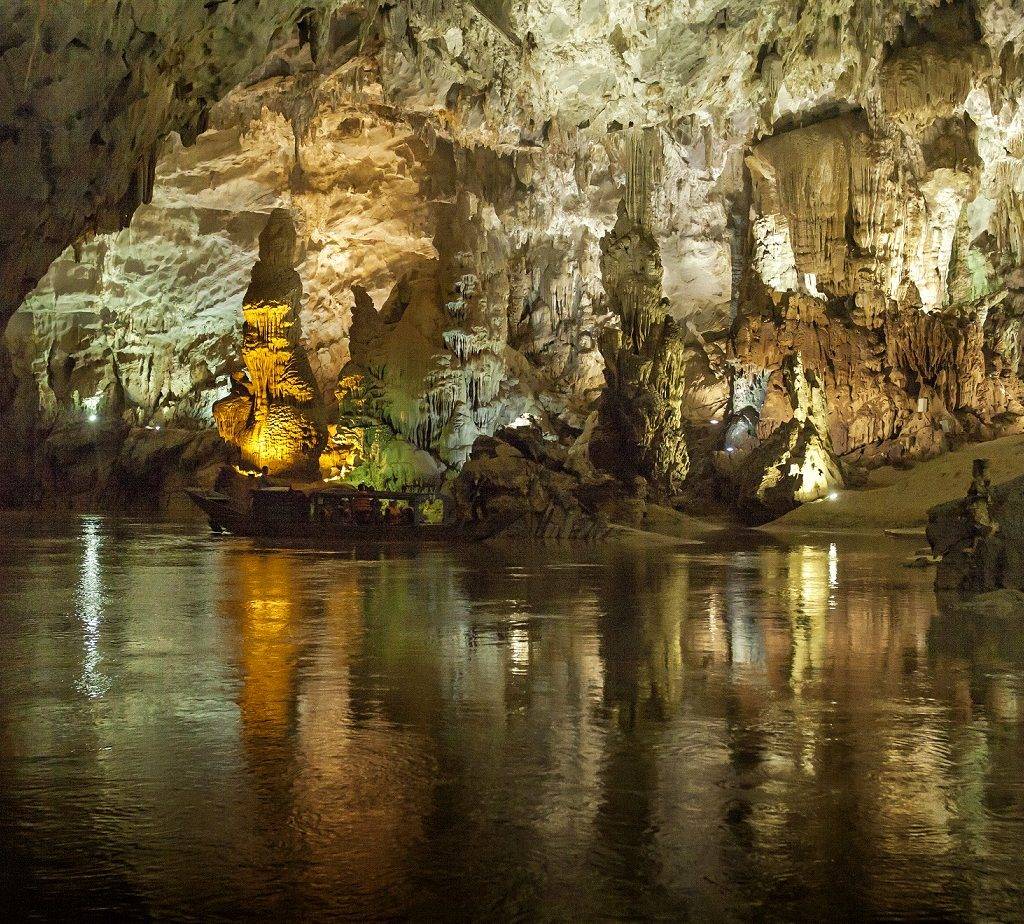 The place is located in a limestone area of ​​about 201,000 hectares adjacent to the Laotian territory, containing a spectacular formation complex of caves and underground rivers. Phong Nha-Ke Bang cave system has been assessed by the British Cave Research Association as the world's top valuable cave with four most distinctive features: the longest underground river, the highest and widest cave mouth, the widest and most beautiful sandbanks, the most shimmering stalactites.
Besides, this is also home to 140 species, of which at least 43 names are listed in the Vietnam Red Book and 19 are listed in the World Red Book.
After exploring the cave, you can take a quick swim in the Mooc stream cutting through the forest near there.
Read more: DISCOVER PHONG NHA – KE BANG
3. Prao Loop – Quang Nam
Prao Loop is an extremely amazing 200-kilometer route with curving roads, wild jungles, hidden rivers, and roadside rice fields. You can find little traffic on this pass, every twist showing a new skyward or a mist-shrouded mountain range.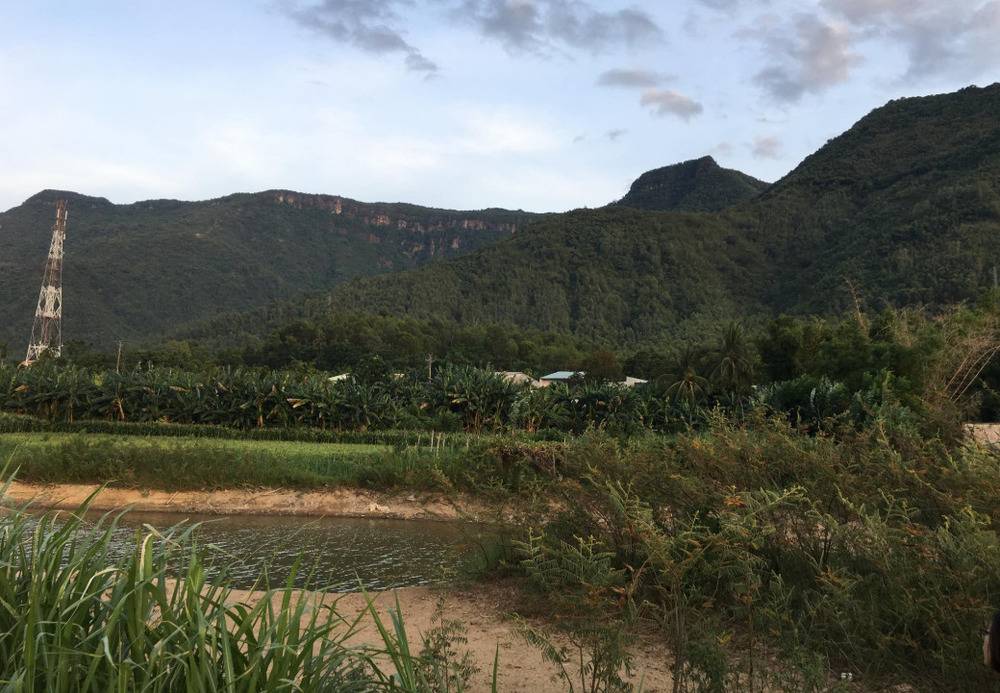 Below the loop is the small isolated Prao town, yet it has everything for you to charge up after a long ride: cafes and eateries, decent guesthouses, a gas station, and a few mini-marts. Going further is the village of the Cotu people who have lived here independently into a solid community for a long time. Their Goul stilt-houses, not too high but still airy, roofed with thatched grass, stand close to each other. The locals mainly cultivate and embroider; their brocade costumes are quite simple, just a short-sleeve blouse and long skirt decorated with black, blue, and white pattern stripes.
4. The Central Highland province Kontum
Kontum is a great opening to the provinces in Central Highlands right after getting off Lo Xo pass. This is a red soil region, where ethnic people's skin tone is darker and more leathery in appearance than lowland Vietnamese's. The reason for that is probably because of the hot sunny climate and their typical outside farming. Amenities in the city center are quite good; the streets are filled with food stalls and hotels to rest for a while.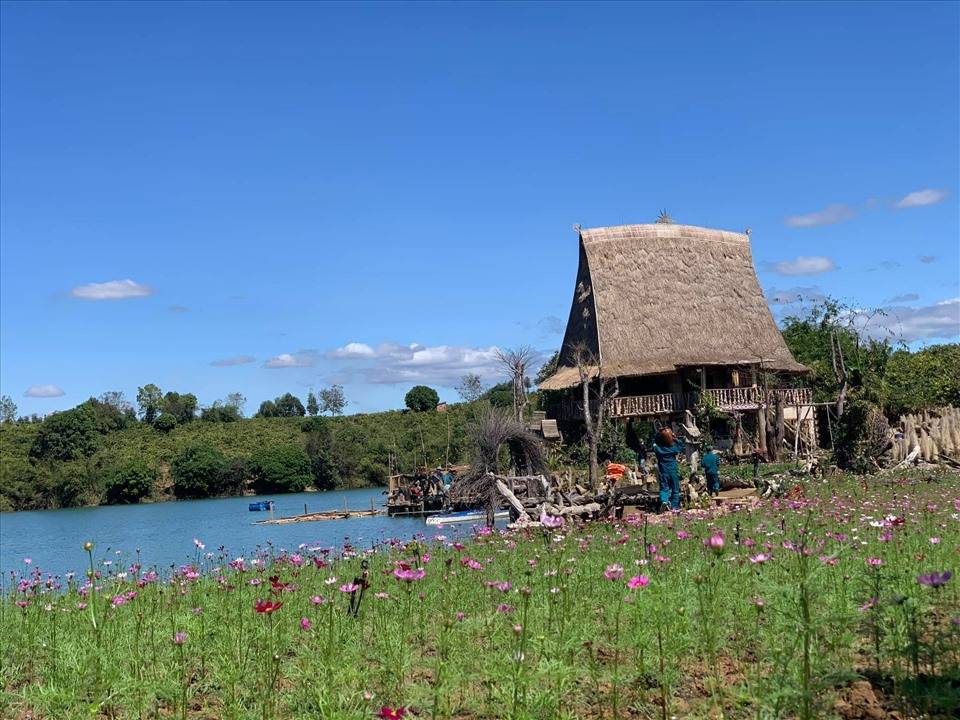 While in Kontum, don't forget to visit Chu Mom Ray National Park, known as the green lung of the northernmost Central Highlands area and also the national park possessing the highest biodiversity in Vietnam. Besides the large area, bordering Virachey National Park of Cambodia and the Southeastern Ghong Conservation Area of ​​Laos, this park is also the home of more than 114 species listed in the red list of Vietnam and the world.
Moreover, the Mang Den ecotourism area (Kon Plong district) is also worth a visit. With a cool climate all year round and countless rocky streams, waterfalls, and attractive landscapes, the place is likened to the second Da Lat. At Mang Den, there is the statue of Our Lady of Sorrows – an architectural work built during the resistance war against the French. When the resistance broke out, the statue was partially destroyed and buried in the ground. In 2004, the statue was found and restored by parishioners.
5. Cat Tien National Park – Dong Nai
Cat Tien National Park is a sub-equatorial tropical forest, stretching into 3 provinces of Lam Dong, Dong Nai, and Binh Phuoc. This is considered one of the vital biosphere reserves of Vietnam and the world with an area of ​​more than 70,000 hectares. Characterized by a tropical wet forest, the park is home to multiple rare and ancient tree varieties.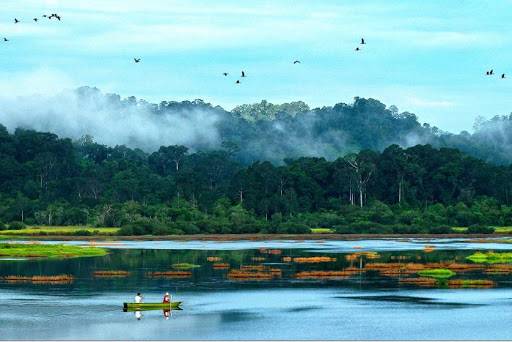 Tourists can join several fun activities here, especially visiting Bau Sau, which is a swamp surrounded by primeval forest. Taking a boat across the river to admire magnificent scenery is really a good way to join yourself in nature; sometimes a few crocodiles in the river may stare at you. Bau Sau is also an ideal place for overnight camping.
In addition, with the fairly flat terrain, you can participate in a trekking tour through the forest and learn about this old forest with extremely rich flora and fauna.
V. Important notes before getting ready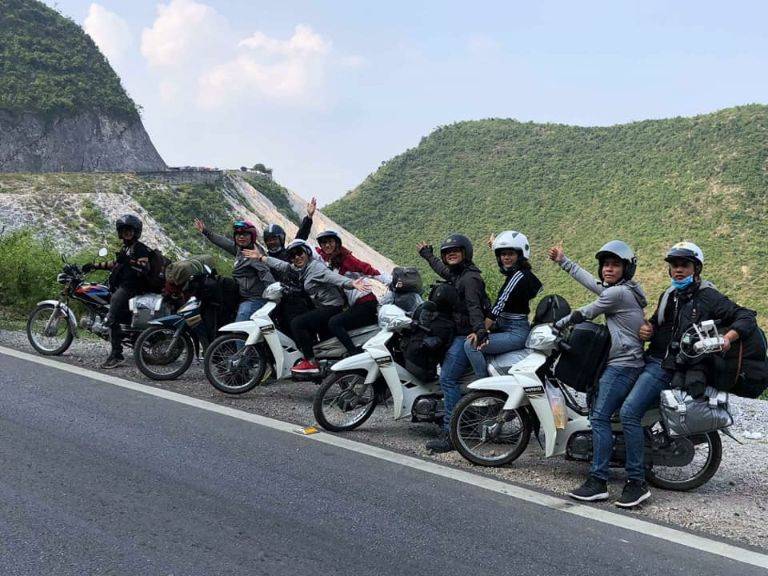 – Get a well-maintained motorbike: since the motorbike is your best friend on the journey, make sure it is always in a good condition. Before renting or buying the vehicle, check carefully the brakes, lights, horns, and engine as well.
– Bring extra fuel: You will spend the most time in the remote forest trail, therefore, the extra fuel is a lifesaver in case your two-wheeler is out of fuel suddenly.
– Try to depart early in the morning: There are many routes you will have to spend a long time traveling, and at dusk, it is not too good a time to travel. Moreover, moving early in the morning helps you avoid maximum traffic congestion.
– Prepare snacks and water with you: In case you need to recharge right away, a chocolate candy bar or a bottle of mineral water is really helpful.
– First aid kit: In the event of an unfortunate incident, make sure you have first aid equipment in time.
– Travel bike tool: Don't forget to bring your car repair tool in case your "best-friend vehicle" breaks down somewhere.
– Ride carefully: Try to go at the allowed speed and follow the traffic instructions. The speed limit is 60 km/h on the highways and 40 km/h or even less in towns. Also, try to give way to big vehicles on the road since they're usually at thundering speeds, and it's not wise to overtake them.
– Go in a team or have a partner: Unless you are a very experienced rider, taking this trip with another person or many is recommended. This will give you peace of mind in case something bad happens, or more optimistically, you will have others to share the joys and experiences with.
Read more: THE LANDSCAPE OF VIETNAM FROM ABOVE