The giant lotus leaves carrying people at Phuoc Kien Pagoda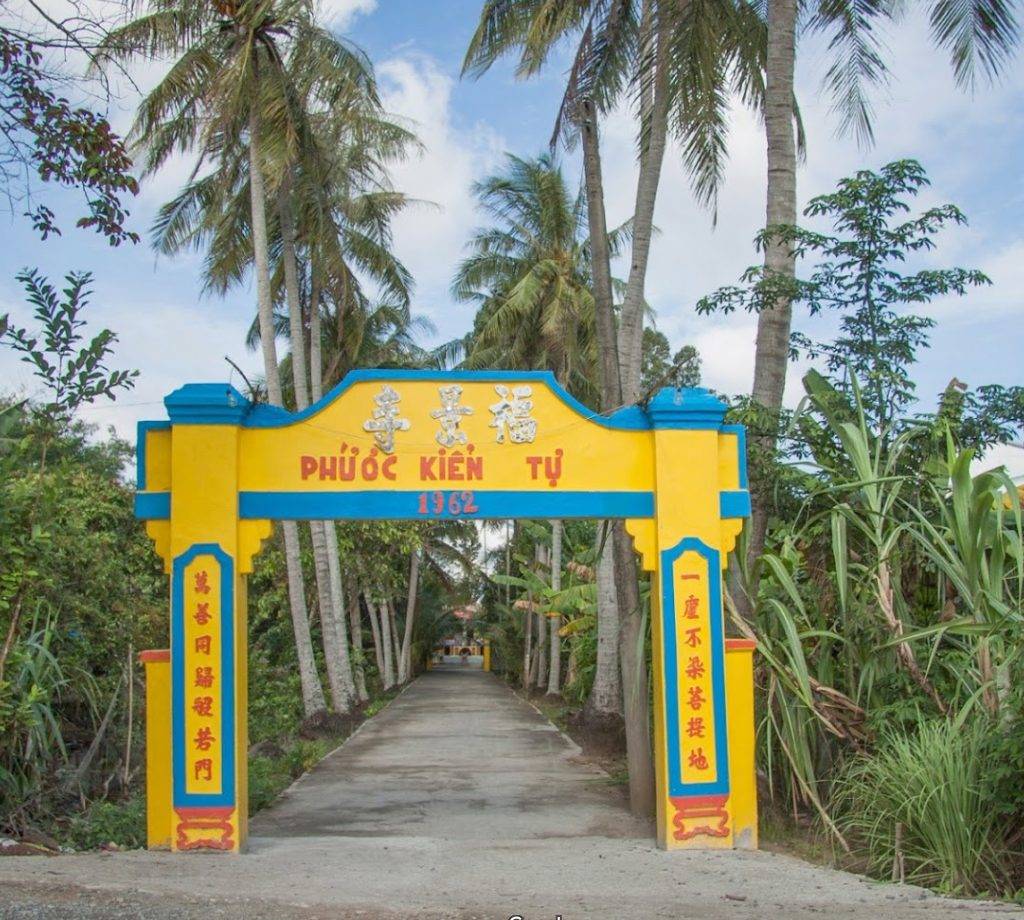 Phuoc Kien Pagoda, also known as La Sen Pagoda, is an extremely famous spiritual site in Dong Thap province, Vietnam. Every year, the pagoda attracts thousands of tourists and Buddhists to visit not because of its beautiful architecture and scenery, but the special lotus lake.
Referring to lotus, people often think of delicate and fragile beauty, however, the lotus flowers in Phuoc Kien pagoda are distinctively well-known for their giant size, which can even carry adults. Let's discover this La Sen pagoda today!
Read more: A HUNDRED-YEAR-OLD PAGODA ON HOI AN BEACH
1. About Phuoc Kien Pagoda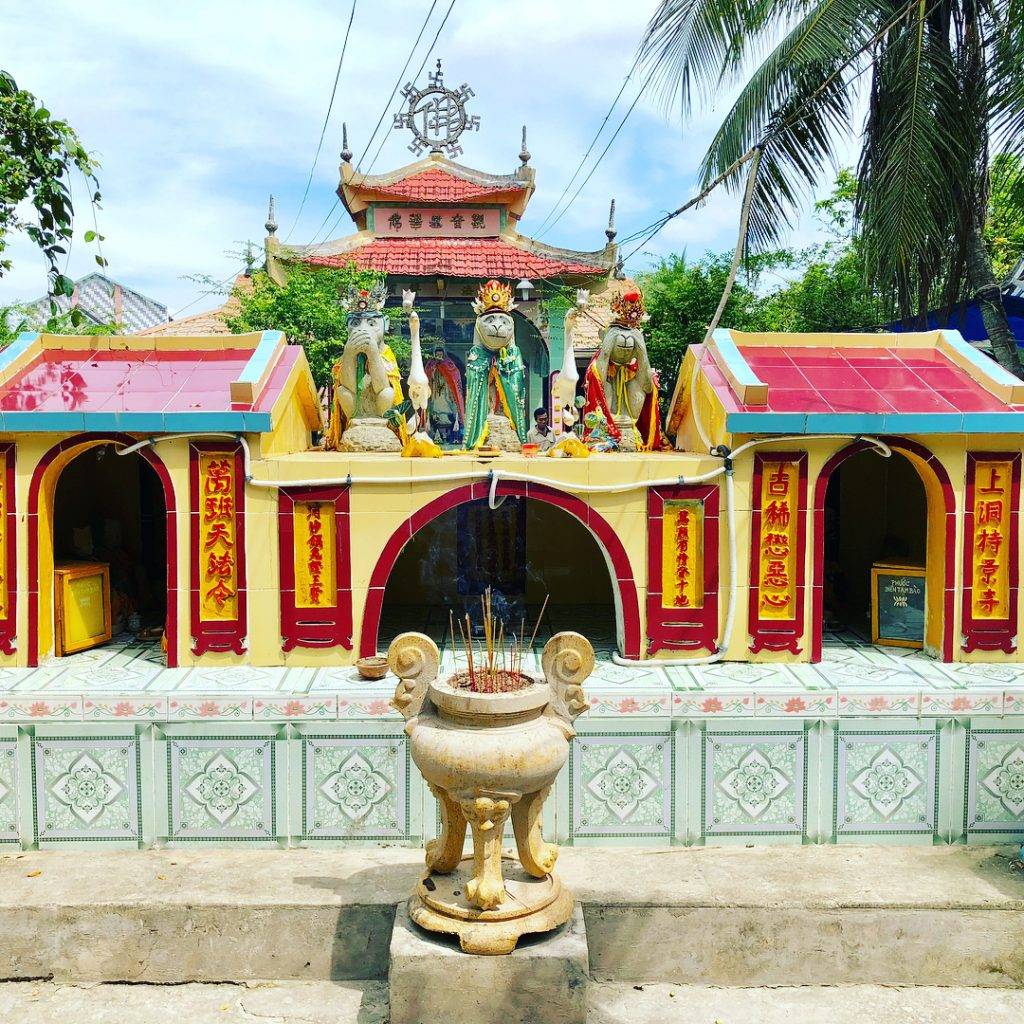 Phuoc Kien Pagoda is located in Hoa Tan commune, Chau Thanh district, Dong Thap province, with a long history of more than 150 years, before the reign of King Thieu Tri (1841). According to the abbot Thich Hue Tu, the pagoda, with spacious, cool, and majestic space, used to be a revolutionary operation base. Unfortunately, in 1966, war bombs completely destroyed the place. After 1975, people rebuilt the pagoda with simple, non-sophisticated architecture, including the entrance gate, the worship place of Guanyin, and the main hall.
The monks here also created lotus ponds from bomb craters for both erasing the war traces and making room for tourists to visit. In these bomb craters grew a rare plant species with large leaves that are called the king lotus. Basically, this pagoda would be unimpressive without the giant lotus leaf and interesting stories about Buddha.
Read more: QUAN SU PAGODA – THE MOST SACRED PLACE IN THE CAPITAL
2. The best time to visit Phuoc Kien pagoda
The rainy season from September to October is the most ideal time to go to the pagoda and watch the lotus king. Because at that period, the lotus leaves grew big, thick, covering the whole pond surface. In the morning, around 9 am onwards, a lot of visitors come here since the scene is more appealing than when it is sunny at noon.
3. How to move to Phuoc Kien pagoda
– From Ho Chi Minh City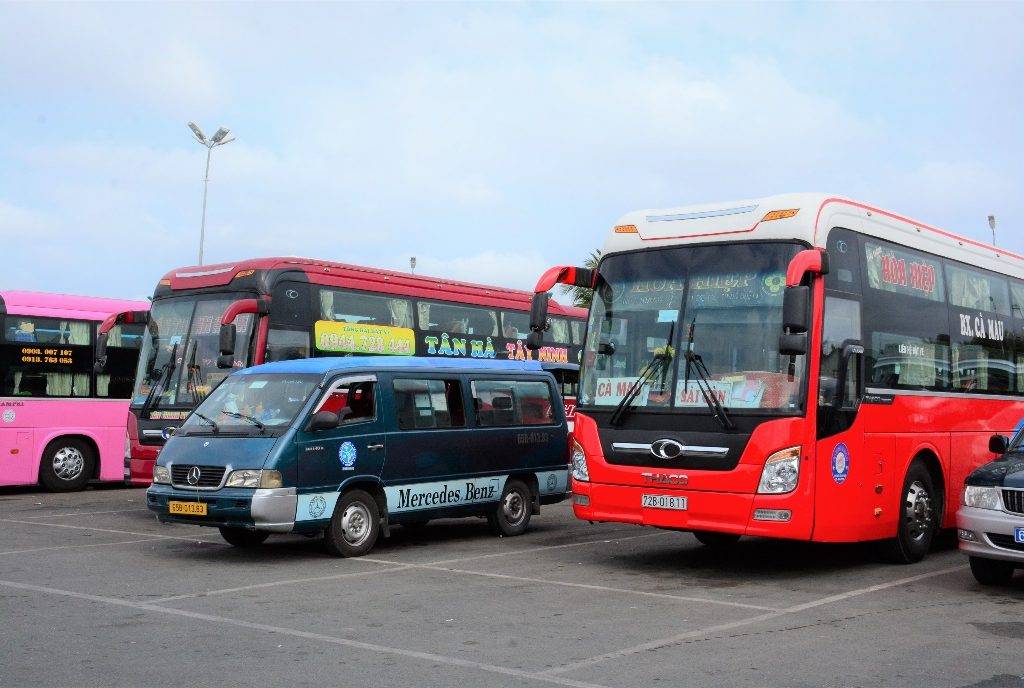 Phuoc Kien Pagoda is about 145km from the center of Ho Chi Minh city. The road is quite convenient to travel by many types of vehicles, such as motorbike, car, bus, etc.
From northwest of the city, go to Phan Van Hon, continue to Dai Han Highway leading to Ho Chi Minh City highway, then run more than 40km until reaching a roundabout, follow exit 1 to National Highway 1A. From there, run another 57m to Sa Dec.
The direction from Sa Dec Flower Village to My Thuan Bridge: follow NH80, just after crossing Nha Man bridge, you run another 50m then turn right to TL854. Running about 11km to the parking lot of La Sen Pagoda. Since local people will leave parking lot signs along two sides of the road, so you do not worry about going over.
Near the parking lot, there is a T-bridge over the river. Down the bridge, turn left and run about 200m to meet the pagoda, located on the right. The pagoda grounds are large, so you can park your vehicle comfortably.
Read more: Hang Pagoda – The largest natural pagoda in Vietnam
– From Can Tho city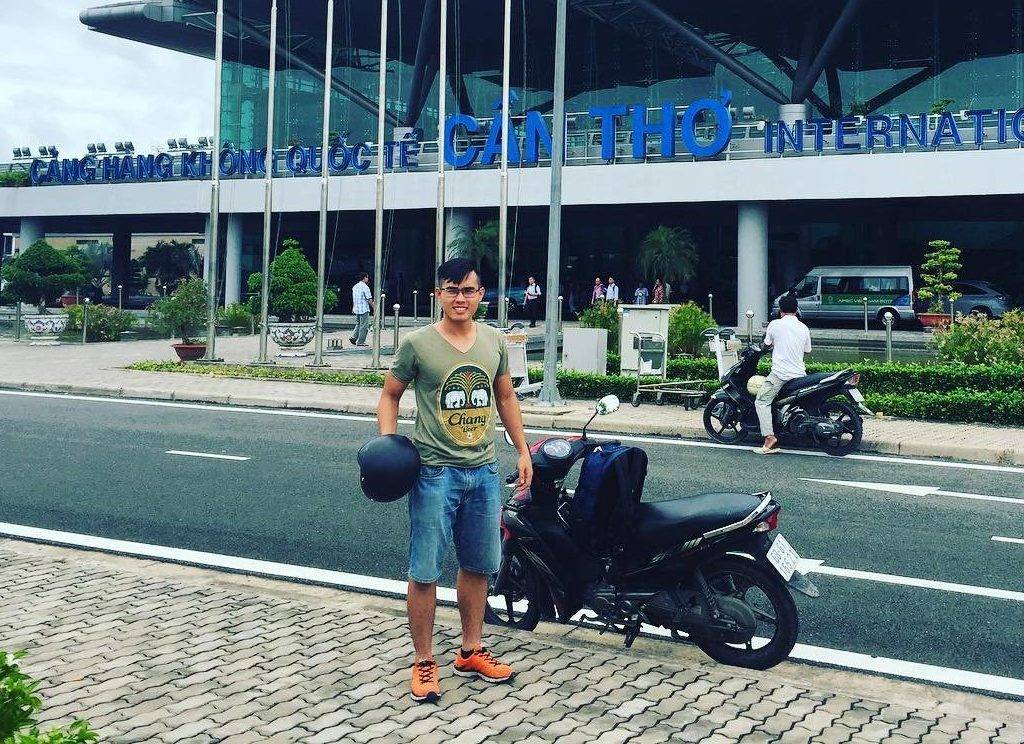 The pagoda is only about 25km from Can Tho, so you can use either a motorbike or car to go there. You pass Hung Loi Bridge/ Nam Song Hau /HW91C and turn left to Highway 1A. Take the ramp to Tra On /Cai Von. Then, turn right at the junction toward Nguyen Thi Minh Khai/HW54, keep going about 7km to Nguyen Van Thang Street / DT854.
From here, go about 15km more until reaching Ut Huynh Parking Lot at Bridge No.6, you're already at La Sen Pagoda.
– From Vinh Long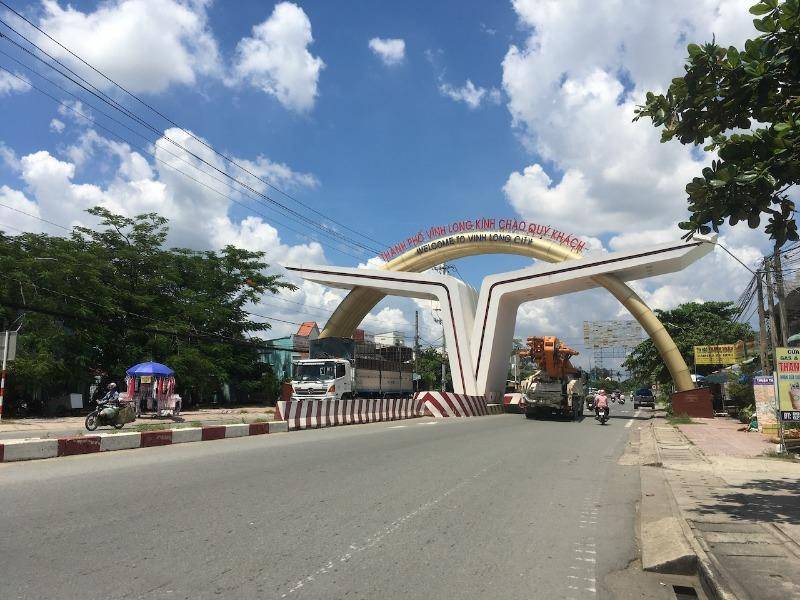 The pagoda is also about 25km from Vinh Long. You go to the South to Dinh Tien Hoang Street towards Alley 112. At the roundabout, take the second exit onto NH1A to Can Tho. Go about 7km more than turn right on DT908, go straight to the intersection, and turn right on DT854. Running about 10 km to the Ut Huynh Parking Lot at Bridge No. 6.
* Note: It's not necessary to park your vehicle at houses with signboards of parking lots on the way. Besides, you can also refuse the motorbike taxi service to the pagoda offered by residents. If you go by car, you should go close to the bridge to park the car, while the motorbike can cross the bridge to go straight to the pagoda's courtyard.
Read more: LIST OF BEAUTIFUL PAGODAS IN HO CHI MINH CITY
4. Explore the famous King Lotus Lake of Phuoc Kien Pagoda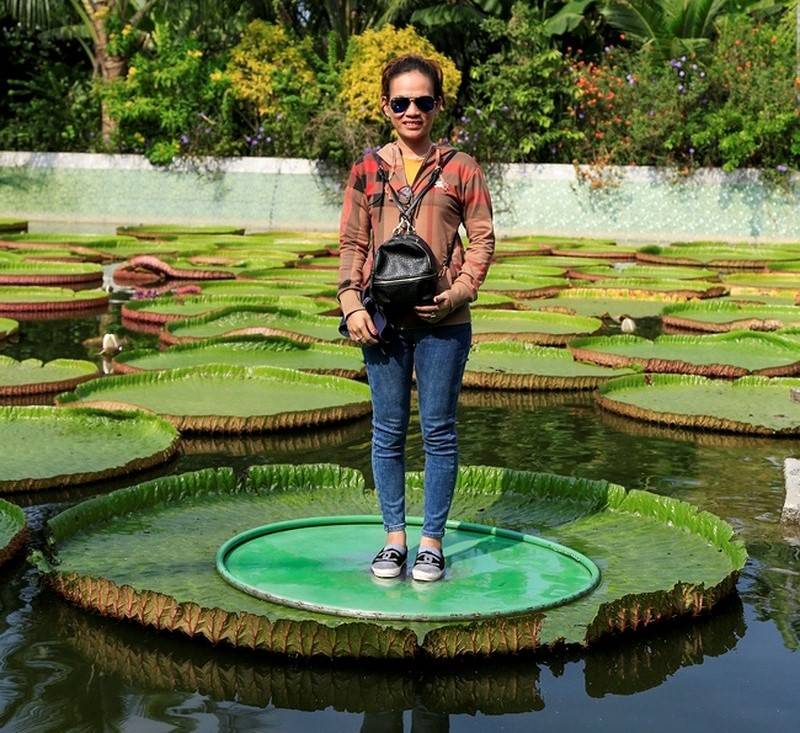 Most visitors come to Phuoc Kien Pagoda due to its mysterious stories, especially the appearance of a lotus species which can carry an adult weighing 140kg without a fuss.
These giant lotus leaves have become a trademark of Phuoc Kien pagoda, which is so famous that people now call it La Sen pagoda instead of its real name.
The lotus grown at Phuoc Kien pagoda is called by different names such as king lotus, giant water lily, etc. This species is known as a rare variety living in Amazon, South America. However, why it appeared here is still a mystery.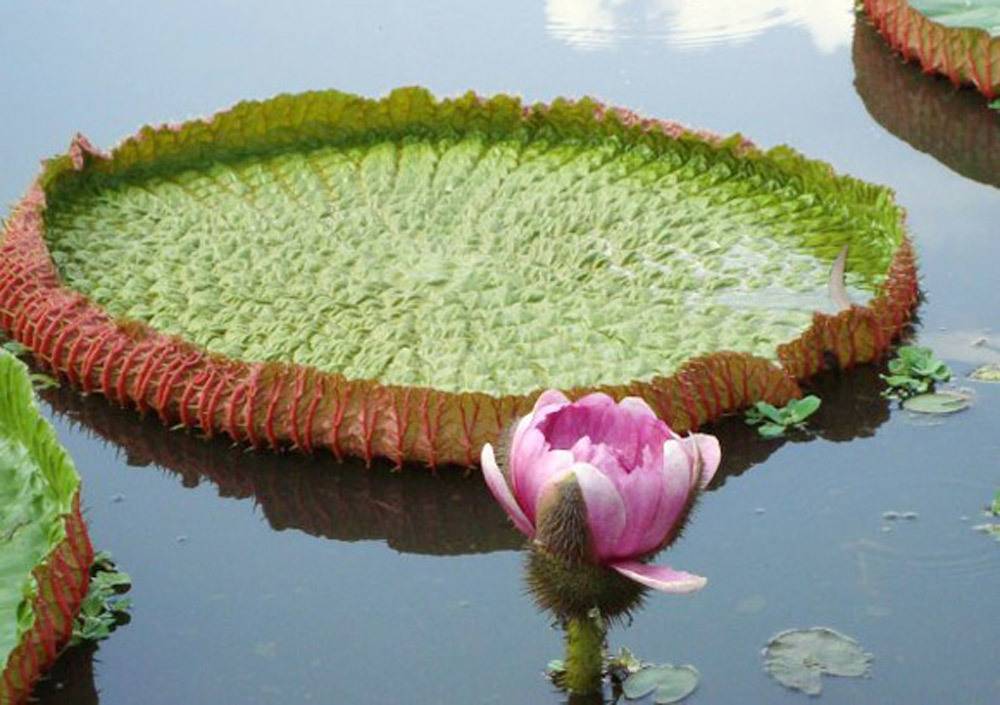 According to Thich Hue Tu, this lotus species has appeared in the temple's pond since 1992. Due to the soil suitability, the tree grows very well and exists to this day.
In the flooding season, the lotus leaf is up to 2-2.5m long while in the dry season, the smaller lotus leaves are only about 1 to 1.5 meters large. Lotus leaves appear on the water surface with green veins on top, reddish-brown spines underneath. Despite large leaves, its flowers are quite small, like water lilies but with more layers. The flowers are white at first, then gradually turn pink and dark purple when withering.
Currently, at Phuoc Kien pagoda, there are two lotus ponds, a small pond is right at the entrance and a large pond is on the left of the pagoda. The large pond now has hundreds of lotus leaves developing very well, creating interesting scenery for visitors from all over the world.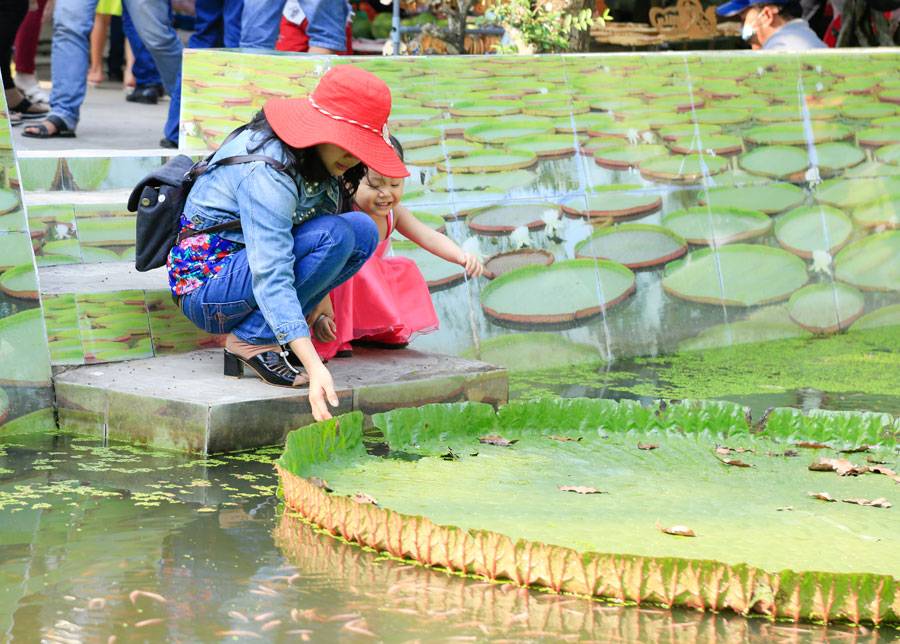 Visitors should not miss the experience of standing on giant lotus leaves and taking pictures for 20,000 VND/time. You will have to step on a board from a bridge across the pond to reach the lotus leaf. The board will be held tightly to make sure you can get onto the leaf safely.
The lotus leaf is especially brittle, easy to tear, so to be able to stand on, people have to put a thin tin plate on the leaf, visitors just need to step slowly into the right mind. Once you are standing still, you will no longer be afraid of falling into the water.
Read more: KIM TIEN PAGODA, AN GIANG-THE BEAUTIFUL DESTINATION AS IN HISTORICAL FILM
5. Hundred-year-old turtles at Phuoc Kien pagoda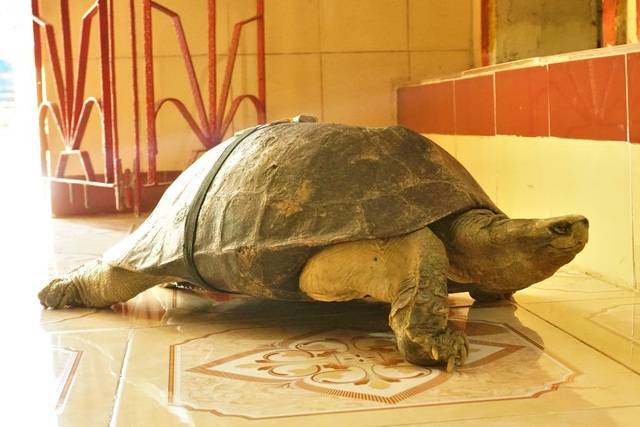 In addition to giant lotus leaves, Phuoc Kien pagoda also possesses other "treasures", which are 3 tortoises.
Out of these 3 tortoises, there is one 106 years old (weighing 15kg), and a 101-year old (weighing 13kg), called "uncle tortoises". The youngest tortoises, also the most special one, only sleep and never goes into the water.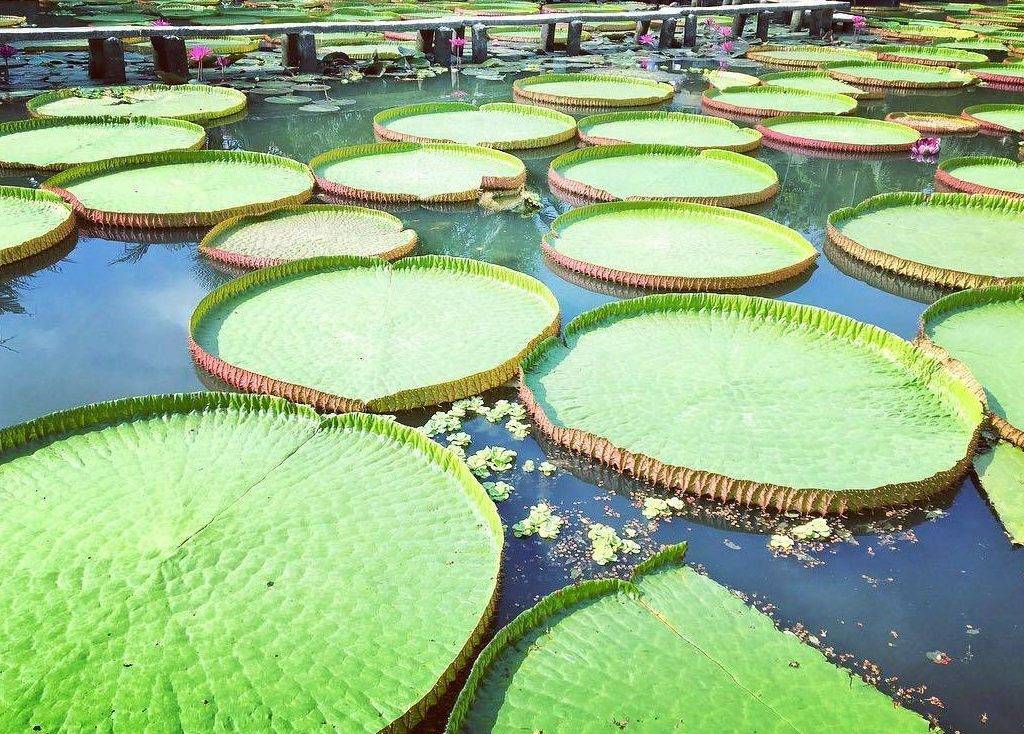 Thich Hue Tu said that the two oldest tortoises lived here even before he came. Legend has it that during the chaotic wartime, two of them were often stolen. Strangely, only a while later, the thief brought them to the pagoda to admit the guilt. Those people said that since the theft took them home, they were constantly sick, so they panicked and brought the tortoises back to the pagoda.
In particular, the turtles are vegetarians, especially very fond of water spinach. If they see meat or fish, they will immediately crawl elsewhere. Moreover, every time the monks chanted, the tortoises crawled all the way back to lie down, attentively listening to the Buddhist scriptures.
Read more: THIEN MU PAGODA – THE SACRED PLACE WITH LOTS OF SECRETS
6. Accommodation around Phuoc Kien pagoda
There are many hotels and motels around the pagoda, making it easy to find a place to rest. Here are some reputable addresses with reasonable prices (ranging from 150.000-500.000 VND/room):
– Hoa Binh Dong Thap Hotel: Highway 30, My Tra Ward, Cao Lanh, Dong Thap
– Song Tra Dong Thap Hotel: 178 Nguyen Hue, Cao Lanh, Dong Thap
– Bong Hong Hotel: 251A Nguyen Sinh Sac, Ward 2, Sa Dec Town, Thap Muoi, Dong Thap
– Cat Moc Dong Thap Hotel: 82A Ton Duc Thang, An Hoa Ward, Sa Dec, Dong Thap.
– Sa Dec Hotel: 499 Hung Vuong Avenue, Ward 1, Sa Dec, Dong Thap
7. What to eat around Phuoc Kien pagoda
– La Sen grilled fish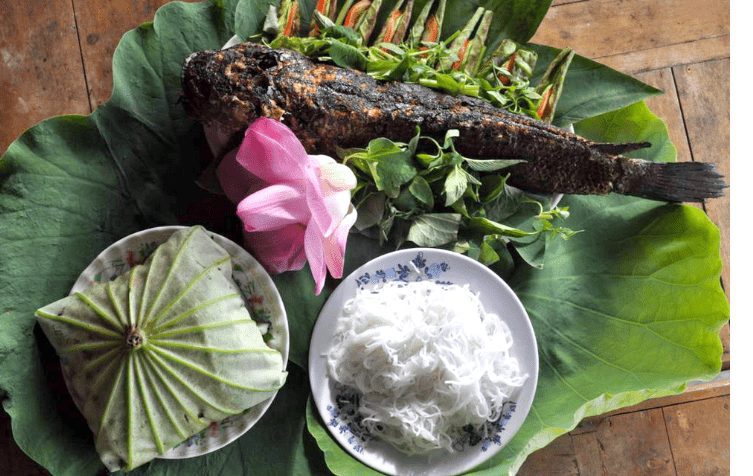 This is a popular dish in Dong Thap, in which the chosen fish have to be snakehead fish. After cleaning, people cover the fish with a lotus leaf, therefore, when the fish is cooked, we will immediately feel the aroma emanating from the lotus leaf mixed with the savory fish meat.
The sweetness of fish meat combines the refreshing lotus leaves, the salty of spices, and the spicy taste of pepper, chili will definitely make you unforgettable. Grilled snakehead fish is served with lotus leaves along with other raw vegetables, such as lettuce, star fruit, cucumber, etc., and sour-spicy-sweet fish sauce for about 150.000 VND/fish.
– Linh fish hotpot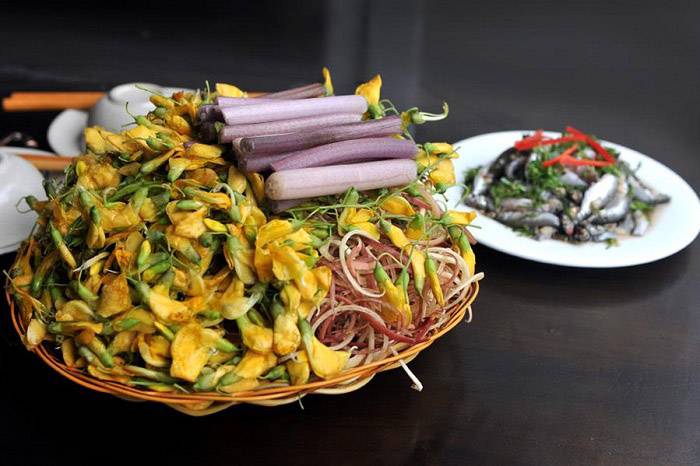 Coming to Southwest Vietnam, you must definitely enjoy the delicious Linh fish hotpot. The broth is exceptionally fragrant and yummy thanks to the aroma of Linh fish; the dish is served with vegetables and rustic spices, creating an indelible taste for about 150.000-300.000 VND/pot.
– Mixed lotus root salad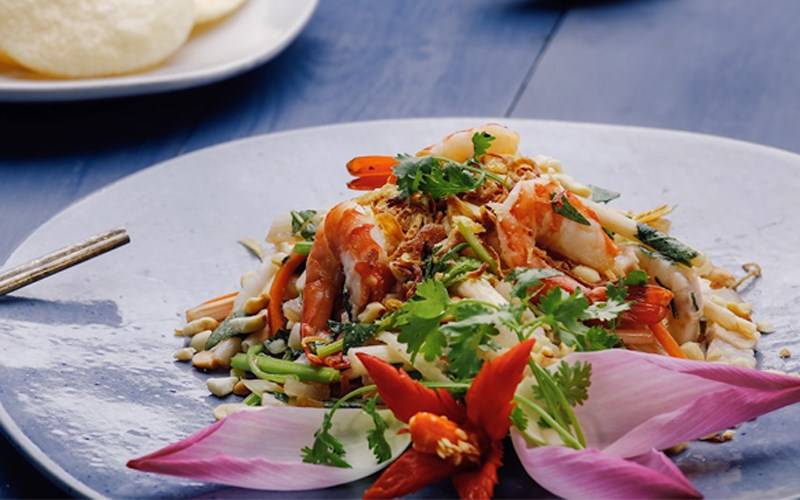 Dong Thap Muoi is long notable for its immense and vast lotus swamps. Thence, it is very flawed when coming here without enjoying the dishes made from this flower. The lotus root salad has a sweet and sour taste, low in fat. In addition, the ingredients to make the salad are also very diverse; they are peeled tiger prawns, pork side, thinly sliced pork ears, laksa leaves, onions, and roasted peanuts.
The special feature of this dish is the very crunchy and sweet lotus root. The price of lotus root salad is from 80.000-100.000 VND/plate.
Possessing a pure, green space and mysterious stories surrounding giant lotus species and legendary mascots, Phuoc Kien Pagoda is really an attractive destination for tourists when visiting Dong Thap. Wish you an enjoyable and memorable trip!
Read more: Van Nien Pagoda – An ancient pagoda of thousand years