Phong Nha – Ke Bang, the oldest major limestone karst ecosystem in Asia
Likened to a proud masterpiece of the creation of Quang Binh in particular and Vietnam in general, Phong Nha – Ke Bang is a system of more than 300 caves and long underground rivers created by layers of nameless limestone karst ranges from the Paleozoic (400 million years ago). This huge mysterious system surrounded by lush primeval forests will take you to a whole new world full of mystery and enchantment that no words can describe. Here, visitors not only enjoy exploring the caves by boat but also combine numerous eco-tourism activities to learn about the diverse flora and fauna's life through adventurous treks and hikes to the mountains of over 1,000 m high.
1. About Phong Nha – Ke Bang
Phong Nha – Ke Bang, in Bo Trach District, Quang Binh Province, 500 km from Ha Noi, is an attractive tourist destination located in a limestone area of ​​about 201,000 hectares. This place has also been recognized by UNESCO twice as a World Natural Heritage for its special features of limestone tectonics, 300 caves, underground rivers, and rare fauna and flora listed in the Red Book.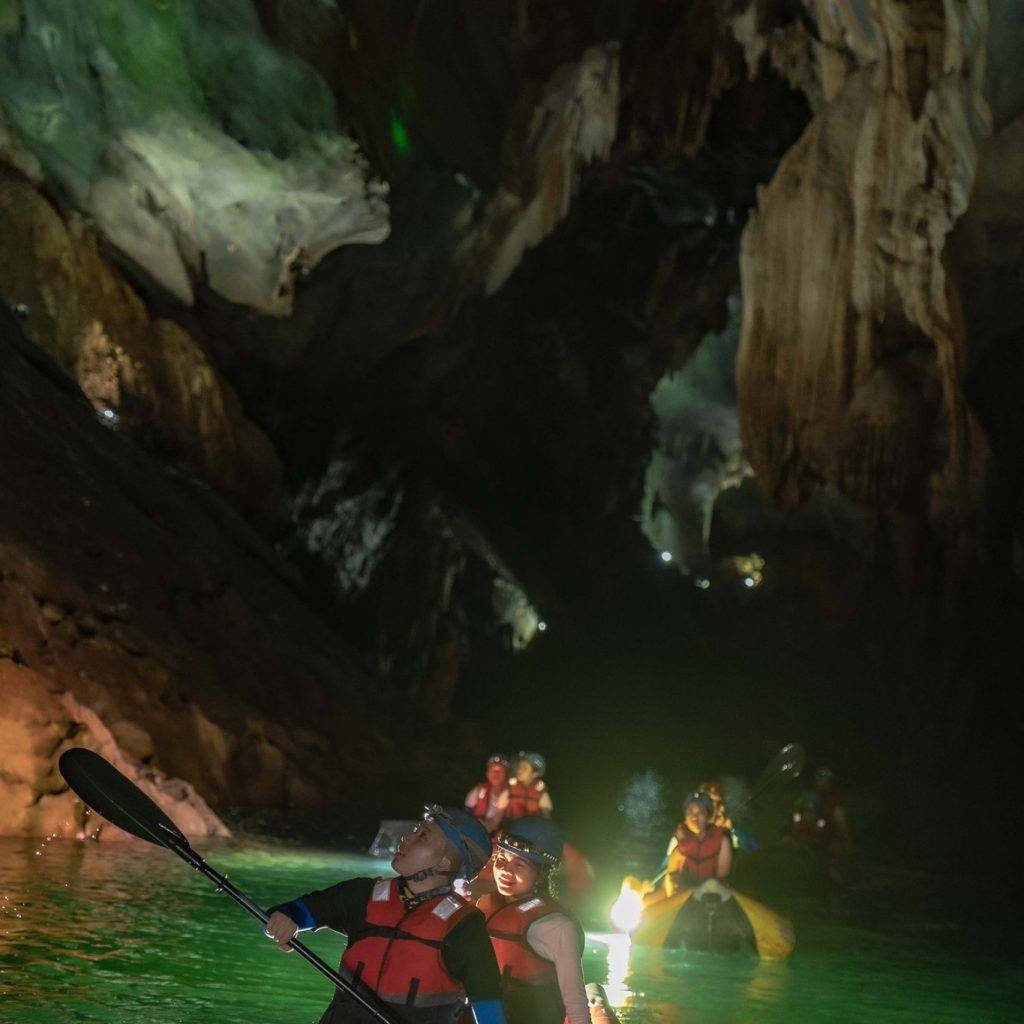 The most unique attraction is the cave system of diverse types: dry caves, terraced caves, suspended caves, dendritic caves, and intersecting caves, formed by geological tectonics occurring in the heart of Ke Bang limestone mountain range around 400 million years ago, with a total length of more than 80km. Currently, only about 20km of the cave system length has been found, the rest still remain mysteries. The latest discovery was Son Doong cave, which was announced as the largest cave in the world in April 2009.
Asides from the cave system, Phong Nha-Ke Bang also has the longest underground rivers with three main rivers of Chay, Son, and Trooc. Their sources of water come from underground streams, all of which emerge from the surface in caves of En, Vom, Dark, and Phong Nha.
The forest biodiversity of the region creates an ideal environment and natural habitat for more than 154 mammals, 117 reptiles, 58 amphibians, 314 birds, and 170 fish.
* Ticket price Phong Nha – Ke Bang:
Adults: 150,000 VND/person
Children under 1.3m high: Free
Boat rental: 360,000 VND / 1 boat for 12 guests, equipped with life jackets
2. Best time to visit Phong Nha – Ke Bang
Influencing the tropical monsoon climate, the weather in Phong Nha-Ke Bang is divided into two distinct seasons: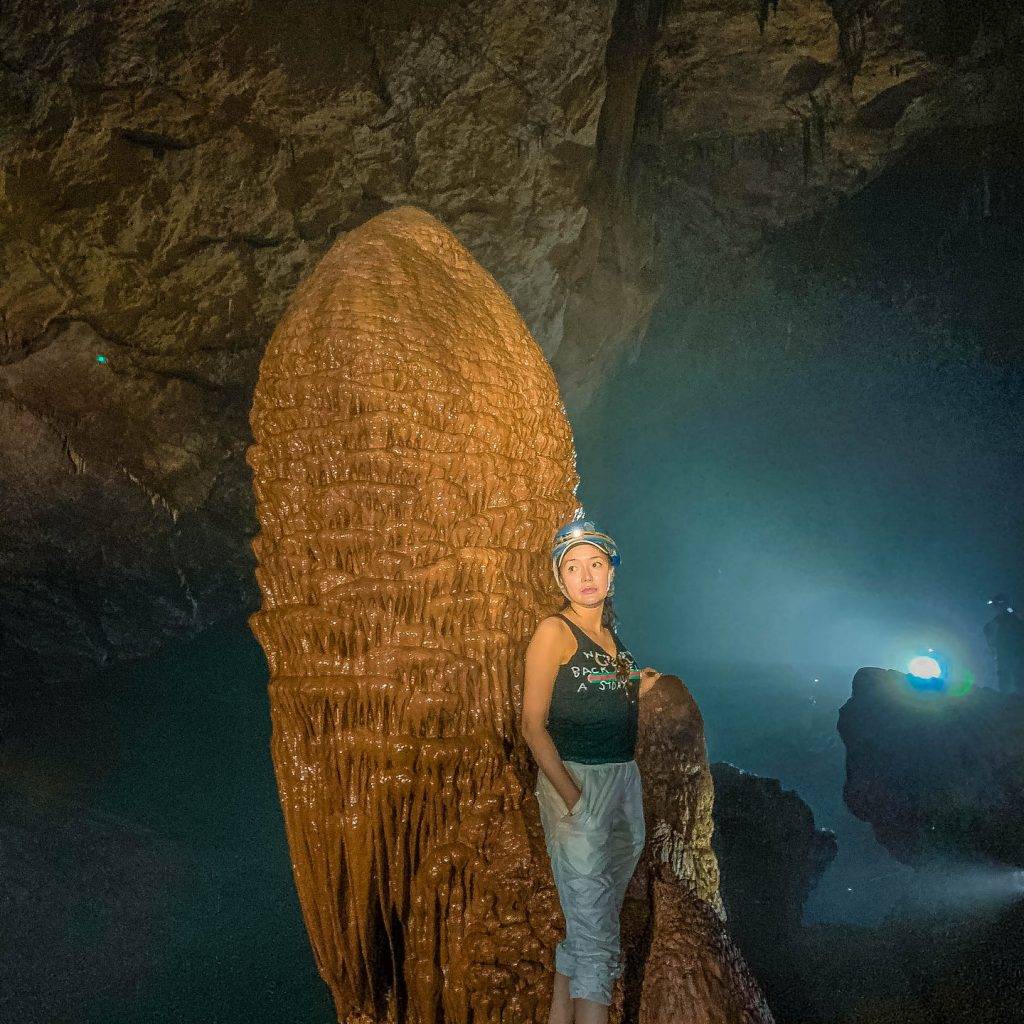 – Dry season (from April to August): Though the outside temperature might reach a peak of 40°C, inside the caves always remain at 18-22 ° C, which is rather pleasant.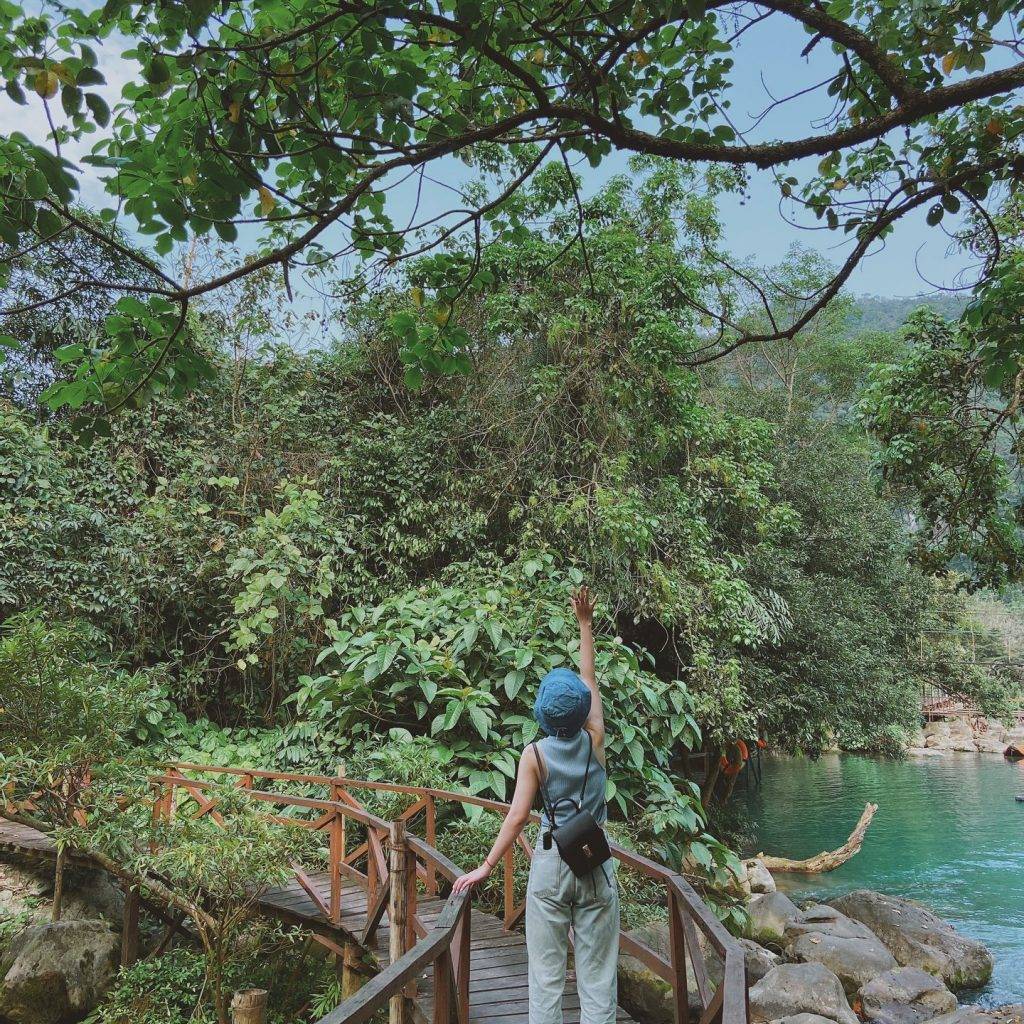 – Rainy season (from September to March of the following year): In the high water season, Son River will rise and obscure the cave, so boats cannot enter the caves. At the time, jungle paths are quite slippery, not so perfect for trekking as well.
Therefore, the most favorable time for Phong Nha-Ke Bang tourism should be from April to August, when the weather is stable with less rain.
Read more: QUANG BINH CAVE FESTIVAL 2019
3. Things to see in Phong Nha – Ke Bang
Cave exploration is an indispensable thing when coming here. Visitors will experience gliding in gondolier style into spectacular caves of kilometers long, as well as admiring unbelievable sculptures made of countless age-old stalactites and stalagmites.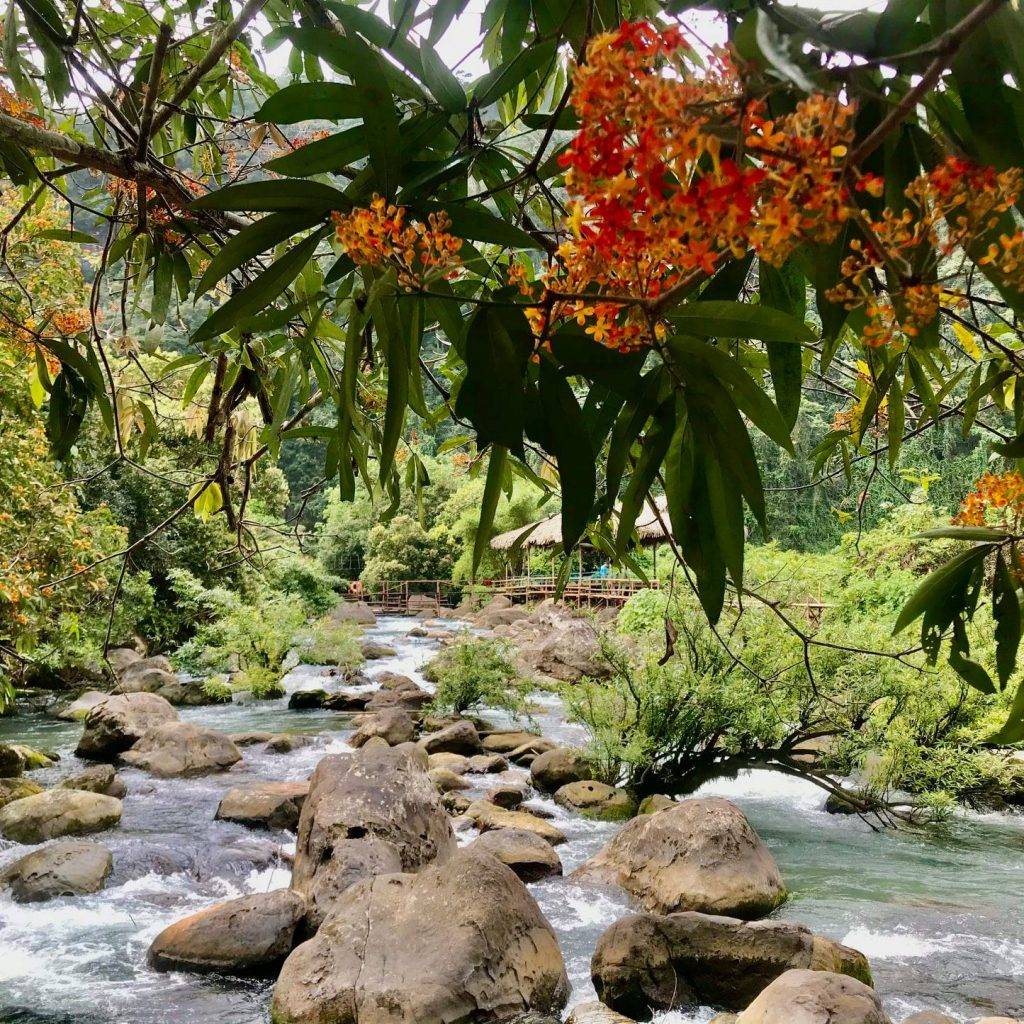 The names in Phong Nha – Ke Bang listed below are among the most beautiful caves in the world with 7 best features:
– The most beautiful underground river.
– The highest and widest cave entrance.
– The most beautiful sandy beach and reef.
– The most beautiful underground lake.
– The largest and most beautiful dry cave.
– The longest water cave.
Phong Nha Cave
Phong Nha cave is the symbol of Phong Nha-Ke Bang with the longest underground river system in the world (8km). Visitors will take a motorboat tour along the direction of the Son River to enter its entrance. As covered by the primitive rainforest, the temperature inside of the cave is always maintained at 18-22 degrees Celsius, which is pretty pleasant. The cave also consists of 14 other caves, notably Co Tien, Ky Bi, and Cung Dinh, all of which contain extremely shimmering small stalactites.
Son Doong Cave
Son Doong Cave was discovered in 1991 by a local named Ho Khang, but it was not until April 2009 that it was officially discovered. Put into operation in the form of adventure tourism since 2013, Son Doong Cave, also currently the largest cave in the world, quickly draws flocks of tourists to the heart of Phong Nha – Ke Bang, Quang Binh. Son Doong is amazingly majestic, mystic, and pure, taking explorers through different levels of challenges and beauties: wild jungle paths, deep caves, natural skylights, sandy camping sites, the towering stalagmite wall, with wide numbers of self-supporting aquatic ecosystems – primeval forests, animals, plants, and ancient fossils.
Read more: World's largest cave, Son Doong offers the once-in-a-life-time experience
En Cave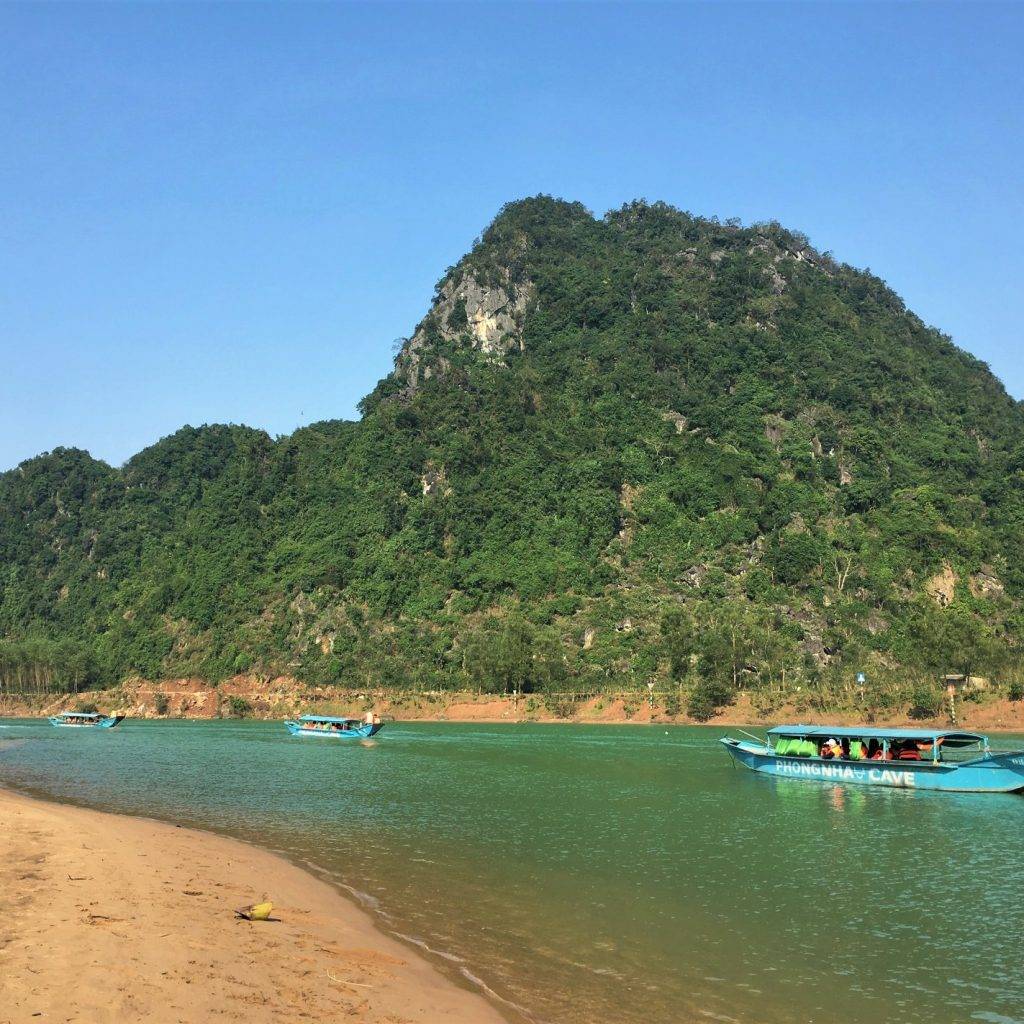 To get to Son Doong cave, you need to go through Ban Doong ethnic minority village, Hang En – the third largest cave in the world. The reason for the name En is because there are many swallows (En in Vietnamese) inhabiting here. This cave has been familiar to the indigenous people for a long time because it was the residence of the Arem people thousands of years ago. There is a large campsite located on the flat sand beside a wonderful natural blue lake where you can swim and relax.
Tien Son Cave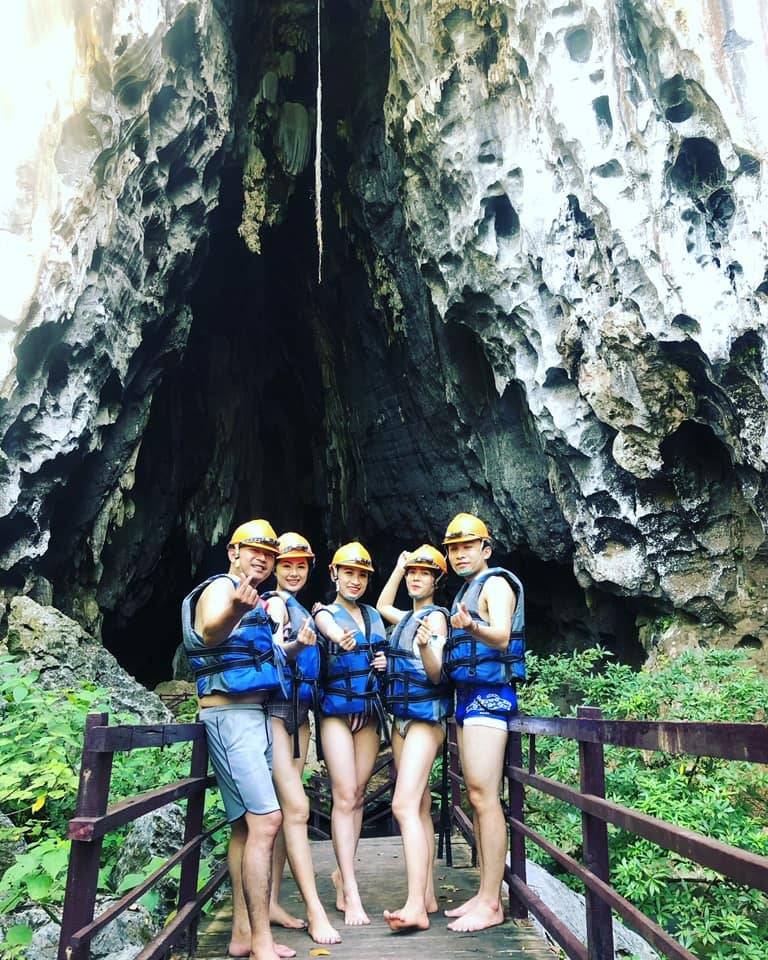 Tien Son Cave is right next to Phong Nha Cave, so you only need to buy a boat ticket once and will be transported to both areas. In contrast to Phong Nha, which has underground water flowing through, Tien Son is a dry cave. The national park management board has installed stairs inside the cave for easy access and moving. This place is considered a castle of colorful stalactites and attractive iridescent marble columns. Another special feature is that these resonating stone slabs and columns will emit strange sounds, like the sound of gongs, when people tap them lightly.
Thien Duong Cave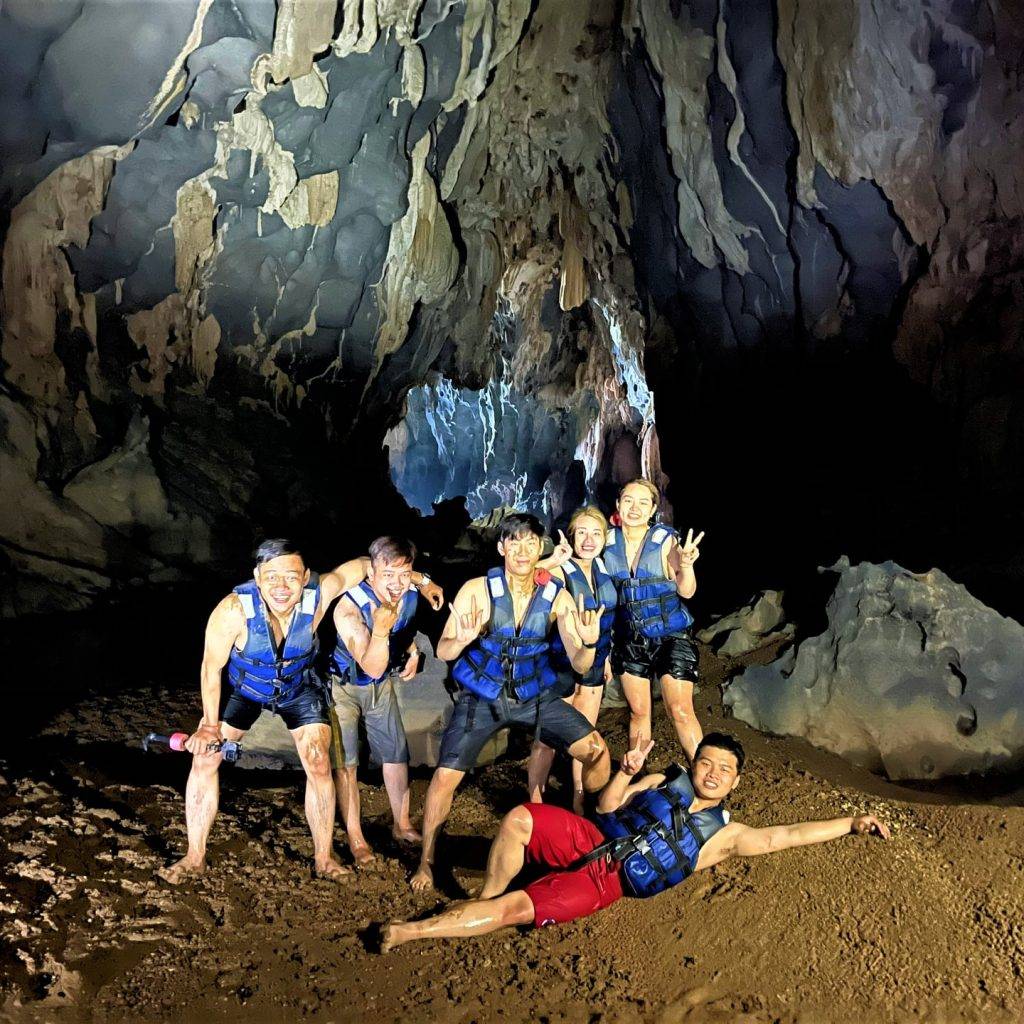 From Phong Nha Cave, visitors move to the south for another 20km to reach Thien Duong cave. This is the longest dry cave in Asia with a length of 31.4km, however, it has only been explored for the first 1km with safe wooden stairs and a modern lighting system. Among countless magnificent stalactites stimulating the imagination of viewers, the most quirky is a stalactite block that looks like the statue of the Virgin Mary holding a baby.
Phong Nha Botanic Garden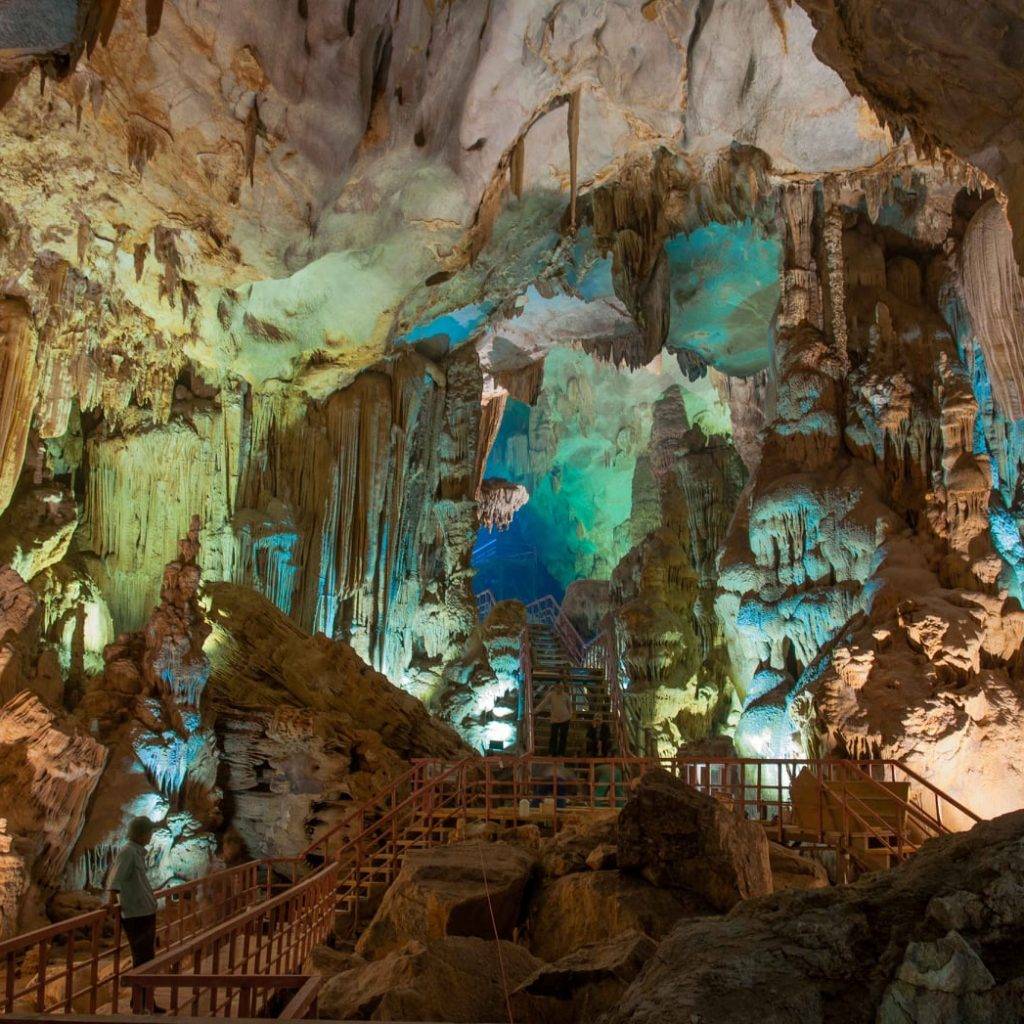 Phong Nha Botanical Garden is a nature reserve with an area of ​​over 40 hectares with the unspoiled beauty of primeval forests. The destination includes 9 attractions: Gio Waterfall, Tien Waterfall, Vang Anh Lake, Specimen Gallery, Indigenous Seedling Nursery, Hundred-year-old tree, Ancient Guava tree, Observatory Hill, and Am Cave.
The highlight of the garden is the view of the tropical forest embracing Gio Waterfall over 30m high and Vang Anh Lake, where you have to hike on wooden walkways and paths to reach. You can swim in the crystal-clear water here and have a great sight of the limestone mountain at its back. Along the way, visitors can first hand see the hornbill, monkeys, black squirrels, especially wild peacocks showing their amazing tails.
Chay River – Dark Cave
Chay River, one of the tributaries of the Son River, has jade-like green water all year round. Although only about 10km long, the river has numerous rapids which are home to aquatic animals listed in the World Red Book. Here, you not only admire the majestic karst mountain range but also discover the life of the indigenous people in the ancient riverside villages (Tram, Me, Ha Loi, etc.).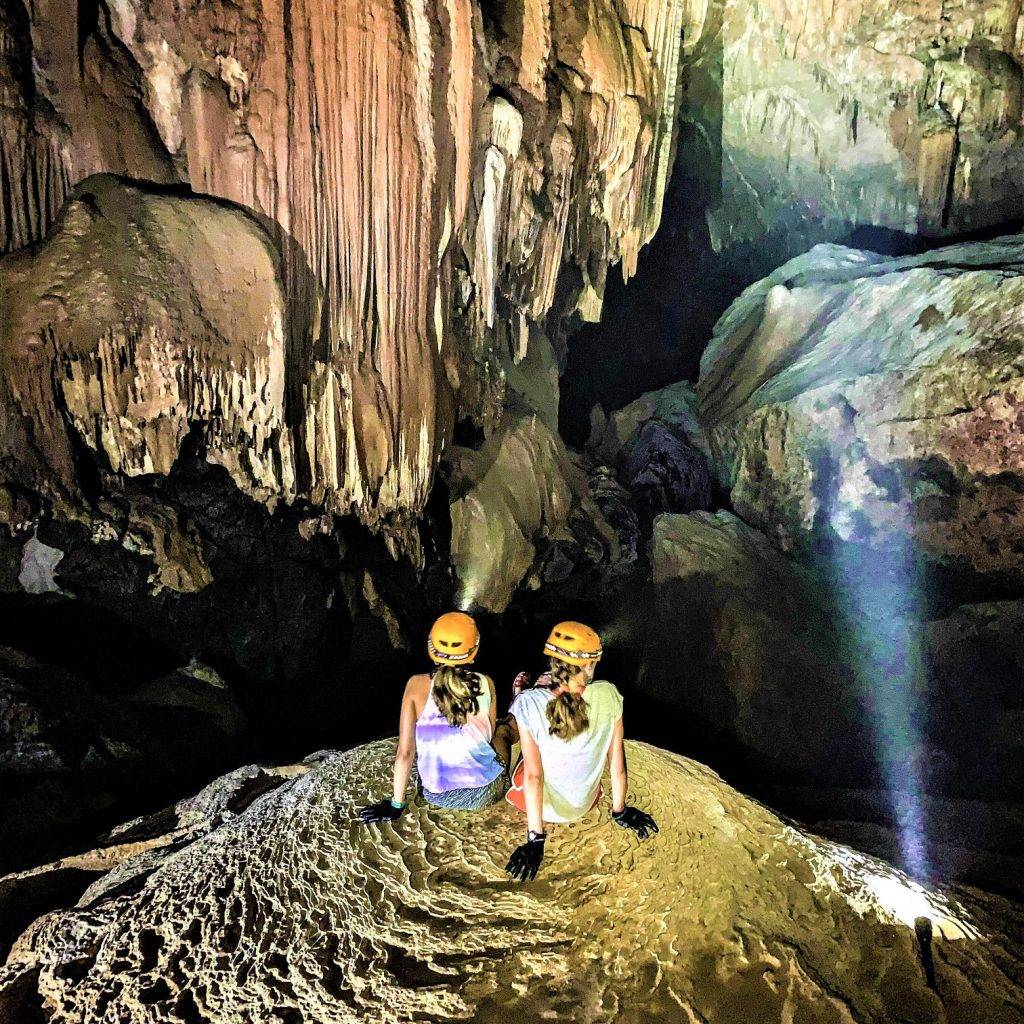 Upstream of Chay River, you will reach Dark Cave, one of the most beautiful caves of Phong Nha – Ke Bang. Dark Cave was named by the British Royal Society expedition because the darkness in the cave was as thick as night; therefore, travelers need to bring a flashlight along. Additionally, you can experience an extremely interesting natural mineral mud bath.
This is also a new adventure eco-tourism route of Phong Nha – Ke Bang tourism that combines many adventure games, like zipline and kayak, with the price of 300,000 VND – 450,000 VND/ person for the full package.
4. Getting to Phong Nha – Ke Bang
The popularity makes traveling to Phong Nha – Ke Bang much more convenient. The most time-saving way to get here is by plane from big cities, like Hanoi, Saigon, Da Nang, etc., to Dong Hoi – which is 50km to Phong Nha – Ke Bang.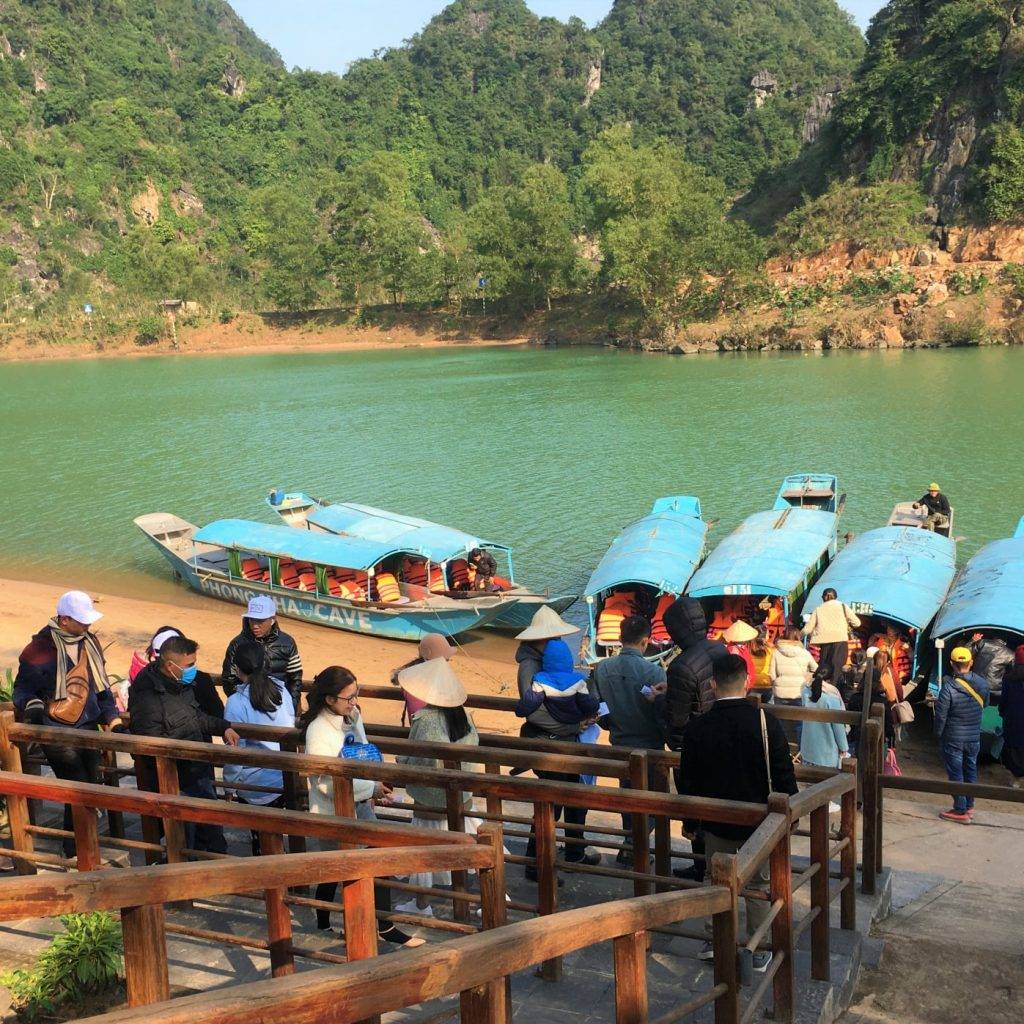 From Dong Hoi, visitors continue to move by taxi, bicycle, or motorbike about 45km along Highway 16 to the northwest to the Son River, in the territory of Son Trach commune, Bo Trach district, Quang Binh province.
The best means to fully experience Phong Nha – Ke Bang is by motorbike. You can rent a vehicle in Dong Hoi city or hotels in Phong Nha for 150,000 – 200,000 VND/day/motorbike.
*Some reputable car rental addresses:
Ms. Thu: 42 Nguyen Du, Dong My, Dong Hoi
Mr. Tung: 44 Hoang Dieu and 07 Truong Phap, Dong My, Dong Hoi
Read more: Adventurous off-road experiences by motorbike on Ho Chi Minh Highway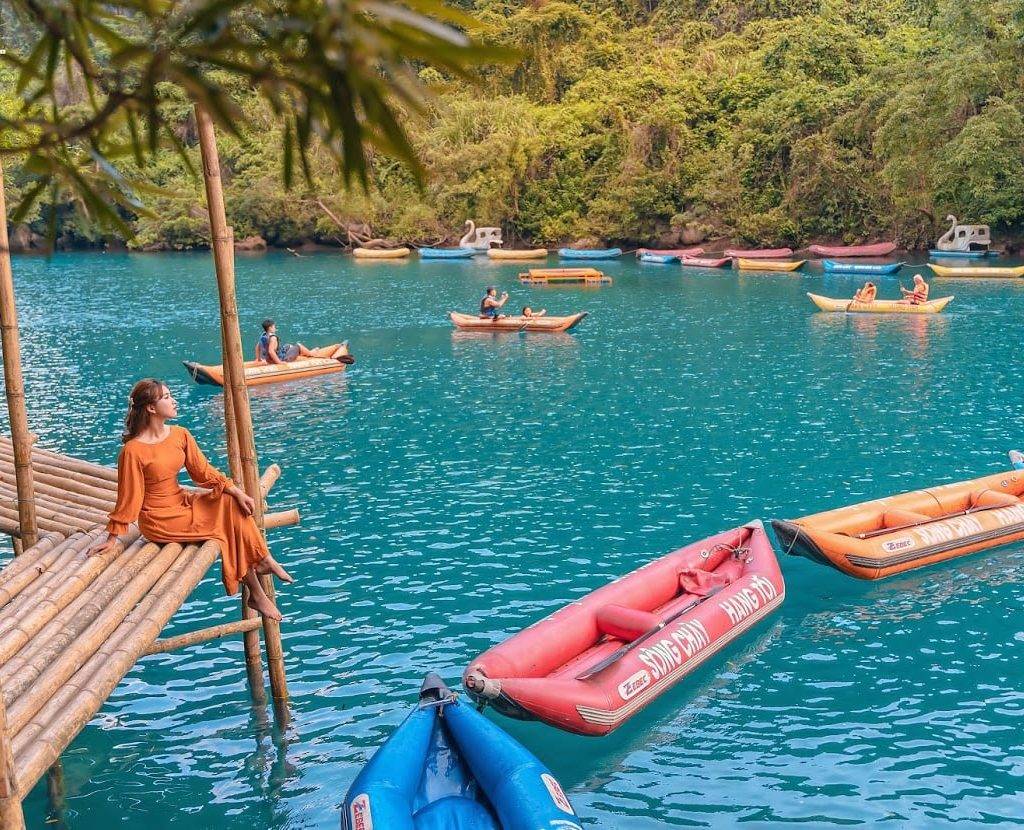 It's easy to find a huge range of staying options to choose from in both Dong Hoi and Phong Nha – Ke Bang areas. Here are a few recommendations:
In Dong Hoi City Center
Two-star hotels (300,000 – 550,000 VND/night): Hanoi-Quang Binh Hotel, Ngan Ha Hotel, Thanh Phuc Hotel, Thuy Duong Hotel, Ban Mai Hotel and Sunrise Hotel.
Three-star (500,000 – 800,000 VND/night): Thanh Phuc 2 Hotel, Riverside Hotel, Cao Minh Hotel, Quang Phu Hotel, Bao Ninh Resort, Anh Linh Hotel, and Luxe Hotel.
Four-star hotel (900,000 – 1,100,000 VND/night): Muong Thanh-Quang Binh Hotel, and Saigon- Quang Binh Hotel.
Five-star hotels (1,100,000 – 2,500,000 VND/night): Sunspa Resort, Gold Coast Resort, Muong Thanh Luxury, and Goldcoast Hotel.
In Phong Nha – Ke Bang
Motels and hostels: Easy Tiger Hostel, Huong Giang Hostel with the price of 200,000 – 250,000 VND/night.
One-star hotels: Thien Thanh Hotel, Shanghai Hotel, Thien Duong Hotel with the price of 300,000 VND/night.
Two-star hotels: Saigon Phong Nha Hotel with 400,000 – 500,000 VND/night. 
Three-star hotels: Heritage By Night with 600,000 VND/night.
Fancy homestays: Phong Nha Lake House, Chaylap Farmstay, Ho Khanh Homestay, etc. The price ranges from 800,000 – 1,100,000 VND/night.
Read more: A FULL LIST OF UNESCO-RECOGNIZED HERITAGES IN VIETNAM