DISCOVER PHONG NHA – KY BANG
1. Introduction about Phong Nha – Ke Bang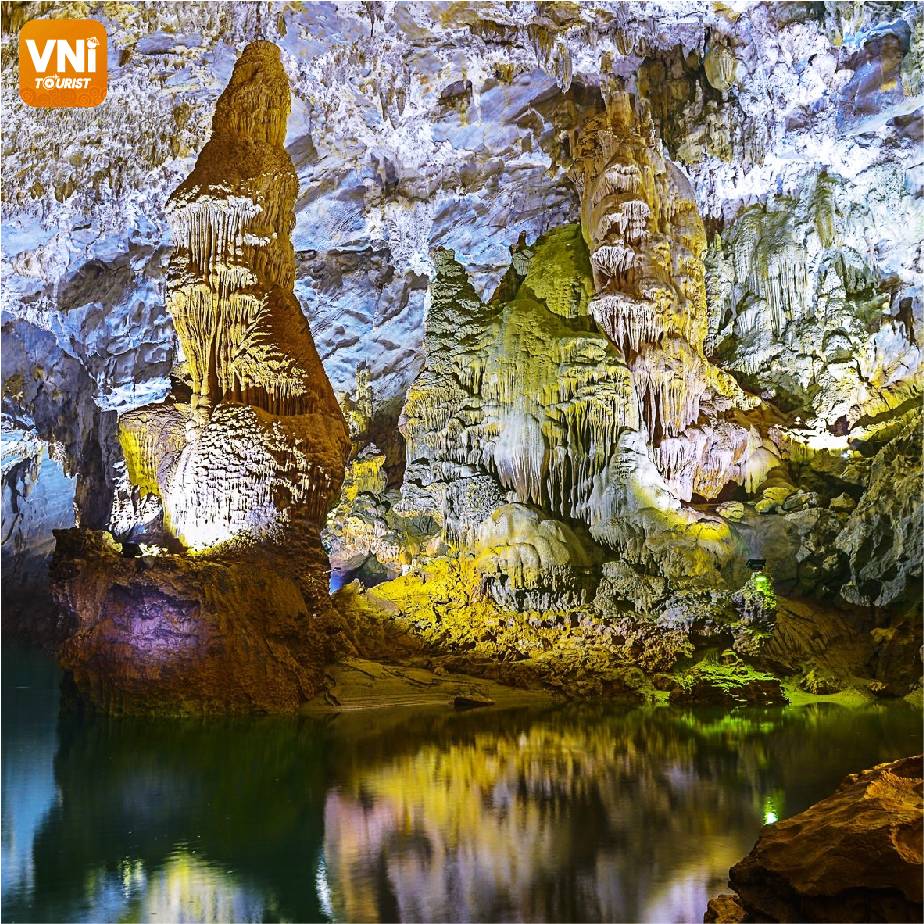 Phong Nha-Ke Bang, in Bo Trach District, Quang Binh Province, is an attractive tourist destination of Vietnam as well as Worldwide Tourism. This place has also been recognized by UNESCO twice as a world natural heritage. Phong Nha – Ke Bang is considered as "a fairy-tale place" or "royal palace in the ground," with a pristine natural beauty like a painting that nature has bestowed on people of Quang Binh. Phong Nha – Ke Bang has attracted many domestic and foreign tourists.
2. The best time to go to Phong Nha – Ke Bang
Quang Binh belongs to the tropical monsoon climate zone with two distinct seasons:
– Dry season (from April to August):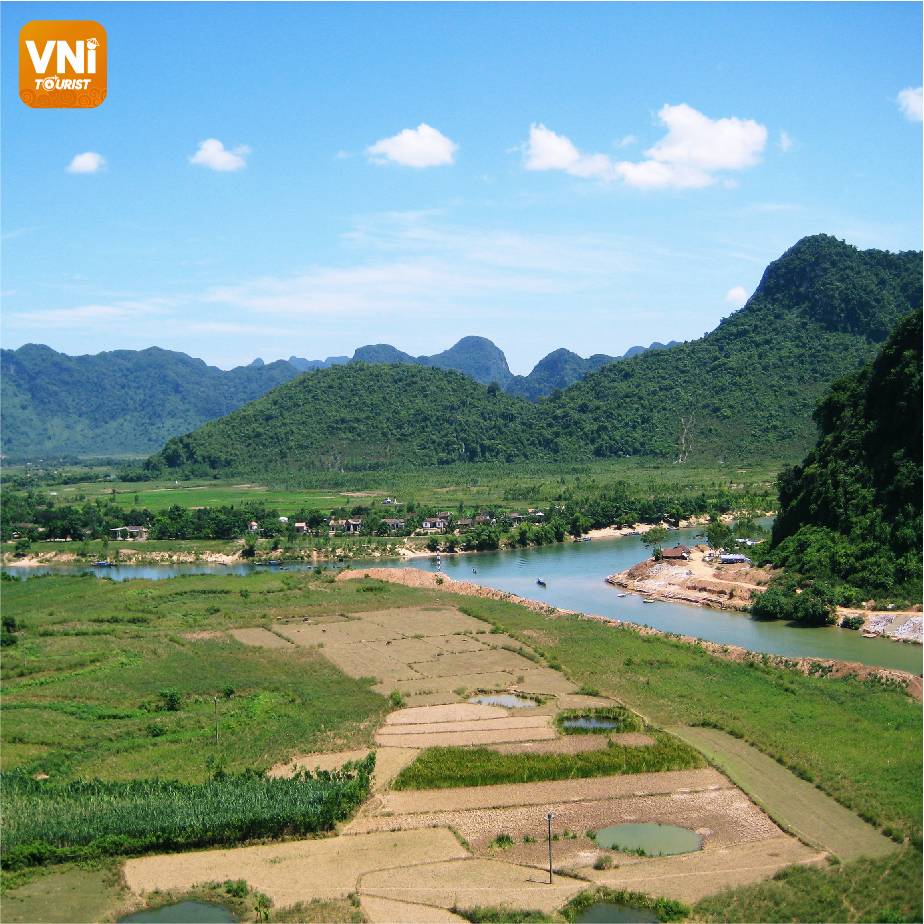 Outside temperature is 36-37 ° C. Sometimes, it reaches a peak of 40°C, then the degrees in caves always at 18-22 ° C, which is very pleasant. This is a quite favorable time to participate in cave exploration in the heart of Phong Nha – Ke Bang.
– The rainy season (from September to March of the following year):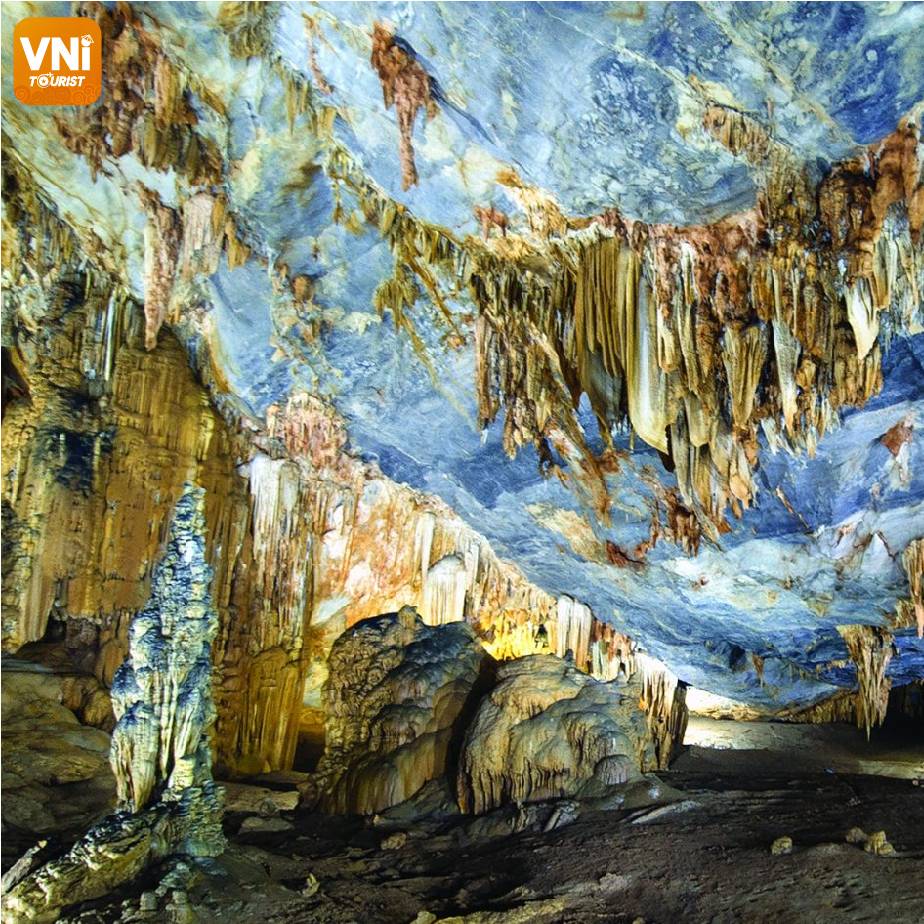 The characterized weather is Northeast monsoon with the average rainfall from 2,000mm – 2,300mm / year. In the high water season, Son River will rise and obscure the cave. The tourist boat cannot enter here, so it is impossible to visit Phong Nha Cave.
– Therefore, the most favorable time for Phong Nha-Ke Bang tourism is from April to August. The weather in those months is quite stable with less rain, which is convenient for moving, visiting caves.
3. How to move to Phong Nha – Ke Bang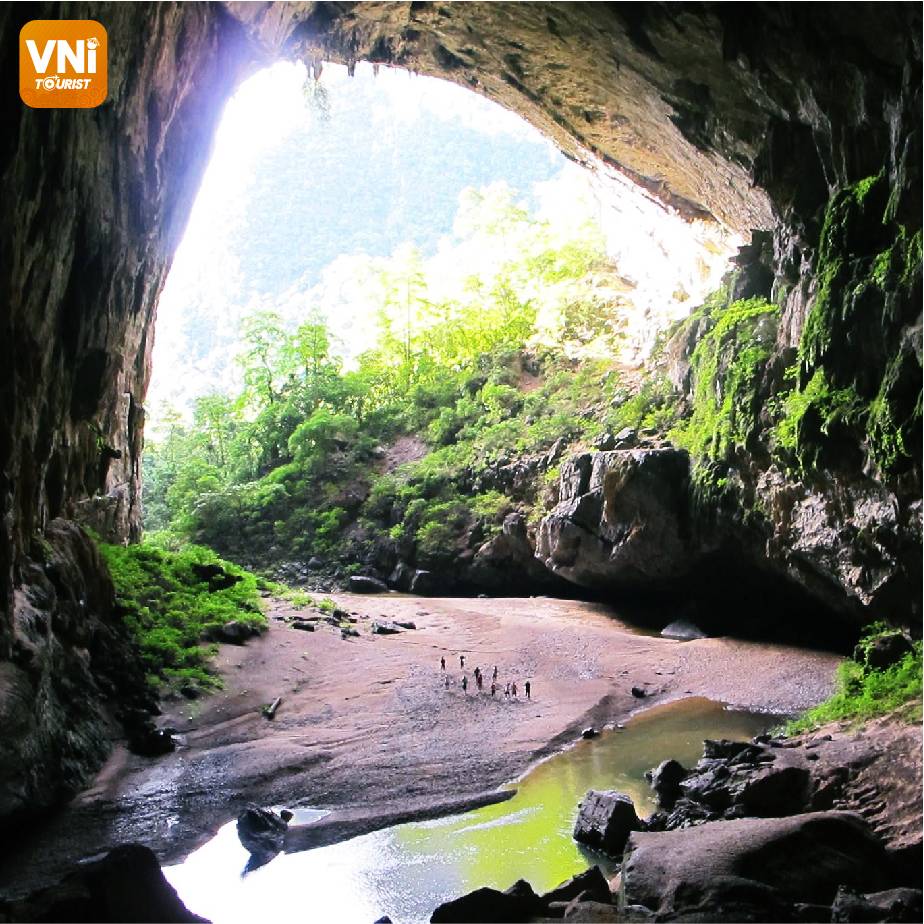 Phong Nha – Ke Bang is about 50km away from Dong Hoi so that visitors can travel by bus, taxi or motorbike taxi. There are flights, trains and sleeping buses from Hanoi to Dong Hoi, from Ninh Binh to Dong Hoi or from Ho Chi Minh City to Dong Hoi.
-Car: From Dong Hoi, you can rent a car with 4-45 seats if you want to organize your own tour.
-Taxi: Also, you can refer to the taxi companies, like Taxi Dong Hoi, Taxi Xuyen Viet, Taxi Mai Linh, Taxi Tien Sa, etc.
-Motorbike: You can rent a motorbike in Dong Hoi City or Phong Nha center in ​​the hotel because this vehicle is convenient for sightseeing. The rental motorbike fee is about 150,000 – 200,000 VND / day / one.
– You can rent a compound tour right in Dong Hoi City to easily learn about Quang Binh landmarks as well as easy to move.
4. Famous sightseeing places in Phong Nha Ke Bang
Phong Nha Cave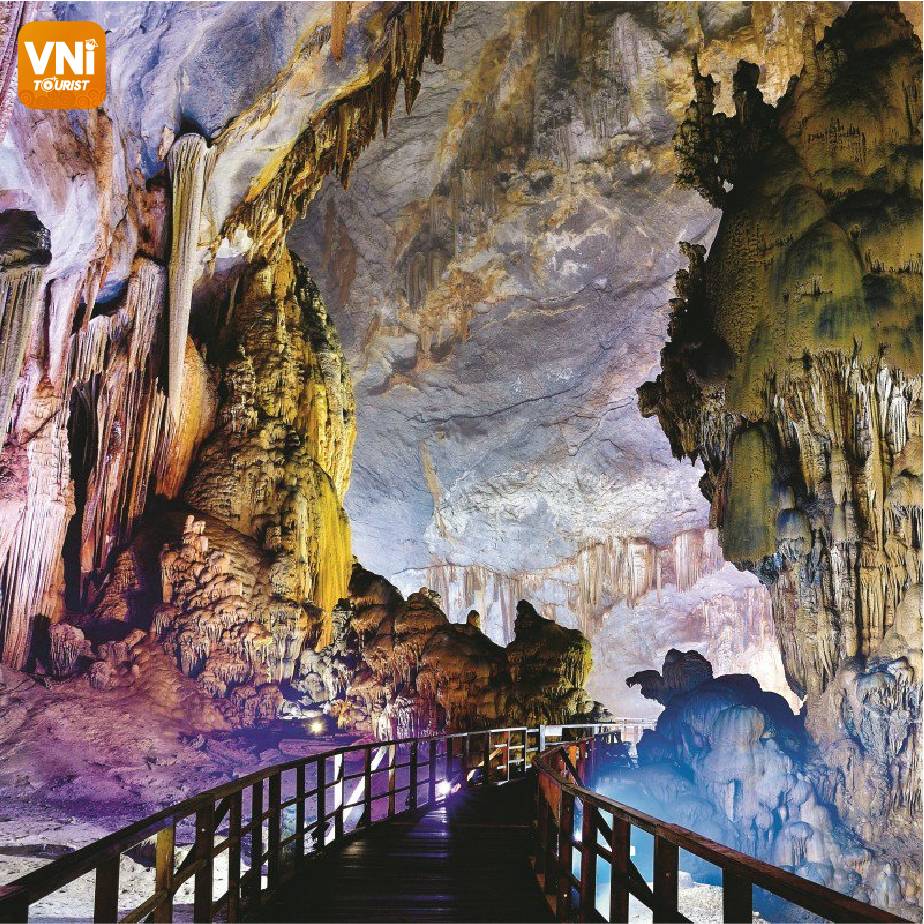 Phong Nha Cave has the longest underground river system in the world. Visitors take a motorboat to follow the Son River to enter the cave. The temperature here is about 18-22 degrees Celsius. Here, you can sit in the boat to go along the cave to enjoy the beauty of "the First Cave" of the magnificent nature. Besides, you can explore Bi Ky, Co Tien, and Cung Dinh caves to admire the fantastic stalactites with different colors and shapes.
Tien Son Cave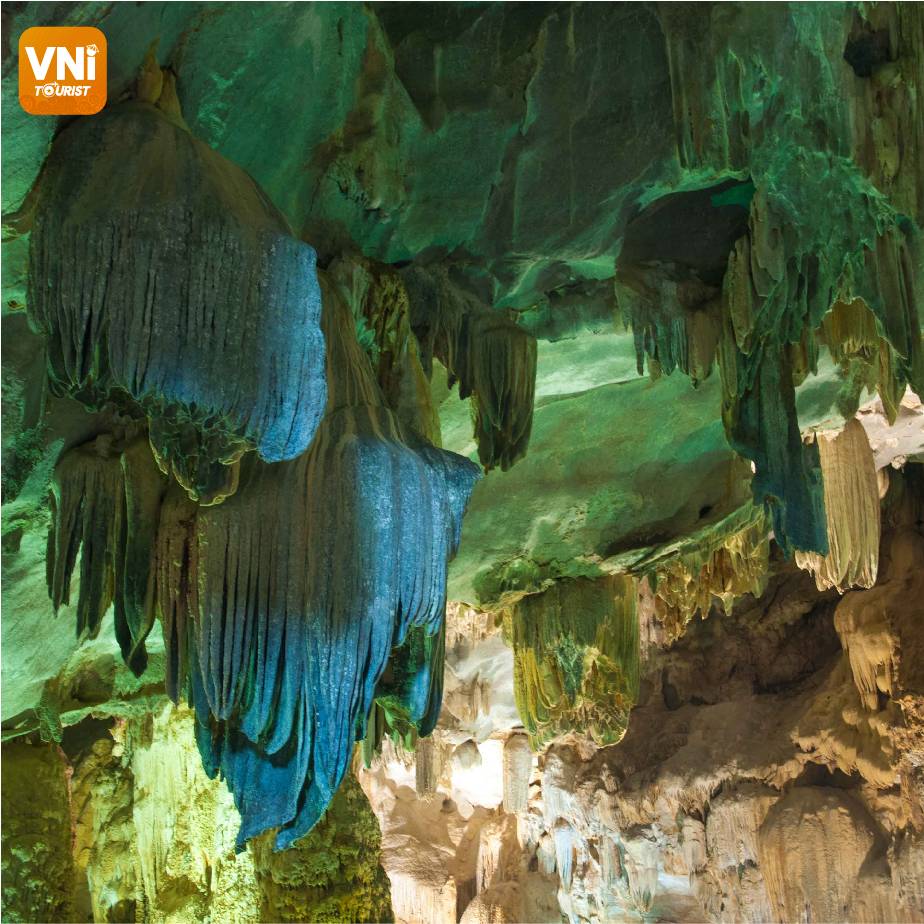 Tien Son Cave is like a natural world because every place is like a miracle created by nature, giving you a feeling from amazing to passionate, attractive to seductive. That's why it is said that if Phong Nha is as beautiful as the Aquarium, where Poseidon and mermaids live, Tien Son is like the palace of the Jade Emperor and the emperors.
Paradise Cave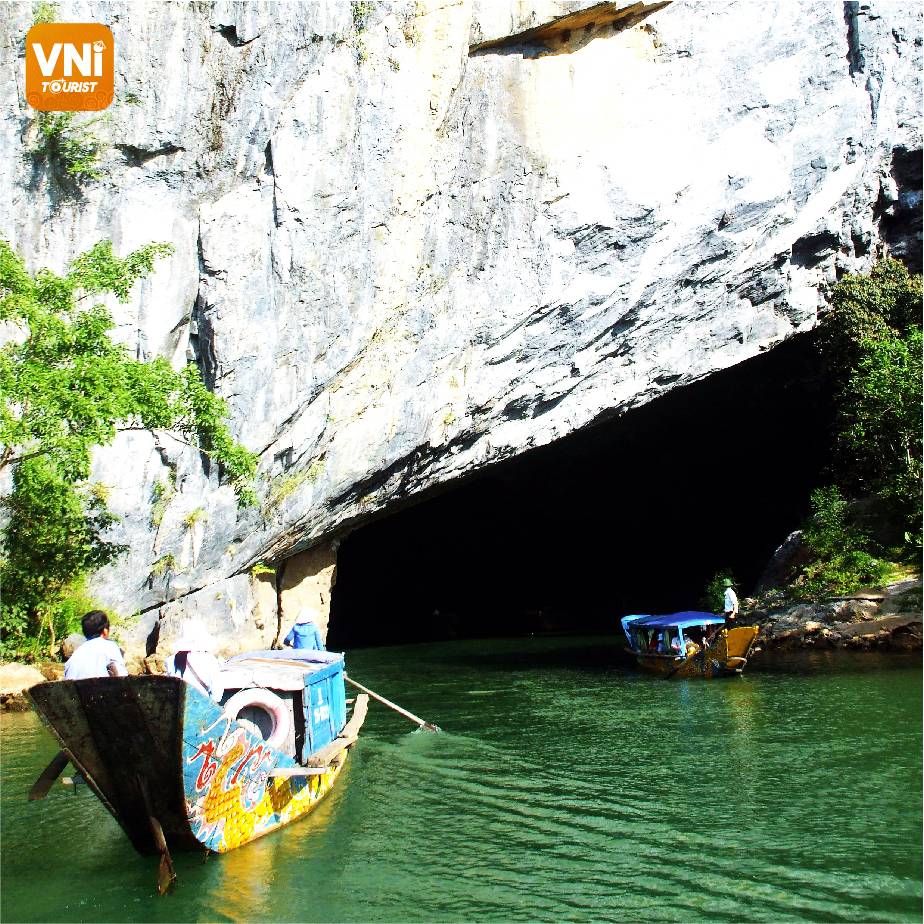 In the cave, there are countless stalactites with many different shapes, such as the statue of the virgin mother holding a baby, or Cung Giao Tri, where the Jade Emperor discusses with the courtiers, unicorn statues, phoenixes, etc. Compared with Phong Nha Cave, stalactites in Thien Duong cave have more shapes.
Dark Cave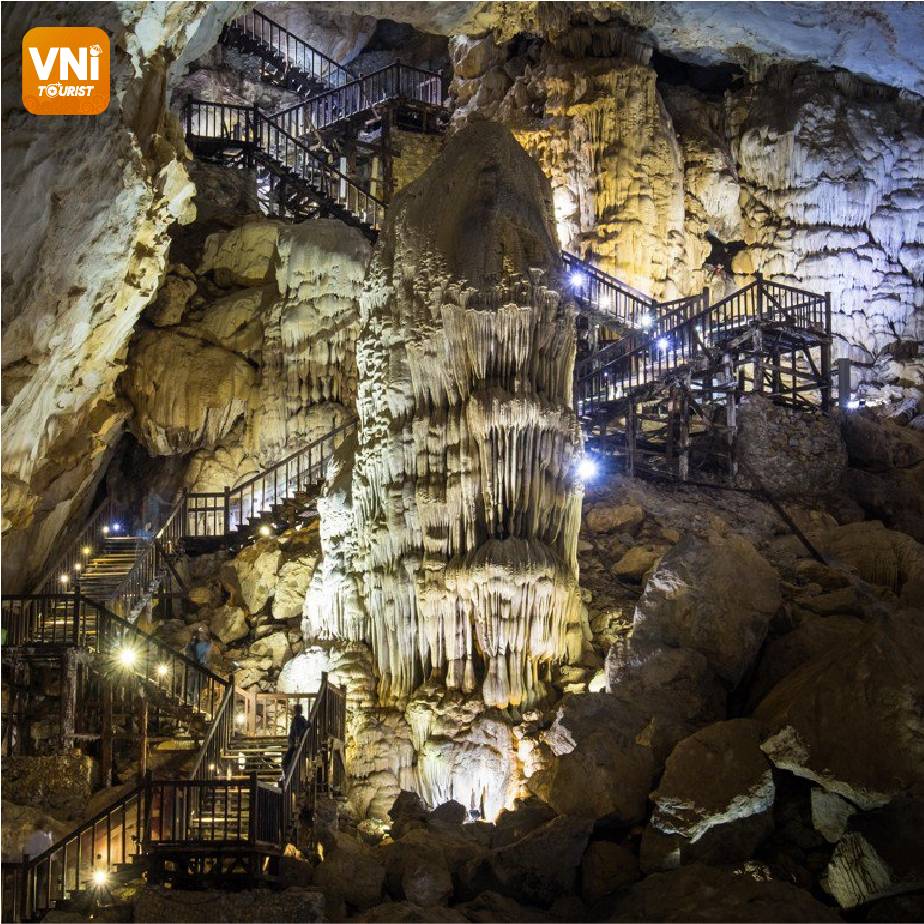 It is a branch of the Phong Nha cave system. British explorers surveyed the Dark cave in 1990 and 1992. Dark cave is both a water cave and a dry cave. Dark Cave is the name given by the Royal cave expedition because the "dark light" in the cave is so thick that people can touch. Natural mud bathing in Dark Cave is an exciting experience at Phong Nha Ke Bang.
En Cave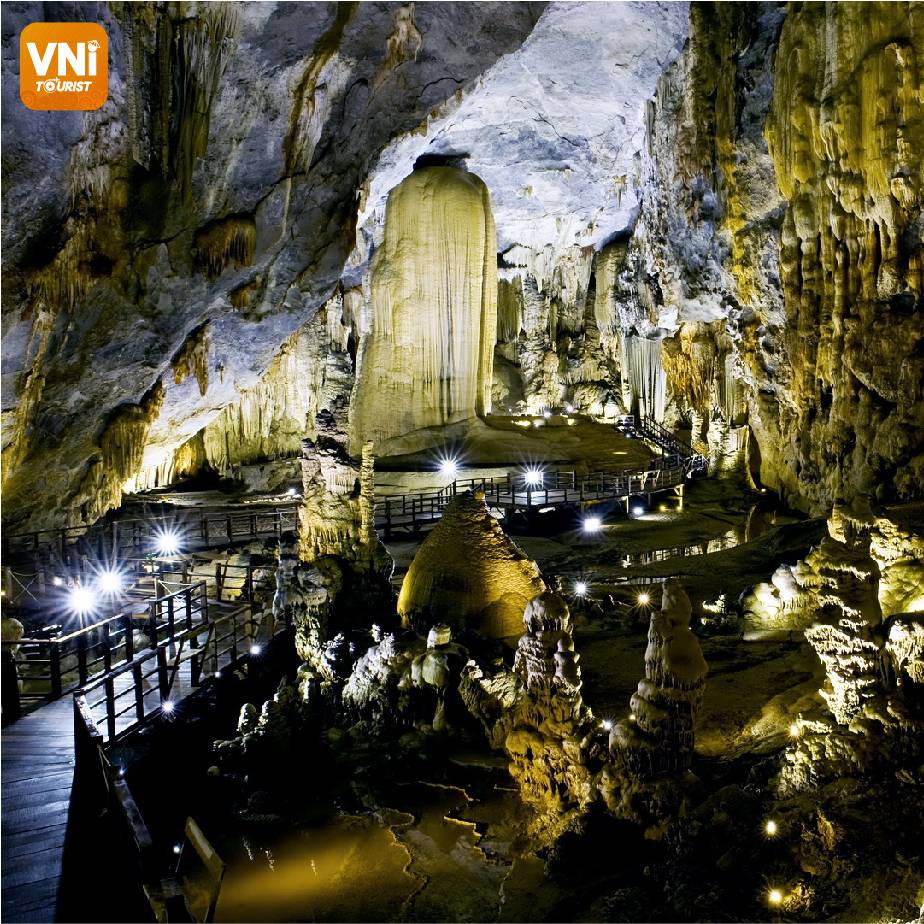 The cave is named En because there are many swallows here. En Cave has been familiar to indigenous people for a long time because it was the residence of the Arem people thousands of years ago. In the past, when the Arem people were still living in the En cave, every year, in the season of swallows, the Arem often climbed the cliffs and ceilings of the cave to catch young swallows as food. Now, although the Arem people have moved to settle near 20 Quyet Thang Street, on the full moon day of the fifth lunar month, they return to En Cave to hold a swallow eating festival to thank the forest and mountain gods.
Thuy Cung (Aquarium) Cave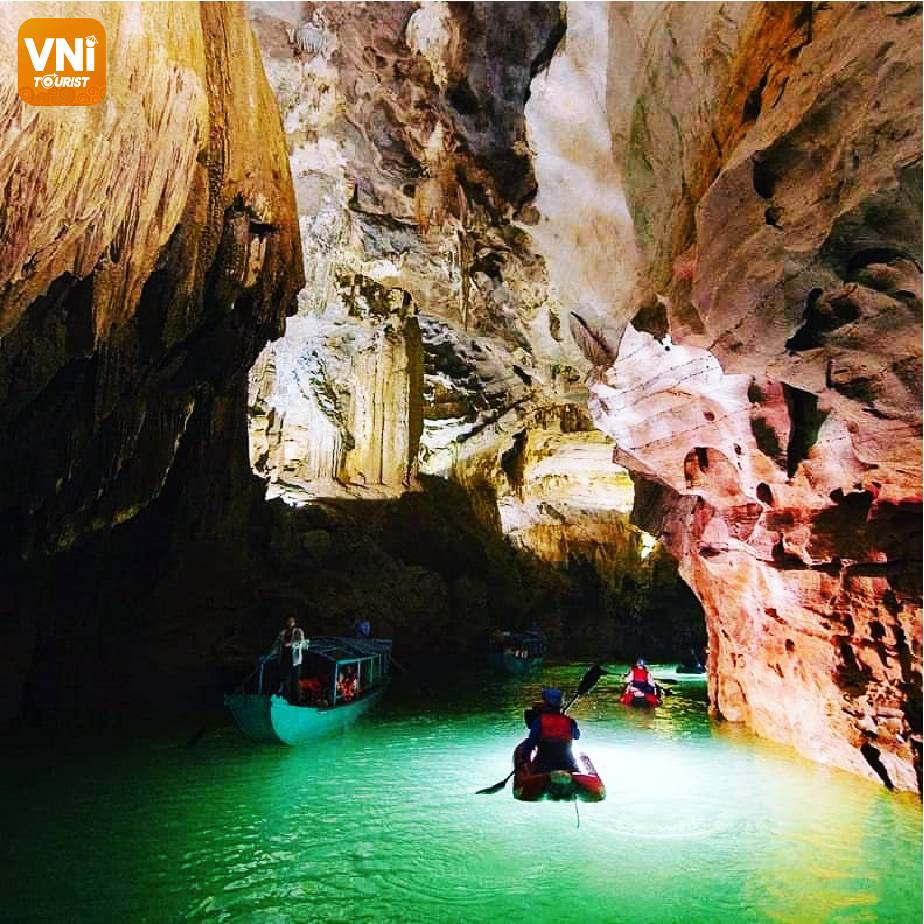 The cave is located in the middle of the Sinh Ton (Survival) valley with a strange green color. In Thuy Cung cave, the water is gentle and more "feminine" with emerald green. So far, the expedition has not yet determined where the blue water comes from and why the blue water is so.
5. Where to travel in Phong Nha – Ke Bang
– Hotels in Dong Hoi City Center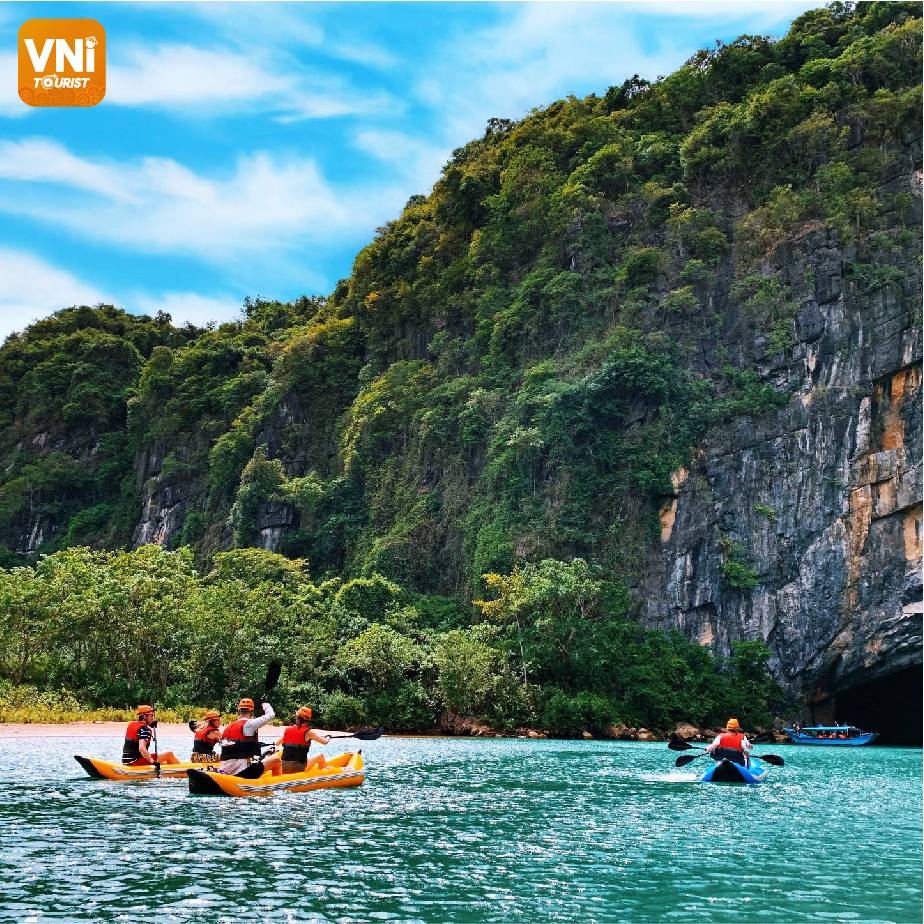 Two-star hotels in Quang Binh: Hanoi-Quang Binh Hotel, Ngan Ha Hotel, Thanh Phuc Hotel, Thuy Duong Hotel. Ban Mai Hotel and Sunrise Hotel. The price is from 350,000 – 550,000 VND / room / night. (Not including breakfast) (about 15-25 US dollars/ 1750 – 2750 yen).
Three-star hotels in Quang Binh: Thanh Phuc 2 Hotel, Riverside Hotel, Cao Minh Hotel, Quang Phu Hotel, Bao Ninh Resort, Anh Linh Hotel, Luxe Hotel. The prices range from 500,000 – 800,000 VND / room / night. (including breakfast) (about 22 – 40 US dollars/2500 – 4000 yen a day)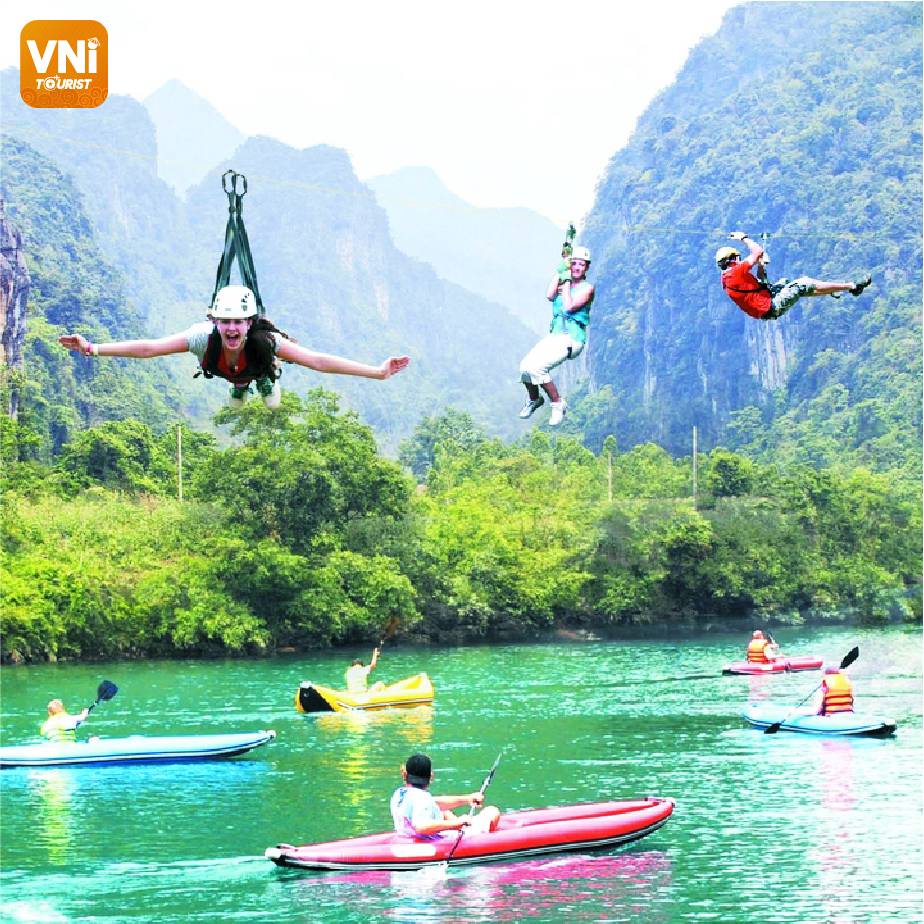 Four-star hotels in Quang Binh: Muong Thanh-Quang Binh Hotel, Saigon- Quang Binh Hotel. The price ranges from 900,000 – 1,100,000 VND / room / night. (including buffet breakfast) (about 40 – 50 US dollars/ 4500-5500 yen)
Five-star hotels in Quang Binh: Sunspa Resort, Gold Coast Resort, Muong Thanh Luxury, and Goldcoast Hotel, The cost is from 1,100,000 – 2,500,000 VND / room/night. (including buffet breakfast) (about 50 – 120 US dollars/ 5500 – 12500 yen)
– Hotels in Phong Nha – Ke Bang National Park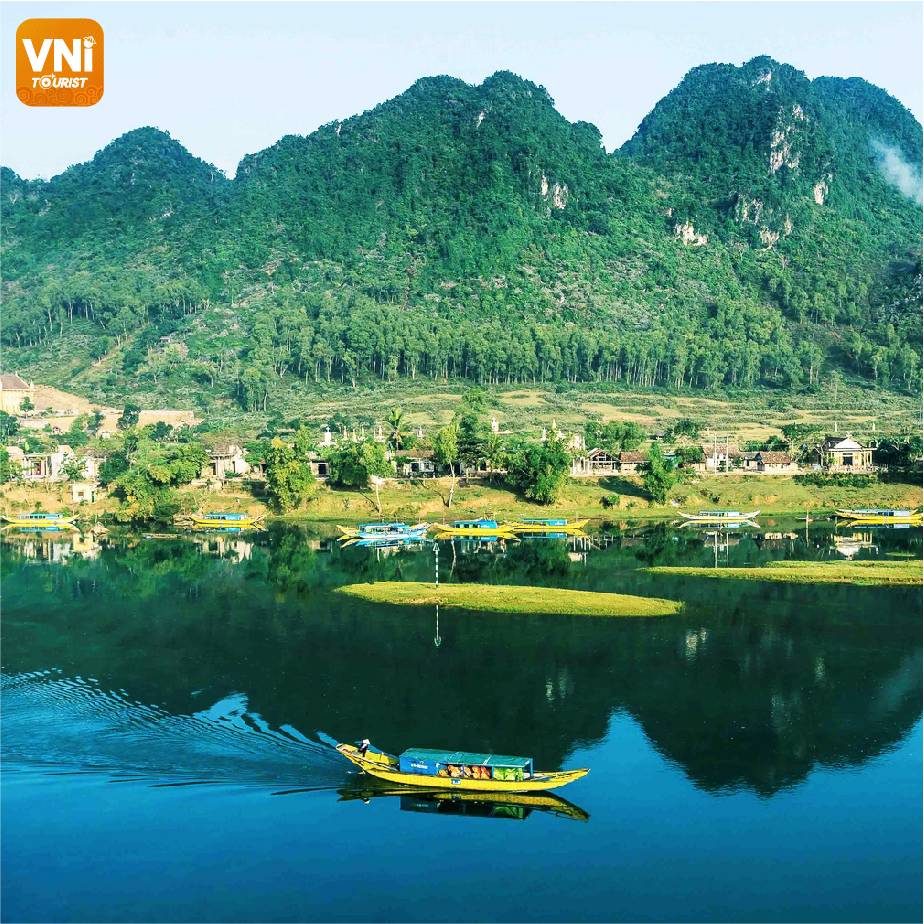 Luxury Phong Nha Homestays: Phong Nha Lake House, Chaylap Farmstay, Ho Khanh Homestay, etc. The price ranges from 800,000 – 1,100,000 VND / room / night. (including breakfast) (about 40-50 US dollars/ 4000 – 5500 yen).
Currently, there are newly-opened hotels in the Phong Nha tourist center, such as Son Dong Bungalow, Victory road vila, etc. These Phong Nha hotels are classy to serve high-spending travelers.
Three-star hotels: Heritage By Night with 600,000 VND / room / night. (including breakfast) (about 30 US dollars/ 3000 yen)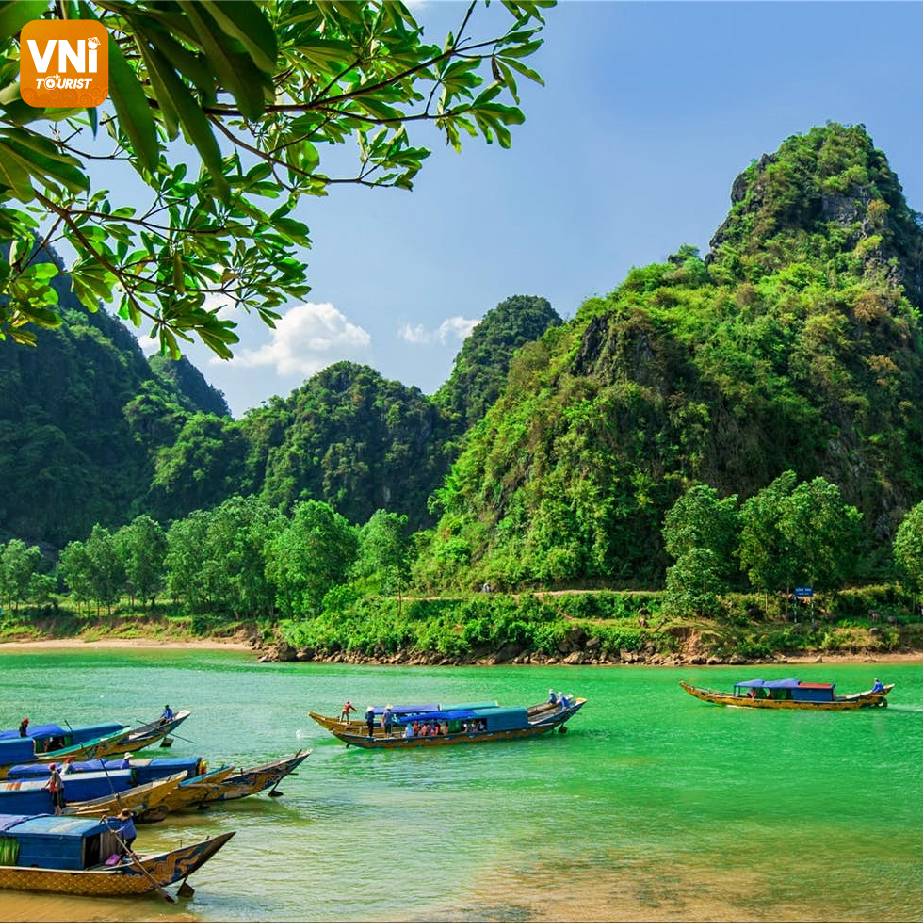 Two-star hotels: Saigon Phong Nha Hotel with 400,000 – 500,000 VND/ room / night. (with breakfast) (around 20-25 US dollars/2000 – 2500 yen)
One-star hotels: Thien Thanh Hotel, Shanghai Hotel, Thien Duong Hotel with the price of 300,000 VND / room/night. (about 15 US dollars/1500 yen)
Motels: Easy Tiger Hostel, Huong Giang Hostel with the price of 200,000 – 250,000 VND / room/night. (about 9-11 US dollars/1000 – 1250 yen)
If you are a fan of "moving," always looking for a trip to come back to nature, Phong Nha Ke Bang will be a perfect choice.