Southwestern Vietnam, the harmonious rhythms of river and tropical landscape
Southwestern Vietnam is blessed with abundant fruit gardens, vast rice fields, and a dense system of canals and rivers crisscrossing everywhere. The most typical images every tourist wishes to see are the busy floating markets, mangrove forests teeming with various living species, as well as ancient Khmer architecture and Buddhist temples; however, there are so many more than that.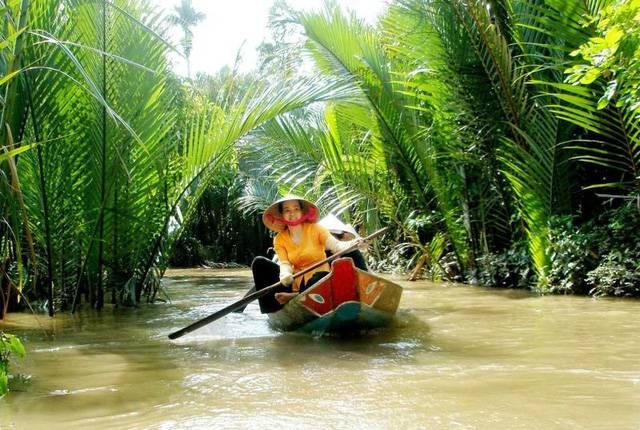 At some other spots, tourists can also find countryside hidden behind tall coconut tree lines grooving to the sky and offshore islands bearing tropical looks. One of the things that makes this region's rustic beauty is the locals' friendliness and generosity, as well as their delicious food.
1. About Southwestern Vietnam
The Southwest of Vietnam, also known as the Mekong Delta, includes 12 provinces and 1 city: An Giang, Bac Lieu, Ben Tre, Ca Mau, Dong Thap, Hau Giang, Kien Giang, Long An, Soc Trang, Tien Giang, Tra Vinh, Vinh Long and Can Tho, with an area of ​​nearly 40 thousand km2. Some places are covered by water depending on the season; therefore, the resident's life is associated with rivers, resulting in unique floating markets and villages.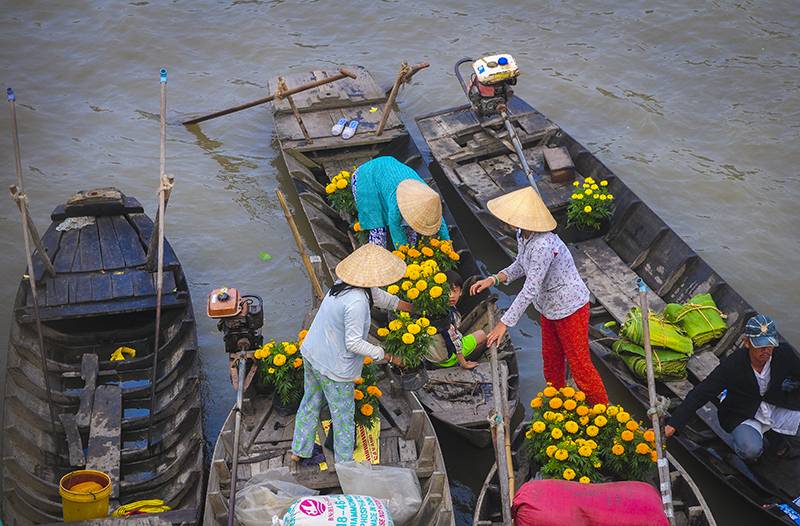 Plus, the outstanding interlaced rivers and streams are not only one of the main transports here but also a source of water for all living activities of the people and alluvial source for the flourishing vast agriculture (rice, fruits, and fishing) industry – that's why this region becomes the rice bowl of Vietnam.
The population of Vietnamese, Cham, Khmer, and Chinese, with their own religions, have added diversity to this delta's culture. The people, in general, are friendly and kind, making it easy for tourists to get in touch with them and their local lifestyle.
Read more: The hundred-year-old kingdom of bricks in the SouthWest, Vietnam
2. Best time to visit Southwestern Vietnam
This area has a warm and sunny climate all year round to visit anytime. Each season has a real charm to attract tourism, even in the flood-rising period.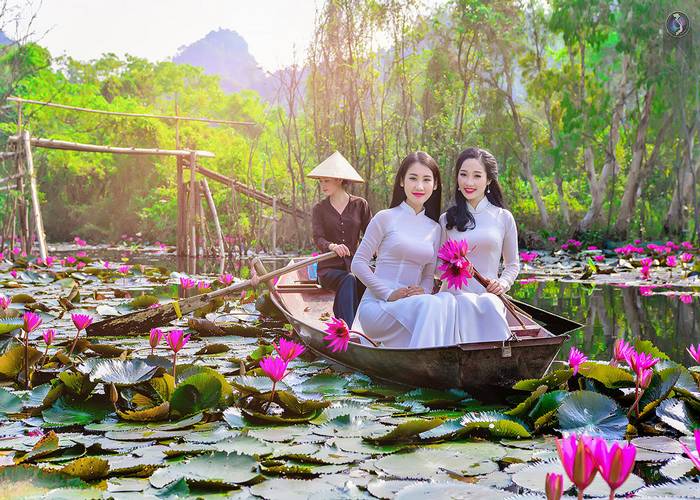 Typically, summertime, around June-August, is the time of lush orchards while the months of September-November are the flooding season when mangrove forests develop to the fullest. The time before and after Lunar New Year is a great chance for visiting famous flower villages such as Sa Dec, Tan Quy Dong, and Vi Thanh.
3. Getting there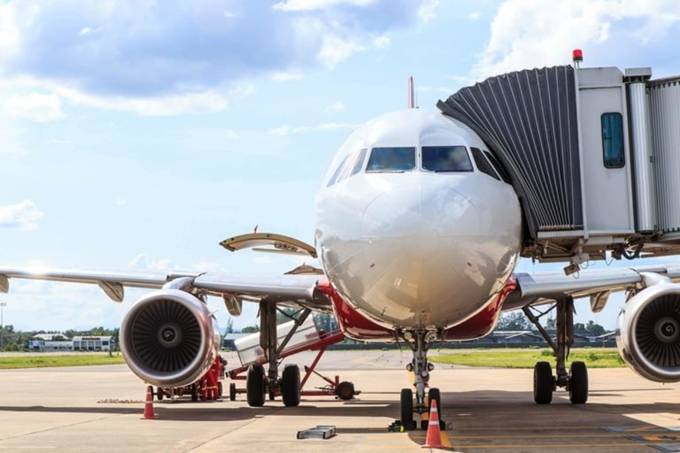 – Plane
The largest airport in Southwestern Vietnam is Can Tho Airport, which is easily accessible from other cities and provinces. Airfares from Hanoi to Can Tho range from 1,500,000 VND / ticket, depending on the airline, while from Saigon to Can Tho the ticket is about 800,000-1,300,000 VND, depending on the airline.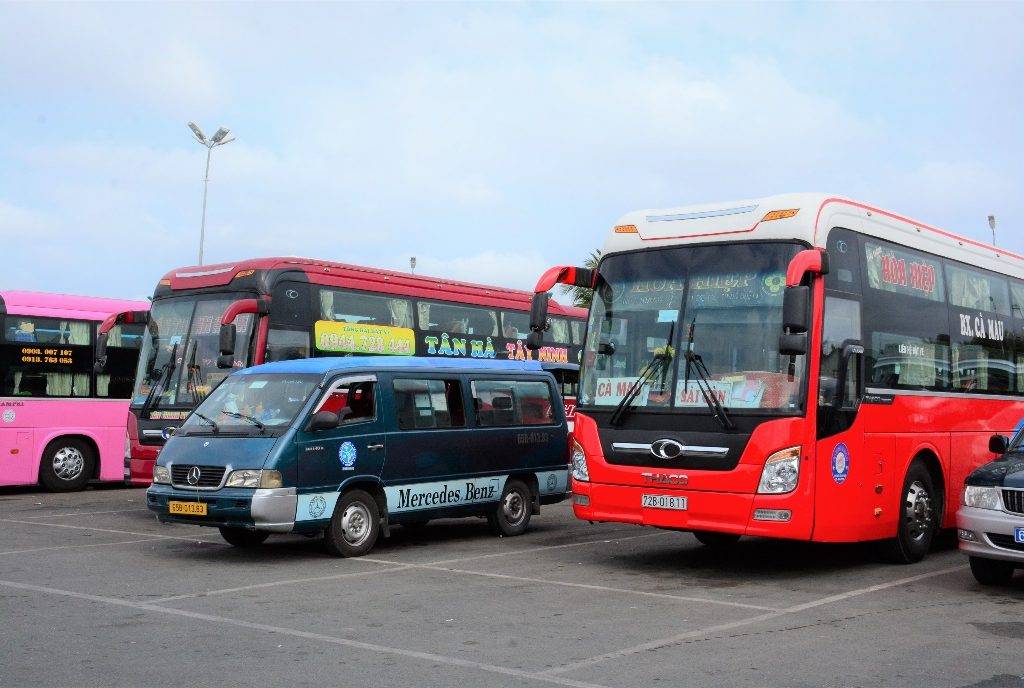 – Bus
This means is recommended to visitors from Saigon, you can buy bus tickets at Mien Tay Bus Station (395 Kinh Duong Vuong, An Lac Ward, Binh Tan District) for about 120,000 VND/person.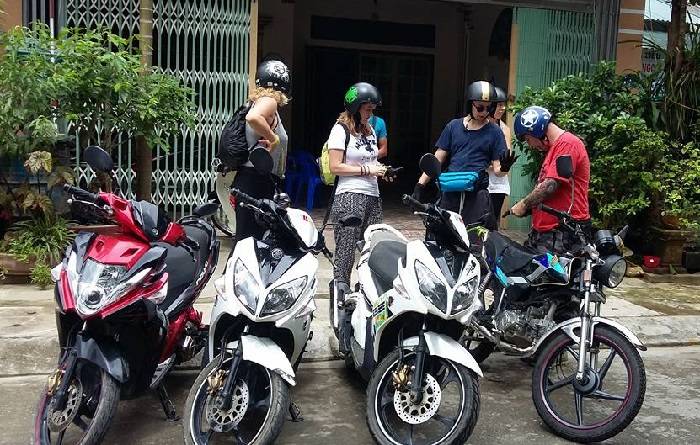 – Motorbike
Traveling by motorbike will offer you a chance to stop at beautiful places during the journey. It will take you about 5-6 hours to get to Can Tho. You can rent a motorbike in Saigon at 120,000 VND/motorbike/day.
Read more: An Giang – The highlights of water lifestyle in Mekong Delta
4. Must-visit destinations in the Southwest of Vietnam
– Fruiting season
Perfect climate and soil conditions have made the Southwest area the leading fruit bowl in the country. Multiple fruit types are found here at very low prices. Since then, the models of orchard gardens have been formed and quickly became appealing to visitors. Depending on the type of fruit and accompanying products, the entrance fee will range from 40,000 VND to 50,000 VND. Once in, you can freely pick and enjoy juicy fruits, take pictures in such wonderful scenery.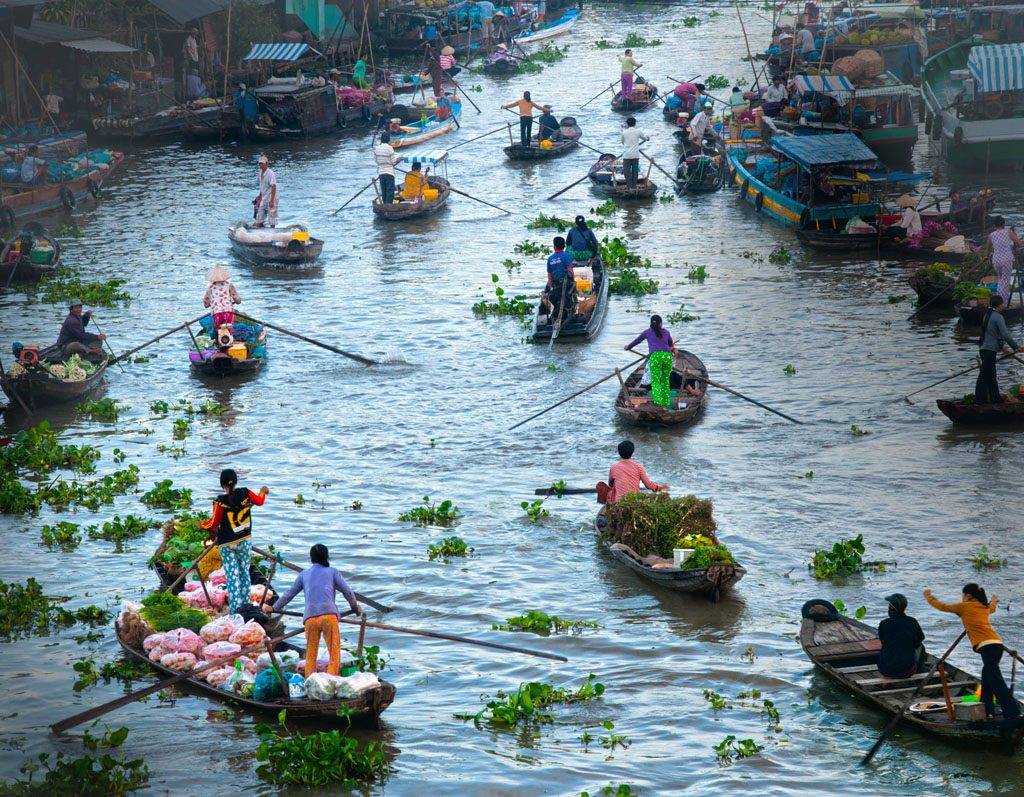 – Here are a few popular names:
+ Cai Be Garden, Tien Giang
Approximately 70 km from Saigon, Cai Be Garden, located along the North bank of Tien River in Cai Be district, is the biggest garden in Mekong Delta thanks to its fruit varieties such as mango, pomelo, longan, oranges, guava, apple, tangerine, jackfruit, plum, etc.
+ Vinh Kim Garden, Tien Giang
Referring to Vinh Kim, people immediately think of Lo Ren star apples with juicy skin and sweet taste. Besides Lo Ren star apples, the garden is also full of durian, rambutan, and pomelo.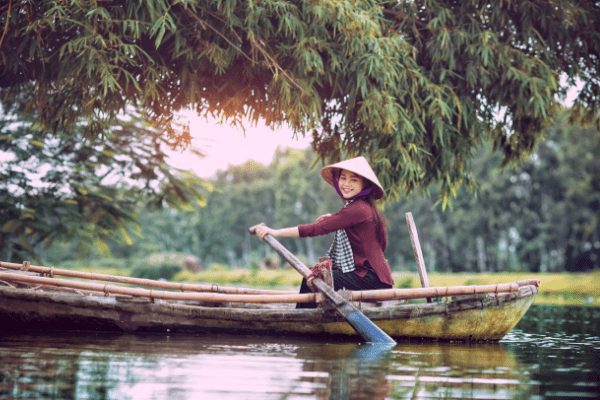 + An Binh Garden, Vinh Long
This is the 6 Ton fruit garden in Cu Lao An Binh, which is famous for Tam Binh oranges. Tourists can visit the garden in the rambutan harvest seasons from May to July. Wading the ditch to catch fish is also an interesting experience that visitors should not miss during this sightseeing trip.
– Flooding season
Being a low-lying coastal region, from September to December, the climate changes caused a flood rise in the Mekong Delta. Not giving in to nature, both the scenery and the people here have learned to adapt to that situation. Thanks to that, there were floating markets and unique forests and fields around the area.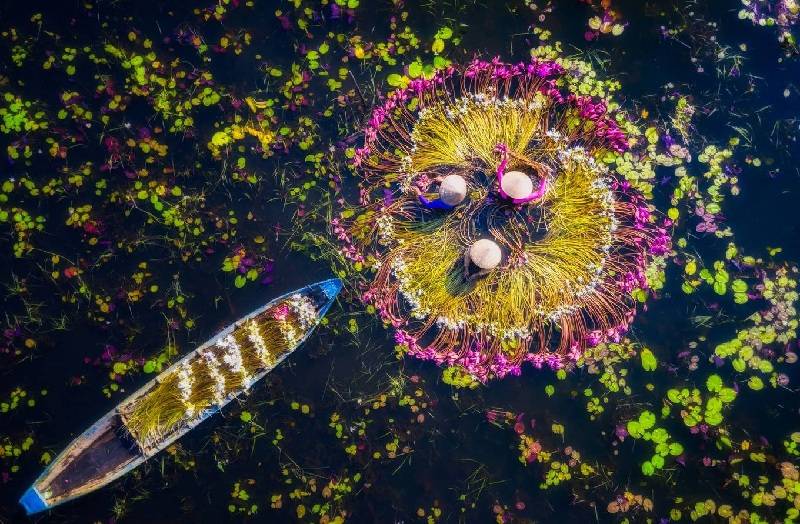 + Cai Rang Floating Market, Can Tho
Can Tho, also Tay Do, is considered the center of the West. The province features numerous tourist attractions, including Cai Rang Floating Market – one of the five largest floating markets of the Mekong Delta. Visitors should come here between 5 am and 7 am because that is the time when the area is most active and bustling. All activities from trading to eating take place just on the river.
+ Tan Lap Floating Village, Long An
Tan Lap Floating Village, also known as Tan Lap Cajuput Forest, is located in Moc Hoa District, Long An province, about 100 km from the center of Ho Chi Minh City. The road coming here is quite easy. The bright sunlight streaming through the trees, the murmur of leaves, and the song of birds from fairyland bring you peace of mind. You should go to Tan Lap in October and November to admire lotus flowers blooming all over lakes and streams.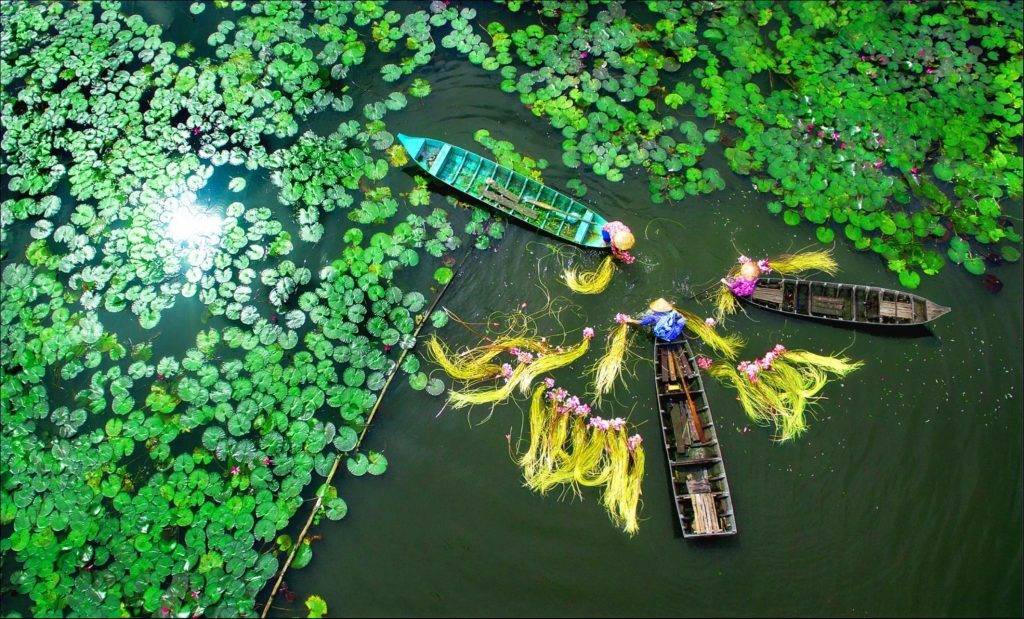 + Tra Su Cajuput Forest, An Giang
Tra Su Cajuput Forest, 30 km away from Chau Doc city, is considered the most typical and unique natural habitat conservation area of ​​wetlands in the Mekong Delta. The cajuput forest is most beautiful during the flooding season when thousands of bird types come here to breed.
+ Bung Binh Thien, An Giang
Bung Binh Thien in An Phu district, An Giang province, adjacent to the Cambodian border is a romantic lake of heaven. The lake is blessed with rich freshwater aquatic species. Not only does it play the role of regulating water for a part of the legendary Mekong River, but this calm blue lake is also an attractive destination to explore the region's watershed with distinctive Cham culture.
+ Ta Pa Rice Field, An Giang
Ta Pa Rice Field – An Giang in the flooding season is like a vast carpet of green rice fields dotted with rows of jaggery. This is the only terraced field in the Mekong Delta. Due to the Khmer people's cultivation practices, the rice fields are planned poetically and reasonably covering the empty ground at the foot of Ta Pa mountain.
+ Tram Chim National Park, Dong Thap
Every year when the floating water season comes, Tram Chim coats a new colorful nature. The growth of rich vegetation here is up to more than 130 different species. Meanwhile, the fauna is outstanding with a rich waterfowl system of 233 species, including the Red-crowned Crane – an invaluable natural asset of the nation. The fish system in Tram Chim National Park is equally abundant, playing the role of both ecological balance and a source of food for birds.
Read more: A boat trip through the long green Persian carpet – Tra Su Cajuput Forest
– Tet Holiday
The scenery in the Southwest of Vietnam near the Lunar New Year becomes even more vibrant and colorful thanks to the appearance of spring flowers. Along with that, the trading scene at the flower markets is also more exciting.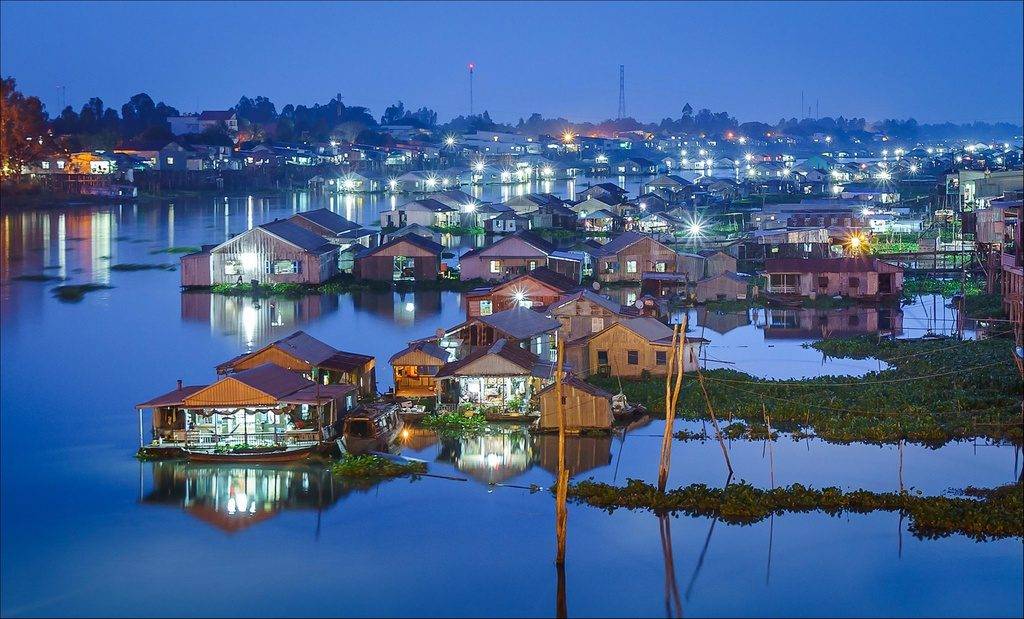 + Tan Quy Dong Flower Village, Sa Dec, Dong Thap
As the cradle of ornamental flowers of Sa Dec city, Tan Quy Dong village, located along the banks of Tien River has a hundred-year tradition associated with floriculture. It's easy to notice the impressive flower beds planted on the high trellis. In the water rising season, people often use small boats to wriggle through the flower beds to take care and harvest. According to them, putting flowers on the trellis helps prevent waterlogging caused by high tides while making it convenient for irrigation care and insect reduction.
+ Phuoc Dinh Apricot Village, Vinh Long
More than 3 km from the center of Vinh Long city, Phuoc Dinh Village is known as the capital of yellow apricots in the Southwest region as the place possesses many rare and precious hundred-year-old apricot trees at an extremely high price. For the first time coming here, visitors will surely be overwhelmed that every family plants apricots anywhere. Apricot spilled onto the street, becoming a unique yellow tree fence in the area.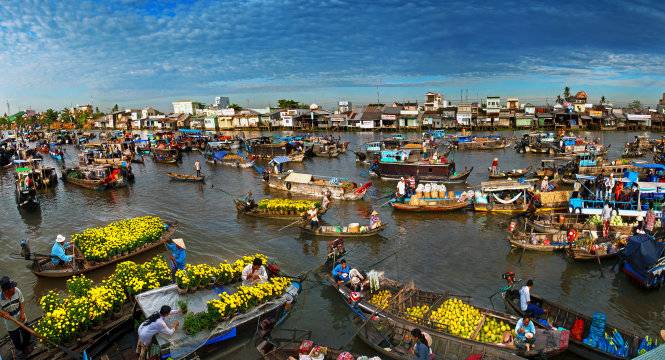 + Man Dinh Hong Flower Village, My Tho, Tien Giang
With the closest position to Saigon among the famous flower villages in the Mekong Delta, this My Tho Tien Giang flower garden mainly operates in Lunar New Year with various kinds of flowers such as sunflower, heather, lotus, juniper, persimmon, and chrysanthemum. On the village's site stands many miniatures associated with Vietnamese villages, like straw bush, thatched roof, dinghy, lotus pond, monkey bridge (cau khi) to serve the photography needs of visitors.
+ Cho Lach – Cai Mon ornamental tree village, Ben Tre
In the days approaching Tet, the atmosphere at Cho Lach – Cai Mon flower village, known as the kingdom of ornamental flowers – fruit trees, is super bustling regardless of day and night. Located in the middle of the romantic Tien River with an area of ​​​​about 40 hectares, the village has thousands of households participating in cultivating traditional flowers such as marigolds, bougainvillea, daisies, raspberry daisies, dahlias, carnations, etc. Some artisans also bend kumquat trees or green trees into the shape of 12 zodiac animals.
5. Specialties of the Southwest region
The cuisine in the Mekong River Delta is a blend of quintessential Vietnamese, Khmer, Cham, and Chinese dishes, mainly revolving around fresh seafood (basa, goby, linh fish) as well as vegetables and wildflowers.
+ Linh fish with Dien dien flower hotpot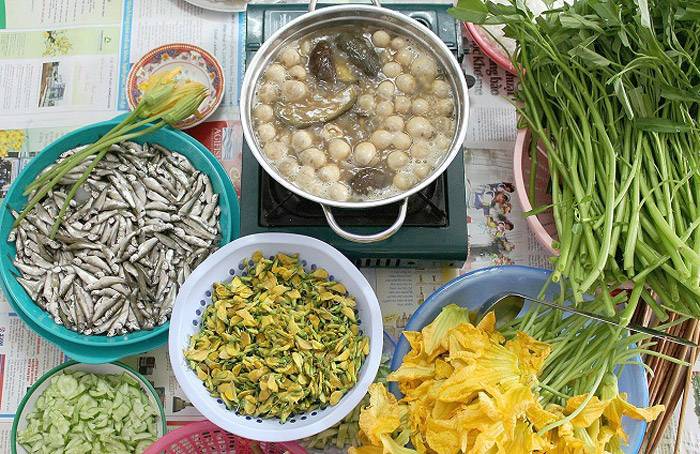 Around the end of the 7th lunar month onwards is the time when Mother Nature generously bestows upon the people a multitude of fish and flowers. The most typical dish is Linh fish hot pot served with crazy flowers. Linh fish is quite small in size, white in color, fatty in taste, naturally sweet, and is placed in a hot and sour hot pot with a strong aroma. The price of one hotpot ranges 150,000 VND.
– Fermented fish hotpot (Lau mam)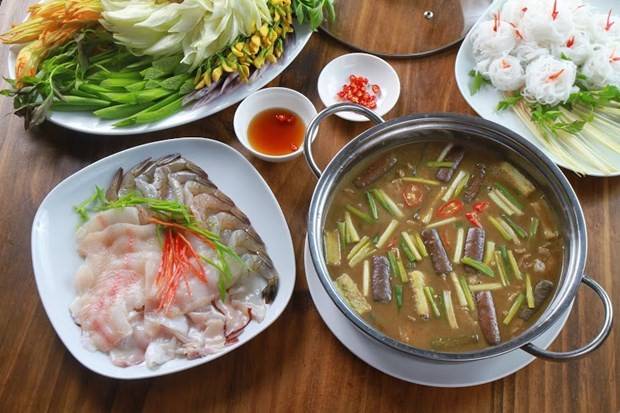 Fermented fish hotpot has been a symbolic dish of the Mekong Delta region for a long time, with the main ingredients of fermented fish cooked with coconut milk and pork bone stew broth. The smell of this dish is quite characteristic, not pleasant to newcomers sometimes. When eating, we will pour the broth into a bowl of vermicelli, fresh vegetables, and flowers. One hotpot costs 150,000 VND.
– Ricefield rats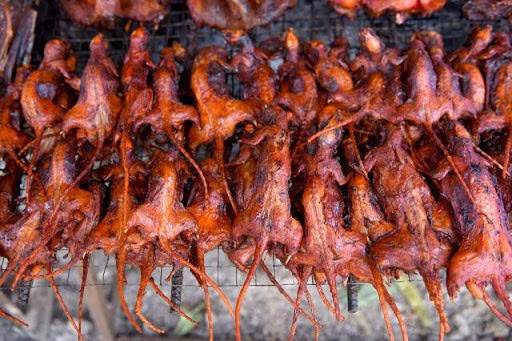 The Mekong Delta's vast fields are suitable home to rats, therefore, rat meat is also a favorable specialty in this river area, especially in Dong Thap, An Giang, and Can Tho. Fatty rats, after being caught, will be carefully cleaned and dried; then, marinated with fish sauce, spices and brought to grill over coal. The dish is usually eaten with grated green mango and tamarind fish sauce. Ricefield rat meat fluctuates from 60,000 VND/kg.
– Grilled snakehead fish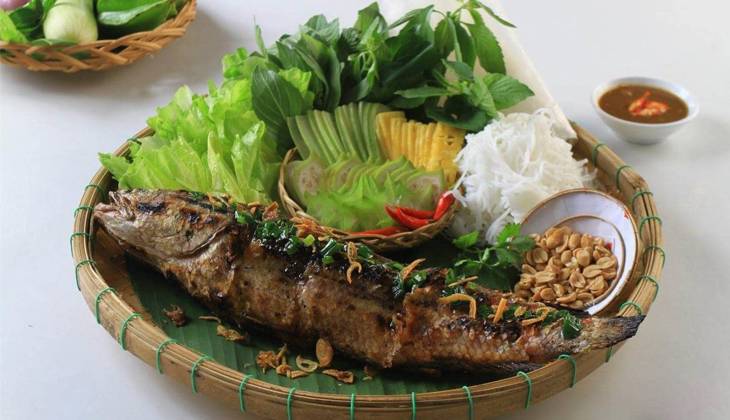 Grilled snakehead fish is a specialty of countryside villagers throughout the Southwestern provinces. The fish will be just skewed along a fresh bamboo stick, then plug the fish upside down in the ground to burn it over the fire. With just a little salt, chili, and local herbs, you can enjoy the finished product. One grilled snakehead fish costs about 150,000 VND.
– Bun nuoc leo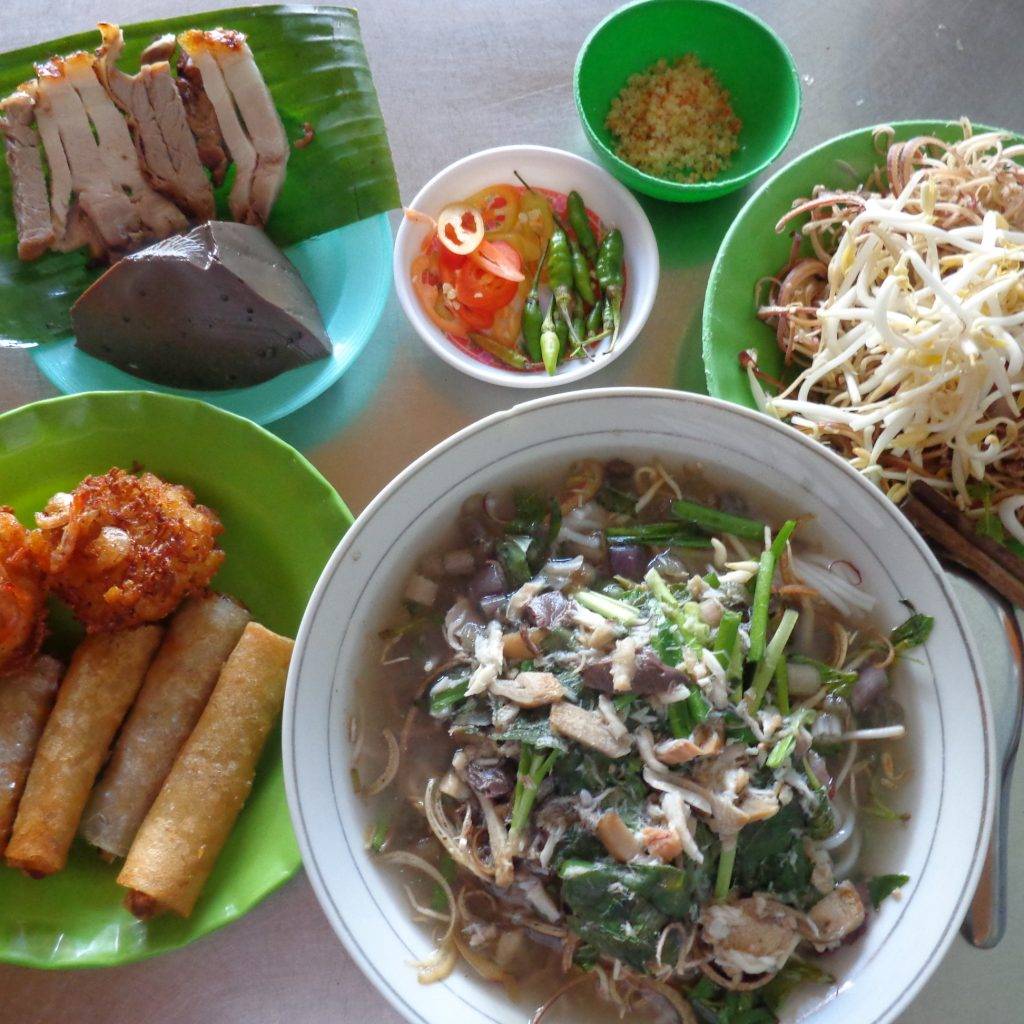 Bun nuoc leo is most well-known in Soc Trang. The decisive factor to make the dish more savory is the broth cooked from kinds of fish sauce carefully filtered to be clear and fragrant. A bowl of this noodle soup is only 30,000 VND.
– Hu Tieu Nam Vang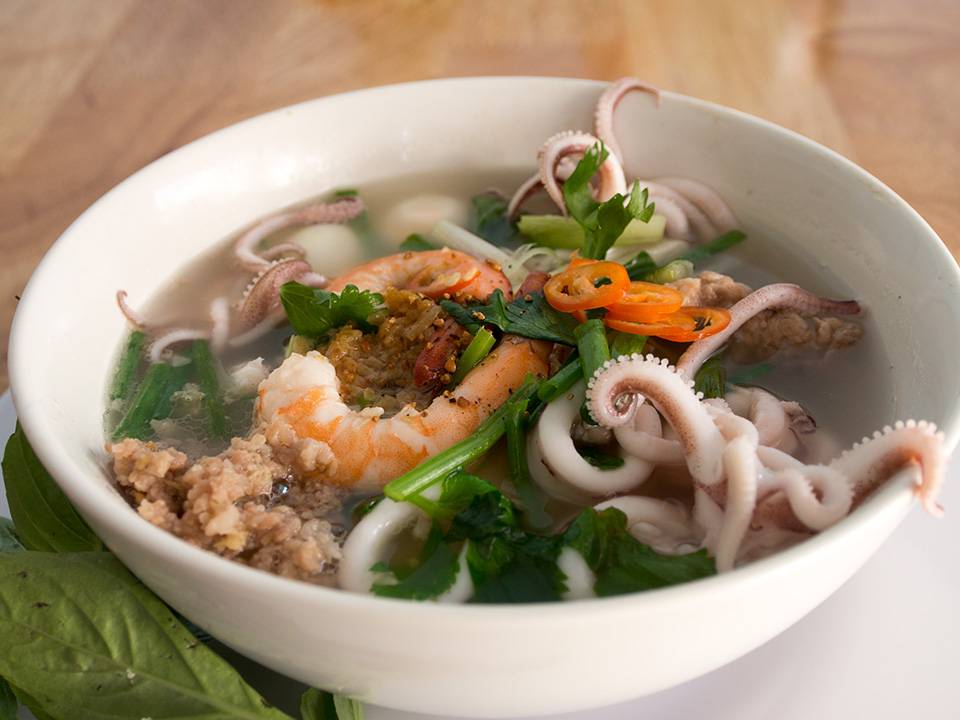 Hu Tieu Nam Vang has a clear and fragrant broth, added with the small, tough noodles, squid, shrimp, and fried onion. The dish originated from Phnom Penh, reprocessed by Chinese Cambodians and Khmer people living in Mekong Delta. My Tho and Sa Dec are two provinces popular for this dish. A bowl of Hu Tieu is at 30,000 VND.
Southwestern Vietnam does not bring in itself the fancy beauty, but rural and peaceful traits, along with the incredibly hospitable residents. This article only brings a small part of the great things in here since it's better to experience and explore by yourself.
Read more: Explore Thung Nham – The land of birds