An Giang – The highlights of water lifestyle in Mekong Delta
As the headwater province of the Mekong River, An Giang – Long Xuyen is endowed with fertile alluvial soil and diversified irrigation transportation, which is favorable for agricultural development and river tourism.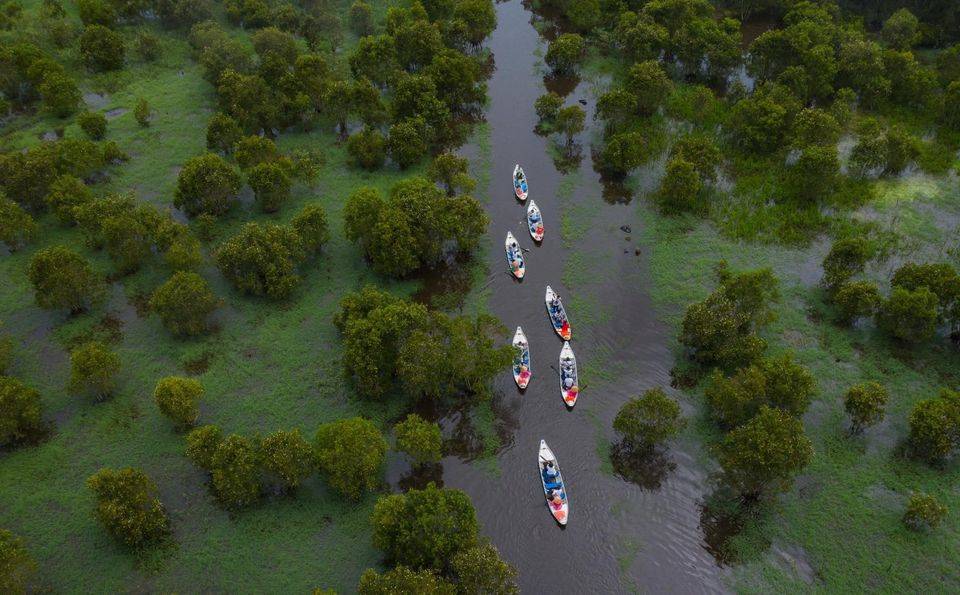 In addition to beautiful diverse landscapes such as the dreamy rice field in Ta Pa, the green Tra Su Cajuput forest, and busy trading on Long Xuyen floating market, etc., An Giang also offers visitors a great cultural experience of Vietnamese locals as well as the ancient Cham people in the North-West border with Cambodia, showing through the Cham brocade weaving village in Chau Giang and various spiritual activities at pagodas on mountains. Find out more in the article below!
I. About An Giang
An Giang province, 230km from Ho Chi Minh City, has a fairly large area in the Southwest region. The natural landscapes here are extremely diverse, with immense rivers, magnificent mountains, green melaleuca forests, and golden rice fields.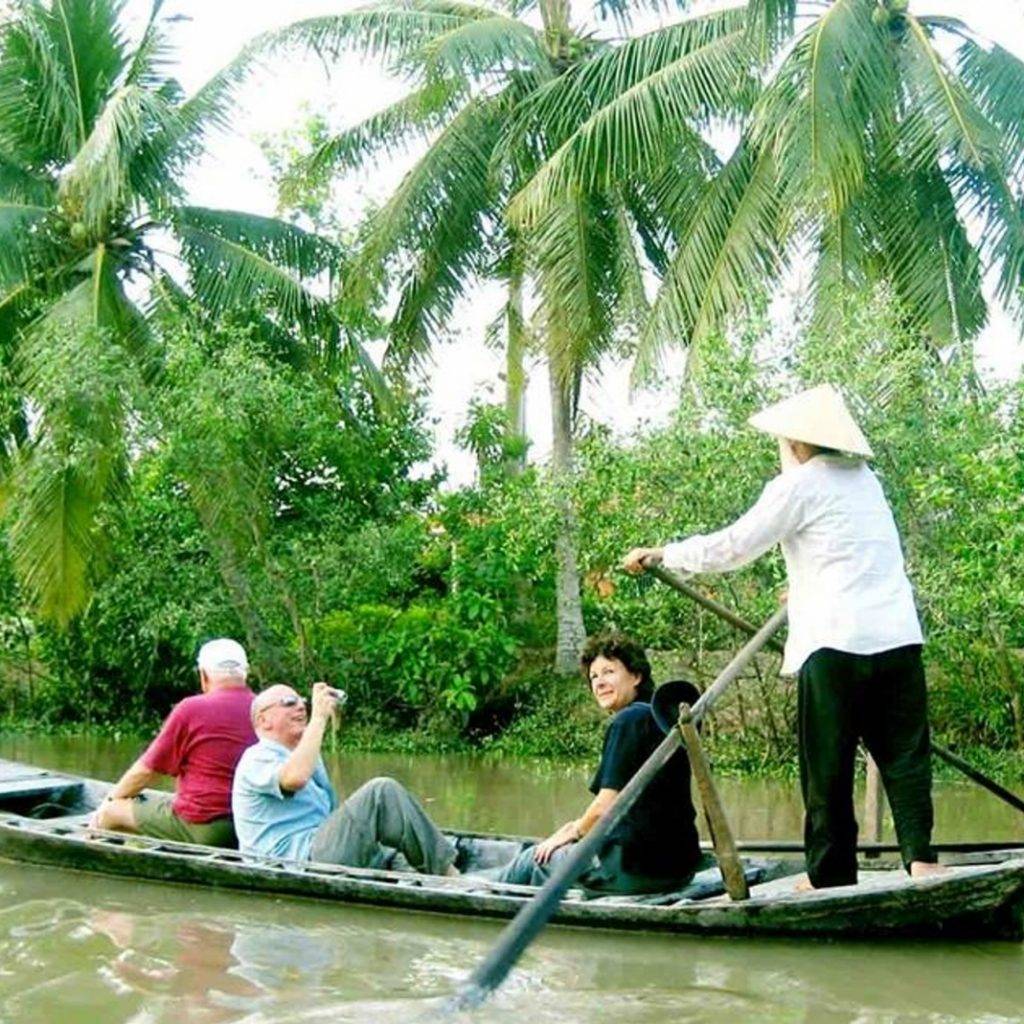 Thanks to perfect conditions for agriculture, the province's rice output ranks first in the country. Moreover, An Giang is also famous for traditional crafts such as Tan Chau silk, Chau Doc fish sauce, Cho Thu carpentry, and dried beef, dried fish. Beyond all, the long-standing handicraft weaving of the Cham people and the typical rafting on the river are truly the highlights.
The main ethnic groups living in the region are Kinh, Khmer (original indigenous people), Cham; with numerous religions of Buddhism, Caodaism, Catholicism, Islam, and Hoa Hao. As a result, the spiritual life of the locals is quite rich with hundreds of unique temples, pagodas, and spiritual festivals such as Ba Sam Temple Festival and Chol Chnam Thmay Festival.
Read more: LAU PAGODA – THE FAIRYLAND IN AN GIANG
II. The best time to visit An Giang
An Giang features a monsoon tropical climate with two distinct seasons; the dry season is from December to April, and the rainy season lasts from May to November. The average temperature is around 26-28°C.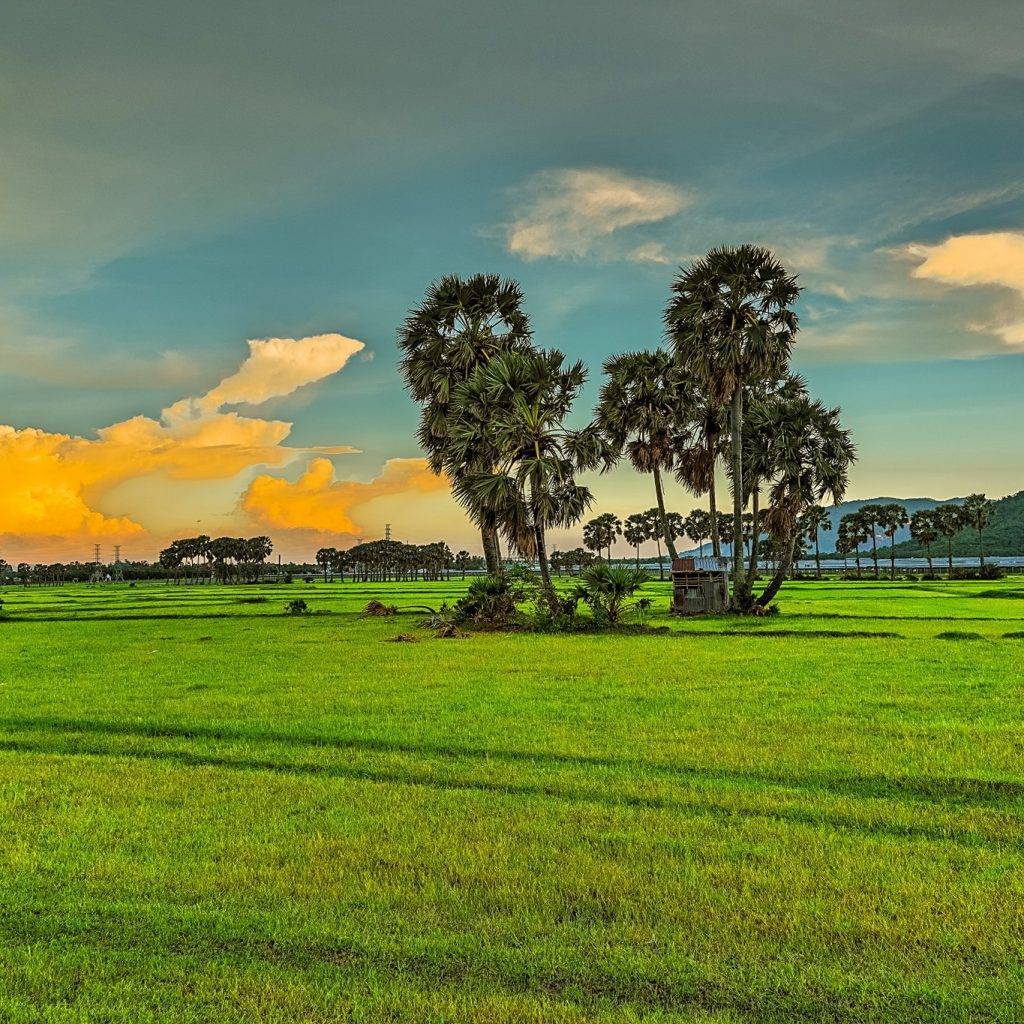 The best time to come here is during December – April when the pleasant climate is convenient for all tourist activities. However, the flooding season, occurring from September to November, is ideal for visiting Tra Su cajuput forest.
III. How to travel to An Giang
The road to An Giang is straightforward to travel by different means of transportation.
For tourists from the North, you can book flight tickets to Ho Chi Minh City and then travel by car or motorbike from there to An Giang.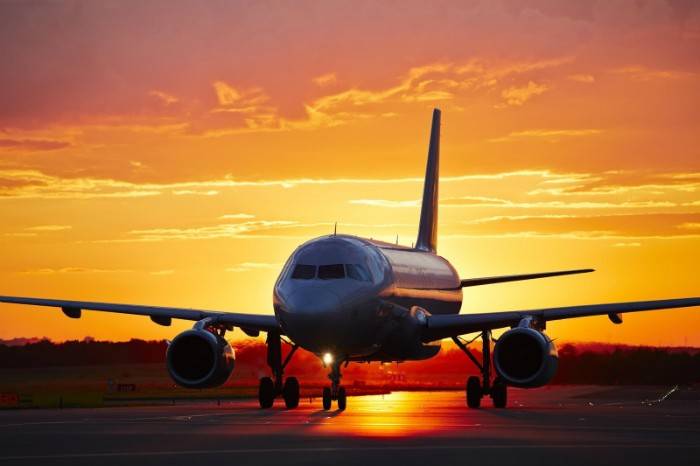 For others from Ho Chi Minh, here is the easiest and fastest route (5-6 hours):
Truong Chinh street > An Suong junction > Tham Luong Bridge > Pham Van Hon > National highway 1A to Tien Giang > My Thuan Bridge > National Road 80 > pass Sa Dec and Vam Cong ferry > Long Xuyen city.
Tourists can also use buses from Ho Chi Minh City to Chau Doc town or Long Xuyen city for the ticket price of 90,000-150,000 VND. Some popular bus lines you can refer to are Phuong Trang (02839 208 559) and Hung Cuong (2838 572 624).
IV. Accommodation in An Giang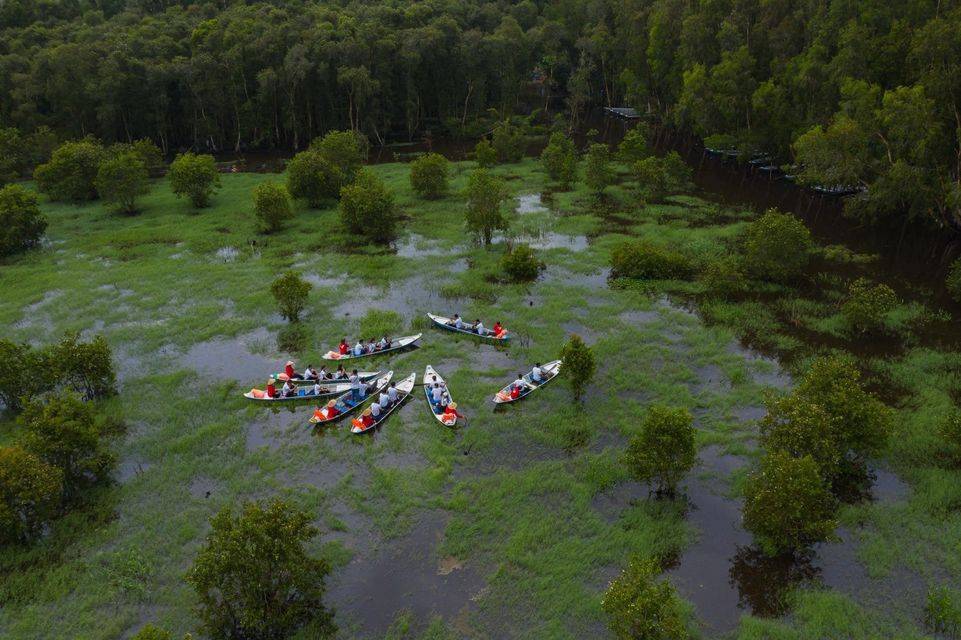 An Giang hotels and motels are usually concentrated in places with tourist attractions such as Chau Doc, Long Xuyen and Sam Mountain. The motel price ranges 150-500,000 VND/night, while 3-4 star hotels will cost 700-800,000 VND/ night or more. Visitors can also choose luxury resorts with prices from 1,000,000 VND.
Here are a few suggestions:
– Victoria Mountain Sam Lodge
Address: Vinh Dong 1, Sam Mountain, Chau Doc
Tel: 0296 3575 888
– Trung Nguyen Hotel
Address: 86 Bach Dang, Chau Doc
Tel: 076 3561561
– Vy Khanh Motel
Address: 521 Thu Khoa Hung,
Tel: 076.386.6069
Read more: KIM TIEN PAGODA, AN GIANG-THE BEAUTIFUL DESTINATION AS IN HISTORICAL FILM
V. Tourist destinations in An Giang
1. Tra Su Cajuput Forest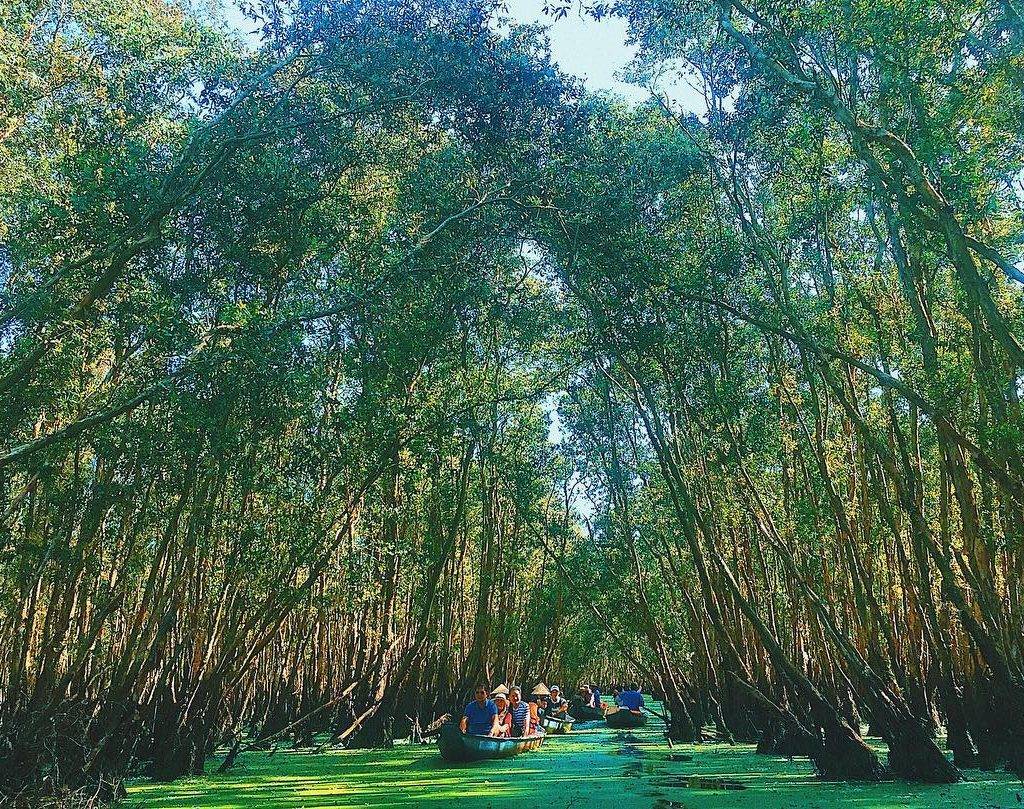 20 km from Chau Doc center city to the South, the 850-hectare Tra Su Cajuput Forest is a typical submerged forest of the Hau River region. Most of the Melaleuca trees here are over 10 years old. Also, the place is home to different types of rare birds and storks, like Giang Sen and Dieng Dieng.
The forest is most attractive in flooding seasons; at that time, visitors will take an interesting boat trip to immerse in an enormous green space of melaleuca trees along with the river covered by water hyacinth. The ticket price to go to Melaleuca forest is 150,000 VND / 2 people, otherwise, if you go in a large group, it will be cheaper, only 50,000 VND/person for a group of 10.
2. Long Xuyen Floating Market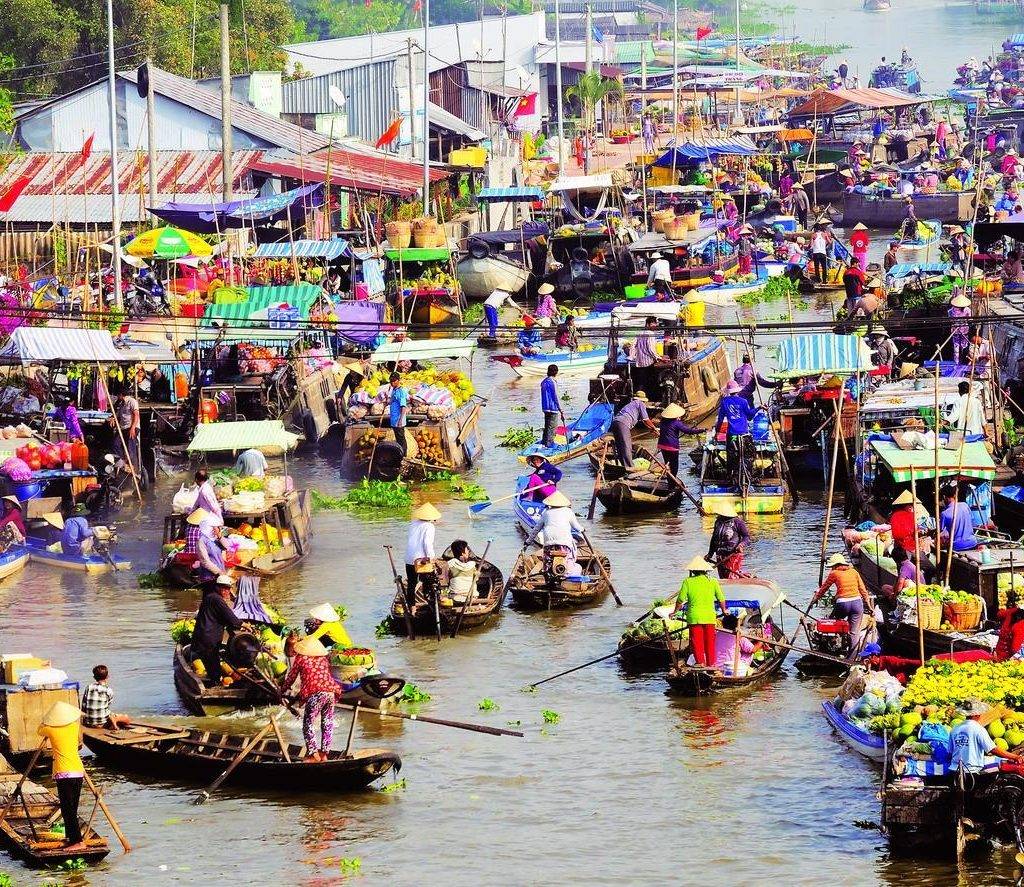 It will be a big omission without exploring An Giang's typical trading spot – Long Xuyen floating market, which is only 2km from the city center. Travelers will rent a boat to get here, and then integrate into the bustling daily business scene of the locals. A boat trip in Long Xuyen floating market costs about 200,000 VND for two people.
The market usually opens from about 5 am to 8-9 pm daily. Every morning, this river is full of boats carrying fruit as well as many other food items back and forth, buyers and sellers are active on the floating water. You can even buy and enjoy a bowl of noodles right on the boat.
3. Bung Binh Thien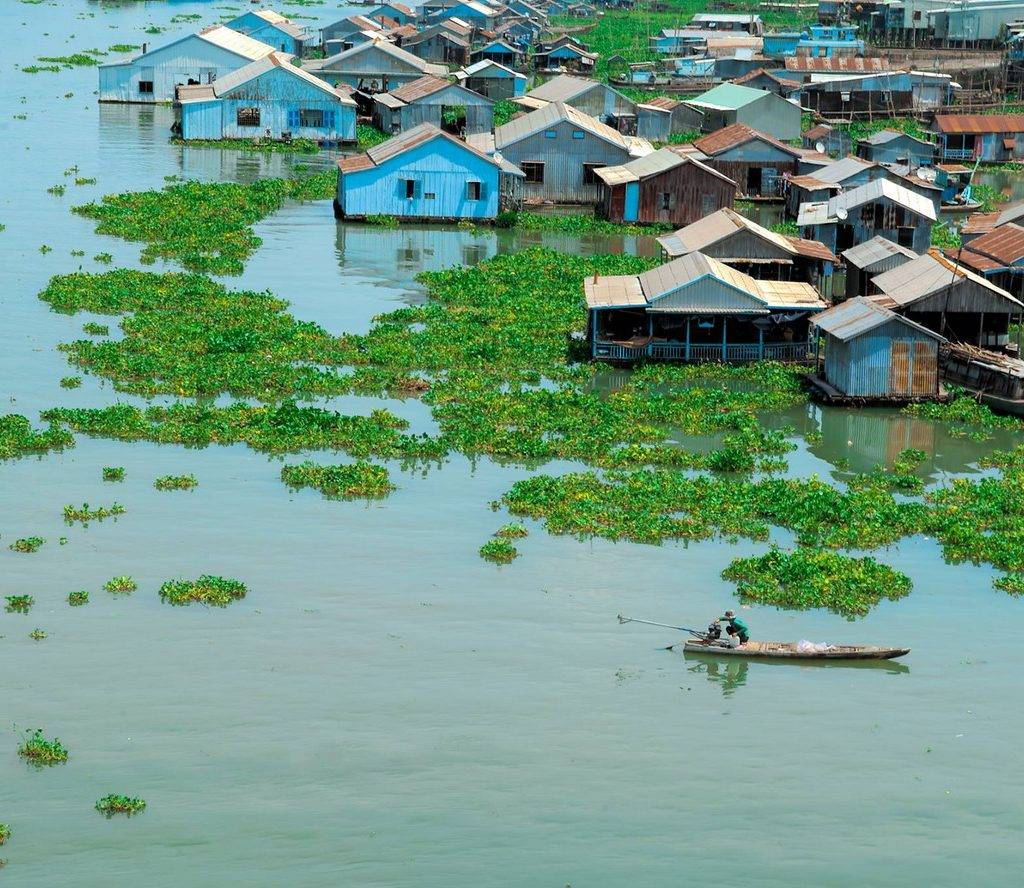 Bung Binh Thien, 500m long and 3000m wide, is one of the largest freshwater lakes in Southwest Vietnam, right next to the Cambodian border. The water here only rises and falls, not flows. Although the lake's mouth is connected to the Binh Di River and is often invaded by blood-red alluvial currents, the water in the lake is always blue and clear.
In the flood season, the purple hyacinth flowers bloom in the blue sky, mixed with brilliant yellow flowers. You can rent a boat for a 40-minute tour at 150,000 – 300,000 VND.
4. Sam Mountain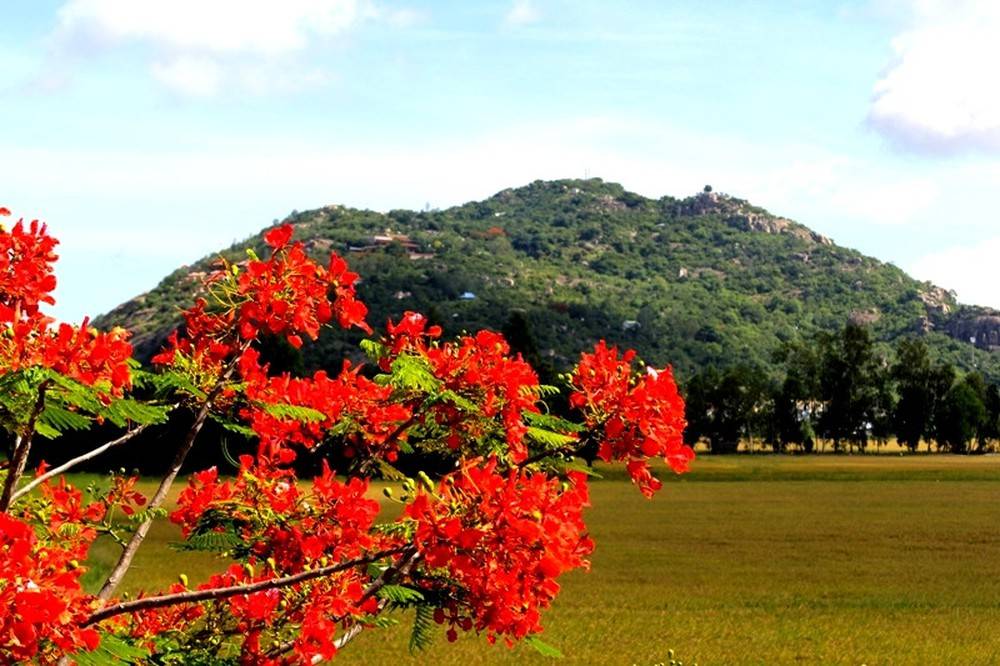 Sam Mountain, or Vinh Te Mountain, is named by Minh Mang King to show gratitude to Thoai Ngoc Hau, who played a very important role in Vinh Te canal in An Giang. The road straight to the top is quite sharp and steep, but it is still generally easy to go. This is the gateway to That Son Range (seven mountains), which is extremely well-known for spirituality.
On top of the mountain, there are abundant flamboyant trees always dyeing the whole mountain red with their flowers. The mountain is associated with the famous Ba Chua Xu Temple – a national historical monument. Every year on this day, a large number of people come here to celebrate Ba Chua Xu Festival.
5. Chau Doc Floating Village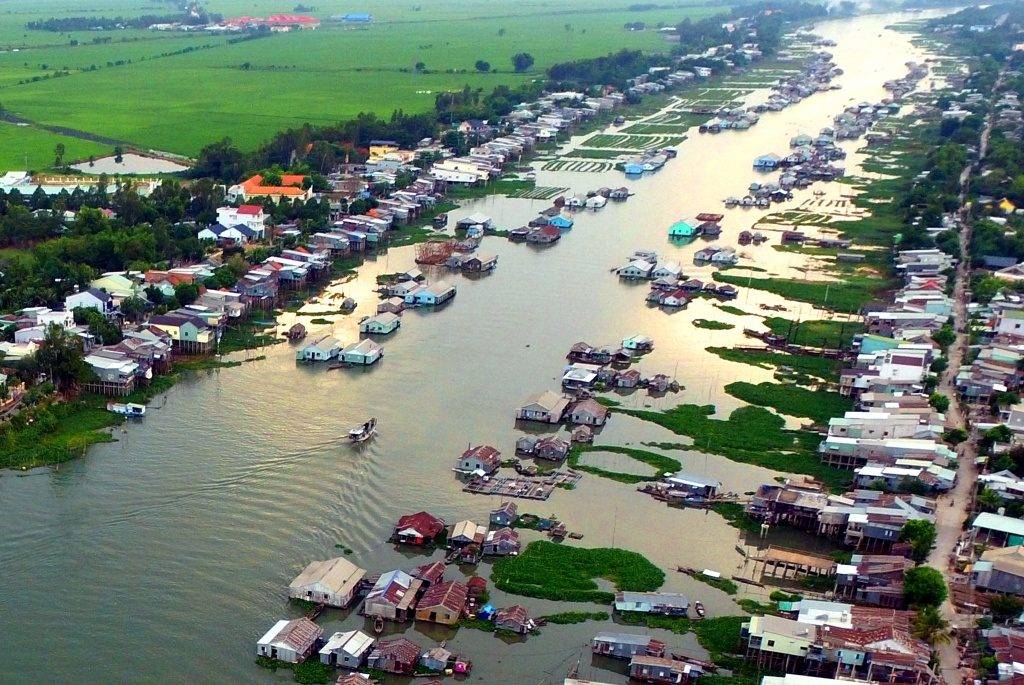 Another interesting place to experience the local life on the river is the Floating Chau Doc Village, which is also An Giang's important economic center of raft fishing. From the Chau Doc town center, go along Hau River and you'll get here.
The village is a several-kilometer region of afloat houses and also a fish farming area. It is quite special that all the daily activities of all family members are just on 4m-wide wooden houses lightly painted, with full amenities and a bottom of 5m deep. The people's main means of transportation are boats.
6. Ta Pa Paddy Field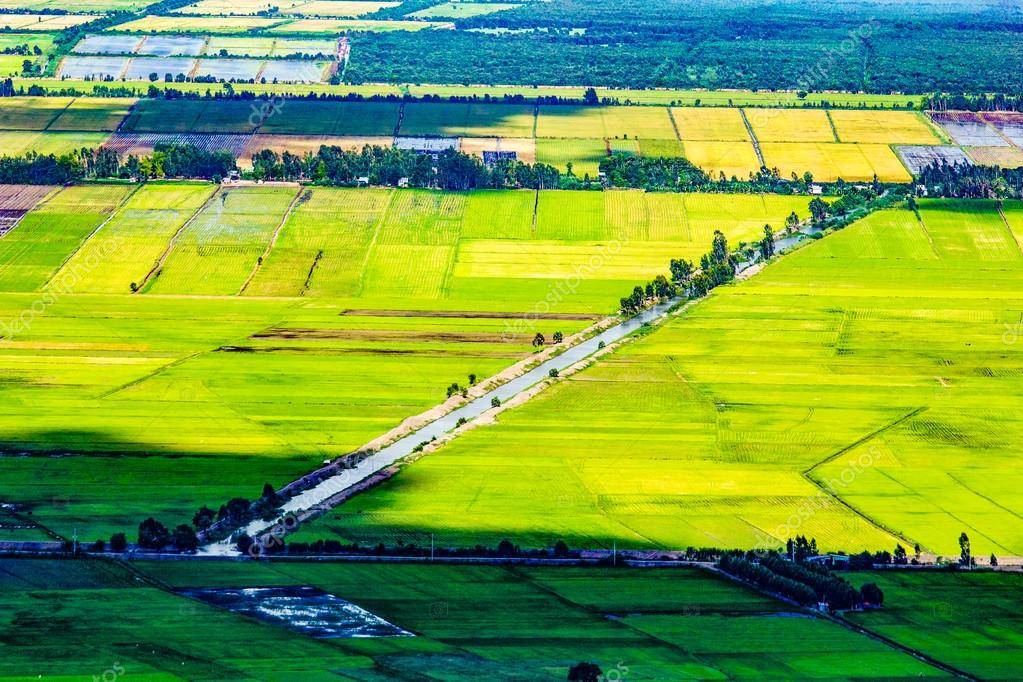 Located in Tri Ton district, Ta Pa rice fields stretch as far as the eye can see and the rows of palm trees rise high in the blue sky. The Khmer here has long adopted the practice of yodei farming (everyone changes shifts to work together).
The green and yellow fields in Ta Pa are close together to form eye-catching puzzle pieces. The best time to come here is the harvest season around September to early November when the rice begins to bloom. Plus, the paddy appears tranquil without too many visitors, ideal for those who prefer admiring the amazing scene in peace.
7. Cham Brocade Weaving Village
Chau Giang is a place where a large number of Cham people gather with various long-standing cultural characteristics, especially brocade craft. Most villagers make a living by this profession; they are taught and apprenticed since childhood, so their skills are super proficient.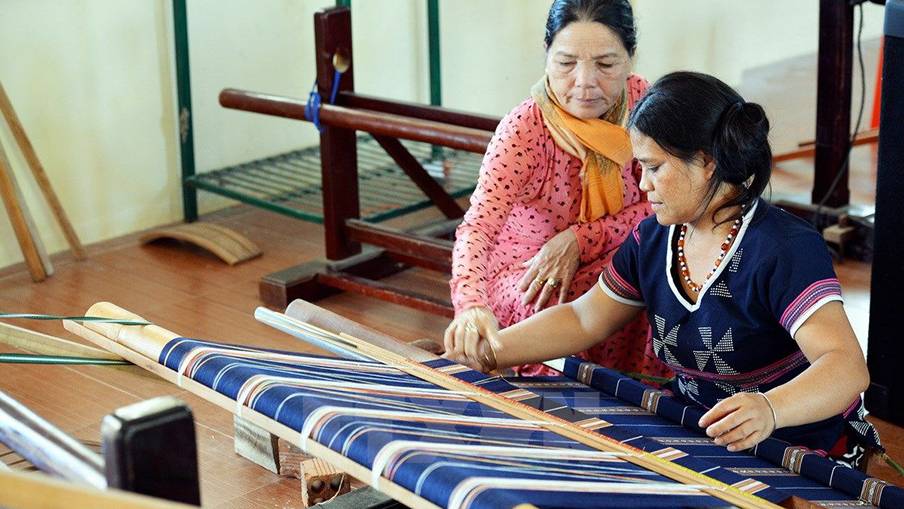 The raw material for weaving is silk dyed with natural colors from the latex, bark, and fruit, making the product's patterns more lively and durable. Tourists can find a variety of brocade stuff here such as sarongs, scarves, hats, coats, or more sophisticated things like bags, wallets, and slippers.
In addition to witnessing the embroidery and weaving scene of the residents, visitors also have the opportunity to practice the manipulations to weave a product if desired.
VI. What to eat in An Giang
As for discovering An Giang's food, we highly recommend restaurants that are crowded with locals since they usually have better food at reasonable prices. In addition, the specialty near the tourist areas will be a bit higher than the one far from tourist areas.
1. Bun Ca Chau Doc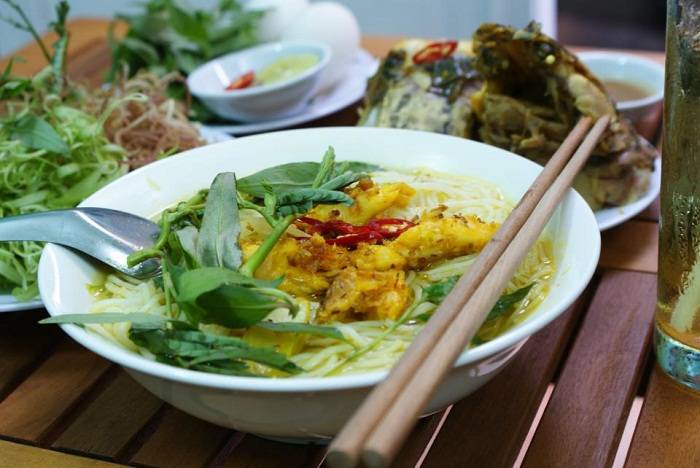 It is not an exaggeration to praise this dish. Bun Ca includes only snakehead fish, fish sauce, vermicelli, and minced lemongrass, but the taste is extremely rich.
Bun Ca Chau Doc is often served with common sesban. In An Giang, it is easy to see small shops selling these fish noodles everywhere, but only the one in Chau Doc has an authentic taste.
2. Lau Mam (Fish Sauce Hotpot)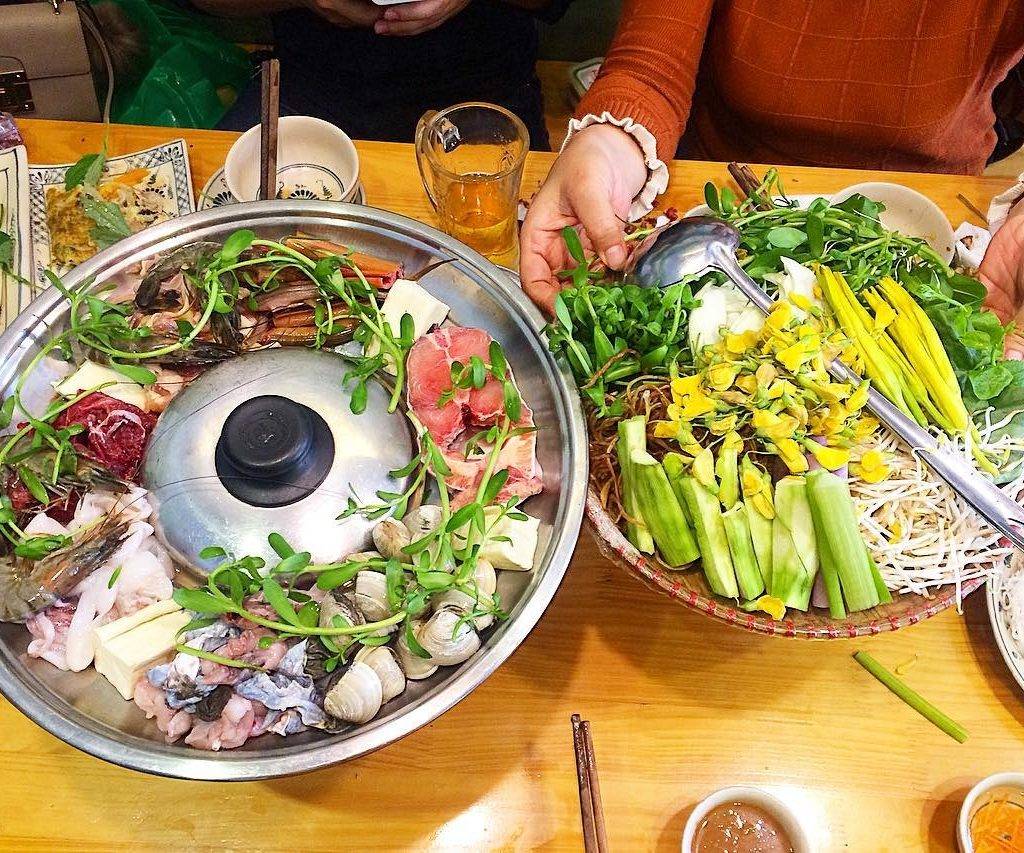 Chau Doc city is known as the kingdom of fish sauce, which features a characteristic smell and high food safety. Therefore, there is no shortage of delicious dishes made with this ingredient, and the savory Lau Mam is one of them.
Lau Mam is cooked from Ca Sac fish sauce and Ca Chot fish sauce. Then a lot of vegetables are put together with shrimp, fish, and beef balls. You will eat this dish with vermicelli.
3. Com Ni – Ca Pua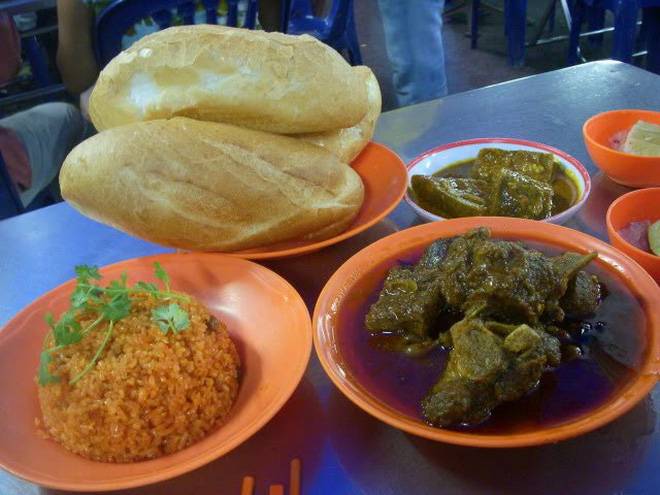 When coming to Chau Giang brocade weaving village, you will have the opportunity to enjoy the dish of Com Ni – Ca Pua of the Cham community.
Com Ni is processed quite sophisticatedly; rice is mixed with lemongrass and salt, then stirred with butter; after that, they add curry, MSG, etc., before being cooked. Ca Pua is the name of a dish made from beef by the Cham people. To make delicious Ca Pua, they add ginger and wine to the beef to remove the smell.
Eating Com Ni – Ca Pua, you will feel the sweetness of rice, the flesh of peanuts, the sweetness of beef, and the pungentness of chili peppers.