Ben Tre, land of coconut palms in downstream Mekong Delta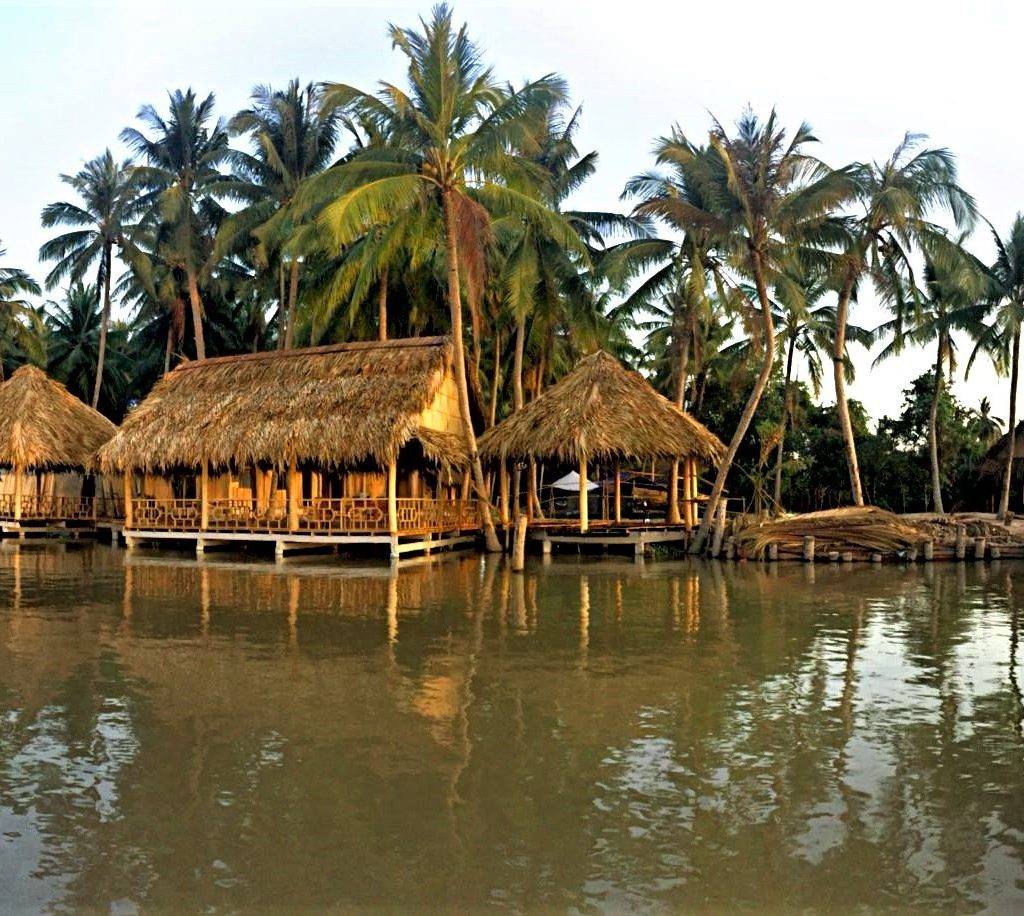 Tied to the symbol of coconut palms, Ben Tre is one of the worth visiting Mekong Delta spots to see another side of Vietnam's authenticity in river regions. The land offers a natural picture of endless coconut trees, added yellow rice fields, and tropical orchard gardens along innumerable water channels. Tourists can lay back admiring the peaceful countryside scenery while floating on wooden boats through each village of local people – who rely on coconut palms and fruit trees to do business.
I. About Ben Tre
85 km west of Ho Chi Minh City, in the lower reaches of the Mekong Delta, Ben Tre is located on three islets, An Hoa, Bao, and Minh, with a terrain of crisscrossing canals. Therefore, waterway vehicles are the main form of transportation here.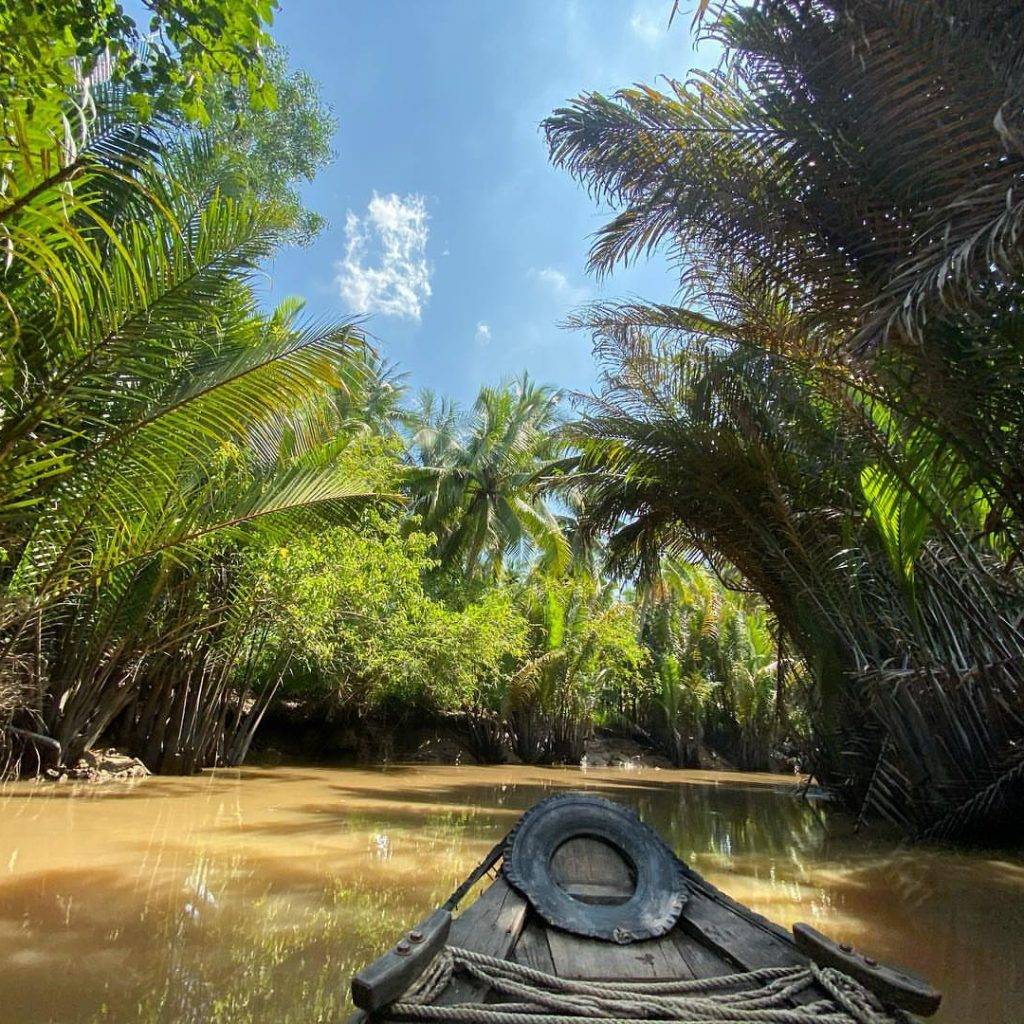 The year-round mild weather with few storms and floods and the fertile alluvium from the Mekong River have made Ben Tre a paradise of fruit trees, especially coconut. The green coconut palms running along the countryside roads, throughout rice fields, streams, and houses become the main economic source for locals from many generations.
The houses here still keep the appearance of a traditional Vietnamese village but are still neat and clean. In front of each is a flower yard with fences made of ornamental plants, while behind is a fish pond, shrimp ditch, and livestock barn. The residents say that these are necessary factors to beautify their shelter and add joy to life.
Read more: THE FIFTH BEN TRE COCONUT FESTIVAL: HONORING THE BEAUTY OF THE COCONUT LAND
II. The best time to visit Ben Tre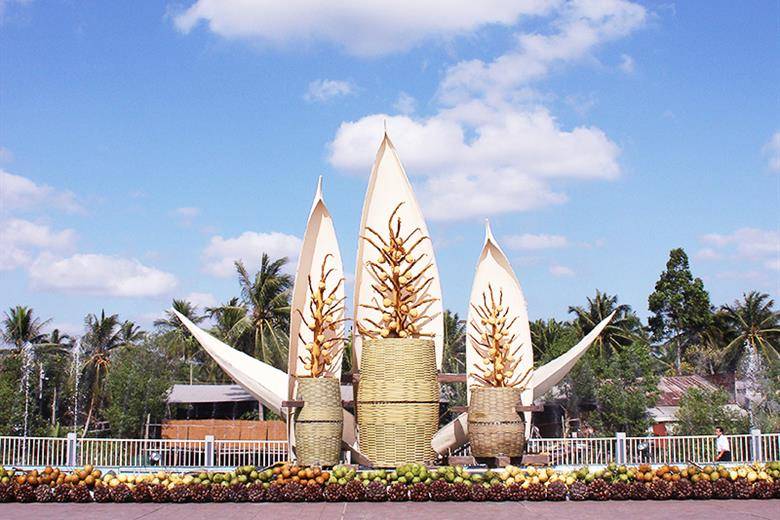 Like other Southwestern provinces, Ben Tre is favored with a warm sunny climate that is cool, airy all year round, and less affected by natural disasters, so it is able to have a trip at any time of the year.
From June to August is the time of fruit orchards such as rambutan, durian, mangosteen, longan, etc., multiplying and bearing countlessly.
September to December is the floating season, when plants in melaleuca and mangrove forests develop to the fullest, bringing a unique landscape.
Tet months like January and February are when flowers and ornamental plants bloom, the inhabitants are busy buying and selling, preparing for festivals, and the Lunar New Year.
Read more: Southwestern Vietnam, the harmonious rhythms of river and tropical landscape
III. How to travel to Ben Tre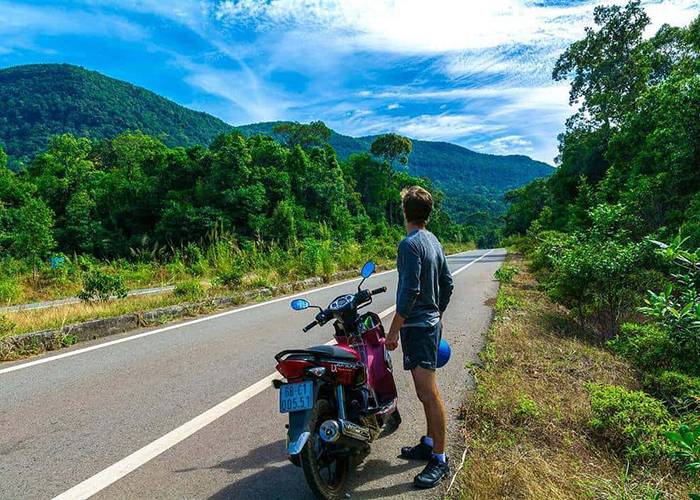 Due to the short distance, less than 100km, departing from Ho Chi Minh city is the most reasonable. The two most popular means of transport are motorbikes and buses, which are usually chosen for about 2 hours.
* Recommended route for motorcyclists:
Starting from Saigon > Binh Chanh > Binh Thuan intersection, turn onto Highway 1 > My Yen > Vinh Loc > Ben Luc > about 15km to Tan An bridge, Long An > Tien Giang > Rach Mieu > about 13km more to Ben Tre.
Saigon – Ben Tre buses at Mien Tay Bus Station:
Address: 395 Kinh Duong Vuong, An Lac, Binh Tan, Ho Chi Minh
Kim Hoang: 120,000VND/ticket
Minh Tam: 70,000 VND/ticket
Hiep Thanh: 80,000 VND/ticket
IV. Where to stay in Ben Tre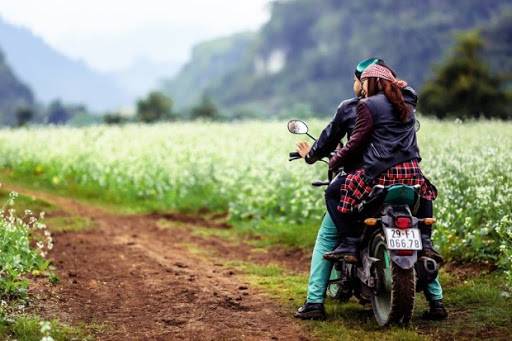 Forms of accommodation in Ben Tre are not so diverse, but you can still easily find an affordable hotel or guesthouse with clean beds and full facilities. It's better to stay around the village than in the city center due to the tranquil scenery and more local-centered experience. The room fare here ranges from 400,000 – 1,000,000 VND/night.
Here are some suggestions:
– Quoc Phuong Riverside
Address: Phu Tuc, Chau Thanh, Ben Tre
Room price: 453,000 VND/night
– Ben Tre Farm Stay Hotel
Address: Cai Suc Bridge, Hamlet 3, Phu Nhuan Commune, Ben Tre
Room rate: 566,000 VND/night
– Mango Home Riverside Hotel
Address: Nghia Huan Hamlet, My Thanh Village, Giong Trom, Ben Tre
Room rate: 1,111,000 VND/night
V. What to do in Ben Tre
1. Take a boat ride through the island group, Dragon – Qilin – Turtle – Phoenix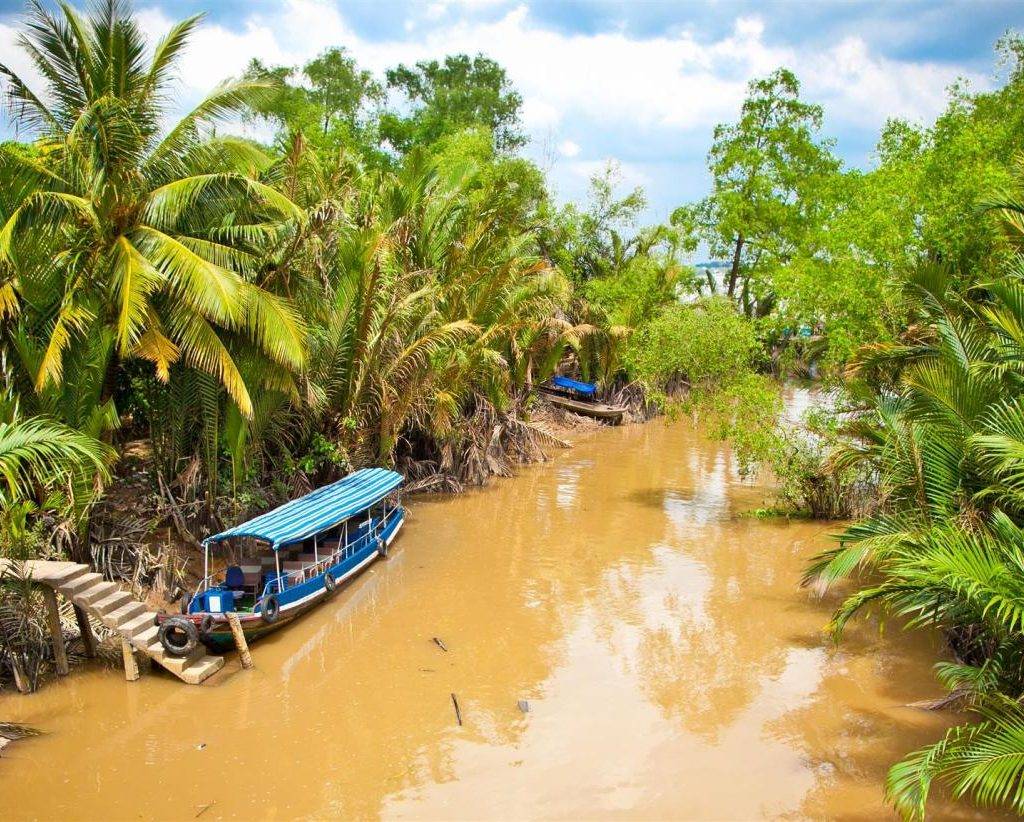 Nothing is better to dive into the heart of daily local life and enjoy the incredible nature of coconut land than jumping on a boat to run through various canals crisscrossing the four islands, Dragon – Qilin -Turtle – Phoenix.
In addition to admiring the rustic hidden houses in the water trees, tourists will also be taken to prominent traditional craft villages: the Cai Mon seedling and ornamental flower village, My Long rice paper craft village, Son Doc puff pastry – especially, don't miss out the areas where produce coconut products. Here, you will witness Ben Tre people focused on their work – whether it's chopping coconuts, removing coconut shells, or peeling the inner layer. They work with bare hands and simple tools without the kind of machinery in industrialized factories. From fresh coconuts after drying, artisans will process them into a variety of products, such as bowls, spoons, coconut oil, coconut candy, soap, moisturizers, mats, hats, etc., which you can purchase as souvenirs.
2. Ride a bicycle to explore the hood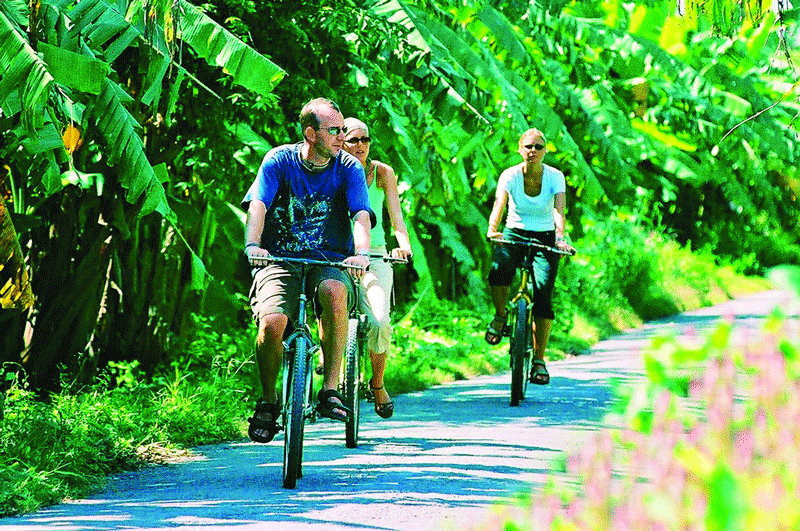 The trails throughout the villages in Ben Tre are quite flat and easy to walk, making it perfect to ride a bicycle strolling around to get closer to the rural residents' life.
The roads winding around the canals, under the shade of green coconut trees, will bring a refreshing feeling at every leisure paddle. When tired, rest at a vendor shop to enjoy a freshly-picked coconut, or taste tropical fruits and listen to the people improvising Vietnamese folk music.
3. Enjoy the tranquil Vam Ho Bird Sanctuary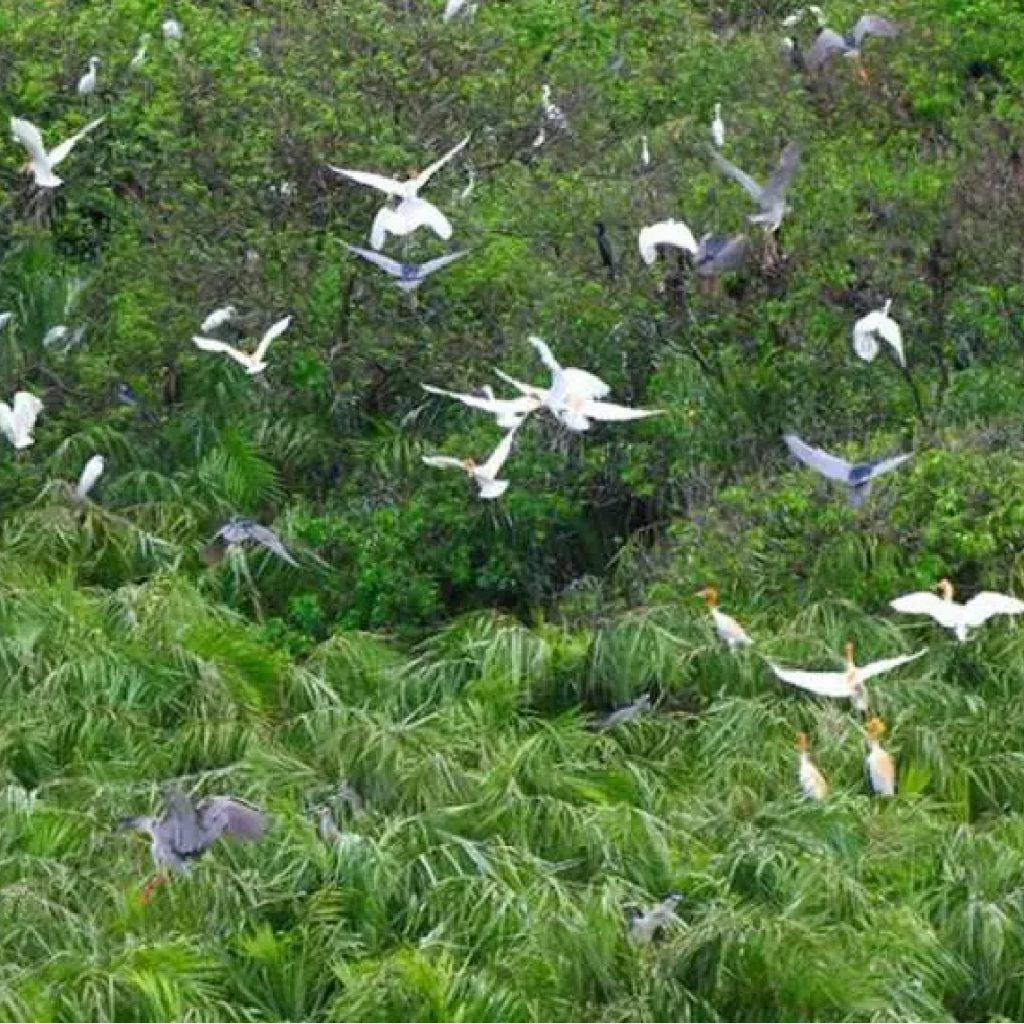 Vam Ho Bird Sanctuary is located on the right bank of Ba Lai River, on Cu Lao La, My Hoa Commune, Ba Tri District, Ben Tre. With an area of 68 hectares, this is a unique ecosystem in the coastal estuary area, typical for the mangroves of the Mekong River mouth, where many types of forest trees converge and different species of birds live. Specifically, Vam Ho is home to nearly 500,000 storks, cauldrons, and other wild birds, as well as rich vegetation of dates and varieties such as guava, mango, plantain, custard apple, coconut, mangrove, seawater spinach.
The small rowboat will take visitors around this mangrove forest to see the resistance base area, passing bamboo bridges hanging under the forest canopy.
4. Troll into Cai Mon – Cho Lach fruit garden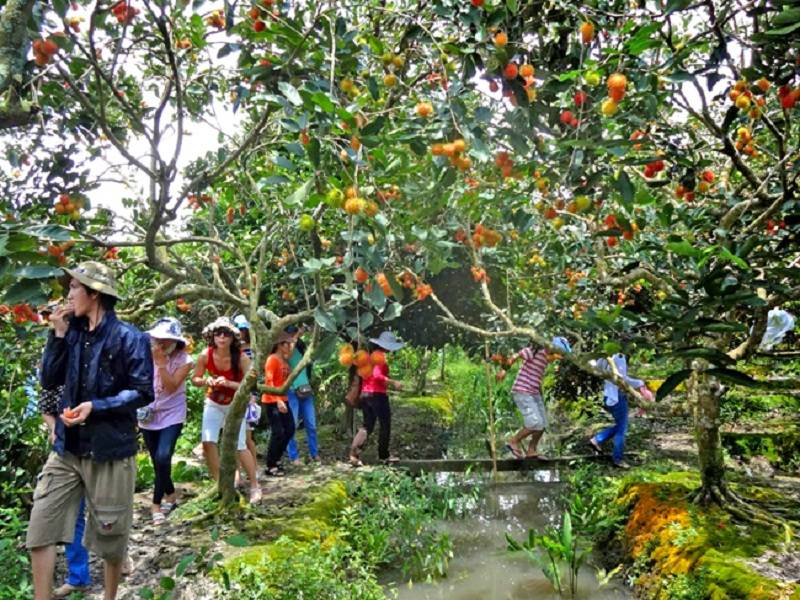 About 40 km west of Ben Tre in Cho Lach district towards Highway 60, Cai Mon orchard garden is one of the two gardens with the most fruit types in the province. Slipping through each small and narrow road leads to multiple southern fruit rows, like sweet mango, durian, rambutan, longan, mangosteen, etc. Tourists can both enjoy the fresh fruit right in the garden and buy some as gifts.
Not only that, but you can also admire a variety of bonsai trees meticulously shaped into interesting figures of animals and birds.
Read more: Cu Chi Tunnels, the extensive underground "war museum" in the South