The pristine Phu Quy island with mini Grand Canyon-alike cliffs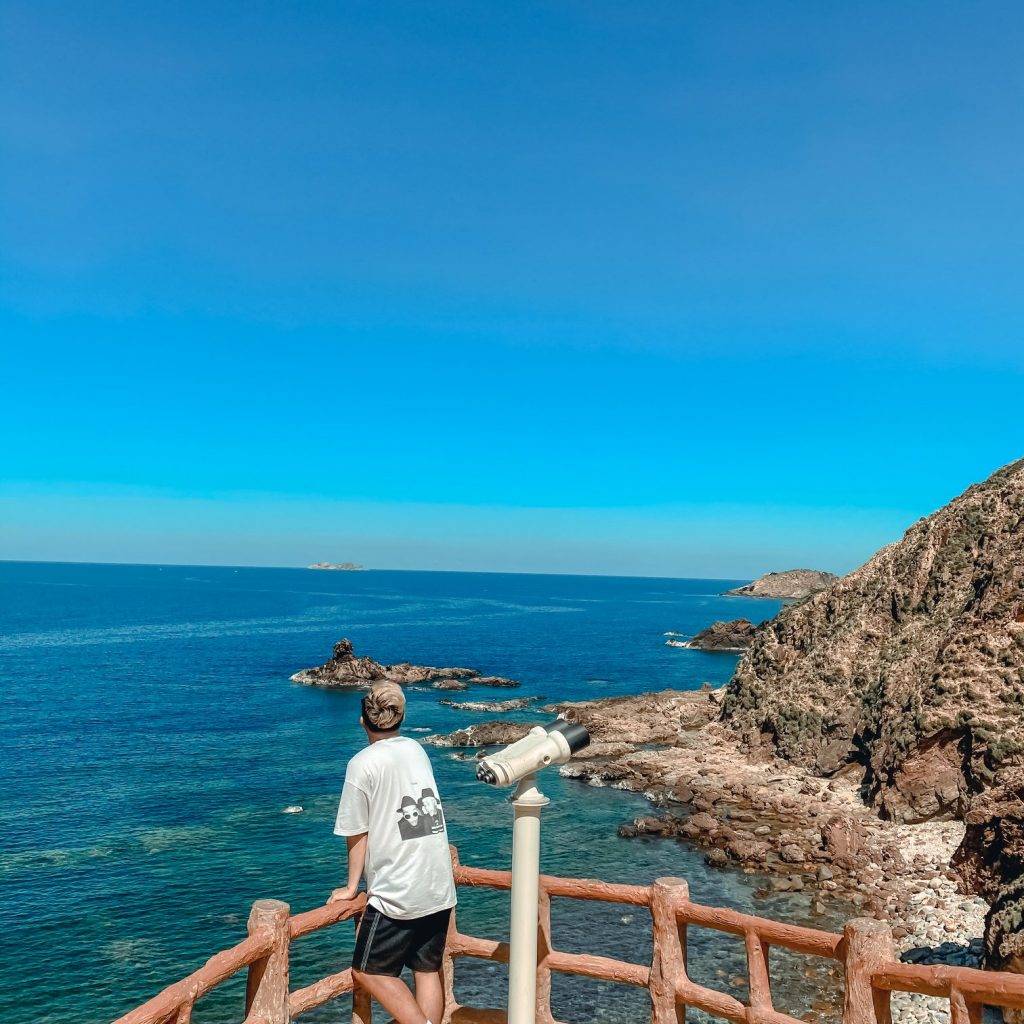 Phu Quy has just entered the list of fascinating untouched Vietnamese islands recently ready to welcome travelers. This beautiful island lies isolated from the mainland, outstanding with two volcanic peaks rising and a blue ocean surrounded.
In addition to the large natural infinity pool in Ganh Hang, another spot attracting the attention of Phu Quy tourists is the steep cliff likened to the Grand Canyon (The USA). Let's explore these appealing things in this article!
I. About Phu Quy
56 nautical miles from Phan Thiet city, Phu Quy is located independently in the middle of the East Sea with four sides surrounded by three mountains, Cam mountain, Cao Cat mountain, and Ong Dun mountain.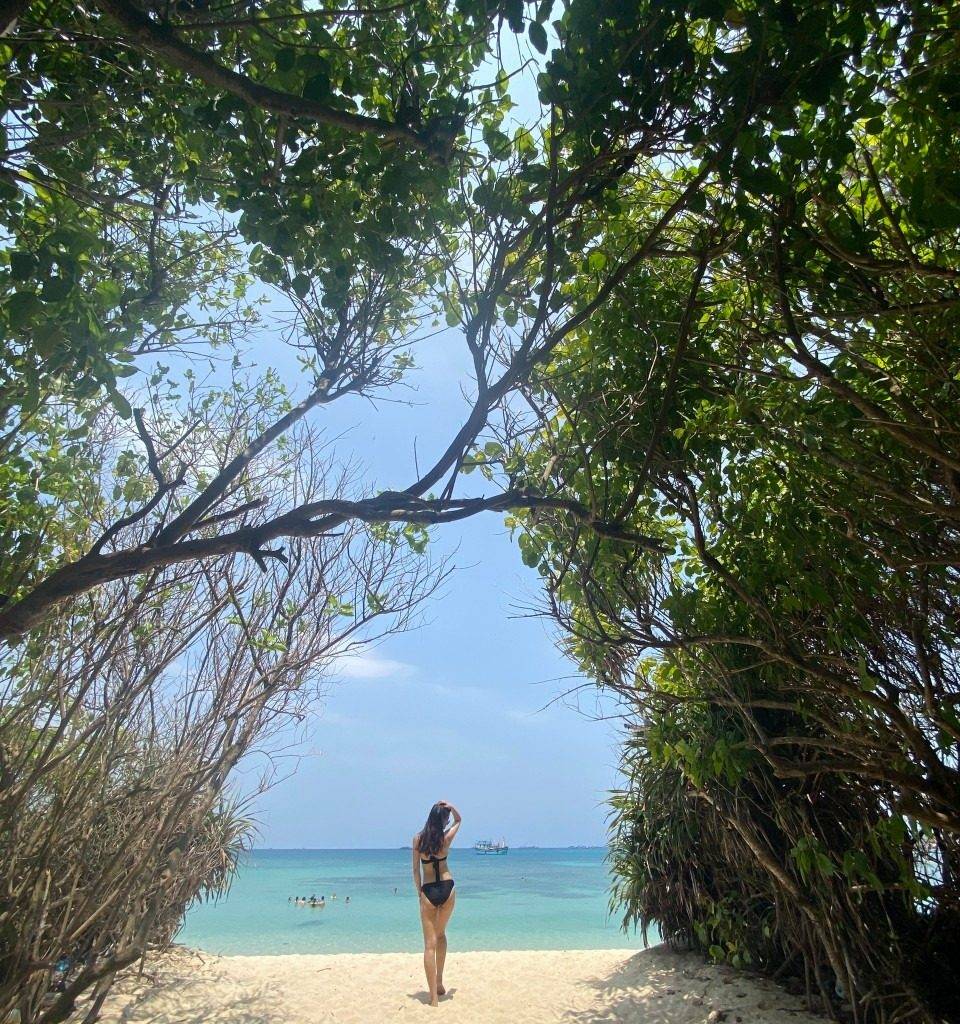 With only an area of 16 km², Phu Quy is divided into three communes with more than 25,000 inhabitants. Although not much development for tourism yet, the infrastructure for sightseeing and travel activities still meets the basic needs of tourists.
The island features everything you need in an off-the-beaten-path area, from speedy boats, clean quiet coastal roads to inexpensive homestays, beautiful beaches with rich marine resources, or beachfront restaurants selling cheap seafood and hostable locals. What's more, the diverse spiritual life of the residents here results in several constructions of pagodas and temples on the mountains, with bold Vietnamese architecture.
II. The best time to visit Phu Quy Island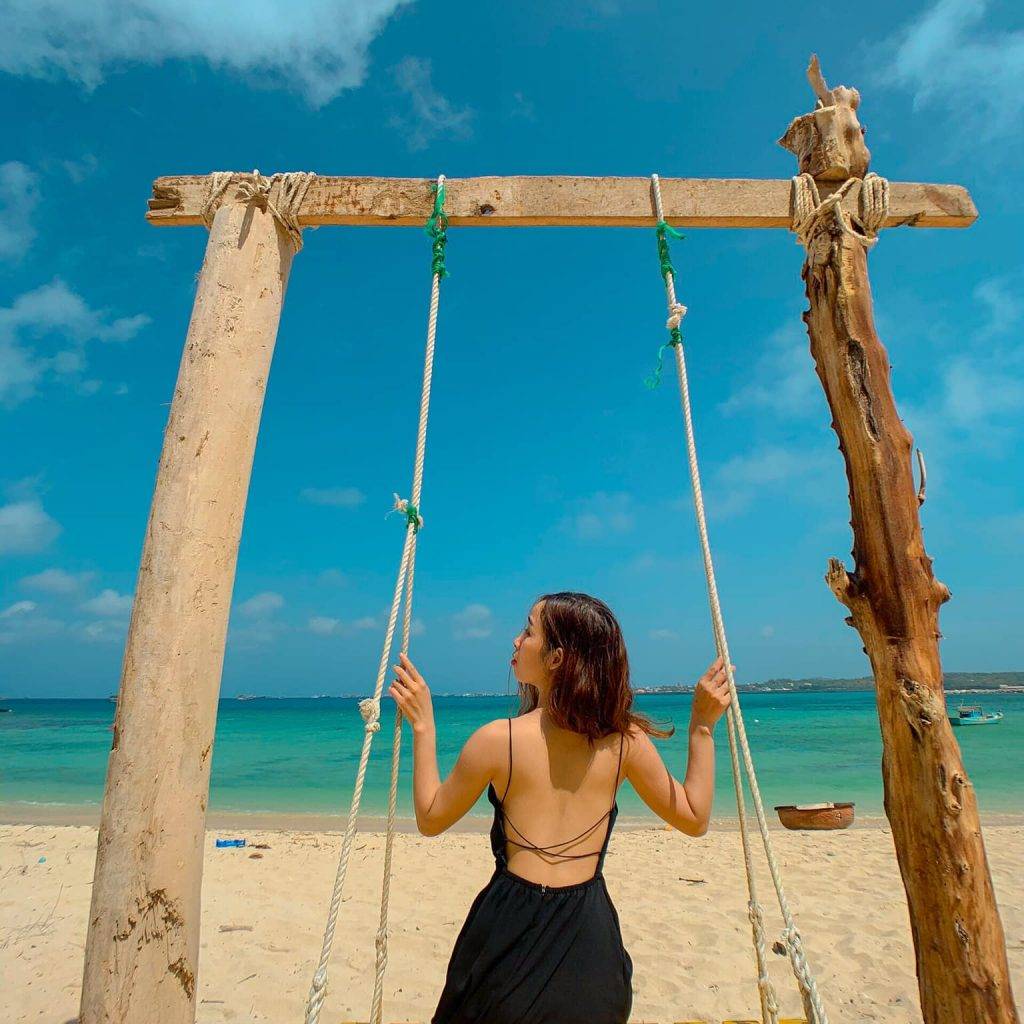 From September to November, there is a high possibility of storms affecting Binh Thuan waters, so avoid going here this period for safety. In contrast, June is the most ideal month to travel to Phu Quy Island thanks to the calm sea, bright summer sunshine; even though the weather is rather hot but extremely suitable for swimming and sunbathing.
III. How to move to Phu Quy Island
1. From Hanoi to Phan Thiet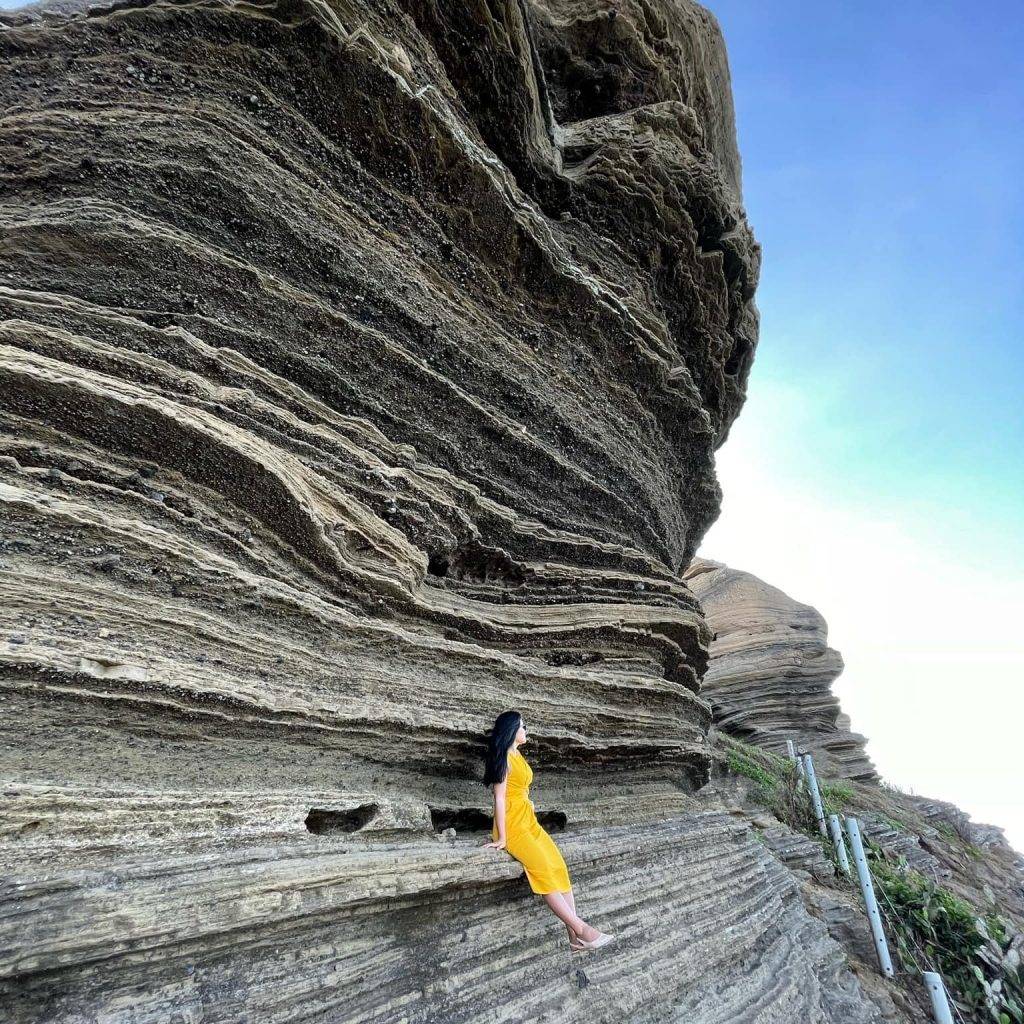 If departing from Hanoi and the northern provinces, you can consider buying a plane ticket to Cam Ranh Airport. From there, take a bus or train with prices ranging from 120,000 to 420,000 VND/ticket to reach Phan Thiet. This journey will take about 4-5 hours, depending on the route and traffic situation.
Read more: BAU TRANG – THE LITTLE SAHARA DESERT
2. From Saigon to Phan Thiet
Saigon is about 200km from Phan Thiet, and it normally takes about half a day to travel between these two cities by public transport, like bus or train.
– Train
Every day the train SPT1 departs from Saigon at 6:40 am to Phan Thiet at 10:15 am for a price of 150,000 – 250,000 VND/ticket, depending on the type of seat. The train has recently been upgraded to serve tourism; passengers will have a larger area for luggage arrangement. Moreover, you will be served free water and wet tissues.
– Sleeping bus
There are many buses daily running from Saigon to Phan Thiet in Mien Dong Bus Station. Compared to the train, the bus ticket is cheaper (120,000 VND/way) with more departure time to choose from.
– Phuong Trang
Route: Saigon – Phan Thiet – Mui Ne
Departure time: 7:00 – 7:30 – 8:00 – 15:00 – 17:00 – 19:00
Tel: 028 38309309
– Tam Hanh
Route: Saigon – Mui Ne
Departure time: 15:30
Tel: 028 39205679 – 0252 3847347 – 0258 3527466
3. From Phan Thiet to Phu Quy Island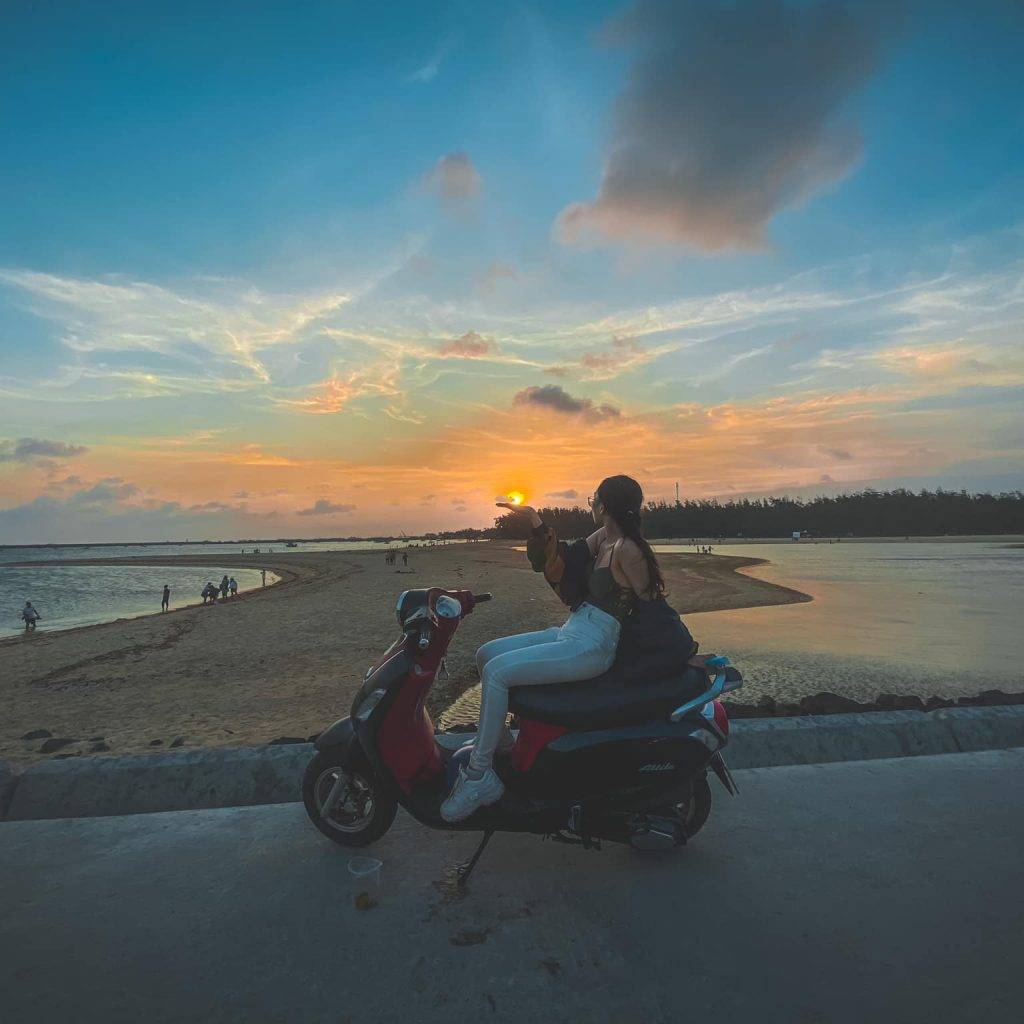 Currently, from Phan Thiet, there are 4 regular boats, 1 medium-speed boat, and 1 speedy boat to Phu Quy island. Regular boats travel quite a long, up to 6 hours each trip, in contrast, high-speed boats only take 3 hours to arrive at the destination. The fares range from 300,000 VND or more per trip. The train schedule will be updated on the website of Binh Thuan Department of Transport and might change due to the weather. Tickets are sold daily from 7:30 a.m to 11 a.m and from 1 p.m. to 5 p.m.
Phu Quy – Phan Thiet boats: 0252 3506 374
Phan Thiet – Phu Quy boats: 0252 3506358
IV. Accommodation in Phu Quy Island
Since this is a wild island, you should not expect to find a high-class place to stay around; however, budget guesthouses or homestays with full facilities here already offer visitors standard accommodation.
Here are a few suggestions for you:
Long Vi Hostel in Mo Thay – Mui Doi (150,000 VND/night).
Ms. Sang Homestay (50,000 VND/night)
Lamin Hotel (500,000 VND/night): Although the price is slightly higher than other motels, in return, the comfort and cleanliness at Lamin Hotel are much better. In addition, this place also owns beautiful sea view rooms.
Villa Ocean Phu Quy (600,000VND/night): If you are looking for a hotel with a windy balcony overlooking the blue sea, do not miss this place.
Or, another interesting experience is overnight camping where you can sleep in tents and watch poetic sunrise early in the morning. Regarding the camping site, choose flat, windy areas to set up your tent. Also, take care of your belongings and only camp when you're in a large group.
Read more: Con Dao Islands, a reviving secluded paradise in the East Sea
V. Tourist attractions in Phu Quy Islands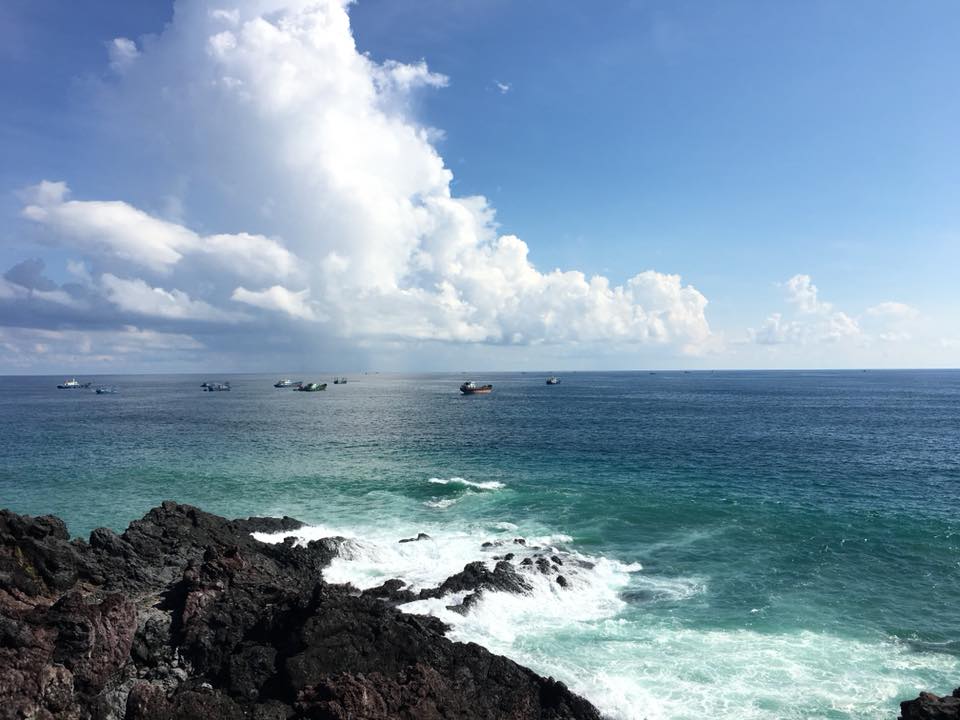 Not to mention specific tourist attractions, the island itself is embraced by an empty coastal street with great views leading to nice beaches and bays. Not only that, but Phu Quy also provides numerous enjoyable short hiking routes to viewing platforms where you can have a panoramic view of stunning islets, villages, green jungles, temples, and enchanting rock formations.
It's better to hire a motorbike and explore the island yourself. The price of a rental vehicle is about 120,000 – 150,000 VND/day.
1. Bai Nho Beach – Ganh Hang
With a crescent shape bounded by rocky capes protruding into the sea, Bai Nho, accessible through a path under the Flagpole, is one of the most beautiful beaches of Phu Quy island. Few boats anchored, the white sand here is small but clean and smooth, the sea is crystal blue, the air is fresh, suitable for swimming and watching the coral.
Ganh Hang is a large cliff close to the sea, featuring old dams of all sizes. In the past, islanders used these dams to raise fish and squid, but after switching to fishing, they left the dams empty. This place is now famous for a large natural infinity pool formed from a stream of water surrounded by interconnected rocks. The blue sea water combined with the black rocks and natural deep-toned corals creates an extremely impressive check-in point.
Read more: Cu Lao Xanh – A waste-free offshore island in Quy Nhon
2. Vinh Trieu Duong Beach
To the south of the island, Vinh Trieu Duong used to be the most beautiful and crowded beach in Phu Quy. This is a favorite spot of locals as well as most tourists, which means it's no longer pristine, however, Vinh Trieu Duong is still attractive for laying back under casuarina the trees and immersing yourself in translucent seawater. It's also recommended to swim here in the early morning or late afternoon when the sunrise and sunset are fantastic.
One downside about the beach is the picnic trash from the over-exploitation of tourism.
3. Cao Cat Mountain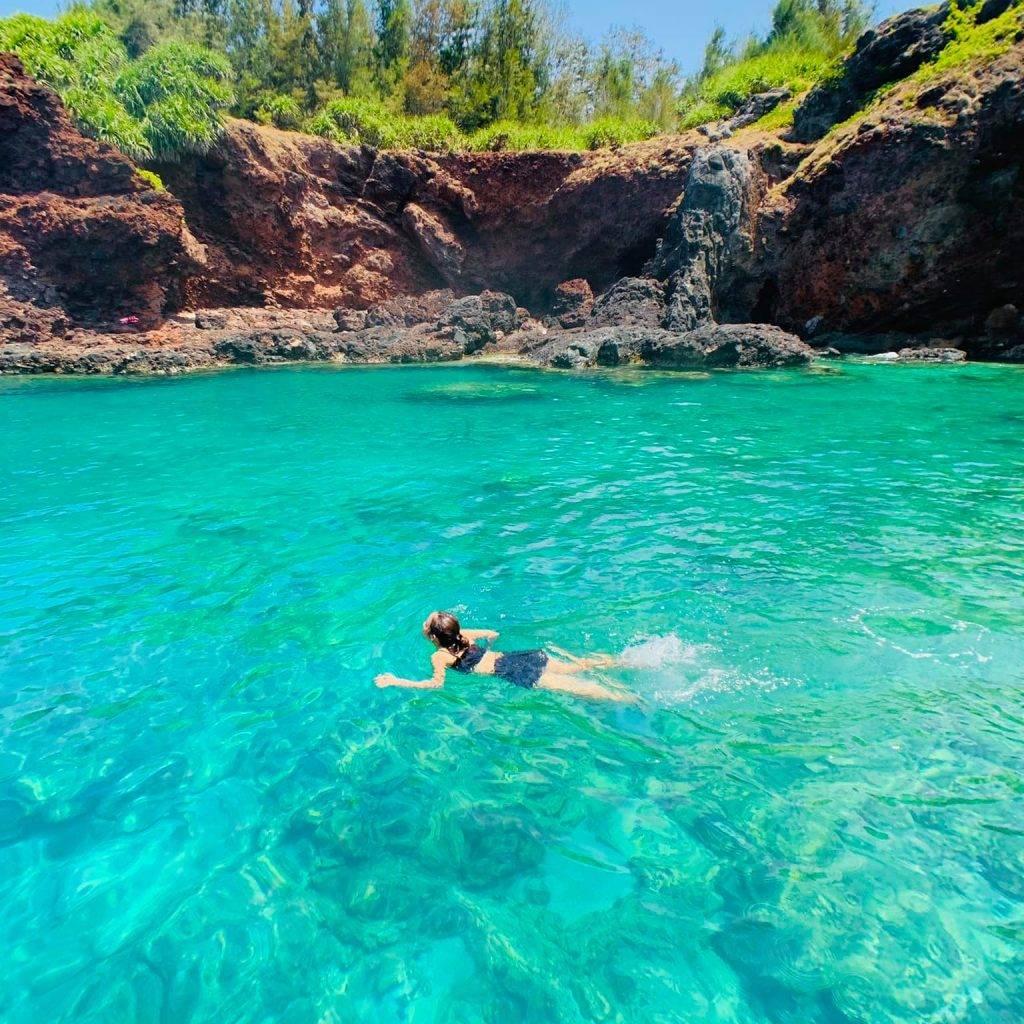 Cao Cat mountain, the highest peak in the west of Phu Quy island, is home to Linh Son pagoda, a military site, and stratified cliffs with strange twisting grooves influenced by the impact of the sea breeze.
To get to Linh Son pagoda, you have to step on the stairs behind a shrine. This point is extremely perfect for an incredible sunset-watching while listening to the gentle chimes from the monastery.
Cao Cat has become more well-known to all visitors thanks to the strange cliffs at 100 m above sea level. The cliffs' appearance is similar to the Grand Canyon in America. The cliffs protrude without any rule, creating different shapes; some are like mushrooms, some are like animals. From the top, tourists can see a stunning scenery of how green Phu Quy Island is, dotted in precipitated lava rocks. The landscape as far as the eye can see is Long Hai village, where fishermen gather to live and fish.
Read more: Ky Co – Little Maldives in Quy Nhon, Binh Dinh
4. Dong Hai Fishing Village
Dong Hai is a charming tiny village facing the sea. Along the alleyways are remarkable old whitewashed houses with sizable courtyards containing fishing nets, floats, and other equipment for fishing by residents who mainly do fishing. This will be an interesting place to explore the life of the pleasant locals if you want to break up with sea activities for a while.
5. Van Anh Thanh
Van An Thanh is a notable marine museum completed in 1781 to display whale skeletons and sea turtles. Legend has it that this place is built to show local fishermen's respect to the whales – Ca Ong, for saving them from troubles on the ocean many times. Since then, when any dead whale is pushed into seashores, islanders always hold a solemn funeral for them. Coming here, tourists can admire the giant whale skeleton of nearly 20 meters in length, which is also one of the largest ones in Vietnam.
6. Lang Duong Fishing Farm
This is a natural aquarium covered with a range of rectangular stone walls. The rock formations are captivating with a few overhangs carved out by the sea similar to petrified waves. These fishing farms are somehow likened to stable ramparts that prevent big, aggressive waves from attacking the island.
Read more: The pristine Phu Quy island with mini Grand Canyon-alike cliffs
VI. Food and drink
Owning a rich sea creature resource, Phu Quy is truly a paradise for seafood. Beyond all, you will have a chance to try fancy dishes from lobster, king crabs, and moon crabs, abalones, etc., at a very cheap price compared to the mainland.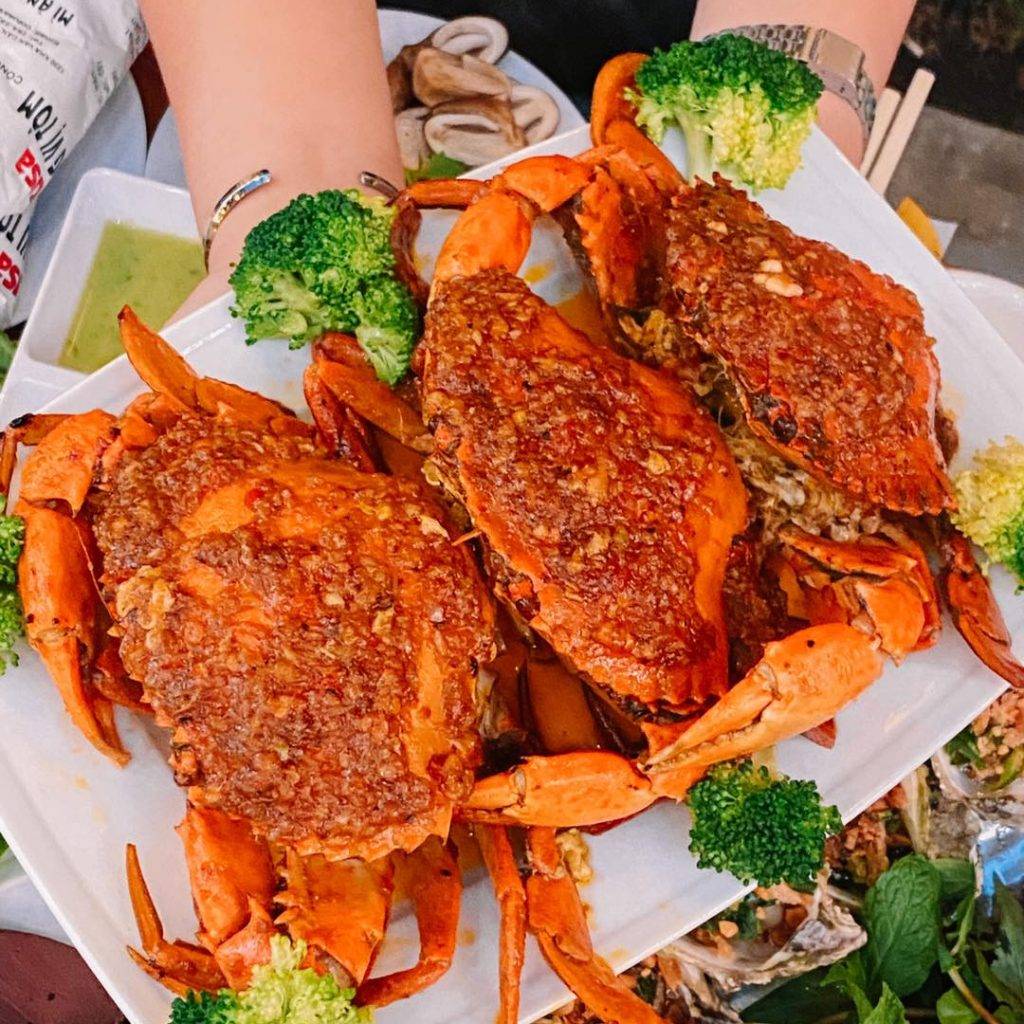 Just look for rustic restaurants and eateries with the signs writing "Hai san" around the island. For foreign-friendly places, you need to get to formal restaurants on the Tran Hung Dao Street (Tam Thanh Commune).
Phu Quy Island also has a list of decent street food ranging from 15,000 – 30,000 VND/dish. Vendors or stalls in markets around the communes of Tam Thanh and Long Hai are the best places to find various yummy Vietnamese noodle soup types. Besides, there are a variety of dishes and cakes you need to try such as Xeo cakes, sweet soup, spring rolls, Quang noodles, etc.
Don't forget to try the local alcohol "ruou dua" made from pandanus tectorius fruit, which grows everywhere on the island. Locals process and sell the liquor at restaurants, stores, and souvenir stalls around the island, for 10,000 VND/500ml.