Binh Hung Island appears as an unpolished pearl in Khanh Hoa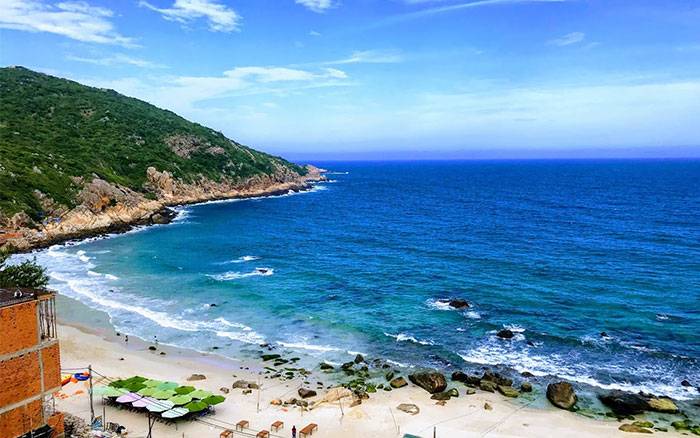 Since the road from Cam Ranh's city center to Bai Kinh was completed, the tiny rocky Binh Hung Island is easier to access. This used-to-be-less-known island offers great views of blue beaches and smooth white sand with various amazing freshwater rock caves. Apart from a small inhabited area in the West, the other parts of the island are no human sign, but craggy stones, wild beach, and dry scrub.
Everything, including friendly locals, barely speaking English, makes the place ideal to spend hot summer days enjoying the sea, cold drinks, and fresh seafood, especially lobster, to get away from the bother of life.
I. About Binh Hung Island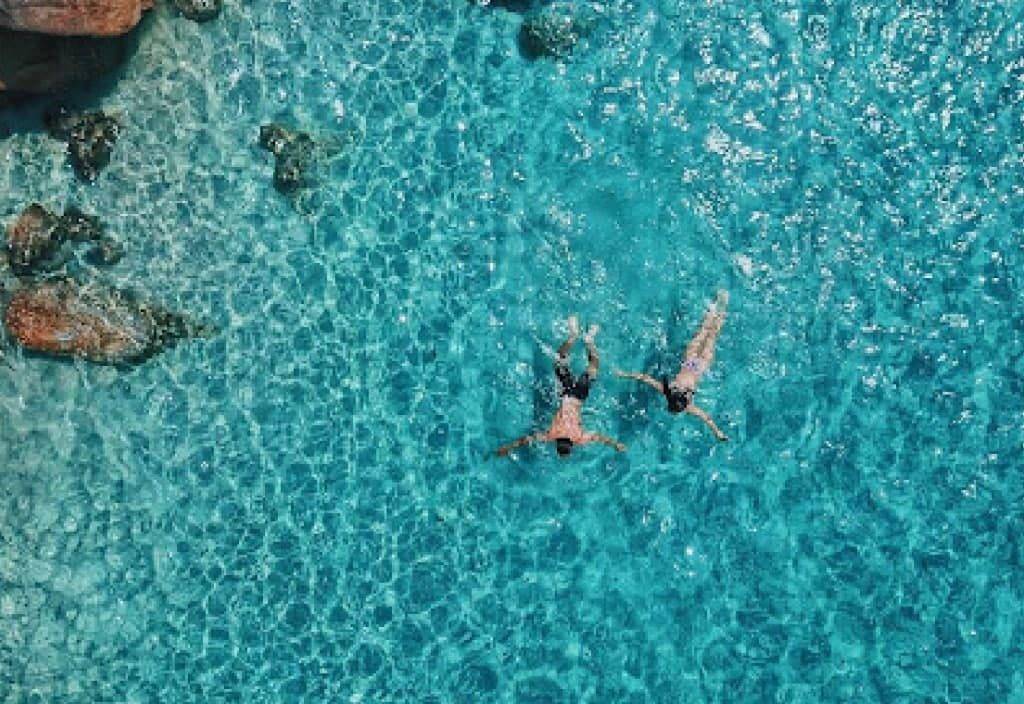 Binh Hung, also Hon Ty or Hon Chut, is one of three Tam Binh islands in Cam Ranh Bay (Khanh Hoa province) on the route Vinh Hy – Binh Tien, 30 kilometers from Cam Ranh city center. To reach the destination, visitors have to travel by boat for another 10 minutes.
The island is currently home to about 300 households who make a living on fishing and lobster farming – one of the best specialties here. The locals fought to turn to business services for tourism such as restaurants, motels, canoe rentals, transportation, etc.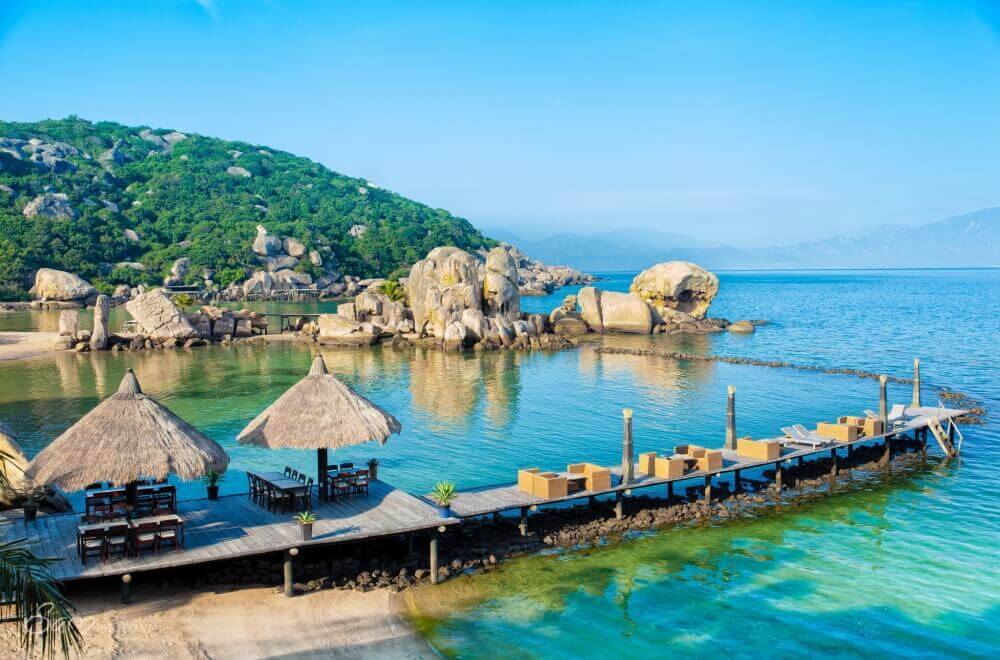 Binh Hung Island can be divided into two sides of East and West; while all the inhabitants live on the Westside facing the mainland to avoid wind and storms from the sea, on the other side, there is only Hon Chu Lighthouse navigating for boats and ships.
Note: Since 2005, foreigners have been banned from visiting Binh Hung Island due to its political location. Therefore, to travel to Binh Hung Island, you should contact the tour agencies, so they will arrange and report to the island police about your arrival.
II. The best time to visit Binh Hung Island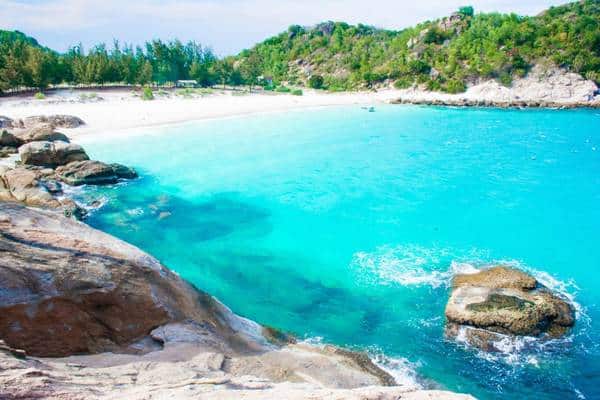 You can explore Binh Hung Island at any time of the year; however, summer is the most perfect for marine activities, like swimming and exploring the natural sea scenery here.
There are usually rainstorms in September, October and November, so if your plan is set in this period, check on the weather forecast in advance.
Read more: THE PARADISE PHU QUOC ISLAND – THE VERY FIRST VIETNAM'S OFFSHORE CITY
III. How to travel to Binh Hung Island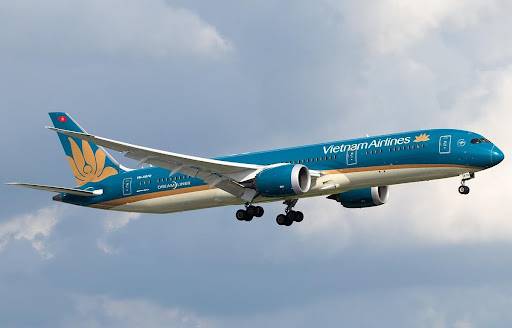 Tourists can come to Cam Ranh city either by plane or bus. At all Vietnam airports, numerous flights to Cam Ranh Airport – Khanh Hoa are available every day with ticket prices ranging from 1,500,000 – 2,500,000 VND. Meanwhile, buses from Ho Chi Minh city to Khanh Hoa cost 200,000 – 350,000 VND/ seat.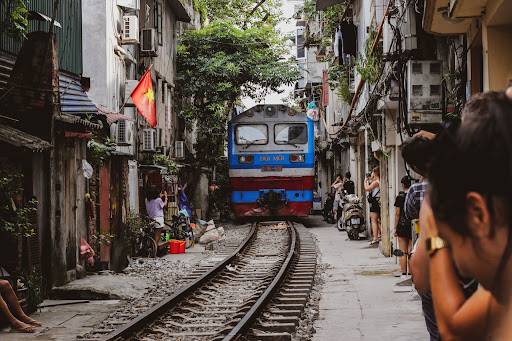 From Cam Ranh city, follow Highway 1A towards Ninh Thuan, then go on the new route to Binh Lap – Binh Tien about 15 km to reach Bai Kinh. From here, visitors take a boat to Binh Hung Island for about 10 minutes at 50,000 VN /way/person.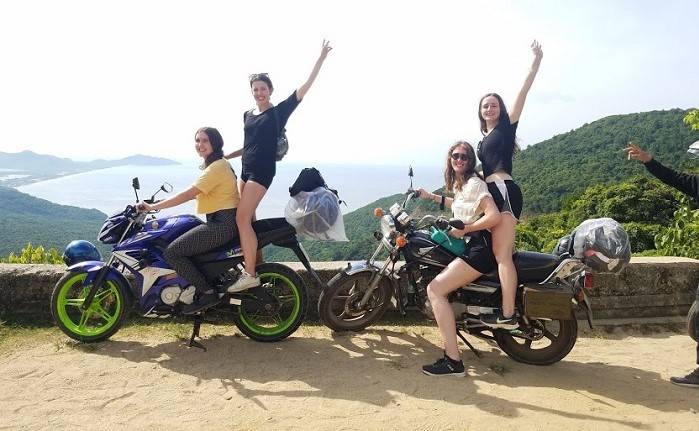 It's better to bring a motorbike over the island, which will cost you 10,000 VND since trams on the island only serve one route from the wharf to the lighthouse with the price of 20,000 VND/person/way.
Read more: SOME TYPES OF MEDICINE NEEDED FOR TRAVELING
IV. Where to stay on Binh Hung Island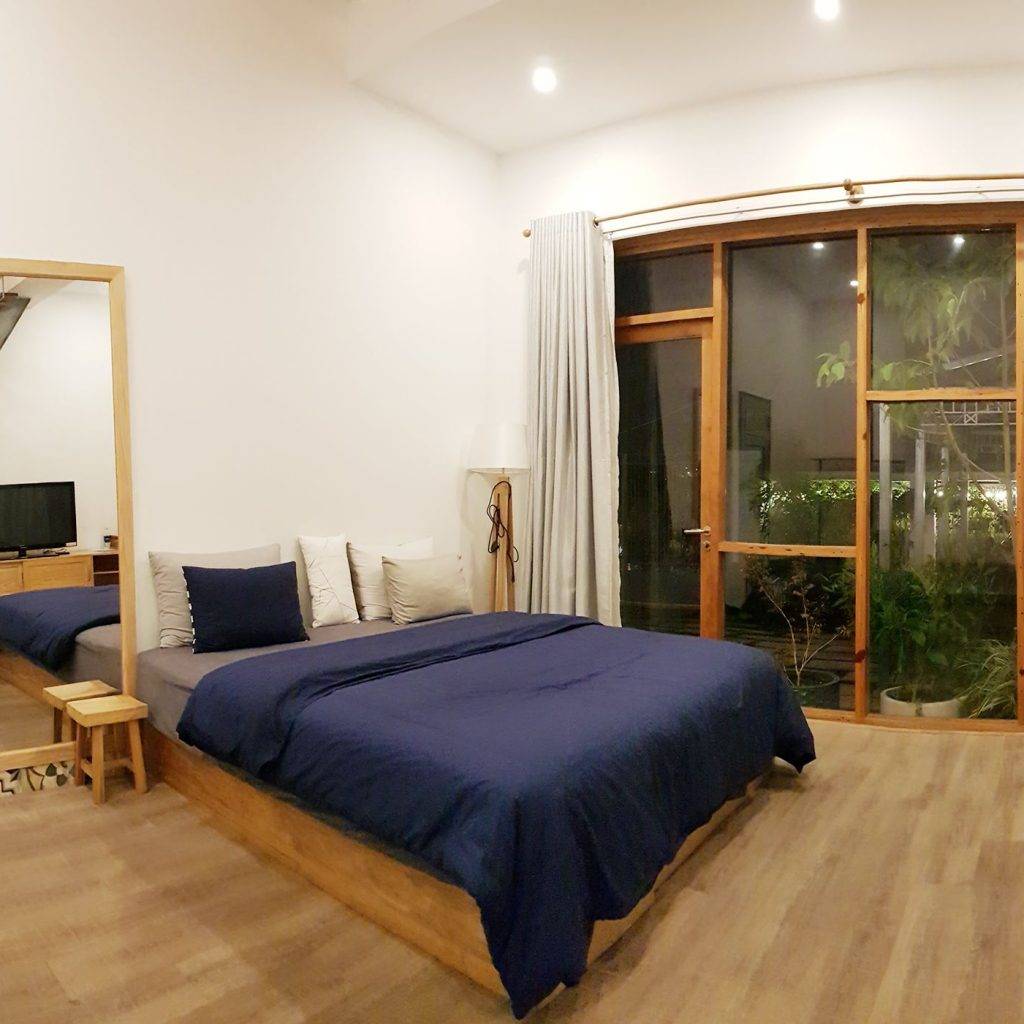 The most common accommodation types you can find here are motels or guest houses renovated from local homestays. Here is a list of suggestions:
– Tham Trang Guesthouse (0935 532356) – from 100,000 VND/person/night.
– Bich Thao Guesthouse (0945 054938) – from 300,000 VND /room1/night.
– Cam Hong Guesthouse (0125 9450946 – 0125 3542285) – from 300,000 VND/room/night.
– Binh Hung Guesthouse (0916650249) – from 300,000 VND/room/night.
– Bao Bao Guesthouse (0124 5043596 – 0967615375) – from 300,000 VND/room/night.
To experience the local life and get close to the sea, you can rent a hammock or mattress at raft houses with a very cheap price of 50,000 VND/person/night; or choose a flat place to set up camping overnight on the island.
Read more: SIX SENSES NINH VAN BAY RESORT – THE MOST BEAUTIFUL ISLANDS IN NHA TRANG
V. What to do on Binh Hung Island
1. Visit many beautiful beaches
Binh Hung Island is a paradise for wild turquoise beaches. The first stop is Bai Kinh – where boats carry passengers to Binh Hung Island. The beach is clean and suitable for families with kids to play around. There are also tent rental services for tourists to rest.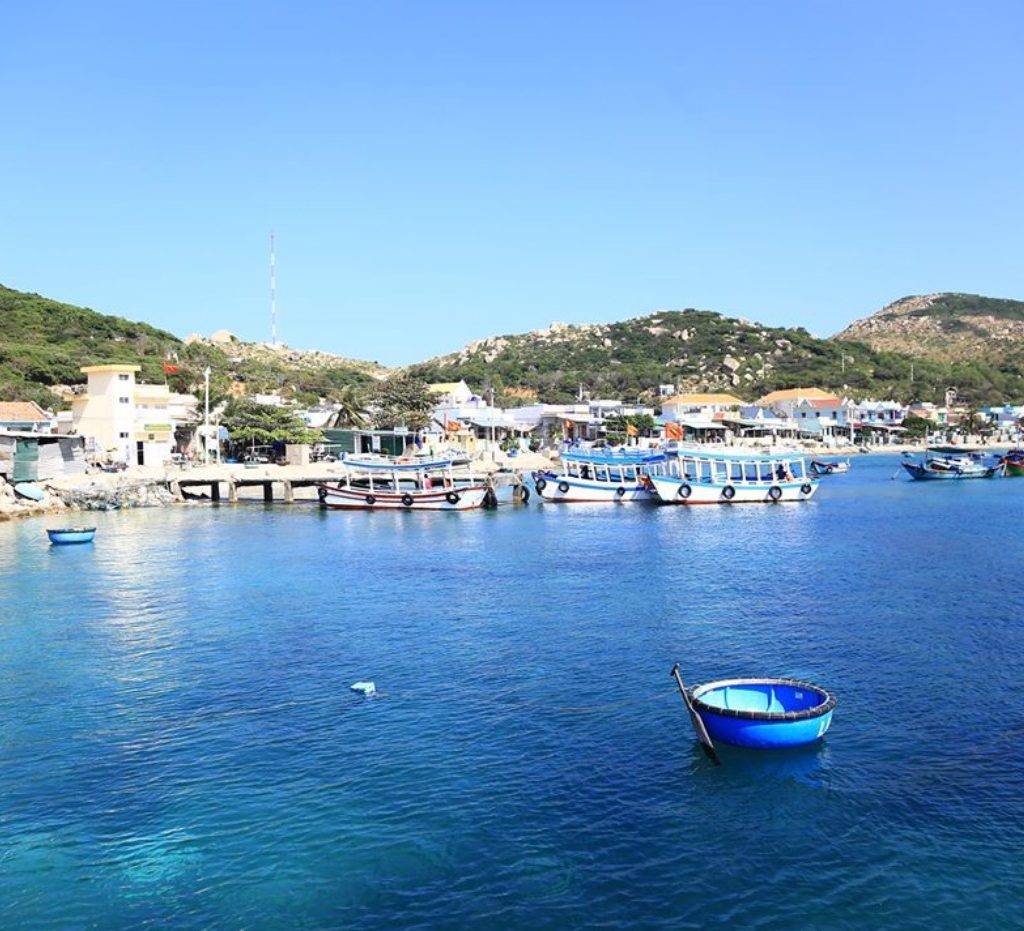 The other places you can visit around the island are Bai Chuoi and Bai Da Trung. Bai Chuoi has the deepest sea level among them all, so it's only suitable for those who swim well or with a life jacket. Meanwhile, Bai Trung impresses you with huge, round, and big stones like dinosaur eggs; however, the beach is not ideal for swimming since it's full of stones. To get here, you walk up to the Hon Chut lighthouse area, there will be a road on the right-hand side to go down Bai Trung.
It's better to find a local boat and negotiate with them for a tour around the whole area, which expectedly costs you more or less 500,000 for a two and a half hour trip floating past the village harbor full of lobster farms and small fishing boats, then moving to the uninhabited eastern side of the island. From there, you can enjoy diving in the cool water and watching the reef.
Read more: 9 COMMON TRAVEL MISTAKES OF TOURISTS
2. Admire the whole island view from Hon Chut Lighthouse
One of the most popular attractions on Binh Hung Island is the Hon Chut lighthouse built-in 1988. The lighthouse has long helped ships operating in Khanh Hoa waters navigate and determine their position.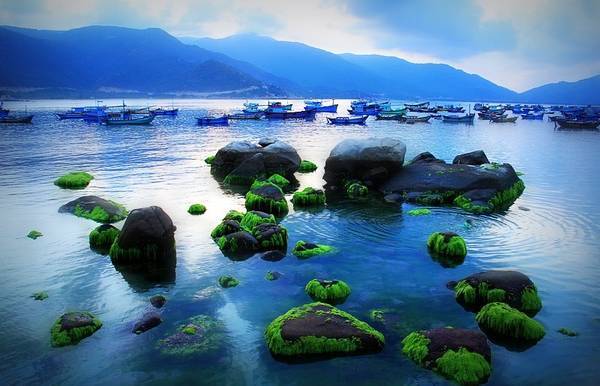 To reach the lighthouse, you can go to the lighthouse by private motorbike or there is also a tram service that will take you up there. With an altitude of 16m, this is a suitable place to enjoy the panoramic view of the vast sea and islands, especially at sunset and dawn, with ships and boats passing back and forth at Cam Ranh port.
3. Walk around the island to get close to local life
Binh Hung Island is relatively small, making it convenient to get around on foot. Leisurely strolling will help visitors relax to explore every corner and interesting destination on the island, especially the fishing villages and the lobster farms of ​​the residents. In addition to seeing how they work, try feeding and caring for the home-farming seafood. Then, experience a night sleeping at lobster rafts with the fishermen.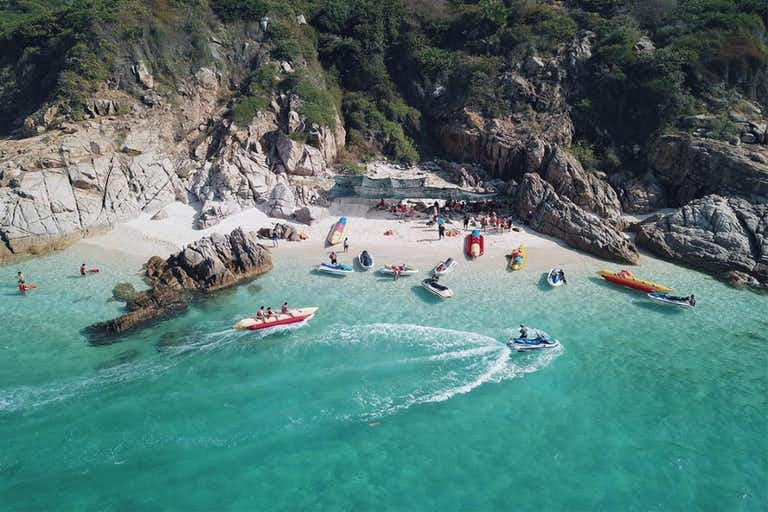 Additionally, every time you are tired stop by Bien Xanh Cafe near the sea for a break while admiring the scenery of blue waves crashing on the shore. If you do not want to spend too much energy on walking or want to save time, you can choose motorbikes as a means of transportation. Typically, motels and hotels in the area feature rental motorbikes service at affordable prices, from 120,000 – 150,000 VND/day.
Read more: Phu Yen