Cai Rang floating market, a lively water commerce spot through generations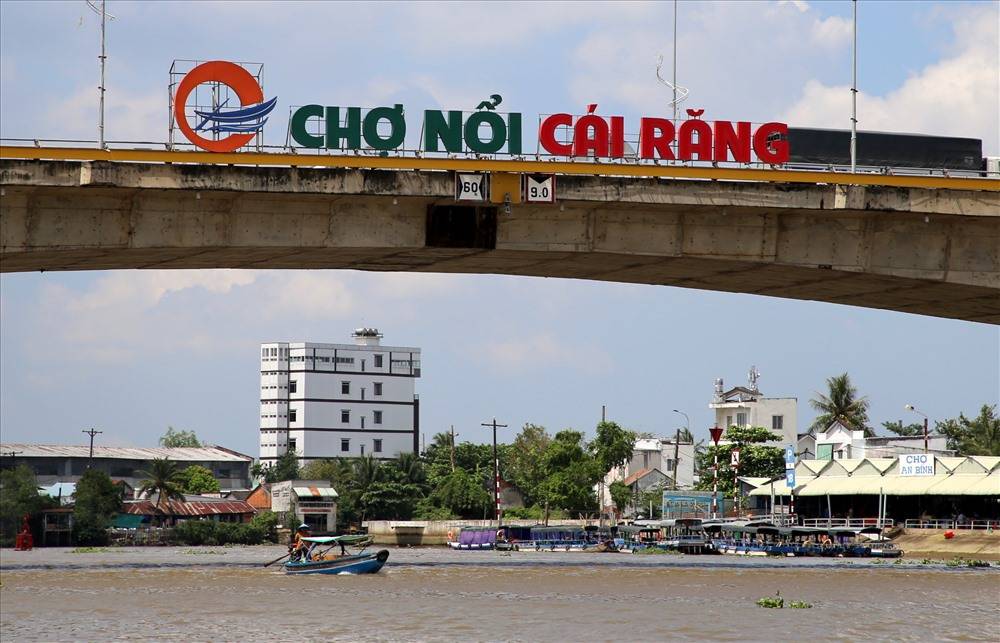 A check-box to complete in every Mekong Delta trip is taking a tour to the floating markets which are not about tourism but focused on real commerce. Formed long ago when the road was not so developed, Cai Rang market – Can Tho became a spot on river for local vessels to exchange all variety of good lines; in which, buyers can identify what the traders are selling through the samples hanging on the top of a long pole in front of their boats.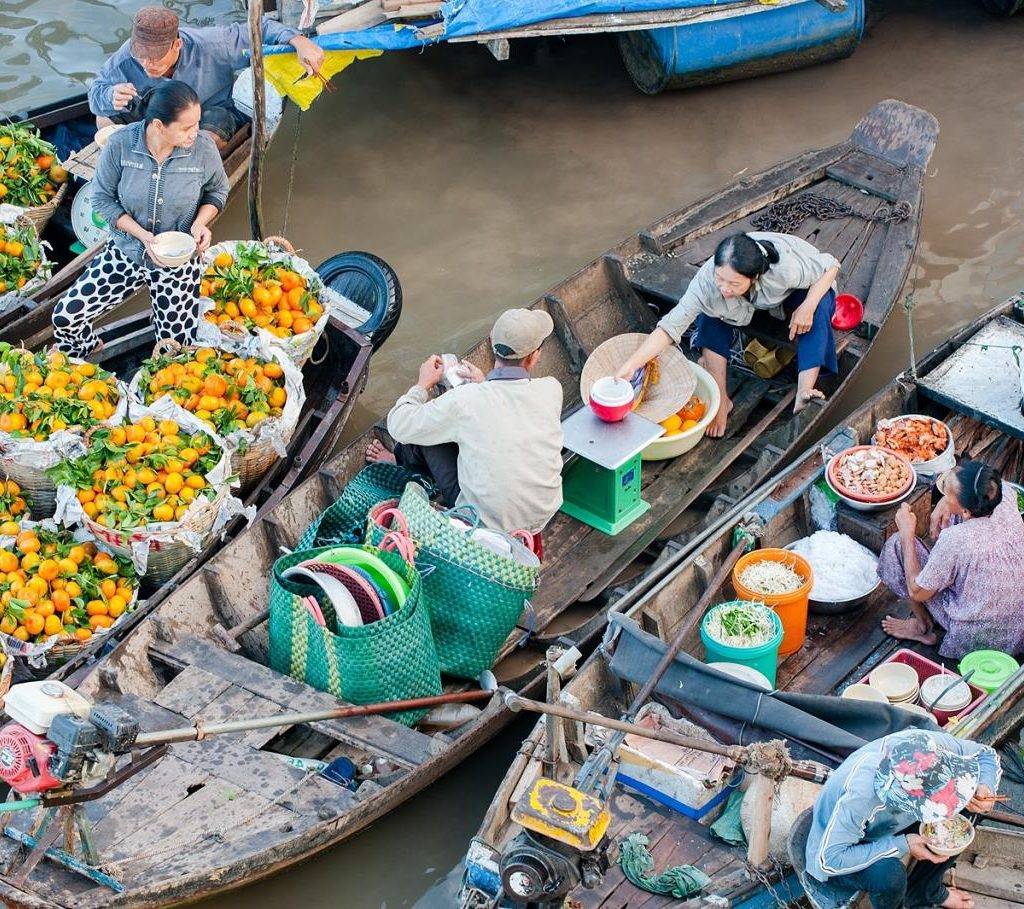 Gradually, the business activities here are more and more exciting, Cai Rang floating market becomes a unique landmark for tourism in the region, where visitors can observe the life of merchants on boats as "mobile apartments', with full amenities, flowerpots, pets, and even motorbikes. The pace of the people's life here is sometimes fast, sometimes slow harmonious with the beat of the water waves over the years.
Read more: An Giang – The highlights of water lifestyle in Mekong Delta
I. About Cai Rang floating market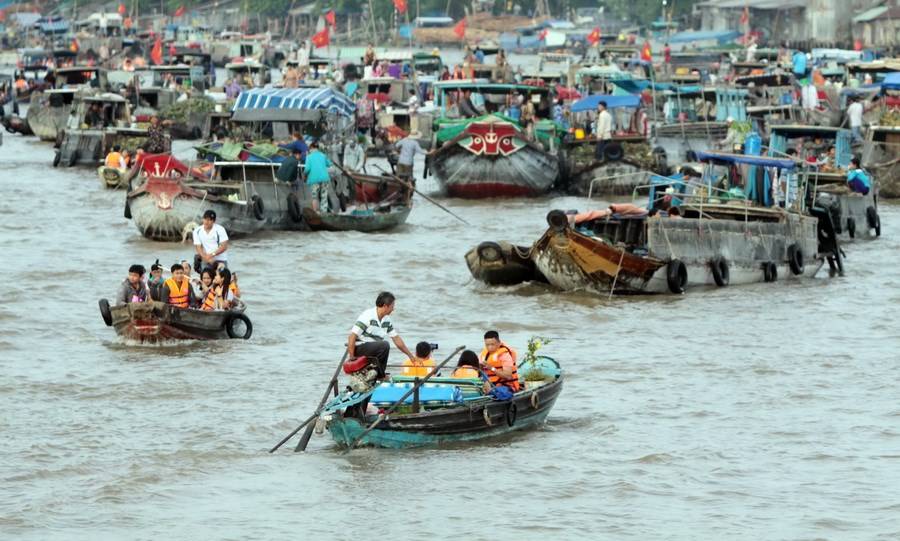 Cai Rang floating market is located on the waterway of Can Tho river – Xa No canal, 6km by road from the city center. Like many other floating markets in the West, such as Cai Be (Tien Giang), Nga Nam (Soc Trang), or Long Xuyen (An Giang), it's hard to determine when the market was formed exactly. The only conclusion is that it was opened due to the essential needs of the residents associated with river topography.
As being convenient for trading with neighboring provinces, Cai Rang floating market has become the largest and busiest spot in the Mekong Delta. The merchants are selling diverse goods, from household items, handicrafts to vegetables and special fruits of the West. The boat owners will hang some samples they sell on a pole – called "beo" so that buyers can easily recognize it.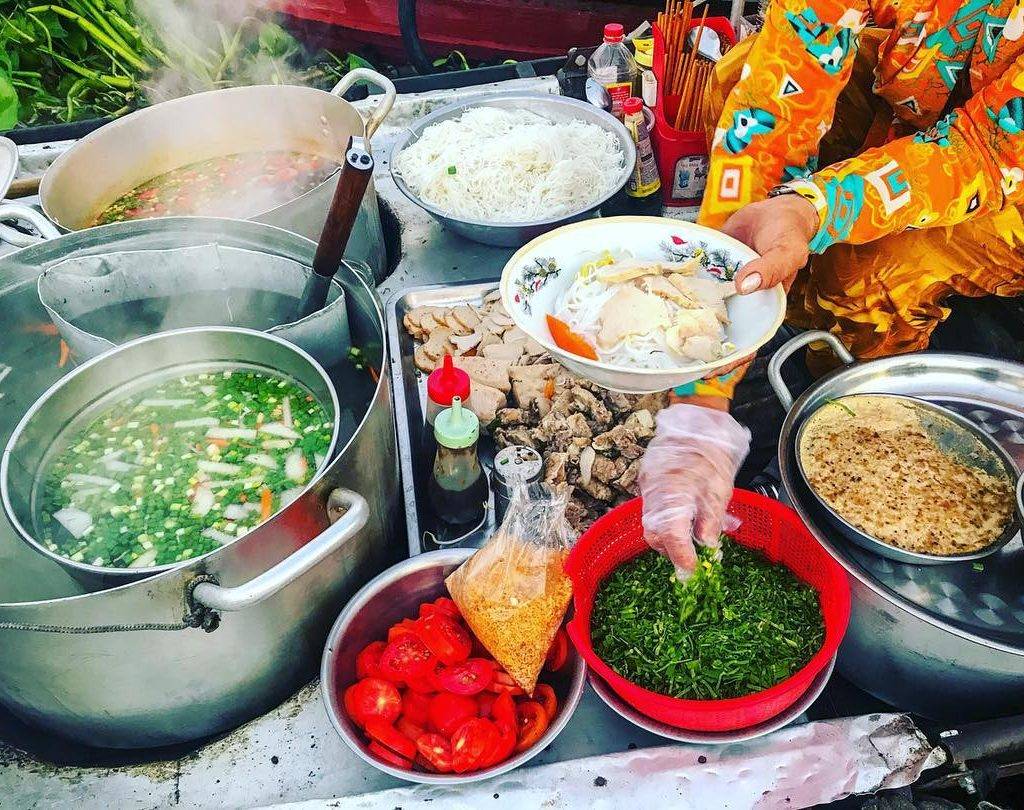 And yet, numerous food-court boats are also available to offer tourists breakfast dishes and delicious Vietnamese coffee. The fact of sitting on a small boat swaying above water while enjoying a rich bowl of noodles with only 15,000 VND is super exciting. This is also the experience captivating Gordon Ramsay's heart when having a savory Bun Rieu (noodles soup) here. Sometimes, traffic jams can happen – that's when boats rub against each other and the helmsman uses legs, hands, and oars to push to make space. This scenery is quite interesting and not as annoying as the one you have on the road.
One reason that makes this place more attractive is the locals. Though their life on the river may be wandering around, they are always cheerful and happy. Merchants will gladly smile at you, wave at you, even when they have no idea about English communication.
Read more: Southwestern Vietnam, the harmonious rhythms of river and tropical landscape
II. How to get to Cai Rang floating market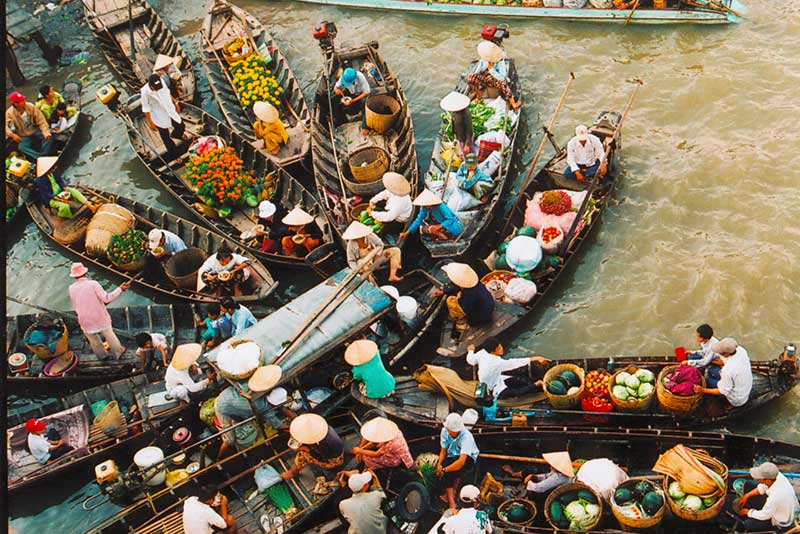 You can straightforwardly book a Mekong Delta tour with the price of 700,000 to 4,500,000 VND from the travel agencies in Sai Gon. They will offer you a proper schedule of a half-day, full-day, or package tour combining with other Mekong Delta areas.
Besides, tourists can either ride a motorbike or take a bus from Saigon to Can Tho. For the bus option, Thanh Buoi and Phuong Trang are reputable bus companies to choose from with the price of 120,000 VND/way. In case you want a motorbike trip, follow National Highway 1A, then go in the direction of My Thuan Bridge, and turn left in the direction to Can Tho. It will take you about 4 hours by motorbike to get to the city. From there, continue to Ninh Kieu Wharf to take a boat tour of the Cai Rang floating market.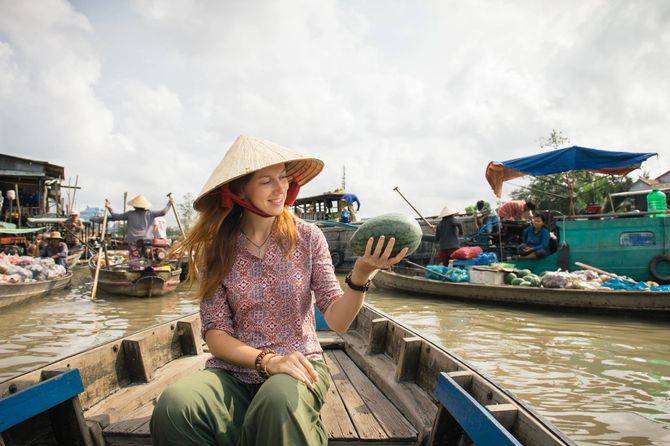 You will need to rent a boat to visit the market, depending on the number of groups, you can share a large boat with others for about 50,000VND/person or rent a private boat for 500,000 – 800,000 VND. In general, it will take you about 40 minutes to take a boat from the pier to Cai Rang floating market, passing stilt houses built on the water and colorful boats of different sizes.
Read more: A boat trip through the long green Persian carpet – Tra Su Cajuput Forest
III. Best time to visit the market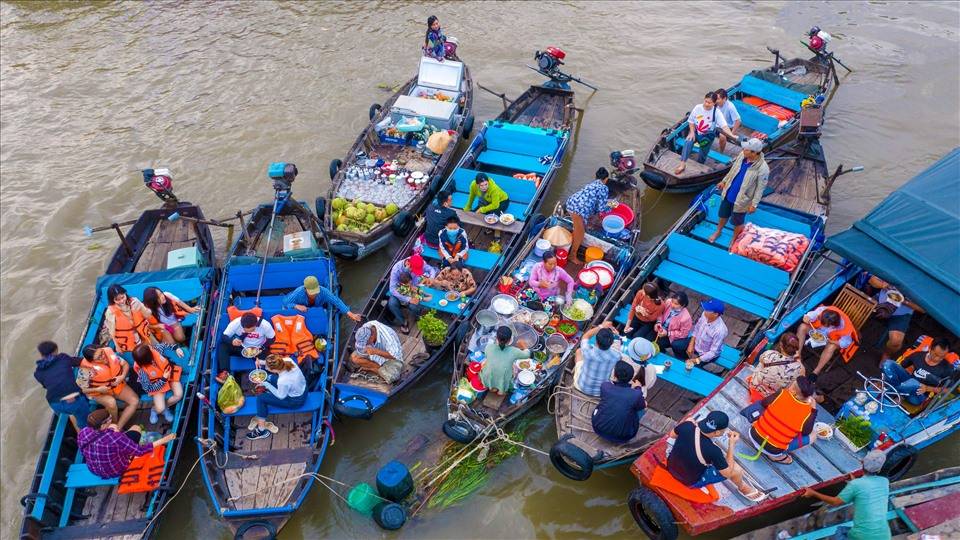 At any time of the year, you can experience the bustling atmosphere at Cai Rang floating market. Still, the floating season from mid-August to November is the time when Can Tho in particular and the West, in general, are most beautiful and rich with a variety of regional specialties. Note that the floating market also rarely operates on Lunar New Year days and the 5th of the lunar May.
From about 4-5 am daily, all the boats have started to shore to the river, so you need to go a bit early to arrive at the busiest moments.
IV. Accommodation in Cai Rang – Can Tho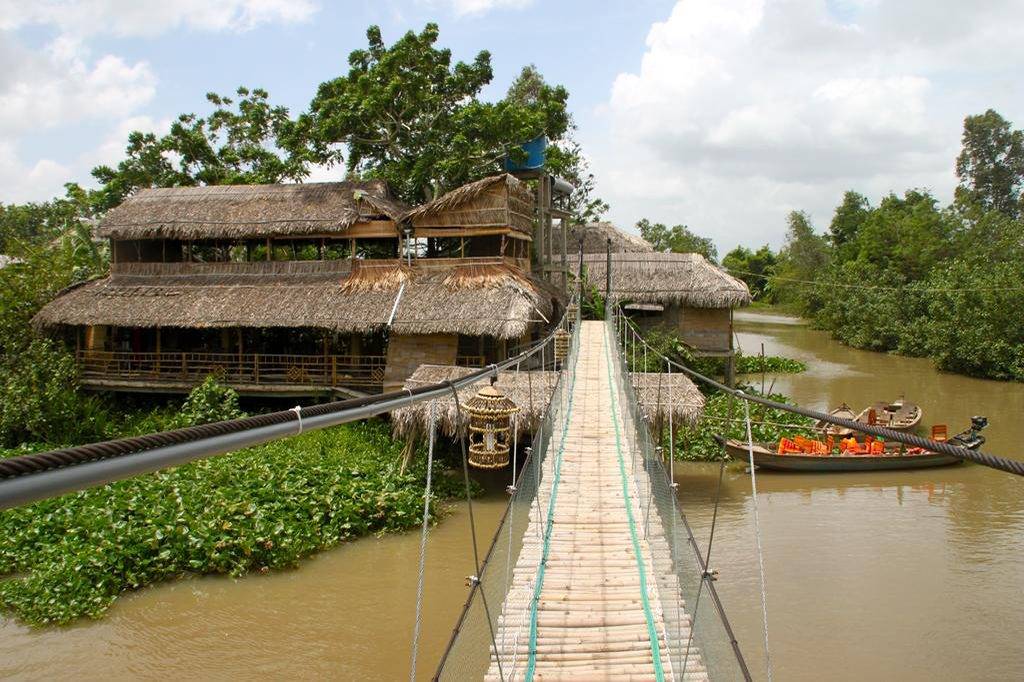 Can Tho tourism in the past few years has been blooming, which leads to the development of impressive garden-style resorts and homestays. Those accommodation types mostly feature rustic garden houses, fish ponds with bamboo bridges crossing the river. Guests will be welcomed attentively, comfortably fishing, picking fruits, and cooking right at the place. The room rates range from 350,000 – 1,000,000 VND, depending on the type.
*Suggestions:
– Nguyen Shack Homestay
Address: Ong Tim Bridge, Thanh My, Thuong Thanh, Cai Rang, Can Tho
Tel: 0292 6288 688.
– Home Travel Mekong Can Tho
Address: 178C, Thanh My area, Thuong Thanh, Cai Rang, Can Tho
Tel: 097 822 82 42
Read more: SOME TYPES OF MEDICINE NEEDED FOR TRAVELING