Phan Thiet, the alluring intersection between the desert and the sea
Approximately 200 km from Ho Chi Minh City, Phan Thiet – Binh Thuan encompasses a coastline of nearly 60 km, popping up with a harmony of seas – islands and undulating deserts. While the pristine blue beaches at the wild islands of Phu Quy and Hon Ghenh are ideal for an escape from the city's heat and noise, the stretching white deserts at Bau Trang – Bau Sen attracts tourists with fun activities, like off-road sand racing, hot air ballooning, camel riding, etc.
Additionally, the diverse system of high-class hotels and resorts which are not inferior to other Vietnam famous tourist centers, along with fresh, affordable seafood have made Phan Thiet a brand-new paradise to visit.
I. About Phan Thiet
Phan Thiet is a city in Binh Thuan province, located on National Highway 1A, 183 km northeast of Ho Chi Minh City. The city was only noticed after Rang Beach, which is a few kilometers northeast of the city center, was said to be the best place to see a rare total solar eclipse in 1995.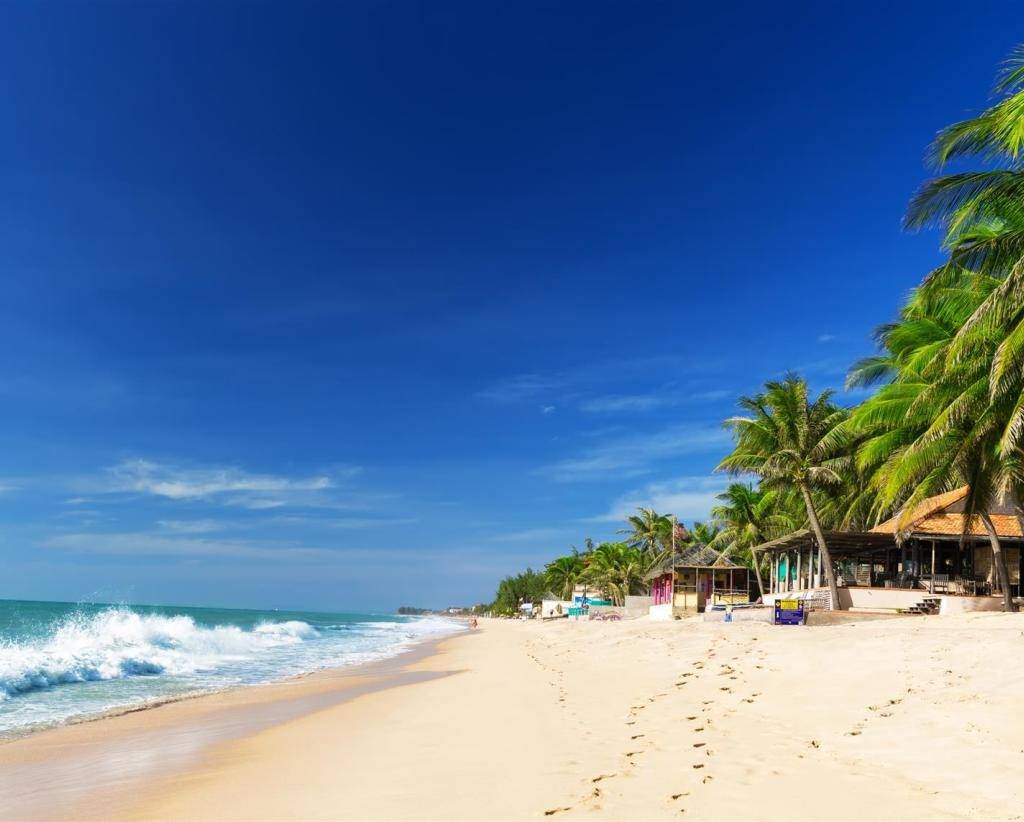 This place features a typical tropical and arid climate with a lot of wind, sunshine, few storms, no frost, making it perfect for sea tourism. The best time to travel to Phan Thiet is from December to February next year, when the temperature drops to the lowest – the air is cooler and the sea is crystal blue. In contrast, April-May is the hottest period in Phan Thiet with an average temperature of 30 degrees Celsius.
Phan Thiet's population is mainly Vietnamese, with a part of Chinese and Cham people living in the city center. The interference of ethnic groups has made their local culture more distinctive, expressed deeply through the relic group of Po Sah Inu Tower, Ong Quan – De Mieu Temple, as well as various traditional festivals such as Nghinh Ong Quan Thanh De (Chinese people), Ka Te Festival (Cham people), etc.
II. Phan Thiet attractions
1. Phu Quy Island
Phu Quy Island, or Cu Lao Thu, 56 nautical miles from Phan Thiet city, is an archipelago consisting of 12 large and small islands. The island is only about 17 square kilometers, small enough to explore it all in just one day. This place attracts visitors by its deserted beaches, unspoiled natural setting that hasn't been spoiled by heavy construction, and fancy tourist services, which also means no large hotels available but small homestays and guest houses.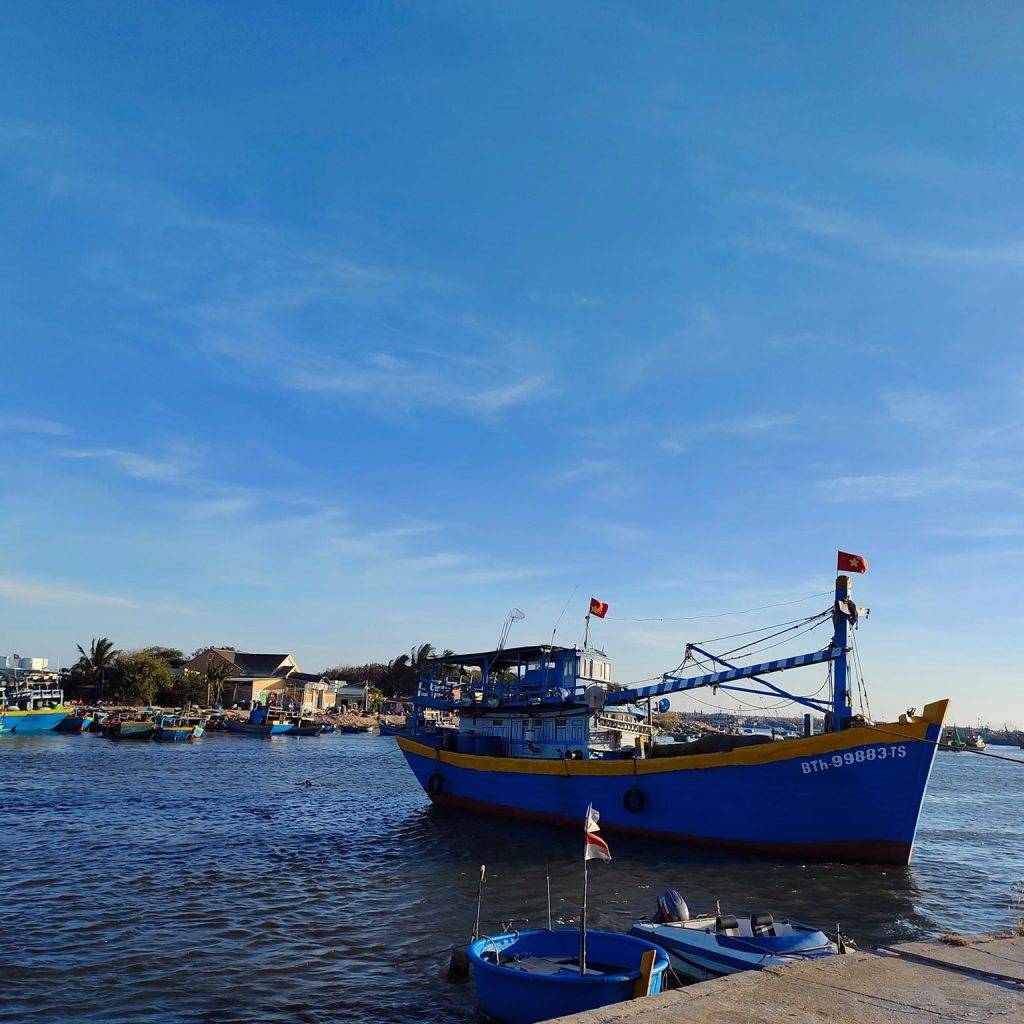 Currently, the only means of getting to the island are boats, of which Phu Quy Express boats will travel about 3-4 hours, cargo ships usually take 6-9 hours on average, and Superdong speedboats only take around 2 hours and 30 minutes.
Famous sightseeing places on the island are Trieu Duong Bay, Ganh Hang, Cao Cat Mountain, Phu Quy Lighthouse, wind power area, Linh Son Pagoda, flagpole of Phu Quy Island, Van An Thanh – where to display the big whale skeleton. Enjoying typical seafood in Phu Quy Island is also a great experience. Floating raft restaurants on the east side of the island are a notable option, with typical dishes of moon crabs, slipper lobster, Phu Quy king crab, grouper, etc.
Note: Since the island is still controlled by the military, foreign travelers must obtain a permit to visit this place.
Read more: PHU QUY ISLAND – THE PRISTINE ISLAND OF PHAN THIET
2. Hon Ghenh
Less than 1 km from Mui Ne, located at an altitude of 30m above sea level, Hon Ghenh is like an isolated oasis in the middle of the vast ocean. Seen from above, this place looks like a sea turtle swimming ashore. On the island, there are no inhabitants, nor are there any accompanying tourist services. It is home to many species of birds along with rocks, sand, and weeds. And the temple worships the god Nam Hai, where the local fishermen take turns to smell the smoke.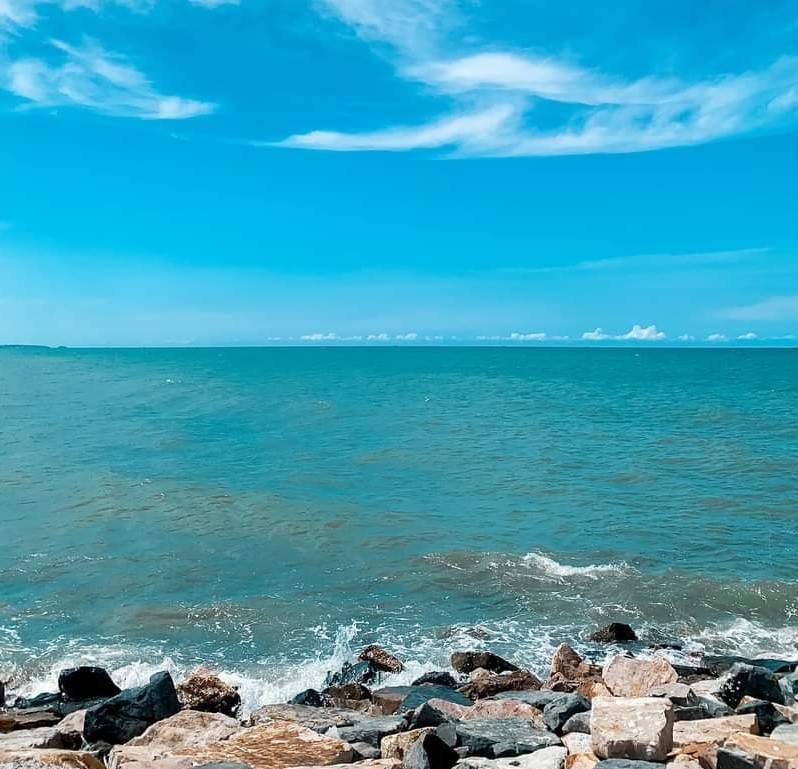 To come here, you can either take a shuttle service from the resort village of Siva (the back beach of Mui Ne) or rent a boat of fishermen for about 200,000 VND/ boat/ round trip for 10 people. The boat ride will take about 10 minutes.
Looking at the shore from the island, on the left-hand side is Mui Ne range crashing into the sea, far to the right-hand side is Hon Rom. Standing at this position, you can see from Mui Ne to Hon Rom like giant arms embracing the sea in your lap. If you want to see Hon Lao, it is best to go in the afternoon, because you will see the beautiful afternoon and sunset on the sea. If you want to stay longer to fish, you can go in the morning, so prepare some fishing rods and bait, sometimes lucky, you will catch big fish.
3. Bau Trang – Bau Sen
Bau Trang (Bau Ong), about 65km from Phan Thiet, is a beautiful sight where the desert intersects with the sea. Two lanes of provincial road cross here dividing one side of sand encroaching on the sea, the other side is a long carpet of green grass. From above, the road looks like it is covered with snow by the characteristic white sand color; depending on the angle of the sun or the cloud cover, the sand here can turn pale yellow.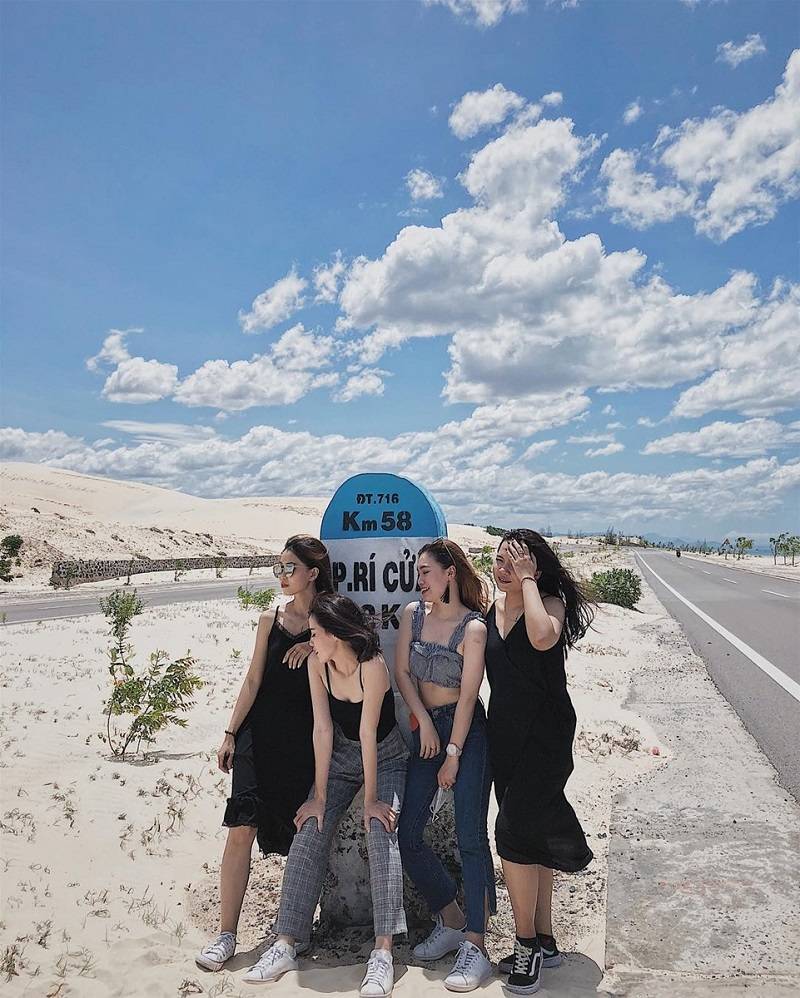 In the local language, "bau" means lake. This place used to be a large lake that emptied into the sea. Later, the lake was buried by sand, then people added more to make a road. The remaining water area became two small lakes, Bau Ong and Bau Sen (Bau Ba). In the summer, lotus flowers and water lilies bloom brightly in Bau Ba Lake, surrounded by tall casuarina groves.
Visitors here can also experience some entertainment activities such as motorboat rides, stand-up paddleboarding (SUP) or kayaking, fishing, high-speed riding on sand dunes, camping, etc. Those who love thrills can rent an off-road vehicle for about 400,000 – 600,000 VND/car for two people for 20 minutes.
Read more: BAU TRANG – THE LITTLE SAHARA DESERT
4. Suoi Tien (Fairy Spring)
Suoi Tien is a small stream located in a sand valley on Huynh Thuc Khang road next to Hon Rom. With the unspoiled natural scenery created from rocky outcrops, sand, and water, this place looks like a charming landscape picture if viewed from above. You simply take off your sandals, step into the winding alluvial red water, barely cover your toes, and walk to the beautiful waterfall at the end and back again. The path's view will keep getting better and better as you keep moving forward. But you must go back to the exit, so measure your time.
It's a pleasant walk with many photo opportunities, including an opportunity to have your photo taken with a six-foot python. There are refreshments available along the way, including ice cream and drinks. The entrance fee is cheap, only 15,000 VND/person, you are allowed to take a trip for an hour or two. In general, Suoi Tien is a nice unexpected spot in such a busy town.
5. Ke Ga Cape
Ke Ga sea area will be the first place you come to when coming to Phan Thiet – Binh Thuan territory from National Highway 1. This place has unspoiled landscapes, clear blue water, strange rocks, and an ancient lighthouse. . At high tide, Ke Ga is isolated like an island, but when the water recedes, a strip of sand appears connecting Ke Ga cape to the mainland.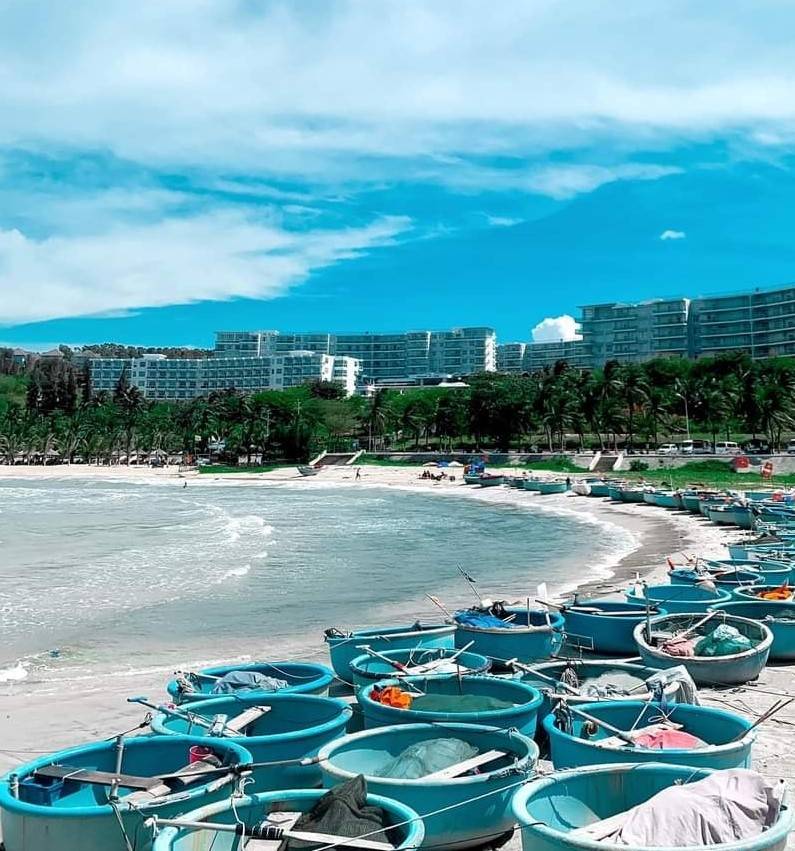 From the mainland, it costs you about 50,000 VND/person to take a canoe to visit the island with Ke Ga Lighthouse, which is the tallest and oldest lighthouse in Vietnam. The likable people who guard the lights will be willing to use basket boats to bring tourists to the lighthouse. The afternoon is also a suitable time to see the sunset more attractively than in the movie. Inside the lighthouse, there are 183 steel spiral steps leading to the top.
6. Mui Ne Fishing Village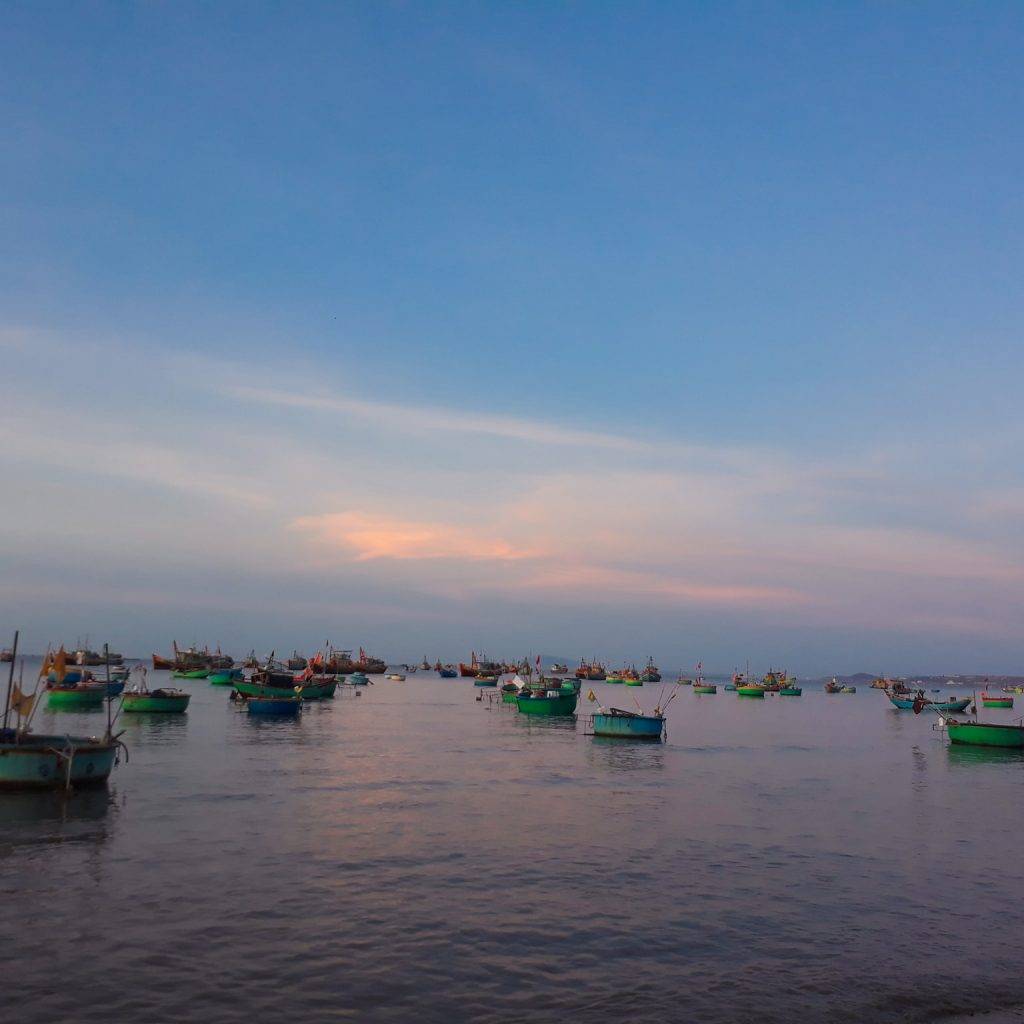 Nestled quietly on Huynh Thuc Khang street and interspersed between the soaring coconut trees, Mui Ne fishing village always appears charming at dawn until the sun disappears. Right at the entrance to the village, you can see hundreds of colorful fishing boats moored on the water. Not far from the port is a colorful small market with the peaceful beauty of coconut trees surrounding it.
The beach here has shallow parts, suitable for children to play. However, sometimes, there are windy and big waves, that's why it's popular among surfers and kitesurfers. Recently, a number of travel companies have launched a tour package to explore the fishing village and the life of fishermen by kayak for 2-3 hours at a cost of less than 1,000,000 VND.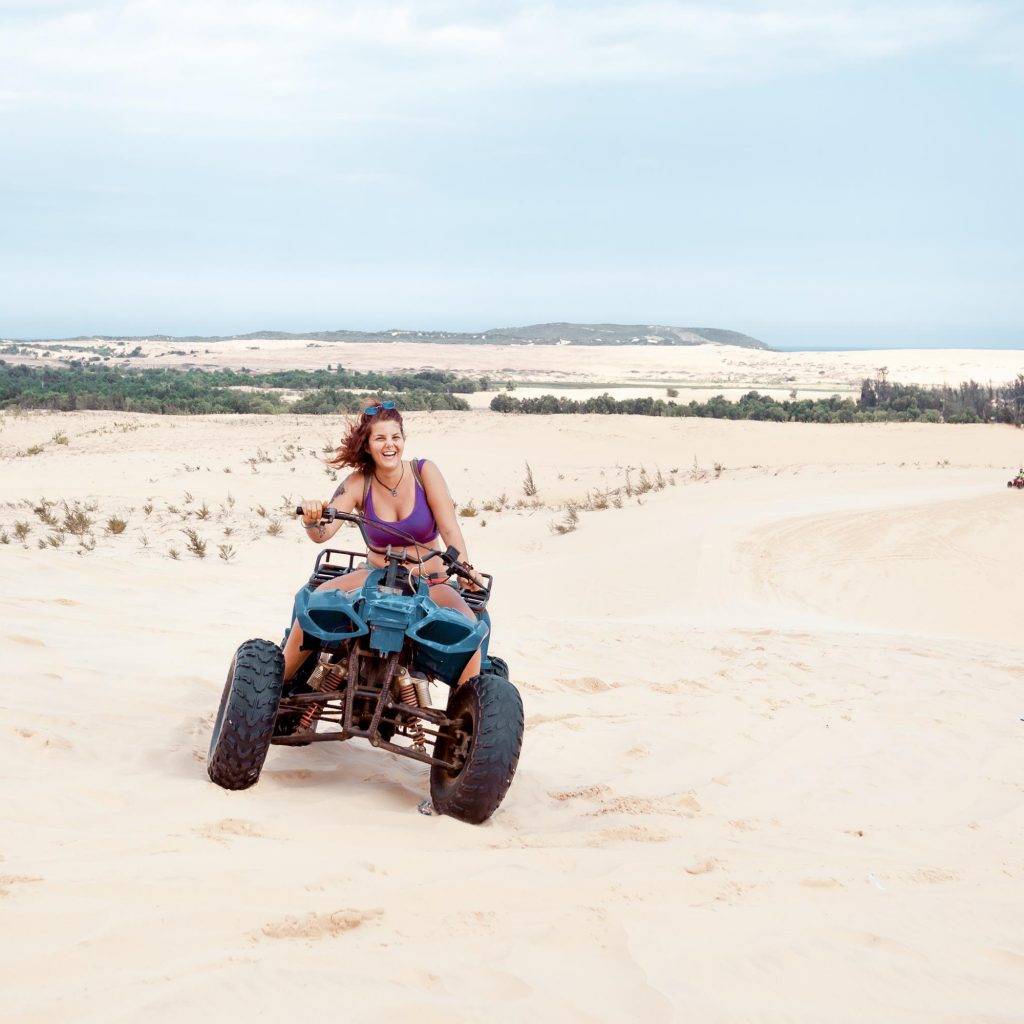 Not far away from the village is Mui Ne Sand Dunes. The unique feature here is that whenever there is a strong wind, the appearance of the sandhill is different from the previous shape, and the color also changes, sometimes yellow, white, white-gray, dark red, etc. All create a beautiful picture of nature. Sliding down from the sand dunes is also a fun experience. With a plank, many adventurous visitors slide down from a high slope. The screams and laughter will give you moments of relaxation.
III. Getting there
1. From Ho Chi Minh
You can travel to Phan Thiet by bus, train, or motorbike.
A few high-quality bus companies at Mien Dong Bus Station are Kumho (035 112 112) or Hoang Long (0623 739 988); or Phuong Trang (038375570) at De Tham street, District 1. The bus ticket price costs 90,000 – 130,000 VND. It's better to choose Kumho and Phuong Trang since they will drop off at Phan Thiet Bus Station and also have a shuttle bus to your hotels and resorts.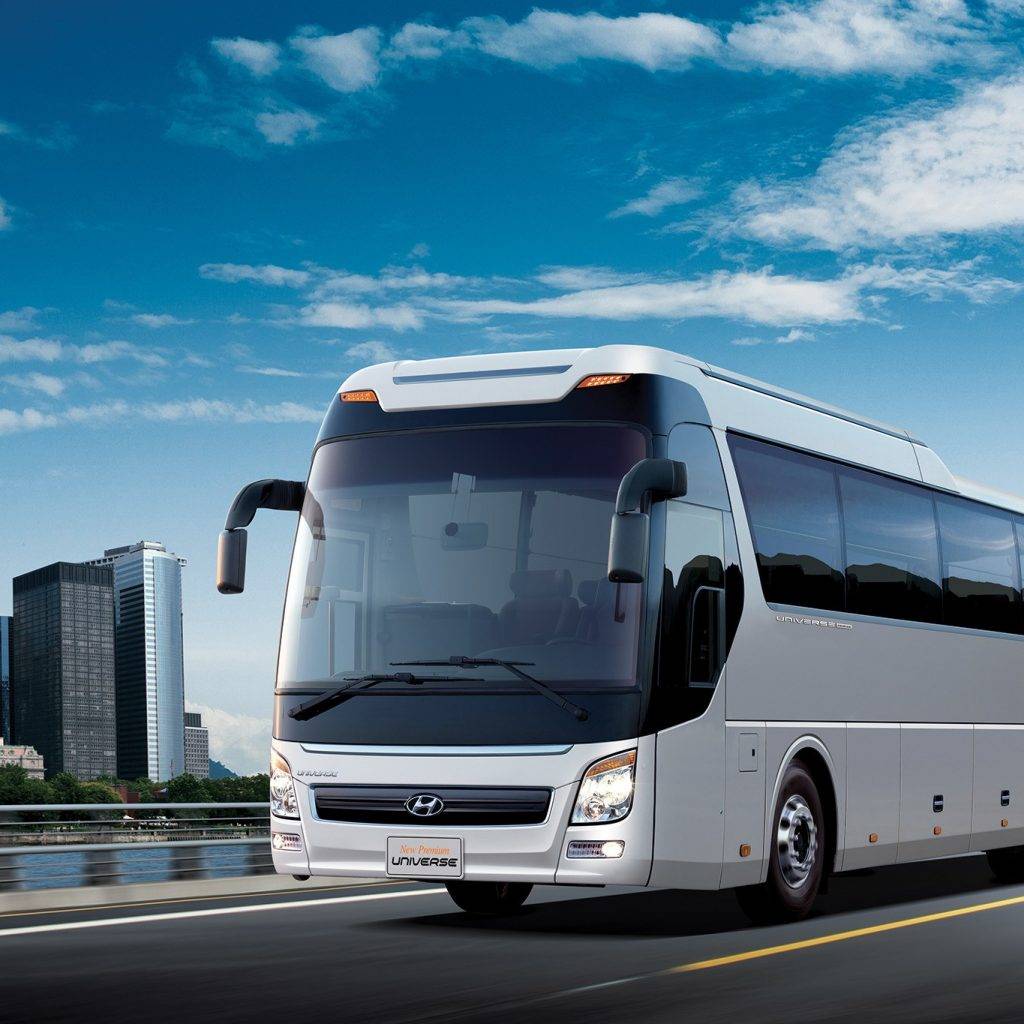 There are two types of trains in Ho Chi Minh city – Phan Thiet; the ordinary trains – SPT and PT4, with the price at 110,000 VND, and the high-quality Golden Train with the price of 160,000 VND.
For travelers using motorbikes, here is the easiest route: Ho Chi Minh City > Highway 1 > Binh Chau, Lagi > Phan Thiet.
2. From Hanoi
Tourists can choose buses of Mai Linh Express and Hoang Long at Nuoc Ngam Bus Station – Hanoi to go to Phan Thiet, with the prices ranging from 700,000 VND – 800,000 VND for 20 – 30 hours.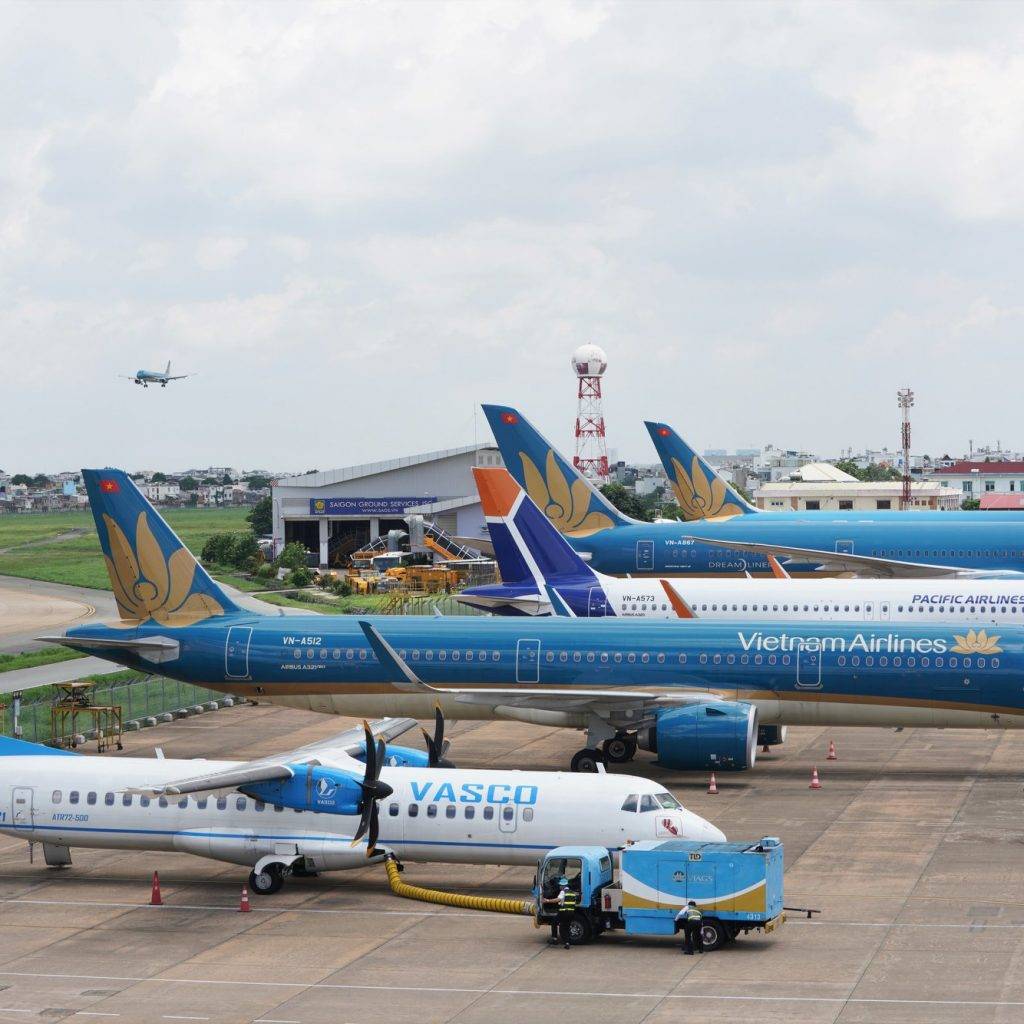 The fastest way is traveling by plane, but Binh Thuan province does not have an airport, so you have to land at an intermediate airport. From Noi Bai Airport (Hanoi), you have two choices:
– Land at Tan Son Nhat Airport (Ho Chi Minh City), then move to Phan Thiet by bus or train.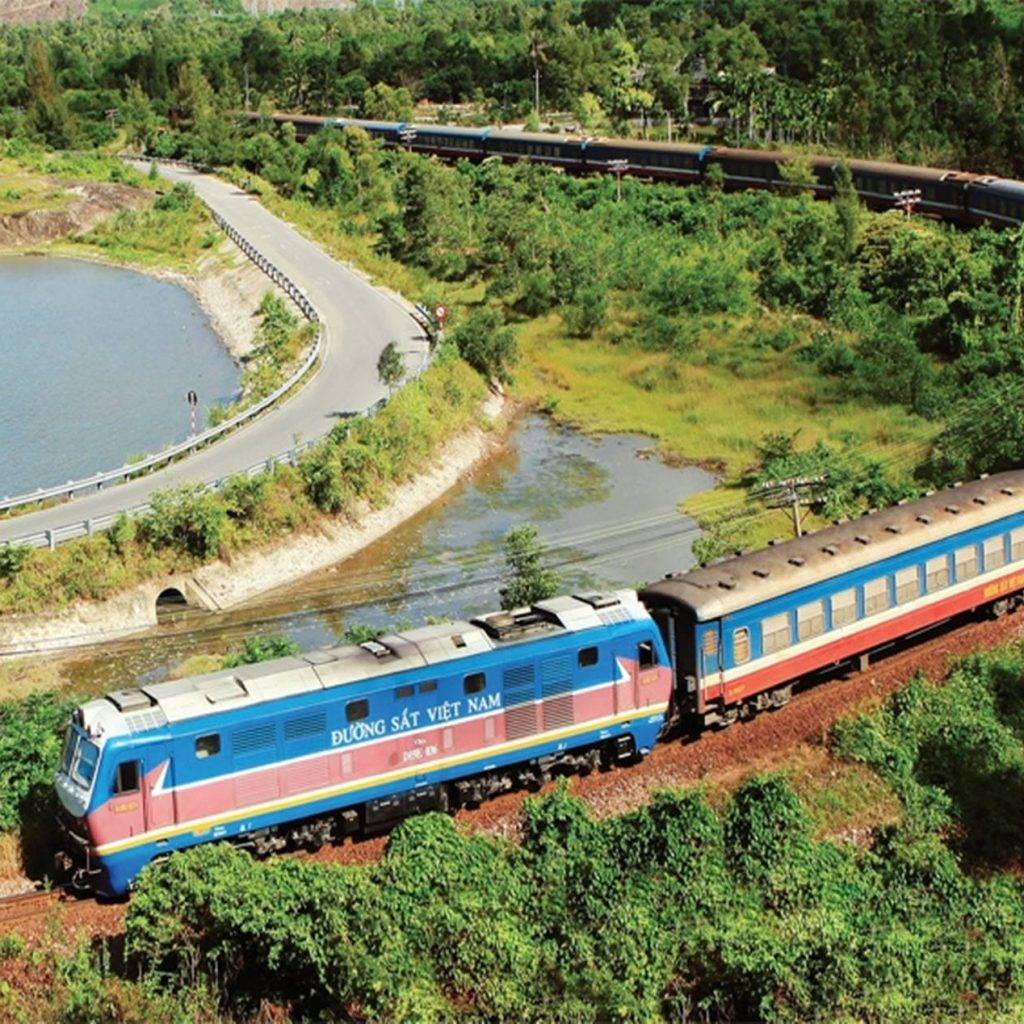 – Directly fly to Nha Trang, then continue to Phan Thiet.
Currently, all domestic airlines, such as Vietnam Airlines, Jetstar, and VietJet Air, operate these routes with airfares of 800,000 VND or more.
*Getting around the city:
With immense sand dunes, poetic beaches, and picturesque fishing villages, Phan Thiet is an attractive place to explore by motorbike. With just about 200,000 VND a day, you can rent a proper motorbike to discover the nooks and crannies of the city.
Taxis are also a preferable vehicle to travel around Phan Thiet. Some taxi companies in the city:
Mai Linh Taxi: (0623) 739 888
Mui Ne Taxi: (0623) 84 88 48
Phan Thiet Taxi: (0623) .814 814
Read more: Adventurous off-road experiences by motorbike on Ho Chi Minh Highway
IV. Accommodation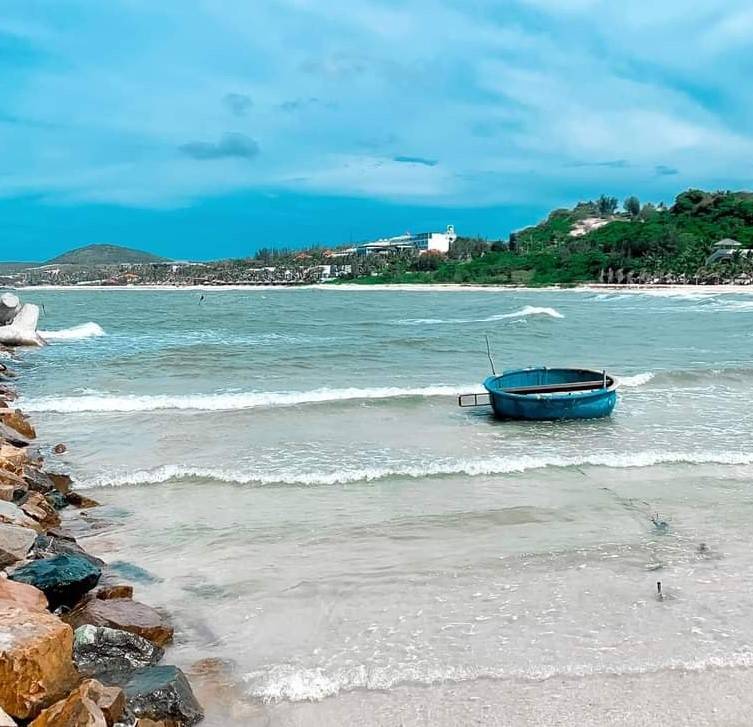 For the convenience of sightseeing and exploring the city both night and day, there are two main accommodation options in Phan Thiet city center and Mui Ne. It is easy to find two or three-star hotels in the central area with reasonable prices from 300,000 – 1,000,000 VND/night. To quickly walk to the sea, you should book a room on seafront streets, like Huynh Thuc Khang and Nguyen Thong. If you want a homestay at a budget price, go to the suburbs, where you will enjoy the most peace and simplicity. In contrast, Mui Ne often focuses on more luxurious resorts and fancy hotels, with an average price of 1,500,000 – 2,000,000 VND/night.
*Suggestions:
Hawaii Beach Resort Mui Ne: 40 Nguyen Dinh Chieu, Ham Tien, Mui Ne
Venus Muine Hotel: 202 Nguyen Dinh Chieu, Ham Tien, Mui Ne Phan Thiet
Home Home Homestay: Nguyen Gia Tu, Xuan An, Phan Thiet
V. Local cuisine
– High-quality bus companies to Phan Thiet:
1. Banh trang cuon: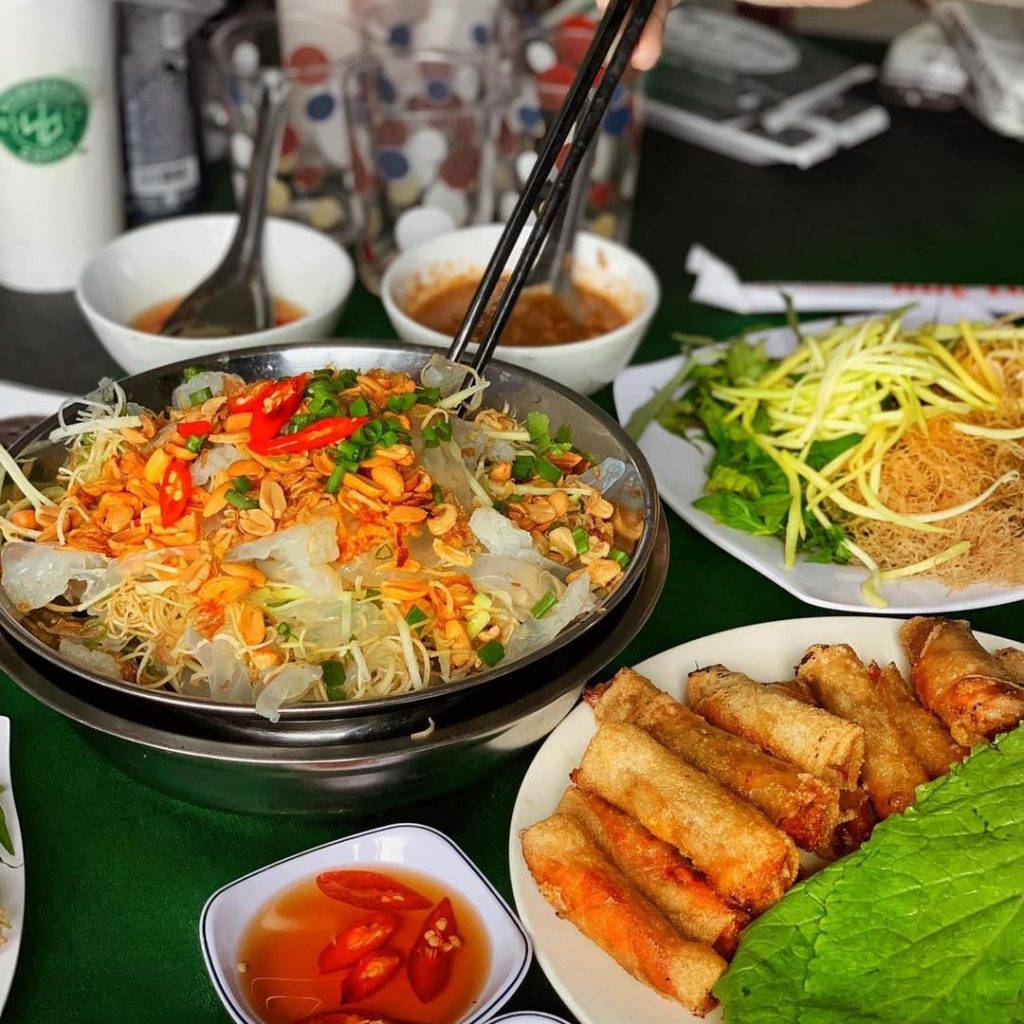 This snack is sold on the sidewalk with the same ingredients of clammy rice paper, shrimp paste, pork rind, and quail eggs. Everything is rolled up in rice paper and grilled over coal. The price for one pax is about 30-40,000 VND.
2. Banh canh: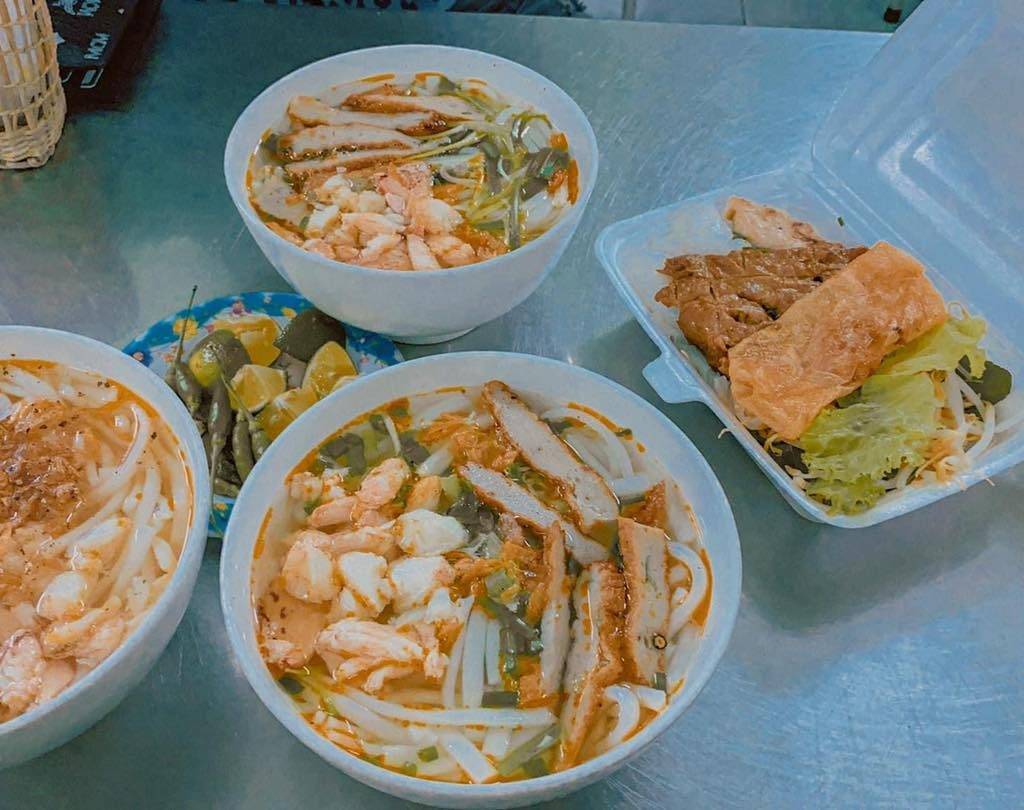 Banh Canh is a delicious breakfast which is basically a type of noodles. There are various toppings to pick like fish balls, steamed sausages, pork hoofs, etc. Once eating the noodles and other things, you can use bread to finish the remaining savory broth. The price of this dish is rather cheap, from 10,000-35,000 VND/bowl.
3. Seafood salad: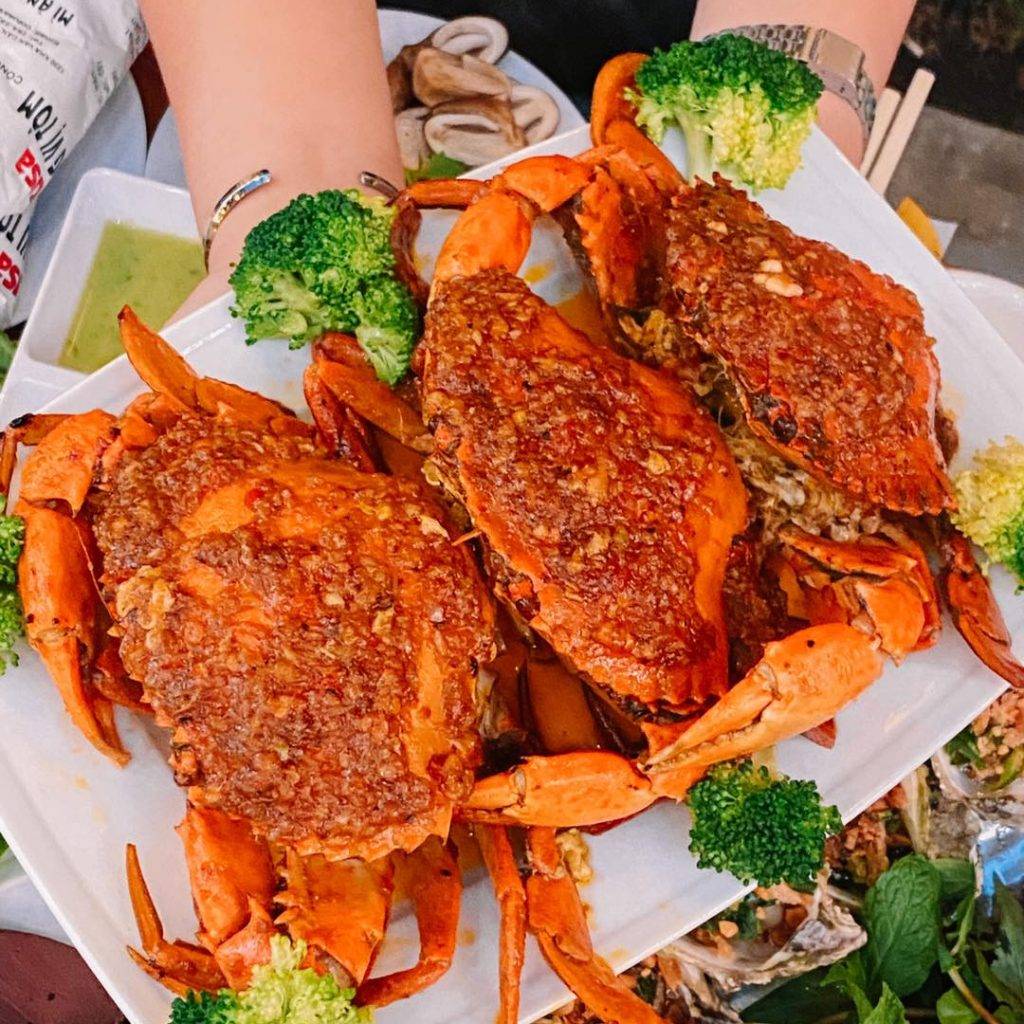 Two salad dishes you will want to try are fish salad and snail salad. Fish salad is made from freshwater fish, served with fresh vegetables, vermicelli, and a special fish sauce. Snail salad includes finely chopped snail, pork, vegetables, fried onions, roasted peanuts, and delicious sweet and sour fish sauce. The prices range from 50.000 VND or up.
4. Banh can: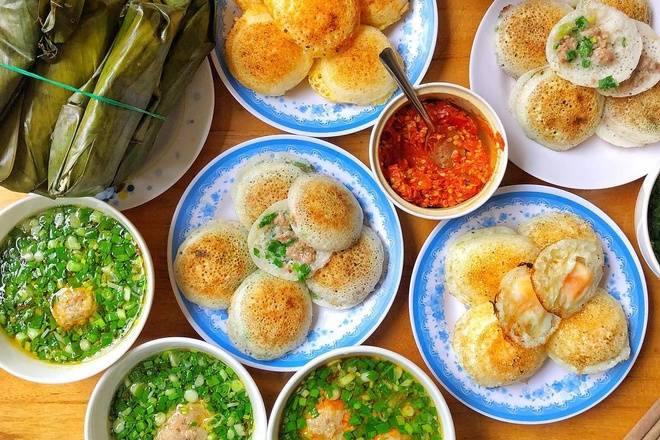 Another famous vendor Phan Thiet snack is Banh Can. You can find many shops selling this dish, mostly in the evening. The yellow crispy round cake is filled with shrimp and pork and will be dipped in fishing sauce and served with some local herbs as well. The cost is also affordable, only for 10,000 – 30,000 VND/plate.
5. Banh re: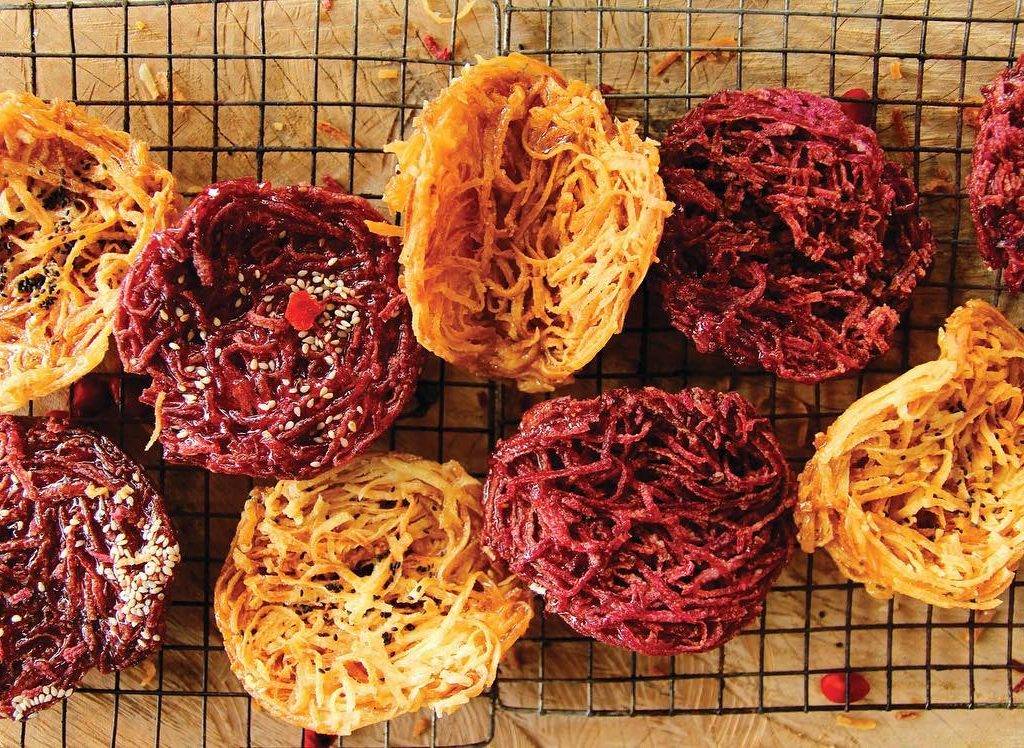 This is a special Phan Thiet cake made of sweet potatoes with a nice flavor and lovely color. The cake can be preserved for a long period, so it becomes one of the best-selling specialties in the city for only about 20.000 VND / 10 packs.
Read more: THE UNKNOWN ATTRACTIVE QUANG NOODLE SHOP IN MUI NE