Tam Chuc Pagoda – The largest pagoda in the world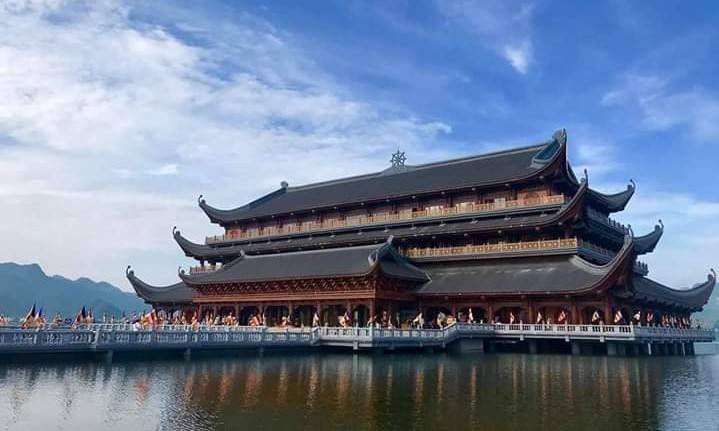 Tam Chuc Pagoda was built on the foundation of the ancient pagoda dating back more than 1000 years, with the front facing the lake and the back facing a mountain. This place is like a Ha Long Bay on land attracting thousands of visitors from all over the world every year.
1. The legend of Tam Chuc Pagoda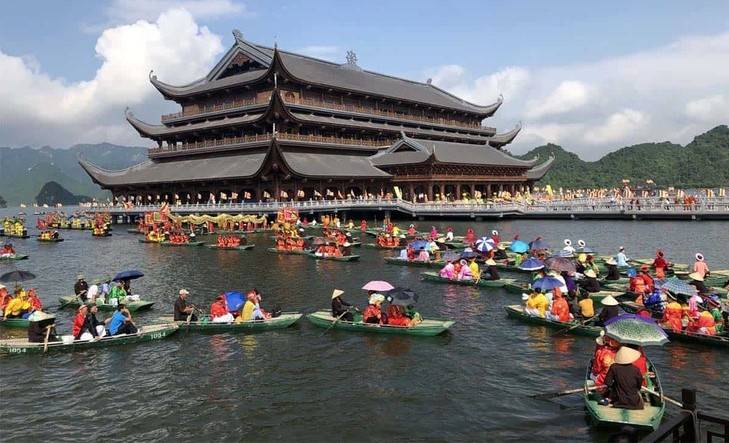 Tam Chuc Pagoda has a total area of nearly 5,000 hectares, including a 1,000-hectare lake, 3,000-hectare natural forest, 1,000-hectare valleys located in a special position; three sides are surrounded by mountains, while the front is Tam Chuc Lake with six emerging Luc Son Thuy mountains. Legend has it that Tam Chuc Pagoda is associated with the legend of "Tien Luc Nhac – Hau That Tinh". Accordingly, in the southwestern mountain range towards Huong Pagoda, there are 99 mountains, 7 of which are closest to Tam Chuc village called That Tinh mountains, and the pagoda here is named That Tinh.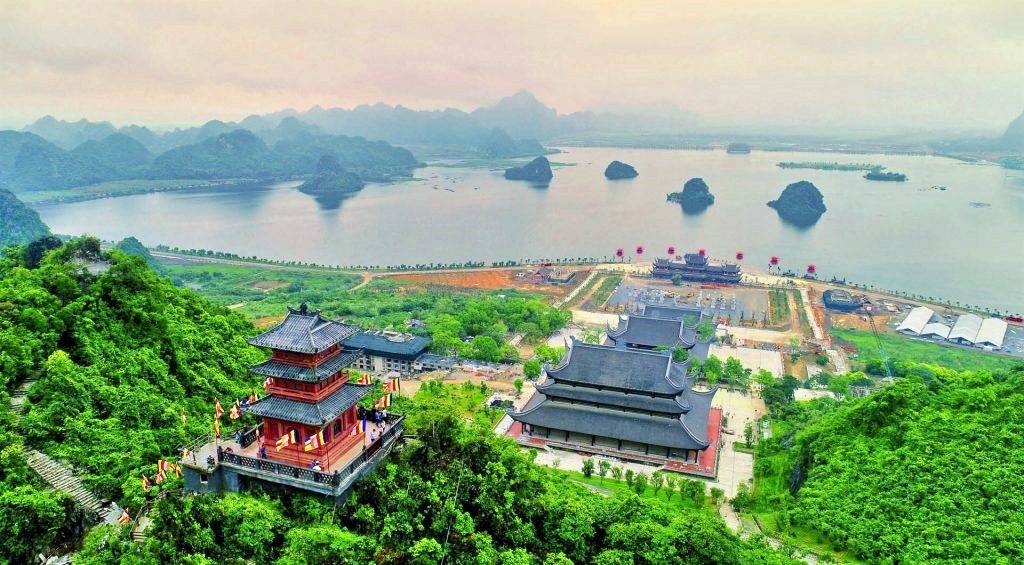 On these mountains appear 7 large spotlights like shining stars. Those who saw that aura came to That Tinh mountain to put firewood in a large pile and burned for days to take away the 7 stars. Out of the 7 stars, 4 were burned so many times that they faded away, leaving only 3 stars. Therefore, That Tinh pagoda was later renamed Ba Sao (Tam Chuc Pagoda nowadays).
Read more: The giant lotus leaves carrying people at Phuoc Kien Pagoda
2. Instruction to move to the pagoda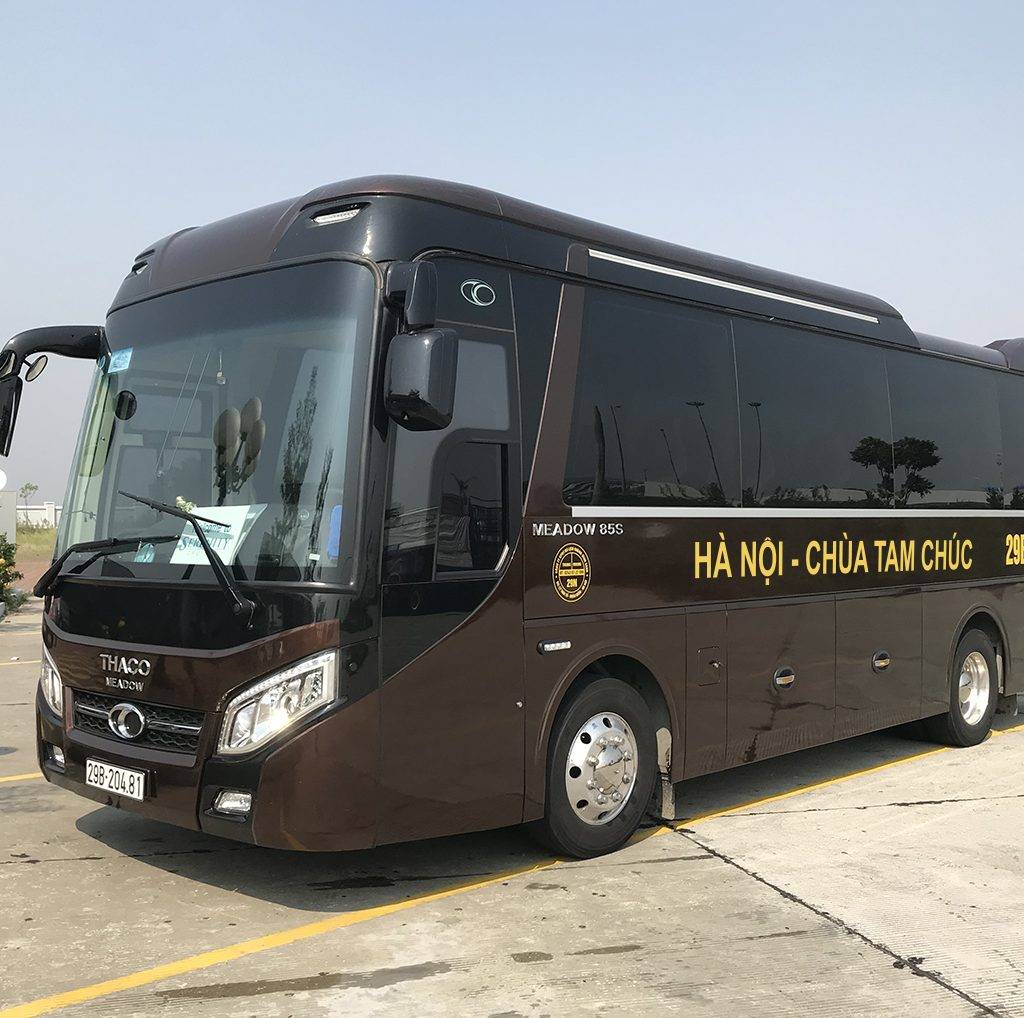 Tam Chuc Pagoda is located in Ba Sao Commune, Kim Bang District, Ha Nam Province, only about 70km from Hanoi city. The main means to come to the pagoda are car and motorbike. There is no bus or coach here, so most visitors choose to take private vehicles to be proactive in terms of time. The way to the pagoda is quite simple; you just need to run in the direction of National Highway 1A, when you reach Phu Ly city, turn in the direction of Highway 2B, go about 12km more to arrive at Ba Sao town.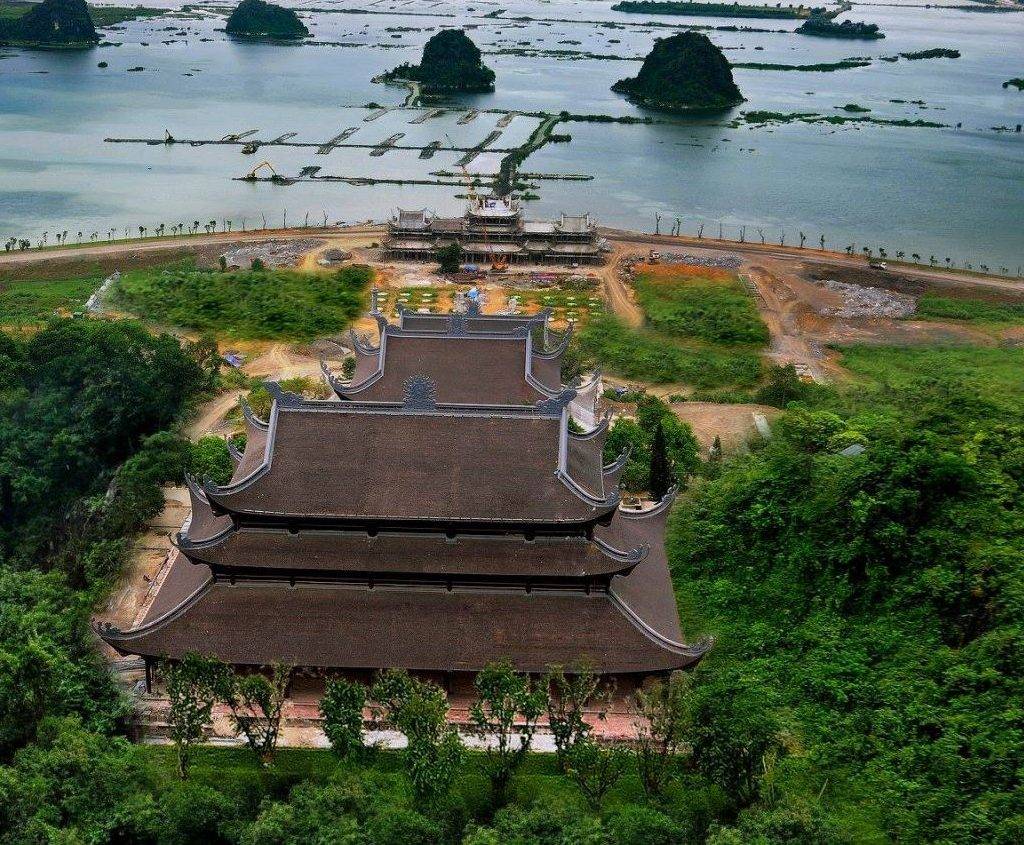 Besides, if you travel by car, go on Hanoi – Ninh Binh expressway to save time. Next, at Dai Xuyen intersection, turn right and continue on Highway 1A or go straight to National Highway 1A from Giai Phong. However, this route will be very crowded during peak hours, so you should pay attention to the map to see the traffic situation and then decide to choose a reasonable road.
Read more: Hang Pagoda – The largest natural pagoda in Vietnam
3. Best time to visit Tam Chuc Pagoda
Since Tam Chuc Pagoda is located in the North, the climate here is temperate, dividing into four distinct seasons. Each season has its own beauty, therefore tourists can come here at any time.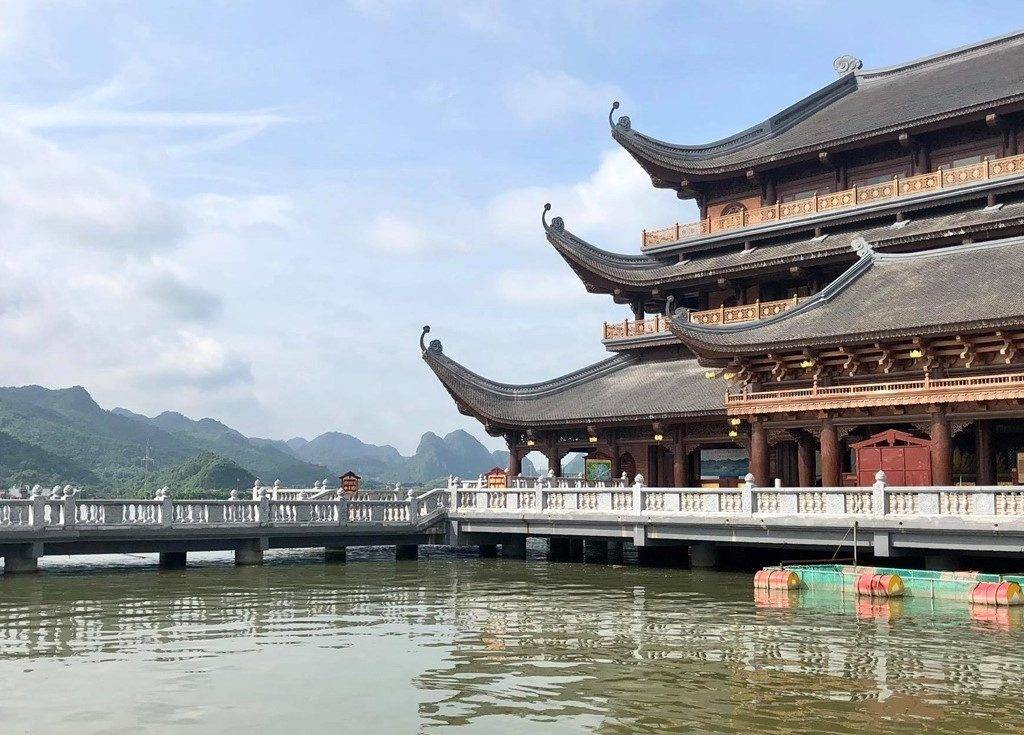 The most popular time to visit Tam Chuc Pagoda is around August – October, and January – March. Because August – October is the time when nature in Tam Chuc is the most beautiful. Meanwhile, the period of January – March is the festive season with loads of interesting activities for tourists to participate in. Also, the pagoda is open to welcome guests until 9 pm daily, therefore, if possible, you should come here at night to admire the mystical and tranquil scenery of Tam Chuc.
4. The cost of traveling to Tam Chuc Pagoda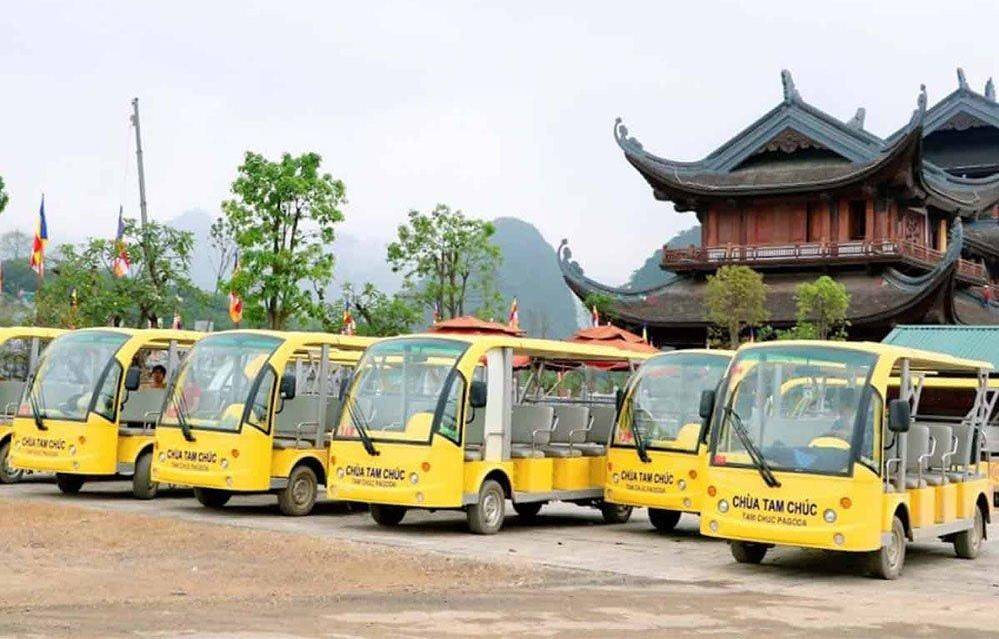 How much you have to spend will be varied according to the means of transportation. But in general, it is not too expensive.

– Motorbike parking fee: 5.000 VND/each (big parking lot at the gate of the tourist area).
– Car parking fee: 10.000 VND/each.

*Tam Chuc Pagoda entrance tickets:
– Boat: 200.000 VND/person/round trip
– Tram: 90.000 VND/person/round trip
Traveling by boat will take you about 15-20 minutes because the means go quite slowly. While using the tram only takes less than 10 minutes to reach the front yard to the pagoda. However, if you take the tram, you will not be able to visit Tam Chuc communal house. To save costs but still experience these two types of transportation, you can take a boat for the first round and then return by tram.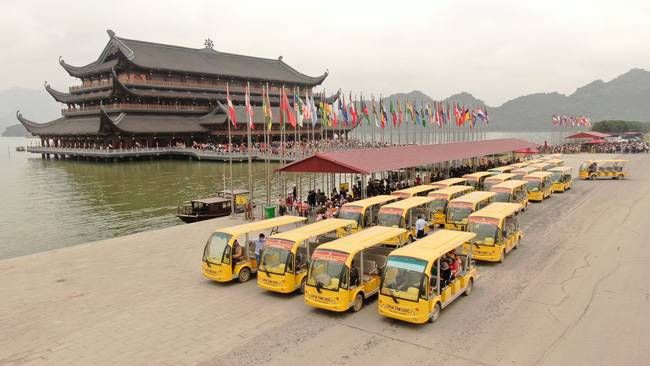 Right next to the parking lot, there are stalls selling snacks (drinks, noodles, sausages, candies, etc.) at moderate prices. There are also several restaurants on the national highway where you can drop in for lunch.
Read more: Van Nien Pagoda – An ancient pagoda of thousand years
5. Explore Tam Chuc Pagoda
– Thuy Dinh Guesthouse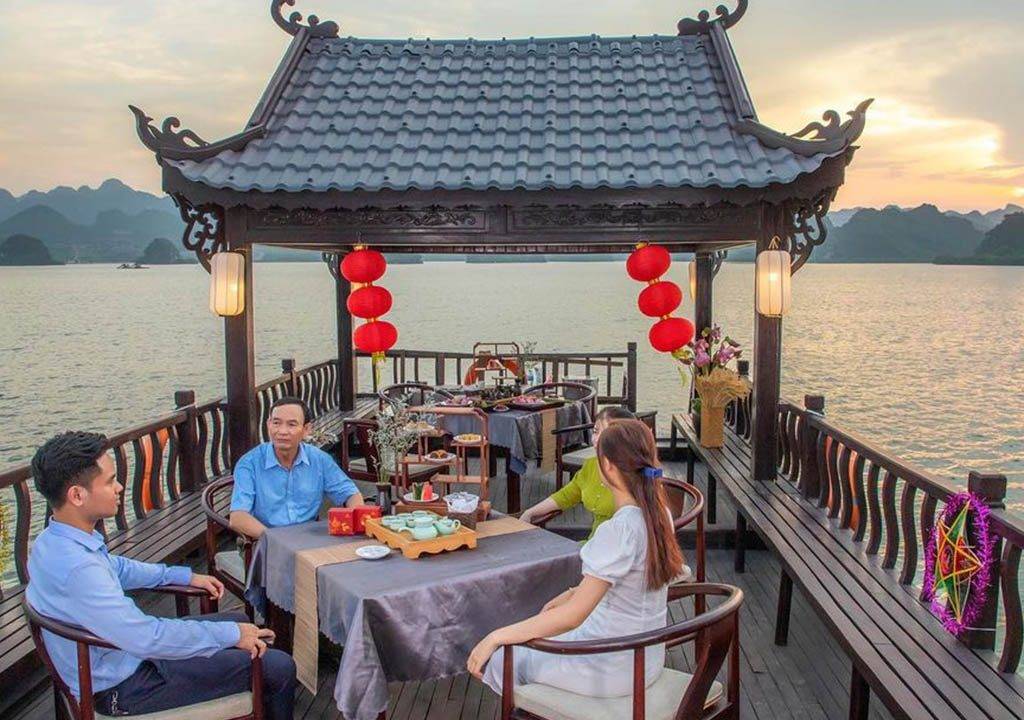 This is the first place you see when arriving at Tam Chuc Pagoda. Inside Thuy Dinh is a large and solemn space, built in the style of ancient architecture. There are also paintings depicting the panorama view of the pagoda. Near Thuy Dinh guesthouse is a boat station with charming scenery, suitable for taking extremely exclusive photos. After visiting Thuy Dinh, you can buy boat tickets or trams to move to the pagoda.
– Tam Quan Gate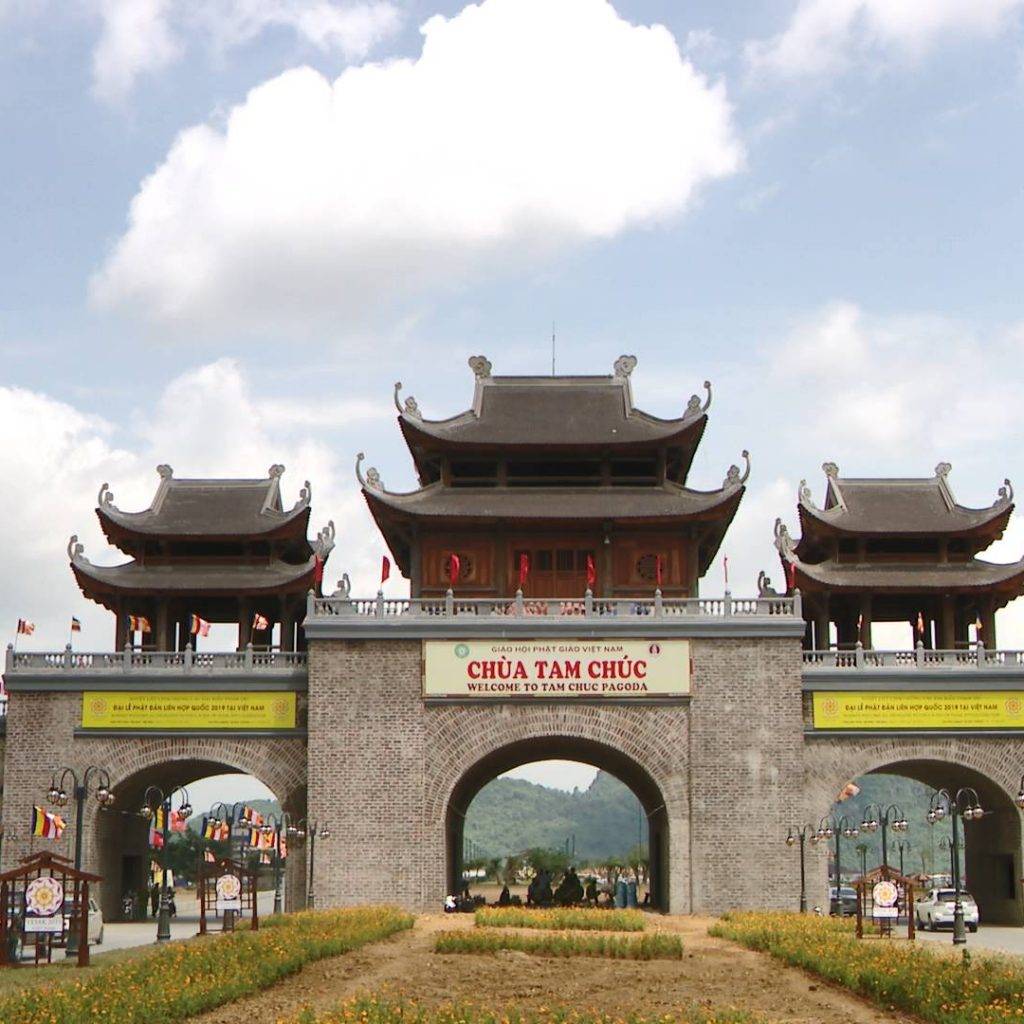 After getting off the pier, you will see a very large Tam Quan gate, along the two sides of which are 2 wide roads straight to the main hall. You have to go through 32 Kinh pillars, also known as Vuon Cot Kinh, to get to Quan temple. Each pillar here weighs about 200 tons. Tam Quan Gate with an overwhelming beauty appears as a valuable wall to protect Tam Chuc complex.
– Tam Dien pagoda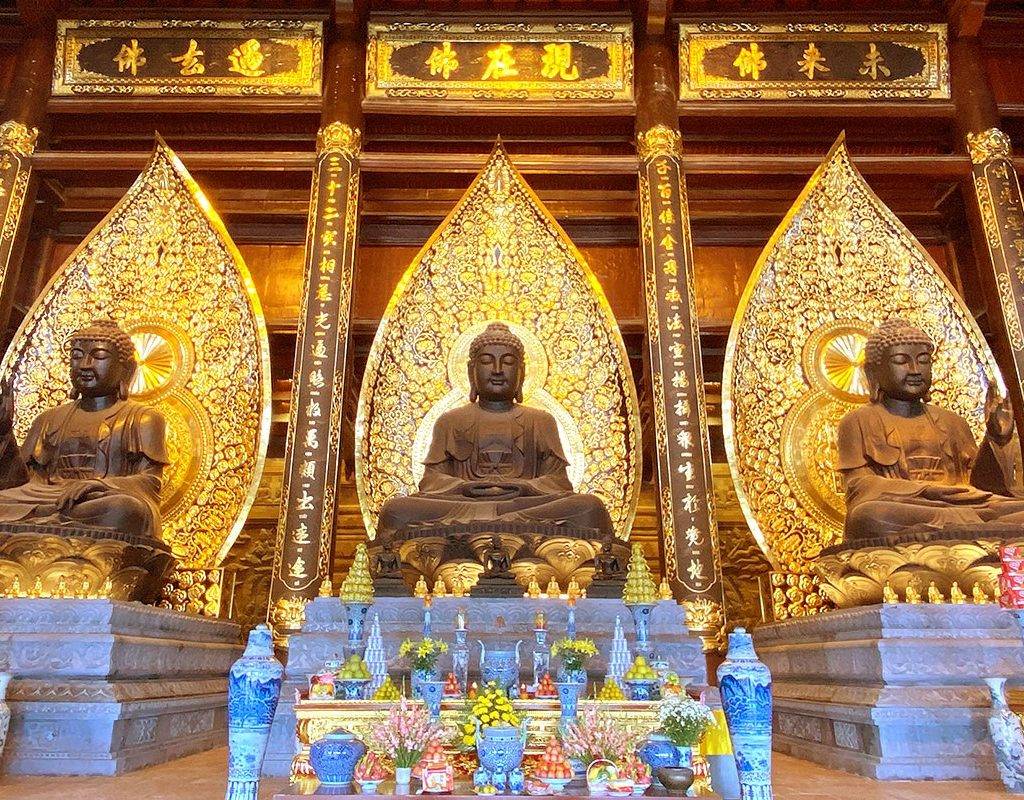 Tam Dien Pagoda is divided into 3 main areas, including Tam The temple, Phap Chu temple, and Quan Temple. Each place worships a Buddha with different spiritual meanings. In particular, all three temples have 4 hand-carved reliefs from rocks taken from the volcano of Indonesia. These reliefs look like real wood, meticulously carved by the talented hands of skilled craftsmen, representing different stories of Buddha.
+ Quan Temple
The highlight in this temple is the huge bronze Bodhisattva statue, which is estimated to weigh over 150 tons. Besides, you also have the opportunity to admire the stone relief paintings about the rescue and suffering of Bodhisattva.
+ Phap Chu Temple
Coming here, you will see firsthand the largest bronze statue of Sakyamuni, which is about 200 tons, in Southeast Asia. There are also volcanic rock reliefs about stories of when the Buddha was born, attained, or entered nirvana.
+ Tam The Temple
Tam The temple is a place to worship 3 large Buddha statues made of black copper, representing past, present, and future. Behind each Buddha statue is a relief of a Bodhi leaf. In addition, the four walls in the temple are also decorated with 12,000 intricately carved stone paintings, keeping numerous humanistic stories about the life of the Buddha. In the courtyard of Tam The temple is a Bodhi tree extracted from the 2125-year-old Bodhi tree, which is considered a treasure of Sri Lanka.
– Ngoc Pagoda – The altar of Tam Chuc Pagoda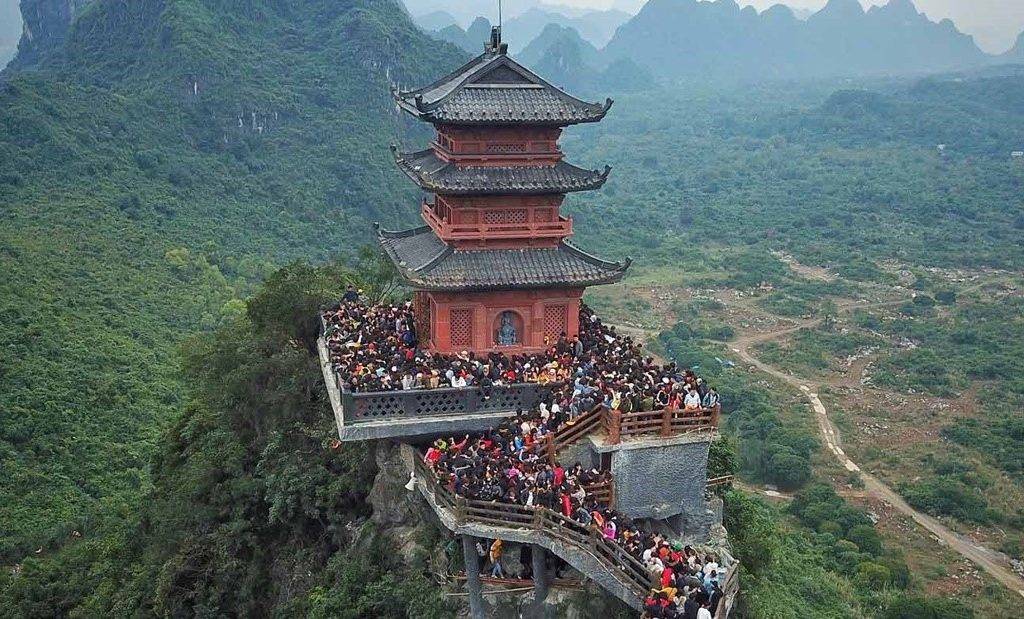 Ngoc Pagoda, also known as Dan Te Troi (altar), was built on That Tinh mountain. This place is considered the main item of Tam Chuc Complex. However, the way to get here is quite challenging. In particular, visitors have to climb about 200 steps made of granite to arrive. Although the floor area is only about 13 square meters, the pagoda is estimated to weigh around 2,000 tons. Currently, a lot of precious Buddha statues are placed here; there are 3 statues made entirely from granite, imported from India, as well as a Buddha statue made of extremely rare jade.
– Tam Chuc Temple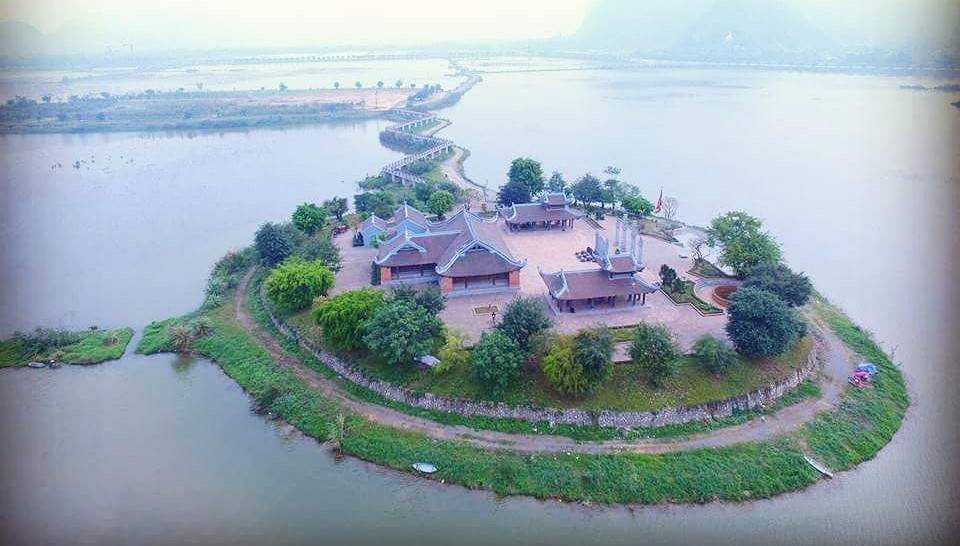 Tam Chuc temple, where to worship the Queen of the Dinh family named Duong Thi Nguyet, stands out among the vast lake. According to legend, Dinh Bo Linh came here to recruit soldiers to fight the 12 warlords. After winning the battle and ascending the throne, he built the temple here.
Read more: THIEN MU PAGODA – THE SACRED PLACE WITH LOTS OF SECRETS
6. Notes when coming to Tam Chuc Pagoda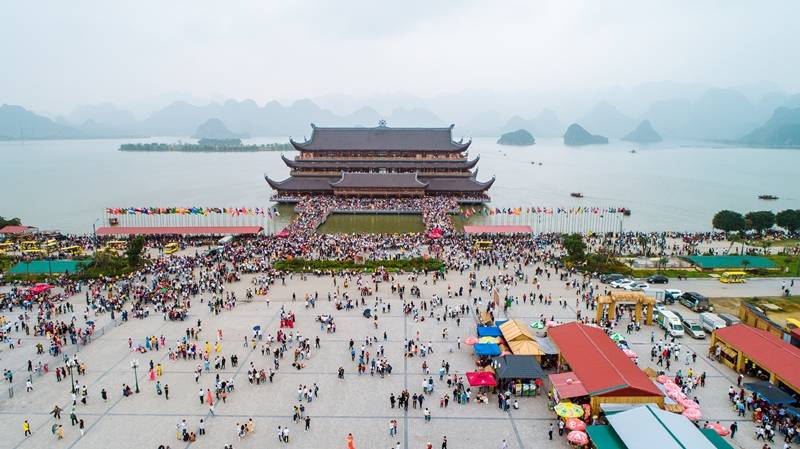 – Tam Chuc tourist area is quite large, about 4000ha. So, you should equip a map to save time.
– On festivals or tourist seasons, you should choose a motorbike taxi to travel because it will take a long time to wait for a boat or tram.
– Since the pagoda is a solemn place, you should wear polite outfits. You can wear sneakers for easy walking on the grounds.
– When entering the shrines, you should step in from the side door, avoid entering from the middle door or stepping on the sill.

– Outside the pagoda is a place for tourists to burn incense. Therefore, try to limit burning incense inside the pagoda because it can affect the Buddha statue. In fact, you only need to stick one incense into the incense bowl and do not arbitrarily plug them into the statue's hand, tree stump, or offerings, etc.
Read more: KIM TIEN PAGODA, AN GIANG-THE BEAUTIFUL DESTINATION AS IN HISTORICAL FILM