6 leading hilltribe sites make Lao Cai a must-visit spot
Only 300 km from Hanoi, travelers are easily headed to Lao Cai by bus or train. This border province has a geographically diverse, mostly hills, mountains, and low-lying plains; also, the life here is originally bold with Montagnard identity.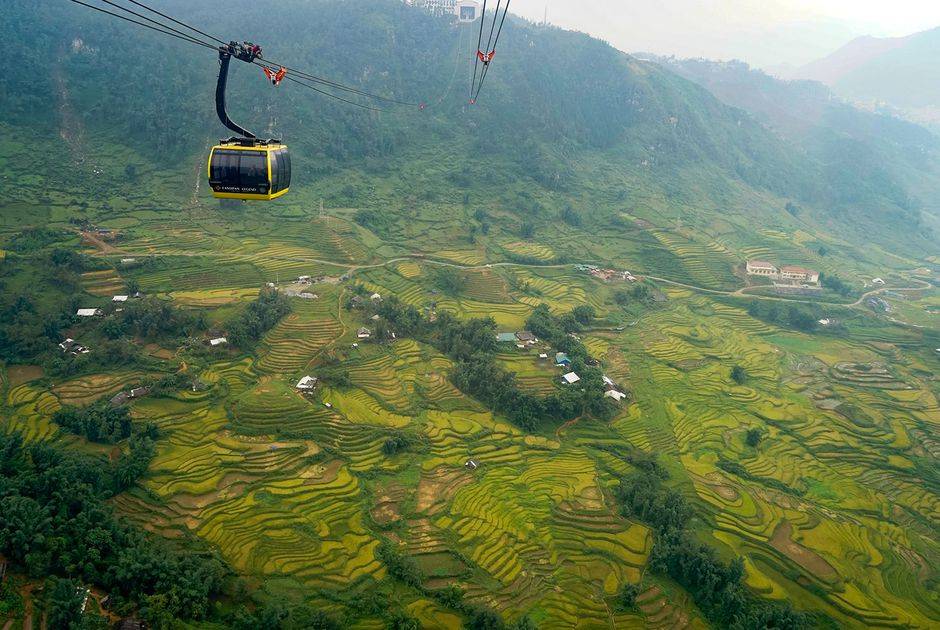 As one of the most stunning natural wonders by Forbes, Lao Cai offers you a variety of breathtaking to dreamy landscapes; from adventure trekking routes, off-the-beaten-track passes to stretching golden rice fields, or sometimes a fun local market; those details will captivate every backpacker, photographer, vacationer, and even researcher.
Below are 5 top-notch Lao Cai attractions tourists should set foot in when coming to the province!
1. Fanxipan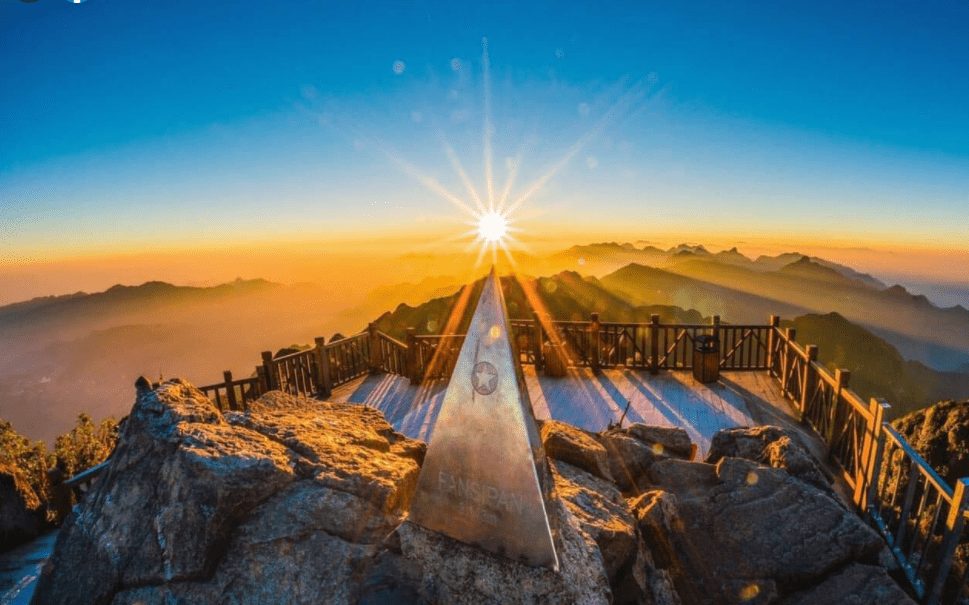 9km southwest of Sapa, Fansipan (Hua Xi Pan in Mong language), with an altitude of 3143m, is the highest mountain in Vietnam as well as among three Indochina countries in the Hoang Lien Son mountain range.
A conquering Fansipan tour can be done by professional travel agencies or self-sufficient trips with the guidance of locals who are mostly the Mong or Dao ethnic people. The route starts from Sapa to the top of Tram Ton pass or, less commonly, from Cat Cat Village by car or motorbike.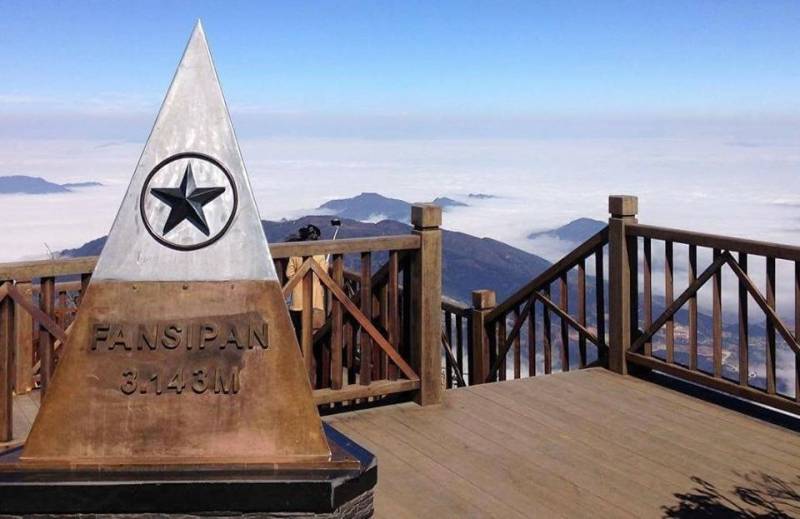 The best time to visit Fansipan is from September to March of next year; however, the way to the mountain is the most beautiful around the end of February, when numerous wildflowers begin to bloom and greeneries start to grow.
Currently, the total time of climbing to Fasipan's top is only 2-3 days, even 1 day for those who are proficient and in extremely good health. For those who are limited in time and health, you can use the cable car, which costs approximately 750,000 VND/ticket, to reach the station about 600m from the top within 30 minutes, then what you need to do next is just to climb the last steps.
Read more: Road to the top of Fansipan – Roof of Indochina
2. Cat Cat Village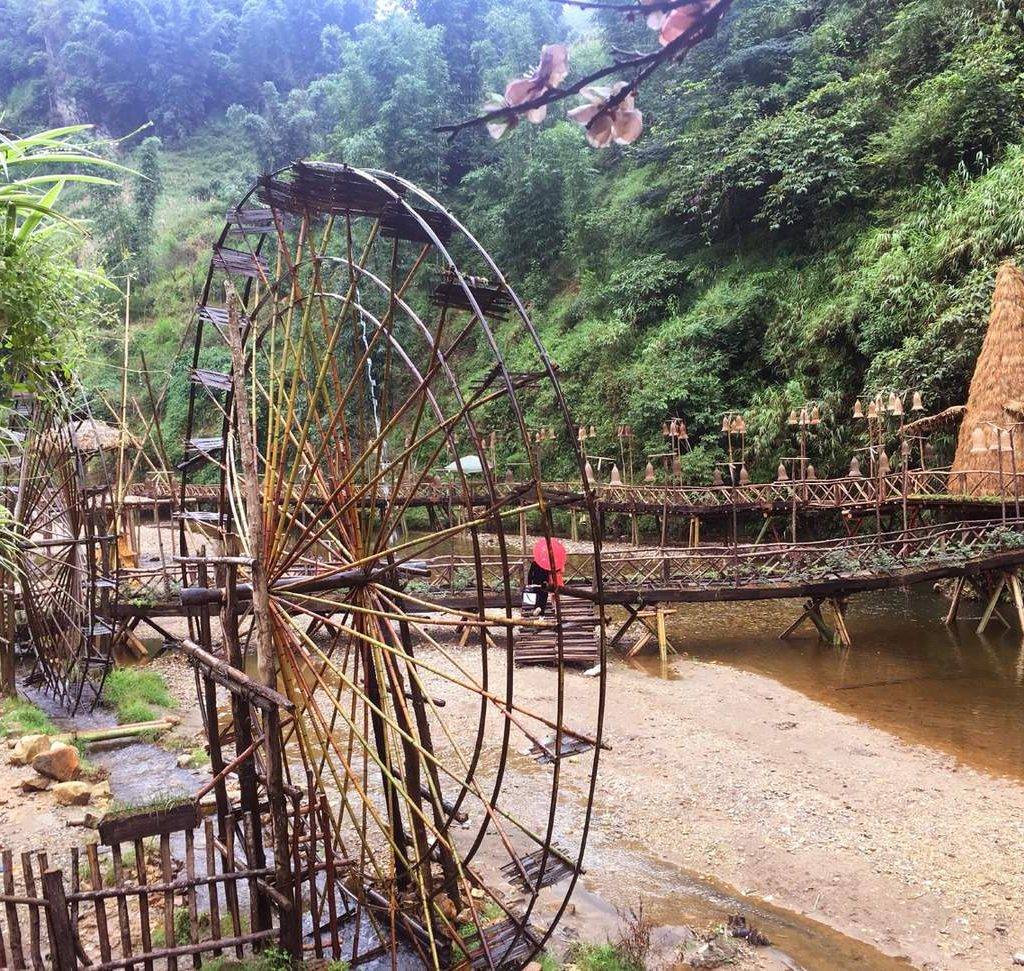 Cat Cat village is a Mong ethnic village in San Sa Ho commune, located about 2 km from Sapa town. The village was formed in the middle of the 19th century by a group of ethnic minorities gathered by secret method (based on slopes).
In front of the village's gate are shops for renting ethnic clothes and other traditional accessories for tourist's needs. There are 2 ways to go around the village, the old trail and the stairs from the gate. Since the second route becomes more and more commercialized and always crowded with visitors, we recommend you to choose the first path, which ensures you will be mesmerized by both the authentic life of locals and the surrounding natural scenery, one side is the mountains while the other is immense terraced fields in the Sapa valley.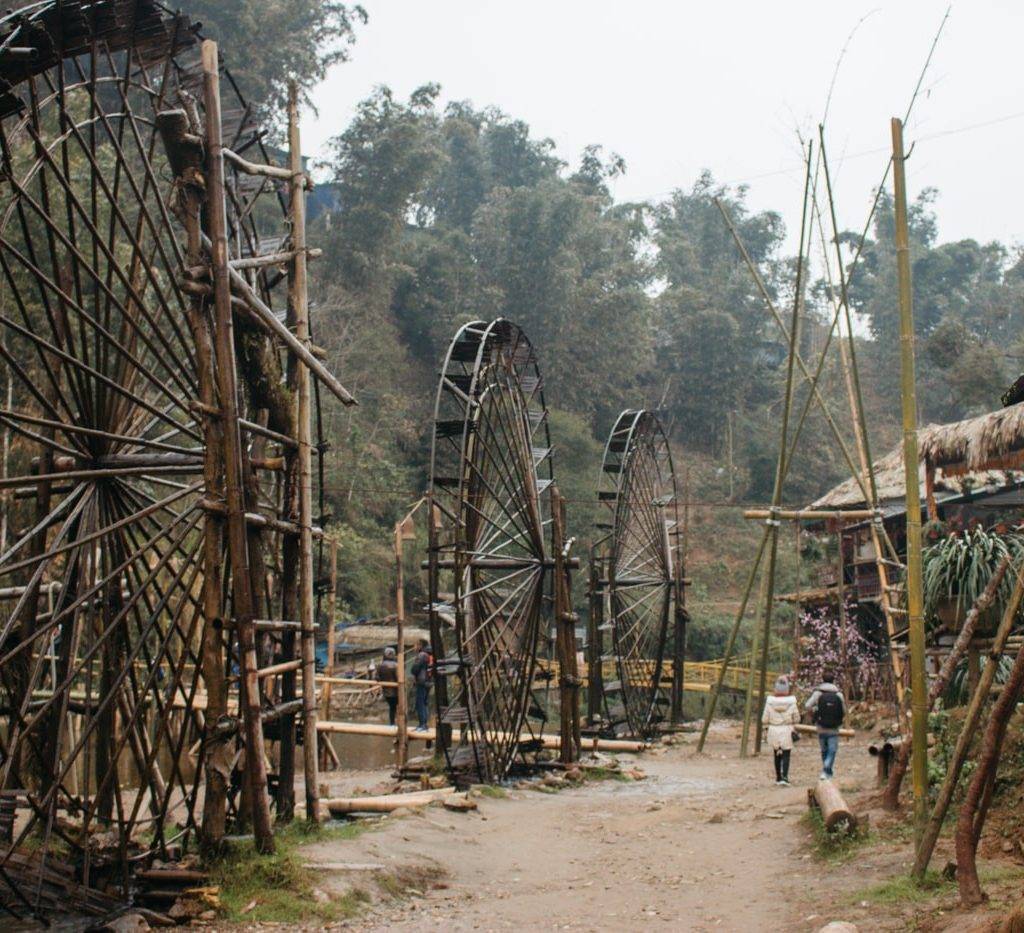 The main resident here is the H'Mong ethnic group; they grow rice and maize on terraced fields entirely by manual methods. For a long time, they've already known how to cultivate, raise livestock, and quite well many traditional crafts such as growing cotton, linen, and weaving. Recently, the inhabitants started to join in community-based tourism to improve their life.
Read more: Sapa, an absolute landscape treat in the cold of Northwest
3. O Quy Ho Pass
O Quy Ho Pass is located on the 4D National Highway crossing the Hoang Lien Son Range, connecting the two provinces of Lao Cai and Lai Chau.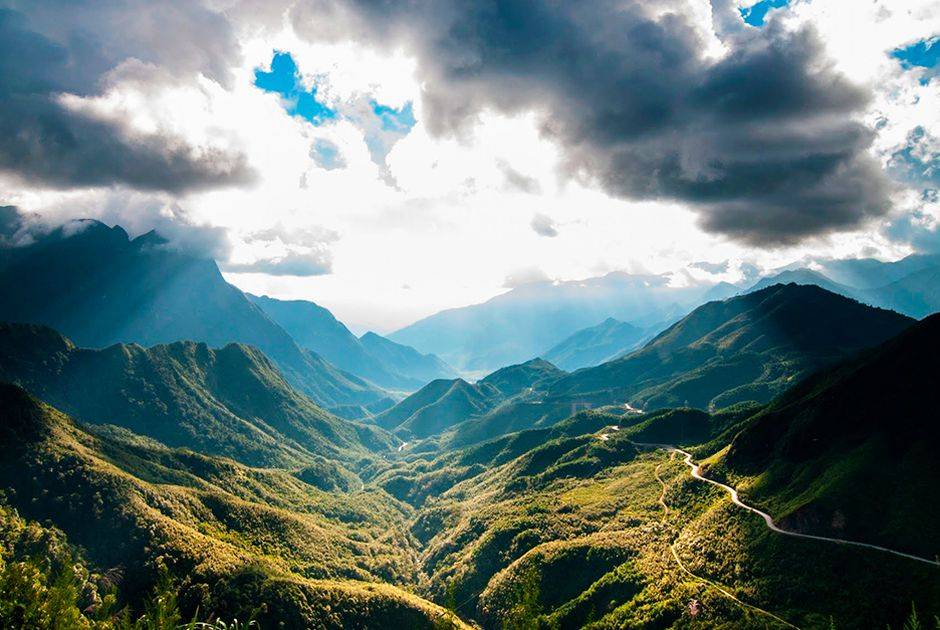 The pass has a long zigzag road holding the record for the length of nearly 50 km in the Northwest mountains of Vietnam, longer than Pha Din or Khau Pha Passes. The height, ruggedness, and length make it one of the Four Great Peaks of the Northern Pass.
Most tourists liken the wooden balcony on the top of the pass to the O Quy Ho heaven gate, where you can zoom your eyes to see a spectacular scenery full of clouds floating on the undulating mountains; below are green valleys dotted with rustic villages. Moreover, in the late afternoon, the area is also ideal for sunset watching. At the foot of the pass towards Sa Pa is Silver Waterfall, one of the 10 most beautiful waterfalls in Lao Cai.
4. Bac Ha Market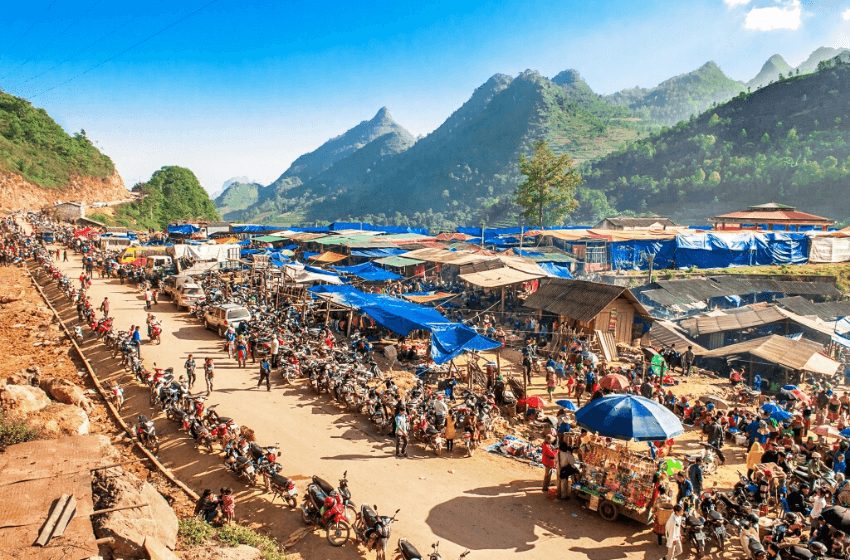 People flock to Bac Ha Town to join Bac Ha Market every Sunday. The market is mainly a trading place of the H'Mong, Red Dao, Tay people from different villages in Lao Cai with other ethnic groups in adjacent provinces, Son La and Lang Son. Gradually, people also consider it as an entertainment and cultural spot between ethnic minorities.
From above, you will be amazed at the unique beauty of the market. The vibrant colorful costumes of multiple ethnic groups stand out in the whole region.
Previously, the market was held on a gentle hill, but now it is more modern because it is rebuilt on a cement foundation and is also divided into separate stalls selling each type of goods such as brocade; groceries, and farming tools, jewelry, cattle, and food stalls. In which, the busiest spaces to mention are the stalls selling brocade products and the food court.
5. Muong Hoa Valley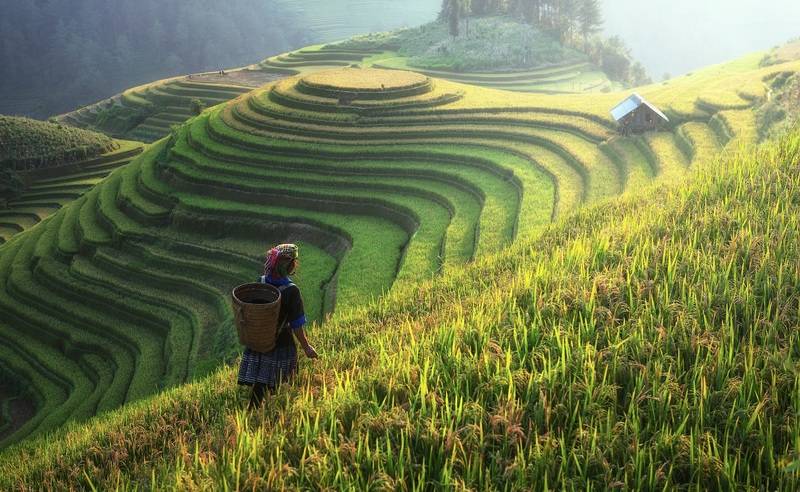 Muong Hoa Valley belongs to Hau Thao commune, about 8 km southeast of Sapa town. From there, you have to go along the high mountains (there is a toll station of 80,000 VND/person) to reach the valley.
Scattered along the mountains between grass and terrace fields are hundreds of ancient sandstone rocks with countless carved characters. This unique stone craving area stretches over 4 km long and 2 km wide, having at least 159 stones, containing many mysterious drawings that still remain mysterious.
Today, this area has been classified as a national heritage of the ancient Vietnamese people, also an interesting destination for scientists from over the world.
Not only that but there is also a beautiful small stream stretching about 15 km, flowing through Lao Chai, Ta Van, Hau Thao communes and ending at Ban Ho.
Read more: WONDERFUL SAPA TERRACED FIELDS
6. Y Ty – Bat Xat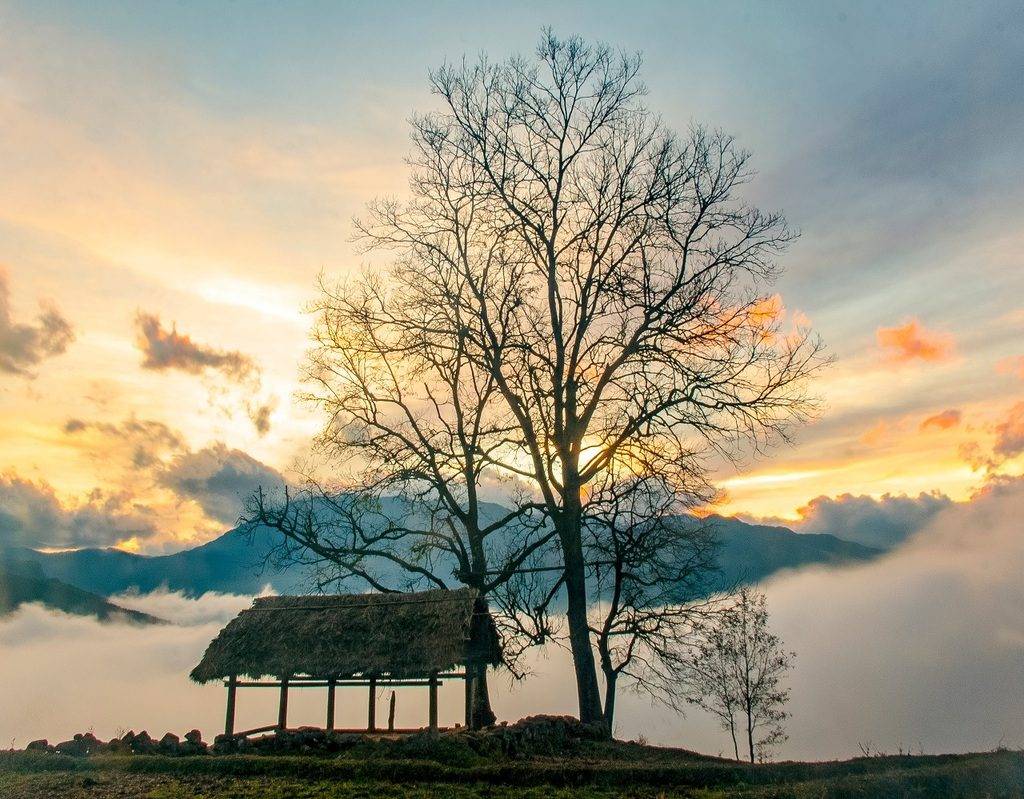 As one of the famous Lao Cai tourist attractions, after Sa Pa and Bac Ha, Y Ty is situated at an altitude of over 2,000m, leaning against the Nhiu Co San mountain range (2,660m above sea level); therefore, the weather is cool and cloudy almost all year round; in winter, there may be snowfall.
After experiencing challenging bends, visitors will reach Y Ty – a completely isolated place from the outside world. Appearing in front of your eyes are winding trails interspersed in the trees, leading to the thatched-roofed tinh truong houses of Ha Nhi people. Y Ty is also the only land where Ha Nhi ethnic people live.
There are two most appropriate periods to come here; the first one is "the cloud-hunting" season around March-April every year when the frost covers all forests, roads, and roofs; the other is in late August-early September; at this time, the whole land is dyed yellow by endless rice terraces, especially the fields in A Lu commune and The Pa Valley.
Read more: Y Ty – The misty land of Lao Cai