Hanoi Walking Street offers a leaming look at the capital's nightlife
Hanoi Walking Street is a new model of weekend night entertainment spot put into operation in 2016, quickly becoming one of the most famous Hanoi attractions. The place originated from an old urban area located outside the Imperial Citadel of Thang Long, where city dwellers performed traditional occupations to escape from agriculture.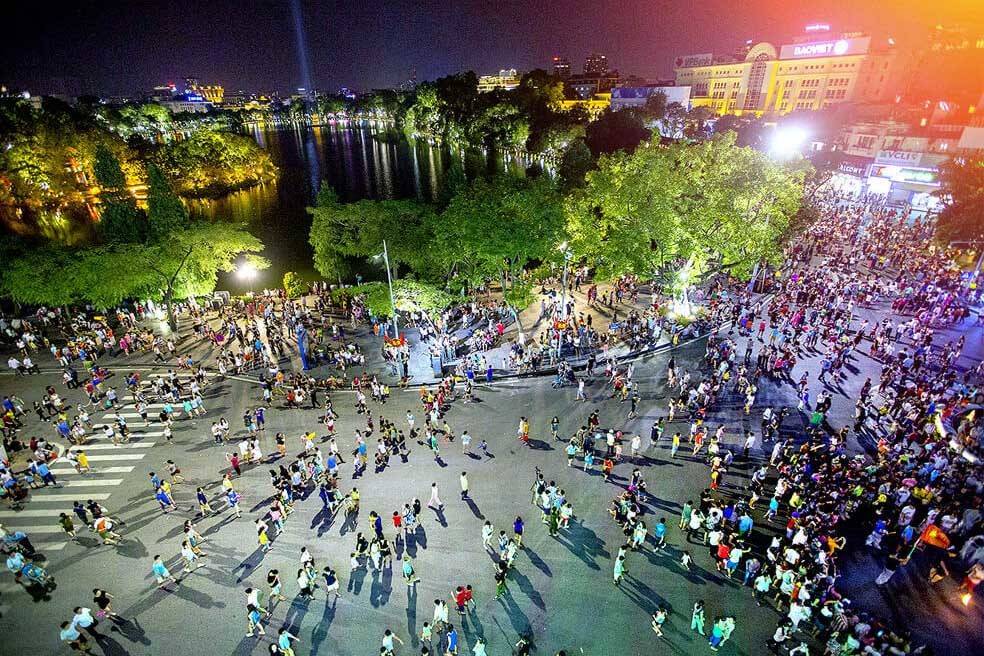 Apart from the image of a narrow, noisy, crowded Hanoi, the walking streets bring you new experiences about the local daily life through leisure activities, street food, nightlife, and stuff.
Address: Streets around Hoan Kiem Lake
Admission: Free
Opening hour: Every Friday, Saturday, and Sunday nights
How to get to Hanoi Walking Streets
Hanoi Walking Street is located right in the city center, so you can easily move here by many different means, but the fastest and most convenient is still motorbikes or buses.
**Bus routes to Hanoi pedestrian street:
Route 02: Yen Nghia bus station → Uncle Co – Tran Khanh Du
Route 31: Mining University → Polytechnic University
Route 34: My Dinh bus station → Gia Lam bus station
Route 43: Dong Anh → Thong Nhat Park
If traveling by motorbike, you can follow the route Cau Giay – Kim Ma – Nguyen Thai Hoc – Ba Trieu – Bo Ho. At the lakeside, you can park your car and start your journey to discover Hanoi's pedestrian street.
** Where to park your vehicles
There are 78 parking spots with a total area of ​​17,380m² evenly distributed on Hai Ba Trung Street, Ly Thai To Street, Ngo Quyen Street, and Quang Trung Street.
1. More than 50 cultural activities on Hanoi Walking Street
A lot of cultural and fun activities are organized within Hanoi Walking Streets, including folk games, street musical performances, dancing contests, etc.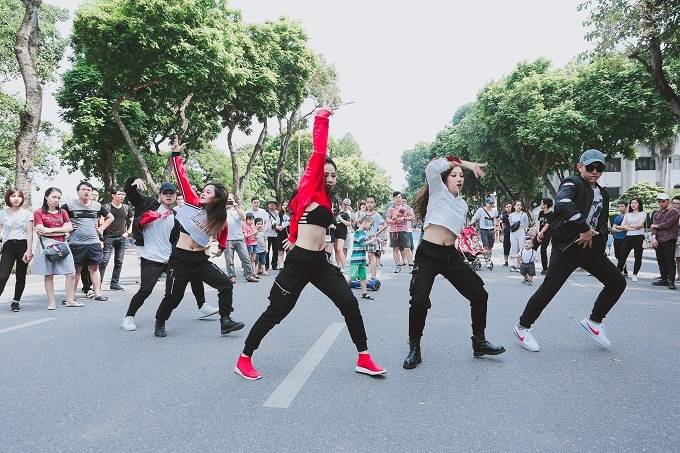 You will capture Vietnamese children and adults playing O An Quan (mandarin square capturing), stilt walking, Choi Chuyen, Shuttlecock kicking, or Tug of war. All these activities are free for everyone. The residents are willing to invite tourists to join the crowd, they don't even mind explaining the rules if you still have no idea.
Ma May and Luong Ngoc Quyen are the areas to hold music performances, from ethnic arts such as cheo or chau van to modern music performances of Latin songs, orchestral music, V-POP, K-POP, and US-UK songs. You can give them some incentives to encourage and thank them for bringing joy to the street.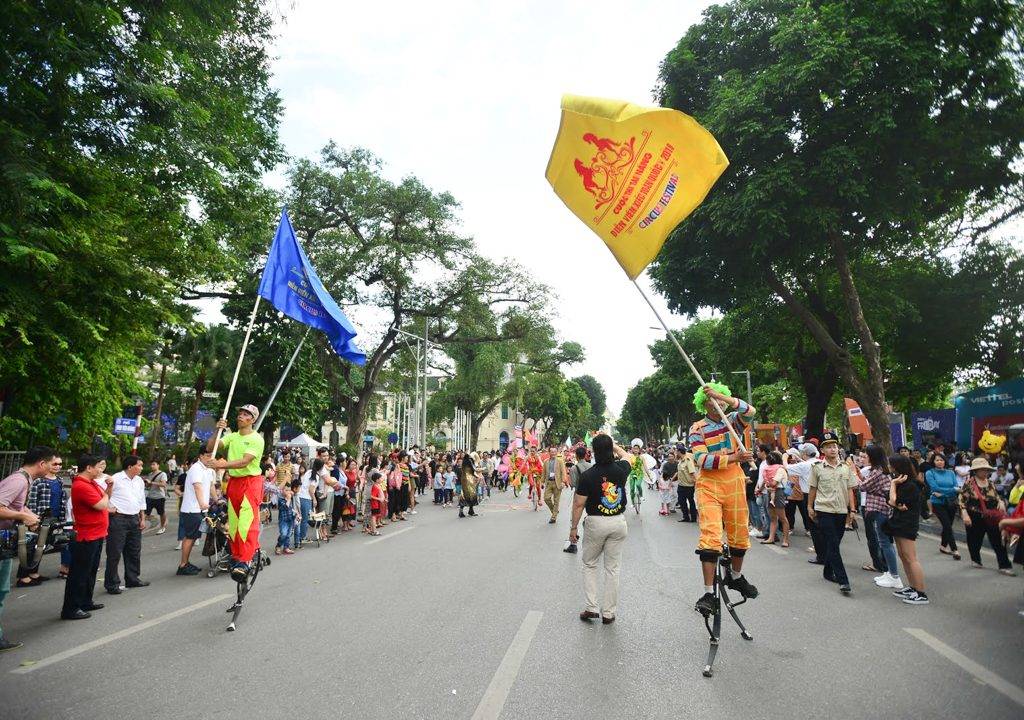 Another cultural concept tourists most favor is "Cho Chu" (Calligraphy giving) – this is a Vietnamese traditional cultural trait to hope for luck and happiness.
Read more: ALL ABOUT HANOI TRAVEL GUIDE
2. Irresistible street food on Hanoi Walking Streets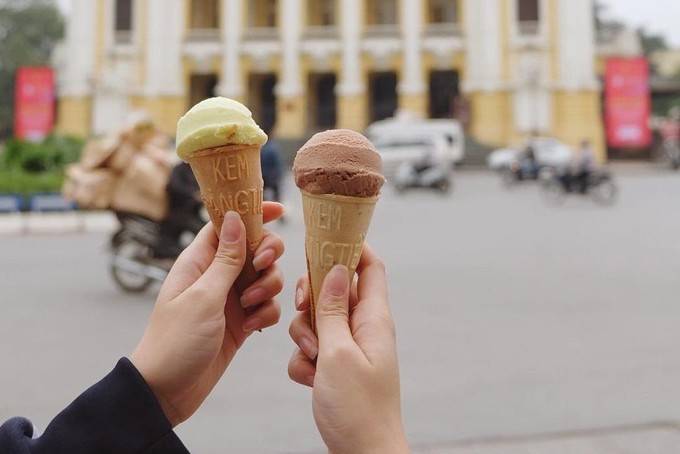 Around Hanoi Walking Street stands hundreds of delicious street food stalls selling dried beef salad, Trang Tien ice cream, crunchy roast (fried breadstick), spring rolls, Pho, or other types of noodles. To enjoy the original taste of Hanoi Pho, go to Pho Thin at 61 Dinh Tien Hoang – the only Pho stall on the lakeside. A bowl of Pho here costs from 40,000 – 70,000 VND.
While on Hang Thung or Ta Hien, do not forget to try salted chicken feet and nem while sipping a bottle of fresh beer. Ta Hien street is so familiar to both locals and foreign visitors for being the most vibrant nightlife spot in the capital. This small street is only about 300m long, but countless beer shops bump up from the top to the end of the way. Beer prices here are 30,000 – 35,000 VND/bottle and side dishes are from 30,000 VND or more.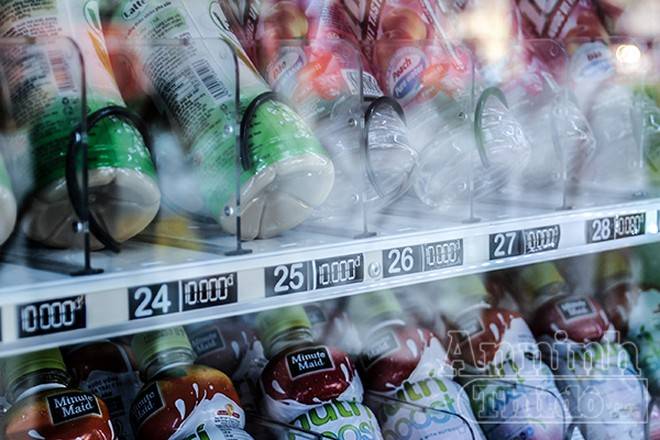 Right next to Ta Hien is Ma May where many famous barbecue restaurants are located; each has its own special sauce; still, you should especially try Ma May Xuan Xuan grilled beef. Guests can order food either by set for 200,000 VND or separate food for 50,000 VND/dish.
**Here are other dish suggestions:
– Trang Tien ice cream
Address: 35 Trang Tien
Price: 7,000 – 12,000 VND
– Sweet and salty donuts
Address: Luong Ngoc Quyen street.
Price: 4,000 VND/piece.
– Fried spring rolls
Address: 38 rows of Bong, Tam Thuong alley, Hang Gai, Hoan Kiem, Hanoi
Price: 5,000 VND/piece
– Grilled banana sticky rice
Address: No. 1 Hang Duong
Price: 20,000 VND / serving
– Quay
Address: 73 Hang Bong.
Price: 2,000 VND/piece.
Read more: KHUC CAKE MS. LAN – A FEATURE OF HANOI OLD CUISINE
3. Hundreds of eye-catching shops on Hanoi Walking Streets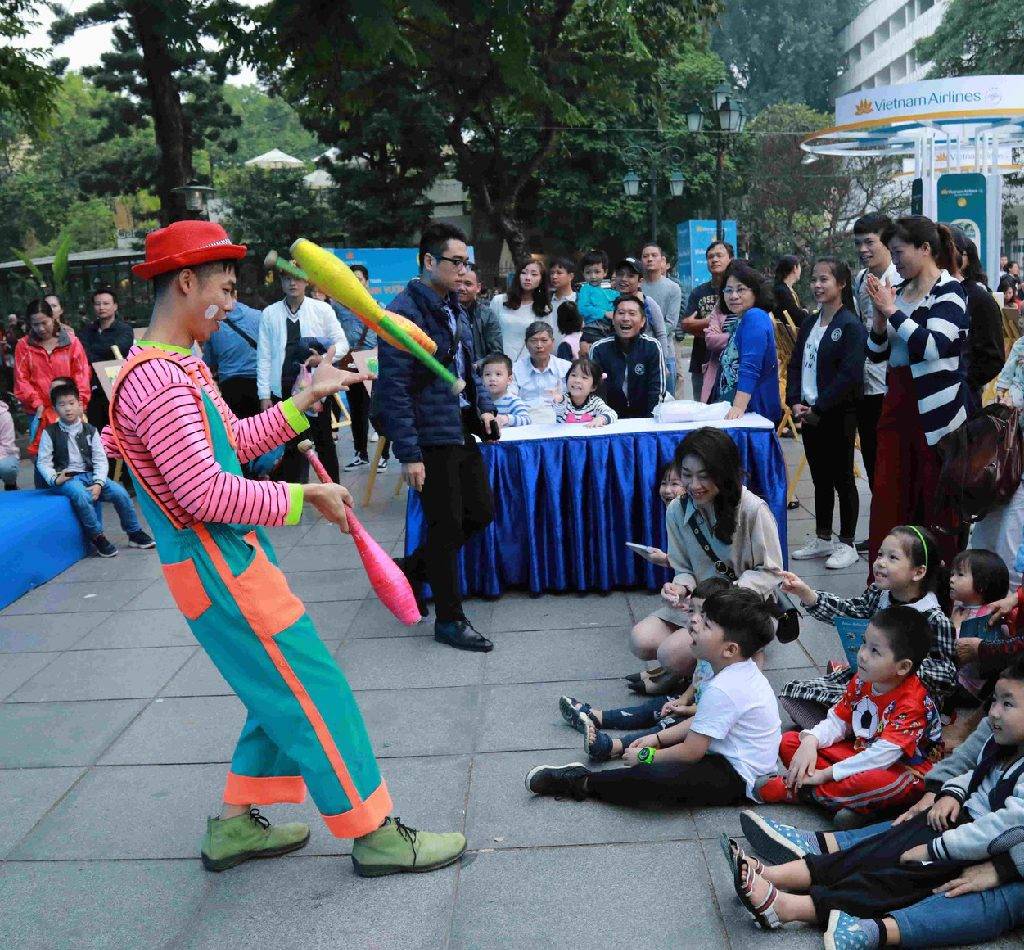 Every Friday night, the area extending about 1km from Dong Kinh Nghia Thuc square to the gate of Dong Xuan market is blocked to organize the Hanoi night market. This place has long been one of the bustling shopping and sightseeing places not to be missed for visitors wishing to buy souvenirs and souvenirs when coming to Hanoi Walking Street.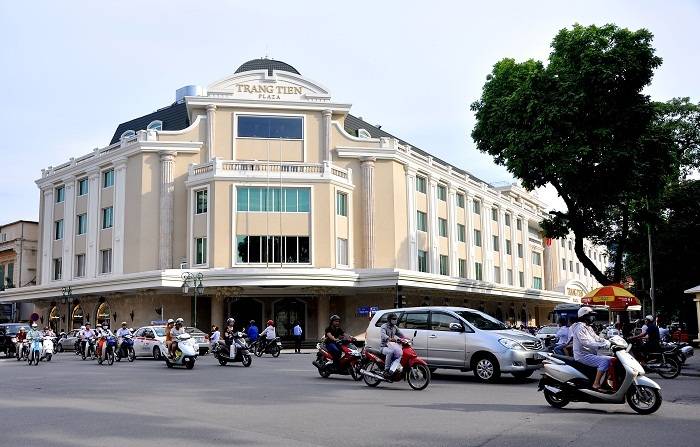 Hang Ngang and Hang Dao are supposed to be the best places to buy souvenirs or gifts, with various items such as clothes, shoes, watches, jewelry, handicrafts, etc. Everything is beautiful, fancy, and imbued with Vietnamese culture.
Read more: Hanoi City Tour: Explore the capital in one day
4. Attractions and events on Hanoi Walking Streets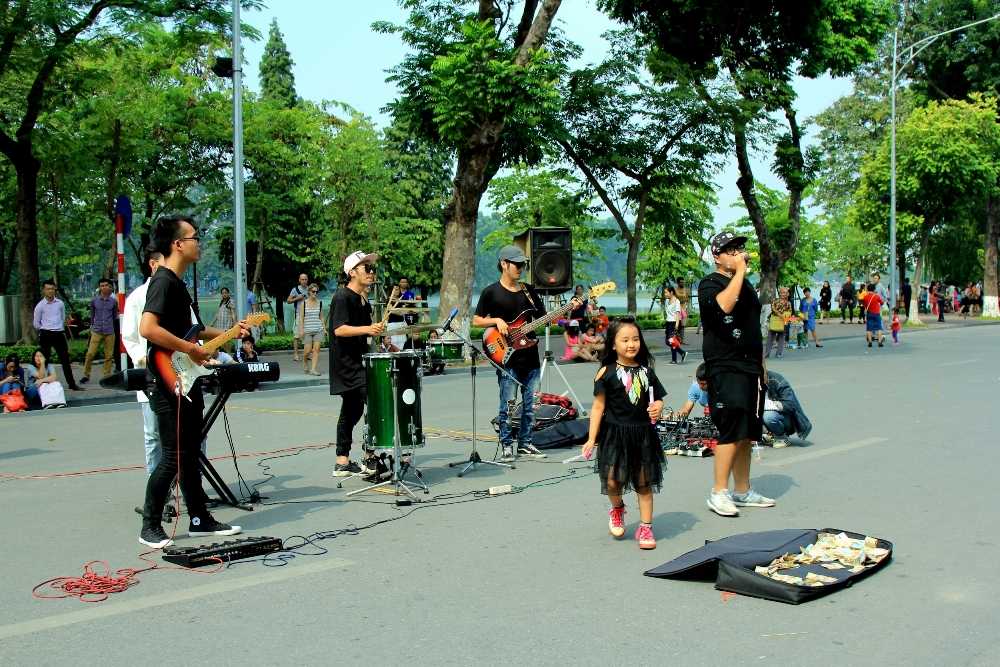 There is no shortage of historical relics of Vietnam on Hanoi Walking Street, making it convenient to combine all in just one visit. The most symbolic destination is Hoan Kiem Lake – the place where King Le Loi had returned the Turtle-god sword after using it to fight the Ming enemy. This is also the reason why the lake is also called Hoan Kiem Lake (Lake of Returned Sword). Besides, you can see other Hanoi attractions, including Trang Tien Plaza and the Hanoi Moi paper, the one with distinctive features of the subsidy period in the French colonial period.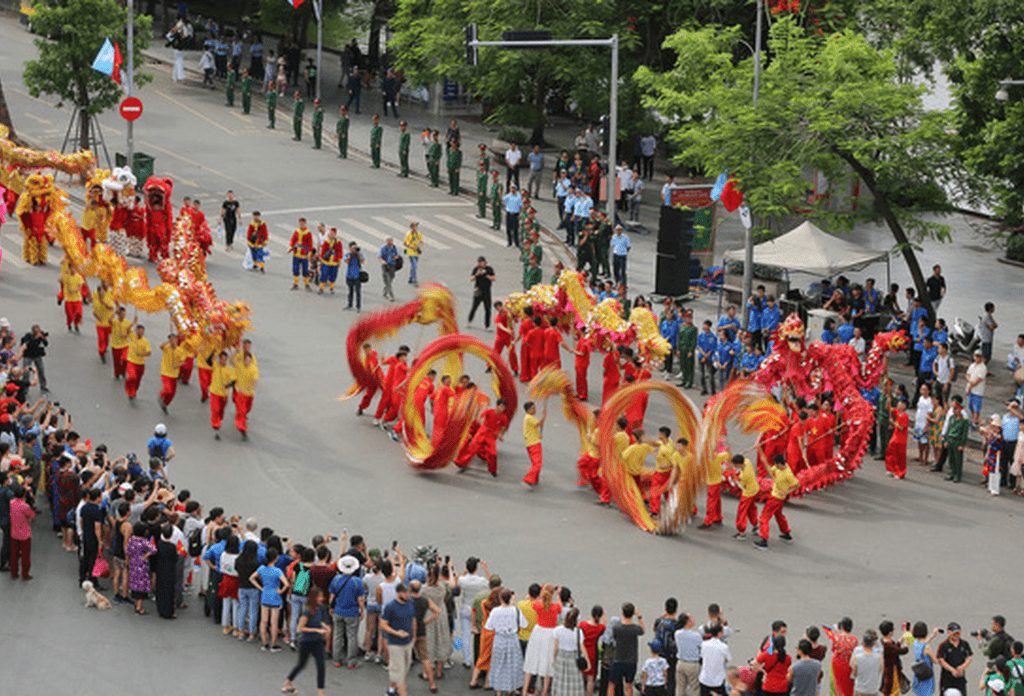 In addition, if lucky to come at the right time, you can encounter top art events such as Vietnam Airlines Classic – Hanoi Concert concert by the world's top musicians; or carnivals of Germany, Italy, and Vietnam – Japan Cultural Exchange Festival. The area of ​​​​Dong Kinh Nghia Thuc square is also a familiar place to hold the Countdown event and fireworks every New Year's Eve.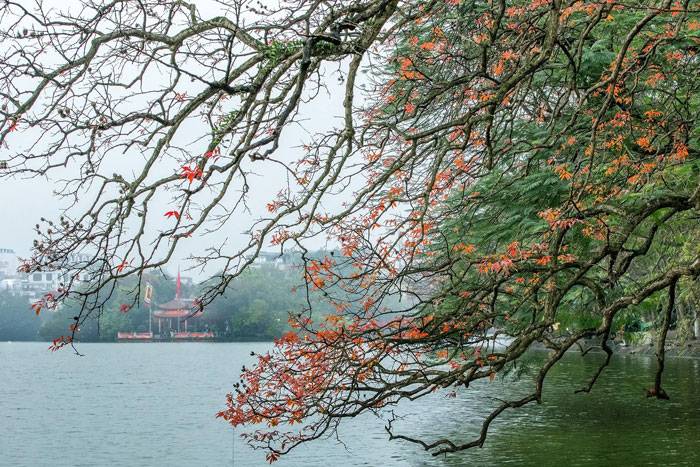 Final words
The appearance of Hanoi Walking Street has nurtured the bustle of the urban style. With such public space, the community has better interaction with a stronger, more natural feeling without being dependent on their class background. Here, people can sit and enjoy a cup of coffee while watching the flow of people pass by to find themselves slowing down for a second.