BIODIVERSITY IN CUC PHUONG NATIONAL PARK
Ninh Binh is one of the places that own for itself the famous tourist areas. Besides the beautiful landscapes, in this ancient land, there is a very suitable place for those who love to explore, which is Cuc Phuong National Park – the area that will give you amazing and relaxing experiences. Especially if you love animals, you cannot ignore this destination because you will be able to witness firsthand the rare plants and animals in need of conservation.

1. Overview of Cuc Phuong National Park
Cuc Phuong National Park in Ninh Binh province is one of the famous tourist areas, just 120 km from Hanoi capital to the South. With a total area of ​​over 25,000 hectares, located deep within the Tam Diep mountain range, it is the pride of Ninh Binh people in general and Vietnamese people in particular.
Cuc Phuong has a valuable natural landscape with an incredibly diverse ecosystem, and it also has a long-standing cultural and historical value, making it a worldwide attractive eco-tourism site.
2. What time should you travel to Cuc Phuong?
Cuc Phuong tourism is a form of ecotourism, exploring and immersing in nature, so you have to determine that there are many blood-sucking insects, especially leech. Therefore, the most beautiful and safest time to travel to Cuc Phuong is from December to April because, at this time, the weather is dry, and the air is not wet so that the humidity will reduce more. However, it would be best if you also prepared anti-insect creams to protect yourself.
3. How to travel to Cuc Phuong National Park
You can take the bus directly from Giap Bat bus station to Cuc Phuong. In the morning, the Duc Hanh bus (phone: 0912607066) departs from Giap Bat at 10 am, while in the afternoon, Phu Duyen bus (phone: 0988118215) leaves at 3 pm. These buses go straight so that you can reach Cuc Phuong most conveniently.
Motorbikes or personal cars:
From Hanoi, you follow the direction of Ninh Binh highway, go all the way to National Highway 1A in the opposite direction to Hanoi, to the beginning of Ninh Binh City, then, turn along Trang An and Hoa Lu ancient capital, through Bai Dinh tourist resort and Dong Chuong tourist resort, you can get to Cuc Phuong.
4. Famous sightseeing places in Cuc Phuong National Park
The limestone formations create many mysterious caves that have attracted many young people who are passionate about exploring. Three tombs were unearthed in one of the caves in 1966 containing seashells, animal teeth, rudimentary stone tools, and prehistoric remains.
Thousand-year-old Cho tree
You've probably heard about the Cho tree that takes more than 20 people to embrace it. This green Cho tree is 45m high with the big trunk. The tree has been around for a long time, and tourists often like to stop here to admire and take photos.
Cuc Phuong endangered primate rescue center
It is home to many of the rarest primate species in Cuc Phuong National Park. Here, animals are preserved and used for research. Researchers or serious enthusiasts about these animals will consider this place to be the most attractive place in Cuc Phuong. Currently, the Cuc Phuong endangered primate rescue center is raising nearly 160 individuals of 15 rare primate species.
Opening hours: daily from 9:30 am to 11:30 am and from 1:30 pm to 4:30 pm.
This place can be said to be the most beautiful terrain of Cuc Phuong. The reason for reporting that is because climbing here, visitors not only feel an utterly different airflow but also admire from above the Bai Dinh pagoda and Hoa Lu Ancient Capital. Arriving in such a place just by zooming in to see enough beautiful sights is nothing more attractive.
5. Delicious specialties at Cuc Phuong
Ninh Binh goat meat is low in fat and flavored. Thanks to the mountainous terrain, the goats often have to run and jump so that the meat is firm. On the other hand, goats also eat many herbs on limestone mountains make the meat is more delicious. The price of goat meat is about 430.000 VND / kg (about 20 US dollars/ 2150 yen).
Ninh Binh burnt rice (Com Chay) is one of the traditional dishes here, which shows not only rustic culture but also the craftsmanship of the people in Ninh Binh. The price of burnt rice is about 45.000 VND / 250g (about 2 US dollars/ 225 yen).
Cuc Phuong chicken has long been a specialty with delicious meat. Most of the tourists coming here are very interested in this dish. The price of the chicken here is about 200.000 VND/ kg (about 10 US dollars/ 1000 yen).
Cuc Phuong mountain snail is caught in the forest around the rainy season from July and August. The flavor of snail is particular because their food is mainly moss and forest leaves. This dish is simple but very attractive to visitors. The price of snail is about 80.000 VND/kg (approximately 4 US dollars/ 400 yen).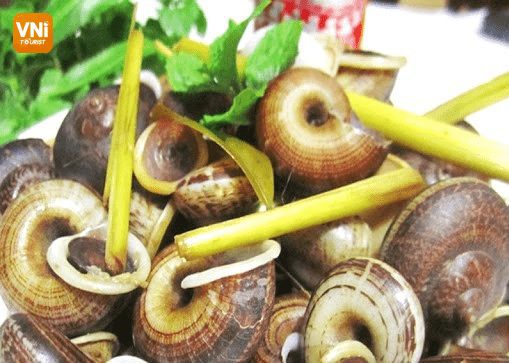 ** Ticket price to Cuc Phuong National Park **
Adults: 60,000 VND / person (about 3 US dollars/ 300 yen)
Students: 20,000 VND / person (about 1 US dollar/ 100 yen)
Children: 10,000 VND / person (about 50 yen)