Experience numerous well-spend summer activities at the green Pu Luong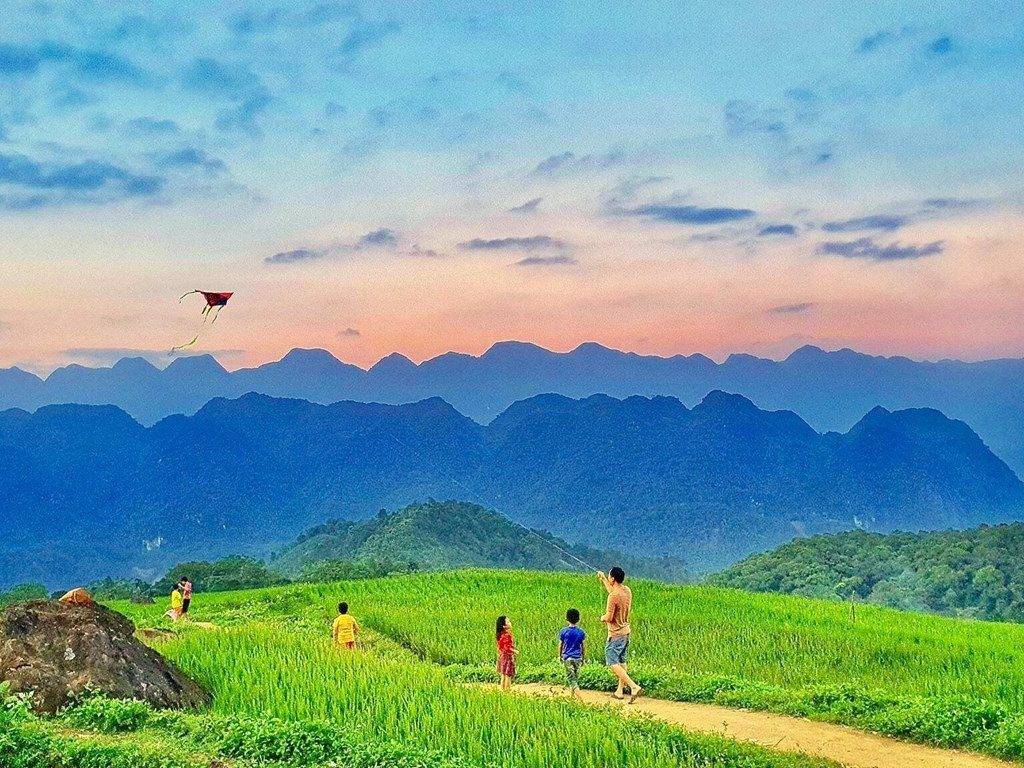 Pu Luong Nature Reserve, 200km south of Hanoi, is a part of Thanh Hoa province but features the characteristics of the Northwest highlands. The primeval forests surrounding and a cool climate even in summer make the area exceedingly suitable for weekend ecotourism to nearby residents. Despite the mass tourism, Pu Luong still retains its untouched beauty, neither polluted nor too bustling. Similarly, the life of the Thai and Muong people's communities here is still as peaceful as it has been for thousands of years.
Visiting Thai-Muong ethnic minority villages, conquering the 1,700m-high Pu Luong peak, trekking through jungles, and more, are all fascinating activities perfect for your summer getaway.
1. About Pu Luong
Pu Luong, meaning the highest mountain in Thai language, is a nature reserve in two districts of Ba Thuoc and Quan Hoa, 130km northwest of Thanh Hoa city. With an area of more than 17,600 hectares and rich flora and fauna, Pu Luong is impressed by diverse topography, from jungles to terraced fields, along with the peaceful life of mountainous ethnic minorities.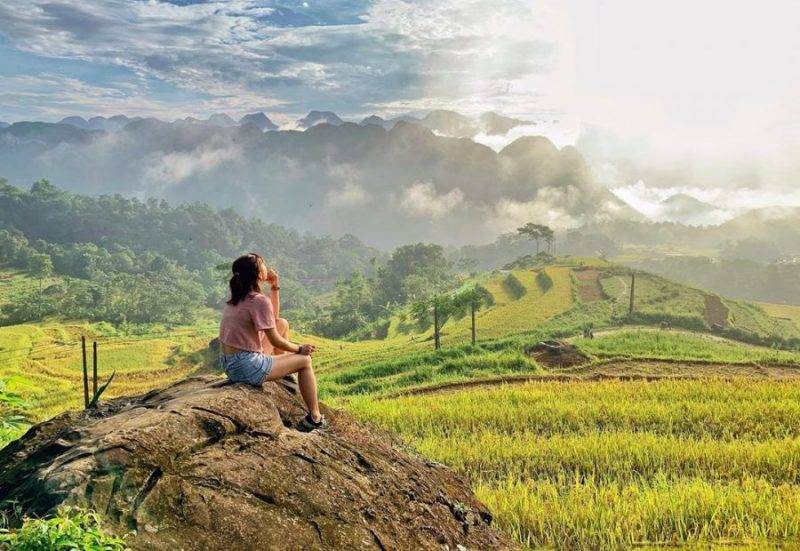 The seasonal evergreen tropical forest here is divided into five main types which is a result of varying elevations and substrates: lowland broadleaf forests on limestone mountains; lowland broadleaf forest on schist, sandstone, and clay; broadleaf forest at the foot of limestone mountains; coniferous forest at limestone foothill; and broadleaf forest at basalt foothill.
Thai people are the largest ethnic group living in the region for a long time, with a few dozen to more than a hundred households in a village. They build wooden stilt houses near the water source and still maintain the matrilineal system and simple cultivation. Also, they weave traditional costumes and make silver jewelry. In particular, the Thai people love to sing and dance, in which Khap, a way of reciting or singing along with the lyrics, and Xoe dance, bamboo dance are rather popular.
Read more:Explore Thung Nham – The land of birds
2. The best time to visit Pu Luong
Tourists can come to Pu Luong Nature Reserve at any season of the year to relax or join nature-close activities in a cool space of year-round green forests and abundant river systems. In particular, the time from the end of May to the beginning of June is rice crop season, when the terraced fields put on an appealing green coat. Meanwhile, September and October is the season of harvesting, when all the fields on the hillside turn brilliant yellow.
3. How to get to Pu Luong
Thanks to the close distance to Hanoi, tourists have a variety of vehicle choices from the capital to Pu Luong.
– Vans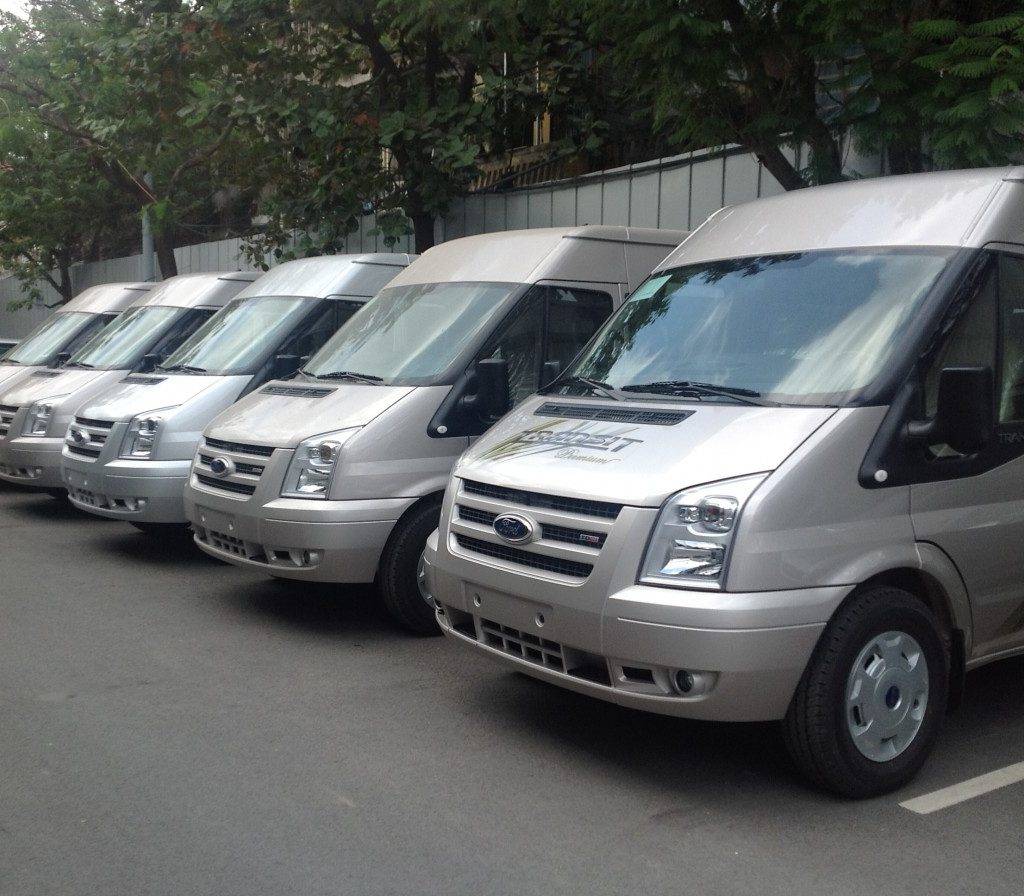 Currently, there are modern 16-seat buses to pick up guests from Hanoi city center directly to Pu Luong.
Contact: 0971 33 66 50 or 0971 335 081.
– Buses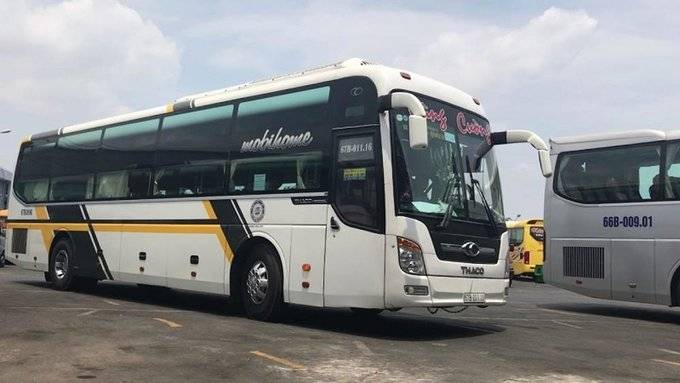 From Hanoi, you can take a bus/coach to the center of Ba Thuoc district, then hire a motorbike taxi to Pu Luong for about 20km more.
Contact: Hoang Phuong bus (0973737778).
– Private cars or motorbikes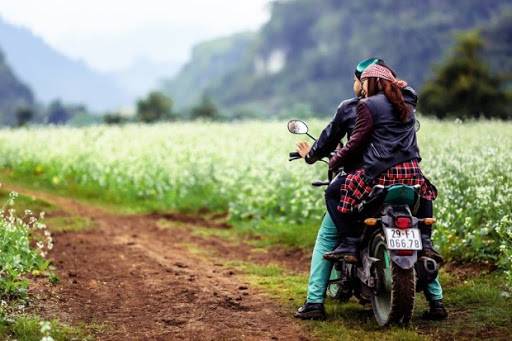 The most convenient and fastest way to move to Pu Luong is by private vehicles, motorbikes or cars. Here are the 3 easiest routes:
+ From Hanoi, follow Highway 6 to Xuan Mai town, turn left onto the Ho Chi Minh trail, continue going through Cuc Phuong territory to Cam Thuy town. Cross Cam Thuy bridge about 700m, then turn right to Na Meo. Keep following that road to Canh Nang town, Ba Thuoc district, and turn right onto La Han bridge; it's only 17km more to Don village – the center of Pu Luong.
+ From Hanoi, follow Highway 6 towards Hoa Binh, choose either the road through Lung Van valley or the road through Lac village, Mai Chau and then go straight to Pu Luong.
Read more:Visit Mu Cang Chai with endless golden rice-terraced fields
4. Accommodation in Pu Luong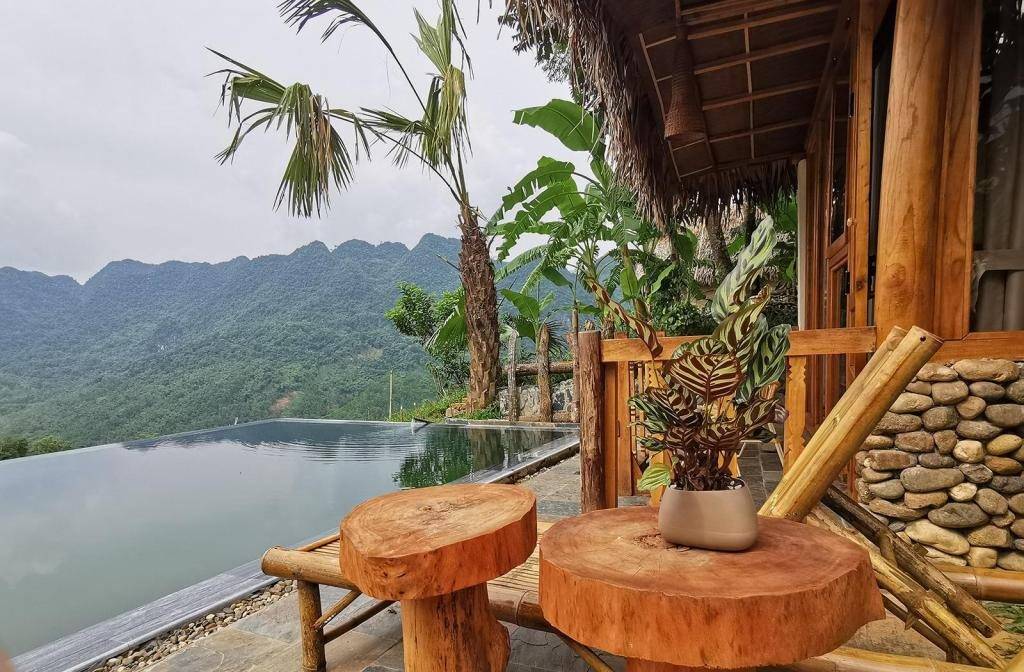 The main form of accommodation in Pu Luong is homestay renovated from Thai-Muong traditional stilt houses, most of which are located in the villages of Ban Kho Muong, Ban Nua and Ban Kit, with dormitory rooms priced at about 100,000 – 150,000 VND/person/night.
Staying at a homestay is the best way to discover the life of the inhabitants. These houses are installed with WiFi and modern toilets to serve visitors. The house owners can also be enthusiastic tour guides when needed as well as great chefs cooking their local dishes for your group.
– Contact: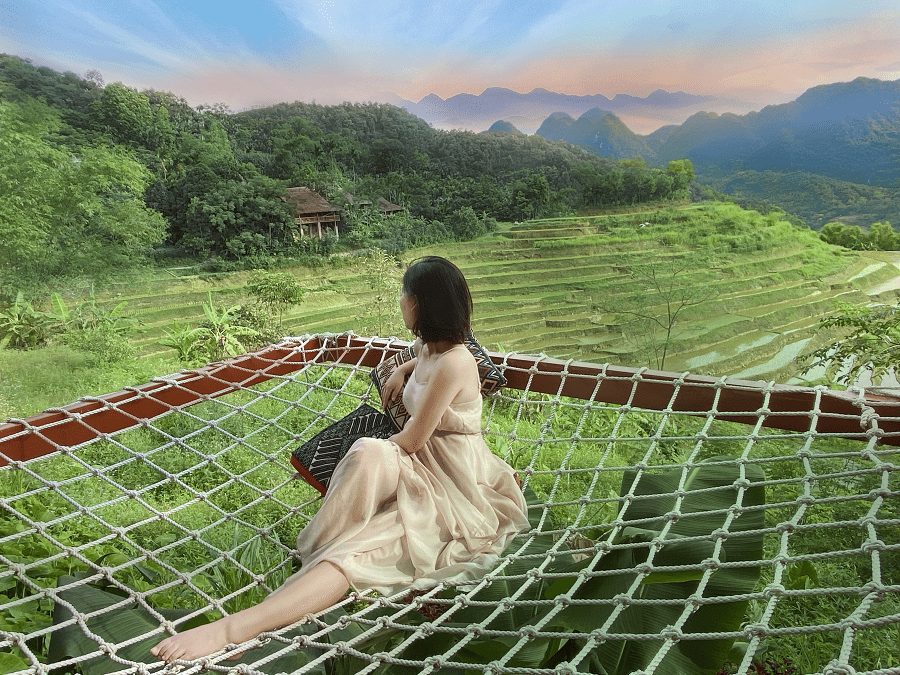 Ban Kho Muong village: Uncle Nech's house (0945.801.124), Anh Nam's house (0394,904.372), Thanh Tuan's house (0945801224).
Ban Nua village: Anh Hoang's house (081.99.73.969), Anh Minh's house (085,755,0703).
Ban Kit village: Anh Thao's house (0372,494.42).
In addition, tourists can opt for high-end resorts at a price of 1-3 million VND/night, depending on the room types.
– Contact: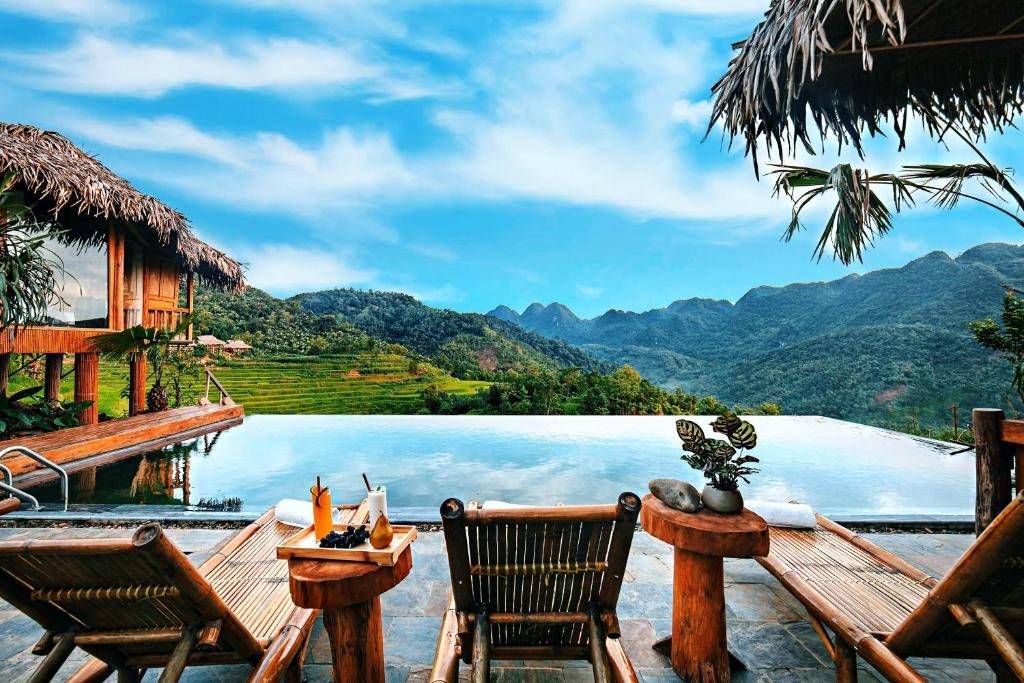 + Pu Luong Natura Bungalow
Address: Ban Don, Ba Thuoc, Thanh Hoa
Phone: 097 133 66 50
+ Pu Luong Retreat
Address: Thanh Lam, Ba Thuoc, Thanh Hoa
Phone: 024 3823 9988
If unfortunately, there is no room available, you can also ask to sleep at any local's houses without bothering, because they are very friendly and hospitable.
Read more: Dong Van Karst Plateau – The spectacular hill-tribe region in Ha Giang
5. Top activities to do in Pu Luong
– Conquer the Pu Luong peak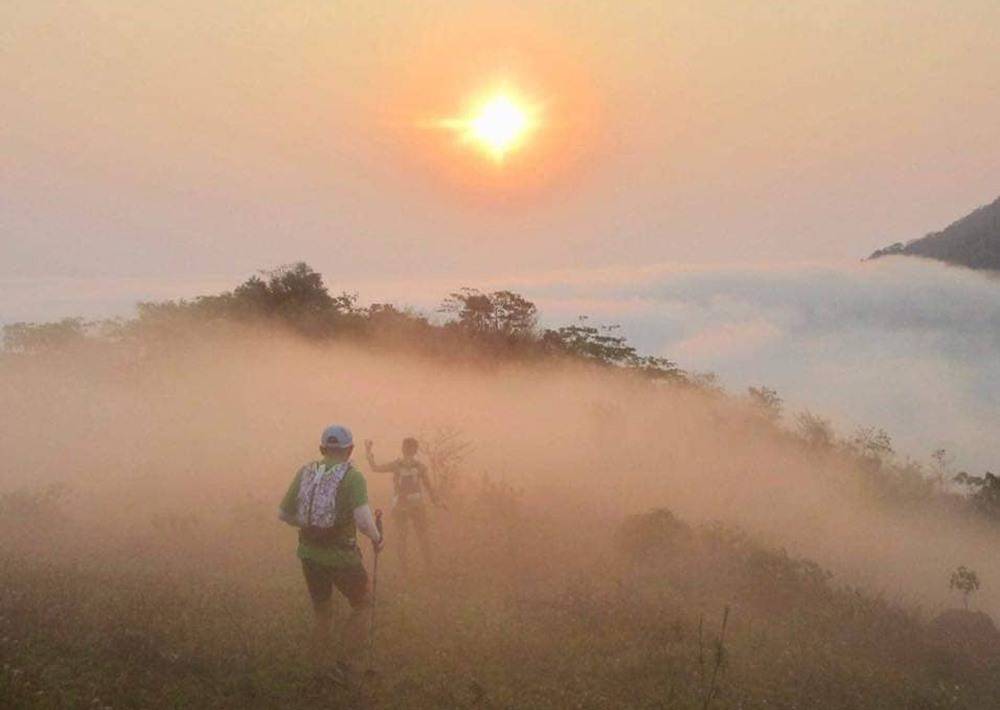 If you are an adventure lover, perhaps conquering the 1,700-meter peak is an interesting experience for you in Pu Luong. The journey to the top of the mountain will take you about 6-8 hours in good weather, with both roadsides full of nice vegetation. From the peak, tourists will be completely overwhelmed by the landscape down there; beautiful vast terraced fields, stilt houses dotted in the valley, and small streams flow through the villages.
In case you want a rest, you can totally set up a camp on the top to sleep overnight and go down the mountain the next day.
– Explore Muong Cave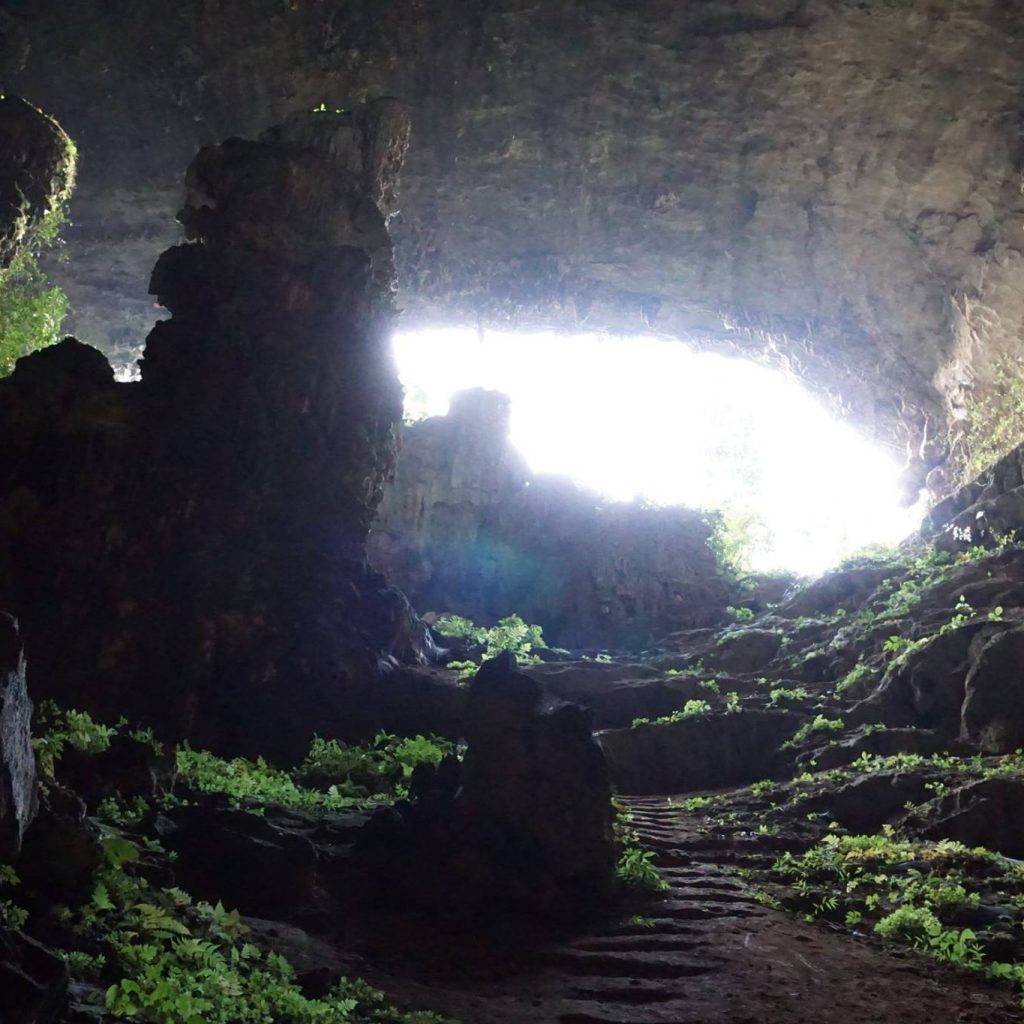 Muong Cave is located in Ban Kho Muong village, which is located deep in the valley less affected by humans. Muong Cave was formed from limestone stalactites 250 million years ago, with a 2.5 km underground river system leading water from Kho Muong through Ban Pon village in Lung Cao commune. The cave is also home to many species of bats; at least 4 species of bats reside in this cave at different times of the year.
– Become a farmer on terraced fields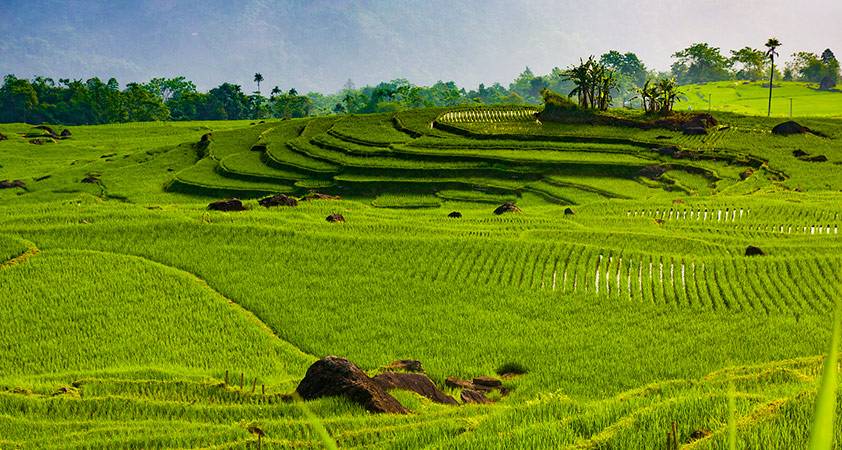 This is a quite fun practical activity when visitors are taken by their owners of homestays to work on terraced fields. They will thoroughly guide you through all farming operations such as plowing, seeding, fertilizing, and harvesting. At the same time, you can listen to their pleasant stories about farming from years past to deeply understand the regional agricultural culture more.
– Visit Pho Doan market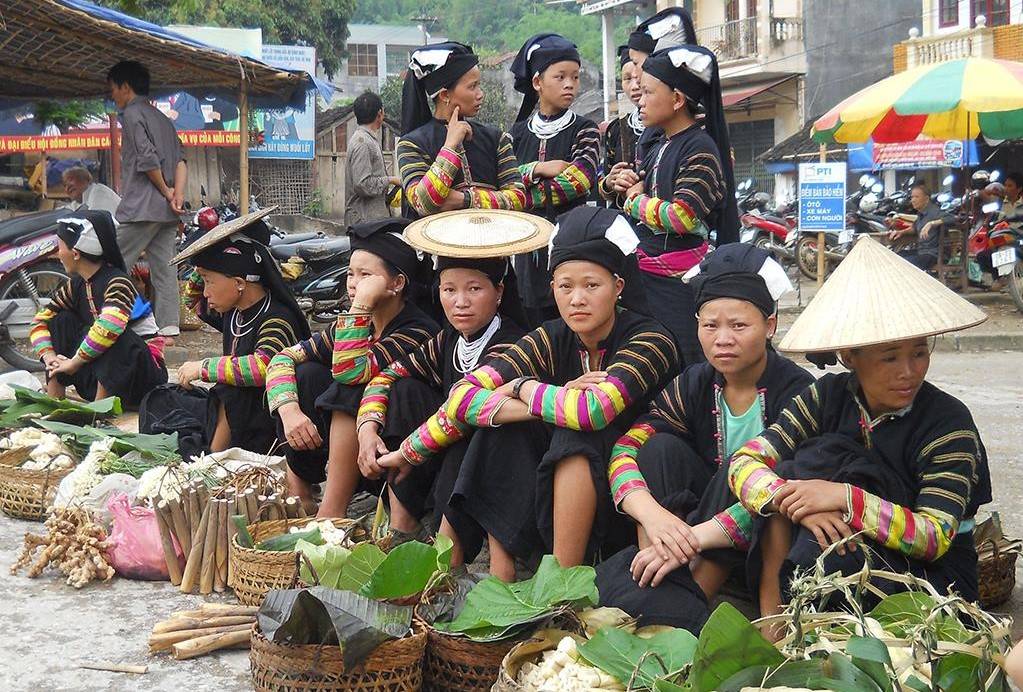 Every Thursday or Sunday is the time for Pho Doan market, where Muong and Thai people buy and sell products with other ethnic groups from surrounding areas. The marketing goods here are quite simple, mainly brocade costumes, jewelry, Can wine, wild vegetables, fresh fruits.
What makes the place attractive most is the unique exchange-value-equivalent culture. Sometimes, a chicken can be exchanged for twenty eggs with vegetables as long as both parties are comfortable and happy.
– Trek through rice fields and jungles at Ban Hieu village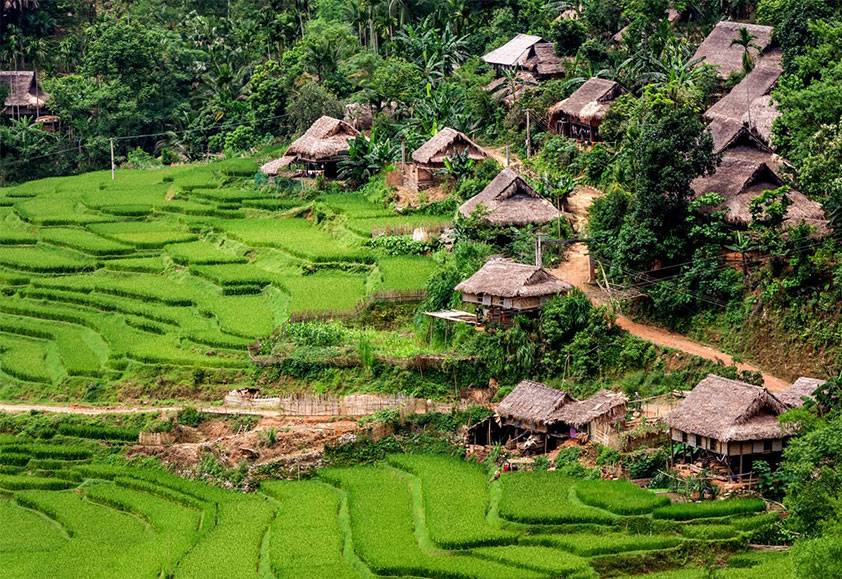 The 25 km long road through golden rice fields from Canh Nang town to Ban Hieu village is truly ideal for trekking. Not only that, but the route also leads you to green jungles to reach a dreamy Hieu stream where you can freely bathe in clear water. More impressively, only about 1km long, but the stream has 5 waterfalls, each of which is charming in its own looks.
– Raft on Cham stream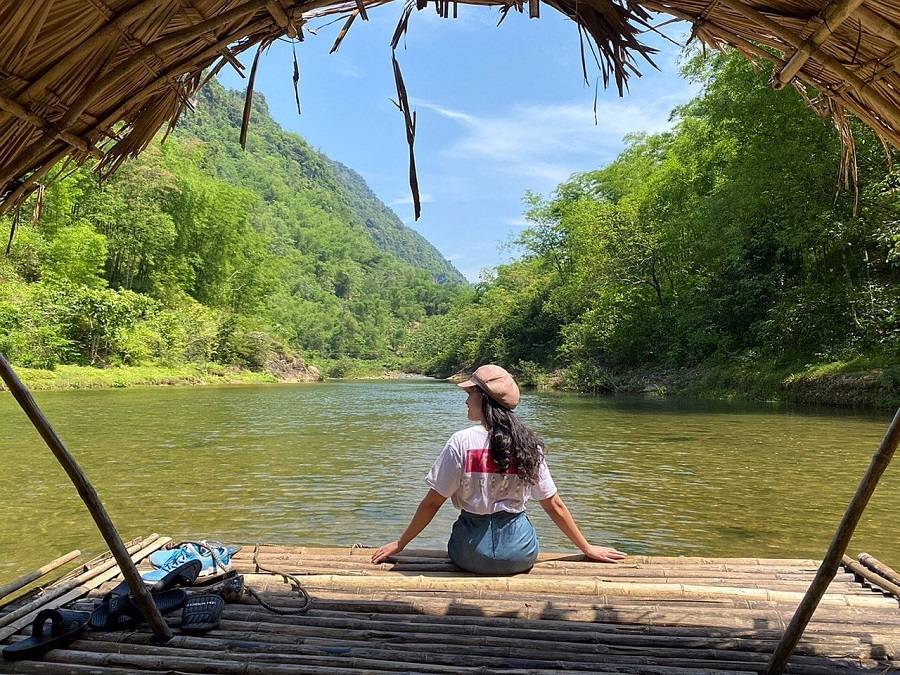 About 11km from Hieu waterfalls is Cham stream. Tourists can experience floating on the river by a bamboo raft – a daily tool to travel and fish in the river of Thai people. The time of the rafting tour is 1 hour; each raft can carry 8-14 people with the price of 50,000 VND per person.
– Watch the Chieng Lau waterwheel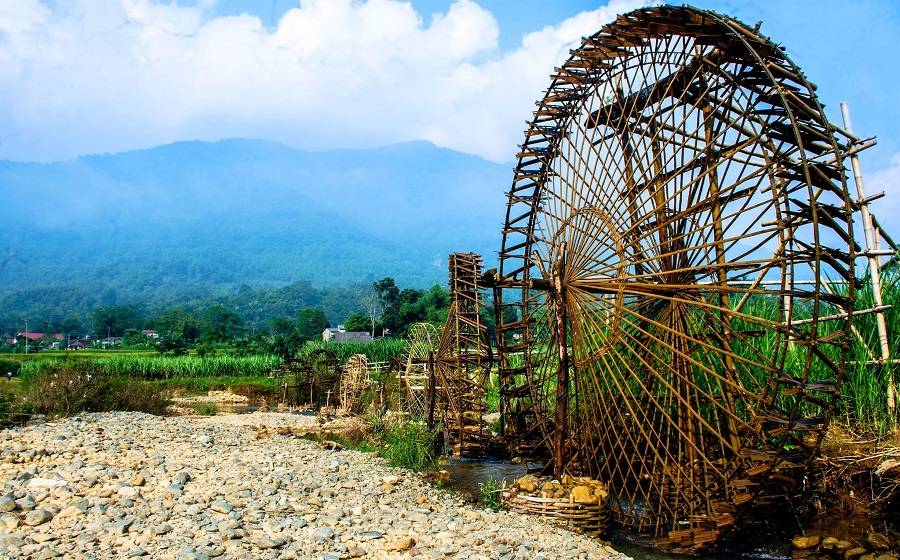 Chieng Lau village, 5km from Canh Nang town, is famous for its giant waterwheels, which are an effective assistant in the farming of the Black Thai people. Before coming to the destination, you will admire a lot of Doc fish farms, which get water from the stream by these waterwheels. Truth be said, the wheels are extremely a great invention of the Thai ethnic group here, marking the development of the region's wet-rice agricultural civilization.
– Join a Thai craft workshop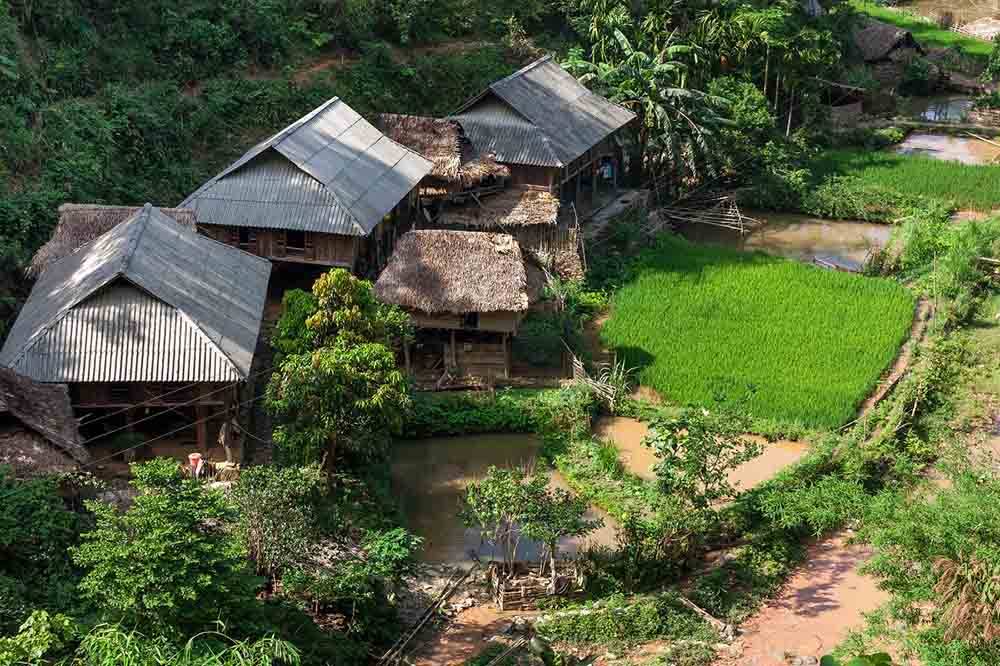 If you love handicrafts, Thai craft workshops in Thai villages will be a good opportunity for you to weave clothes, make silver jewelry, or make tools from bamboo. Thai people have long been known for their high-quality handicrafts, passing from generation to generation. The items you make by yourself will be a meaningful souvenir in the trip of learning authentic indigenous culture at Pu Luong Nature Reserve.
– Make Com Lam and join the bamboo dance around campfires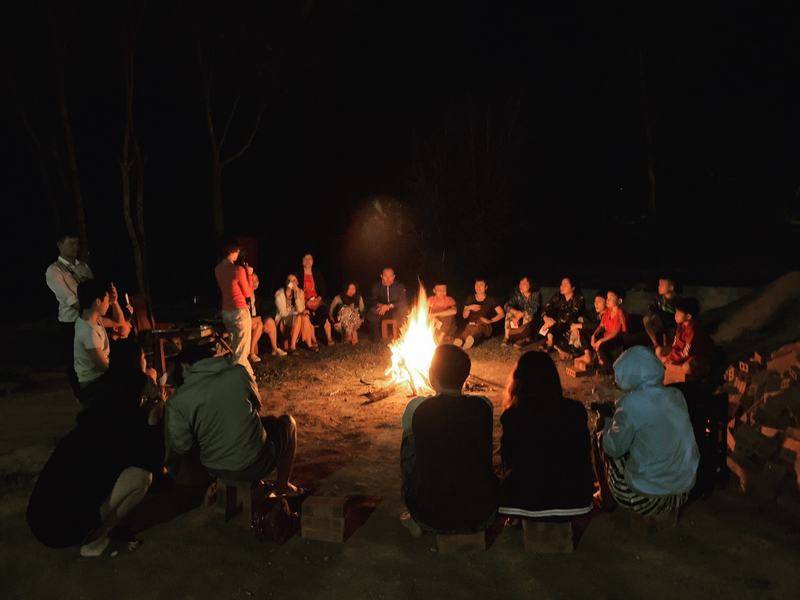 Another interesting activity is that visitors will be guided by locals to make Com Lam – a food specialty used in their festival feasts. Com Lam is rice cooked in bamboo tubes, giving a nice aroma of fresh bamboo and rice.
Additionally, when the sun goes down, visitors will also immerse themselves in the nightlife of the highlanders; together with them, tourists will join the bamboo dance, Xoe dance, and sing Khap with Thai boys and girls.
Rustic, tranquil and beautiful, Pu Luong is definitely one of the best Vietnam destinations to give you truly unplugging from hustle life for a moment.
Read more:Sin Suoi Ho – The "stream of gold" village at Son Bac May Mountain