BOT HANG DAU – MINI EUROPE IN HANOI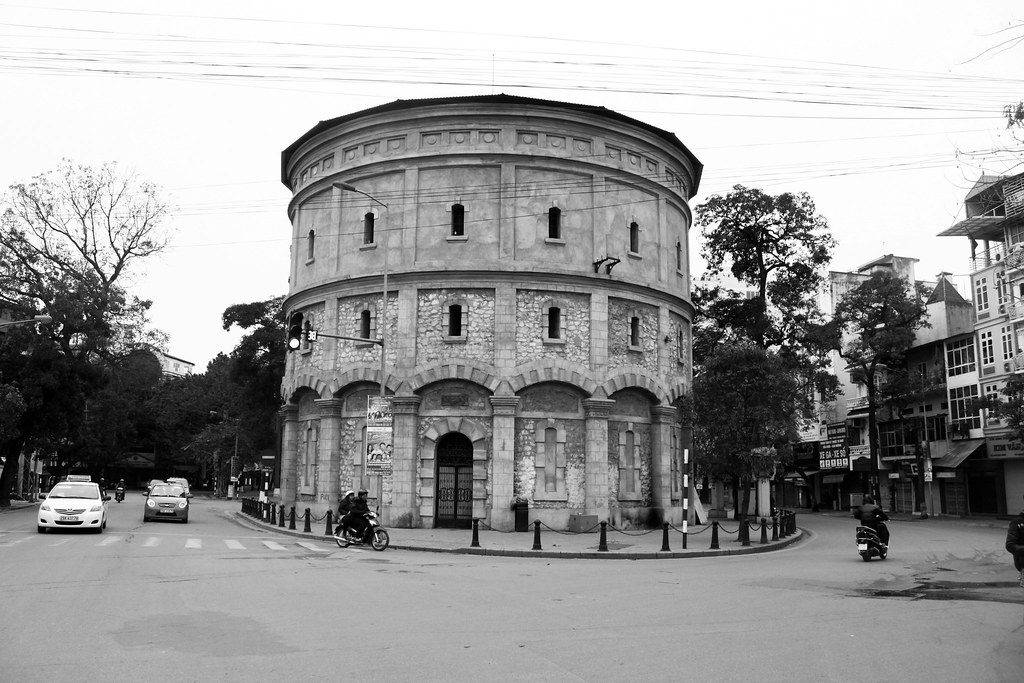 Hang Dau, also known as Hang Dau Water Tower, has a lifespan of 116 years, through three centuries XIX, XX, XXI. This place is one of the oldest architectural works in Hanoi capital, which was built even before Long Bien bridge. If you have come to Hanoi, definitely do not miss this ethnic historical evidence!
1. History of Bot Hang Dau
Bot Hang Dau, built in the 19th century, was basically an ancient water tower located at the 6 intersections on Hang Dau street. Because the 1984 epidemic threatened the lives of Hanoi residents and 12,000 French soldiers, a special committee for clean water generation was born. The water plants were urgently built then. Therefore, Hang Dau water tower and Yen Phu water plant also appeared in that situation with the mission of providing clean water for soldiers in the city and the old town. By 1954 this water tower was abandoned.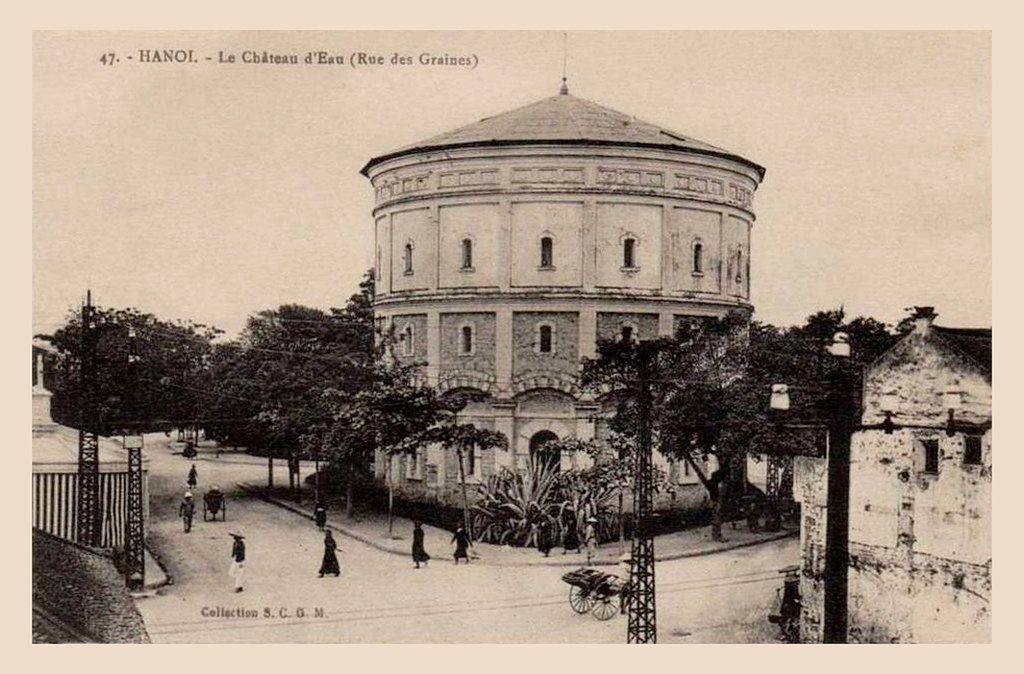 Now, although without the function of storing water and supplying water, Bot Hang Dau still exists as evidence of the slavery period as well as Vietnamese independence. Also, the location is a hallmark of historical architecture, becoming a familiar symbol of the capital.
Read more: Hanoi Flag Tower – A historical symbol of the Capital
2. Architecture of Bot Hang Dau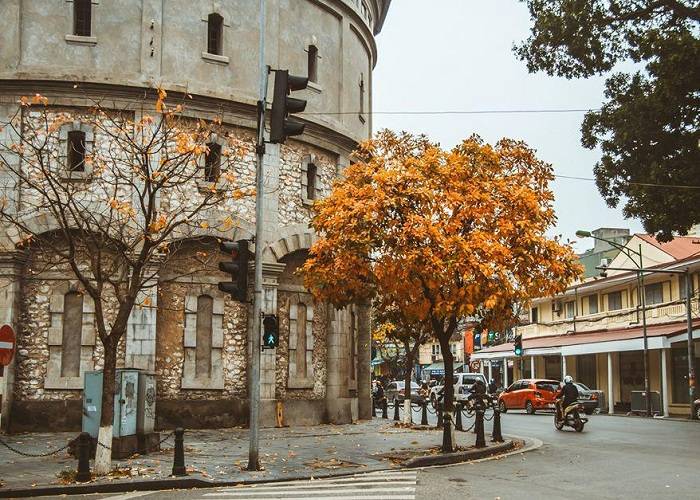 Bot Hang Dau is a round cylindrical tower, about 19m in diameter, 25m high (including the top). The roof is covered with iron, while the side around the main body is 54 small doors, shaped like holes. People used to call the water tower a round water plant or Bot Hang Dau since its architecture resembles the shape of a large blockhouse. Through different historical periods, Boots Hang Dau also had other names, such as Hang Dau water tank, Quan Thanh fountain, Quan Thanh roundhouse, etc.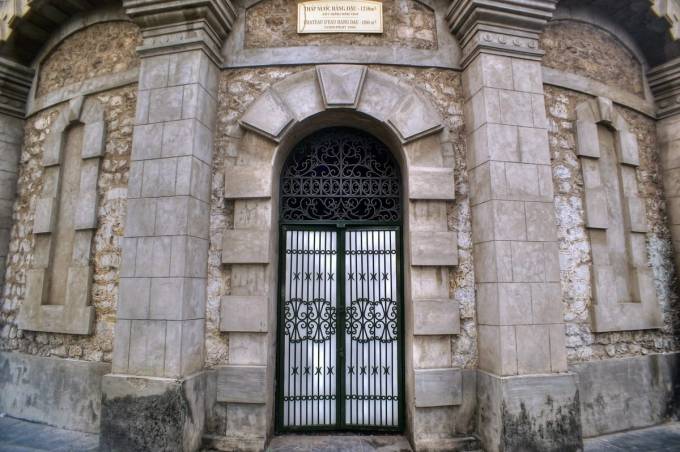 To avoid the heavy feeling caused by the pebble cement material, the designer covered the exterior of the building with eye-catching aesthetic details and created a soft feeling thanks to the arc-shaped doors, decorative curling iron motifs, stratified frill lines, and geometric line arts.
Especially on the first floor, besides 17 windows, there is also an entrance with two gates of popular decorative solutions at that time. The arch is rolled on the front of the door and repeated continuously around the first-floor architectural block, incorporating a supporting column system in the form of ancient Greek stone pillars.
Read more: Villa cafes in Hanoi – The places to keep memories of the capital
3. How to get to Bot Hang Dau
– Location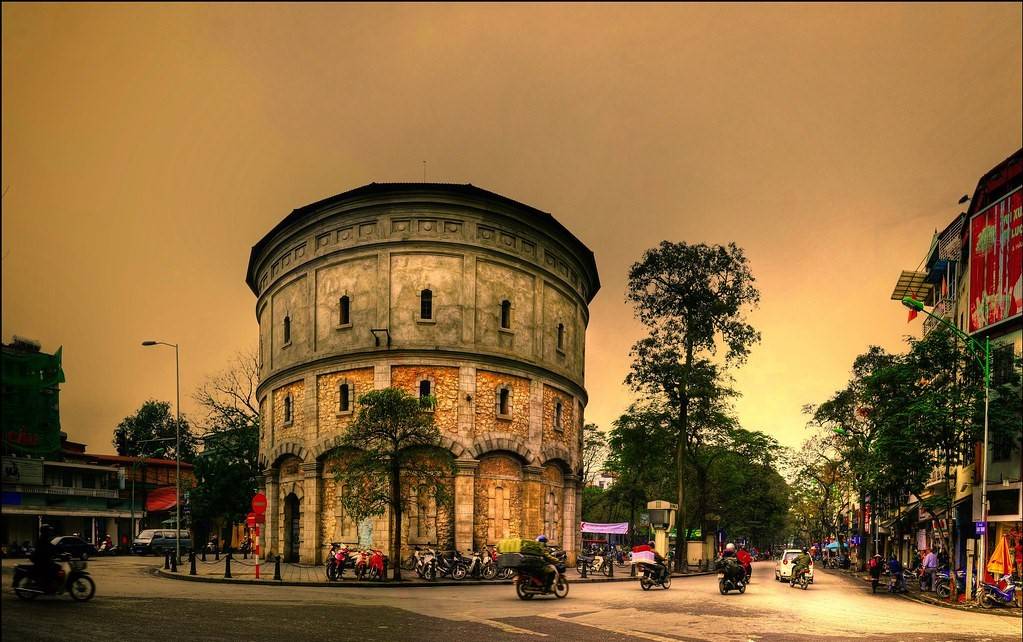 Hang Dau is located at the intersection of 6 streets: Hang Cot, Phan Dinh Phung, Hang Dau, Hang Giay, Quan Thanh, and Hang Than. It is also adjacent to a flower garden called Van Xuan (popularly called Hang Dau Flower Garden).
– Vehicles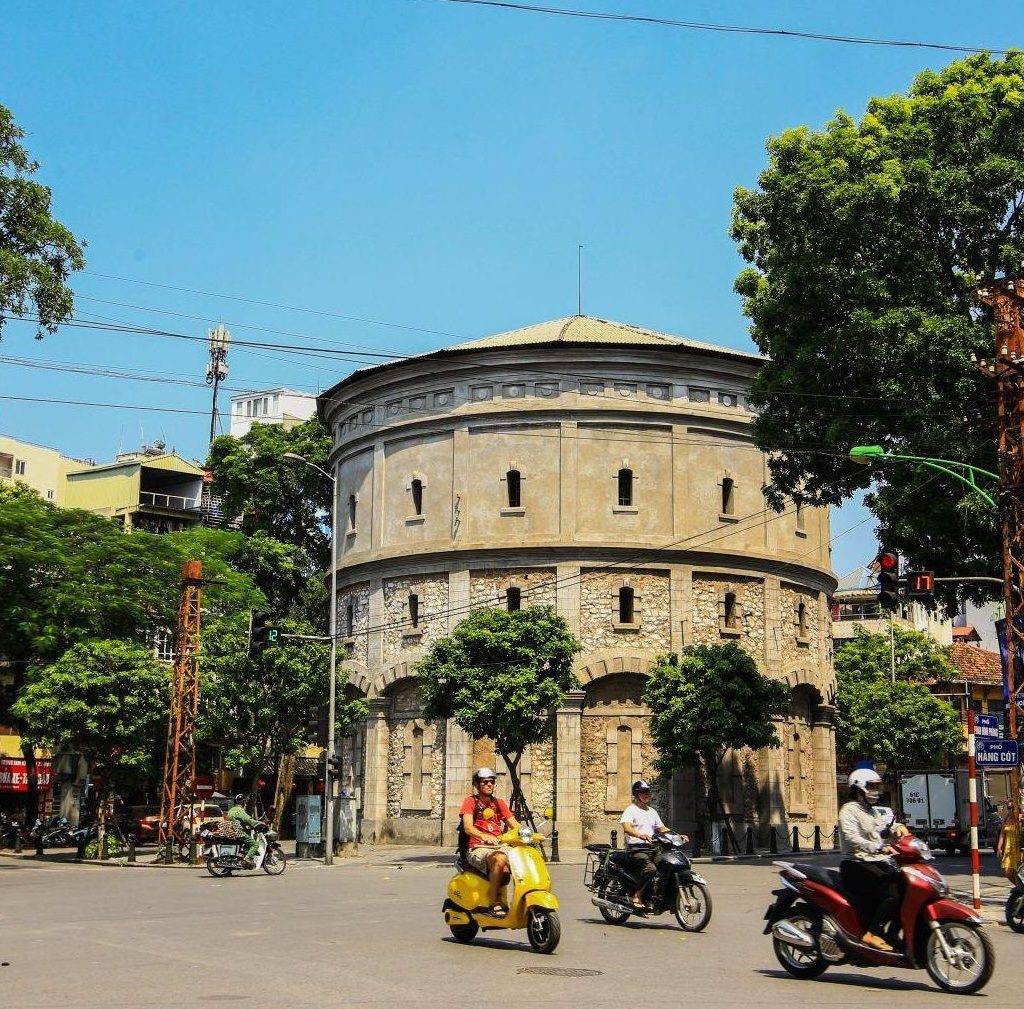 With its central location, visitors can easily move to the water tower site by bus, car, motorbike, etc.
To go to Bot Hang Dau, you can google the direction and go straight on Phan Dinh Phung Street; At the 4th and 6th crossroads, you will see Bot Hang Dau.
For those who ride a motorbike, you can park it in front of Bot Hang Dau or at Hang Dau Flower Garden.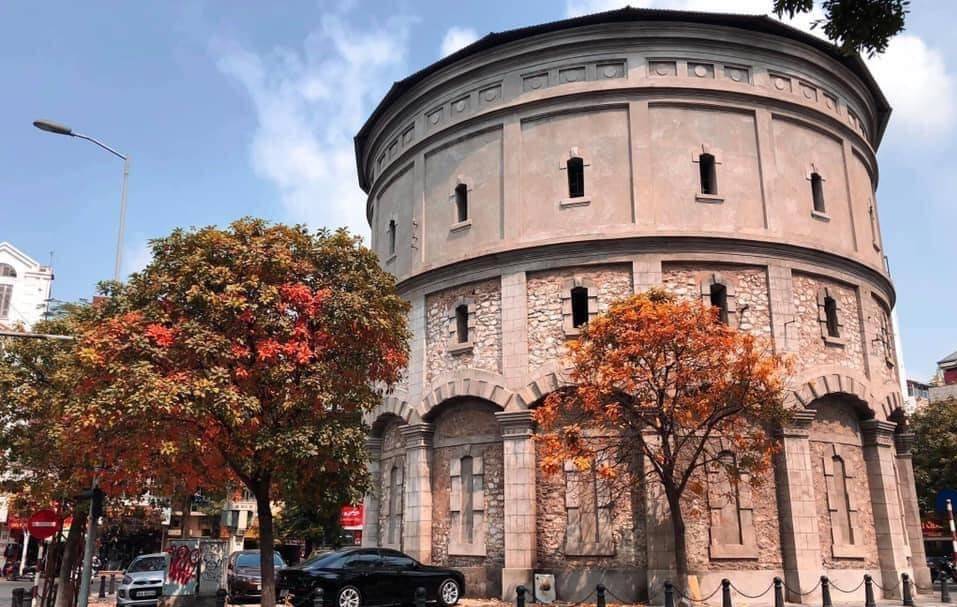 If you want to save money and time for finding direction, you can take a bus of the following routes:
+ Bus 14,18,22A, 23: Parked at 10-12 Quan Thanh
+ Bus 14,22A, 41: Parked at 3A Phan Dinh Phung
+ Bus 18, 23: Parked at 4 Ly Nam De
+ Bus 01, 18,23,36: Parked at the opposite 16 Phung Hung (the inner road)
These buses will park near Bot Hang Dau station, so you only have to walk a short distance to get to the destination.
Read more: ALL ABOUT HANOI TRAVEL GUIDE
4. The culinary paradise around Bot Hang Dau
In addition, to explore Bot Hang Dau and take excellent photos, you can also enjoy extremely attractive street food at affordable prices, such as:
– Hang Than Caramel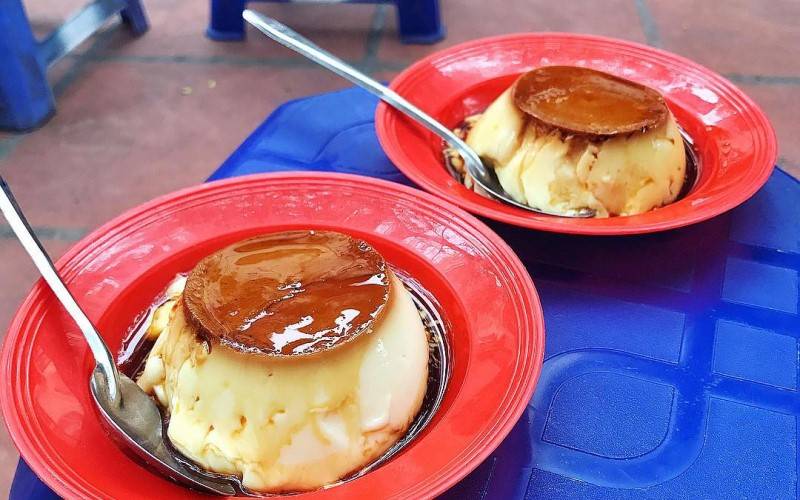 Hang Than Caramel is considered "the number 1 delicious caramel in Hanoi". Diners can not only enjoy the delicious original caramel cake but also experience its interesting variation, like pearl caramel, brown rice caramel, yogurt caramel, fruit caramel, coconut milk caramel, jelly caramel, mixed caramel, etc.
"From any angle, it doesn't have any flaw. The creamy golden color of the custard, the reddish-brown of the coffee sparkling in the sunlight; this conical cone cake really mesmerized me."- Australian journalist Mark Lowerson wrote on his blog about Hang Than caramel.
+ Address: Duong Hoa Caramel- 29 Hang Than.
+ Price from: 8.000-40.000 VND
– Banh Mi Uncle An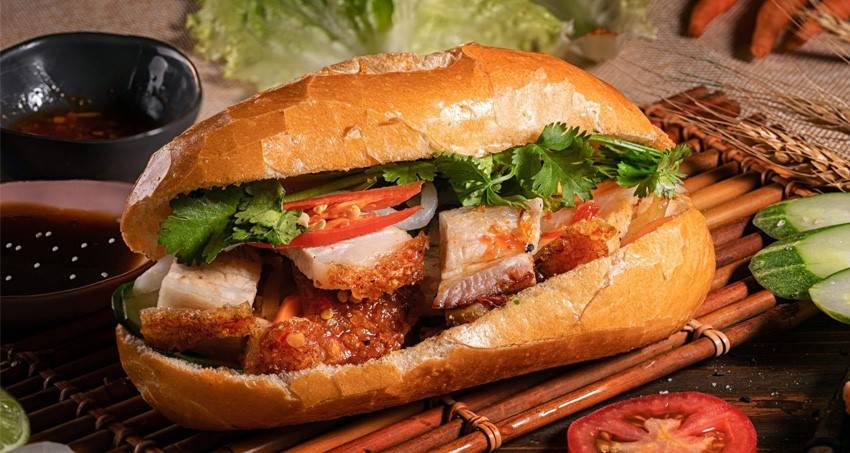 Banh Mi Uncle An or Nhu Y Banh Mi is a very famous old bakery located on Quan Thanh street (opposite Hang Dau). From the elders to children and from locals to tourists, no one hesitates to stand in line in front of the bakery to wait for the delicious bread filled with crispy hot rolls.
+ Address: Banh Mi Uncle An – 2 Quan Thanh.
+ Price from: 20.000-25.000 VND
– Dong Xuan rib porridge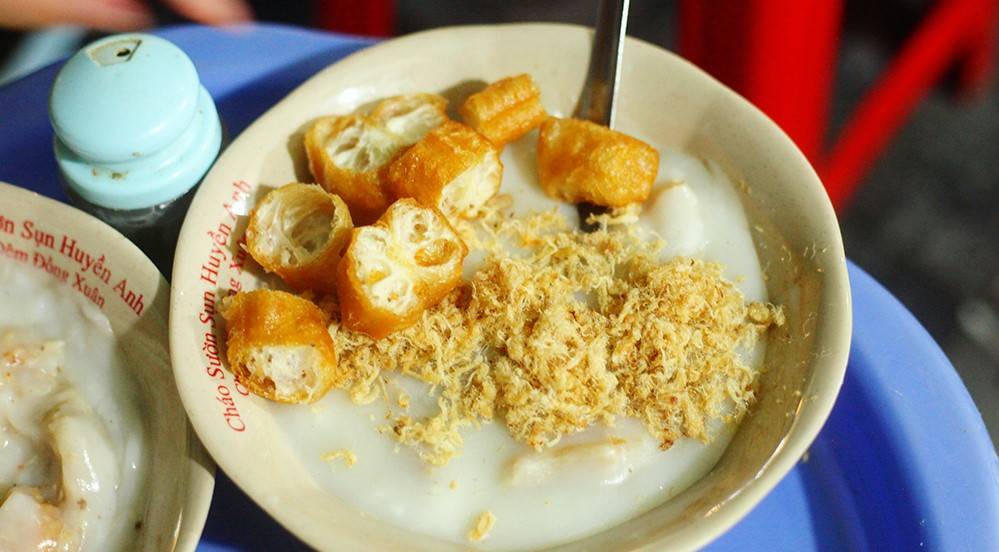 It would not be an exaggeration to say that this porridge shop is the second largest in Hanoi. There was no signboard, no roof, no luxurious seats, not even a table, but guests still came to eat a lot. People only need a tray with the porridge on to put it on a high plastic chair, and then, guests sit on the lower plastic chairs; that is enough to comfortably enjoy the bowl of porridge.
The porridge is smooth, thick, and white as milk. A full bowl of the porridge will be served with the well-simmered savory ribs. From the first spoon, we can feel the porridge immediately dissolve at the tip of the tongue, the sweetness of rice flour mixed with ribs. The shop is not far from Bot Hang Dau, so tourists can easily find it. Note that the shop starts to open from 6 pm.
+ Address: Rib porridge – 14 Dong Xuan.
+ Price from: 30.000-50.000 VND
Through many ups and downs of history, the bustling Hang Dau street associated with Bot Hang Dau becomes more and more famous for wooden furniture as well as ornamental fish shops and accessories. Bot Hang Dau, which used to be forgotten, now regains its poise and becomes one of the famous tourist symbols in Hanoi.