Cao Bang, the remote Vietnam region with pure natural beauty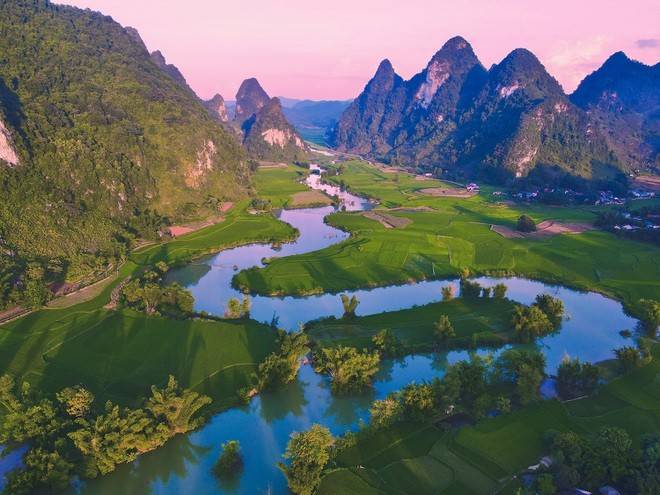 Among top world's 50 destinations with the most beautiful views by Insider, the mostly-mountainous terrain and five major river systems give Cao Bang numerous spectacular and poetic landscapes, like Ban Gioc waterfall, Phia Oac mountain peak with a rich flora of over 500 million years, mysterious Nguom Ngao cave and 14-bend Khau Coc Cha pass. Not only that but this place is also known for the relic Pac Bo – which is associated with the revolutionary life of Uncle Ho in 1940-1941.
I. About Cao Bang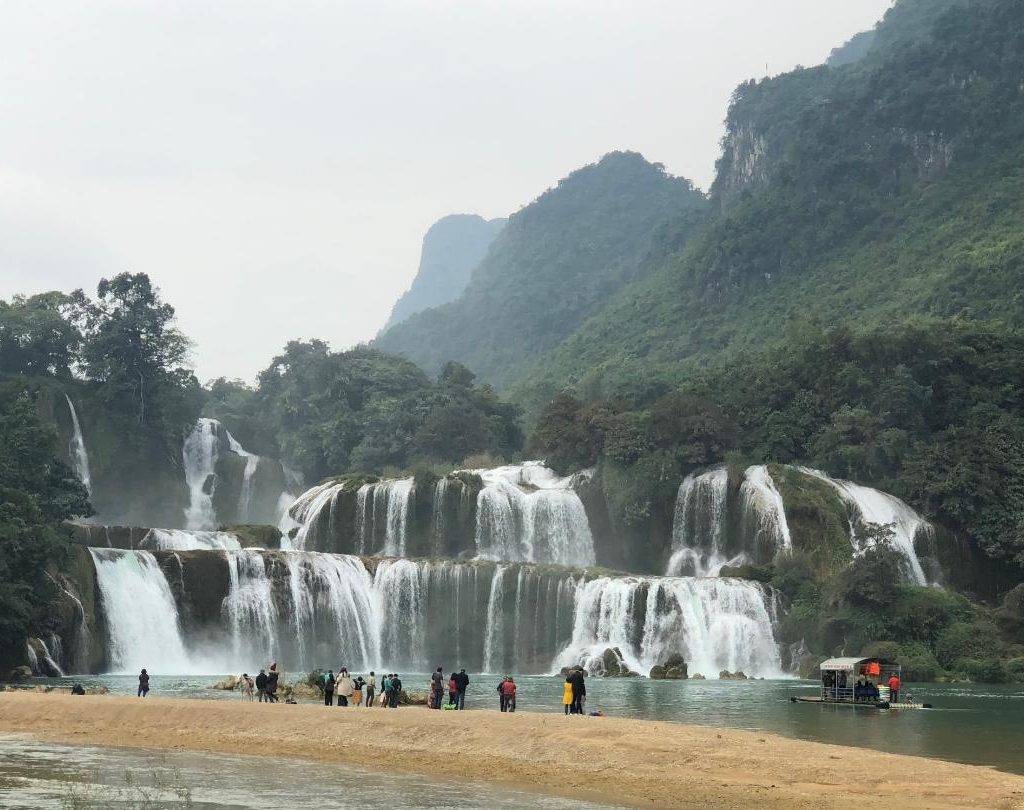 300km from Hanoi, Cao Bang is a Northeast province bordering China. In the past, the region was once occupied by the Chinese, which was later recaptured by King Le. In 1940 – the French colonial period, Ho Chi Minh returned to the country and chose Pac Bo – Cao Bang as a military base for the Vietnamese revolution.
Most of the area is covered by forest (90%), so the air is quite clean and cool in both rural areas and the city center. The dense system of rivers and lakes plays an important role in shaping the natural sceneries and locals' life. Large parts of Cao Bang were also recognized as a Natural Geopark in 2018 by UNESCO.
This is home to different ethnic groups, including Nung, Tay, Mong, Dao, and San Chay, who are very good at weaving brocade panels and other traditional handcraft such as making incense.
II. The best time to visit Cao Bang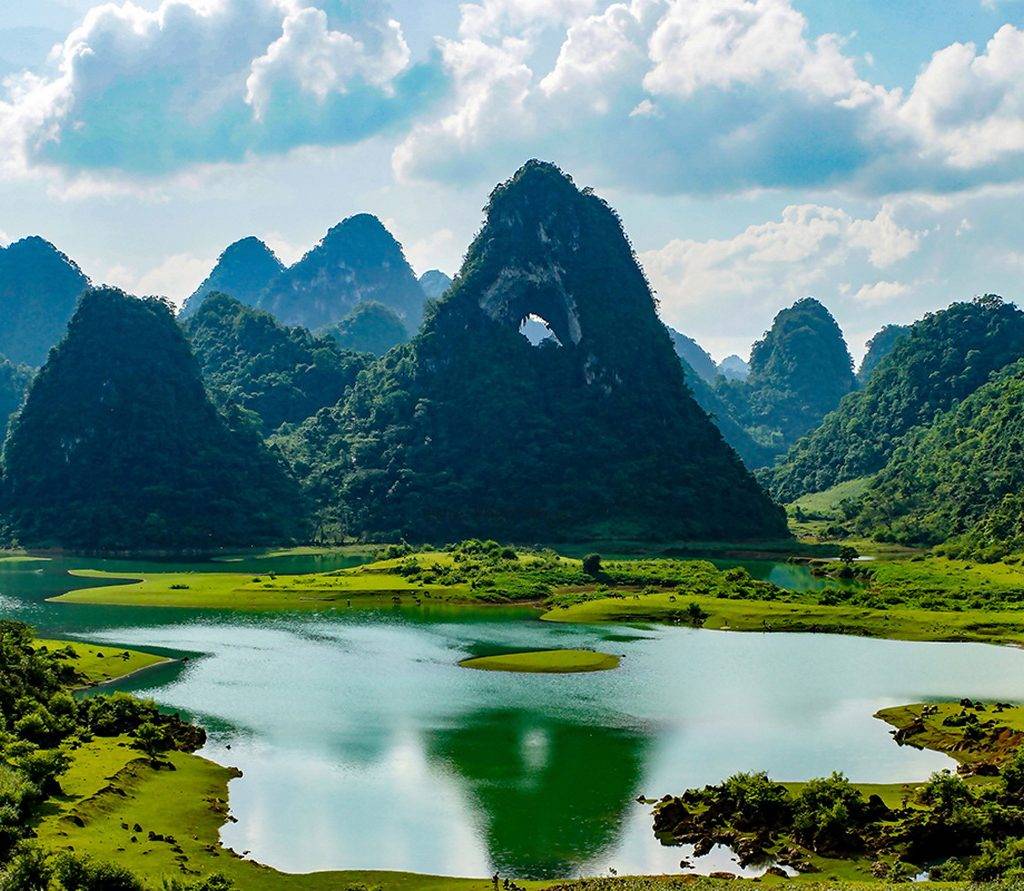 The most appropriate months to visit Cao Bang are August and September when Ban Gioc waterfall is full of water. Meanwhile, the period from November to December is popular with flowers, like wild sunflowers and buckwheat, blooming over mountains.
If you want to enjoy the scenery immersed in heavy mist and snow, just come here from December to February next year. This time, the Phia Oac peak and surrounding places might be frozen due to the low temperature.
III. Getting there
The most popular means of transport to Cao Bang from Hanoi are sleeping buses or motorbikes with a travel time of about 8-9 hours.
1. Motorbike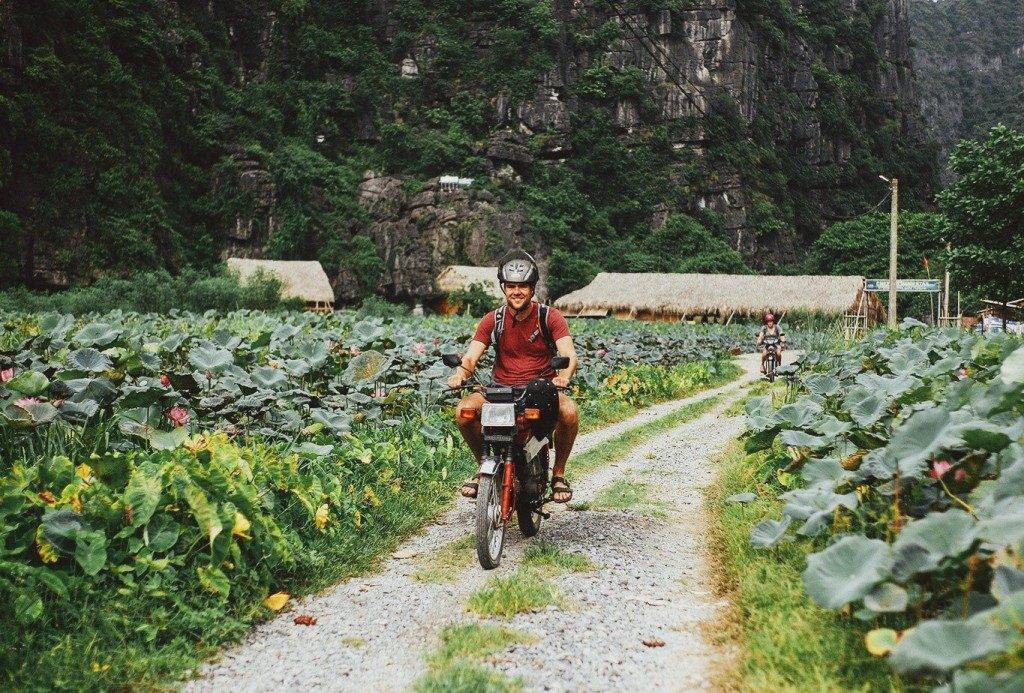 If you use a motorbike to travel to Cao Bang, you can follow 3 directions below:
From Hanoi, go on National Highway 3 through Thai Nguyen, Bac Kan to reach Cao Bang later on. This way, you can combine Thai Nguyen – Bac Kan – Cao Bang tourism.
From Hanoi, go on National Highway 4 to Lang Son, then continue in the direction of Dong Khe, That Khe to Cao Bang.
If you go to Ha Giang by motorbike from Hanoi, when you return, go in the direction of Dong Van to Meo Vac, pass through Bao Lam, Bao Lac, Tinh Tuc (Nguyen Binh) and turn towards Bac Kan to reach Cao Bang.
2. Sleeping bus
Another option when you want to have a gentler Cao Bang trip is to go by bus. You can catch a sleeping bus to Cao Bang at My Dinh Bus Station – Hanoi for about 150,000 – 200,000 VND. After that, you can rent a motorbike to explore the tourist attractions here.
VI. Accommodation in Cao Bang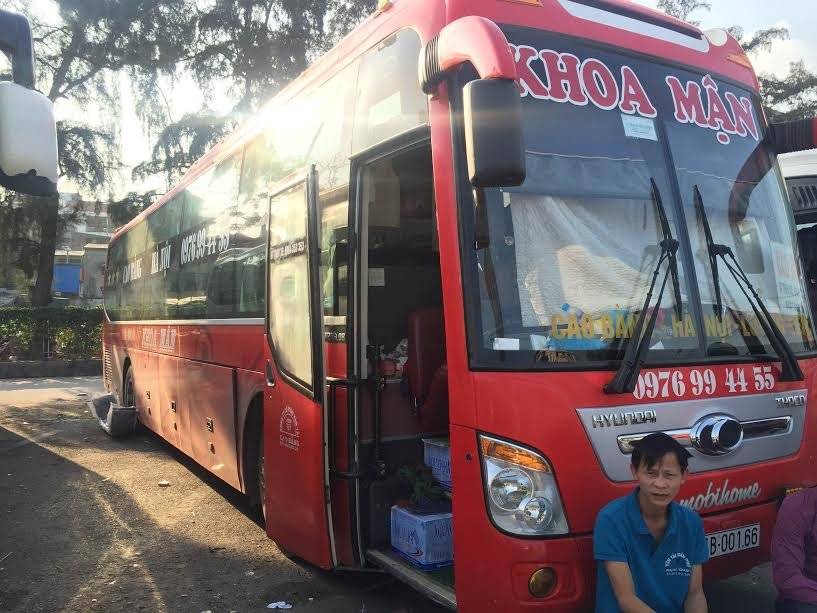 Cao Bang offers many affordable hotels, homestays, and guest houses around the city center or the area surrounding the Ban Gioc waterfalls. It is recommended to stay in homestays in small villages as you can experience the local life closely. The room price ranges from 350,000 – 500,000 VND/night.
Here are a few suggestions:
– Jeanne hotel
Address: 99 Kim Dong, Hop Giang, Cao Bang, Vietnam
Phone: (+84) 912 130 126
– Duong Ha hotel
Address: No. 16, Group 16, Song Bang Ward, Cao Bang, Vietnam
Phone: (+84) 206 6265 555
– Primrose homestay
Address: No 18, Hong Viet Street, Hop Giang Ward, Cao Bang, Vietnam
Phone: (+84) 983 994 869
– Yen Nhi Ban Gioc Homestay
Address: Nguom Ngao, Trung Khanh, Cao Bang, Vietnam
Phone: (+84) 94 224 17 60
V. Where to visit in Cao Bang
1. Ban Gioc Waterfall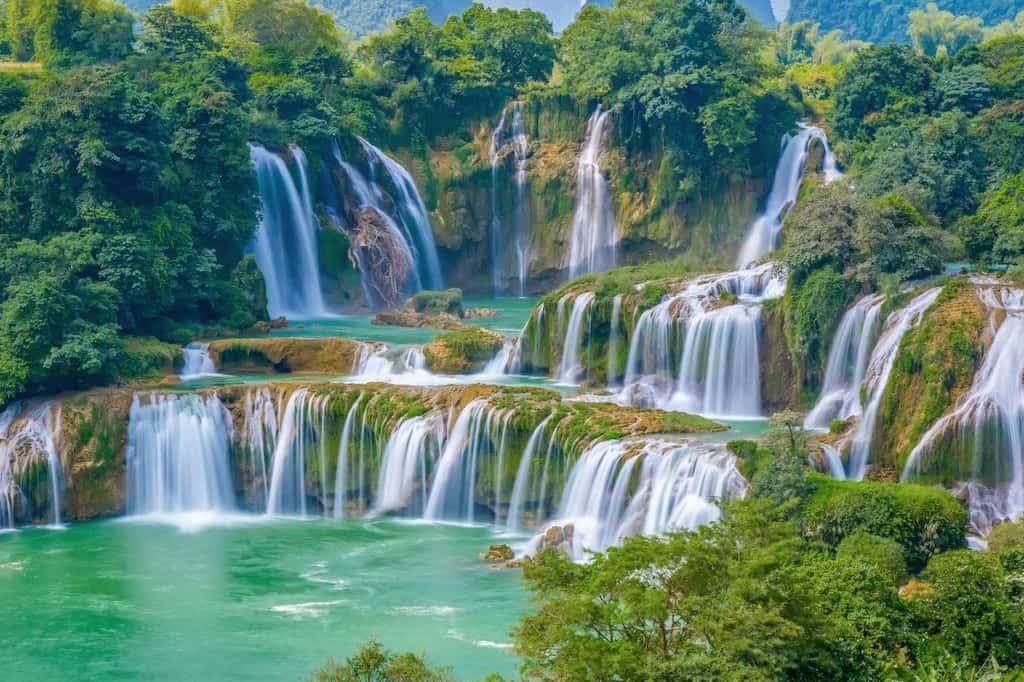 As the border between Vietnam and China, Ban Gioc is one of the most famous waterfalls in the country. The waterfall has two parts; the sub-waterfall on the left belongs to Vietnam and the main one on the right belongs to China.
Ban Gioc Waterfall has bumpy mounds divided like stairs, causing the water flow from Quai Son River to split into numerous strips, then form a white patch among the greenery. Visitors can also take a boat ride to get close to the falls at about 50,000VND for 10 minutes. No swimming is allowed in case anyone had thought about doing that. To have a better overview of the falls and the entire karst valley, you can move towards Cao Bang for 1km and climb left to the hillside to reach Phat Tich Truc Lam Ban Gioc Pagoda.
An artistic light show at the waterfall is likely to be held around 7 pm on some nights.
2. Pac Bo – Cac Mac Mountain – Lenin Stream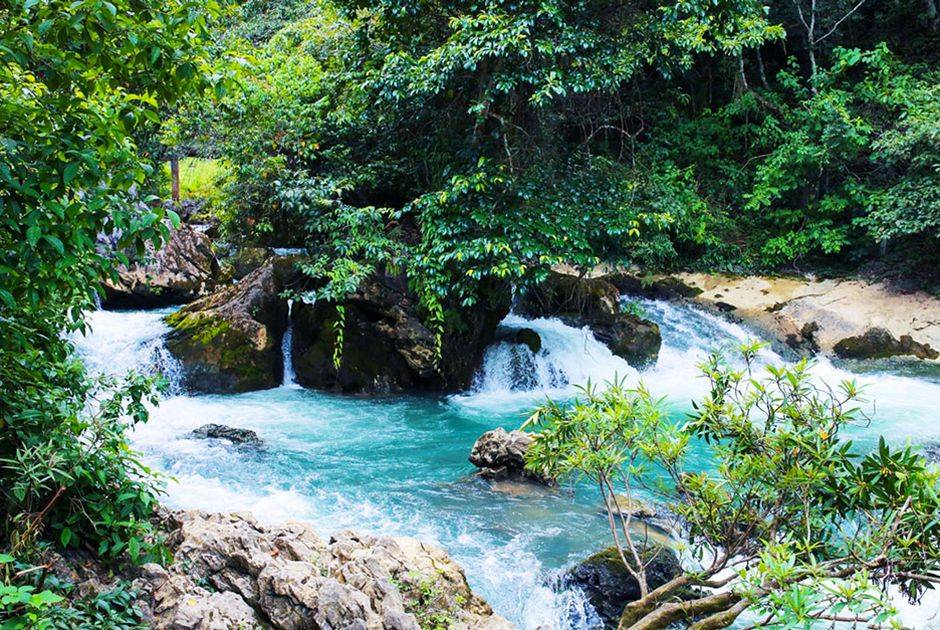 Located 132km from Ban Gioc Waterfall, close to Chinese territory, Pac Bo is known for the stories of Ho Chi Minh and the early days of the French war. In addition to the historical value, the impressively fresh natural scenery here also surprises every tourist.
At the end of the path through Pac Bo village are the towering Cac Mac Mountain and poetic Lenin Stream. The mountain has green dense, well-covered shrubs all year round; at its foot is the crystal blue Lenin Stream, which is clear enough to see iridescent pebbles and schools of fish swimming on the bottom. Going along the water flow towards the upstream, you will reach Coc Bo Cave, where Uncle Ho used to live and work.
The admission to the Pac Bo relic site costs 25,000 VND/person. If using an electric car, visitors have to pay an additional 20,000 VND/person.
3. Nguom Ngao Cave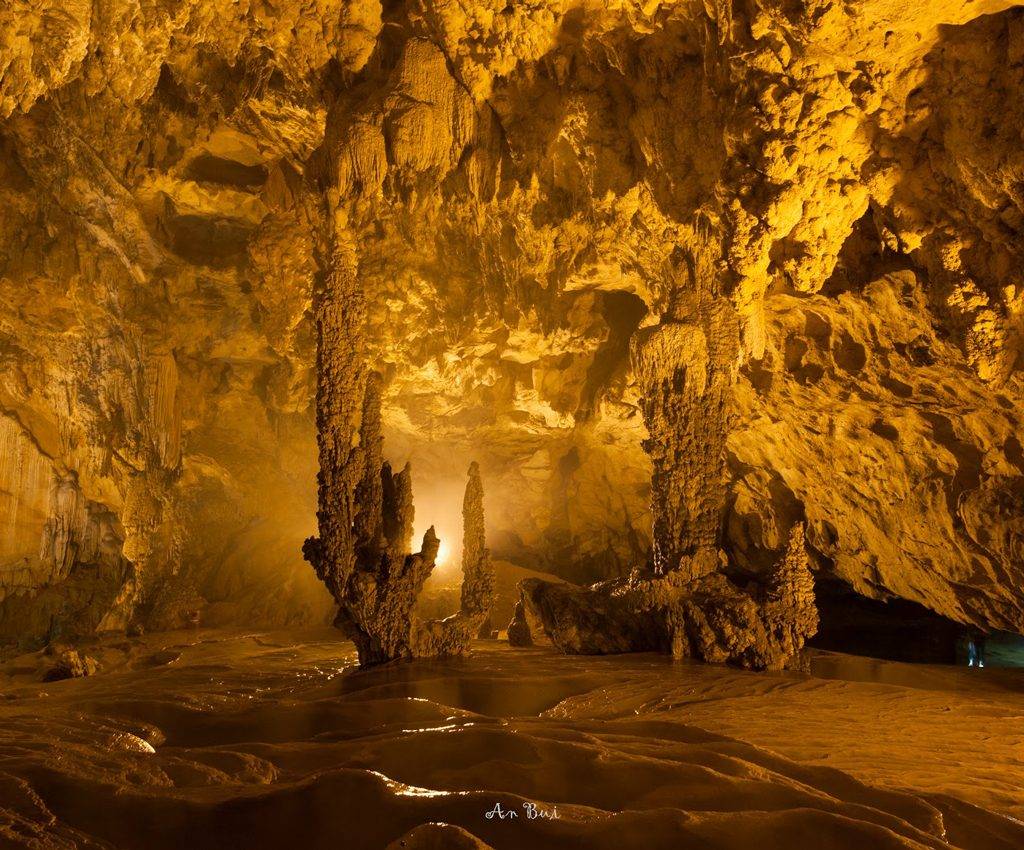 If the Phong Nha caves get all of the press due to their size and also to their accessibility, Nguom Ngao Cave – Cao Bang is rather remote. However, once getting up here, you will find it worth the try. The cave tour takes you around 30 minutes through nearly 3 km of detailed beauty of rock and crystal formations. The path has concrete, easy to go with enough light, although a bit interrupted in the middle of the cave – where the ceiling is highest.
This cave was also the shelter of villagers during the 1979 war with China.
4. Mount Phia Oac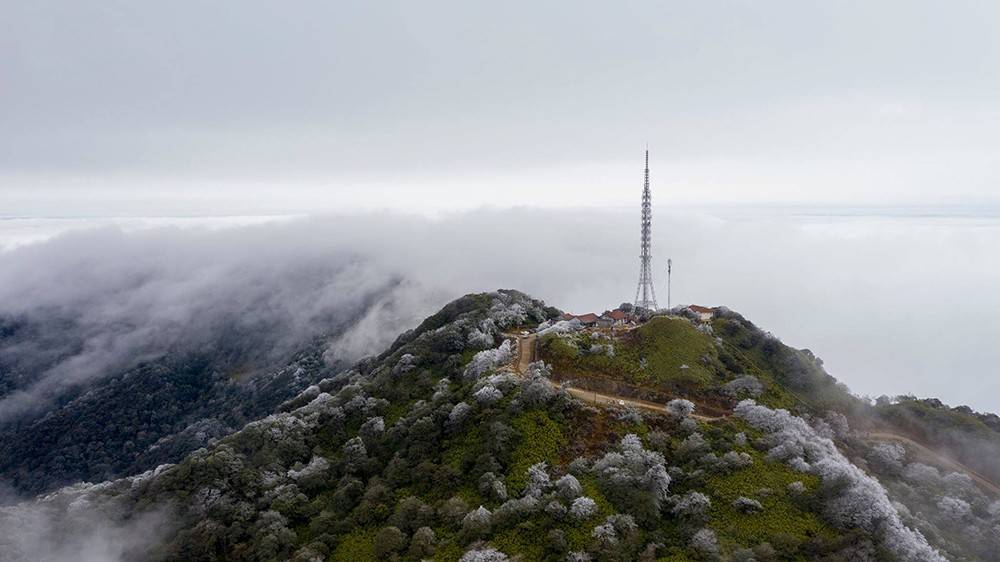 Mount Phia Oac is the second highest mountain and also a national park and special-use forest located in 5 communes of Nguyen Binh district, Cao Bang. This used to be a resort discovered by the French in the early 20th century; as a result, some vestiges of French villas and motels still remain here.
This place is home to multiple species of wildlife, especially 90 species of plants and 58 species of highly endangered animals. Some notable names are false fern, rocky mountain pine, and pine conifer. In terms of animals, there are about 80 species of mammals, hundreds of bird species, reptiles and amphibians, and thousands of insect species.
In winter, Phia Oac peak sometimes experiences sub-zero temperatures, causing everything to freeze, spreading a white color across the whole mountain range.
5. Khau Coc Cha Pass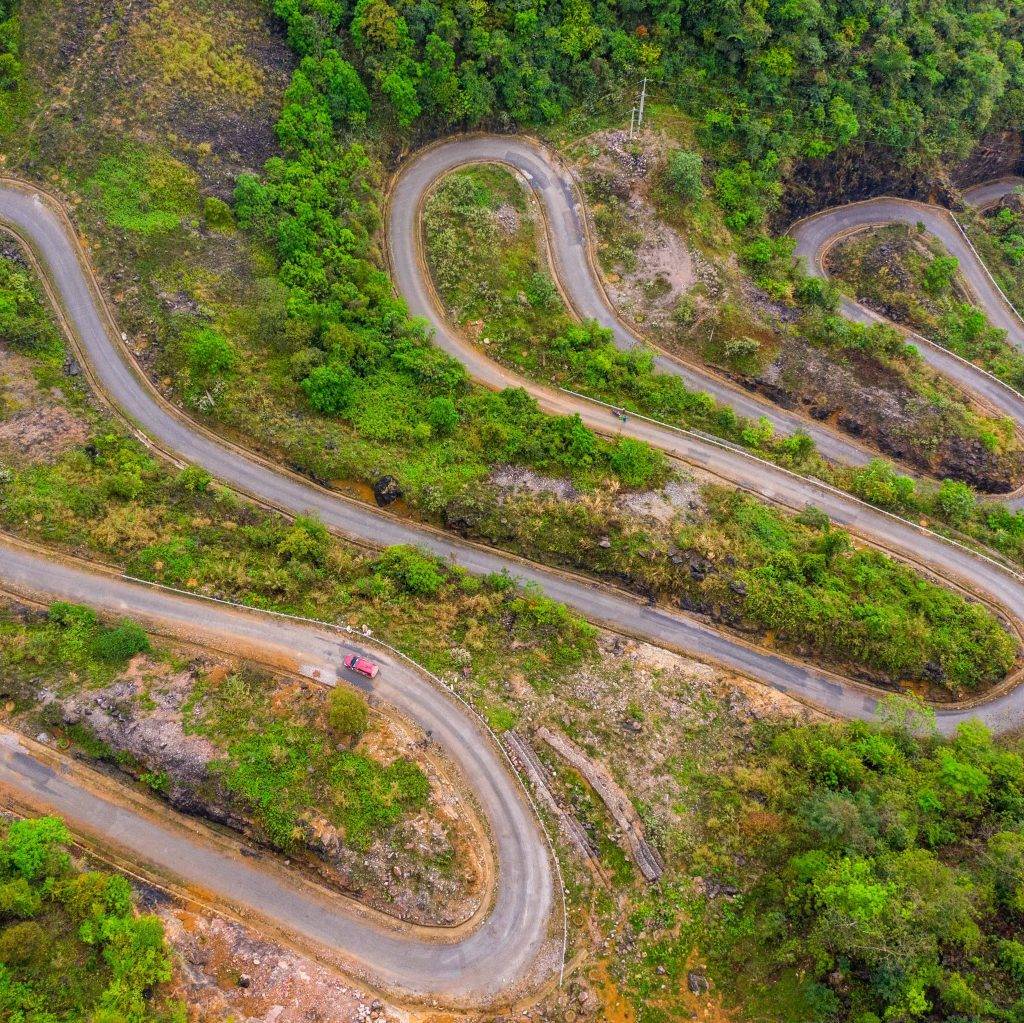 Khau Coc Tra Pass, also known as Me Pia, is the most famous pass in Cao Bang because of its winding shape and craggy path. To see the whole majestic scenery of the place, you have to spend 1 hour (both up and down) hiking through the forest and follow the mountain slopes.
It can be said that this is the most multi-layered pass in Vietnam, including 14 floors hugging the mountain. The stop for a panoramic view of the pass is the end of the 14th bend, at the foot of Bao Lac Pass. From here, the scene appearing in your eyes is just a faint zigzag line. Because this pass mainly contains continuous steep twists, the motorcyclist travelers have to be extremely skillful and careful.