5 finest Vietnam destinations to literally touch the clouds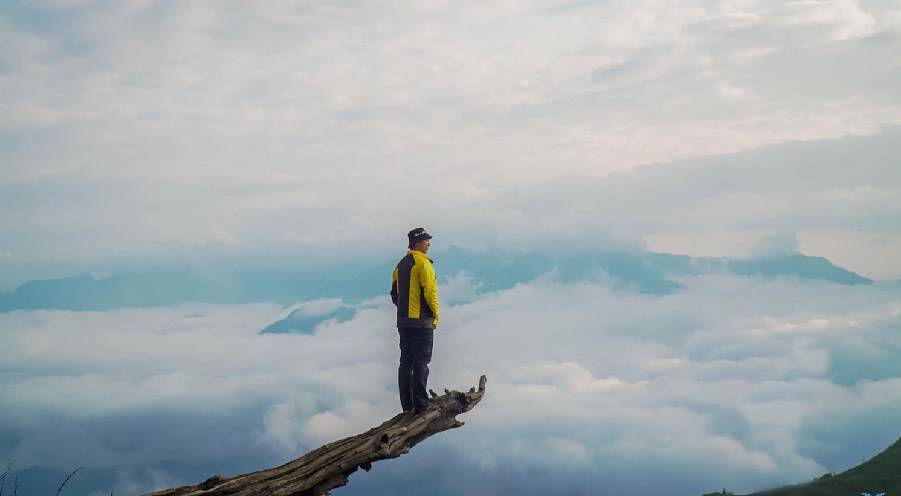 A hard-earned trek to the mountain top to have a breathtaking cloud paradise has been rising in Vietnam tourism. The scene of the sea of clouds only appears for a certain period for a few minutes, then quickly disappears into a dense fog covering space; therefore, that rare little moment has become priceless, drawing abundant travelers' attention.
Throughout the country, it's easy to find lots of spots making your dream of touching clouds come true. If taking the height of 1500m or more as the standard, the south seems to have the only candidate – Pinhatt in Da Lat, while the northern mountainous regions dominate with various names – Y Ty, Bach Moc Luong Tu, Ta Xua, Ta Chi Nhu, etc.
Together with us explore the top 5 Vietnam destinations to hunt clouds below!
1. Y Ty (Sapa)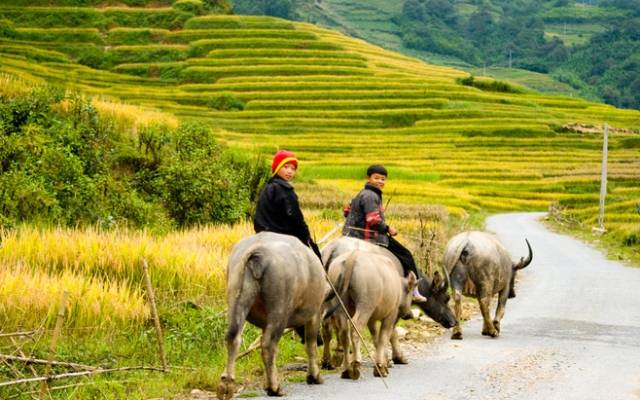 Located at an altitude of over 2000m, Y Ty – Bat Xat district, Lao Cai, is a year-round land covered with clouds. This is also the only place where a large number of Ha Nhi ethnic people live. With the giant natural backdrop of the Nhu Co San mountain range, Y Ty has a rustic, simple but wild beauty with floating clouds.
From Hanoi, you can choose either trains or buses to arrive at Sapa; then, rent a motorbike from the town to Bat Xat with a distance of about 80km. With this itinerary, you can combine exploring Sapa on the first or last day of the journey.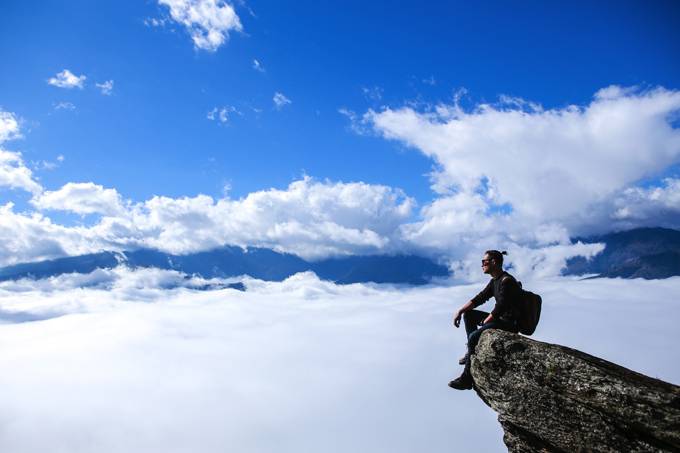 The most suitable time to hunt clouds in Y Ty is at the end of March and early April; at this time, there are not only thick clouds but also blooming forest azaleas. In the late afternoon, each hobbit house in Ha Nhi villages starts to light up, making the scenery here more shimmering and mysterious. In case you want to enjoy a larger sea of ​​floating clouds, a trek to Lao Than peak is a good idea. To conquer the peak, you have to go through a 16-km path with main trails and low grass.
2. Ta Xua (Son La)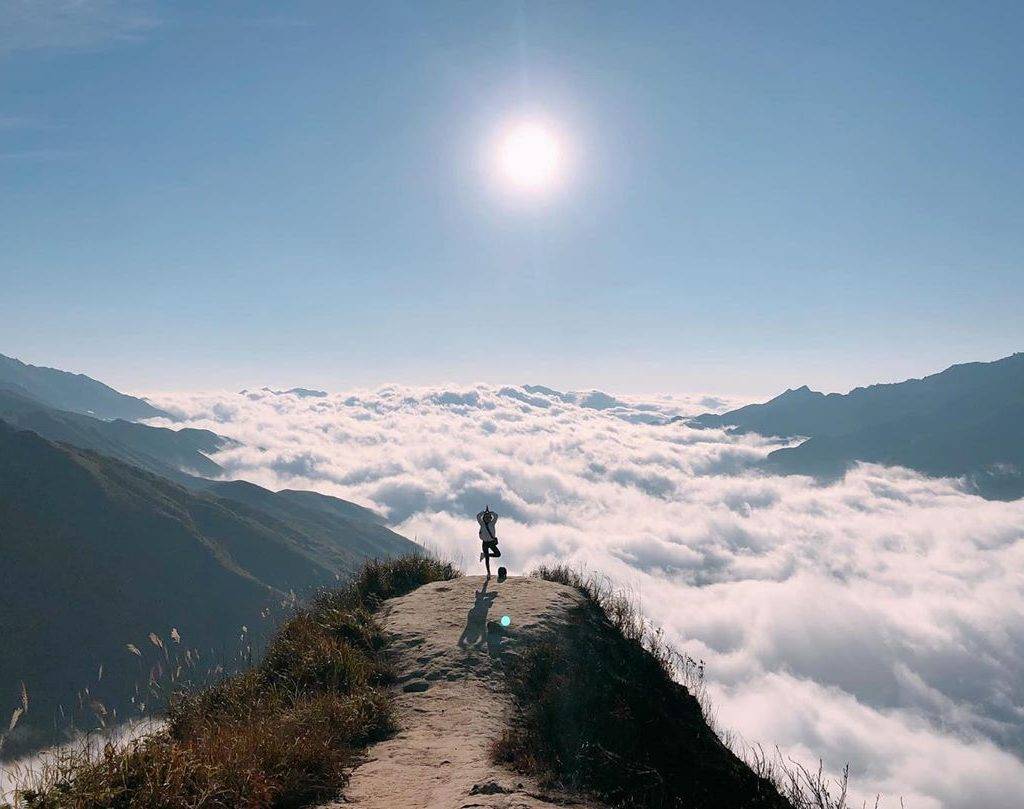 300km from Hanoi, Ta Xua commune is a natural border between the two provinces of Yen Bai and Son La. The highest mountain of Ta Xua is 2865 m high, making it the 10th highest mountain top in Vietnam. Its three main mountain tops form a famous "dinosaur's back" line where adventurers can even ride motorcycles. The image of riding in the middle of clouds on both sides will make all visitors overwhelmed.
You can take a bus from Hanoi to Bac Yen; after that, rent a motorbike from Bac Yen to Ta Xua commune. The road only stretches about 13km but offers incredible cloudy scenes indifferently crossing the mountain. Once arriving at Ta Xua, a fairy-like image appears in front of your eyes with houses, mountains, and trees, all immersed in white clouds.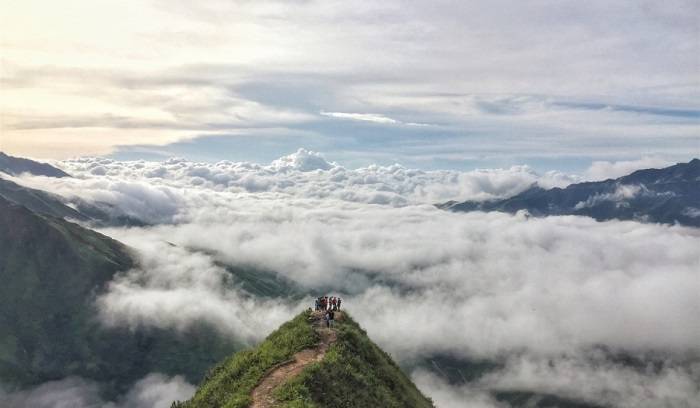 At Ta Xua, you can choose two types of accommodation: camping or homestay; in which, sleeping in a tent on the top of a mountain will bring a feeling of being closer to nature, but bear in mind to prepare enough warm clothes.
3. Bach Moc Luong Tu (Lao Cai – Lai Chau)
Bach Moc Luong Tu, or Ky Quan San, lies between Lao Cai and Lai Chau provinces, with an altitude of 3046m above sea level. This is the 4th highest mountain in Vietnam and also a must-see cloud hunting place in the Northwest region. The distance from the foot of the mountain to the highest peak is about 30km long, through different terrains of bare hills, bamboo forests, wooden forests, dwarf bamboo forests, and moss-covered cliffs. It can be said that this is not an appropriate choice for those who are afraid of heights or easily discouraged.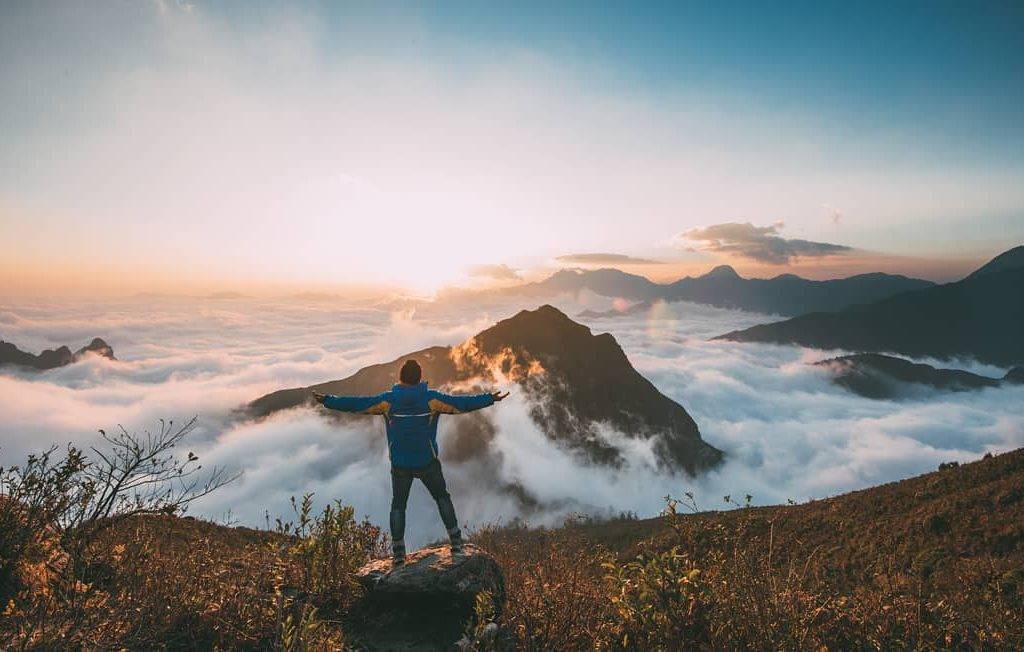 The most popular time to travel to Bach Moc Luong Tu is from late August to April due to the cool and mild weather. Additionally, climbing in winter (November – January) is also challenging yet quite interesting when admiring pretty snow-covered mountain scenery. The average time to climb Bach Moc Luong Tu takes 2-4 days. If it is your first time conquering the range, it is best to go with someone with experience or hire a guide for about 250,000 VND / day.
At My Dinh and Giap Bat Bus Stations, there are daily buses to Sapa town. From there, rent a motorbike at the price of 100,000 – 150,000 VND/each/day and then move to Ky Quan San village. After arriving, park your motorbike, call the guide and start the journey. The easiest route is departing from Ky Quan San village, Sang Ma Sao commune, Bat Xat district, Lao Cai.
Note: Contact to get a referral from the Provincial Military Command before climbing to avoid trouble when meeting border guards.
4. Pinhatt (Da Lat)
With an altitude of 1691, Pinhatt becomes the highest peak located south of the city to fulfill explorers' dreams of touching the clouds. Unlike LangBiang, this place is completely wild and rustic as it is. There will be no convenient roads or tourist attractions here; therefore, to conquer it, you must be patient.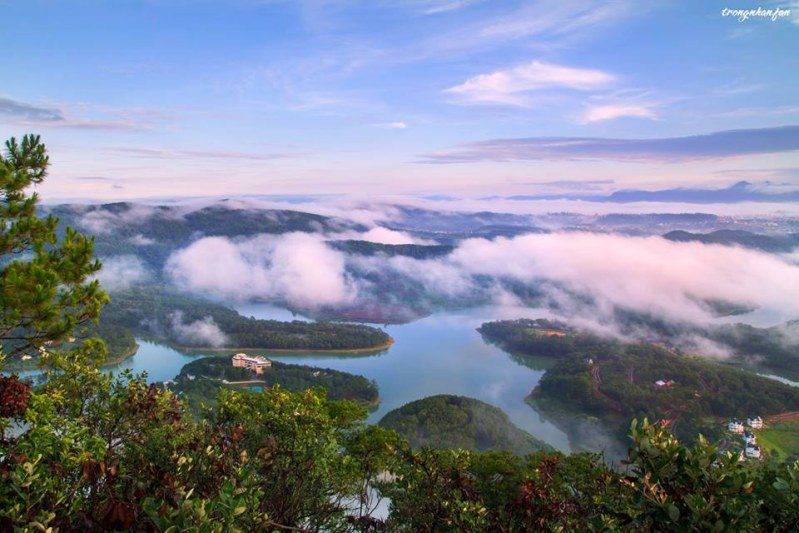 From the city center, move to Da Lat Edensee lake resort & spa about 12 km through Prenn pass. Next, move another 500m, you will see Da Tien restaurant. Opposite the welcome gate is a gravel road blocked by a barrier – this is the path we need to conquer. Along the way, you will see baskets of colorful orchids on the trunks of ancient trees or thousands of years old red pine trees. From the foot of the mountain to about 2 km, you will reach a clear mineral lake; continue to go another 500m, you will see a craggy cliff reaching the sky, on top of it is Pinhatt peak where you have a whole view of Da Lat before your eyes. On sunny days, you can even see Tuyen Lam Lake, Langbiang range, Truc Lam Zen Monastery, or Con Ga Church.
The best time to come here is around September to December, especially in the early mornings when the dawn is about to break; at that time, layers of mist drifted in the middle of the mountain leaving the scene of houses and pine hills among the dreamy sea of floating ​​clouds.
5. Ta Chi Nhu (Yen Bai)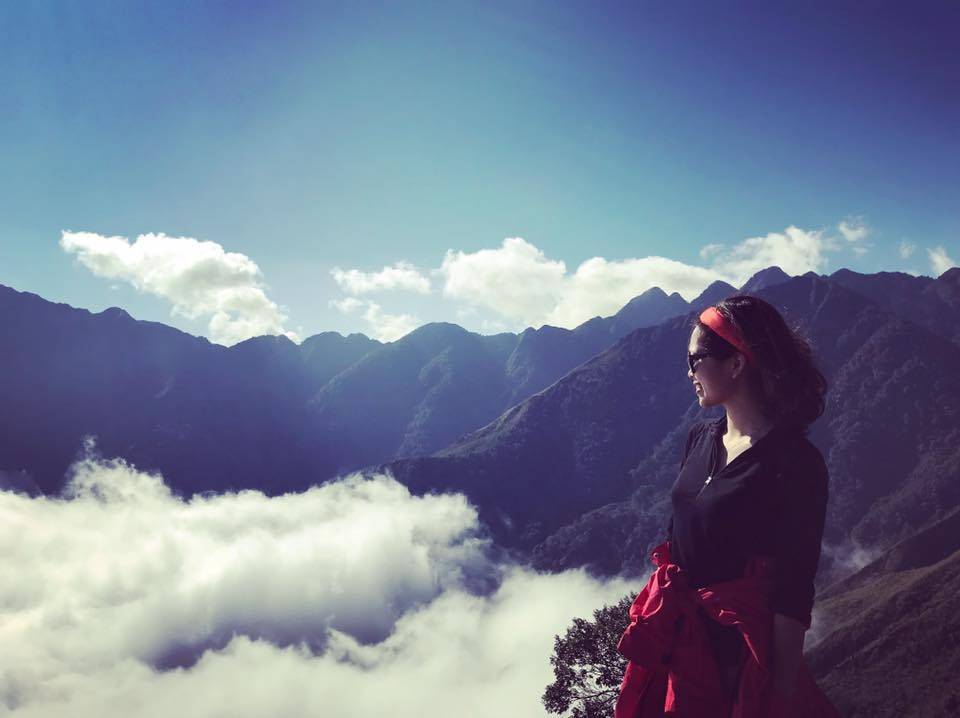 Ta Chi Nhu Peak ranks in the top 6 of the ten highest peaks in Vietnam, famous for its beautiful purple flower hills. Although it is 2979m high, it will take visitors one and a half days to reach the top of the mountain. However, the way to conquer this mountain is not simple with the 12-kilometer climbing route full of steep slopes, little shade, and sunshine making climbers lose strength quickly.
The period from November to March next year is ideal to hunt for clouds. At this time, the weather is dry, cold, with little rain.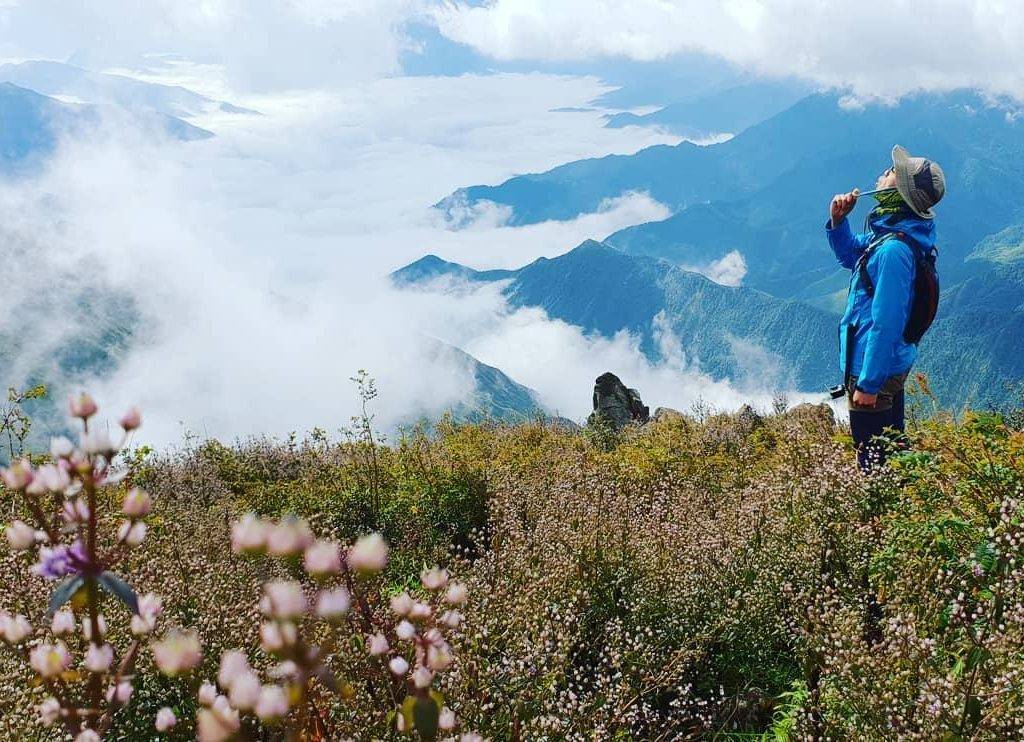 In Hanoi, you can follow either the route of Thang Long Boulevard or route 32 (Nhon) to reach the Son Tay area; Next, turn in the direction of Trung Ha bridge and go straight to Nghia Lo – the central area of ​​the west of Yen Bai province. From Nghia Lo, there is still more than 30km to Tram Tau. Since the route is rather small with numerous steep bends, pay close attention. Go to the first bridge right before entering Tram Tau town, turn right and follow this route. There will be a sign board to guide (or you can ask local people) the way to the Mo Chi area, which will be the starting point for climbing. It's recommended to be present at Tram Tau the night before, then the next morning, you will have more energy to reach Mo Chi to meet your porters.
* What to prepare for a cloud-hunting trek?
Always in a healthy condition. If you do not have any experience in trekking or climbing, practice in the steep terrain before getting ready for tougher trips.
At least 1 liter of water per person. During the journey, we will lose a lot of strength and sweat. Therefore, add enough water, or electrolytes, to continue the journey.
A specialized hiking cane will be an essential item to support your body weight when climbing or descending.
A lighter or flashlight can help you avoid many risks when climbing, such as cold or losing your way.
Snacks and a little raw food to make a small barbecue. It would be interesting if after a tiring journey we had a wild BBQ with our partners. Food also provides energy for the journey to continue.
A tent to camp in the middle of the mountain or at the top if you intend to spend the night there.
Raincoats and windbreakers are also indispensable items in case the weather does not go as you want.
Phones and cameras will be necessary as well for capturing beautiful moments.