Ban Gioc Waterfall, the giant majestic water border line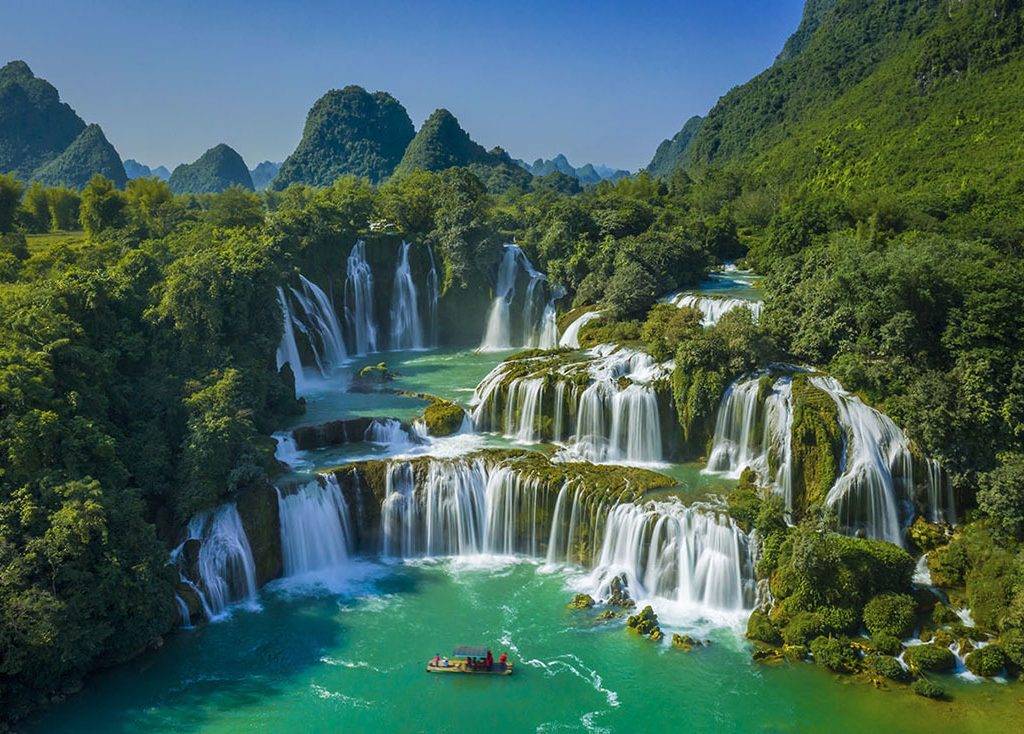 Veiled deep in the forest, with successive water cascades extending up to a hundred meters, Ban Gioc Waterfall is truly a hidden gem of the mountainous province, Cao Bang. Unlike other usual falls with a stream flowing straight down from above, Ban Gioc's topography consists of bumpy mounds that make it look like a giant staircase for afar – which helps to divide the stream into several layers.
This waterfall rushing by the ripe golden fields by day and under the starry sky at night is literally the natural border between Vietnam and China. Small pontoon boats are preferable means for visitors who are thrilled to get close-up photos of the falls.
I. About Ban Gioc Waterfall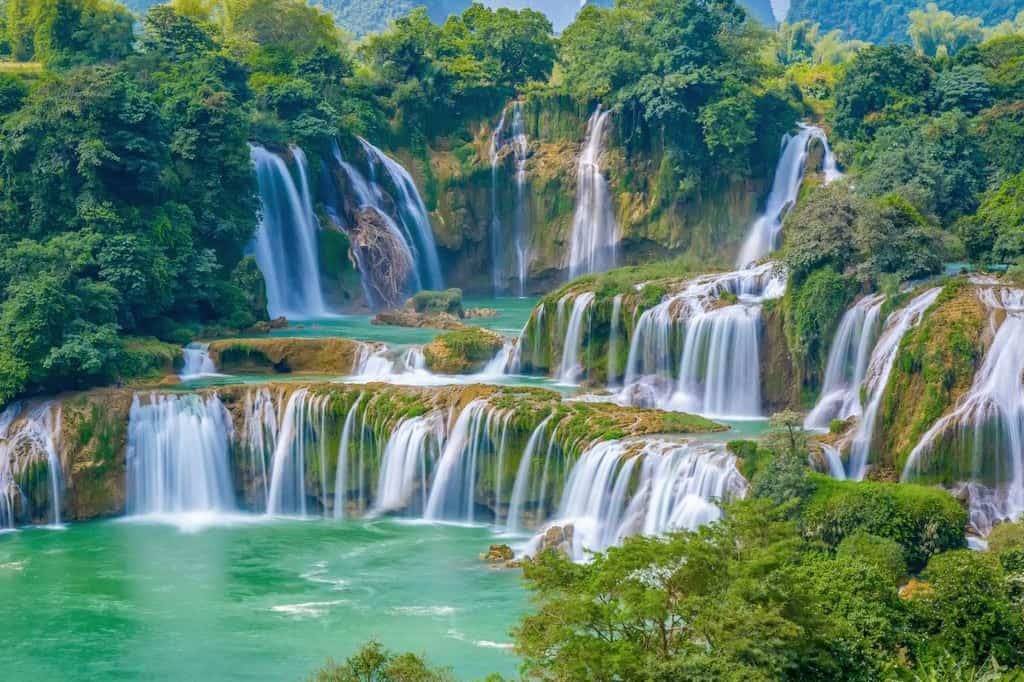 Ban Gioc Waterfall in Trung Khanh District, Cao Bang Province includes a series of falls running down from Quay Son River at the border between China and Vietnam. The waterfall is over 60m high with the longest slope up to 30m. The jade-colored water flows non-stop through each floor and over the cliffs in a unique horseshoe shape. On sunny days, steam shooting from the waterfall creates a dreamy rainbow over the sky. At its foot is a wide lake surrounded by limestone mountains, green primeval forests, and eye-catching rice fields on both sides.
At a cost of 50,000 VND/person, customers can sit on a small bamboo boat going in the lake for about 15 minutes to get closer to the waterfall. About 500m from Ban Gioc waterfall is Phat Tich Truc Lam Pagoda, a quiet and extremely suitable place to admire the wonderful panorama of the waterfall from above.
The beauty of this place has been honored many times in famous newspapers, and most recently, the American magazine Travel + Leisure has put Ban Gioc as one of the world's 21 most beautiful waterfalls.
Read more: THE SPECIAL BAN GIOC WATERFALL FESTIVAL WITH MANY EXCITING ACTIVITIES
* Best time to visit Ban Gioc Waterfall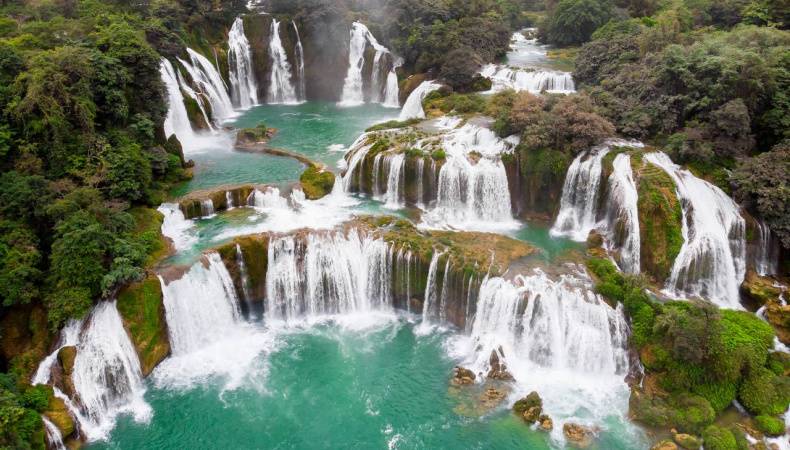 At the top of the country, with windy terrain, the climate at Ban Gioc Waterfall – Cao Bang is divided into two distinct seasons: the rainy season and the dry season.
From June to September every year, this place welcomes showers, making the water flow even more massively pouring down. Most people think that this is the most ideal period to see this beautiful masterpiece from Mother Nature. In contrast, September onwards is ideal for those who are not excited about the rains. During this time, the area enters autumn and also becomes driest yet cool, the sky is clear and the Quay Son river water turns a bright turquoise color.
II. Getting to Ban Gioc Waterfall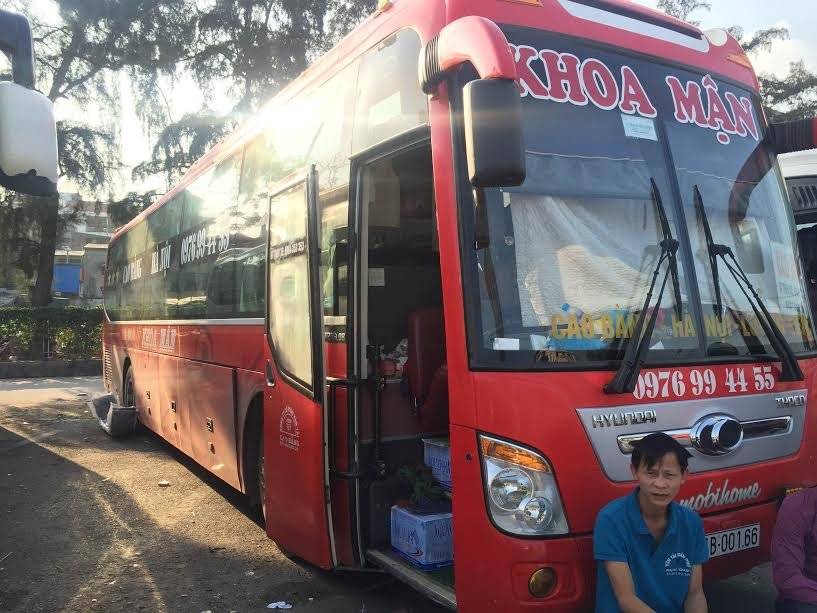 Ban Gioc Waterfall is about 335km from Hanoi, about 7 hours by car. If you are not familiar with the road, you can travel by sleeper bus (200,000 VND/ticket) or limousine bus (280,000 VND/ticket) directly from My Dinh Bus Station in Hanoi to Cao Bang.
Here are some bus suggestions:
– Mai Luy 0913252888, departing at 19:30
– Thanh Ly 0916121888 – 0912237252, departing at 19:30
– Hien Loi 0915046784 – (026) 385.8679, departing at 10:10 am
Additionally, you can ride a motorbike in the direction of National Highway 1A > Bac Giang – Lang Son Expressway > Highway 4A to Dong Khe Town > DT208 to Highway 3 in Hoa Thuan Town > Turn left onto Highway 3 > ride for another 21.3km then turn right to DT 206 to Dam Thuy > Ban Gioc Waterfall.
Read more: THE ATTRACTIVE WATERFALL IN TAY NGUYEN
III. Destinations nearby Ban Gioc Waterfall
Along with the scenic Ban Gioc waterfall, Cao Bang is also home to countless other stunning landscapes such as Nguom Ngao Cave, Thang Hen Lake, the complex of Pac Bo Cave – Lenin Stream – Cac Mac Mountain, traditional craft villages, etc.
1. Thang Hen Lake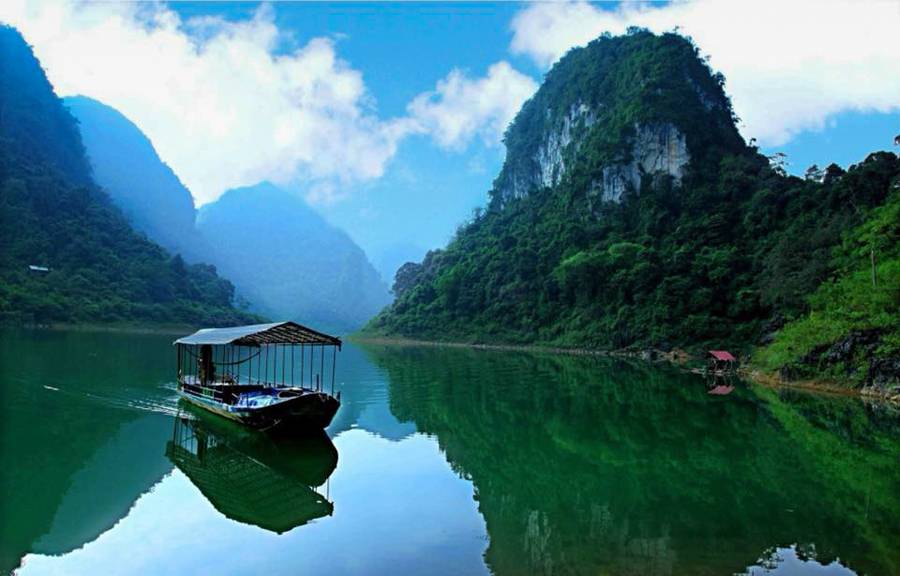 With a length of nearly 2000m and a width of 50m, Thang Hen Lake includes 36 natural lakes, each of which is separated by tens to hundreds of meters. The lake is uniquely shaped like a diamond in the heart of the forest and limestone mountains. It appears like a giant mirror reflecting the images of the cliffs and trees. You can take a boat ride going along the lake upstream where you will see a fairly large cave; the water from the cave flows day and night.
2. Pac Bo Cave – Lenin Stream – Cac Mac Mountain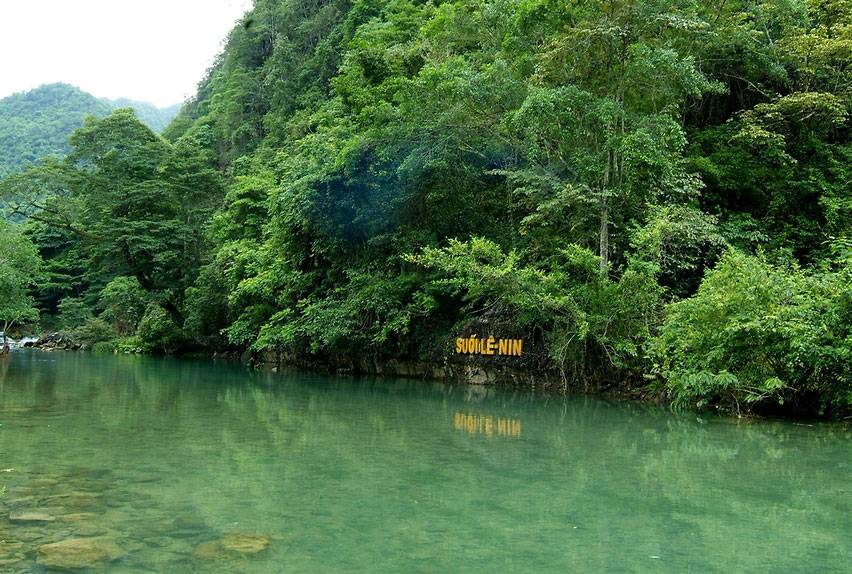 Cao Bang was one of the important bases during the resistance war against the French, where Uncle Ho settled down and directly directed the resistance war. Tourists can visit a number of relics such as Pac Bo Cave – where Uncle Ho lived, Bo Bam Cave, Lung Lan cave and Nguom Vai cave, Khuoi Nam Shack, Cac Mac Mountain, Nam Stream, and the crystal-clear Lenin stream with a turquoise color all year round.
3. Nguom Ngao Cave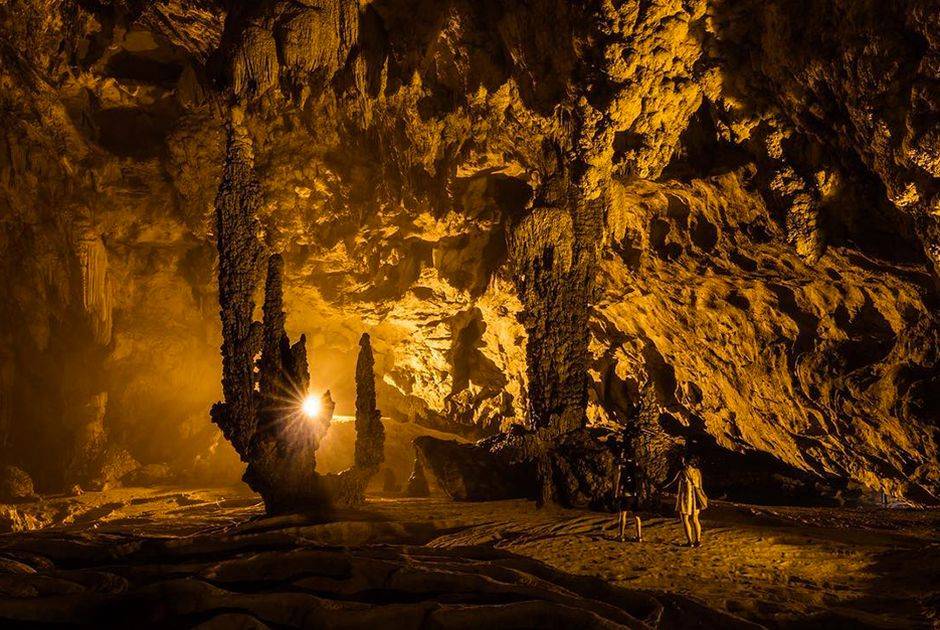 Moving around 3km more from Ban Gioc Waterfall, you will reach Nguom Ngao Cave. The name in Tay ethnic group's language means Tiger Cave, in which, Nguom means cave, Ngao means tiger. This cave is more than 2000m long with three gates: Nguom Ngao, Ban Thuon, and Nguom Lom. Deep inside stands the mysterious layers of stalactites and stalagmites in several iridescent shapes.
Read more: Phong Nha – Ke Bang, the oldest major limestone karst ecosystem in Asia
4. Traditional craft villages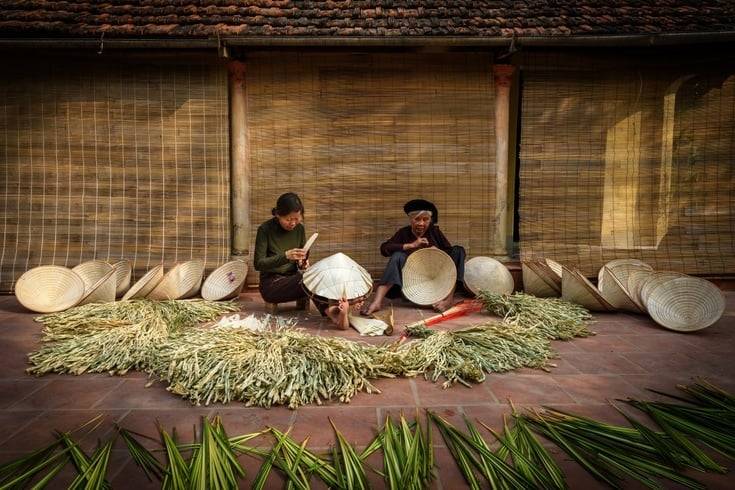 Community tourism around Ban Gioc Waterfall – Cao Bang mainly focuses on traditional craft villages, including Phia Thap Village with the tradition of incense making; Phuc Sen Village with blacksmithing of over 300 years; and Bong Son Village with the well-known knitting craft. Visitors can join the local people to learn how to create handmade products, as well as learn about their long-standing cultural values.
IV. Accommodation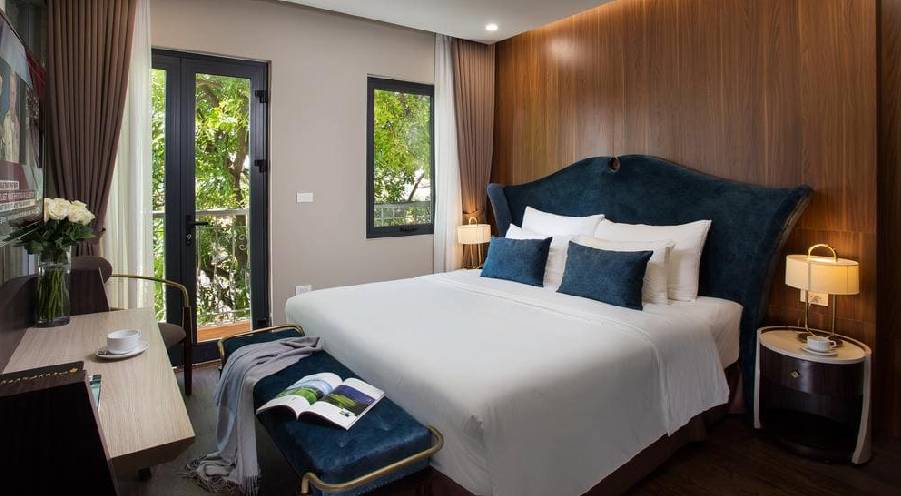 With innumerable famous tourist sites, the accommodating service in Cao Bang is quite abundant. The average rental price for hostels in the city center fluctuates around 200,000 VND/night, hotels are about 500,000 VND/night. Most visitors choose to stay there or in Trung Khanh district because it is only about 20km from Ban Gioc waterfall, as well as more convenient for exploring other Cao Bang landmarks.
Some affordable hotels in Cao Bang for references:
– Cao Bang city center
Anh Duong: 78 Kim Dong, Hop Giang Ward, Cao Bang
Hoang Gia: 26B Le Loi, Song Bang Ward, Cao Bang
– Trung Khanh district
Hoan Le Hostel: Trung Khanh Town, Trung Khanh, Cao Bang
Quai Son Homestay: Keo Na, Dam Thuy, Trung Khanh, Cao Bang
– Ban Gioc Waterfall
Dinh Van Hotel 2: Ban Gioc, Dam Thuy, Trung Khanh, Cao Bang
Read more: Thac Bac, the towering waterfall amidst mountainside and world-famed terraces of Sapa