4 thrill-seeking activities to try in Datanla Waterfall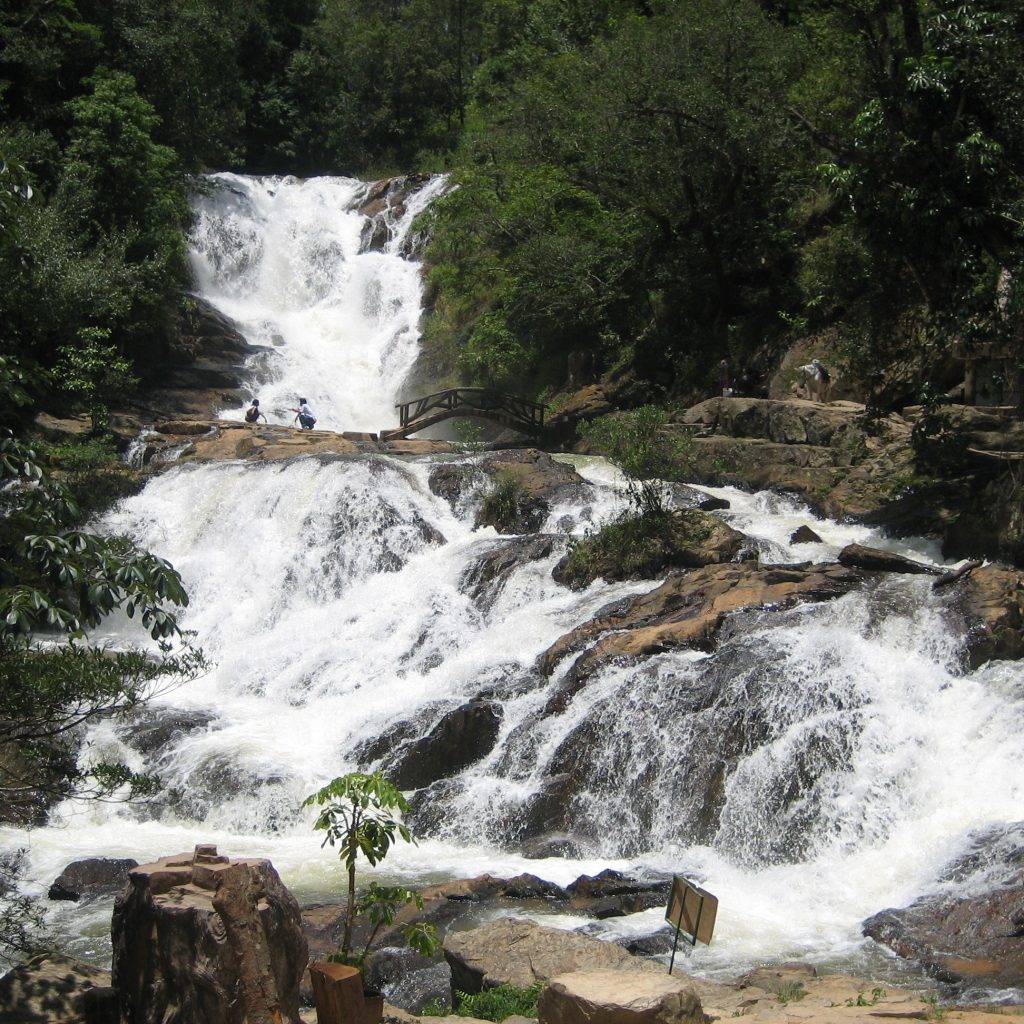 Da Lat often shows tourists a romantic and poetic side in the chilly air all year round. No one would think such a gentle city would offer an absolute blast with adventure activities like canyoning, kayaking, zipline, and high rope course. Datanla waterfall, around 10 minutes from the city center, is a paradise for such exciting, thrilling experiences besides sightseeing the magnificent mountain and natural fallscape.
1. Getting to Datanla Falls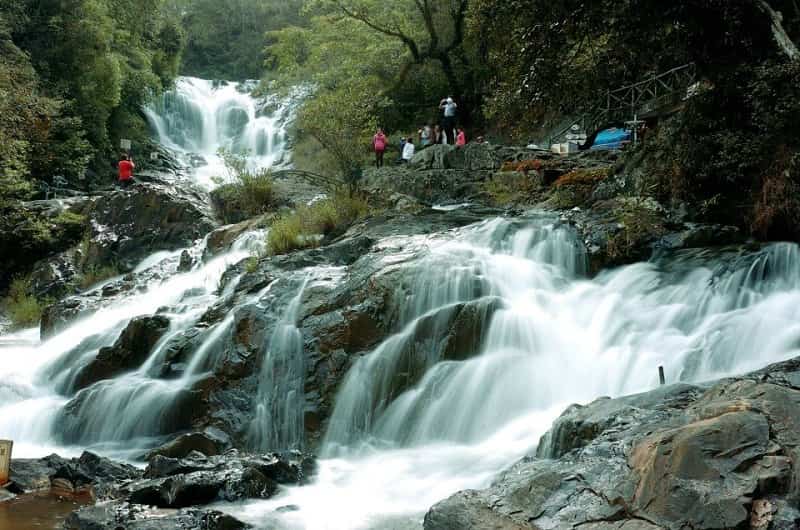 Starting from Da Lat Market, follow the direction of Ong Dao Bridge, go straight until the end of the bridge, turn left at the roundabout in front of Nhat Nguyen cafe onto Tran Quoc Toan street. Continue going straight to the end of Ho Tung Mau Street, you will meet the second roundabout, keep moving forwards to find the road 3/4 and you'll see Prenn Pass. Datanla Waterfall is about 3.5km from the top of Prenn Pass on the right side.
Because of its mild climate and stable weather all year round, any time of the year is suitable for Da Lat tourism. Still, if you want to see the Datanla Waterfall in the most beautiful state as well as experience all activities in the safest way, you should visit Da Lat from October to the end of March. At this time, it does not rain, the air is dry, a bit chilly, suitable for a little exercise. Also bear in mind, this is the peak season and the fall is quite touristy, you cannot find the absolute quietness among herds of visitors pouring into the area.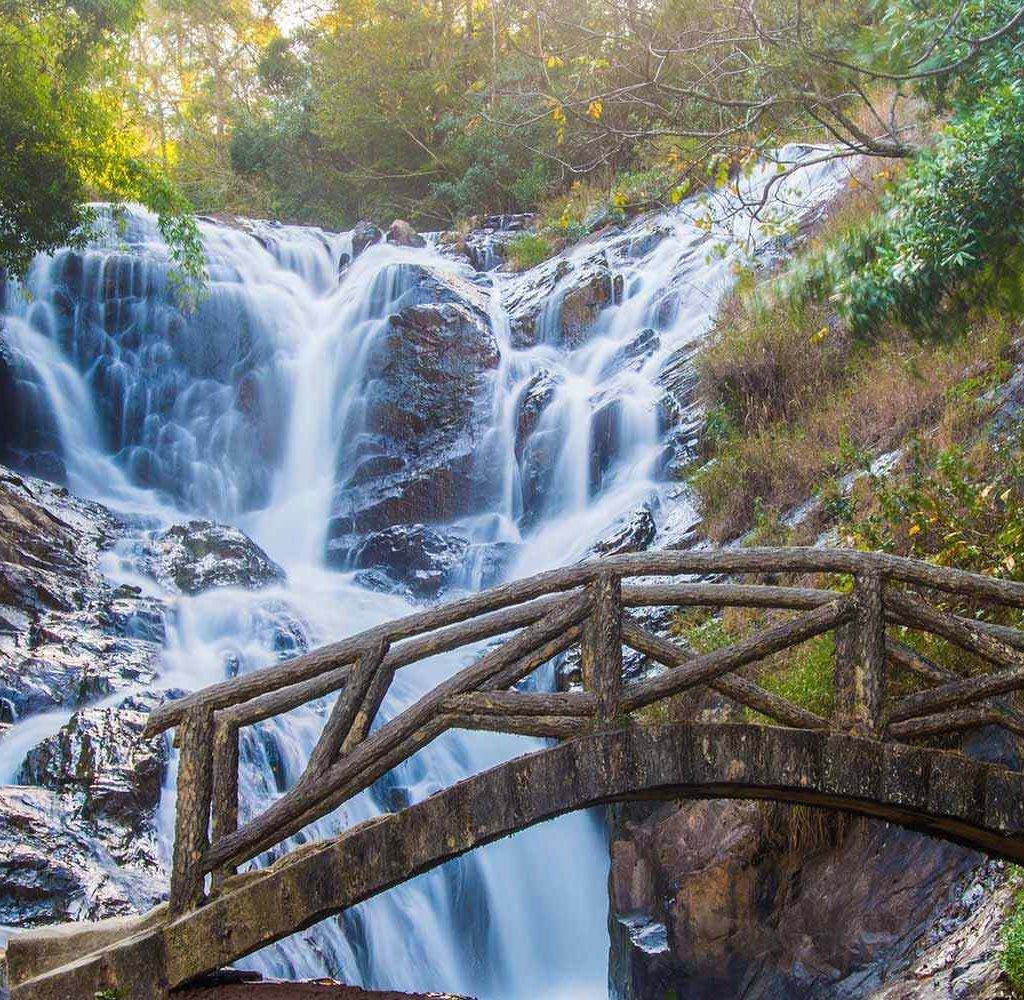 Speaking of accommodation, it's better to find a hotel or homestay right at the city center to be able to reach other spots around Da Lat. For more details about where to stay and different Da Lat, read on Da Lat, the eternal-spring city in Southern Highlands.
Read more: FIVE MUST-TRY DISHES IN DALAT
2. Top 4 adventurous activities in Datanla Waterfall
– Alpine Coaster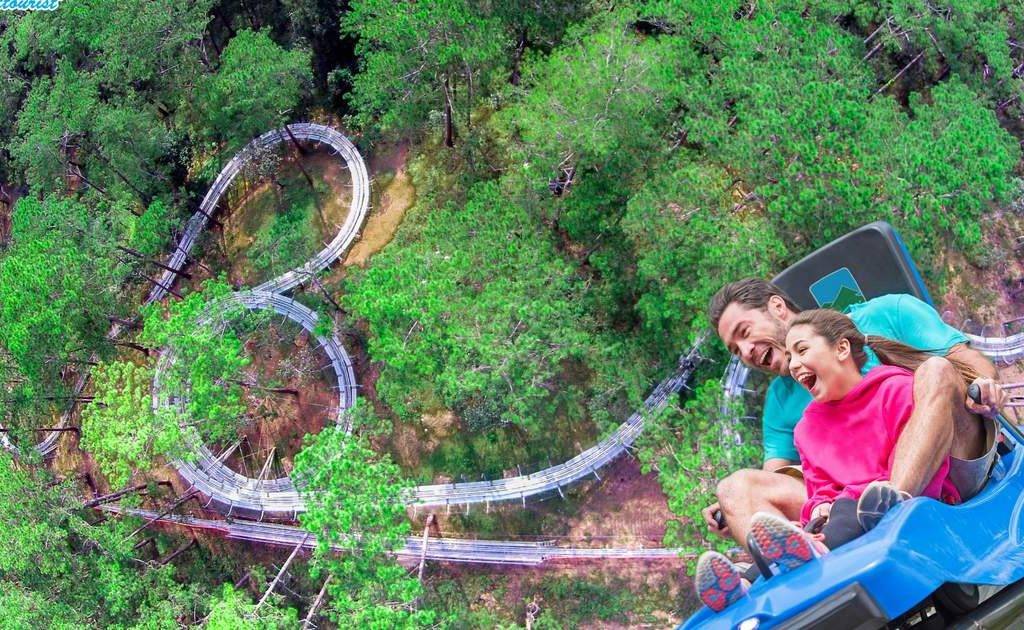 After the entrance gate, you have to walk down a bit to reach the Alpine Coaster – which is also the only way to get down to Datanla Falls. This roller coaster will give visitors an amazing ride through a beautiful green spacious area. Each cabinet can seat two people and you can manually adjust the speeds as slow or fast as between 20-40 km/h. The system of purchasing tickets and getting on board the coaster is swift and well-organized, all staff are helpful and can speak English.
You can also take the coaster down and back to the top again for 170,000 VND/round trip. After the ride, there's a chance to purchase the photos which were taken on your way down for just 60,000vnd each. Do not lose your ticket as you need it for the ride down and the ride back up. From the base of the mountain, you can take an old cable car to reach a deeper down isolated pocket of wilderness to have an absolute view of the waterfall. Dalanta Waterfall might not be so impressive, yet the flourishing surrounding vegetation is really worth visiting.
– Canyoning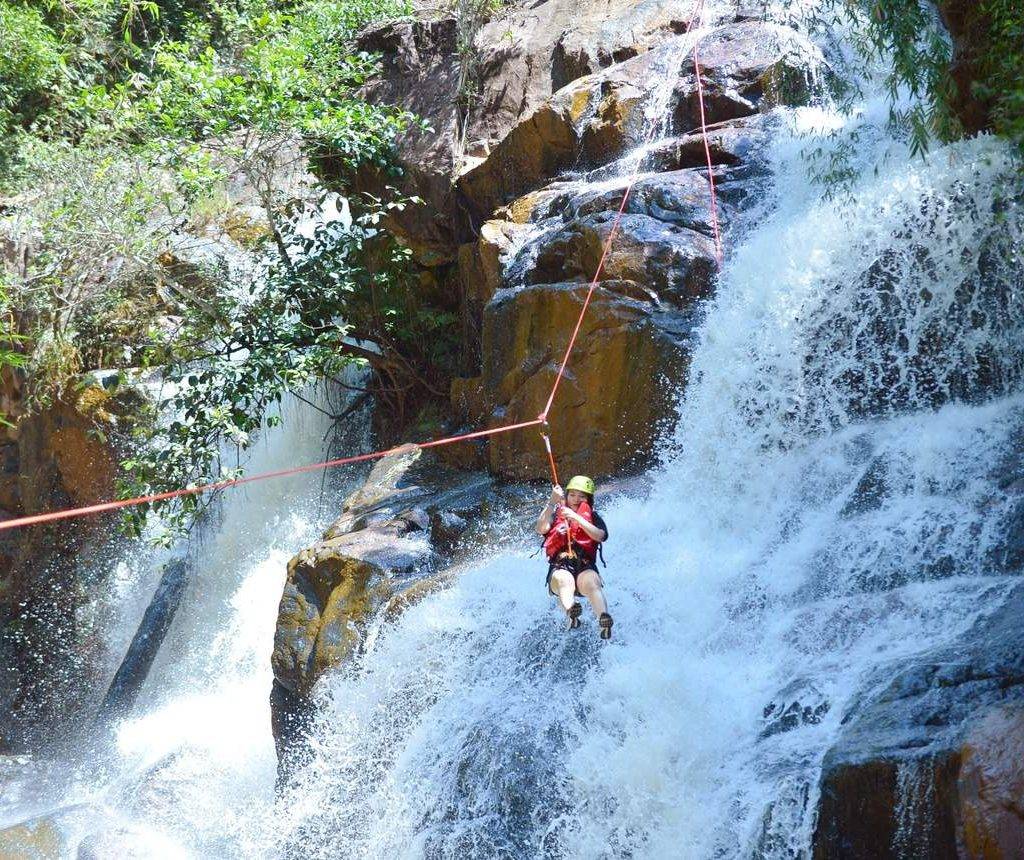 Datanla Waterfall is a place that meets all the requirements for canyoning with a system of streams, cliffs, waterfalls, jungles, and pine forests stretching over 7 km. However, the terrain is not too dangerous. Stable and clear water flow should be suitable for beginners. The travelers will experience 6 waterfalls in turn with 6 different forms such as rope swing, slide, free jump, etc., on 7 – 25 m high cliffs, and drifting on a 3m long waterfall. In addition, the activity also combines trekking through a 7 km long forest and stream road.
Participants will be climbing down the steep, high cliffs and fast-moving water with just a rope – which seems a bit intimidating but you don't need to be extremely professional to do the canyoning as you'll be are trained with important skills of rope control, balance, water crossing, and how to handle situations. Visitors completely have the right to decide whether to continue conquering more difficult challenges or stop.
Many agencies currently state the canyoning tour at Datanla from 1,500,000 VND/person. In particular, some challenges are suitable for families with children from 3-8 years old.
Read more: THREE DALAT CAFÉS OPENED 24/24
– Kayaking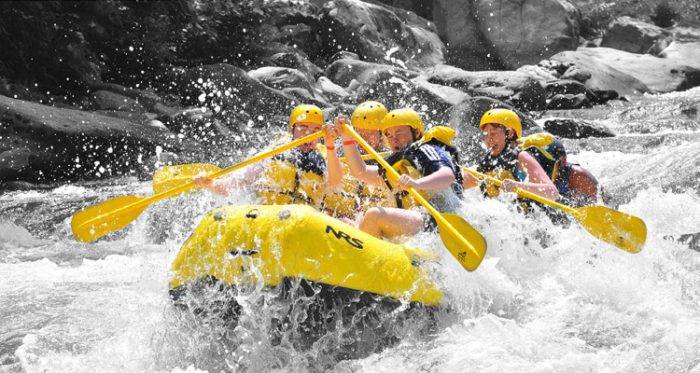 Datanla waterfall kayaking is a team-based game of 2-6 people, suitable for travelers with good health and high endurance, as well as having good coordination with teammates.
Initially, visitors will be equipped with protective gear such as life jackets, helmets; next, you will be taught how to row a canoe, how to cross rapids, or how to handle a whirlpool.
It is important to follow the instructions of the guide boat ahead of the player's boat at the beginning. The whole journey lasts for several hours, passing more than 10 waterfalls, so it requires high endurance. For inexperienced first-timers, the lifeboat can tip over, so remember to stay calm and always fasten your life jacket.
This activity is priced at a fairly high cost, about 800,000 VND/person. After successfully crossing the waterfall, you will gently paddle to admire the lake; and pick strawberries, and visit the nearby maple leaf garden.
Read more: SOME EXPERIENCE IN HOTEL ROOMS IN DA LAT
– High rope course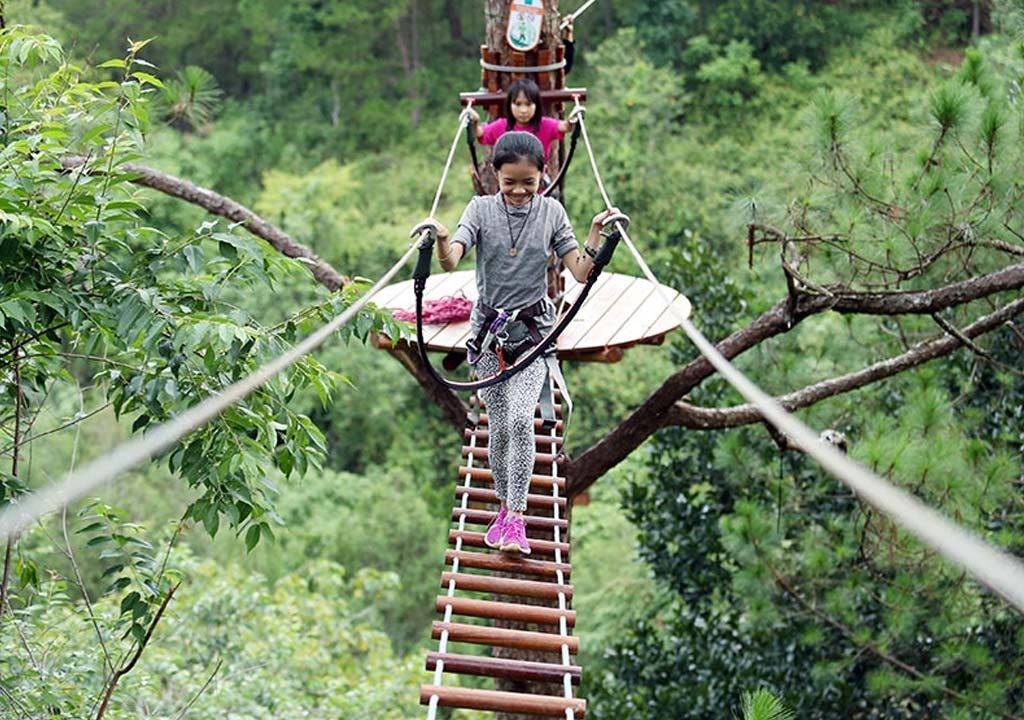 The High Rope Course area is located near Datanla Waterfall, where you can participate in countless adventure games with different levels. You can choose to play at a height of 10 to 20 meters at will. If you are afraid of heights, choose the challenge below about 1 meter.
On the campus of more than 2 hectares, visitors will have interesting and new experiences through zipline skating, walking in fishnets, walking in the air, crawling through circular tubes, walking through spider webs, etc. All players who want to continue or participate in the next game must pass rounds 1 and 2. The main purpose is for participants to understand and become familiar with protective equipment. These two rounds both feature three games – monkey bridge, wooden ladder, and zipline.
The safety belt for this game is specially designed, you cannot open both keychains at the same time. That means in any situation, you are always anchored to a lifeline with a bearing capacity of about 2 tons. Children will be provided with a special lifeline and the attention of a coach.
The most interesting activity must be the transformation into Tarzan to slide on a zipline journey lasting 200m with a height of 20m, watching the green pine forests in the deep valley below. This cluster of games usually lasts about 2 hours and costs from 140,000 to 350,000 VND/person, depending on age.
Read more: BEST BUDGET DA LAT HOTELS UNDER 9$
3. Notes for a Datanla Waterfall trip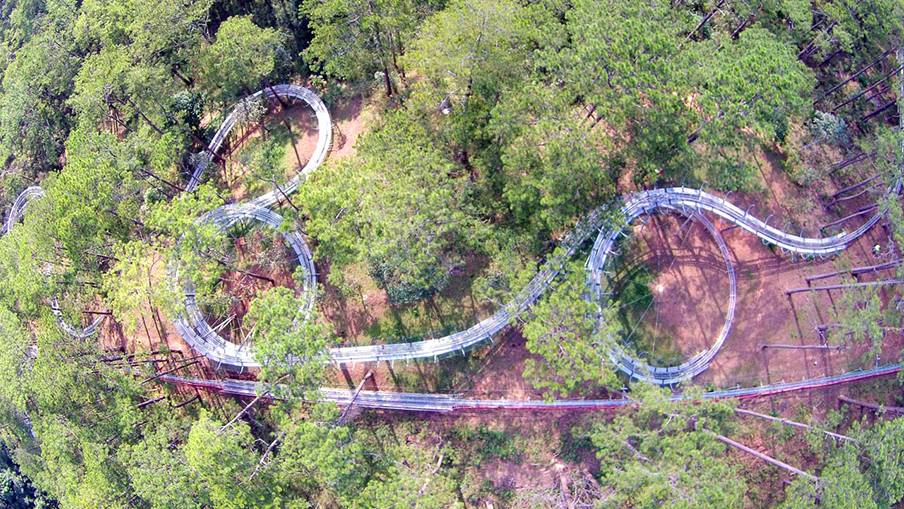 – Families with children should be careful because around the waterfall are many dangerous slopes and abysses.
– Visitors need to follow the instructions of the tour guide to avoid unexpected accidents.
– Visitors can choose any challenge they want to participate in, but note to prepare necessary items, like proper clothes, soft-soled shoes, socks, sunscreen, and spare clothes.
Read more: TUYEN LAM LAKE – DA LAT TRAVEL EXPERIENCE