Dong Van Old Quarter, the clay-colored ancient town among rocky mountains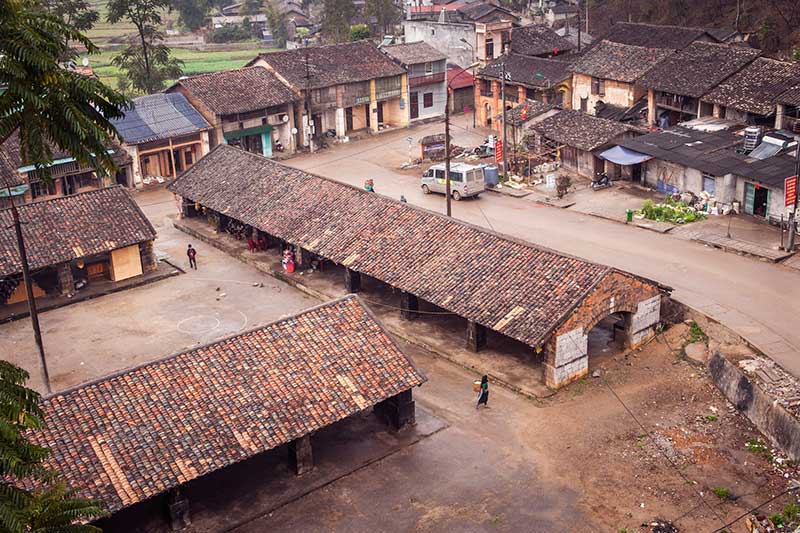 Nestled on Dong Van Plateau – Ha Giang for more than 100 years, the old quarter is home to many Tay, Hmong, Nung, and Chinese families living in dozens of ancient terracotta houses, with unique Vietnam – China architecture. There, the Old Town Coffee Shop and Dong Van Ancient Market are bright spots that most tourists want to visit. Besides the development of modern design that is changing day by day, the clay walls, timber stairs and railings, as well as yin-yang tile roofs, all seem to challenge with time still.
I. About Dong Van Old Quarter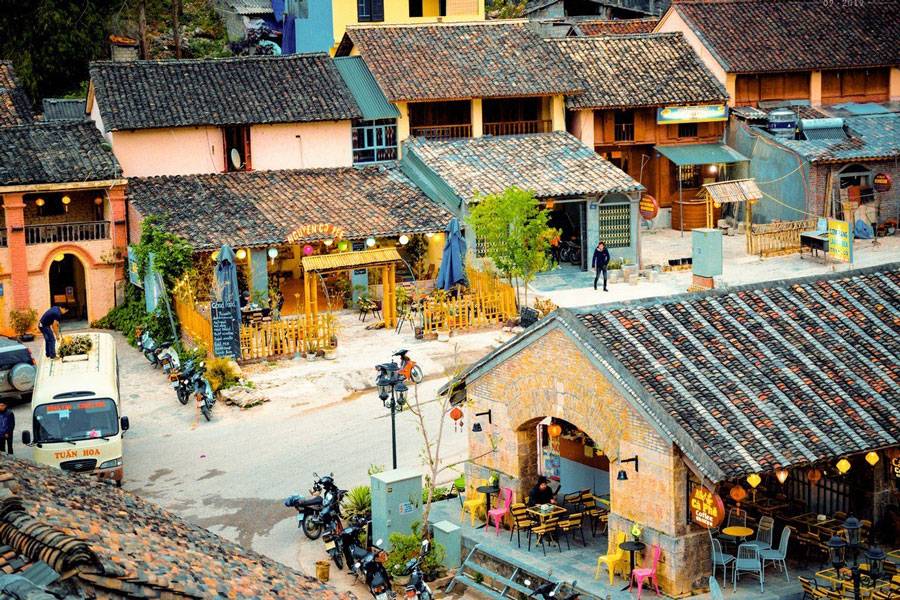 Dong Van Old Quarter, located at an altitude of about 1200m above sea level, belongs to Dong Van district, about 145 km from Ha Giang city center. The residents here are different ethnic minorities, mainly Dao, Tay, and H'Mong. Currently, this area still has about 40 old houses with the age of more than 100 years.
It is not difficult to choose the best time to travel to Dong Van Old Quarter because in each season, the place has its own distinctive charm. In spring (January to March), when the weather is warm, the town is embellished by different colors of flowers on the plateau. Since 2006, "Old Town Night" has been held on the 14th, 15th, and 16th days of the lunar calendar every March. Accordingly, households in the Old Quarter simultaneously hang red lanterns and take part in innumerable activities – performing cultural and artistic performances; selling handmade brocade clothes; enjoying Thang Co and corn wine – to attract tourists. Meanwhile, in winter (October to December), although the weather is quite cold, there are beautiful scenes of fog and clouds playing over the top of the mountain, with poetic buckwheat flower gardens.
1. The history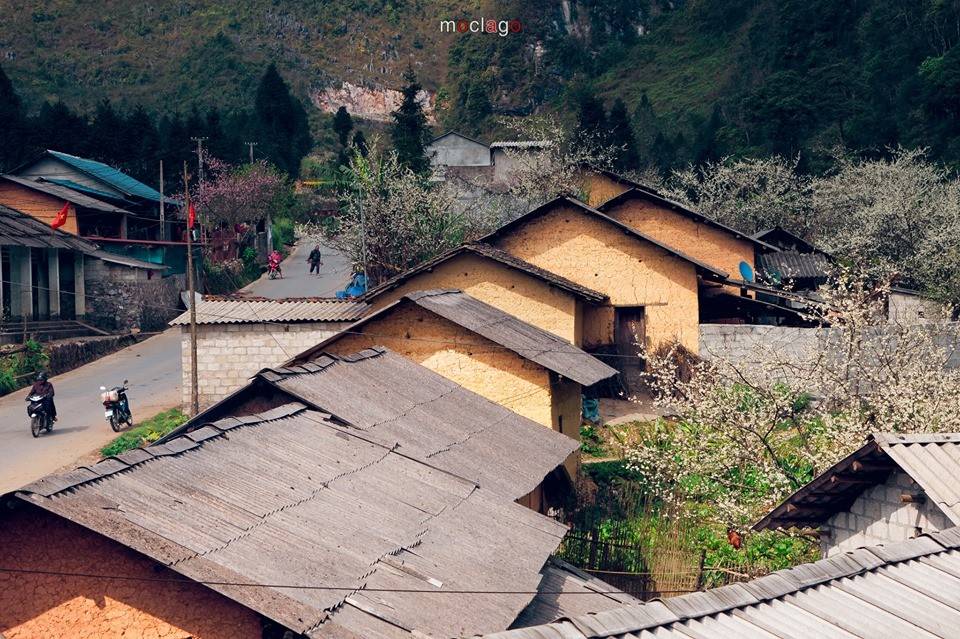 Initially, Dong Van Old Quarter was only inhabited by some H'Mong, Tay, and Chinese residents. Later, more and more other ethnic people came to live together. In 1887, the French colonialists occupied Ha Giang. They chose Dong Van as an important position to build a headquarters and a post to serve their administration on this land.
In 1923, a fire destroyed several houses and the old Dong Van market. After that, the French had bulldozed and rebuilt the market. They hired good workers from Sichuan (China) for more than 2 years, from 1923 to 1925. With experience and skillful stone carving techniques, the Sichuan stoneworkers have turning the green rocks in the Dong Van Stone Plateau into giant bricks to build houses; they have also created plinths of various shapes and sizes; with flower decorations of different themes and motifs, giving the work a soft and ancient feature. At the same time, several houses adjacent to the market were built, followed by the previous ones into an L-shaped row surrounding the market.
Thus, the old houses in Dong Van Old Quarter were formed over many years from the end of the 9th century to the first half of the 20th century.
2. The architecture
The overall architecture of the houses in Dong Van Old Quarter is quite similar: wooden columns; two floors (attic and ground floor); clay walls or thick brick walls; timber frames without mortises nor elaborate carvings; and yin and yang tiles – a typical tile of northern ethnic minorities in the border area. This building style is a combination between traditional architecture of indigenous residents with the architecture of the South China inhabitants.
II. Highlights in Dong Van Old Quarter
1. Dong Van Fair Market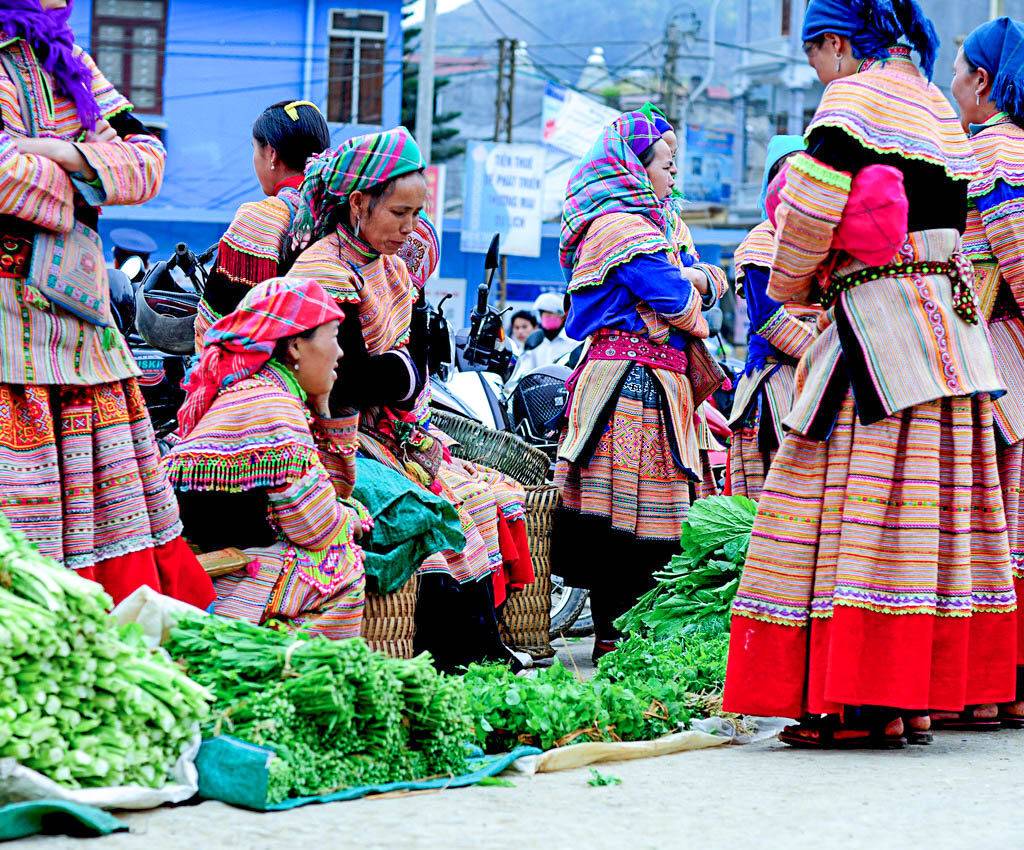 Looking down from above, the U-shaped row of tube roofs surrounding the ancient houses running into the foot of the mountain is the old market area, where Dong Van Fair Market is usually held every Sunday. The fair is not only a trading spot for ethnic minorities in the region, but also a place to organize multiple traditional festivals. You will witness ethnic people from H'Mong, Tay, Dao to Pu Peo, Lo Lo, etc., dressed in pretty traditional costumes go to the market. Mothers and wives trade and shop their handmade products; husbands gather to drink wine, eat Thang Co, and play the trumpet; young men and women make friends and find a partner. After a few markets, a lot of couples become husband and wife.
Visitors also have the opportunity to try the famous dish in Dong Van Stone Plateau, Thang Co – a mixed dish consisting of meat and offal of herbivorous horses and cows, which is best served with a cup of delicious corn wine.
2. Ca Phe Pho Co (Old Town Cafe)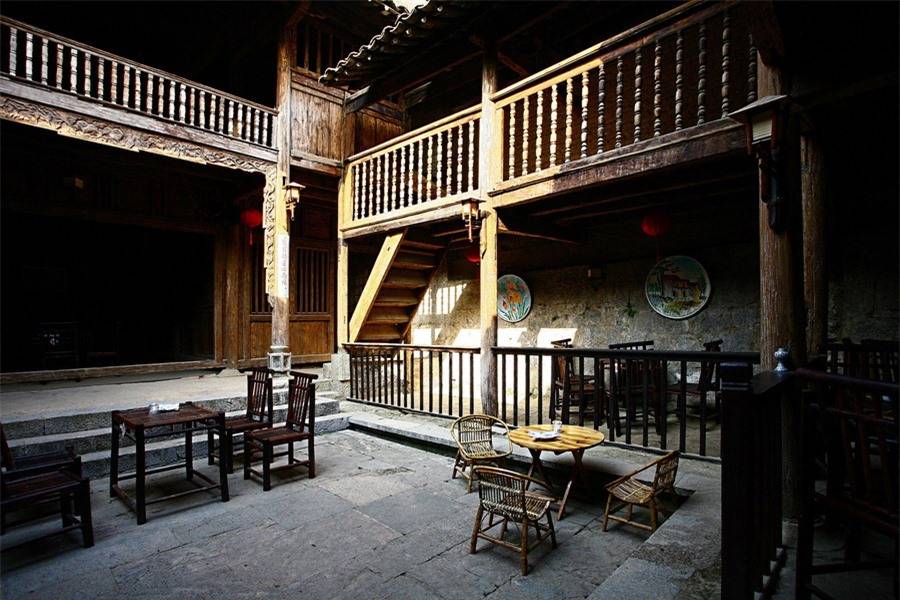 As one of the few ancient houses that still retains the ancient beauty in the old town which is deteriorating and decaying, Ca Phe Pho Co (Old Town Cafe) is like a bright spot inviting visitors to stop for a little while.
This was originally the home of a Tay landowner, who was very powerful in the Dong Van area in the past. In terms of scale, the house is quite large compared to others, with a wide frontage, two floors, and a courtyard. Its architecture is similar to the palace Dinh Vua Meo of the Vuong Dynasty in Sa Phin valley. On the first floor stands natural bamboo tables and chairs, while the upper is a place for visitors who want to look out at the whole scenery of the area. At night, the only light source in the cafe is hanging red lanterns, giving a vivid and dreamy vibe.
III. Getting to Dong Van Old Quarter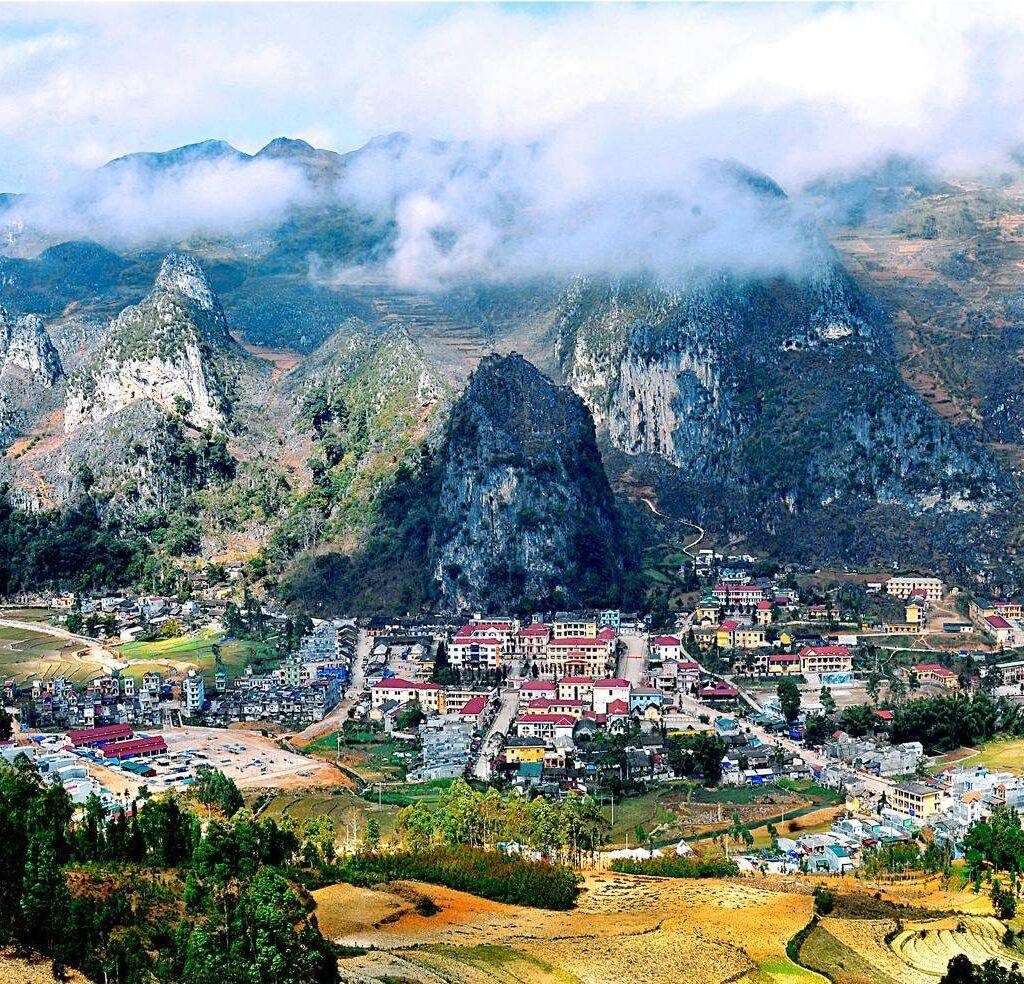 The road Ha Giang – Dong Van only takes more than 130km, but it is fairly time-consuming and labor-intensive as this route consists of risky passes and cliffs. You have two options to reach the old quarter, either by bus or by motorbike.
The price of a bus ticket will be about 80,000 VND/person. The bus will depart at the time frames: 5 am, 10:30 am, 11 am, 12 am. In contrast, you can rent a motorbike for 200,000 VND/day and ride on the following route: Ha Giang city – National Highway 4C – Tam Son town (Quan Ba) – Yen Minh town – Meo Vac – Dong Van.
To have a smooth trip to Dong Van Old Quarter, it's better to arrive here before evening. Then, find a place to stay in the old town to charge enough energy to continue the journey to conquer Meo Vac the next morning.
IV. Accommodation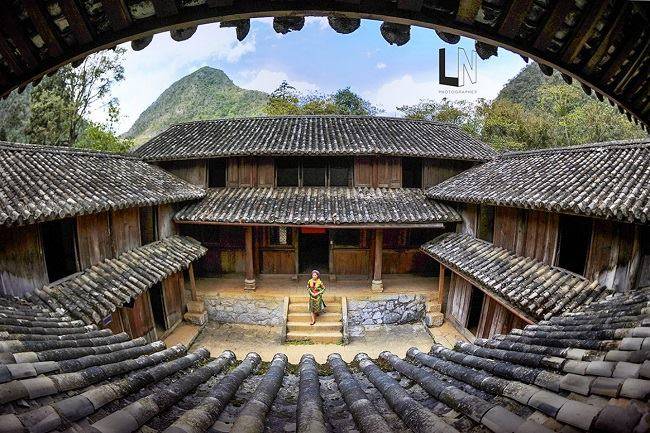 Hotels and homestays in Dong Van Old Quarter are plenty, with full facilities. For motels, the price is only from 200,000 VND/night. If you want a slightly better place to stay, you should rent a hotel for about 300,000-500,000 VND/night. If you travel in a large group, it's good to stay in a homestay, with the price of 1.5 million VND/dormitory room for ten people.
*Suggestions:
Thuong An Hostel: No. 13 old town, group 4, Dong Van Town
Quoc Toan Hostel No. 52, 3/2 street, Dong Van Town
Tam Giac Mach Hotel: Group 7, Dong Van Town
Lam Tung Hotel: Group 3, Dong Van Town
Homestay Ma Le: Ma Le Commune, Dong Van Town
Homestay Tuyen Ha: Group 1, Dong Van Town