Da Lat eyes last chances for cloud hunting before winter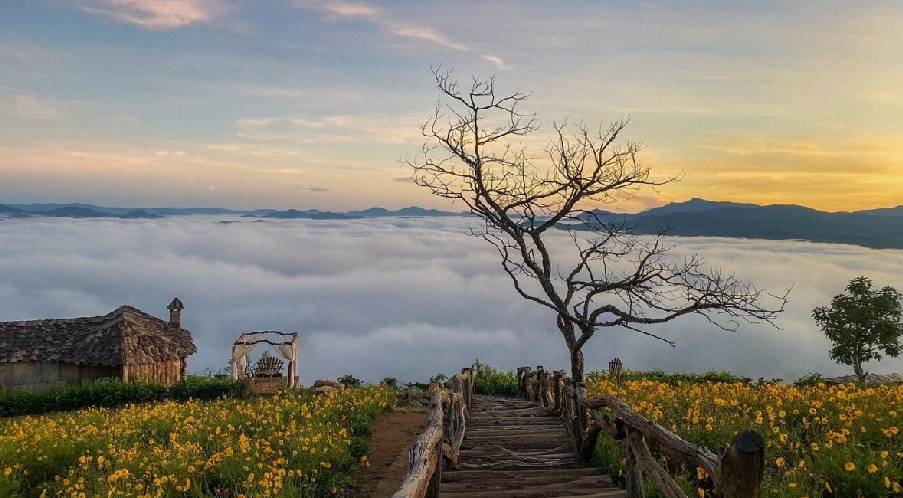 Nature bestows Da Lat with spectacular mist-covered pine hills, which are ideal spots for racing against time and sun to reach the top early in the morning to hunt clouds. Da Phu, Thien Phuc Duc, Pinhatt, etc. are such places for trips like that. The early wintertime is said to be perfect for watching clouds; Also, this is the season of Da Lat persimmons – the orange-red, fragrant, and sweet fruits.
Read more: "FAIRYLIKE PERSIMMON GARDEN" IN DALAT
I. Things to note for cloud hunting in Da Lat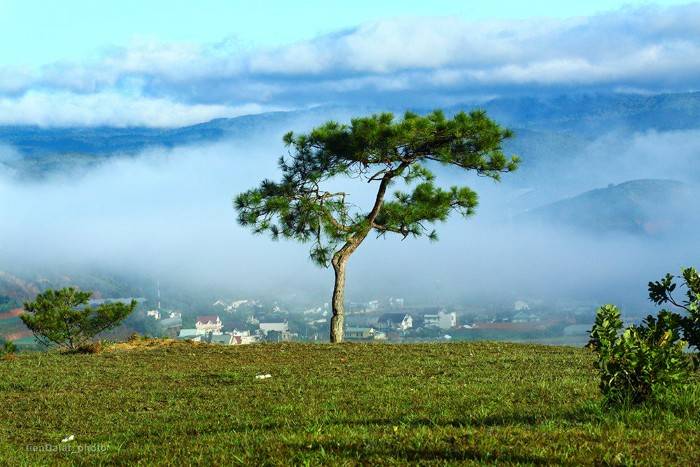 – The best months for cloud hunting in Da Lat usually fall between June and October. This is also a period of heavy rain, so the fog and clouds will be denser.
– Since Da Lat features a tropical climate, it is usually cold in the morning and evening, with warm sunshine in the afternoon. Therefore, the ideal time to hunt clouds in this area is in the early morning from 4:30 to 5:30 am. Or, if visitors don't want to miss the dusk mist, you should be in the hills from the night before.
– On clear cloudy days, there is usually no or very little wind, with the average temperature around 14 to 18°C. If it's a windy day, the big chances are your cloud hunting trip might not be as desired.
– Except for taking specific cloud hunting tours, the most convenient means for self-sufficient travelers is motorbikes.
– Currently, several hotels and homestays in Da Lat also have a view of seeing the clouds from above, such as Xom homestay, Valley May homestay, and Cui homestay. However, these locations are quite far from the city center.
Read more: FIVE MUST-TRY DISHES IN DALAT
II. Top spots for cloud hunting in Da Lat
1. Hon Bo Peak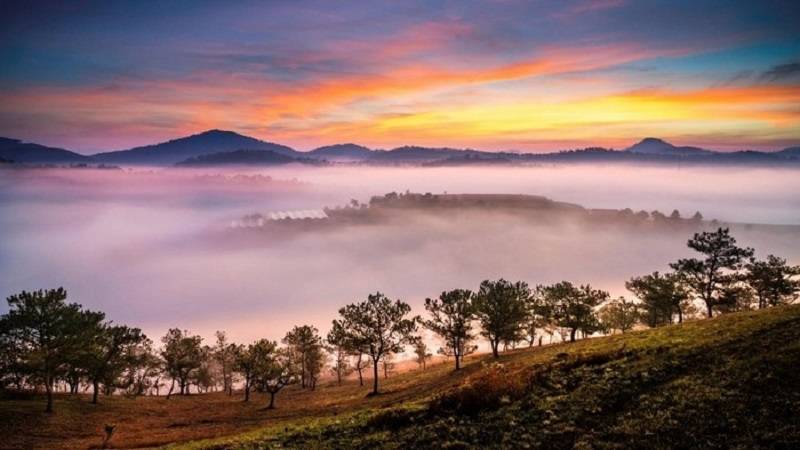 Hon Bo is 12km from the city center to the northeast. With an altitude of 1709 m above sea level, when standing on the top looking down, you can see the whole city with the roofs close together and the mountains in the distance. Not only a famous cloud hunting spot, but the peak is also a famous camping site thanks to its flat terrain and airy ground.
From the city center, you need to find the way to Thai Phien Flower Village; then, continue to go through Thai Phien Market, follow the signs to reach Thien Lam Pagoda, and turn right to Hon Bo School. Continue following the instructions to reach the foot of the mountain where you will park your vehicle and start walking along the path to the peak. It will take about 1 to 2 hours to trek up to the top of the mountain.
Read more: SOME EXPERIENCE IN HOTEL ROOMS IN DA LAT
2. Da Phu Hill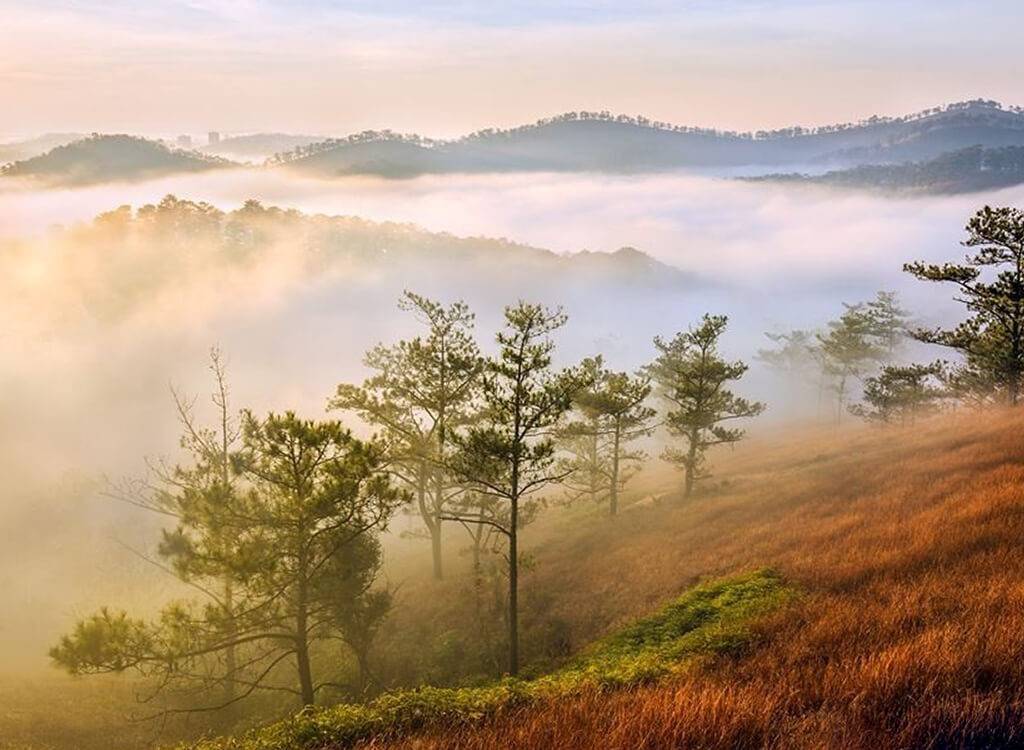 From the city center, you need to go about 20km in the direction of the Golden Valley. When coming to Duc A Phu Pagoda, located right at the foot, park your vehicles there and start your way up, around 4km, to Da Phu Pine Hill. The best time for watching sea of clouds here is 5 am to 6 am.
Da Phu Hill is also one of the places that organizes cloud hunting tours, with prices from 550,000 VND/ person. You will be picked up at 2 pm and camp overnight at the hill before welcoming the cloudy pictures in the next morning.
Read more: THE SPACIOUS TIA DU HOMESTAY IN DREAMY DA LAT
3. Cau Dat Tea Hill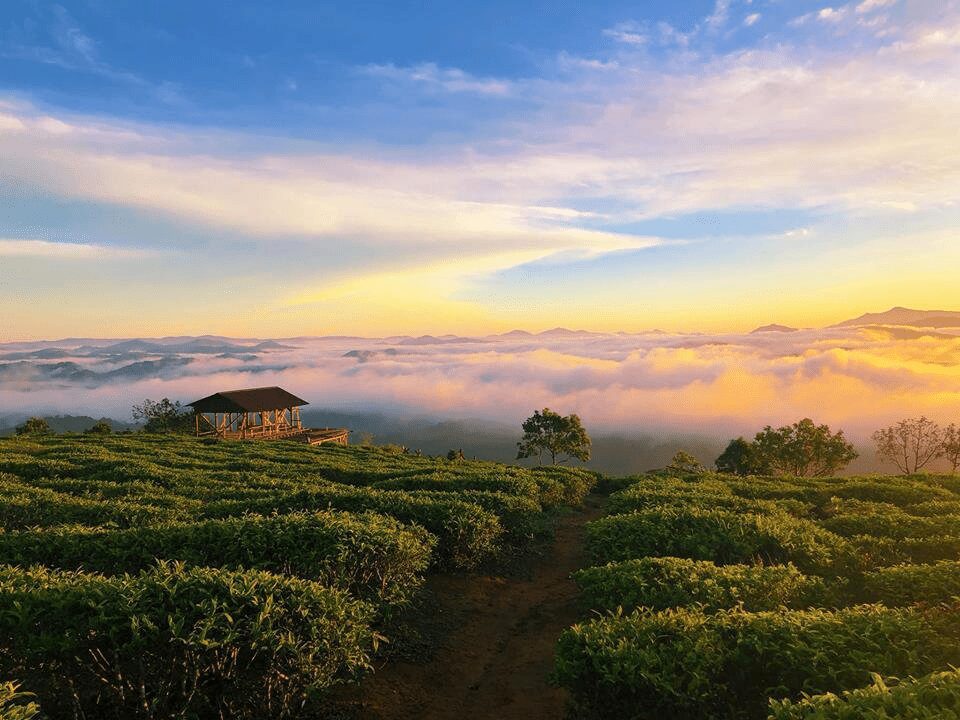 Originally a place to grow tea and coffee trees, Cau Dat Hill now is slightly renovated to serve the needs of sightseeing and hunting clouds of visitors. Besides the immense tea hills, you will see wooden bridges and unique log carpets designed as artistic photography corners.
Thanks to the easy road from city center to the hill, many agencies organize cloud hunting tours in Cau Dat. However, you will be required a ticket price to visit the place, which is 60,000 VND/person. In addition to seeing clouds, visitors can come around 4-5 pm to watch the beautiful sunset.
Read more: LA NHA HOMESTAY DA LAT – A MODERN BEAUTY
4. Pinhatt Hill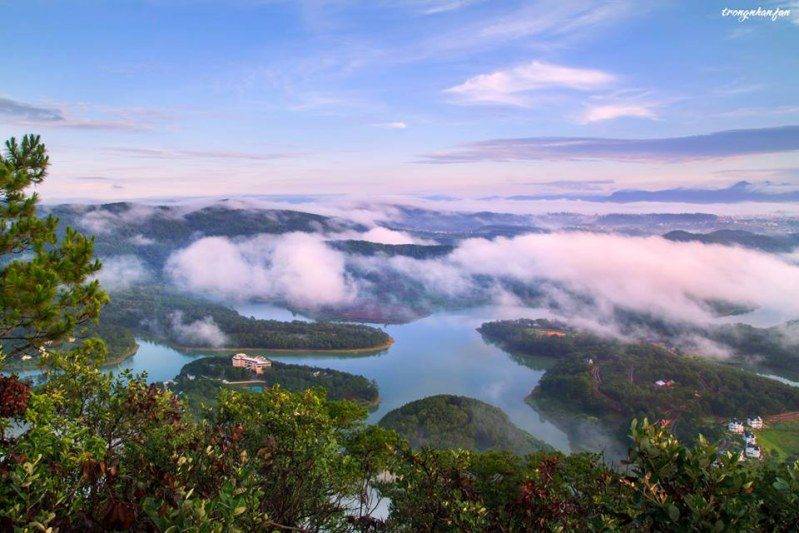 With an altitude of 1691, Pinhatt becomes the highest peak located south of the city to fulfill explorers' dreams of touching the clouds. There will be no convenient roads or tourist attractions here; therefore, to conquer it, you must be patient.
From the city center, move to Da Lat Edensee lake resort & spa about 12 km through Prenn pass. Next, move another 500m, and you will see Da Tien restaurant. Opposite the welcome gate is a gravel road blocked by a barrier – this is the path we need to conquer. Along the way, you will see baskets of colorful orchids on the trunks of ancient trees or thousands of years old red pine trees. From the foot of the mountain to about 2 km, you will reach a clear mineral lake; continue to go another 500m, you will see a craggy cliff reaching the sky, on top of it is Pinhatt peak where you have a whole view of Da Lat before your eyes. On sunny days, you can even see Tuyen Lam Lake, Langbiang range, Truc Lam Zen Monastery, or Con Ga Church.
Read more: TUYEN LAM LAKE – DA LAT TRAVEL EXPERIENCE
5. Thien Phuc Duc Hill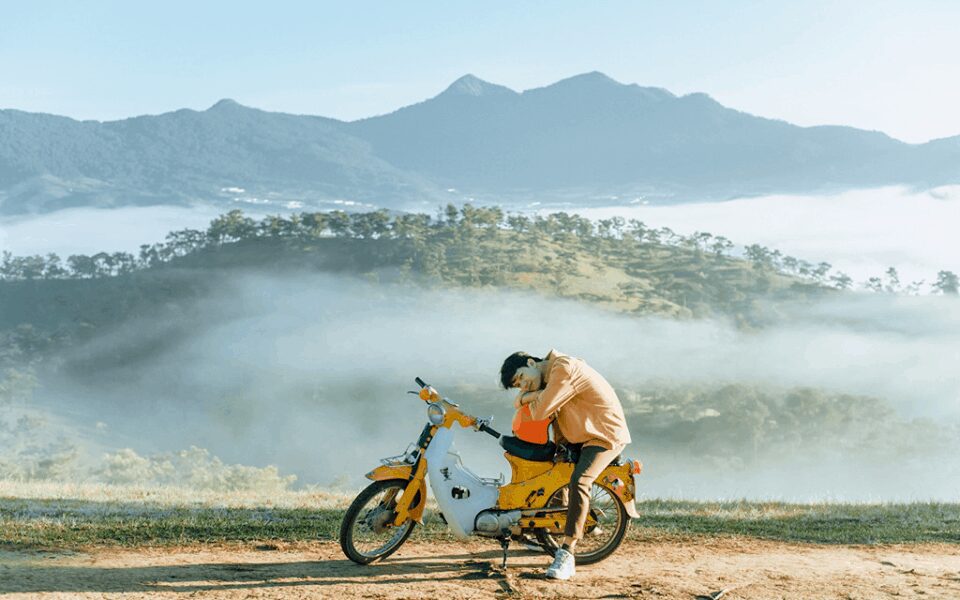 The next cloud-hunting paradise that you cannot ignore when coming to Da Lat is Thien Phuc Duc Hill. This is the easiest point to go in the cloud-hunting spots here.
From the center of Da Lat market, you go about 10km to the North, cross Thanh Mau street, then run into Thien Phuc Duc driving school, go a further distance to the foothill. Here, you can park your car at a homestay for about 10,000 VND/car, then continue walking up the hill.
Read more: THREE FAMOUS "BANH UOT LONG GA" SHOPS IN DA LAT
6. Cafes to hunting clouds in Da Lat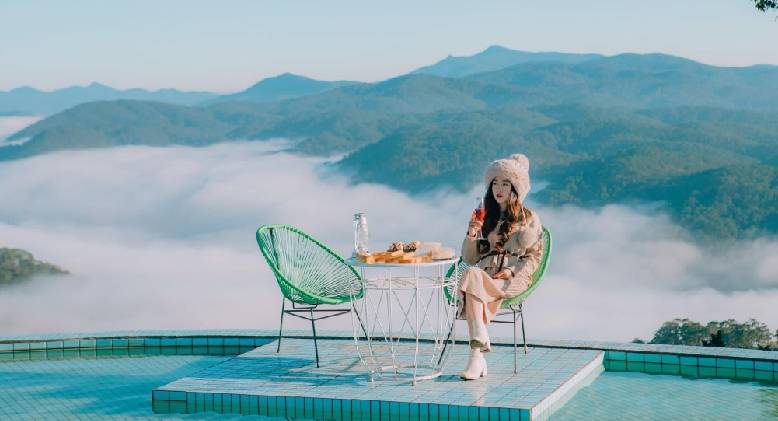 If you don't like trekking up the hills to explore the magical mist, you can visit the coffee shops to enjoy that experience while sipping a hot cup of drink. These cafes are open from 4:30 am, the way is also easy.
*Suggestions:
Hoang Hon Chieu Cafe: Slope No. 9, Trai Mat, Da Lat
Den Doi Da Chien Coffee Shop: Da Chien Hill, Ward 11, Da Lat
Cheo Veo Coffee Shop: 116 Hung Vuong, Da Chien Alley, Da Lat
Hem Con Tu Li Coffee Shop: Alley 116 Hung Vuong, Ward 11, Da Lat
Read more: BEST BUDGET DA LAT HOTELS UNDER 9$