Vietnam's top destination, Ha Giang draws another travel wave with adventure tourism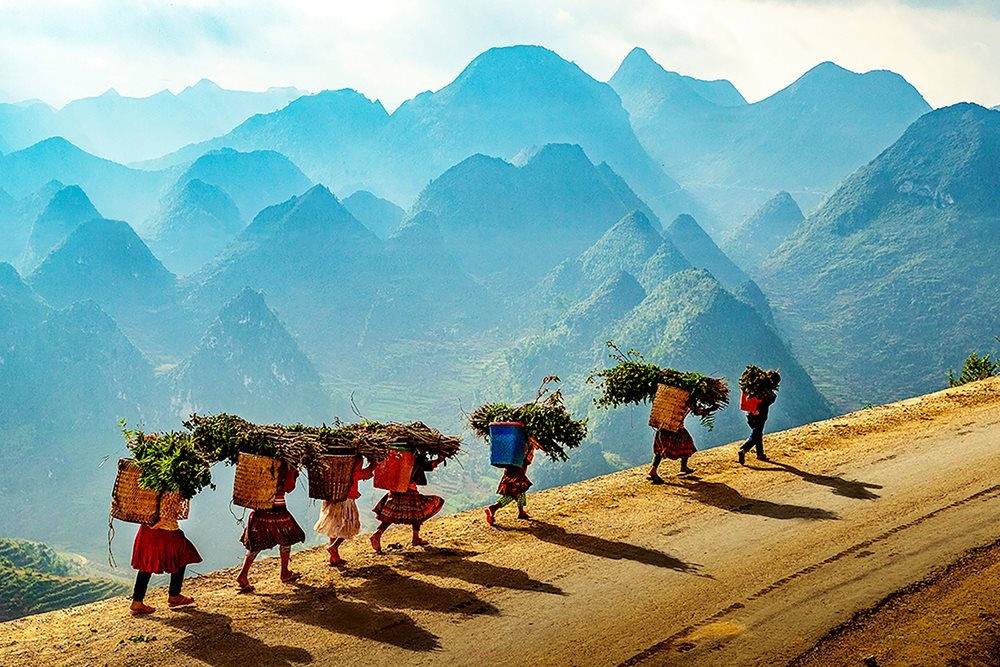 As a province located in the Northeast region, with an area of ​​nearly 8,000 square kilometers, Ha Giang is favored by nature for a majestic landscape complex full of forests, mountains, and rivers, with diverse ecosystems. Some must-visit places are Ma Pi Leng peak, Quan Ba ​​twin mountains, Tu San gorge, Nho Que river; as well as numerous historical-cultural relics in Dong Van stone plateau and isolated villages of ethnic minorities.
The above locations not only captivate visitors by the stunning rice terraces stretching as far as the eye can see or the fields of white buckwheat flowers spreading on hills, but also by the thrilling terrains perfect for adventure tourism activities: exploring limestone caves hidden under mountains, jungle trekking, mountain biking, caravan, white-cliff walking, kayak and zipline on Nho Que river, paragliding on the plateau, etc.
1. Best time for adventure tourism in Ha Giang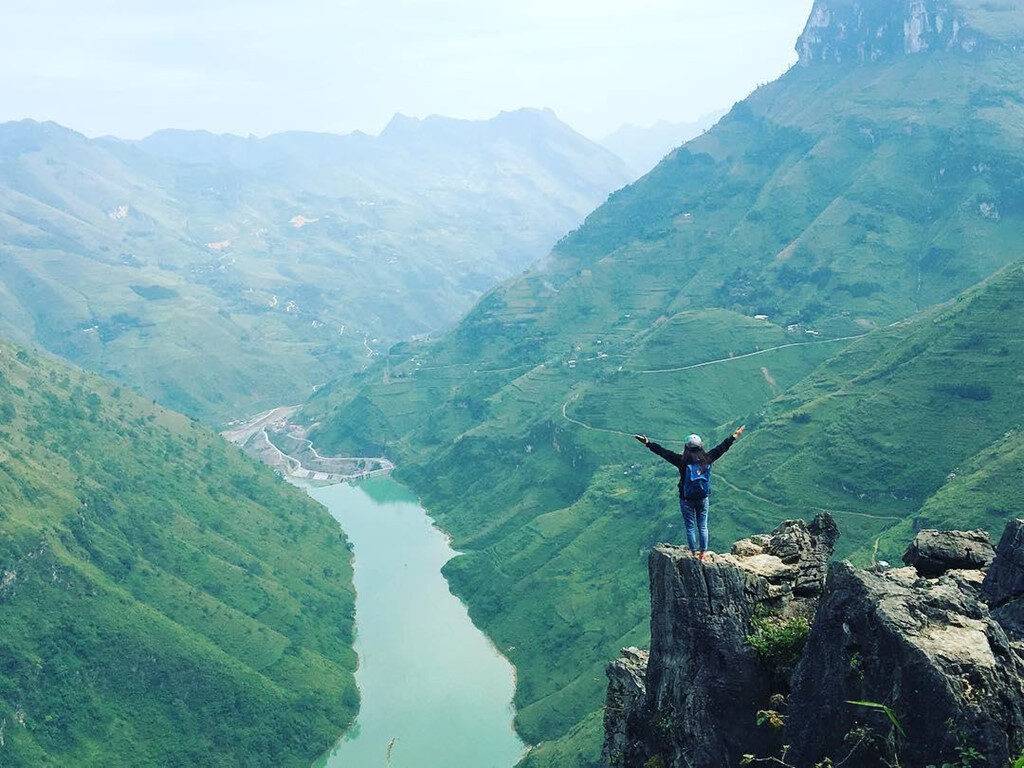 The most appropriate time to visit Ha Giang is generally from September to March next year as this is the season of brightly terraced fields, blooming flowers, and also traditional festivals. In particular, the best periods for adventure activities are the months of September, October, November, and December. During these months, the weather is dry and a bit cold, suitable for terrain-conquering trips on curving passes and jungle paths, as well as skydiving and parachuting in the Hoang Su Phi area – which is completely covered with golden rice color.
2. Must-visit sites for adventure tourism in Ha Giang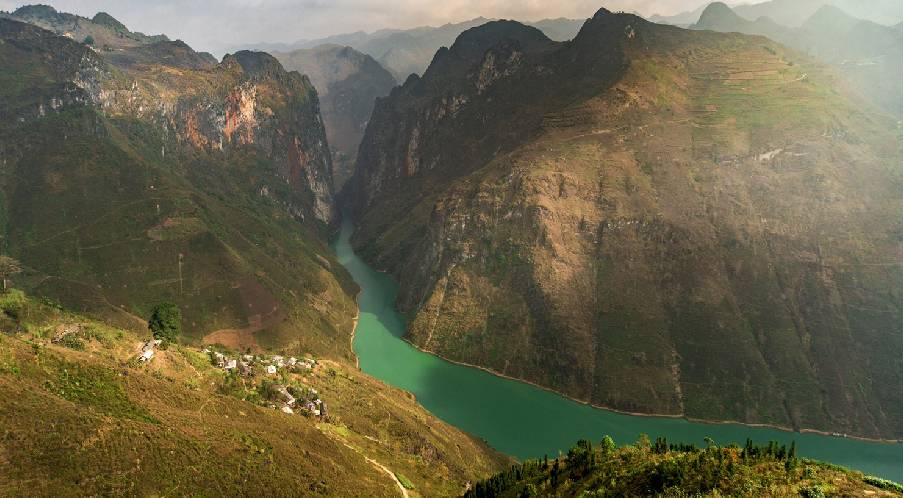 Adventure tourism in Ha Giang is expected to start from 2021, on 3 tourist spaces, including the low-mountain tourism space (Ha Giang city, Bac Me, Vi Xuyen); rocky hills – Global Geopark (Quan Ba, Yen Minh, Dong Van, Meo Vac); and mountains in the Southwest (Hoang Su Phi, Xin Man, Quang Binh).
Along with the available activities such as marathons on the Hanh Phuc road, parachute flying on Hoang Su Phi terraces, kayaking, and racing motorcycles, and off-road cars, visitors can also participate in various activities. New activities such as jogging on Ma Pi Leng pass, exploring the mysterious caves in Yen Minh and Dong Van, ziplining in Nho Que river – Tu San Gorge, etc.
– Na Luong Cave (Yen Minh) and Lung Khuy Cave (Dong Van)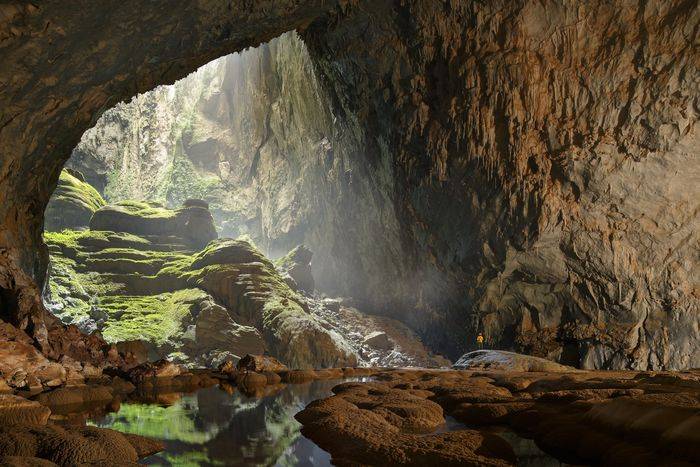 Ha Giang still has many mysterious caves, especially in Yen Minh, Meo Vac, and Dong Van.
Na Luong Cave is typical of limestone caves, stretching 25 km through two communes of Yen Minh and Dong Van districts. After being discovered in 2010, the cave was ranked as a national monument and became the most beautiful cave in Ha Giang. The entrance is 30m wide, covered with huge rare trees; the space inside is wide and deep, divided into successive compartments. Over thousand-year tectonics, sparkling stalactite columns inside the cave are abundant in number and various shapes.
At the foot of a mountain in the Mong ethnic people's Lung Khuy village, Quan Ba stands an untouched cave closely associated with the spiritual life of the locals there. Opposite to the discreet entrance, which is only about 1.5 m high and 1m wide, Lung Khuy's length (1,000 m) and width are utterly astonishing. The cave arch is quite high with many splendid stalactites in fancy shapes stimulating the imagination of visitors. There are also other branches, creating a mysterious system.
Read more: Phong Nha – Ke Bang, the oldest major limestone karst ecosystem in Asia
– Nho Que River – Tu San Gorge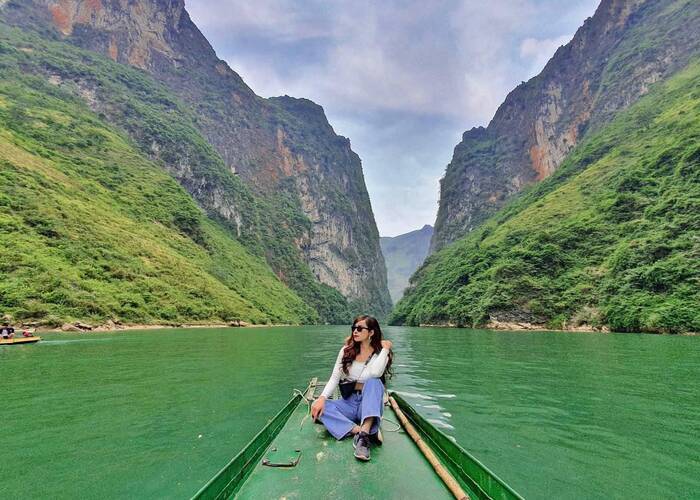 Located right at the foot of Ma Pi Leng pass is Nho Que River with jade green water all year round, winding along the windy Tu San Gorge formed into large ravines. With a cliff height of nearly 800m, a depth of nearly 1km, and a length of 1.7km, Tu San deserves the "first majestic view" of the Dong Van rock plateau. The very close distance of the two ravines, combined with the green color of Nho Que River, creates a spectacular and poetic scene. Here, you can ride bamboo rafts or kayaks to travel around and see the area and pass Meo Vac.
– Hoang Su Phi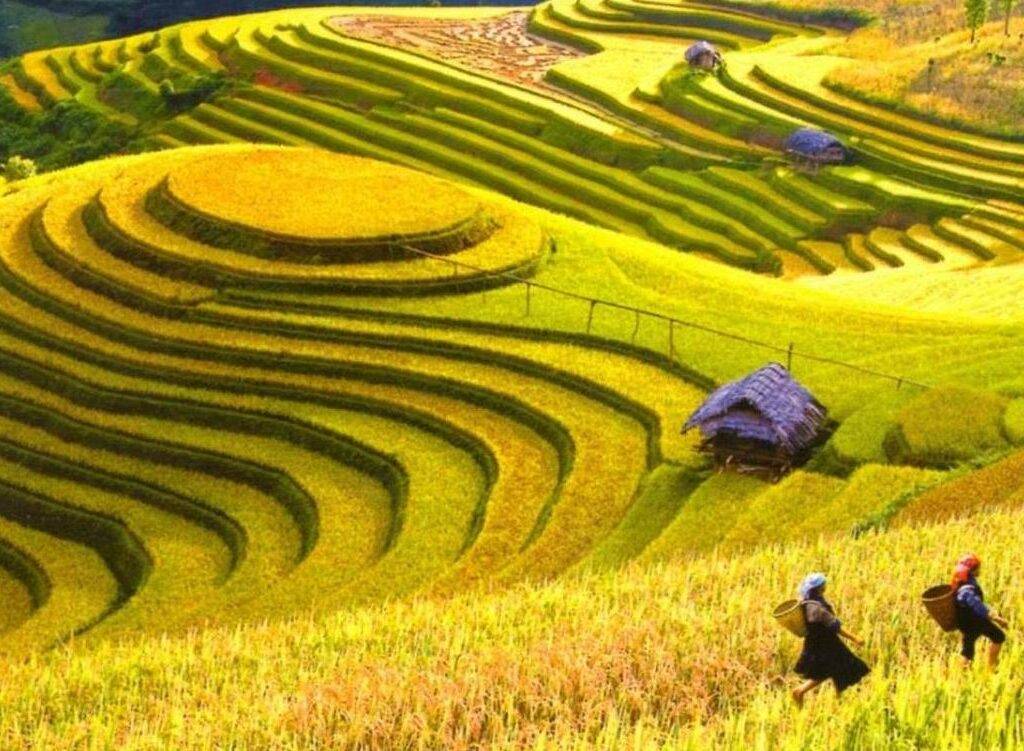 Located in the west of Ha Giang province, Hoang Su Phi is favored by nature on the extremely famous tourist arc connecting the 3 provinces of Lao Cai – Ha Giang – Cao Bang. This place has a cool climate during the day, chilly at night and wild, magnificent nature combined with primeval forests, far-reaching terraced fields, rivers, and streams upstream of Chay River, Shan tea fields. The ancient snow tree at Ta Phin Ho is more than 600 years old, etc. Tourists take an aerial flight about 5km, with the starting point at Nam Pien village, Nam Ty commune, and the destination point being Lang Giang village, Thong Nguyen commune with a length of nearly 5km according to the crow's flight.
Read more: Lo Lo Chai, the fairy village among rocky mountain at Vietnam's North Pole
– Ma Pi Leng Pass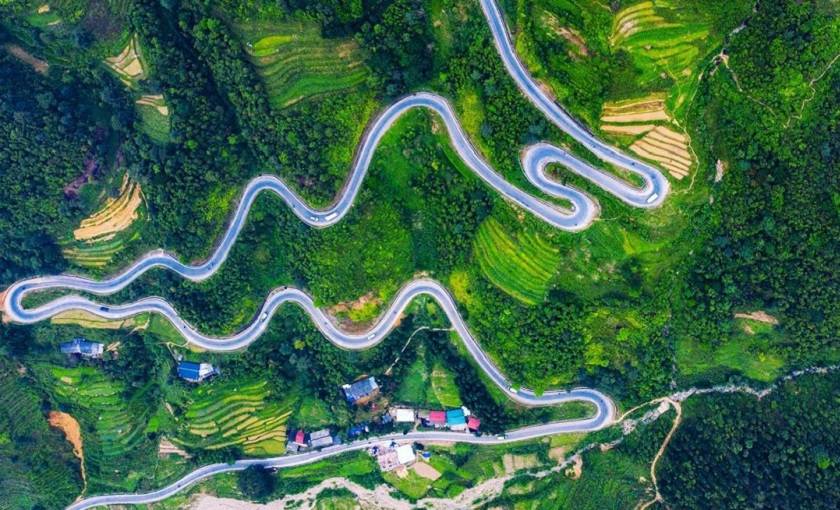 If you are a sports lover, have a lot of free time, you can use your own feet to jog while conquering the most beautiful passes in this rocky plateau. Overcoming the steep roads under the heat, the journey is a challenge for exploring a new region, as well as discovering your own abilities. In addition to jogging, you can also participate in cycling or trekking through the forest to reach the top of Ma Pi Leng at an altitude of 1,200m for camping. Welcoming the first sunrise on the top of the windy high pass, smelling the fragrance of the grass, admiring the curvy passes embracing the mountain shape is truly an unforgettable experience.
3. How to get to Ha Giang
– Motorcycle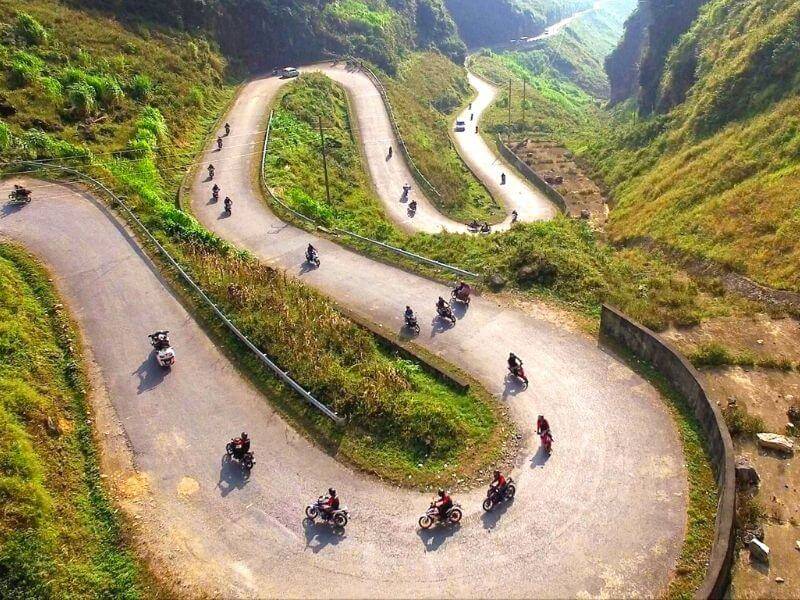 The road from Hanoi to Ha Giang by motorbike normally takes about 6-7 hours, with 2 main routes:
+ Option 1: From Hanoi, depart in the direction of Nhat Tan bridge to Vo Chi Cong – Vinh Ngoc street. Go about 15km on Vo Nguyen Giap Street, then turn right onto Highway 2A. Continue along the national highway to Vinh Yen city (Vinh Phuc), turn left onto Highway 2C, from here, go towards Tuyen Quang city to Viet Quang town (Ha Giang).
+ Option 2: From Hanoi, depart to Thang Long Boulevard. Go about 27km, then turn into Highway 21. Continue going for another 20km, turn onto Highway 32. Go along the national highway towards Trung Ha bridge, go through Phu Tho commune to National Highway 2C. From this section onwards, it is the same as option 1 to reach Ha Giang.
No matter which direction you choose, be extremely careful because the road to Ha Giang is quite winding and dangerous, so it's only recommended to travelers who already have experience riding motorcycles.
– Bus
At My Dinh Bus Station, many bus companies go directly to Ha Giang daily (Hung Thanh, Bang Phan, Quang Nghi, Hai Van), with a variety of time frames from 4 pm to 9 pm and ticket prices ranging 200,000 – 300,000 VND. You can also choose private 9-seat Limousines at 250,000 – 350,000 VND/ticket.
Since Ha Giang roads are rather steep, narrow, with sharp corners, motorbikes are the most popular means of transport to get around. Motorbike rental service here is also popular with the fee of 150,000 – 200,000 VND/day/each.
*Suggestions for motorbike rental service:
+ Hong Hao: Pham Hong Thai, Ward Minh Khai, Ha Giang
+ Hang Thuong: 15b Pham Hong Thai, Minh Khai Ward, Ha Giang
4. Accommodation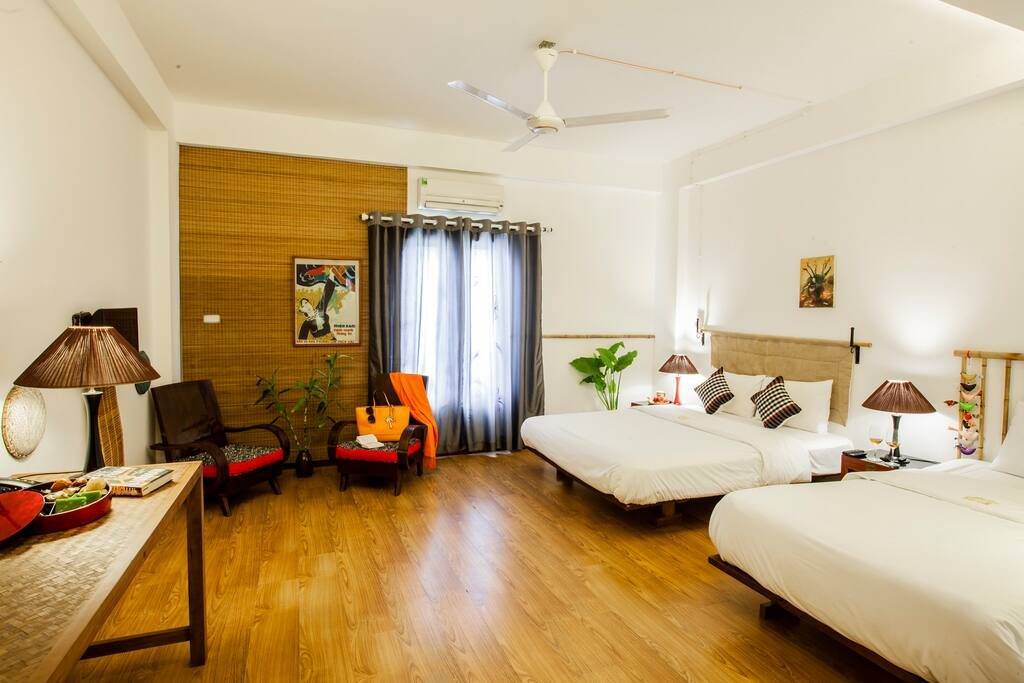 The most popular types of accommodation in Ha Giang are budget hotels and rustic fully-equipped homestays in community tourist areas of indigenous peoples. Many homestays set up by the local people often provide shared kitchen services or the owners personally cook for guests.
*Suggestions:
– Ha Giang Historic House
– Dao Lodge Homestay
– Tay Village Homestay
– Bong Bang Homestay
– Va's Homestay
– Dong Van B&B
Read more: An Giang – The highlights of water lifestyle in Mekong Delta