Into the wild Binh Dinh's rooftop, An Lao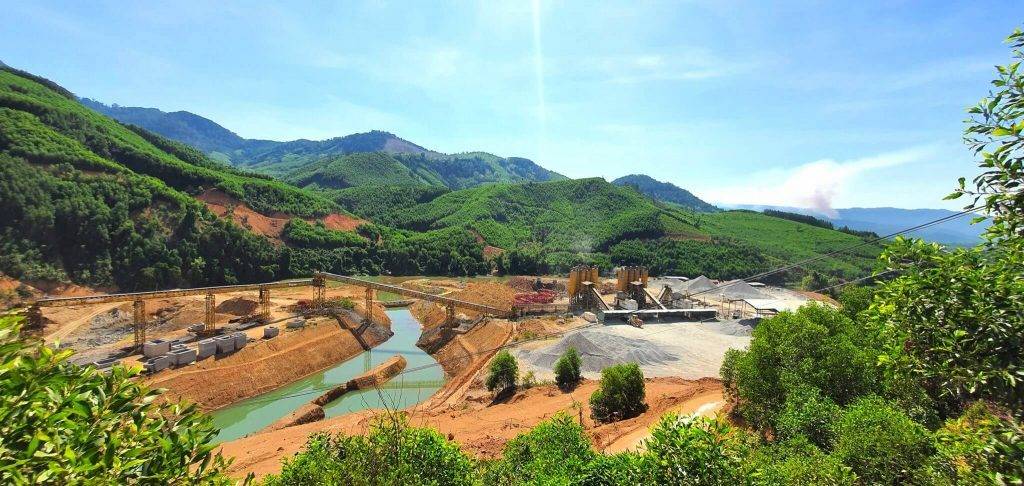 At an altitude of more than 1,000m above sea level, An Lao, is a peaceful little-known place, with the most attractive jungle route in Binh Dinh province that brings travelers to unspoiled and peaceful spots. After passing the immense terraced fields next to villages of Hre and Bana people, visitors have to trek about 6 km through different old forests densely covered with ferns, then follow along small trails and streams to spectacular hidden waterfalls of Giang Tien and K50.
I. About An Lao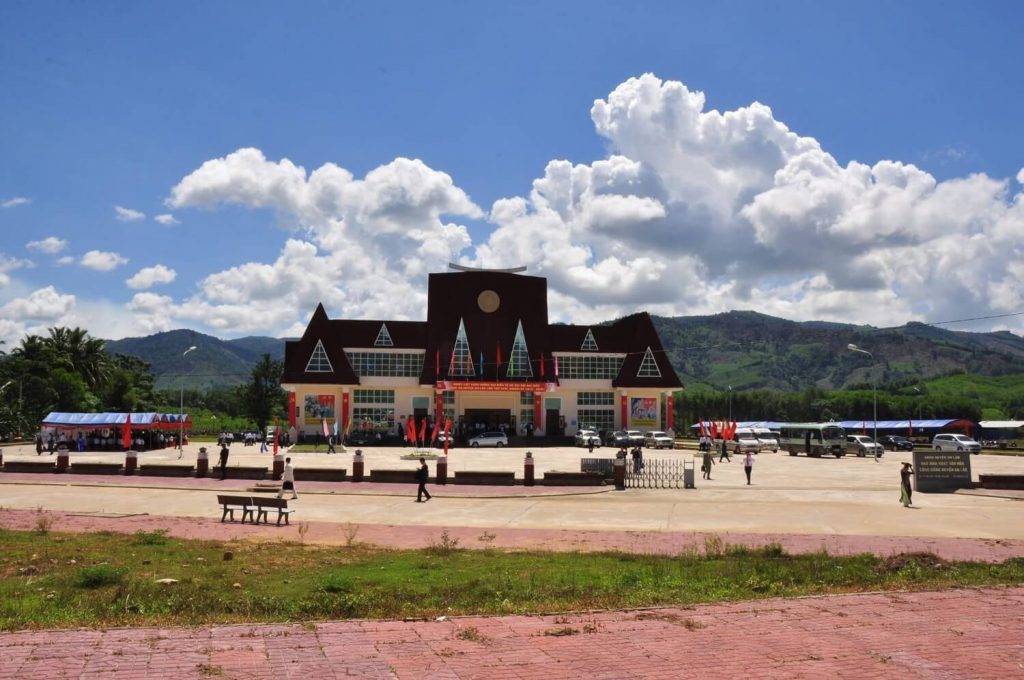 Quy Nhon is situated in the southeast of Binh Dinh province, in the South Central Coast region of Vietnam, about 649km from Ho Chi Minh City. The diverse topography of mountains and sea is a tourist advantage for this small city, offering innumerable stunning attractions such as pristine beaches, breezy golden sands, unspoiled islands, and peaceful fishing villages.
About 120 km northwest of Quy Nhon city, An Lao is a district with rich historical and cultural values imbued with the identity of three ethnic groups, Kinh, Hre, and Bana.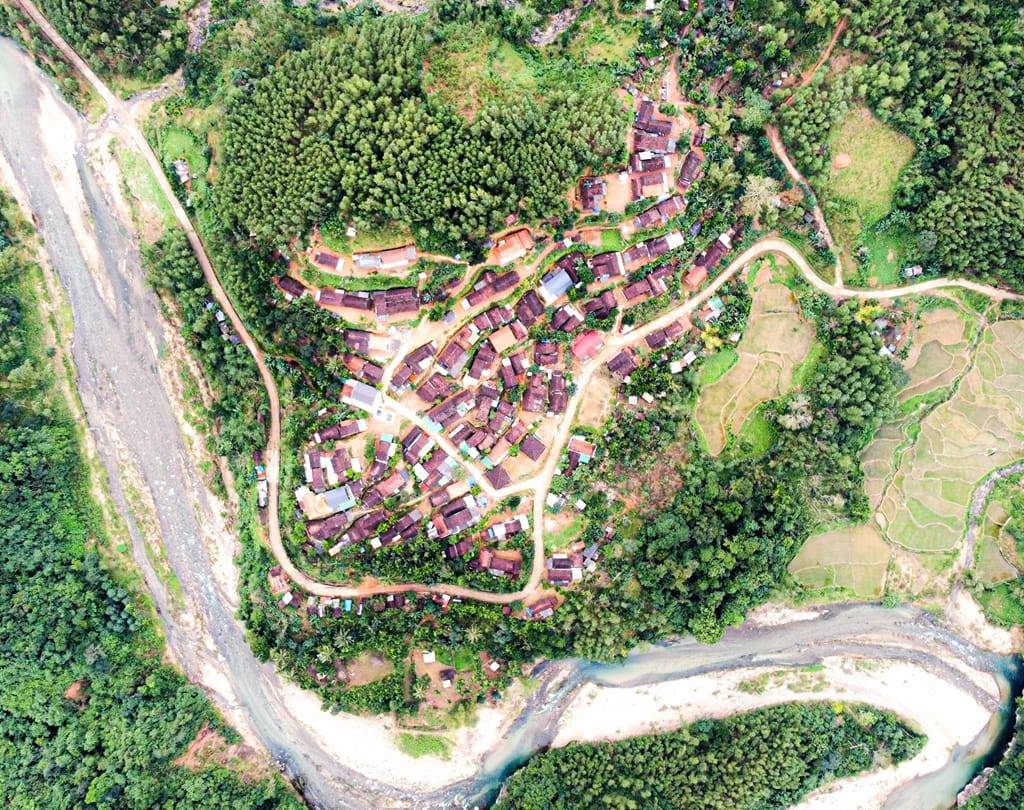 The indigenous people live in closely spaced wooden houses on stilts, scattered around the three villages, which have not been "concreted". Those villages are still surrounded by forests, rice fields, fruit trees, and flowers. Visitors can reside there in Hre and Bana's homestays and learn about their traditional brocade weaving, participate in traditional dances, singings, or play ethnic musical instruments – Gong, Chieng, To rung. The locals are super friendly, ready to invite visitors to the homegrown specialties of An Lao highland: Com Lam, grilled chicken, stream fish, ruou Can, etc.
In terms of landscapes, the highlight is the 22,000-hectare An Toan Nature Reserve, with diverse primeval forests that are currently home to 300 animal species and 547 plant species. Additionally, this place features charming natural rivers, streams, and waterfalls, such as Giang Tien waterfall, K50 waterfall, Da Ghe stream, etc. The An Lao trekking route also brings you to the dreamy purple myrtle hill of more than 200 hectares.
* Best time to visit An Lao
This trekking route is most beautiful from March to July when the purple crape-myrtle flowers bloom brightly. Moreover, the weather during these months is sunny and dry, making it easy to hike in the mountains.
Read more: Ky Co – Little Maldives in Quy Nhon, Binh Dinh
II. Destinations in An Lao
1. Da Ghe Stream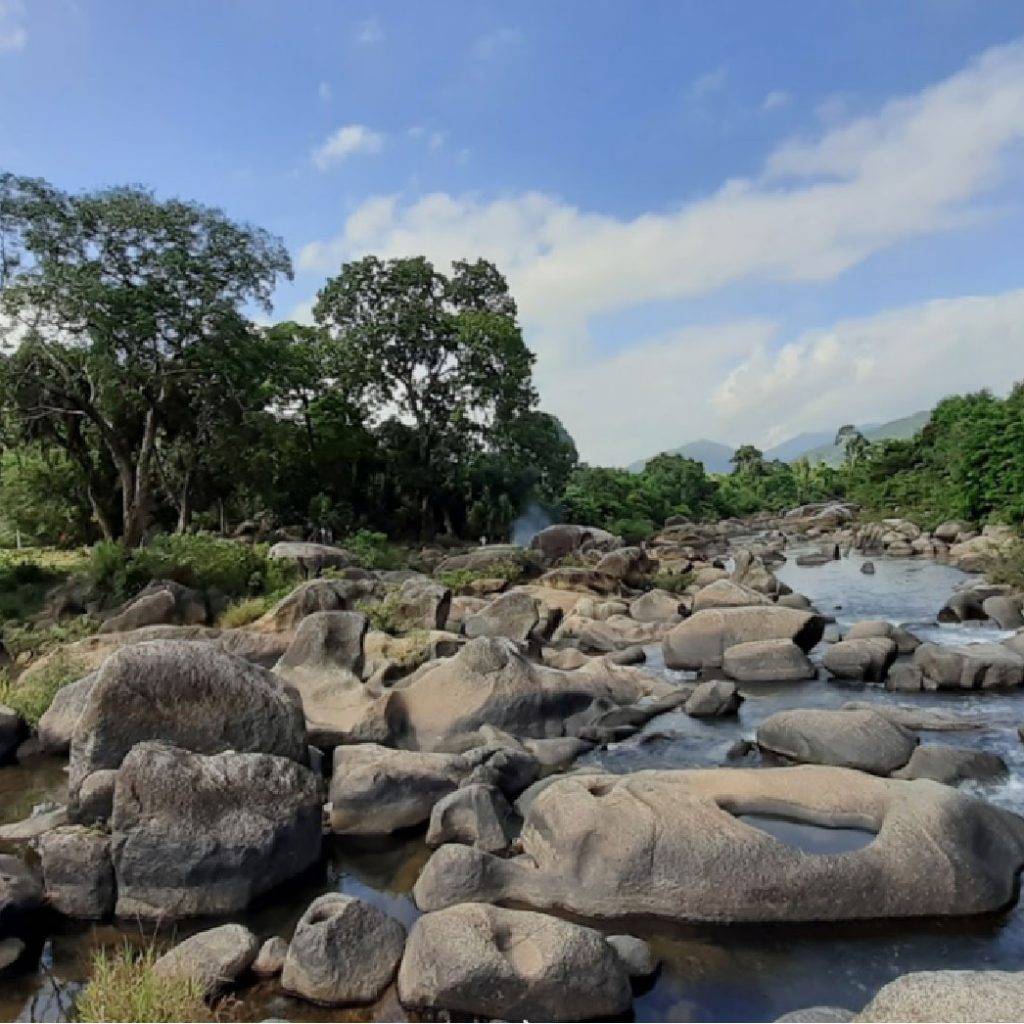 Da Ghe Stream, also known as Da Ghe Waterfall or Ba Lien River, is a tributary of An Lao River flowing along the way through the poetic Dinh River, to the gentle Lai Giang stream. The locals also call it stone falls as there are multiple large stones of different shapes arranged in lively order by mother nature. Although the water level is not too different between layers, it creates an eloquent sound that resonates quite loudly among tranquil mountains. You can comfortably rest and swim in this cool stream before moving to another location.
2. Sun Hill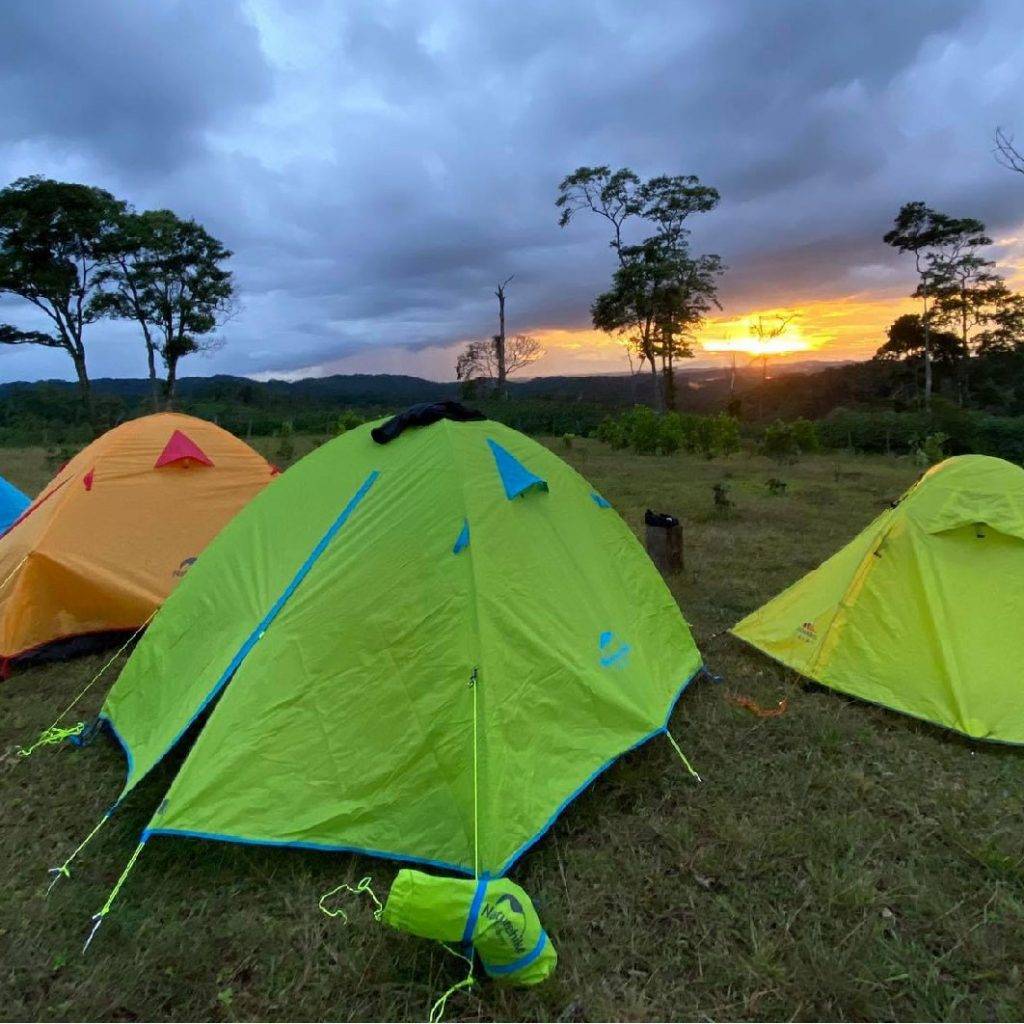 Located at an altitude of nearly 1000m, the hill is considered as the Rooftop of Binh Dinh – where visitors can camp on the green grass and enjoy a magnificent view of the lovely valley below. In the morning, you can watch the sunrise or even admire the sea of clouds covering the mountains from the West. Sun Hill lies right in An Toan Nature Reserve, which is convenient to combine exploring the reserve during the day and returning here to camp and have a BBQ party at night.
Read more: Hai Van Pass – An impressive hillside road in the middle Vietnam
3. Giang Tien Waterfall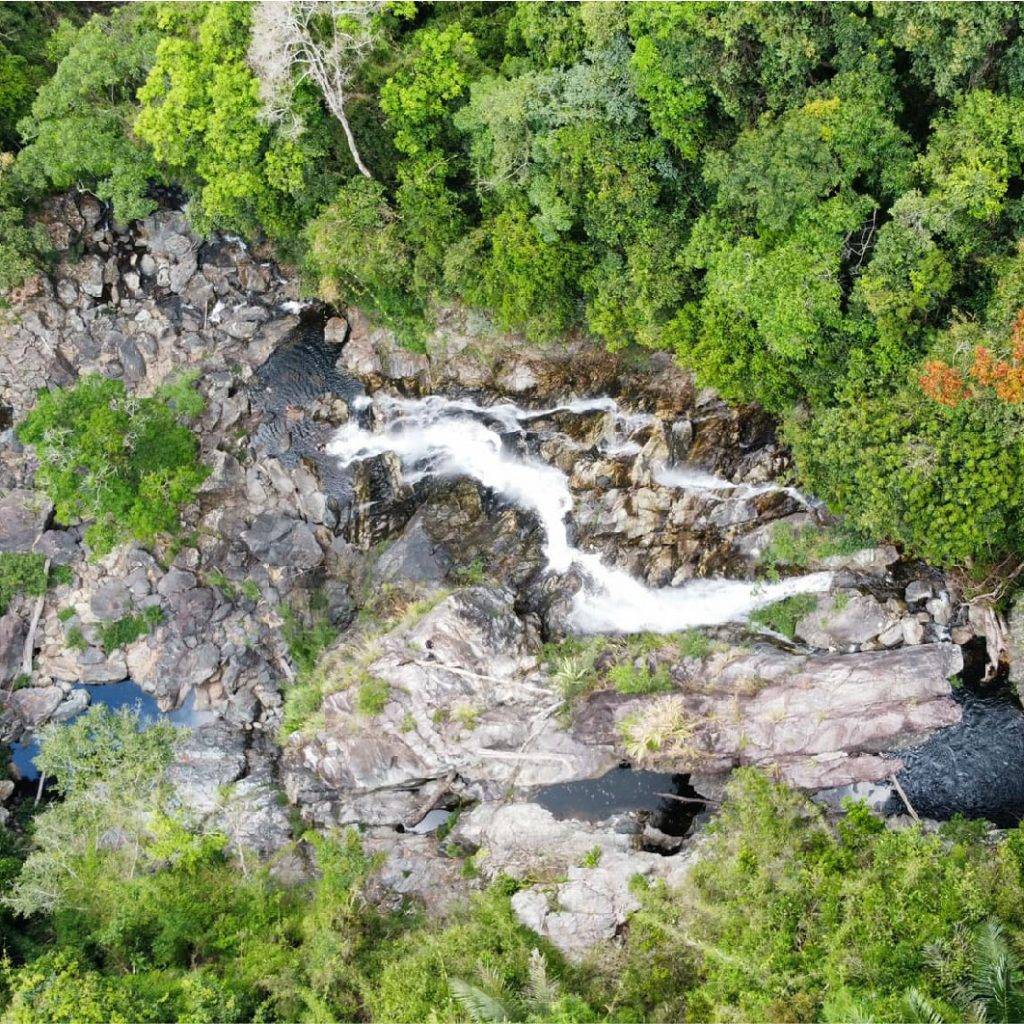 Giang Tien Waterfall has an estimated height of 40 m, stretching from the top to the foot of the mountain like a giant white silk strip in the middle of the green forest background. At the foot of the falls stands a stirring old tree among the large rocks. Here, the Hre people also make interesting swings with jungle ropes. The atmosphere is truly fresh, and the clear water flow is not too fast, suitable for camping and swimming. Meanwhile, the giant rocks opposite to the waterfall's foot will be ideal for setting up an outdoor BBQ party.
Read more: Ban Gioc Waterfall, the giant majestic water border line
4. K50 Waterfall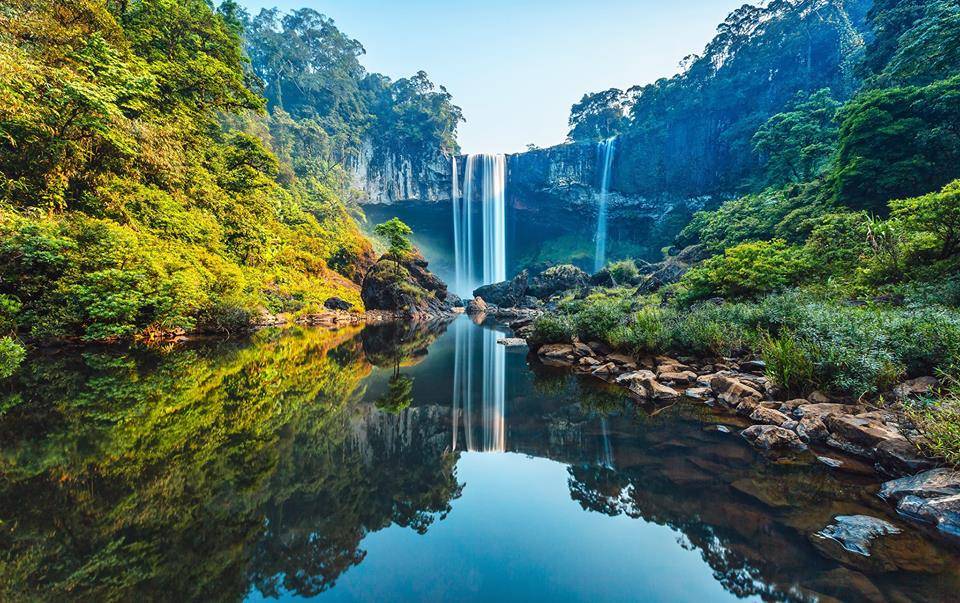 K50 appears like a fairyland scene in the remote An Lao district. The waterfall is quite wide, crossing the border between Gia Lai and Binh Dinh. To get to the falls, visitors have to conquer a 20km long road from hamlet 1, An Toan commune, then weave in narrow paths nestled in the forest crossing streams and rapids. For safety, you should have a local guide with you. Behind the foot of the waterfall is the house of the forest swallows. Early morning and late afternoon are the best time to watch the swallows fly back amidst the majestic scenery of the mountains.
Read more: Thac Bac, the towering waterfall amidst mountainside and world-famed terraces of Sapa
5. Myrtle hills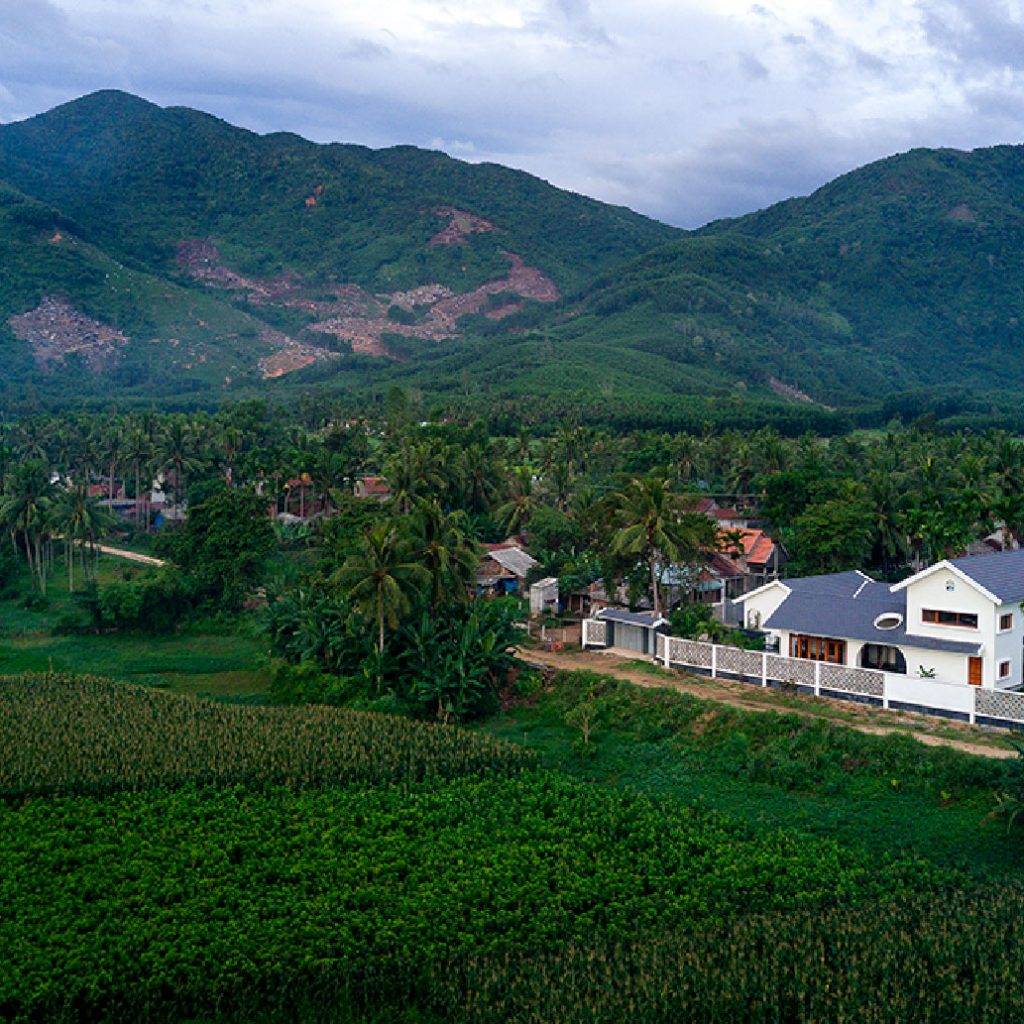 In An Lao – Binh Dinh, there are two myrtle hills, the 200-hectare T'mam Lang near the center of the commune and the other at Village 1 at the old airport, right on the route to K50 waterfall, about 300 hectares wide. In which, T'mam Lang hill, about 3km from the center of An Toan commune, is even more eye-catching in the ripe myrtle season. Dotted between the purple color of ripe myrtle are golden terraced fields and patches of acacia, banana, and corn. The myrtle fruits here are only as big as an adult finger but have an extremely delicious and sweet taste.
III. Getting there
From Hanoi and Ho Chi Minh city, tourists can travel to Quy Nhon – Binh Dinh by bus, plane, or train.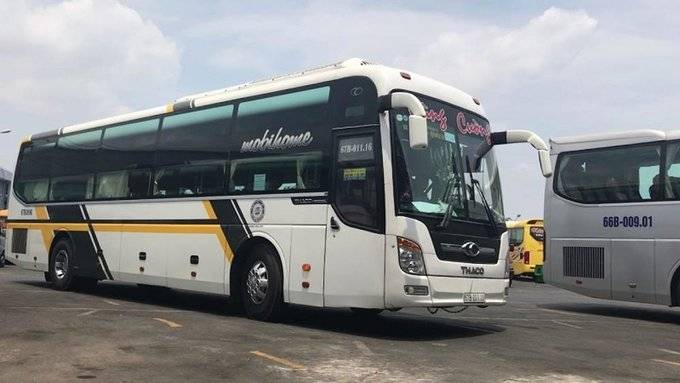 – Bus: The price of a bus ticket from Ho Chi Minh City to Quy Nhon ranges from 250,000 – 400,000 VND, depending on the airline. Travel time is about 11 hours to 13 hours. Meanwhile, bus tickets from Hanoi to Quy Nhon usually cost over 500,000 VND, with a travel time of about one day.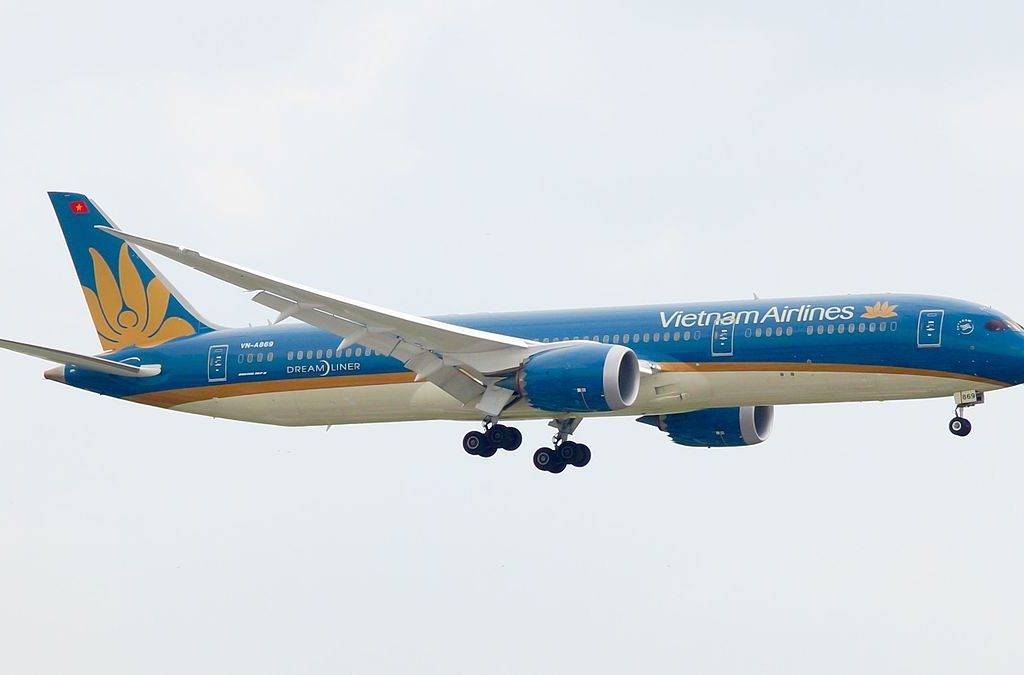 – Plane: You can fly from Hanoi or Ho Chi Minh City to Phu Cat airport and go another 30km to reach Quy Nhon city with fares ranging from 470,000 to 2 million VND within around 60 minutes.
Currently, quite a few airlines operate direct flights from Ho Chi Minh City and Hanoi to Quy Nhon: Vietnam Airlines, Vietjet Air, Bamboo Airways. To buy air tickets to Quy Nhon at the best price, you should book tickets 2 or 3 months before the departure date.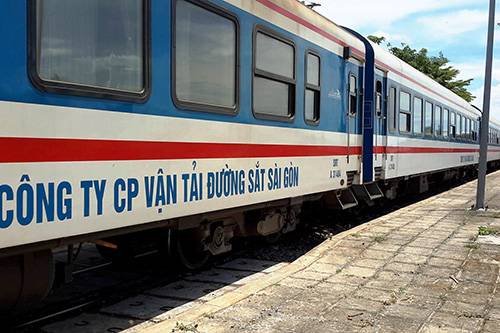 – Train: Numerous North-South trains run through Binh Dinh province and stop at Dieu Tri station. From Ho Chi Minh City, it takes you about 10 hours to get to Dieu Tri, and from there, you take a taxi to Quy Nhon about 30 minutes, with the fare ranging 500,000 – 800,000 VND and a taxi fee of about 200,000 VND. To save money, you can also negotiate to share with other passengers on the same route.
From Quy Nhon city, you can rent a motorbike or a car to get to An Lao district on a 110km journey. Specifically, you will depart from National Highway 1A, the section through Hoai Nhon district, then run along the West for about 25 km to arrive at the destination.
From there, to reach An Toan Nature Reserve, continue to drive more than 30 km of the winding pass. On the way to the pass, there are innumerable appealing landscape stops and natural stone streams, especially the ones at kilometer 7, kilometer 10 (An Quang commune).
IV. Accommodation
Visitors can contact people in Bana or Hre villages to ask for a stay in their stilt houses or rent dorm rooms at Mr. Dinh Van Kem's homestays (0865874277). Staying here offers a great opportunity to get closer to the An Lao mountainous people's daily life, as well as to be easier to visit attractions nearby. The hosts are also willing to help you prepare meals and contact local people to accompany you on the trek to Giang Tien waterfall, K50 waterfall in the deep forest.
V. Notes for An Lao – Binh Dinh trip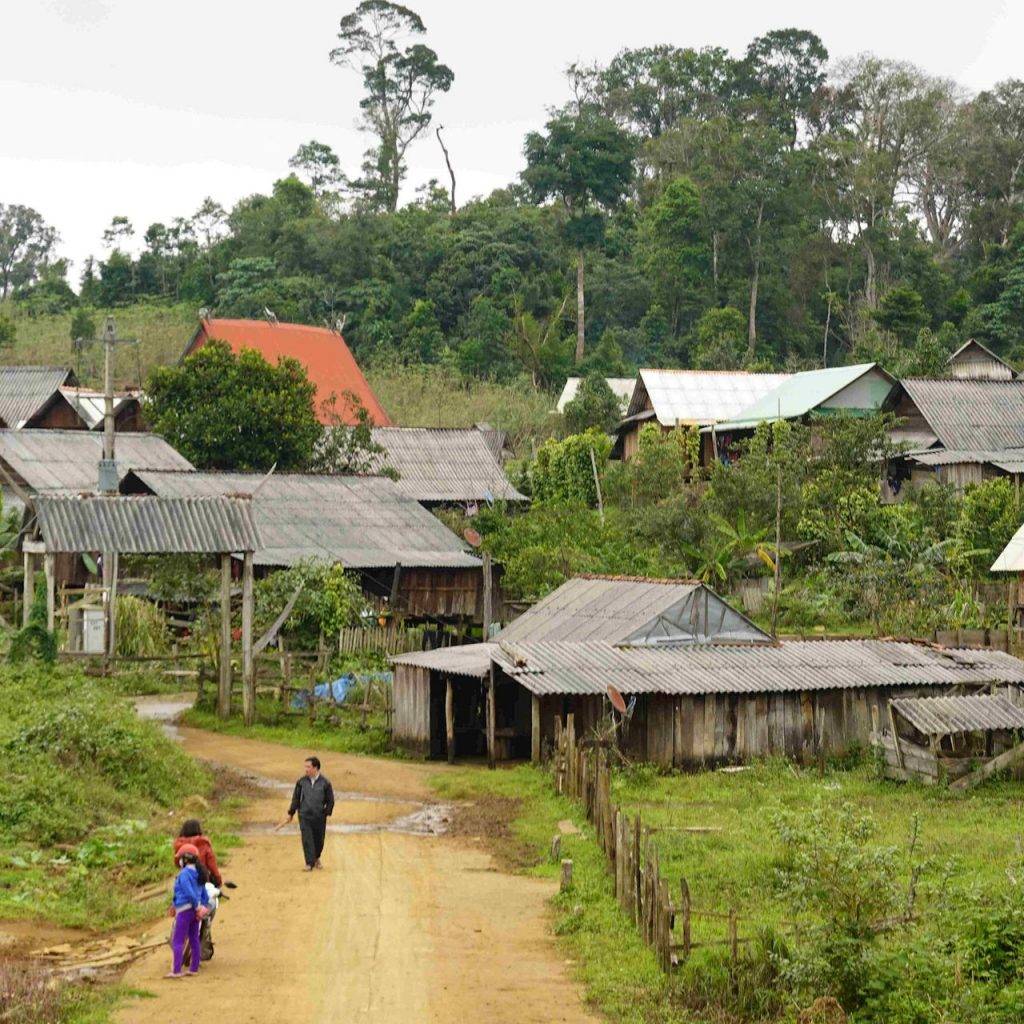 – While trekking, note to wear long-sleeved clothes, gloves, socks to prevent insect bites. Also, choose light, anti-slip sports shoes for easy walking.
– Bring both sunscreen and disinfectant spray to protect your skin.
– If you want to stay overnight, prepare a tent and a warm sleeping bag because the temperature in the forest drops quite quickly at night.
– This is a wild ancient forest, so it's better to have local people lead the direction. If you're not in a large group, try to come back before dark to ensure your safety.
– Prepare water, drinks, and food, however, bear in mind not to litter.
Read more: Best Son La tourism alternatives to Moc Chau plateau