The Café Apartment, a giant rubik's block of beaneries in Saigon center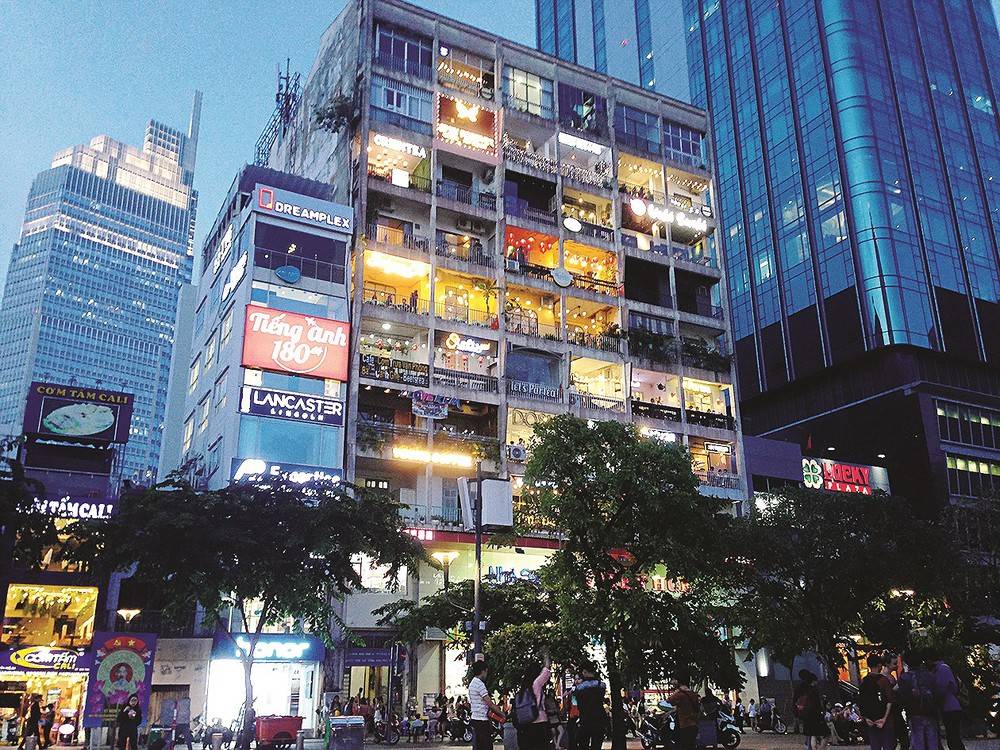 Once referred to as a great spot to explore in Saigon on the fanpage of the American television channel – National Geographic, The Café Apartment next to Nguyen Hue Walking Street is a quirky and partly-dilapidated nine-story flat where various local cafes, restaurants, and co-working spaces are located, attracting a large number of visitors. You can spend a whole day exploring this place for a treat and things related to Saigon's original. Each shop or cafe in this block has something special to offer: excellent meals with a nice view from the upper floors, unique designs, and handcrafted artifacts.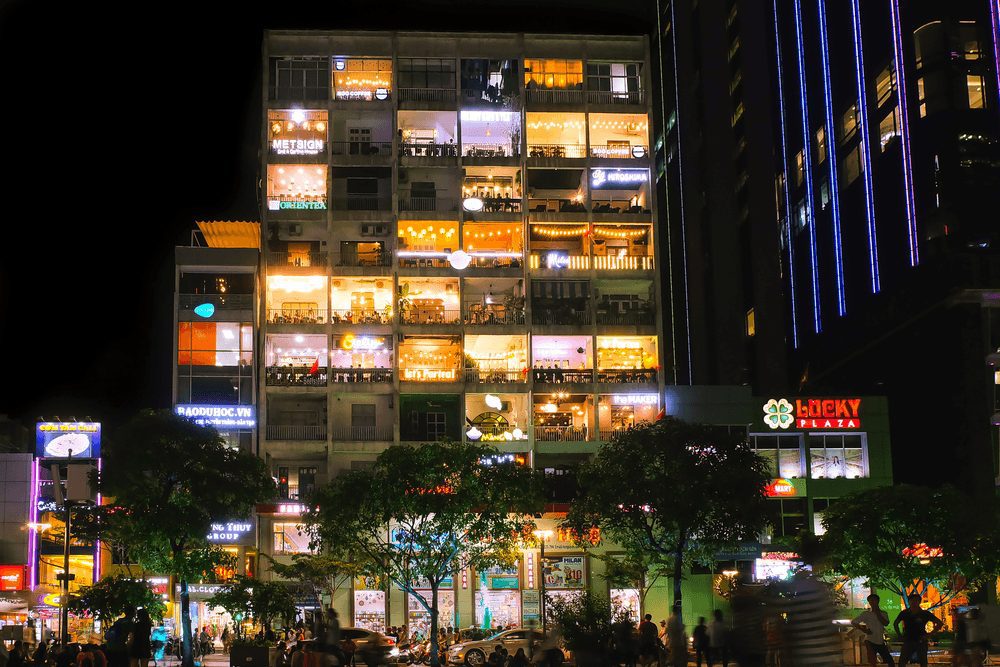 Read more: BONJOUR CAFE THE ART – THE CAFÉ OF "MILLIONS OF FLOWERS," OR LITTLE FRANCE IN SAIGON.
1. The Café Apartment witness the change of Saigon
Located at 42 Nguyen Hue, this old apartment was built in the early 1960s as a barracks and office for the army during the Vietnam – American war; then, it was almost abandoned after the war ended. The building is like a historical landmark witness the transformation of Nguyen Hue Walking Street (formerly Charner Avenue), when the area was renovated and became more bustling, gradually, from a flat for residing, young Vietnamese artists transformed the place into a complex of cafes, boutique fashion stores, and unique artsy shops. The ancient combining modern features soon make it a must check-in point for most Saigoneses and tourists.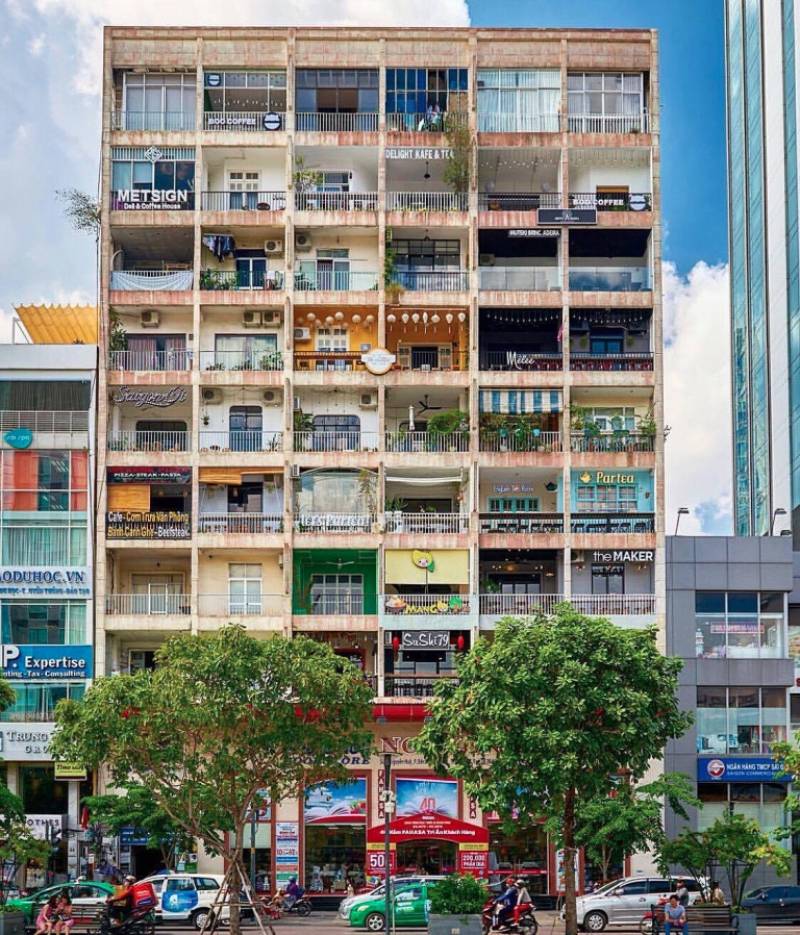 The building has 3 subdivisions, zone A is filled with most shops due to a stunning view overlooking Nguyen Hue Walking Street and Saigon River. Meanwhile, zone B is a bit more hidden yet still attracts a large number of businesses due to the spacious apartments. The remaining one, zone C, is the only place where residents live since their apartments are not convenient for renovation, however, the space inside is rather quiet and nostalgic, opposite to the fluctuations of the street on the other side.
Read more: The standard Arabica coffee at Saigon Coffee Roastery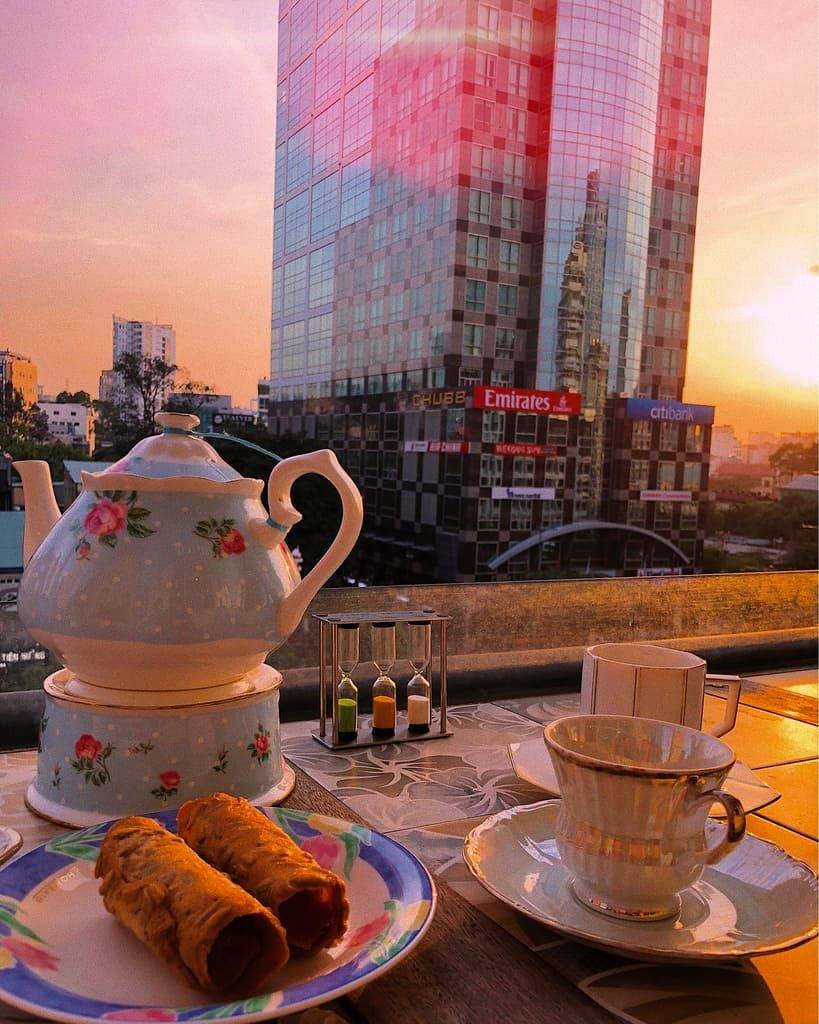 The whole first floor of block A is occupied by Fahasa bookstore, while the more interesting areas start on the second floor. Visitors can wander each floor by the stone stairs or pay 3,000 VND to use the elevator, this fee is for elevator maintenance, however, some shops will refund the money to their guests. As you arrive at any floor, you'll see signs for different cafes and shops without a clear set layout, so you may need to explore for a while to reach what you're looking for. To save time, you'd better find the desired shops or businesses before entering the building.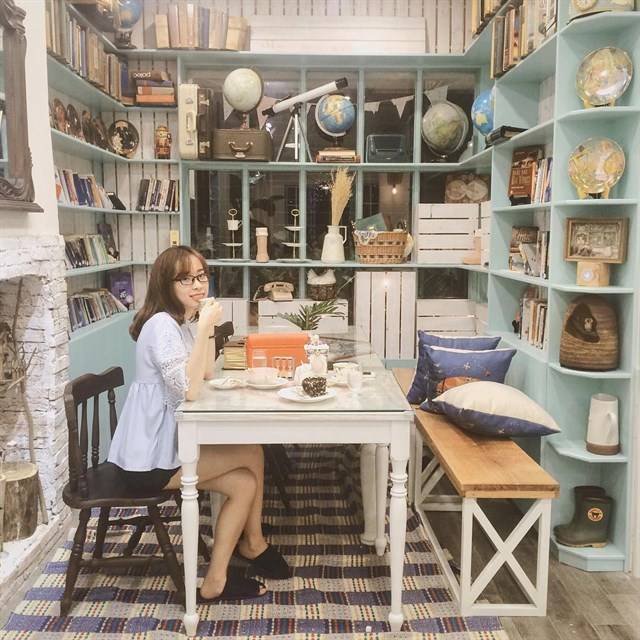 The best time to admire this building ablaze in beautiful light is from 6 pm onwards. Also, the most photographed spot is the outside view of the whole building when looking up from Nguyen Hue Street, especially at night when all the shops sparkle under the light of lanterns and suspended bulbs, billboards, and decorated signs. Whether you are a photography lover or just want to share some alluring moments on Instagram, The Café Apartment at 42, Nguyen Hue is the go-to place for you.
Read more: FIVE PINK SAIGON COFFEE SHOPS FOR "GIRLY TEAM"
2. What inside The Cafe Apartments at 42, Nguyen Hue
– A dozen of coffee shops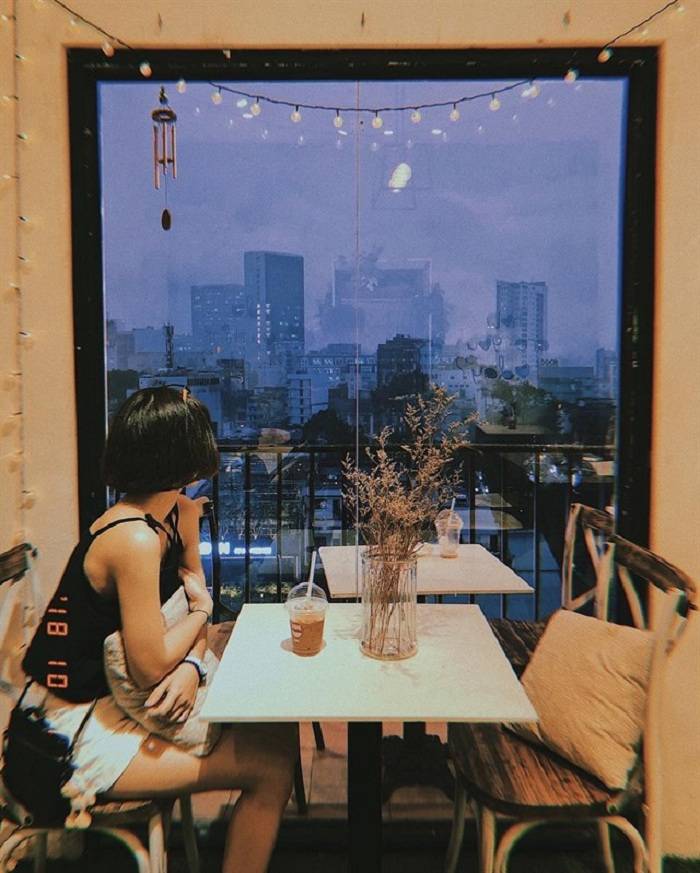 Thanks to the stunning view overlooking Nguyen Hue walking street, Saigon River, and several city's iconic buildings, multiple cafes have sprung up here. Each shop has a distinctive decoration, some can be British royalty style, while some are bold Asian look, but they are all the products of young Vietnamese.
Here are several popular coffee shops: Thinker and Dreamer, Partea – English Tearoom, The Letter, Saigon Oi Cafe, Buihaus Coffee & Workshop, The Maker Concept 7, Mango Tree, Boo Coffee, Melee, Orientea, Delight Kafe & Tea.
Read more: The floating Saigon cafe away from stuffy city space
– Co-working spaces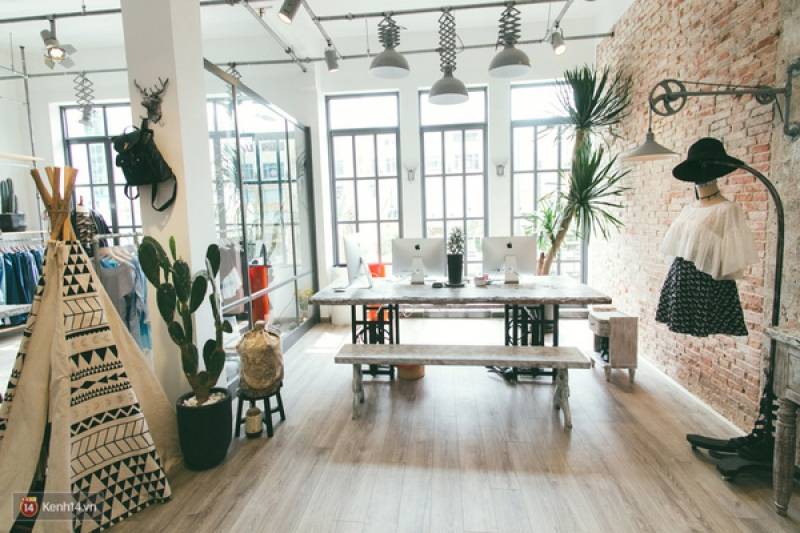 Besides eating and drinking, numerous cafes also create a co-working space, providing an airy ambiance, meal serves, free WiFi, and a wonderful view for freelancers or students working on their projects.
You can refer to the following names: The Maker Concept, Buihaus Coffee & Workshop, and Thinker & Dreamer.
– Local-brand shops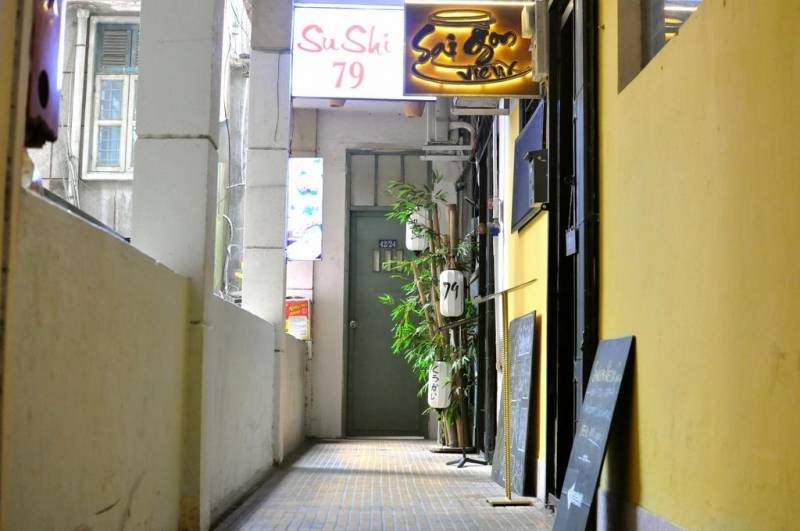 The building is also a great place for shopaholics to buy trendy clothes, accessories, and handicraft works. Thanks to these fashion shops, this old apartment block suddenly became lively and more colorful. There are a lot of local boutiques selling their styled designs at a very reasonable price, such as Heverly (specializing in menswear), Nzim, Su Vitality, Nosbyn, etc.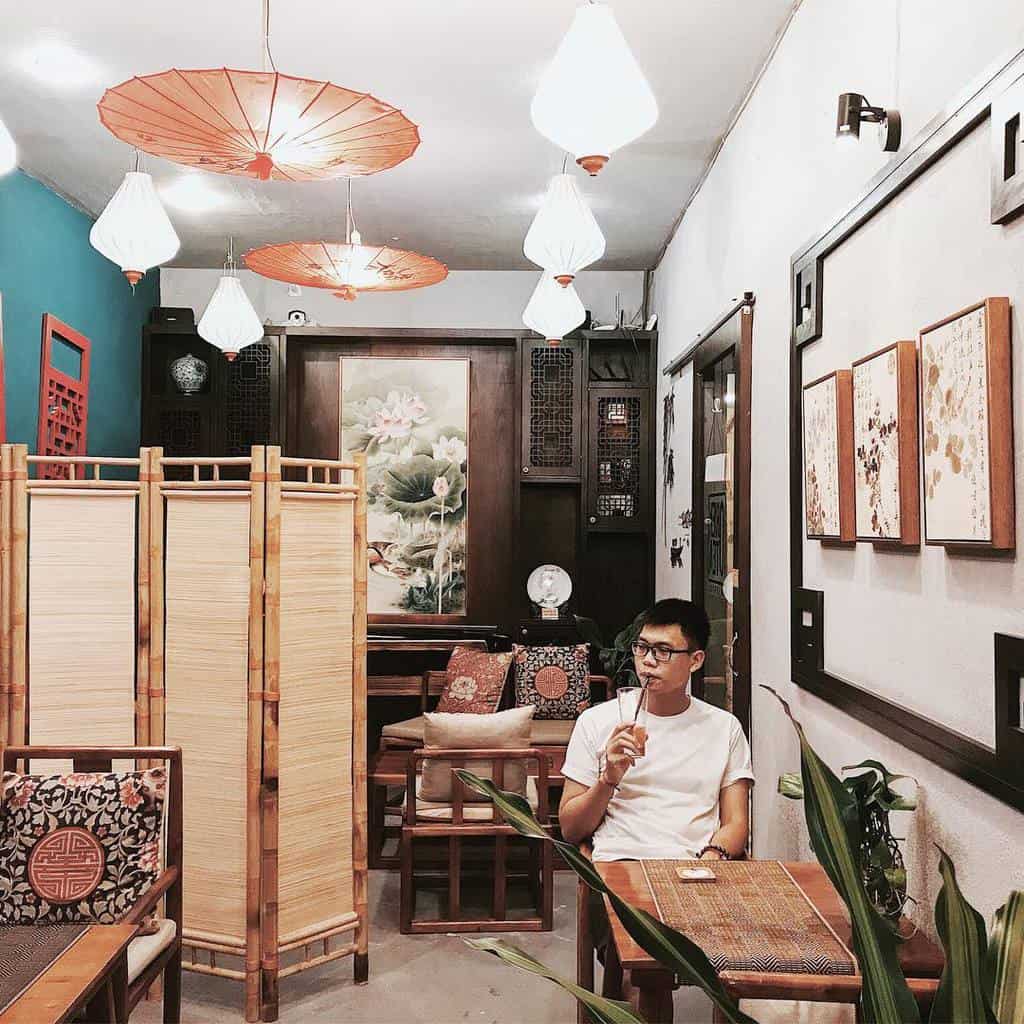 Read more: TOP 3 SAIGON CAFES FILLED WITH TREES